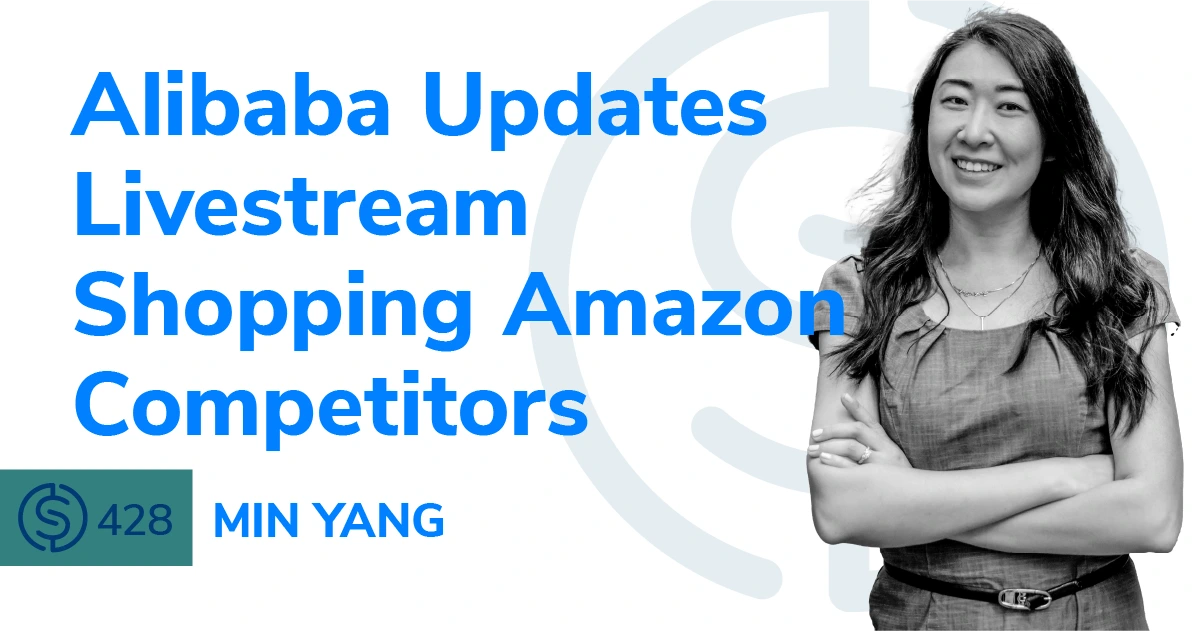 #428 – Alibaba Updates | Livestream Shopping | Amazon Competitors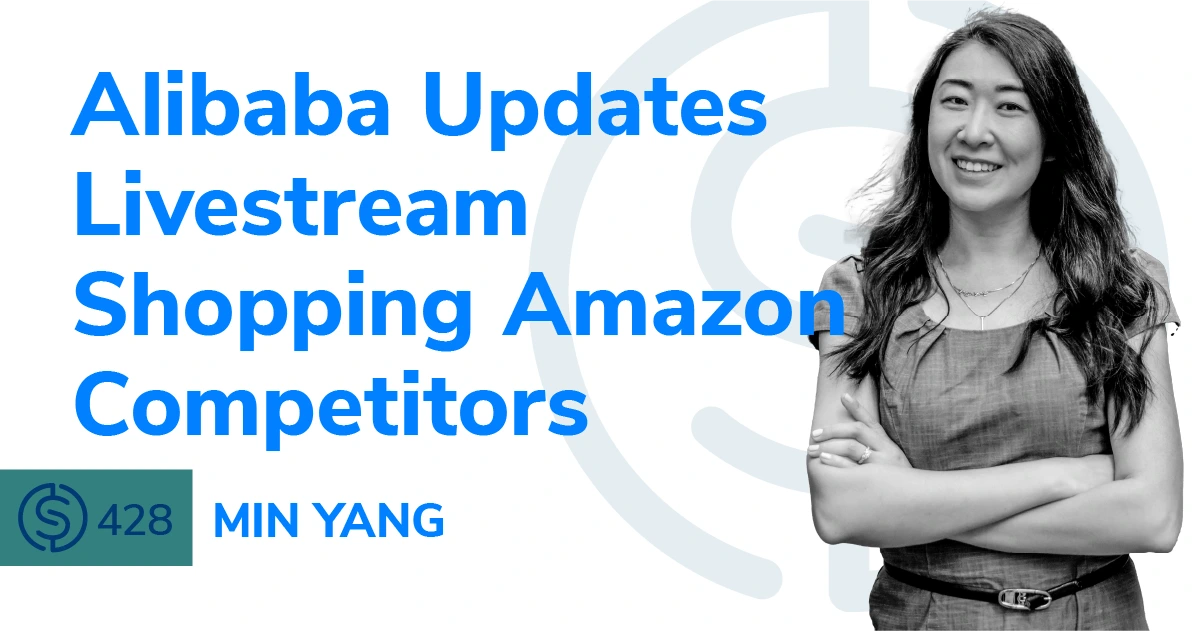 Video of the episode at the bottom
Today, we listen to Min Yang's career journey with the biggest companies in E-commerce, Amazon, and Alibaba. We cover the new features, updates, and programs inside Alibaba.com, including virtual showrooms, live shopping, and the Pro Buyer Program. We also explore the differences between Alibaba and AliExpress, and hear about trending companies and the future of eCommerce. Plus, get tips on browsing the Alibaba database on Amazon using Helium 10. Also, get details about Bradley's talk at Alibaba's March Expo.
In episode 428 of the Serious Sellers Podcast, Bradley and Min discuss:
01:35 – A Sad And Unfortunate Story In Arizona
03:30 – Min Yang's Backstory
06:20 – Discussing Min's Career With Amazon
06:55 – How And Why She Got Started With Alibaba.com
09:20 – What Are The New Features And Programs Inside Alibaba.com?
12:55 – Virtual Showrooms, Communications, And New Functions Inside Alibaba's App
15:00 – Live Shopping Inside Alibaba.com
16:35 – Alibaba's Global Seller Team Comprised Of Hundreds Of Suppliers Outside China
17:25 – Talking About Alibaba's Logistics Services
19:35 – The Alibaba.com Buyer's Club And Pro Buyer Program With Its Perks
20:35 – Claim Special Bonuses From Alibaba.com
22:00 – How To Browse The Alibaba Database On Amazon Using Helium 10
22:55 – Make Sure To Catch Bradley At The Alibaba Expo
26:00 – The Difference Between Alibaba And AliExpress
31:35 – What Are Trending Companies And Their Future In E-commerce?
34:50 – Why Is Live Shopping Taking Off In China?
41:35 – Min's Healthy Habits And Hobbies Outside Work
44:05 – Min Yang's Sixty-Second Tip
45:35 – The Best Way To Contact Min Yang
Transcript
Bradley Sutton:
Today we've got somebody who's worked for two of the biggest companies in the e-commerce world, both Amazon and now Alibaba. And she's gonna talk about some new Alibaba updates and some cool conferences that are coming up, and some also general thoughts on a lot of Chinese e-commerce companies and even Amazon live streaming. How cool is that? Pretty cool I think.
Bradley Sutton:
Are you browsing a Shopify, Walmart, Etsy, Alibaba, or Pinterest page, and maybe you see a cool product that you wanna get some more data on? Well, while you're on those pages, you can actually use the Helium 10 Chrome extension's Demand Analyzer to get instant data about what's happening on Amazon for those keywords on these other websites. Or maybe you wanna then follow up and get an actual supplier quote from a company on alibaba.com in order to see if you can get this product produced. You can do that also with the Helium 10 Demand Analyzer. Both of these are part of the Helium 10 Chrome extension, which you can download for free at h10.me/extension. Hello everybody and welcome to another episode of the Serious Sellers Podcast by Helium 10. I am your host, Bradley Sutton. And this is the show that's a completely BS free, unscripted and unrehearsed organic conversation about serious strategies for serious sellers of any level in the e-commerce world. And we've got my sister from another mister over here from Alibaba. We've got Min in the house. Min, how's it going?
Min:
Good. How are you doing?
Bradley Sutton:
I'm doing just delightful. Thank you. Thank you. Now, before we get started, we have to just talk about a very sad story that happened in your house a few weeks ago. Sorry to bring up bad memories, but we use our anger to move forward somehow. But living in Arizona, which I believe you do you have some wild animal problems in Arizona, don't you?
Min:
Yeah. Yes. Yes. Especially this year because we had a really cold winter. Some of the crazy wild animals just came out of the desert. So we had a really cute puppy, a young dog Coco. And he went out of the backyard one day and a coyote jumped over our fence and they just killed him. So it was an unfortunate incident. Yeah.
Bradley Sutton:
How long have you been living in Arizona?
Min:
It was probably about a year and a half. Yeah.
Bradley Sutton:
So not that long.
Min:
Yeah. So we're just not aware of all the craziness here.
Bradley Sutton:
That's all I was gonna ask, like, wherever you're from, like where are some other places you've lived?
Min:
So, yeah, I live in Seattle before. Okay. As you know, I used to work for Amazon, and I live in Portland for 10 years before I move here.
Bradley Sutton:
Not a bunch of coyotes running around backyards in Seattle and Portland.
Min:
No, no, not really. I think we had some, like Bobcats and stuff in the mountains, but yeah. Not coyotes.
Bradley Sutton:
Okay. Yeah. That's about what I liked about this story. Like, people are like, why are you bringing up such bad memories for her? That's so terrible. Was like, you used your anger, you're like, Hey, I'm gonna make sure, turn on my ring video and I'm gonna find that coyote and you know, let's not talk about what you will do to that coyote if you ever find him. But we can use our imagination there. Do Arizona, Portland you know, Seattle go back in time, like where, where were you born and raised?
Min:
So I was born and raised in China, Mainland of China. So I was born in a small town, not far from Beijing. So north part of China. I went to college in China. And I actually, I studied Chemical Engineering. As a background. And I had a chance to come to US. I went to Penn State
Bradley Sutton:
Nittany Lion.
Min:
Yes, that's right. Yeah. and I studied Chemical Engineering as a master and also international affairs, this master at Penn State. Yeah.
Bradley Sutton:
What did you do out at Amazon?
Min:
So, yeah, so I was a vendor on the vendor management side. So we were onboarding new vendors and we're building a very new categories under Amazon business today. So so we're working on assigning new vendors, helping them getting onboarded and have the skills set up, and adding new skills. And so, yeah. So that's mostly what we're doing. Yeah.
Bradley Sutton:
Okay. All right. Yeah. And then at when on the timeline did you make the move to Alibaba?
Min:
So, yeah, so about two and a half years ago, actually, not after the Covid started, so I had a chance to join Alibaba and so I, before Alibaba, I was mo working mostly in the Amazon and retail and marketplaces, and I was helping clients with strategies you know, on Amazon or even e-commerce internationally as well, and Chinese consumer market as well. After the covid started a lot of people reach out, a lot of friends reach out and ask me to help them get medical devices or mask, and I was trying to connect them with the suppliers. It was really hard. And that's one of the reasons I decided to join Alibaba, because I wanna see why it was so challenging to get suppliers in the US and why it's so hard to make manufacturers, you would think it's not really hard. But it is, and it's from materials to machinery to equipment and everything. And that's why I wanted to see why and what's so special, and how can we help us manufacturers learn and get better and be more manufacturers manufacturing in the US. So I think that's the reason I joined Alibaba.
Bradley Sutton:
Okay. And now what's your official title there? What do you do at Alibaba these days?
Min:
Yeah, so, well, that's a good question because as a small team in the US everybody wears a lot of hats. So mostly I work with buyers and help buyers with their issues and help them really grow and learn. And also really our focus in the US market is to by working with buyers closely and partner closely, we understand the needs of the market, and we build programs and improve the platforms to continue growing the US market and provide better services and products for the customers.
Bradley Sutton:
Okay. Yeah. All right. Now, I had you know, someone on from Alibaba here on the podcast, maybe two years ago. But what I know it's hard to to know every different change or innovation, but can you talk about some of, I mean, I think everybody, even if they don't use Alibaba for sourcing, they probably use Alibaba for their initial research onto suppliers and things like that. you know, maybe they use it in the Helium 10 Chrome extension maybe they just go to Alibaba and start looking for factories and things, but what are some differences? Like, let's say, I haven't really been paying too much attention the last two years to the Alibaba website, but, but what are some new features, like some new programs, if there's anything what's new if I haven't really done a deep dive.
Min:
Yeah. Yeah. That's a very good question. So, I think in the past few years we're focusing on transforming this platform from a yellow page type of just looking at suppliers right? In the past and how we started to a very, a one-stop shop and one-stop platform, and with value added services for the customers. Because international trading is just so complicated, right? You work with someone you've never seen before. So we're trying to make it easier and trying to help customer have more faith and trust and confidence when they talk to someone in the different parts of the world. So, for example, we have two services one's called Trade Assurance. So this program is designed to protect buyers. Especially for the first time with the suppliers. They go through transactions with the trade assurance. They can be protected by this program. If there's any issues with the products, any equality issues or late shipments or anything that suppliers not delivering based on their agreements, we will have a team investigate and help the buyers get their money back or help them penalize the suppliers. So that's one of the things a lot of people don't even realize they exist. Another example–
Bradley Sutton:
Is that only for China Chinese suppliers or are there any other countries suppliers that applies for you?
Min:
So all the Chinese suppliers covered and let me rephrase that. So most of the Chinese suppliers sign up. So if you go to the website, when you look for suppliers, you can see a batch next to suppliers. So you can also search by just clicking on the Trade Assurance, you can see all the supplier qualify. So we are onboarding, we're making onboarding more and more countries to be involved with this program today. So not all the countries, but we're getting more and more countries are onboarded.
Bradley Sutton:
Cool. What else is kind of new or like maybe some new filters or new ways to search on Alibaba or other new programs that there might be?
Min:
Yeah, so also we have a program that we launched a few years ago called Verify Supplier. So basically all the suppliers that verify in different ways. So the supplier with the verified batch they're actually verified by third party authority, usually very legit like SCS or different inspection companies. So they will go to the factory, they will take videos and pictures and have all the certificates verified. And all the information is listed on the website. So in this way, it's not from Alibaba, it's not from supplier, it's from a third party. So the buyers will look at all this data and everything and have more confidence working with the supplier. So this is one of another way we wanna make sure the buyers have confidence with the platforms as suppliers. I think even we launched the new app 8.0 version last year, I think in September.
Min:
In the app we have a lot of new functions such as Virtual Showroom and live streaming section. So during the covid, many buyers told us they couldn't visit their factories globally, not just in China, also in Asia, et cetera. So in this way you can call the supplier, do virtual tour, and also you can send videos and files and a lot of the suppliers sign up to do live streaming. They will do a product in front of camera, and you can ask questions in many, many categories, especially apparels, right? You always wanna see the fabric how it moves, how you may feel when you touch it. So a virtual kind of live streaming of the products or the showroom or the factories, and give you really good kind of institute kind of experience of the factory.
Bradley Sutton:
I'm just looking at Alibaba website now, like how do I know if that's available? Is it just I go on the supplier's page and then they'll say if they're gonna be live streaming or how do I even find that?
Min:
Yeah, so there are different ways you can find that. So on the main page, you can see a tab called tips, or True View, we used to call True View, but it's tips today. That's where the live streaming happening. So you can browse and see what's going on right now. O
Bradley Sutton:
I see it here. Lemme share my screen here. Hold on. For those watching here, so then I see there's this live section right here. Okay.
Min:
And then also you can go to the manufacture page and they will have some virtual tours available.
Bradley Sutton:
So there's a lot of companies are all live at the same time here. I didn't even know this, this exist and I definitely do want to talk about this, about just in general, live shopping and stuff, because I think that's something that's gonna be a lot bigger this year, but, okay. Wow. Okay. That's neat. I like it.
Min:
Yeah, and you can interact, right? You can engage with them asking questions and you can even talk to them. So that's something a lot of people don't realize exists today. I'm a very good friend with the head of content amora. She, she's like a expert on live streaming, and she's super smart.
Bradley Sutton:
Okay. One thing I think that a misconception about Alibaba that a lot of people have is that it's only for Chinese factories and, and suppliers. But, but really if, if you were actually just to look at the filters there India, Pakistan, even USA there's actually USA companies who like, do you have any numbers or anything you could tell us about how that's grown at all? Like, I'm sure at one time it was probably a hundred percent or almost a hundred percent Chinese factories like way back in the day. But like do you know how many countries there have been? Or are they growing fast? Some of these other countries at all on Alibaba?
Min:
Yeah, so that's a good question. So we have a global, it's called GGS Team. It's a Gobal Seller team. So the team, we have, I believe over 150 or 200, maybe 150 to 200 countries and regions globally. So out of mainland of China, we have the Southeast Asia, right? We have Vietnam, Thailand Malaysia Singapore, and a lot of south Asian countries. And we have India Pakistan. And also we have a GGS US team as well. It's based in New York. So this team has been focusing on helping US manufacturers and small media business to learn and digitalize their business. . So this is evolving. And we are also kind of starting like a Latin America and Mexico as well. it's very new. We have someone, Alex is a good friend of mine. He just went down Mexico this week to do presentation. So we are trying to help more US and North American based manufacturers get on the platform.
Bradley Sutton:
All right, cool. So anything else about alibaba.com that is new? Maybe one more thing before, cuz I do wanna talk about this expo that's coming up. But any last things that maybe we don't know about on Alibaba.com?
Min:
Yeah, so I think the Buyers Club is definitely something I wanna make sure everybody know. Because Buyers Club, it just basically you log in, you register, log in, and then you make sure you are at the site, the right level. Cuz we do offer a lot of exclusive benefits coupons or services or even a consolidation and shipping and logistics services and coupons for different level. So for example, you're Pro Buyer, which means you are you have either 1 million Revenue plus, or you have spent $300,000 Alibaba. Definitely make sure you are part of the Pro Buyer program. So we have order coupons $500 of $20 dollar coupons, right? Which is a lot. We have account management support we have shipping coupons and consolidations, et cetera. So definitely check in to your accounts and see which level you are and get to the right level and you will enjoy and the benefits from it.
Bradley Sutton:
Okay, cool. So like, let's say somebody hasn't started with Alibaba yet. Do you have any special gifts or anything or bonuses if people want to sign up with Alibaba now?
Min:
Yes, definitely. For the listeners today we are offering for limited time VIP matching service. . So this is basically for, especially for new users, sometimes it can be overwhelming, right? You don't know how to get started. So we will help you, we hold your hands so we can help you guide through how to learn all the tools and functions on Alibaba. And the same time for your first order, we will help you look at the suppliers and we'll help you recommend the suppliers that meet your needs. So Bradley, we'll share a link with you by filling out the form. We can get this started.
Bradley Sutton:
All right guys, so if you got a pen, h10.me/alibabassp for Serious Sellers Podcast, again, h10.me/alibabassp. Now, if you guys are ready, Alibaba users or you just want to continue using, maybe you don't wanna sign up yet, don't forget guys you can, you can browse the entire Alibaba database even on Amazon so you can be on any page and then you hit Xray. Like, let's say you're on a search results page and you hit X-ray you, there's a button that says find a supplier, and then you could actually just, without even leaving Amazon, be able to use the, the Helium 10 Chrome extension in order to find a supplier. But for those of you brand new make sure to hit that link and then get some special, special bonuses. Now, I'm gonna be speaking, thank you for inviting me to the Alibaba Expo. Although I think the main reason why you're inviting me is because you guys feel bad. You didn't come to my Zumba class in Sell and Scale, but whatever the reason is that you're inviting me to speak at this Alibaba event I'm grateful. But can you talk about what is the Alibaba Expo and who should be attending it?
Min:
Yeah. So you're actually right. I do feel bad about not attending your Zumba class. I'm compensating here. There you go. So, yeah, so anyway yeah, so Alibaba March Expo is one of the two biggest events online at alibaba.com. So in March it's really the time people are looking to plan for the new year and for looking for new product ideas, looking for importing or getting the suppliers to help them get the products ready for the whole year. So we have a lot of programs going on. We have the best price, best cost of the price in the last 90 days, and we have a lot of promotional I don't wanna share too much yet, but we have a lot of promotional things going on and we are very lucky we have Bradley gonna join us at the opening day on the March 1st, very first day.
Min:
So Bradley is a really great speakers, brings a lot of expertise experience in online retail space. We're a lot of our buyers online retailers and also with the Helium 10 and Bradley he tens a really great partners of alibaba.com as well. So I believe Bradley will bring a lot of expertise and insights into what's really, how to choose the products and how to find the right suppliers, and also how to use different tools to understand get a good analysis of what kind of products you should be bringing to the store this year. So we're very excited and then we look forward to it.
Bradley Sutton:
So then how would people tune in to this? Like, would they just go to on the first Alibaba's website? Will there be announcements or things that they can do?
Min:
Yeah, so definitely we will have a live streaming section. So we'll create a link very soon, probably in the next week or so. And then we'll share with the audience with you and audience.
Bradley Sutton:
That'll be in like the Alibaba YouTube channel then maybe, right?
Min:
Yes, it will, yeah, it will be broadcast across YouTube and different channels and LinkedIn as well. And also within Alibaba platform. So at 11:00 AM Pacific Time, I said 10:30 AM Pacific Time, you will see us across different social media platforms on Alibaba Count and also on the platform on alibaba.com.
Bradley Sutton:
Okay. Excellent. Guys, so I'll make sure to set that in your calendars. You may subscribe to the Alibaba YouTube or LinkedIn. So you'll get a notification when, when we'll go live. And I may or may not be doing a little bit of Zumba on that livestream if men's there, we'll see. Let's switch gears, but on the same topic but AliExpress some people are confused, like what's the main difference of Alibaba and AliExpress and like, when would I use AliExpress instead of Alibaba?
Min:
Yeah, so AliExpress is actually the B2C, the consumer side of the international business part and Alibaba Group versus Alibaba.com, it's the B2B e-commerce site. So, so we have a very different customer focus and market focus. But both of them is under Alibaba group.
Bradley Sutton:
Okay. Yeah. Is it only consumers or sometimes maybe even third party sellers might use AliExpress to buy in maybe smaller quantities but still at a better price? Or do you think it's really a hundred percent just you know, people who are consumers who are purchasing from there?
Min:
So I think at Express they do have, have a lot of partners. So so one of the business I think they do is dropshipping, so like some of the dropshipping apps, very popular ones. They actually work with AliExpress to help fulfill the orders for the US business. But I think most US business they use suppliers, Alibaba, because it's, it's built for business, right? And our suppliers are more trained and they're more equipped to help you with like a bulk orders a customization you know, things like that. So I express is more ready to ship items and versus Alibaba.com, we have more choices and we can customize and help you really build your own products, lines and brands.
Bradley Sutton:
Okay. And then one used case, I'm just discovering this now, but there's like you can order small quantities from there. So like sometimes I've taught this technique where you can do like, kind of like test listings on Amazon with smaller quantities when you're not sure if you want to really make a big order from Alibaba or any manufacturer but then if you can find it on AliExpress and just order like four or five units get those shipped to you and then, and then run that as a test before buying 1000 units and then discovering that there's not much demand for it. So yeah. So that's another use case I think that not a lot of people are doing, but look at this.
Bradley Sutton:
Yeah. See, I'm, I'm already getting a product idea. Look at this. Here's a, a snake snake coffin, or not coffin, but spooky shelf, and here's some bat ones. And this is very interesting because you, like, this is almost like, I'm, I'm almost looking at this as, as product research. Here's a butterfly shelf. Yeah. a horse shelf, very interesting stuff. Raccoon shelf, no coyote shelves here. We wouldn't men took that off of AliExpress as soon as it came up, but alright, now the, we talked Alibaba AliExpress, but you know, now more and more I think there, there's different Chinese companies e-commerce companies coming to America, like, and, and people are getting exposed to them where, where they hadn't before, like because of like Super Bowl ad, TIMU did big Super Bowl ad, and then they've talked about like TikTok perhaps coming out with more shopping channels there. But, but what, what, what are kind of companies out there are trending that you can see you know, as far as the e-commerce and what do you think the future of that is?
Min:
Yeah. So that's a really kind of controversial subject sometimes because when I post some notes on that, people have very kind of extreme opinions about that. So I think you know, when I look at like e-commerce globally, right? Like in China or in the US or globally there's always there's, there's always different players in the space and I love to see kind of learning from each other, right? People look at those Chinese apps or AliExpress, right? And Alibaba or TIMU was, you have mentioned and also TikTok, right? Tiktok shop or different ones like people see them as a Chinese app, but what I really see is that's something like we can learn from them or why they're so special, or how can we help US shopping apps or how can we help our US business and sellers to stay competitive with all the competitors in the space.
Min:
So I think they have really different business models and they focus mostly on the social media marketing and Google marketing, and they focus mostly on the fashion or cosmetics. The categories is kind of a small parcel, right? Versus where more US business focus on more kind of bigger or customized or niche markets. So I think we need to look at them very objectively and think about what kind of impact they will bring to the market or individual online retail sellers, right? Maybe try to avoid direct competition in that specific categories, or try to differentiate ourselves or try to be more customer loyalty in our products. So I look forward to what's gonna happen. It's very hard to say, but they're definitely something should be under everyone's radar.
Bradley Sutton:
Yeah. Okay. Now, you've lived in America for over 10 years now. Obviously you come from China and you know, the Chinese culture very well. here's something that's just has always been on my mind the last couple of years is America kind of created live shopping I don't know how many decades ago maybe before you were born like with QVC and stuff like that. Yeah. Why has online live shopping, why is it like so huge in China and, and other countries in Asia, but but for some reason it hasn't really taken off here in the States. Any thoughts? Why not yet? Yeah. And then do you think that's gonna change soon?
Min:
Yeah, that's a really, really good question. You know, I've been thinking about this and talking to people as well. I think life shopping became really big and successful since probably five, six years ago. Actually Alibaba's business unit, Taobao and TIMU were the platform where they get started, right? And that's really a way we help the consumers kind of see and engage with platform really well. I think if you look at the Chinese market, right, the size of it from a report I see, the very recent report was from 2021, the Chinese consumer market is bigger than the next 10 markets combined, including the US. So think about 1.5 or 1.54 billion people, and there's such a high adoption of the mobile devices, right? Because it's so much cheaper. So almost everybody, like maybe 80% of people, they have a mobile device, they can directly log into TIMU app or Taobao app and then just shop there and look at their spend time there.
Min:
And now you have such entertaining, what we call KOLs, right? Key opinion leaders or influencers who are very charming and they're very good salespeople and they talk about life. They help you use makeups like the Makeup King, the lipstick King Austin, right? The, the guy who is like a top, top influencer, he's very entertaining and he helps you choose makeups. And also they have a really good discount from all the luxury brands. So you can buy with lowest price, you can be entertained and everybody's on their phone all the time. Yeah. And this is not something you see in the US, right? We don't have a such a strong mobile adoption. You don't have 5G network everywhere for free. Versus in China, most of the majority of people have like such unlimited 5G data on their phone for such a low price.
Min:
They can always look at the phone on their commute to work and everybody, everywhere. So I think that's the infrastructure wise. And the second is I believe Alibaba and some of the competitors, they heavily invest in those live streaming versus Amazon. You look at Amazon Live, they do, you give like a homepage spot, but they don't intentionally invest in that or in the influencers themselves versus what we do is we actually invest a lot in them. We give them traffic, we give them a really good spot. We constantly push them to do live streaming. They, some of them, they do eight hours of live streaming a day. Like I don't see that in the US Yeah. Today. But what do I do see is people realizing this is going to eventually going to happen sooner or later.
Min:
Especially I see a lot of influencers programs or MCNs, what we call multi-channel networks of influencers, kind of, those agencies started to happen in LA, right? South California, LA and TikTok is definitely investing more into like shopping as well. But for TikTok, as you know, they still have to balance between advertising business and shopping business. So how much traffic you actually give to the shop, that's a question for them as well. And I think I saw news yesterday, I think Instagram is gonna stop doing live streaming shopping now. So they're gonna focus on the advertising business. So there's always this kind of balance you have to keep. So in general, I think the live streaming will probably get really popular but it's still gonna take some time and investment. So I think it's really, we have to think about like what kind of value we can add to the customers, right? And for us, the live streaming help customers see the products, see the suppliers, see their factory. So I believe that's a value we can add to it. But for consumer shopping, how much value can add to the live streaming for the consumers? And if the cons consumers are ready, if there's enough traffic to it? That's your question.
Bradley Sutton:
Okay. Yeah. I mean, I think it's, it's gonna be more popular this year. I'm not sure if it's gonna go completely crazy like it has in, in China this year, but I think it's just gotta come. It's just a natural progression of things. And then we've had some influencers here on the podcast before, like Gracey who, who are into it, but it just, it just makes a lot of sense, you know as far as being able to, to Americans love influencers like they follow influencers like crazy. So it is, it is like the next logical step in my opinion. And so like Amazon Live and TikTok Live, and I think these will get more important in e-commerce.
Bradley Sutton:
Alright, so, so one thing this year I've been doing a lot more is asking our guests about like their hobbies and stuff, because whether we're e-commerce entrepreneur, whether we work at Amazon, whether we work at Alibaba like sometimes it's difficult for us to get ourselves out of our job or out of our work and to have hobbies. So what is your, like hobbies that you do other than hunting coyotes, and then what is, what are like some healthy habits like maybe Yeah. You know, exercise or diet to make sure you have healthy mind, healthy body. Go ahead.
Min:
Yeah. So I started to do fasting, like intermediate fasting. this year, cuz I had some health issues last year and I was listening to some doctors and also Joe Rogan talk about that with some doctors as well. So I started to do that. So I don't eat anything until noon and I have like a four to five hour window. I only eat food and I will fast for the rest of the time.
Bradley Sutton:
I just started that this week. The first couple days were like really painful. But it's not extreme. Mine is from 12 to 8, so a little bit bigger window, but Okay. Yeah. That's cool. Yeah. Well, what about hobbies for you?
Min:
So so I used to be an athlete. I think I may have mentioned that I used to a badminton player for a college. I played tournament in China before, but I haven't played for a while, but you know, I pick up kickboxing when I was working in the Amazon agency space because as you know, people get very frustrated dealing with RBS. I was so mad sometimes. So I pick up kickboxing, just kind of relieve of the frustration.
Bradley Sutton:
Okay. All right, cool. Now let's go ahead and leave it with our SST 60-second tip. Like, do you have a strategy that you can give us? It could be about Chinese e-commerce, could be about Alibaba, AliExpress could be about health, could be about anything, but what's a quick hitting strategy you can give to our audience?
Min:
So I talk to customers all the time, and a lot of them are very successful Amazon sellers. I think one thing I learned from almost all of them is be persistent. 85% of time people fail, right? Even the successful ones, they fail 85% of the time. So the key really, the secret of all of them I learned is just focus on the 15% of the time you win and continue building on top of that. And don't never give up and have your passion and ambition and also persistence. And that's really how you can build a successful career in e-commerce and online retails business. So I just wanna make sure I have that out for people who get frustrated and sometimes you've, you have made some my mistakes and fail, but yeah. So everybody does. So yeah, hopefully, that helps
Bradley Sutton:
Awesome. Awesome. Well, thank you so much for joining us and I look forward to being on the March Expo with you. And then if people want to find you on the, on the interwebs out there is like LinkedIn the best way to, to find you?
Min:
Yes, yes. I have LinkedIn Min Yang Alibaba. So it's very easy to find me.
Bradley Sutton:
Awesome, awesome. So thank you so much and I'll be seeing you soon.
Min:
Sounds good. Thank you.
---
Enjoy this episode? Be sure to check out our previous episodes for even more content to propel you to Amazon FBA Seller success! And don't forget to "Like" our Facebook page and subscribe to the podcast on iTunes, Spotify, or wherever you listen to our podcast.
Get snippets from all episodes by following us on Instagram at @SeriousSellersPodcast
Want to absolutely start crushing it on Amazon? Here are few carefully curated resources to get you started:
Achieve More Results in Less Time
Accelerate the Growth of Your Business, Brand or Agency
Maximize your results and drive success faster with Helium 10's full suite of Amazon and Walmart solutions.