#372 – August's New Tools, Updates, and Feature
On today's show, we've got a strategy-packed episode from your favorite Amazon experts, and Bradley talks about the latest updates and features for Helium 10.
Originally published on: August 23, 2022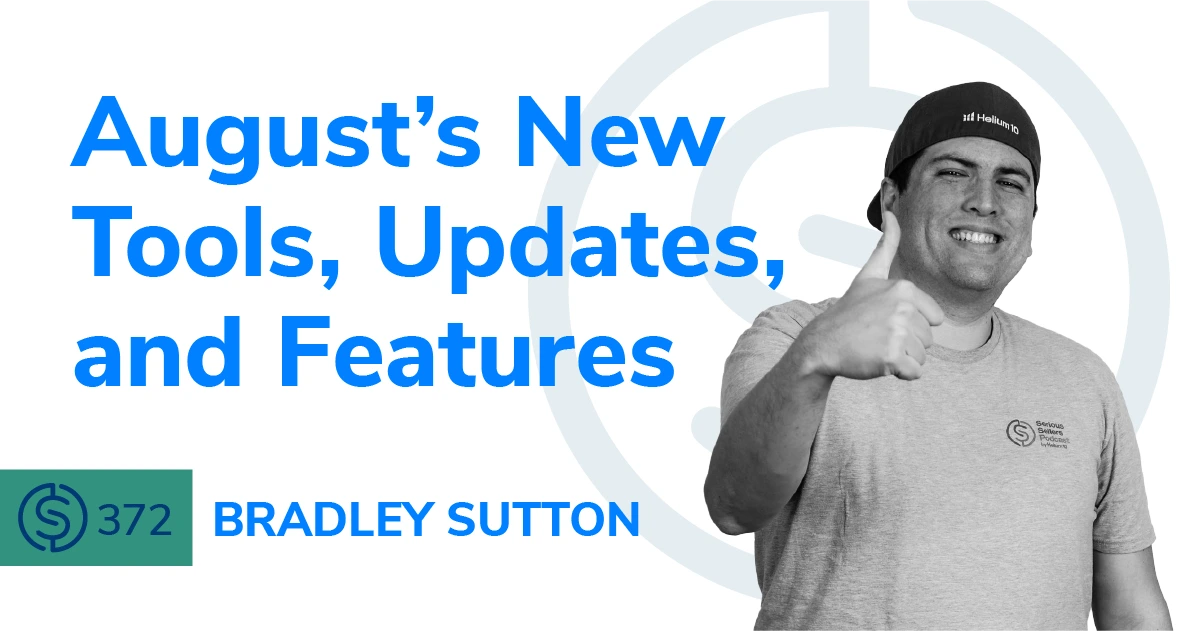 In this episode, Bradley recaps all the highlights of August's Bigger.Better.Launch! Webinar. We also share some Amazon selling strategies from all your favorite experts in the industry! Are you interested in knowing Kevin King's Facebook ad strategy for giftable products? Or maybe you're interested in learning how to save money on shipping costs? We talk about this and more strategies in this episode. August's new tools, features, and updates include the brand new Amazon PPC Academy Course with Vince Montero and Mina Elias. We also introduced bulk uploads for Adtomic, Sales Heat Maps, and the Search Expander tools!
Also, make sure to listen to the end as Bradley shares never-before shared listing hacks in this podcast. Next month's BBL webinar would indeed be BIGGER! The BBL webinar will be LIVE at the Sell and Scale Summit in Las Vegas! Make sure to get your tickets here and use the code S3BS100 to get a $100 discount.
In episode 372 of the Serious Sellers Podcast, Bradley talks about:
02:00 – PPC Strategy From Destaney Wishon
03:15 – Facebook Ads Strategy From Kevin King
05:15 – How To Save Money On Shipping Costs By Burak Yolga
06:45 – Solution If There's No Sales Estimate By Tomer Rabinovich
08:40 – Cross Sell In Image Carousel Strategy By Janelle Page
10:50 – Variation Listings PPC Tip From Mina Elias
12:30 – Rich Goldstein: Look Up Patent Expiration Dates 
13:20 – See You At The Sell And Scale Summit!
14:00 – Introducing The Amazon PPC Academy!
16:40 – Bulk Uploads For Adtomic
17:00 – Listing Analyzer Updates
19:45 – Introducing Sales Heat Maps!
21:45 – Introducing The Search Expander
25:20 – Bradley's Special Listing Tips
30:30 – Next Month's BBL Would Be At The Sell And Scale Summit
Transcript
Bradley Sutton:
On today's show, we've got a strategy-packed episode where we give you top strategies from experts around the world and bring you up to date on brand new, exciting features to Helium 10. How cool is that? Pretty cool I think.
Bradley Sutton:
Do you speak German? If you love a Serious Sellers Podcast in English, make sure to subscribe to our German podcast, just look up on whatever player that you are using for this Serious Sellers Podcast auf Deutsch and make sure to subscribe. Hello everybody, and welcome to another episode of the serious seller's podcast by Helium 10. I am your host Bradley Sutton, and this is the show that's a completely BS free unscripted, and unrehearsed organic conversation about serious strategies for serious sellers of any level in the Amazon or Walmart world. And we've got tons of serious strategies here because this is the recap that we do once a month of our BBL or our Bigger, Better Launch. And this month I being community month, we wanted to put together a lot of hard-hitting strategies from people who have been on this podcast and also who are speakers at the Sell and Scale Summit coming up in September.
Bradley Sutton:
So let's go ahead and hop right into some of these strategies, but don't forget, we've also had some super exciting announcements on things that we have launched here at Helium 10 in the last few weeks that I think you guys are gonna get excited about as well. So I'm gonna recap some of those and explain how best you can use them in your Amazon or Walmart business. So, first up, let's go ahead and give a strategy that was from Destany Whishon, you guys know her from BetterAMS and her strategy goes like this, "do you wanna maximize the reach in sales of the deals that you're running, create ads specifically curated to drive traffic during the time of your deal." So most people she says, don't realize that you can actually customize your ads to best promote your coupons, discounts, and deals.
Bradley Sutton:
You're gonna wanna copy your top-performing sponsor brand campaigns. And then she says, you need to change the start and end dates of this copy campaign with the deal that you're running and then adjust your ad copy to highlight your promotion. So like, let's say you're doing a deal of the day or best deals or something like that. You adjust your bids and you're targeting to drive more volume. Alright, most people don't, don't realize she said that it's actually legal to have sales copy in your sponsored brand ads. So the key is having your campaign fall within the start and end date of your deals. So these steps can help maximize traffic by giving customers a more enticing reason to click on the ads, you know, who doesn't want discounted products? So kind of like in the summary of this strategy that she had is, "Hey, you got some great sponsored brand campaigns, go ahead and copy it."
Bradley Sutton:
But now you're making like a special campaign to like start and, and end in a kind of in conjunction with like a lightning deal or deal of the day or a seven-day deal or something like that. And then have like some copy on that ad specifically for that deal. I think that's a great one. All right. The next strategy is actually from Kevin King himself. And he said, "now, if your product is giftable for a birthday or wedding anniversary, for example, consider running Facebook ads and choose the audience friends of." He said, when you type that into the Facebook audience selection tool for a new ad that you're setting up, you'll see a list of things. For example, friends of women who are getting married or friends of men who have a birthday this month, and so on. This can be highly effective for generating sales on Amazon or Walmart for your product if you have something people might want to give as a gift and your ad speaks to them.
Bradley Sutton:
So who is this for? Maybe this is not like if you're having a widget or something like that, or Samsung replaceable filter, you know, that's not really a giftable product. You can't use this, but you know, maybe you have a coffin shelf and you got an aunt or uncle or brother or something who's into Gothic decor. Maybe it's like gifts for friends who like spooky things or something like that or have a birthday in October. You could do things like that. And I didn't really realize this, cuz I personally don't run Facebook ads myself. So I thought that was interesting. Try and use this technique in order to draw up some business off of Amazon.
Bradley Sutton:
And again, the key is sending that off Amazon traffic to Amazon that everybody that Amazon definitely loves the next strategy is from Burak Yolga from Forceget, we've had him out here on the podcast multiple times or at least once. And then once in the Weekly Buzz, I think, but here's his strategy. This was one of the top favorite ones from people on the Bigger, Better Launch webinar. He says one of the biggest expenses for Amazon FBA sellers is international freight cost. Did you know that there's a way you can save up to 20% on shipping costs, many elements affect international freight costs such as a supplier location in China, transit time, shipping methods, et cetera, shipping to Amazon FBA warehouses on the west coast can be 20% cheaper than on the east coast.
Bradley Sutton:
So you need to deliver your products to west coast warehouses, if possible. Now, this is the way to do it. He says "it's like, you're shipped from the address instead of putting that as your China or India factory location use an address that's close to a warehouse in California, one of the Amazon FBA warehouses. And then the thought is that Amazon might be more inclined to have you actually deliver the products to that close by warehouse, as opposed to like sending it to cross country." So the snapshot below that you guys can hopefully see here is one of the ones where they did that. They put in an address here in Newark, California, and sure enough, Amazon chose the Stockton, California address or warehouse in order to send it. He says, "this is something that can actually save you up to 20% on shipping if you use this method."
Bradley Sutton:
So imagine if you have like a $10,000 container or something, instead of paying $10,000, you would be paying only $8,000. There's one strategy that can instantly save you a lot of money. So pretty cool strategy there. All right, let's keep these strategies going. Another popular one was from Tomer Rabinovich. So this strategy he's like, "there are some products sometimes that Helium 10 doesn't have information on for sales estimate and Xray because maybe there's no parent level BSR, things like that." And he says, "there are a couple of ways to estimate how much they sell. One of the ways is go to the product subcategory and see's position." You know, you could see that on the product page itself, right? And then let's assume that it's in the top 100. So like maybe it's like the top 10 or something like that.
Bradley Sutton:
Well, what's gonna happen is maybe that number 10 it doesn't have a sales estimate by Helium 10, but maybe some other products on that page do like the first one or the 9th one or the 11th one. If you have the 9th and 11th, you almost know the exact average daily sales that potentially it's making now how you would know that is by running Xray on the actual BSR page. Many people don't realize they think that you can only run the Chrome extension Xray on the product page or on search results. No, you can actually enter it on the BSR page. So that's a way that you can kind of estimate the sales there. Now let's say that there's a, a, a product. He says that doesn't have, you know, this BSR, there's no way you can do it.
Bradley Sutton:
Well, another way he says is you can divide 2% by the reviews generated from the last 90 days. So one thing that there is information on an Xray is the reviews that they've gotten over time. So you would use Xray, you can download that or just look at the review velocity or just look at the history of reviews and then take the number of reviews generated in the last 90 days and divide 2% by it. And then you do the same thing, but dividing it by 5% is what he says, because he said most products, their review of velocity compared to sales is between like 2% to a 5%. So if you have those two numbers, you can kind of guesstimate how many sales they have done in the last 90 days. So that's a pretty cool strategy right there.
Bradley Sutton:
All right, this next strategy is from Janelle Page. She's been on this podcast and was a favorite guest of ours. She says, "I always include cross-sells in my main carousel. Not everybody's gonna scroll down to the A+ Content, which already has a great cross-sell grid that you should be taking advantage of." She says that "to ensure shoppers, see all of the products in her catalog, she makes sure that she includes an image that shows complimentary products or hypes a new product recently launched." She would even call out promos or coupons on the image to increase the likelihood that they go check it out. Now, you know, she said that "this maybe doesn't sound revolutionary, but she's shocked how many brands don't take advantage of the opportunity to cross-sell their other products on their listings and this is especially powerful if you have a high traffic or bestseller ASIN."
Bradley Sutton:
So she's leveraged this strategy on new product launches with great success. And she'll just add her product. The new product has a cross-sell on the main image storyboard as well as targets her own listing with sponsor display ads under the Buy Box and bullet points with a 50% off coupon, and then she's on her way. So you can take a look at some of these examples where it's like these are product images as for more bone health support, find these products. And then so, you know, what, what what's gonna happen is, is they're gonna buy, like, are they're gonna search like solar Ray, magnesium, potassium, aspartate. I'm not sure how to read this word here, but you see you're gonna get like some residual rank juice as well if people are searching for that word, even though they have the brand name in there.
Bradley Sutton:
And then here's another one, say more from this company. And you know, for those of you who are listening to this on the podcast, you can't see what I'm showing on YouTube, but these are some examples of how you can use this strategy. All right, the next strategy is from somebody who's no stranger to the podcast, Mina Elias. And this is about PPC obviously. So his strategy is, when you are launching products that have child variations, like for example, you know, different flavors different colors, sizes, et cetera, to figure out which one you need to run the ads for first do some campaigns like auto the main keywords, you know, broad and phrase matches. Well, if you want and let it run for a few weeks now, you're targeting like all of the different child items, right?
Bradley Sutton:
Then what you do is if you have Adtomic, you can just look at this in the reports or you have to download the reports from Amazon if you don't have a tool like Adtomic. And then you wanna look at all of the clicks, impressions, spending, and sales for each of the variations. If you don't have Adtomic, you're gonna have to use like a pivot table or something there. So hopefully, you know how to do that in Excel. And then you're gonna manually calculate like the click-through rate and ACoS and identify which of the variations are the top performers. All right. So this is especially helpful because the ACoS is not always the same across the board. When you have variations, like maybe you've got a pink, a purple, and a green, but on the pink, your ACoS is like 5%.
Bradley Sutton:
Your click-through rate is really high, but on the purple and green, they're really low. Well, what does that mean? Well, you know, according to Mina, what you should do now is now once you have this data, now you start a standalone campaign, not targeting all the child items, but targeting only the best performer for the certain keyword or keywords. And then this is gonna take out some maybe useless impressions that you might get where customers are not interested in that product. Now another one that we have here, is from rich Goldstein, another speaker at Sell and Scale Summit. And he says that, "sometimes you might see a product with a patent number, but he says, don't just take it for granted. Always look up the patent to find out if it's expired." An expired patent, actually it's not like, "Hey, my Netflix subscription expired. Let me go renew it."
Bradley Sutton:
You cannot renew an expired patent, but what happens is menu manufacturers and sellers. They keep marking their product as having a patent, but it really doesn't have one because it expired. So if that's the case, then it's possible for you to go ahead and do a product very similar to that and you are not in violation of any patents at all. One quick note all of these speakers that gave these strategies guys, and I, and I've got a couple more that I have that I gave as well. But all of these ones, they all are speakers at the Sell and Scale Summit. That's coming up in September 19th to 22nd. So I just came back from the Billion Dollar Seller Summit talking to people there from all over the world who are coming. Pair from the UK, some from Brazil, Romania even people right there in Las Vegas are going.
Bradley Sutton:
So guys, I want to see all of you there at Sell and Scale Summit. So make sure to use the discount code that we give here on this podcast, S3BS100, S3BS100 to save $100 off of your ticket. Now let's go ahead and talk about some of the new launches that came up for Helium 10 in the last few weeks. Now, some of these you might not have access to yet, depending on when you are watching this but for others you might already be able if you're watching this in like September probably all of these are good to go. So now the first thing that I wanna talk about is a brand new Helium 10 Amazon PPC Academy. This is free for all subscribers right now, but probably it's going to be locked to diamond and above sometime in September or October.
Bradley Sutton:
Right. But right now, as if you're watching this, unless you're watching this in like 2023, this is free for all subscribers. A very extensive course on PPC was done by Vince Montero here at Helium 10 and also Mina Elias who we heard from earlier. Overall, there are over 30 different videos and training modules in here. If you're watching this right really fast when we launch this podcast might not all be up yet, but if you're listening to this on September 1st or later, all of the modules are there. So really in-depth, A to Z, it's not just about how to use helium 10 Adtomic. That's actually only a small part of this course, but it's just no matter what tool you're using, or even if you're not using tools, it's gonna help you really optimize your PPC.
Bradley Sutton:
So if you guys want to sign up to take this course you know, if you're watching this on YouTube, you can see a QR code. You can hit right there, but if you're listening to this on the podcast, just write this down. h10.me/ppcacademy, h10.me/ppcacademy. And then it's just really important. You enter your email address that you use to log into Helium 10. So use the email address that you use to log into Helium 10, and then it will go ahead and send you out. It'll activate it. And then you can just hop in there by hitting Freedom Ticket inside of Helium 10, just on your dashboard, you hit freedom ticket and you'll see this course right there next to your freedom ticket courses.
Bradley Sutton:
Now, if you're not a Helium 10 member at all, you're a free user. If you don't have a Helium 10 account, no problem. You can get access to it for now by going to that same link, h10.me/ppcacademy. And then what you're gonna wanna do is click on the register. You enter whatever email address you want, and they'll send you an email confirmation on how to activate a brand new account. Speaking of Adtomic, we have another feature coming, something that a lot of sellers have been asking for and that's bulk edits or bulk uploads. So let's say you've got tons of campaigns and you're just like, Hey, I always wanna set them all to a certain budget or something like that. Or perhaps, "Hey, I wanna do an action. Like, Hey, all of these targets that are on this page, I wanna set the bid to a certain amount."
Bradley Sutton:
Well, Elite members now can do that in Adtomic. And then soon the Diamond members are gonna be able to do that as well. We also have a couple new updates for Listing Analyzer. You know, we've been probably launching something for Listing Analyzer every month. It seems in BBLs or Bigger, Better Launches, but this time the one for Listing Analyzer, it's actually pretty cool because we are showing now your own product. So what you can do on the main page is actually select, if you have your Helium 10 account connected to your Amazon account, you can select one of your own products that you can just import right into Listing Analyzer. Now you might be wondering what's the benefit of doing that. Well, if you do that now the second page, instead of going right into the Listing Analysis, you're going to get a chart of all of the actual sales.
Bradley Sutton:
This is not a sales estimate, but this is your actual sales, because, you know, we've got that information. If you connected Helium 10 to your account. And then in addition, any alerts you've gotten on this ASIN, you know, throughout history, like, let's say a title changed, or let's say you had a new five-star review, or your image changed, whatever happened in alerts. It's actually gonna go ahead and transfer right into this chart's history in Listing Analyzer. So how can this help you? Well, let's say you got like three bad reviews on one day. Well, I don't know by you, but for me, I'd be curious, well, is this affecting my sales after that? So you'll see on this chart in Listing Analyzer, exactly when you got those three bad reviews, and then you could see if the sales after that day compared to before is the same, or if sales actually went down. Same thing for like, maybe you, you put a new title and you wanna see how that affected your sales.
Bradley Sutton:
It's really, really cool what this can do. In addition, another new chart is coming up in Listing Analyzer, where you can see the BSR history of the parent category. And this is regardless if it's your product or your competitor's product, the first one that you pick, you are gonna be able to see the BSR history, but not only that for the first time ever inside of Helium 10, you are gonna be able to see the history of the subcategory BSR, something you guys have been asking for is like, "okay, great. I'm at BSR, you know, 100,000 in a home and kitchen, but what am I at in the floating shelves category?" So this is super, super cool guys. You can use this right now, it's available for platinum and above. Make sure to try out the new listing analyzer and let me know what you guys think of it.
Bradley Sutton:
Now, who remembers a few months ago when we caused a lot of waves when we launched that new tool Inventory Heat Map? So basically it's like a heat map of where your inventory is stored in the United States. All right, this is super cool. It allows you to see, like, man, my sales in a certain area are kind of low. Why is that? Well, oh, look at this, look at this Inventory Heat map. I can see that there's almost no inventory I have for this product in this area. Right? So that's a very popular tool if you haven't used it yet, make sure to get in there. But now, because of this, we are now going to be launching in the next couple of weeks, the Sales Heat Map. So you're gonna be able to see by like county and state and or zip code, a map of the United States, and then you'll see this color-coded kind of like blobs that focus on where most of your sales are.
Bradley Sutton:
So this is like super cool because now you're gonna be able to compare your inventory heat map to your sales heat map. There's so much that you guys can do with this. For example you're gonna be able to download like a report of all the orders in a certain zip code or county or something. Well, what can you do with that information? Are you running Google ads for your product? Well, guess what now you'll know the zip codes or the counties or the cities that maybe you need to be focusing on in your Google ads because there's some abnormally high sales there. Let's say you notice heavy sales in like the state of Florida or the state of New Hampshire or something. And it just so happens that you're trying to get into a brick-and-mortar chain of, you know, small shops that are in one of those areas.
Bradley Sutton:
Well, you're gonna be able to print this out and show the brick-and-mortar chain like, Hey, you know I want you guys to sell my product, but it's not just, I think that people around here are interested. Look at this, my Sales Heat Map. This is a hot area for sales of this coffin shelf. Everybody's a weirdo here in Florida. They all love coffins. I don't know, I'm just making stuff up, but if you show them this heat map, it could be potentially powerful. So this, guys is super, super cool. And depending on when you're watching this, it's going to eventually be in your Profits dashboard wherever you have information like on your product performance and things like that. Sales Heat Maps, guys, compare it to your Inventory Heat Maps and see what's going on. Now. the last tool I want to talk about that was just released is something that people have been asking us forever.
Bradley Sutton:
And it is called the Search Expander. Now, this is probably gonna be available by the time you're watching this video. So go ahead and you can see in your Chrome extension, that what you do is you start typing in a string of letters or word or words in the Amazon.com search bar. And then we're gonna show you all kinds of additional information that you've never been able to see before unless you go into like Magnet or Cerebro or something. So for example, in this one I have here up on my screen, I have the word coffin. I time I didn't click anything, just have the word coffin. And then it's showing me all the search volumes for the Amazon suggestions. Like it says, coffin shelf is the suggestions says 10,300 searches. It's got the error right there showing me the search kind of velocity or the search volume trend compared to last month.
Bradley Sutton:
The next thing it shows is related keywords a little bit more on that what related keywords are later. But it also shows what are the words maybe they're not showing up in the Amazon auto-complete, but we have in our Magnet database, what are the top search words that start with the word that you just entered into the search bar, like here says coffin wallet, coffin, backpack, coffin bag, right? And then what about the keyword that ends with whatever word is here? So let's say, for example, an inflatable coffin, Halloween coffin, nail tips, coffin. So now you see all the words that end with coffin. And then lastly, we have this smart complete, which as you guys know in magnet, it's kind of like looking at a broad match or phrase match PPC for a certain C keyword. So you're gonna find other keywords here.
Bradley Sutton:
Like we've got here, caskets and coffins for burial humans. I mean, the keyword was coffin, but we can detect what's plural and singular forms of the word. And then we're gonna show you different combinations of that word. Now, in addition to just the search volume, like I mentioned, you're gonna be able to see the search volume trend Title Density and the number of competing products. I mean, the Title Density is kind of super cool instantly. You're gonna be able to do some product research on the page where like you're looking at a word that you put in the search bar and you're gonna see potentially 30 to 40 other keywords. And just by putting your mouse over it, you're going to be able to see what the Title Density is. Maybe you can find a keyword that has like 10,000 searches, but a Title Density of two, meaning that only two listings on all of page one have that searched keyword in the title.
Bradley Sutton:
You're gonna be able to instantly now see this just by typing in a string of letters or words inside of Amazon. You don't even have to go over to Helium 10, the Dashboard tool at all. This is super, super cool. I had mentioned the related searches or related keywords. If you sometimes go to a search on Amazon of a keyword, like for example, coffin or something, and you scroll to the very bottom of Amazon, sometimes not every time gives you related searches. This is what Amazon says are the most common keywords that maybe were searched before or after somebody searches, whatever you just searched. And now what we're doing instead of having to go scroll all the way to the bottom, you can just go ahead and take a look at what these related keywords are, what the search volume is, et cetera, cuz Helium 10 is pulling it up and it is pushing it to the top of the page so that you can see what Amazon actually suggests as the main keywords for this search term.
Bradley Sutton:
All right, let's go over a couple more strategies. And then we'll close this out. So this is almost like my 30-second tips of the day. These ones are for me now. Did you know that you know, Amazon actually tells you what are the most purchased items after the search of a keyword? Maybe you think, oh, well isn't that what Brand Analytics shows, but yeah, but it's only gonna show you the top three clicked not necessarily a top three purchase and it's a maximum of three anyways, but Amazon actually makes this data public. So what you do on a desktop computer, go to any search term, that's the main keyword that you wanna look up, and then press enter. In the search results, pick any product that's an organic one and then scroll to the bottom of the page.
Bradley Sutton:
Once you do that. For example, I typed in coffin shelf, I picked a listing scroll to the bottom. There's this widget that comes up that says customers who search for coffin shelf ultimately bought. And it is showing 20 products here that were all purchased after the search of coffin shelf. So this is amazing that Amazon is making this data public. And this is actually given in the order of the most sales for the keyword. I was able to do some analysis on this and determine that. So, guys, this is a great method to see what are the top related keywords or what are the top related products that people are buying after the search of a keyword. And this is straight from the horse's mouth directly from Amazon. Another strategy I wanted to talk about was New Fields to Indexed Keywords.
Bradley Sutton:
I talked a little bit about this in the Maldives Honeymoon episode of 350, but special features guys. This is what I brought out. This is what I classify as a super indexable field. And this is just a word I made up super indexable. Obviously, it's not a real Amazon term, but I consider it super indexable. Like if you enter a keyword there and you're not indexed for it. And like within 20 minutes, your indexed immediately, not all fields in an Amazon listing like that, you know, search terms used to be like that subject matter used to be like that. But you know, you change something sometimes on the title or the bullet points or the description it'll take like a day or two or maybe even never to get indexed. But whenever I use these special features, it always gets indexed right away.
Bradley Sutton:
And in addition, and this is why you actually can't keyword stuff on this, it actually takes what's in your special features line items and it puts it on the front end of your listing. In some categories like this one here is from the home and kitchen category. It took this coffin shelf that I put in special features and hooked for hanging included in special features. And it made a special line above the bullet points where it says special feature. And then it passed both of those things with a comma separating it. So it actually brings it up and you get visibility on some feature of your product. That's even higher than the bullet points. Another area that is coming guys, this is coming to a listing near you is secondary and tertiary and whatever the word for fourth is, description feels all right, always in the past, the description on your Amazon listing is only one field, right?
Bradley Sutton:
It's only like your bullet points or subject matter where you can like add more and add extra lines, but on descriptions always been one and especially that's noteworthy nowadays because you can't do HTML like line breaks anymore. Right? So it could be just a long cluster of words, right? But soon, you're gonna be able to have different paragraphs because they have different description fields. I say that it's coming soon because it's not ready yet. A lot of your listings have this, but even if you edit it's not gonna show up. I talked to Amazon about this. They're like, they're not ready to roll this out. It's not gonna be active yet. It's not indexed, but that's the whole point of this. This is gonna be something cool for your copy and your listing. If you don't have A+ Content, but whether you have A+ Content or not, I have always said always fill out your description field so that you can get some extra keyword real estate up in there.
Bradley Sutton:
So that's what is coming to a listing near you, a secondary product description. So go ahead and check that, go into your listing, hit, edit, listing, go to the product details tab. And let me know. Do you have an add more to the second line of your description where you can add it? If you do, let me know in the comments below, if you're watching this on YouTube, and then also go in there and start filling it out so that once it does become active, you can be ready to go. All right, guys, that is it for this edition of the monthly Bigger, Better Launch. I hope you guys enjoyed these new updates and the strategies. Let me know. What was your favorite strategy from one of the influencers that I gave, let me know on the comments below, which is your favorite release.
Bradley Sutton:
Again, these releases sign up for the Helium 10 PPC academy, h10.me/ppcacademy, and then make sure to use the new Listing Analyzer functions. Let me know what you think of it in the comments below. And then also of course start using this new Chrome extension that will give you the great keyword and product research. Not even with a click, it's not one click, it's a zero-click feature because you just start typing it into the Amazon search engine or the search bar. And you're gonna be able to get this information. So I hope you guys have enjoyed what we have launched next. If you think this is crazy, wait until next month guys, next month we are doing BBL from the showroom floor, the exhibitor floor at Sell and Scale Summit in Vegas, and we're gonna be broadcasting in kind of like this ESPN-style booth.
Bradley Sutton:
And you guys are gonna be able to see it from home, but I hope to see you in person. Sell and Scale Summit, you can't watch from home. The only part you're gonna be able to watch is the bigger, better launch that we're gonna do. And we have some crazy launches that we saved for Bigger, Better Launch in September, and for the Sell and Scale Summit. Don't forget guys, time is running out. VIP tickets are almost sold out, might be sold out by the time you're watching this. So try and get your tickets now. h10.me/s3 and use the coupon code S3BS100. Thank you guys for tuning into this episode. I'll see you guys in the next one.
---
Enjoy this episode? Be sure to check out our previous episodes for even more content to propel you to Amazon FBA Seller success! And don't forget to "Like" our Facebook page and subscribe to the podcast on iTunes, Spotify, or wherever you listen to our podcast.
Get snippets from all episodes by following us on Instagram at @SeriousSellersPodcast
Want to absolutely start crushing it on Amazon? Here are few carefully curated resources to get you started:
Everything for your business on Amazon.
Find out more about our products by signing up or speaking with one of our
Customer Success representatives today. With us in your corner, you can enjoy
more sales and increased engagement from your Amazon business.
Chat with a Support Specialist