#325 – Compliance Requirements For International Marketplaces
Today, we speak with Rael Lowenthal about product compliance, importing, taxes, and logistics for when you're ready to expand your business internationally.
Originally published on: February 26, 2022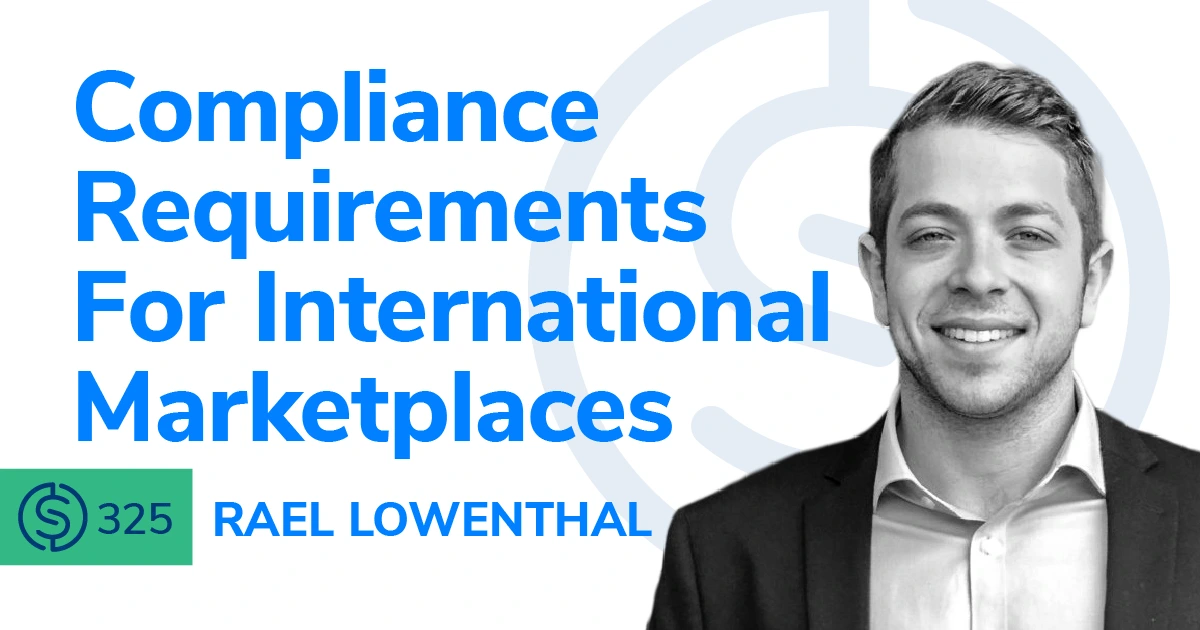 Do you currently have a profitable product or brand? The next logical step may be to start expanding to one, two, or more of Amazon's 16 marketplaces worldwide. In this episode, Bradley welcomes Rael Lowenthal of Zee to talk about your international expansion and how his insights, tips, and strategies can make it a smoother process. They also talk about the "unsexy" but essential parts of Amazon selling: customs compliance, importing, shipments getting stuck, taxes, and logistics which can definitely help you on your quest for global expansion.
In episode 325 of the Serious Sellers Podcast, Bradley and Rael discuss:
01:30 – First Episode In Bradley's New Studio
02:50 – Growing Up In South Africa, Rael's Shares His Backstory
05:40 – The "Unsexy" Parts Of Amazon Selling And Why Is It Important
06:20 – Importing Rules And Regulations For International Marketplaces
09:40 – Special Taxes And Fees When Importing Or Selling To Japan 
12:50 – Is There Success In Amazon Japan For Foreign Sellers?
14:40 – Shipping Timelines For These International Marketplaces
15:50 – Compliance Requirements When Selling In The UAE And Australia
21:00 – What Is The Fastest Growing International Amazon Marketplace?
22:00 – Knowing Your Supply Chain And Demand Can Save You Money
23:30 – International Shipping Terms And Acronyms That You Need To Know
28:20 – Helping Seller's Shipment When It Gets Stuck
30:40 – Rael's Thirty-Second Tips
32:30 – Preparing Profitable Your Products For Global Expansion
34:50 – How To Get In Touch With Rael And Zee  
Transcript
Bradley Sutton:
Today, we've got another one of those unsexy episodes where it's not about a product launch or PPC or things that are super fun to talk about. However, things like how to do an importer of record VAT, custom compliance are just as important. If not more for your Amazon business, or today, we're gonna talk to an expert on these things. How cool is that? Pretty cool I think.
Bradley Sutton:
Hello everybody, and welcome to another episode of the Serious Sellers Podcast by Helium 10. I am your host Bradley Sutton, and this is the show that's a completely BS-free unscripted, and unrehearsed, organic conversation about serious strategies for serious sellers of any level in the Amazon, Walmart, or e-commerce world. And for those watching on YouTube, this is a significant episode guys. This is my first episode with my new studio here. I'm doing where I kind of copied the tequila room from our Helium 10 office. And now I have it at my house and still not completely finished. We've got some tequila here, so you guys can, can see how much I'm drinking. If you look at the bottles and all of a sudden they start going down episode after episode, it means I've been dipping into the bottles a little bit here, but this is my first episode of my brand new Serious Sellers Podcast studio been working a lot on this. We'll give you guys a reveal on that, but anyways we're not here to do a reveal on my office. We're here to somebody with some serious strategies. So we've got Rael here from Zee, Rael, how's it going?
Rael:
Hey, Brad. And thanks for having us. I'm really excited that it's the first episode in your new studio. I can actually see it as we speak. It looks awesome. And I'm excited for the listeners to get a little bit of insight into it when you do the big reveal.
Bradley Sutton:
Awesome. Awesome. Yeah, we got some crazy things like in this office, like secret doors and everything. I can't wait to show you guys what I've been working on, but you're coming at us from South Africa if I'm not mistaken, right?
Rael:
Correct. Our head office is based in Johannesburg. Our founders are here, but we do have a global presence of about 50 offices around the world which kind of allows us to offer the services that we do.
Bradley Sutton:
Is South Africa where you were born and raised.
Rael:
Correct. I was born and raised in Johannesburg. I still live here south. Africa's a, a beautiful, beautiful country. You know, if you've got listeners from all over the world, highly recommend to come in and come and visit. There's amazing tourists things do beaches, Safaris scuba diving. We really have the best wine in restaurants. So really a big advert for South Africa. Yeah, if you guys ever find yourself yeah. Please reach out, I'll try and show you around.
Bradley Sutton:
Yeah. Little known fact, that's actually my favorite English accent in the world, is a South African accent. So and then, of course, you know, most of us Americans, the only idea of South Africa to us is what was that movie with Adam Sandler, Blended or I think it was, that was one of my favorite movies, but yeah, ever since I watch it, I was like, oh yeah, I gotta go visit. Now, you're growing up in South Africa, what's a typical thing that, you know, when you're younger that you want to do when you grow up.
Rael:
So look it, I guess it depends. I was brought up in a family of stockbrokers and finance people. So my exposure to that type of industry was from a very young age, from, you know, dinner table discussions about stocks, the market, et cetera. So I pursued a career or studies at least to be a chartered accountant. And I spent three years at an investment bank, you know, doing analysis for debt and equity and then realized I had a passion for sales. And that's really why ended up now where I'm at.
Bradley Sutton:
What was the transition like, you know, getting out of what you studied for university, and now you're like maybe going to go into something, something different? What attracted you to that?
Rael:
I wanted, you know, I, I worked in a big corporate I worked you know, for some time in the UK as well. It was a corporate bank that was started in South Africa, but that has offices around the world. And you know, being in corporate obviously has its benefits. I learned an incredible amount, but I was actually quite keen to get my hands involved in something a little bit more commercial. Be on the business side of things rather than the financing side of things. I got exposure to a really wide variety of different companies out there. And I wanted to see what it was like actually being management, as opposed to you know, just doing the analysis on financials and trying to put together credit packs and investment packs.
Bradley Sutton:
Okay, cool. Now I brought you on because you know, this is, you know, no offense to your company, but this is kind of like one of the unsexy parts of Amazon, you know, like people like to think about the sexy parts, like, Ooh, how are you gonna do your PPC and product research and launch and where are some keyword hacks, but when it comes down to it, there's important things that you could have that all down. But then if you screw up with your compliance or importing and things like that, you can maybe never get your product even into the Amazon, you know, warehouse, if you don't have your ducks in a row. So you guys specialize in a lot of international things. I don't know too much about what you guys do, but that's why I wanted to kind of find out here about your expertise here and help set things up.
Bradley Sutton:
So, one of the things I wanted to kind of talk about, first of all, was how every co you know, every different country for Amazon, where Amazon has a presence and there there's different rules and regulations. And so I just wanted to kind of go to some of the countries that I'm not as familiar with, or I haven't, you know, been, been following up on as much. And then we'll just go country by country a little bit, and you can give us, you know, some of your insights about importing and what is required. So the first country I wanted to talk about was Amazon Japan because that's one of the more unique ones in my experience out there. So look, I interviewed somebody maybe two years ago, and I don't remember what I did two weeks ago, let alone two years ago. So one thing that kind of sticks out in my mind is, if you're not based in Japan and you want to sell on Amazon Japan, you have to have like a–, is it an importer of record? Or you have to have like somebody local that is tied to your account, or can you talk about what is required to whether you're in Europe or whether in USA and you want to start selling on Amazon Japan?
Rael:
Sure. So I think you know, by virtue of being an Amazon FBA seller and your sellers will know this, they remain the owner of their inventory all the way until it reaches an Amazon fulfillment center. Now, if they want to sell goods in a country where they aren't located, they become a foreign importer in that country, meaning they are importing into a country where they are not physically located. By virtue of that, they require a local business. It's a legal requirement to have a local business with directors and employees in the destination country be listed on the customs documentation on their behalf to take on certain customs responsibilities and liabilities to give you the bigger picture, you know, a country like to Japan or the US or Germany wherever it might be, they have literally millions and millions of people or businesses trying to get products into their countries and local customs offices, instead of trying to chase people based in the US and China and Asia and all over the world for any unpaid duties in taxes, or if the goods are not compliant or et cetera, you know there can be very problems with the imports. They want a local business taking on that responsibility so that if anything goes wrong they can speak to a local business in the local language and hold that local business legally accountable for certain compliance requirements.
Bradley Sutton:
So this could be an existing local business, or it has to be, you have to be the owner of it at, as in this foreign entity or like, if it was me, I would have to start a local business, or it's an existing one over there.
Rael:
Acting as an importer record, as a third-party import of record, it would be a different business that's located there. Alternatively, you know, if you wanted to set up your own business and have a physical location and hire employees and have directors. Yes, I mean that's a possible option. Many people opt out of that because of how administrative and how costly it is. So, you know, we have a global presence of offices all over the world in all of Amazon's major marketplaces, and essentially we are allowing sellers to leverage off that global infrastructure to help them import into those countries.
Bradley Sutton:
Okay. So, like Multiple different companies, Amazon companies can use the same importer of record or that same, you know, home company. That's good to know. Now, are there any kind of special taxes or you know, like obviously there's VAT in Europe, and we're definitely gonna talk about that in a little bit, but something we need to know if we're importing to Japan or selling in Japan, like, are we having to pay any extra taxes as foreigners?
Rael:
Yeah. So I think let's deal with Japan. I think that's a good idea. So the first thing in getting set up to, to sell in Japan is what is known as an ACP registration. And basically, what that is, it's a local import number that's assigned to the foreign importer. So it just gives the local customs office, an identification method for the foreign importer. So that's step number one, step number two is getting the import of record to be listed on the customs documentation, which is obviously the service that we provide. And then when it comes to duties and taxes, there's really gonna be two things that apply. One is called JCT Japanese Consumption Tax. It's the equivalent of what German VAT or European VAT is like. There's certain nuances, it works slightly differently. We can get into that detail if you'd like, and then the second sort of duties or taxes that you'll see are the non-refundable duties based on the type of product that's actually being imported into that country.
Bradley Sutton:
And then am I having to create some kind of entity in order to pay these, or like you have to have your own VAT accounts and numbers and things like that, tax IDs or something like that, or is that all handled by the, you know, that importer of record.
Rael:
So there's two parts to this in terms of the payment of duties and taxes once shipment arrives in the country, the import of record will pay over those duties and taxes to local government. When a client is going to be registered for JCT in Japan, they will have an agent that registers them. And then also does the ongoing filings that are necessary to basically report to the government, Hey, these are my sales, these are my imports. this is the net amount that I owe you. So that's sort of kept separate to import our record.
Bradley Sutton:
Okay. Is there a thing as like, you know, kind of like DDP shipping, you know, like in America, like me personally, I just have my sourcing agent handle everything, you know, they handle the shipping and everything. I, I just pay them, I don't have to pay any extra taxes. I don't have to clear customs. I just pay her one amount and she gets the product to Amazon or to my warehouse. Is that also possible Japan or there still is an extra step that you can't really handle at the point of origin?
Rael:
No. So with an import of record, you can make your shipments DDP. Without one, your shipment will get stuck at customs and customs will ask you for your import of record. So the only way you can really have delivery duties, paid shipment is if you have an importer of record in Japan and actually most of Amazon's major marketplace is the US included. If, if you're not based there,
Bradley Sutton:
I used to live in Japan when I was young. Oh, I'm familiar with the culture and all but, you know, not necessarily much on the business side or the kind of buyer side. So I know Japanese people like a lot made in USA. You know, I know they like their own local products, but are you seeing people have success? Like, you know, some of your clients or something, you know, importing from either India or China and, you know, are made in China and made in India or made in Vietnam products, do they have any kind of success in Japan?
Rael:
So the answer to that is it depends how the seller creates their listings. Number one generally in a country like Japan, the listing needs to be in Japanese consumers would really trust listings that are made in English where the product is manufactured is less important than the actual quality of the product and the brand that's actually selling the product. So how well the brand markets themselves, how well the products are actually made is a better determinant than where the seller is based. So look, you are right. Japanese sellers will, oh, sorry. Japanese consumers will trust US and European brands perhaps more than they would other Asian countries. And that's kind of just a reputation thing, but again, you know, it's based on this, how the seller markets, their product, how they do their listings, how they package their products, what's the quality. There's a lot of moving parts there.
Bradley Sutton:
So, people do, you know, people can sell products import. Now I, you know, you well know of the issues of importing from China to the USA and how what used to take, you know, four weeks is taking like 10 to 12 weeks, or even more sometimes now what's the transit time from like China to Japan. It's probably like, almost nothing, right? Like a week or two, or?
Rael:
Yeah, I'd say generally two weeks. Well, it depends. So if you're going with a container that'll be, you know, between 2 and 4 weeks, just, you know, the shipments can be booked pretty soon when the freight forwarder gets a place on a shipping line, that's really what creates the delay. And then the transit time again will depend on or the delivery time, I suppose, will depend on how long that shipping line has to wait at the port before they can actually make the delivery. But I would say two to four weeks is a fair estimate. If it's going via air, obviously that changes things you know, that can be a transit time of two to four days.
Bradley Sutton:
Okay. And then a fraction of the price, it costs to go to Europe or United States going from China to Japan, I imagine. Right. As far as cost of shipping.
Rael:
Yes. To just by virtue of the fact that it's much closer.
Bradley Sutton:
Yeah. Okay. All right. Good to know. Now, another marketplace I wanted to talk about and it's one that I have zero experience on, but I know it's very hot these days is, is kinda like in the Middle East. The UAE, you know I think was one of the first ones in the Middle East, and now obviously there's Saudi Arabia and others, if I'm not mistaken Egypt, I believe just launched, but for UAE, what same kind of questions, like what are some of the compliance things that Europeans or Americans need to know about if they're gonna start selling on the UAE market, similar to what I was asking you about of Japan.
Rael:
Great. So yeah the UAE is definitely a hot market. You know, the sort of disposable income per capita in the UAE is one of the highest, if not the highest in the world. So the potential for retail consumer spend is quite big. And that's really why people are quite attracted to the market. The barriers to entry are a little bit higher than other countries. The reason being you need a VAT registration, the same way you do in Germany or Europe or the UK, you need one in the UAE and providers out there generally that the cost is quite high, especially for the registration, as well as the ongoing filings. Once that's in place, then the seller is set up to actually go and sell in, in the UAE. They will also need an import of record. We have a presence there, we can, you know, offer that service. And then when it comes to product compliance, again, that's gonna really depend on the type of product that the seller's trying to get in there. And you know, we'll the assessment to understand exactly what are the legal for sale and legal for import requirements, and then guide the seller before we start importing for them.
Bradley Sutton:
How are things shipped to the UA? Is, is it all by ocean as well, or train at all or anything like that?
Rael:
So because sellers are generally new sellers in that market, Amazon stock limitations you know, are more driven towards courier smaller air freight shipments just to get going at least, you know, get the stock in there, start turning the stock, increase your IPIs score. And then so your it limits increase. And then I would say second to that is ocean freight.
Bradley Sutton:
Okay. And for both Japan and UAE, you know, the clients that you help, you know, with shipping products and things like that, what's the general mix as far as are people a hundred percent sending everything directly to Amazon, or is it kind of like United States now where a lot of them are sending to third party warehouses first?
Rael:
It's directly to Amazon and again, that, that has to do with just the sellers stock limitations and look, the three PL sort of structures in those countries are not nearly as advanced as the EU and the US as well. So it's harder to find facilities that will drip feed Amazon. But yeah, like I say, the majority of sellers that we are dealing with, it's going directly to FBA.
Bradley Sutton:
I think even in America now it's getting a little bit better, you know, were obviously the last two years was pretty crazy, like the kind of stock inventory limitations, but there isn't as strict of inventory limitations in these other countries as it was in America, like last year?
Rael:
So I suppose there's two different things about inventory limitations. The one I'm referring to is generally when a seller is entering the market for the first time. And that's really who we are dealing with all the time, because they foreign importers. They're not based there. They haven't been there before. And you know, we helping them get there in the first instance. So generally speaking, it takes a while to build up that inventory limit, that's sort of different to what Amazon sort of placed those restrictions over that period of time. But that is definitely easing up. We're seeing that ease up all over the world.
Bradley Sutton:
Okay. Okay. Good to know. What about Australia? What are the limit? If I understand correctly, like there maybe more limitations there than others, as far as if you're a foreigner or like there's heavy taxes. I forget somebody told me something where it's like, man, I can't even sell my product in Australia because I would have to jump through too much hoops or I'd have to pay too much tax to get in. Is that true or is it pretty much a similar situation as Japan and UAE?
Rael:
So in terms of the GST system, so again, GST stands for General Sales Tax. It's interchangeable with VAT at JCT Australia has a GST system upon import that's 10% of the value of the goods plus cost afraid of getting it there. So that's maybe what the seller that you were speaking to was referring to. Cause if they didn't have a registration in Australia, they wouldn't be able to reclaim that back. So that would, you know, they'd have to pay that directly to the government. I'd say the thing that's the most strict about Australia is the product compliance requirements. I think some of your sellers may or may not have watch order security before, Australia are very strict when it comes to what enters their country. And the seller really needs to make sure that their products are compliant with local laws and regulations. And again, obviously then having a local importer you know, being a second to the product compliance stuff.
Bradley Sutton:
Have you re been receiving requests from some of these newer marketplaces? I mean, like Singapore has been around for a little while now, but it was always very small. And like I said, now, you know, Saudi Arabia is coming on and other many other marketplaces for Amazon. Like, what are some of the ones that you're, you're seeing the most demand or maybe the fastest growing?
Rael:
I'd say in terms of the new markets, the biggest interest we are seeing is the Middle East, UAE first, and then probably KSA or Kingdom of Saudi Arabia. Second to the Middle East is probably Japan and Australia. You know, if you want to talk about marketplaces that aren't as new, but there is quite a lot of demand. It comes to the US because of not the US, the US-based sellers because US-based sellers can take part in what's called North American remote fulfillment, where Amazon will actually fulfill orders from the US indirectly to Canada or Mexico. But the caveat there is that they don't get access to Amazon's prime members, which biggest spenders on the platform because Amazon can't guarantee next day delivery. So with our services, we'll help the seller get their inventory direct to a warehouse in Canada to make sure that Amazon can guarantee next day delivery. And I get access to Amazon's prime members.
Bradley Sutton:
So let's say I'm importing to the United States, 3000 units of my product. Is it better to send 2,500 to US, but then direct from China, the other 500 to Canada, or should I send it all to the US and then take a portion out and then send it to Amazon FBA Canada?
Rael:
So that's gonna really depend on your supply chain. So, you know your demand in either country. On the assumption that there is the demand for the 500 units in Canada, it would definitely be better to import your goods directly from China to Canada. If you go through the US and then go to Canada, you're gonna pay duties twice which is obviously not favorable to you because you're gonna then make less profit on your goods. So a direct import of two and a half thousand to the US and 500 to Canada would make sense from a duties perspective, as well as obviously getting access to the prime members like I said earlier.
Bradley Sutton:
Okay. Okay. That's good know, I didn't even realize that wasn't a prime listing when you're doing the North American fulfillment there. Okay, good to know now you know, let's just take a step back and talk about some of these abbreviations and things, you know, you already talked about like, you know, GST and VAT, and then what is the EORI and, and any other like little acronyms or abbreviations that you can educate us on?
Rael:
Brilliant. Okay. So like I said like I said, VAT, GST, JCT, those terms are interchangeable. The principle behind each of those systems is that the consumer pays some form of consumption tax when they buy a good they're paying the consumption tax to Amazon and then Amazon permits that directly to the officials. And there's import VAT, GST, and JCT, that's applicable when goods arrive in-country when it comes to EORI we know it as an EORI number or EORI number, an EORI number is very similar to an ACP number except it just applies to Europe. So again, it's just an import identification number on behalf of the foreign seller or foreign importer, so that the government knows who they are.
Rael:
It's just an identification number, but again in Europe, in the UK, even if the seller has a VAT registration and an EORI number, they still need a local importer to be listed on their customs documentation to take responsibility for their import so that they will clear custom successfully. And then a very important part of that service which is the service that we fulfilling to make sure that the customs clearance documents look the right way. So that import, that can be reclaimed from the local government. I don't wanna go too far into detail about it, but sellers who sell in those countries will know how important that is because the VAT rate is anywhere between 19% and 21% between the UK and Europe. So it's important that they get that back.
Bradley Sutton:
Now, if I'm an American seller, and now I want to expand to Europe do I need a VAT from day one or is it only if I hit a certain amount of sales? And then my secondary question would be do I only get it for where I'm storing my inventory or pretty much one for every country where my inventory is sold et cetera?
Rael:
So the legal requirement to register for VAT in any European country. And when I say any European country, I'm gonna include the UK just as part of this discussion. Cause the rules are the same, is driven by the fact that the seller will be storing goods there. So if you're gonna be storing goods in any one of those countries, it is a legal requirement to be registered for VAT and have an EORI number.
Bradley Sutton:
Regardless of how much you're selling?
Rael:
Correct, regardless of how much you're selling. In countries like Japan and Australia, there's selling thresholds. You don't have to register from on day one, but you have to register when your annual sales reach a certain amount. But in Europe, that's not the case.
Bradley Sutton:
Okay. Now, do I need a local accountant to be doing this? Like how do I, as a foreigner, you know, know when and what to pay for what's due?
Rael:
Okay, great. So there's really two ways in which a seller can go down this route. So the simple answer to your question is, yes, you need an accountant, an agent that takes responsibility for your periodic filings and your registration. And there's one of two options that a seller can choose the first is Amazon VAT services. So basically what Amazon have done is they've white-labeled certain providers out there. The likes of Avalara, Avask, and such where they will do the registration and filings at a very, very cheap price. In fact, the registration, I think is $250 and the first year of filings is actually free. The second option really is then to choose an independent provider out there. There really are many out there but it will be a little bit more expensive, but the service offering will be somewhat better than the Amazon VAT service as well.
Bradley Sutton:
Okay. All right. Back to the shipping a little bit, you know, like I said, everybody knows here in America, the kind of struggles we've been having. Is it's similar in Europe at all? Like are the delays, or it's not near as bad as the delays that we're seeing the United States?
Rael:
It's not as bad as the United States. And I just think that's by you know, as a result of the fact is as smaller. You know, the last conversation I had you know, around supply chain problems in the US a guy made a comment that there were 250,000 container backlogs at LA port. I know that the LA port staff were put on a pretty much a 24-hour rotational shift to try and get through that backlog. I dunno how far they've gotten through it so far in Europe, it's not as bad there definitely have been delays without a doubt because of the supply chain problems being faced out of China and in the European ports, but not, not quite as bad as the US
Bradley Sutton:
Speaking of shipping, you know, I know sometimes, you know, one of your services that you guys do is you help sellers who have shipments that get stuck you know, whether it's in customs or other means. When you jump in like that, what do you see as the reason, like how in the world did they get in a bad situation in the first place? How did their shipment get stuck and what are things that, you know, you do to get it unstuck?
Rael:
So there's two main reasons the most popular, or the one that happens the most is because the seller has sent their products to the destination country without an importer record listed on their documentation. So they would've listed their foreign entity as the importer. And then customs check the commercial invoice and say, Hey, that's not a local entity, that's a Foreign LLC entity or whatever else it's based. You need a local importer to, to be listed on your documentation. The seller will reach out to us and say, listen, I've got stock ship in German customs. Let's say as an example if they have a VAT registration and an EORI number, which nine times outta 10, the seller actually does have. And that's really where the misunderstanding comes because they think if they have a factory registration and the EORI number, then the shipment will go through, but that's not the case that just gives them the ability to trade. It doesn't give them the ability to import.
Rael:
So we step in, we liaise directly with the customs broker in the whether it's with the courier or an independent broker, whoever it may be. And then we actually prepare the commercial invoice for that shipment on behalf of the seller with our details appropriately listed, submit it, and then the goods clear. The second most popular reason for goods being stuck in customs is product compliance issues. So let's say you sent leather belts to the United States. The United States are pretty strict on what type of leather goods are allowed into the US, and there's very certain particular documentation, you know, testing and decoration of conformities and various other documentation that's required to be shown to customers before the goods will be allowed in. And again, you know, sellers reach out to us will say to them, look, you've got a leather product. This is actually what you need. Can you get it to us? If you can't get your shipment returned back home, let's get those documents in place. And then we'll help you save the shipment the next time.
Bradley Sutton:
Now, you know, you've been talking about different strategies and things throughout this episode, but one thing we do here is we have something on the podcast. We call the "TST", or the TST, 30-second tips. Now it doesn't have to be 30-second could be one minute or two minutes, but what are maybe, you know, two or three quick hitting strategy that you can give sellers out there for what you're expert in like something that you see sellers make mistakes on, or maybe a trick about importing that some sellers don't know, anything you wanted talk about could be about what to do on a South African Safari. I don't care. Just what are your tips for the day.
Rael:
If I didn't pursue a career in Chartered Accountancy, I would've been a field guard or game ranger. So if you want me to talk about Safaris, I can talk all day, but I'm not gonna go down.
Bradley Sutton:
I love it.
Rael:
I'm not gonna go down that route. I'm gonna talk about Amazon and you know, what we see as some tips and tricks. I think what would be most valuable to your listeners is really there's two ways in which a seller can grow their e-commerce business or their Amazon business. The one which is probably the one that people think most about is trying to source or develop new products to introduce into their existing markets that can often year lengthy and administrative process. It requires negotiation with manufacturers, raw material, sourcing, product design, testing, all that type of thing.
Rael:
The second level of growth is to actually take your existing profitable products, the ones that, you know sell well, and introduce them into a new marketplace and you know that's really where Zee comes in. That's our specialty. We see ourselves as the catalyst for global expansion of your Amazon business. We help you get there. And a little insight from our side, you know, I've spoken to a couple of aggregators in the space, some of the biggest, and they actually target companies that sell fewer SKUs in more destination countries. It's a much simpler acquisition, much easier to integrate into their systems. And they know that the products sell well in all of those countries. And what supports that argument really is that people think that different countries are very different. Now. They may be very different by geography, by location, by language, or by culture, but actually from a consumer perspective, we all pretty much 95% the same. We like the same goods.
Rael:
We want the same goods for our home, for our phones, for our gadgets, or, you know, all that type of things. Whatever the cosmetics, whatever it may be. So really if you have a profitable product in your local market, there's no reason why it shouldn't be profitable elsewhere. Amazon, if you know how to do PPC, if you know how to do your listings, if you know how to take pictures do the graphics, all that type of stuff. There's really no reason why you shouldn't be, be profitable in another country. And you know, we can be the partner that you need in order to get like you said, the unsexy stuff sorted and, and taken care of.
Bradley Sutton:
Okay. So be before we get into how to contact you what are some of the things that people would even want to contact you other than asking about your expertise in Safaris And things like that?
Rael:
So it really depends. Our offering is split into three distinct parts. The first is the product compliance, getting your products legal for sale and legal for import that can be into a new country or even your home country if you'd like. The second core offering is the import of record service. So providing you with the local office in the destination country to facilitate the import and make sure that you can reclaim your import VAT back. And then third is the value-added logistics solution. We've partnered with various courier services and logistics providers who are very well versed and very experienced in Amazon deliveries. So we all actually coordinate the whole shipment on your behalf. So, you know, you can simplify your supply chain by contacting us. You know some of the biggest successes we've had is where seller had seven different suppliers for seven different countries. They were selling in, they found us, and now they can speak to one person and we can do the distribution into all seven countries. And because of the volumes that we do with our courier partners and our freight partners, we have volume-driven, discounted, right. So we'll pass those on to the seller as well.
Bradley Sutton:
Okay. So how can people find you guys on the interwebs out there?
Rael:
On the interwebs? So our website is probably the best place its www.zee.co. So, zee.co for really welcoming us so warmly onto the podcast and being such a great host. Anyone who's listening to this podcast can email me directly. It's [email protected] And I will help you, or I'll pass you on the appropriate person to assist you with your inquiry. And because you've listened to the Helium 10 podcast, you can get a 50% discount on the fixed fee on your first shipment. Just make a note in the query that you do on our website or the email that you sent me that you heard about us on the podcast, and we'll make sure to discount your first invoice.
Bradley Sutton:
Awesome. Awesome. All right. Well, thank you for joining us. Are, are you planning to come to US for any of the conferences this year? Like we have you know, there's Prosper that's coming up in March and then we have a huge one in September called Sell and Scale Summit in Vegas that I hope you can come out to as well.
Rael:
Yeah. So we'll, we'll be at Prosper, which is really awesome. So I'm looking forward to you know, sort of seeing you there and connecting. We'll also be at White Label Expo in London from 2nd to 4th of March. And then we'll definitely consider the Sell and Scale event in September and Vegas. I'll reach out to our events team and get them to start looking into it right away.
Bradley Sutton:
Awesome. Awesome. Make sure to register for our party. We have a big party that we're having on March 14th at The Prosper Show, you know, you might be too young for this, but one of our musical guests will be Mark McGrath from SugarRay. He'll be performing live for everybody there. So if anybody, including you Rael, and your company want to go to this party check out the website h10.me/prosper2022, h10.me/prosper2022. Even if you guys are not gonna register for the Prosper event, if you're in Vegas, make sure to register for that party, that'll be the party of the entire Prosper sShow. And you'll be able to meet myself, maybe Rael there and ask him questions in person, maybe have him spill some company secrets, depending on how much alcohol he has consumed that night. But come out to that party guys, h10.me/prosper2022. All right, Rael, thank you for so much for coming on and we'll be seeing you at these events coming up,
Rael:
Brad, thanks so much for having us it was really great and we've already registered for your party, so we'll see you there.
---
Enjoy this episode? Be sure to check out our previous episodes for even more content to propel you to Amazon FBA Seller success! And don't forget to "Like" our Facebook page and subscribe to the podcast on iTunes, Spotify, or wherever you listen to our podcast.
Get snippets from all episodes by following Bradley on Instagram at @H10bradley
Want to absolutely start crushing it on Amazon? Here are few carefully curated resources to get you started: