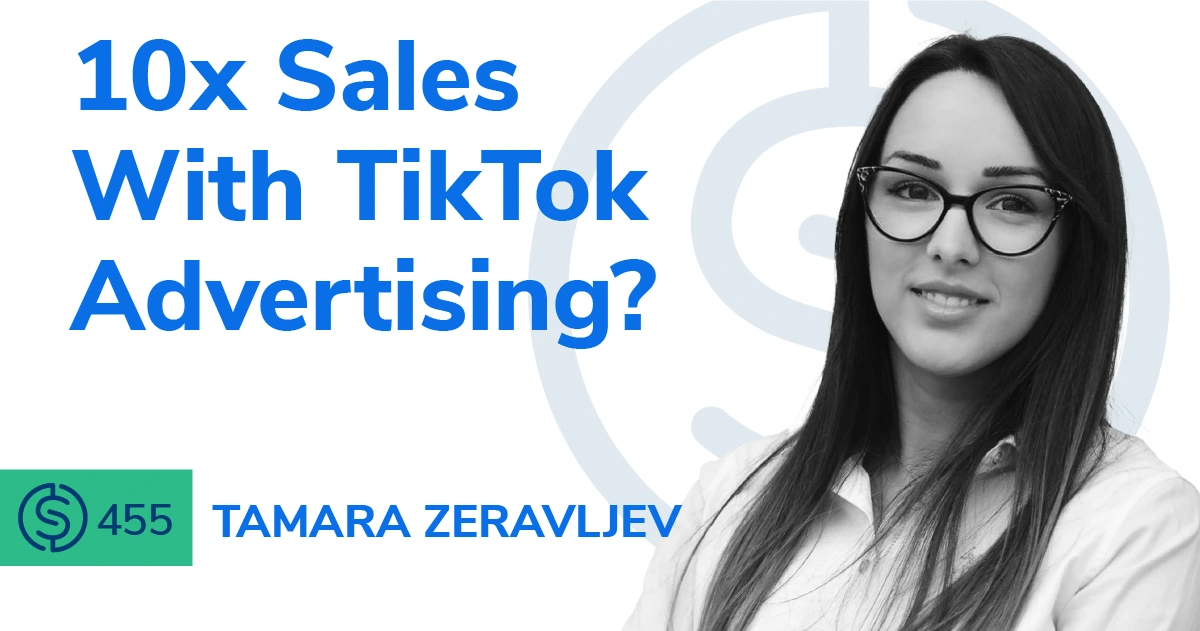 #455 – 10x Amazon Sales With TikTok Advertising?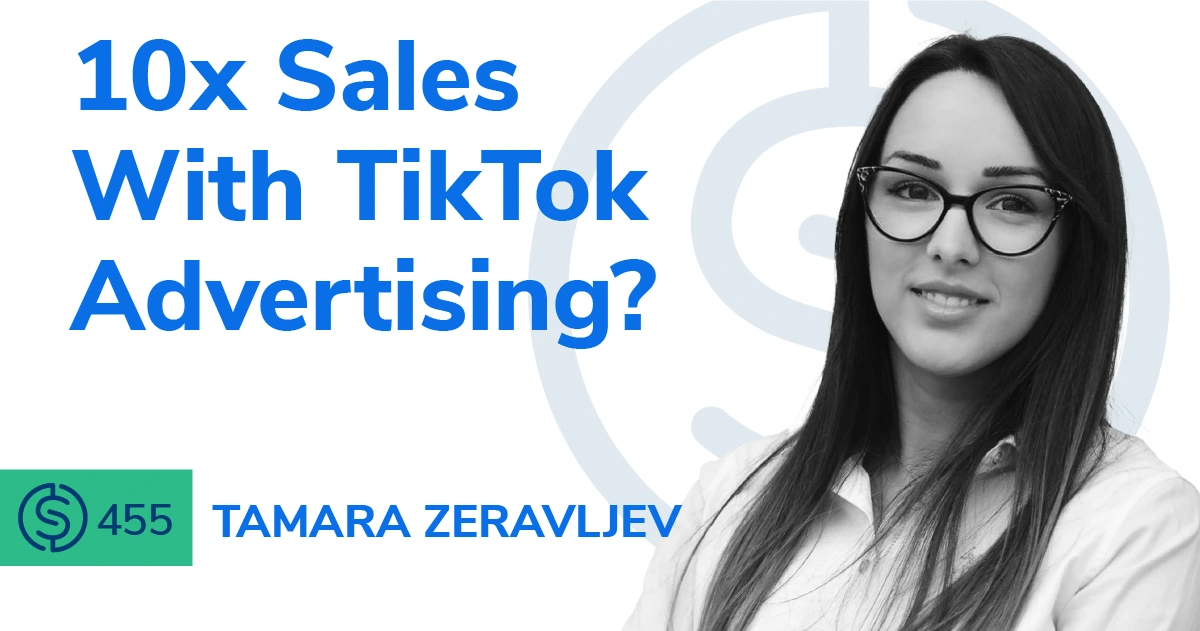 Video of the episode at the bottom
In the world of e-commerce, finding effective marketing channels is crucial. Enter TikTok advertising. Tamara Zeravljev, a seasoned expert, is back with a "different vibe" and invaluable insights to help skyrocket your Amazon sales.
 
Discover the power of TikTok advertising to skyrocket your Amazon sales. Learn how to leverage TikTok campaigns to drive conversions and maximize your business potential. In this episode, Tamara shares her client's experiences and how they were featured as a real case study on TikTok, providing inspiration and practical examples.
 
TikTok advertising has emerged as a powerful tool for amplifying Amazon sales. By listening to Tamara's actionable tips in this podcast, businesses can tap into the vast potential of TikTok and achieve remarkable results.
In episode 455 of the Serious Sellers Podcast, Bradley and Tamara discuss:
01:30 – Tamara Is Back With A "Different Vibe"
02:30 – Getting Her First Client After Appearing On This Podcast
06:00 – Helping A Struggling Client Sell On Amazon Through TikTok
09:31 – Following The Performance Of TikTok Campaigns To Amazon Sales
14:00 – What Is A "Hook" In TikTok?
18:30 – Featured As A Success Story Case Study On TikTok
20:40 – Strategies That Are Working Inside TikTok Advertising
23:00 – How Does TikTok Advertising With Influencers Work?
27:20 – How Much Does It Cost To Advertise In TikTok?
29:40 – ROI Expectations For TikTok Campaigns
31:00 – Campaign Maintenance Strategy
33:15 – Tamara's 60-Second Tip
34:30 – How To Reach Out To Tamara Zeravljev
Transcript
Bradley Sutton:
Today we've got somebody back on the show who thanks to her first appearance on this podcast, got a client for TikTok ads. And through TikTok, they were able to 10X their sales, and now they are even featured as a case study on the TikTok website. How cool is that? Pretty cool I think.
Bradley Sutton:
Not sure on what main image you should choose from, or maybe you don't know whether buyers would be interested in your product at a certain price point. Perhaps you want feedback on your new brand or company logo. Get instant and detailed market feedback from actual Amazon Prime members by using Helium 10 audience just entering your poll or questions. And within a short period of time, 50 to a hundred or even more Amazon buyers will give you detailed feedback on what resonates with them the most. For more information, go to h10.me/audience. Hello everybody and welcome to another episode of the Serious Sellers Podcast by Helium 10. I am your host, Bradley Sutton, and this is the show that's a completely BS free, unscripted, and unrehearsed organic conversation about serious strategies for serious sellers of any level in the e-commerce world. We've got somebody who helps sellers from the other side of the world all the way coming live from Serbia. Tamara welcome back to this show. How's it going?
Tamara:
Thank you very much. I mean, it's going great. Such like different wife these days, but love it to be here again.
Bradley Sutton:
What do you mean, different vibe these days?
Tamara:
Yeah. so I have my own agency this time. So it's, it's a different vibe. It's you know, working on my own with a small team, doing something different than the other time. So because of that different vibe.
Bradley Sutton:
Cool. But you're still there in around Belgrade area, right?
Tamara:
Yes. Still in Belgrade, Serbia, but moving around, let's say to different let's say events and such a things through Europe. So, but still based in Belgrade.
Bradley Sutton:
Cool. Cool. So if everybody if anybody wants to know Tamara's the more of the backstory w go to episode 3 32, so h10.me/332. That was the first time we we had her on the show. And you can, you know, find out, you know, a little bit more of her origin story, but it's actually interesting, speaking of that exact podcast episode, you have got an interesting story for us. So somebody heard you on that podcast and then they reached out to you down the road and that's the thing, guys. You know, you get on this podcast sometimes you know, it doesn't just, it's not live and it doesn't just disappear after, after it's live. Like it stays out there on the, the interwebs for a long time. And so somebody reached out to you a few months ago and go ahead and start, you know, telling us tell, telling us the story then
Tamara:
Yeah, you said it right? I mean, it doesn't go away like it stays for years, I'm sure. Like people are still listening to like, episodes from like a year, year and a half and, you know, more so one of my first clients, actually, the first client that I started with was Brand Marbotic that reached out to me, like after listening our previous episode talking about TikTok, of course. So she reached out to me and I was like, oh, Tamara, are you still working with TikTok? Are you freelancer? You know, what's your story? Because I see that the podcast is like, from the beginning of this year, but she was reaching out in September last year, 2022. So I was like, yeah, still doing it, blah, blah, blah. And we started to work together, you know, and she talked to me about the podcast, about what she was, you know, listening to paying attention to what she liked about it. So she was really keen to try it on for her Amazon brand.
Bradley Sutton:
In what state was her brand, kind of. What kind of of product was it, et cetera. What, when, when you first started researching that
Tamara:
Them, yeah, so it's brand from France, actually, it was from France. They are how can I say? Like, they have developed app for io. So for iPad, actually, it was for teaching children how to read or how to count on some fun and active way, you know, to be playful for them with some characters and similar and additional to that app, they have developed like little stamps with numbers and letters. So you can take that stamp and like literally stamp it on your iPad and like learn how to read, make some sentences and words and how to count. So they started to sell that on Amazon, if I'm not wrong, on 2016, 2017, something like that. So they had the struggles since day one. I mean, all new sellers will know how it is at the beginning, but they didn't find, like in a few years, like five, six years, they didn't find, let's say like a bright formula, how to increase their, you know reach on Amazon, how to be you know, better seller to get some badges at least or something.
Tamara:
So they tried TikTok, like at the beginning of 2022. They didn't know how to optimize the campaigns, how to do it. Nothing was working for them. But I have to say, the product is amazing. Like really App Works amazing product is really nice. Children really engaged with it because it's really funny. Like you really want to stay and learn if you don't have like a sense you are learning something, it's like more playing, but still learning. So they had a struggle for some reason they didn't know how to optimize the campaign on Amazon. And then on TikTok, so when she reached out to me, the very owner the previous owner of Marbotic she said to me like, they never get that much of a brand awareness and couldn't increase the sales as they would like to at least little bit, just to be profitable. So at that time in September when she reached out to me, she actually applied for insolvency. So she couldn't, you know, work anymore with it, but she was like, we're looking to try it one more time. And she heard the episode and, you know,
Bradley Sutton:
So she was going to go out of business in other words, yeah, like trying to like wind down. And so this was almost like her last last to try and make something out of it then, huh?
Tamara:
Yes, yes. Literally the last step, you know, before she goes you know, totally with the brand, but yeah, we started to work together and I had like with the team, we had some good ideas for her videos because like she had some girl for UGC to create the videos on TikTok for her and the video. So she
Bradley Sutton:
Had her own TikTok account. She had somebody even creating UGC, but like what was the problem? It wasn't getting you know, views or you don't, the content wasn't great or what was the issue when you took a look at what her strategy was before she came to you?
Tamara:
Yeah, they didn't know how to, like, when it comes to organic, they didn't know how to reach out to the audience to write users, you know, and when it comes to advertising, they didn't know how to optimize, right? You know, they couldn't find a good agency or good freelancer or someone in-house. She really tried everything, you know. So taking overall, the videos were actually great. Amazing. They needed just like a few little things to how can I select, add it, you know, add some hooks for, for example, or to show up the product, at least.
Bradley Sutton:
What's the name of your new company again?
Tamara:
Add2Ads.
Bradley Sutton:
I see you put it, you threw in a little pun there, I see. They needed just a little bit to, to add. Okay. I got, I got you. You're already good at this marketing thing. I like it. All right, continue, please. It,
Tamara:
It's already into my head and I do it. I don't even notice it anymore. But good. So yeah, we needed to add little bit of Sparkle there. So we helped them with the strategy for organic videos. Like we helped the girl that was doing a UGC, like with little bit for hooks, little bit of how to show product in the first two, three seconds. And the rest of it was amazing, you know, anyways, so what they actually needed was optimization of the campaigns and the right team to do it. So let's say we helped a little bit with an organic part, and then we start with an advertising. I mean, in September, it was like end of September, I think about we started the campaigns and in about like five or seven days, she already noticed, you know, some results she already saw increase in sales.
Tamara:
Like I don't know, like now exact numbers, but it was like, she usually sold like about 10 products a day. Then it was 13, 15 in like seven days increased, but she never had that number, even if it's like lower in the seven days, she was like, I think it's doing something. So comparing September to October, it was like eight times we increased their sales, which was crazy because I never saw something going, you know, crazy up, like with them and October, comparing to November, actually November to October, like in November we had like 12 times increased it, you know? So it was huge.
Bradley Sutton:
So from like, what numbers were they doing before approximately per month on sales? And also, is this all on Amazon or is this also including like their .com sales?
Tamara:
Yeah, so we never did like.com sales and I think they didn't have nothing on that side. It was just Amazon. Amazon US actually.
Bradley Sutton:
Amazon US. Okay.
Tamara:
Yeah, it's US Market, and even they're from France. They were just selling in US. So yeah I don't remember the exact numbers of the sales, but as I said, it was like, in my mind as I remember, it was below hundred, and then it started to go like to hundreds, you know, sales, like crazy sales, you know? And the funny thing about it's that I really always like to mention when it comes to Amazon is we were trying to follow the performance, like how that happened to see what's going on in the campaigns. And the funny thing is, we couldn't see anything in the campaigns, because when you're creating on TikTok campaign, you still need to have Amazon attribution link to follow. Why? Because, TikTok will show you only views and clicks, you know, engagement and just the basic things because Amazon doesn't allow you to.
Tamara:
So you need to create Amazon attribution link to see actually sales of the product. And we were seeing small numbers there. For example, I remember it were just showing around 10% of the sales, nothing else. Then in like, in second month, it was showing like around 30-40%, but still not a hundred percent that we saw, like from TikTok actually, that was coming. And we were trying to figure it out. Like we, as a team, we had all the access to her Amazon account, and of course the TikTok account, she had it also on her website as well. We tried like some different tools to follow what's going on. And still, we couldn't find any tool that will help us to follow what is going on on Amazon. And attribution link didn't allow us to see a hundred percent of what's going on. So we were trying to actually turn to Search Term Report and to see actual sales and compare it to the month when we didn't work. And we even had, like in the middle of October.
Bradley Sutton:
Which Search Term Report are you referring to?
Tamara:
Yeah, like on Amazon Search Term Report, Advertising Search Term Report.
Bradley Sutton:
The advertising, not, not Search Query Performance. Okay, cool.
Tamara:
Yeah, so we were just trying to see there what's going on, like, because also on Amazon advertising on campaigns, we could see increase in sales, better ACoS, and much, much more sales that it was before. So we saw in a Search Term Reports, like some keywords that weren't there before. And when we, you know, put them in some like Excel sheet, we realized it was the keywords from the hooks, from the videos that were in the campaign on TikTok. So for example, hook was like I don't know, funny way to play with your children or, or such a things, I forgot. But it was something with the kids playing and we saw like kids playing keywords with letters and numbers mixing. We never had that, like, well, hold,
Bradley Sutton:
Hold on, hold on. Just, so what do you mean by hook?
Tamara:
Like the hook on the beginning of the video on TikTok?
Bradley Sutton:
So like the the caption. Okay. And so then the caption on a TikTok video was something, and then, so what your, your theory was that, hey, maybe people, instead of just clicking the attribution link, they're just going directly to Amazon and, and kind of typing that in to try and find this product and then use, were you already targeting that in, in Amazon advertising, or was that just com coming from an auto campaign, or how did you even get that in Amazon advertising?
Tamara:
Yeah, so most of them were in auto campaign. Some were in a phrase in broad at groups because like, it's a longer story. What we realized, because we were launching the campaigns in US, I was in Serbia, Belgrade, and they were in, you know, France. We had some team in US helping us. We at the end, like, I don't know how, but it happened to show to one of our, you know team members in US, the commercial, when he clicked on it, he said like he needed to log into Amazon account, and he was like, I'm too lazy to do this now. I don't even remember my password now. So like, I would naturally, if I like the product, I would go and search for it on my Amazon app, actually. So we realized that not all the users can actually click on it and be immediately through their to, I mean they could saw Amazon page, but when they click on buy it, add to card, they need to sign in.
Tamara:
So for some, they needed to sign in because they were even, I don't know, lazy or forgot the password, password or whatever they needed to go to their app and actually search for it. And the keywords they're actually searched for are from the video, the text that was, you know, point out on the video, like hook at the beginning, like, did you know this or try this? Or even we realized, because the boxes, you know, huge was huge for the kids. And we have some video where one of the girls were trying to, you know, pick up the box and it was too big and it was a little bit funny, but you could see the name of the product. It was the Lux kit and everybody were trying to actually search for the Looks kit as well. So I remember that keyword was actually huge, you know increase of sales with only that keyword.
Tamara:
And before that, I mean, we tried that keyword on Amazon, like Lux kit, but never converted because no one knew, you know, the name of the product and brand and everything. Yeah. So also brand keywords increased. No one heard before that. I mean, no one, such a small amount of users heard of Mebo, and it was not trending on the account to see Marbotic brand keyword has converted and sold. So we saw also Marbotics Lux kit, you know, Marbotic kids, Marbotic, whatever, you know, stamps. We saw increase of that keywords that never have sold that much, maybe one or two products per month. It was not a big deal. And then we saw it increase like crazy. So those are like key points that we have discovered and was like crucial for us because we didn't know how to follow if it's good or not.
Tamara:
I mean, we saw increase in sales, but we wanted to know how to follow it, what happened, and to investigate more. So I would say really, really helped us to see like a search term, Advertising Search Term Report, and the guy who saw the commercial and told us, you know, about the problem, but when we tested, like we could enter to, to to Amazon didn't need to, to go to app. So it was, you know, strange things happen, but it still was working. So I think it's a valuable info to know that about TikTok advertising, like how to actually follow the results. And you know thanks to that we knew what was going on and trying to still push the ads until the end of Q4.
Bradley Sutton:
And then, so I guess it was so successful that even TikTok itself, like found out about this they're like, what's going on with this company? And then they reached out to you and even used this whole thing as a, as a case study on website, isn't it?
Tamara:
Yeah, yeah. At that time I was like talking with you know, TikTok team from UK, and they, they looked at the account that I was working on with team, and they were like hey, this is like crazy campaign, because we see crazy increase, like in beginning of September, nothing almost. And then in October and November and December starting to going crazy. So they were like, are you interested to do case study with us? Like a success story to be, pointed out on tiktok.com, like TikTok for business? And I mean, for sure I said yes. And Marie from Marbotic was also like, thrilled to hear the, to hear the news. So it was amazing story actually. Like, I think if I remember it almost brought the tears, like to me and Marie, because I know her story, how it was and how they struggled for years, and now to have crazy increase.
Tamara:
And then TikTok reaching out to us like, Hey guys, do you wanna do like a case study success story? And I think I was talking to you like these days about it, but it wasn't real for me and for my team until we saw it live, until we had the link, you know, to see and to really screw it because I mean, we just started with an agency. I had it in my mind for goals for years, you know, to come. And I did it in just a few months. So it is still like I'm still happy to talk about it.
Bradley Sutton:
Cool, cool. Now, what else? I mean, you can't always just get some amazing case study that gets picked up by TikTok, but Yeah, but what else is going on that you, that's interesting. You can tell us like things that are working or specific strategies that people can use either in just TikTok advertising or Amazon advertising. You've been doing this for, for quite a while now, and it's, it's been over a year since you've been on the podcast. So what else has happened in the last year or so that you can share with the audience that you think can help them?
Tamara:
Yeah, so a lot of actually changed, especially on TikTok. I know more about it because I'm more on that platform. So changed in like how people like to search. They don't go anymore that much on Google to search for things. I mean, they still do, but not that much as they were. They also go to TikTok app and go to search and search, like, for example, how to fix something, how to do some things, whatever, like to make bad or to dress yourself or wedding or similar. And it helps a lot to users and also to sellers, because when you still go to Google and you search for how to do something, blah, blah, blah, you can see like in one of the first three or four links, you will see a TikTok link. When you click on it, you will go to TikTok video actually how to do something, or trying to find some answer for some topic.
Tamara:
You will see it on Google because TikTok has become now like a search app as well. So yeah, that's like a major thing that happened since we last talked. So but let's say also with the influencers, I realized like in the last year changed a lot. We have lot more influencers going now to TikTok rather than to Instagram. And of course along with that, their prices have increased, but we have them more now on TikTok. And that game was changed a lot, like, let's say fighting between Instagram and TikTok has apps, so a lot more people are there now. A lot more sellers are at a lot more brands. I mean, last year when we talked about it, I think I said I remember like it was still new. Not a lot of sellers are there, especially from Amazon now, we can see the numbers are increasing.
Bradley Sutton:
Now, when you talk about TikTok advertising, can you only advertise your own content, or let's just say some influencer or user does their UGC, an organic post on their own account, can you send advertising traffic to their video as well? How does that work? I've never, obviously never done TikTok advertising.
Tamara:
Yeah, no worries. So there are two ways when advertising the video already posted. So if you have, for example, organic profile on TikTok, you can just link in your like, business account for advertising with your organic profile, and then take the videos from your profile to advertise it to increase, for example, also likes, shares, comments, you know, and everything, followers as well. But you can also have like hire some influencer to post the video about your brand, and then when they post it, they need to send you like some kind of a code so you can implement it to your business account and use their video to advertise your product. So with that being said, you don't necessarily need to be like present on TikTok to have the videos. You can just like hire the influencers and then advertise their videos to send traffic to your Amazon page.
Tamara:
So like that's how it goes. But I would always recommend to have both sides, because it's always good to have to see like what work maybe better for your brand. It can maybe go, you know, similar like a 50-50, but it's always good to have it from influencers, you know, eyes like someone that is closer maybe to users and from brand side, and you can increase followers, engagement on the profile. A lot more people can see you than recommend and such a thing. So I think it's always better to use, you know, maximum of it, but if you're not able to, as you said, like you can use some other's video to actually advertise your brand.
Bradley Sutton:
Okay, now I'm looking at their Marbotic TikTok page, and so, you know, I see just tons and tons of yeah, of videos here and, you know, without clicking on it, it seems like mainly like UGCs. So does this mean that like somebody records this, like with the TikTok app or in this format and then they send it to you guys and then you just post it, or they send just a bunch of raw video and then you guys format it to put these like captions and things onto TikTok or what, what's the process here? Because thi this is, you know, obviously not just, you know, Marbotic company you know, using every employee's different kids in their <laugh> company and putting these videos up, I'm assuming.
Tamara:
Yeah. So as I said, they had like a girl that was their, you know, UGC like creator for them. They together came up with the strategy. As I said, we helped them at some point, like how to little bit improve it, so the girl was actually filming her kids, some friends kids, you know, like she, she was trying to find out like different kinds of kids. And she was a teacher, actually, she is teacher. So she was filming it like from her perspective as a user. And it is more natural way to show off your product, as I said, like how actually kids are using it, not like fully screened. She were just filming them, playing with it, talking about it like, oh, mom, I really like this one. Can I play with the Marbotic? Or some kind of a things like pulling it out from some drawers, like to play with it. And then she was editing the videos, adding the text on it, like some hooks and post it on their, you know, profile. And we actually used those posted videos on their profile to advertise the product. So it was everything filmed with the UGC, like from their user perspective. And we used that to, you know, increase sales.
Bradley Sutton:
Okay, now let's just say you know, I'm one of the listeners, Amazon company out there. I'm doing, I don't know let's just say, you know, $500,000 a year on Amazon currently. So I'm about that level of seller. Now, I've never done TikTok advertising. I don't even have my TikTok account, so I would assume, all right, first step is make your, your, your TikTok account and then now what kind of budget, you know, should I be looking at to, to even get started? Because this is not something where it's like with Amazon PPC, I mean, if I wanted to, I could just do a $5 a day auto campaign and just have that and who knows, what's gonna come from it. But I know on TikTok it's different, like there's kind of a minimum where it's like, hey, if you really want to, to have a better chance of success, you can't just have some $5 campaign. So what, what would it what would it, what would be your advice there
Tamara:
When it comes to budget? Like TikTok platform actually has set minimum that is pair ad group in the campaign 20 US dollars. And with that, actually, I have to be honest, you can run follower campaigns and get, like, if I'm not wrong, like in a month, about 10K, 8K followers but when it comes to traffic campaigns, the budget is a little bit, you know, going up. So something that will bring you some sales, you know, some results, it's about 70 US dollars per day. Why? Because with the less amount of budget, the advertising, actually the videos that are advertised will stop at some point of the day and you will not use the whole day. So because the US, you know, market is big marketplace, so we need like around 70 to start with. I mean, if the brand has the budget, it will be nice if they can start with the hundred that is like, you know, our always go-to option. But if they don't, I will say a minimum is a 70. So when it comes to budget, of course.
Bradley Sutton:
And then so, you know, like day one, I'm not gonna get my money back from that 100, you know, unless something crazy happens. How long does it usually take? You know, like, you know, 10 days I've already spent a thousand dollars, like by that time, how much should I expect to have a return on investment there?
Tamara:
Yeah, so when it comes to like bras and everything, like, not the same for each brand of course, but in around seven to take 10 days, you should be able to sue at least, you know, little bit going up at least for like you know, one 2% to see something is happening not that much because in the first seven or 10 days, like top in the 10 days, for sure we can collect the audience, we can see how they behaved with the videos, what they liked, what they did, and what they shared, how many seconds they viewed, which video, and then how to turn over the campaigns in which sites to actually optimize, you know, the campaigns. So in seven days, for sure, you can see where it will can go, so you can optimize in that direction, and then from seven day actually to start growing your business on TikTok.
Bradley Sutton:
Okay. All right. Interesting. Now what's, what's the maintenance look like? You know, so, so obviously every month you weren't 10Xing Marbotics, you know, sales, it gets to a point where it's like, all right, now it's like, you know, we're out there, we've got the followers and we just want to, you know, keep bringing some new traffic. So how does your strategy change after the initial, you know, traffic building, I guess you can call it?
Tamara:
Yeah, amazing, amazing question because that's like a, you know, usual question after some time we got it there. Like you know what? Now actually TikTok is always, always having like some new option. Like for example, what we did with probiotic at some time, we had like some interactive add-on, on the video. It was a display card, we sell like NCE Vita, we have the access for it, let's try it on because it can, you know, change the game a little bit to see how the people will react. For example, we tried with that. Of course, every new month we have some new bids going on, some user behaviors change. We have some new idea for the video, how to change, you know, approach on the beginning or in the middle of the video.
Tamara:
So we try to change it, you know, in a different ways when it comes to video, when it comes to optimization, when it comes to some new, you know, additions to the campaign. So that's how we increase it and still going on with it. But I have to say their course as on Amazon as on every other platform like a month where you will see lower sales, that's normal. Like, for example, January for most of the product. So in January we would usually decrease little bit the budget because the sales will normally go a little bit low, but not that much as it was in the beginning. So still we have those, qoutations with the sales, but how to keep it, you know, and trying to increase each month more and more is changing the game in the videos of course, because that's like, at least 60% of the successful campaign is successful video and interesting. And then of course, with optimization and new things.
Bradley Sutton:
All right, so just like last time you're on the podcast, you know, it's time for our 60-second strategy. So what haven't you said today that you think something that's actionable that you can say in 60 seconds or less for our community?
Tamara:
Yeah, I would say if you're not running TikTok ads, try it out. And when trying out, be aware to follow, as I said, with an attributional link at advertising Search Term Report, follow the performances, like dig deep into it to know if it works for you or not. If not, try out like some kind of different videos, different hooks, try to be more interactive, you know, in the first three seconds and interesting to your audience, show off your product. And I think that that will work.
Bradley Sutton:
Yeah, I think my biggest takeaway is, is what you were talking about earlier about, you know, when, when you weren't seeing everything in the attribution from, from Amazon, from Marbotic, you, you thankfully had some broad and phrase campaigns and auto campaigns. And then, so taking what that hook is, see, I'm learning all kinds of TikTok language here taking that hook and then making sure there's a campaign on it, and then sometimes you'll be able to see the effects just from your Advertising Search Term Report. So I think that's really interesting as well. So if people want to reach out to you and get more information and, and who knows, maybe be one of the next TikTok case studies that's picked up by TikTok. But where how can they find you on the intro webs?
Tamara:
Yeah, they can find us on www.add2ads.com or reach out to us on [email protected]. And actually for today, I prepared like a 300 US dollars coupon for all the listeners that will reach out to us. Hopefully just put on the subject Helium 10, and that's how you'll get, you know, little discount from us.
Bradley Sutton:
Awesome. Awesome. Well, thank you so much for coming on here. I'll be seeing you hopefully in a few weeks when I go to Serbia and in your languages, I guess I'll say (Speaks Serbian) thank you for coming on here and let's see where you you and your agency are at next year when you come back on the show.
Tamara:
Yeah, thank you very much for calling me again, and thank you very much for the kind words and I can say also (Speaks Serbian) and can't wait to see you here soon. Thank you very much.
---
Enjoy this episode? Be sure to check out our previous episodes for even more content to propel you to Amazon FBA Seller success! And don't forget to "Like" our Facebook page and subscribe to the podcast on iTunes, Spotify, or wherever you listen to our podcast.
Get snippets from all episodes by following us on Instagram at @SeriousSellersPodcast
Want to absolutely start crushing it on Amazon? Here are few carefully curated resources to get you started:
Achieve More Results in Less Time
Accelerate the Growth of Your Business, Brand or Agency
Maximize your results and drive success faster with Helium 10's full suite of Amazon and Walmart solutions.