#404 – 10 Amazon Seller Strategies From Around The World
In this episode, we're gonna talk with two podcast hosts to talk about cool strategies and stories that they've learned from their guests over the past year.
Originally published on: December 13, 2022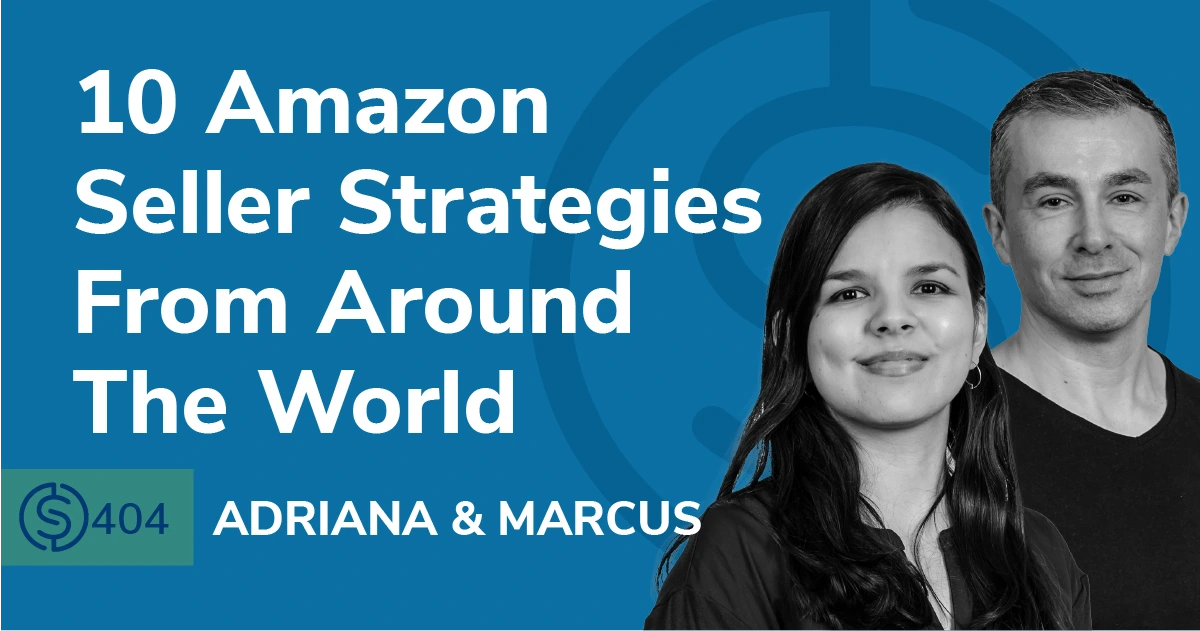 We're celebrating the 1-year anniversary of the Serious Sellers Podcast in Spanish and German! In this episode, we welcome our hosts Adriana Rangel of SSP en Español and Marcus of SSP auf Deutsch, to talk about their journey as hosts of these amazing Amazon podcasts and some cool strategies that they've learned this year from their guests.
In episode 404 of the Serious Sellers Podcast, Bradley, Adriana, and Marcus discuss:
02:00 – Celebrating The 1-Year Milestone For SSP Spanish and German
02:30 – What's Going On In Europe As Far As E-commerce?
04:00 – Business Updates From Adriana Rangel
06:00 – Starting An Amazon Business With $900
08:30 – A Story From 0 To 1,500 ASINs
11:15 – Goldsmith Started Amazon During The Pandemic And Is Now Making 7-Figures
14:30 – Developing A Product Idea After An Accident
16:30 – Thinking Out Of The Box To Increase Sales
19:30 – Utilizing SEO And Email Marketing For Your Amazon Business
23:10 – How Do We Start Building Email Lists
24:30 – Seller Having Five 3D Printers Running 24/7
27:07 – Talking About Inventory Restrictions In Q4
28:00 – Assembling Materials From China In Mexico, Then Selling Them On Amazon US
32:10 – Design Patents: Why Is It Important?
34:00 – Selling In Walmart.com
36:45 – Marcus' 60-Second Tip
37:45 – Adriana's 60-Second Tip
41:20 – How To Find Marcus And Adriana On YouTube
Transcript
Bradley Sutton:
Today we're gonna talk to a couple of podcast hosts who are gonna give us some cool strategies they've learned from their guest, including one about a seller who manufactures his own products running multiple 3D printers 24/7. How cool is that? Pretty cool I think.
Bradley Sutton:
Not sure on what main images you should choose from, or maybe you don't know whether buyers would be interested in your product at a certain price point. Perhaps you want feedback on your new brand or company logo. Get instant and detailed market feedback from actual Amazon Prime members by using Helium 10 Audience just entering your poll or questions. And within a short period of time, 50 to a hundred or even more Amazon buyers will give you detailed feedback on what resonates with them the most. For more information, go to h10.me/audience. Hello everybody, and welcome to another episode of the Serious Seller's Podcast by Helium 10. I am your host Bradley Sutton, and this is the show that's a completely BS-free unscripted, and unrehearsed organic conversation about serious strategies for serious sellers of any level in the e-commerce world and from all over the world.
Bradley Sutton:
Today we've got a couple of guests, and it's very interesting. This is actually symbolically an interesting episode because we have all kinds of, all four of our Helium 10 podcasts represented today. So, first of all, obviously, this is the Serious Sellers Podcast. My shirt for those who can see on YouTube is the original logo of the pm podcast. The one that started Helium 10 way back in 2016, 2015. And then on as my guest today, we have the host of Serious Sellers Podcast Auf Deutsch, Marcus, and Serious Sellers Podcast en Espanol, Adriana. Welcome guys to the show.
Marcus:
Hello.
Adriana:
Hi guys. Thank you, Bradley, for having us. Good to be here.
Bradley Sutton:
Awesome. Now, I wanted to bring you guys back to the kind of celebrate the first year of each of your podcasts in German and Spanish, and then see what we can learn. You've had probably like 50, 52 guests, and or at least 45 cuz we have bigger, better launch episodes in there as well. So like 45 guests that you've had. So I'm sure you've learned some cool things that you can share some strategies. Now, Marcus, aside from doing the podcast, obviously you dabble in Amazon yourself and you have a lot of students. You have your own YouTube channel and things. Before we start talking about some of your strategies from podcast guests, what's been going on with you and just in general, what you know about Europe in this year? in America the kind of hot topic is the economy and inflation and maybe recession and things like that and money is very hard. I'm just curious, what's going on in Europe as far as e-commerce?
Marcus:
Yeah, I think that's, that's a point that we see like everywhere over the world. And we had a couple of really strong years with the pandemic like everybody went to online shopping and now it got into recession. But as I heard, there are a lot of Amazon sellers that are still doing very, very well. So it depends on what niche you are in and how you are set up.
Bradley Sutton:
Okay. All right. Interesting. So a similar situation to us here in America. Adriana is an interesting story. she was first on this podcast a long, long time ago on one of my brand new sellers' podcast where she had just started selling on Amazon years ago. I guess bring on different people who are just starting off. And then she became a very successful seller, and became the host of the podcast. Now she even has her own YouTube channel and stuff. So it's really been cool to see you grow. Now my question with you Adriana is you've been selling on Amazon for a long time now. What about when you were working full-time and then also plus now doing the podcast and doing your own thing? Like, have you had enough time to really concentrate on your Amazon business? Has that gone up? Has it gone down? What's been going on there?
Adriana:
Yeah, well, I feel like at the end of the day, now that I'm full-time doing post the podcast and then of course my Amazon business and my YouTube channel, I feel like, I mean, it's Amazon all day long, right before when I used to have a full-time job, I, it was in a different industry. So I feel like I was my brain had to do a little bit of adjusting when it came to changing topics in my head, right? And now all day, even though of course I need to change from recording the podcast to going back and perhaps doing some inventory management and all that, but it's everything. Every activity that I do all day long, every day is Amazon related, right? So I learn a lot from, from the guests actually, that I, that I have on on the podcast. I'm like, oh, wow. Like, I've never thought about, let's say email marketing, right? Like I knew it was another strategy over there, but I didn't know how powerful it was. So actually, I end up implementing what I learned from guests. I'm very lucky to be in that position where I get to implement whatever we discussed in this podcast.
Bradley Sutton:
So you're asking questions to the guests, and then our listeners are taking notes, but then Adriana at the end this least taking notes. Okay, I'm gonna, I'm gonna do that, my own business. I like that.
Adriana:
Yeah, of course. I have actually become friend with some of the podcast guests, and I'm like, Hey, yeah and we start to discuss the whole their business and my business, et cetera. So I love it. Yeah, I love it.
Bradley Sutton:
Okay, cool. Now, Marcus, you've been interviewing like maybe 45-46 guests. So one thing I ask you guys to do is, is prepare some cool, like, tips or strategies, and we'll talk about other things too. But let's go ahead and start off with who's the guest of your first strategy and what is their strategy?
Marcus:
Yeah, I went over the list and really had to sort it down to someone to like, really five that was hard. And for number one, I choose the first guest I ever had on the Show. He's a young guy, his name is Vinod. And he had an amazing story. He just started, he, he just had $900 to start. It's not a lot for Amazon. And like you hear numbers all over the place and you hear, like a lot of people say Amazon changed, you need like $10,000. And he started with 900. And now after two years, he just rented out his second warehouse. So he started with wholesale and he saw like, it's working, it's, he can do it and he can make money with it. So he asked in his family for more money to buy more products. And like, after a year, of course, like when you have a new company, you can't go to a bank, but after a year, he already had the numbers and he could apply for a bank loan. And now he's running his second warehouse for his own product. So that was really–
Bradley Sutton:
Was he mainly selling in Europe or was he also selling in the USA?
Marcus:
Yes, he's selling in Europe and he's he's still just buying from Europe. Cause with his initially tight budget of $900, he couldn't buy private label products from China. So he started with wholesale, and now he made contacts with manufacturers in Europe. And so he's in a quite unique position. Cause a lot of people go to China. He's buying from Germany and Europe. So that's what is working good for him.
Bradley Sutton:
I like that. so some people out there might be listening and they're thinking, Hey, I don't have enough money to get started. And yes it's true that if you have more money, it may be relatively a little bit easier to get started on Amazon. But hey, even if you have even less than a thousand, you guys, remember I did that Project 5k where I launched like 10 different products for a total of $5,000. Well, hey, you only got $900. Well, maybe don't start with a private label. You gotta start with wholesale a little bit and build up that capital. So that's a, that's a good story. And that was the first episode of the Serious Sellers Auf Deutsch. So guys, go take a listen to that. If you speak Deutsch, (speaking Deutsch) then go ahead and listen to that. Adriana what about you? Who's the first guest you're gonna talk about and what was their story or strategy?
Adriana:
Well, I'm impressed by all of them really. The ones that come to mind I remember José Vicente I think he was in the episode, I have it here written down. He was in episode 31, and he's from Spain. And he went from zero, from not selling on Amazon to two years later he's selling more than 1,500 ASINs, which is crazy. Of course, he does a little bit of private label, and a little bit of wholesale too, I think. And it's just crazy. He was just like, you know what? I just put my notes down basically and studied the whole thing. And I know if if other people were making it work, then I should too. So
Bradley Sutton:
Do you remember some little things from him? Like, like how do you get to, to 1500? What did you say? 1500 ASINs? And that was a private label?
Adriana:
Not all of them. No, but he has done a little bit of wholesale and now he's doing private label too, Yeah, I'm like trying to make the math of how many products you have to launch every day, right? Yeah. To get to that number. But somehow he, he has managed to do that in like 24 months, and he's like, you know what? I went all in. I was trying other businesses and none of them worked at least for him at that point. And he was like, let me just go in. And as he started to see that these products were working, I was doing like 18-hour days and, and studying this business, et cetera. And he just, he just made it.
Adriana:
So it's pretty impressive. Of course I cannot, I don't know how he manages that. He's like, yeah, not a lot of them are selling like 50 units a day. Of course not. But it's like, I try to launch a ton of variations, right? So not all of these essences are like, unique ASINs. Yeah. They have like seven variations. One product has seven variations, and that's the way he'll also tests his ideas, right? He's like, okay they, they like this color more, or like, they like this size more, or whatever the case. So I guess the total amount of skews are of course variations of the same product, but I mean, it works for him.
Bradley Sutton:
Here, guys like one takeaway that I have the Adriana and Marcus didn't collaborate together or talk about who they're going to choose because Spanish and German podcasts are completely separate, but independently, they both chose people who've had success stories by mixing different modes of selling on Amazon. So sometimes we get too laser-focused. Like, I'm only going to be a merch by Amazon seller. I'm only going to be private-label seller. But sometimes the path to success is doing a mix of things. And guys, I'm one of them like my Project 5k count has been wholesale, it's been arbitrage it's been private label and all three at the same time. And more multiple streams of, of income, even under one income of Amazon. It's good not to have all your eggs in, in one basket. So that's an interesting parallel here between these two stories. Alright, Marcus, who's your second strategy or story that you wanted to talk to us about?
Marcus:
My second story is for my first female guest on the show, Beate it was show number 10. And she worked as a goldsmith and she was specialized in wedding rings. And people came to her shop and discuss what they want. And she was building silver and gold, and suddenly the pandemic hit and all weddings were canceled. Like nobody was buying wedding rings anymore. And that was her only business. And she said, okay what should I do now? And she thought, okay, maybe I look ons, they, are there a market, of course, there's a market, but that's dominated by big brands like Fossil, Hilfiger, Michael. Cause do like, like like fashion jewelry, like really cheap prizes, like around 10 Euro olds. That's or $10 that's like something completely different from her business.
Marcus:
But she noticed that these brands, and their products look quite the same cause maybe they have to sell worldwide on every market. So they don't go too far out. They play it safe. And she bought parts and finished them in her workshop and started to sell her own jewelry around that price on Amazon. And now after two and a half years she is approaching seven figures in revenue. So that was a really great takeaway. When you see like a niche and you're scared cause they're only big brands. Maybe you can do something like a local style, like adapt to something they don't want to, and you can still make money that niche. It was awesome to see.
Bradley Sutton:
Interesting. And that there's another, there's another story guys like we have a man and a woman here and Amazon, males, and females all over the place have success. And you might think that that's a no-brainer, but for those of us who've been in around the space for a while, remember we go to Amazon conferences like five years ago, it was like 90% guys at this conference, right? Maybe Adriana was the only woman. Sometimes you when you go to a conference. But it's it's definitely something that I see more and more women also having a lot of success, even sometimes more successful than their male counterparts. So if you're a woman listening to this please use some of our guests as inspiration to, to get started on Amazon as well. Adriana, who's the second guest that you like to talk about?
Adriana:
So I like to talk about Gonzalo and Arturo, and they were on episode 21 of this podcast, so it's been a while. This was back in May. I love Gonzalo's story because he's a fan. He loves riding motorcycles, right? And he actually had a, an accident when he basically, he got almost run off right by a truck. And he was like, how come this guy, like, how come he didn't see me right on the road? And, and the guy, yeah. Basically that guy who was about to hit him, he told him that he just didn't saw Gonzalo on the road. And so he was like, okay. So that actually gave him an idea for the product, right? And he, he basically developed a brand of backpacks for the bike riders, right? And they have these really cool colors that actually stand out at night, which is basically for their protection, right?
Adriana:
And he developed that basically from that accident that he had. And it's crazy because it has gone I would even say viral, right inside of Amazon and in social media as well And he's doing very, very well from that brand. And he of course, joins us every, every Friday, right? At the elite member's call. And, and we catch up on that. And he's always like, he always has the same problem, right? He's like, I run, I run out of inventory. And I was like, well, that's an amazing problem to have like, I know it's stressful, right? Because it's like, I don't wanna lose my ranking, and of course, I don't wanna lose getting any sales, right? But it's like he basically cannot get enough inventory in his hands to, to sell to basically always stay in stock in inside of Amazon, right? And so I think that's a pretty, pretty amazing story. Arturo as well, he has been selling Amazon for a few years now. He's also very successful. He's doing it from Honduras. And basically, yeah he learned about this basic business model. He was like, let me just go all in this. So it was great to talk with people from South America that are doing great in Amazon.
Bradley Sutton:
Yep. Another great story. I don't, I don't think I've interviewed anybody from, from South America on the show, but there's a lot of people from that continent. Even though there's outside of Brazil, there's no Amazon active there. we've got Amazon active now, you know in Africa, North Africa and, and Asia and Europe, and Australia. But nothing going on in South America, outside of Brazil. But a lot of people are having success there. Marcus, back to you
Marcus:
For my next story. I want to talk about Mikail. He was on show 37, and I liked how he's thinking outside of the box to increase sales. He's in the office, niche sales the office niche. And he's already got a lot of ASINs on Amazon. And he was thinking like, how can I increase my sales? And he discovered that a lot of office supply shops will buy from him. Cause everybody knows Amazon and everybody knows, like, best sellers on Amazon must be popular everywhere. So he brings his products in retail stores. And what he found out is that there are a lot of stores that are really open to have a difference in the product line to like Walmart. Cause like we as Amazon sellers, we think like, what would be the next cool product I can sell? But maybe that's the same as what like a store owner is thinking about. So these guys actually open to sell products, and he's also contacting schools and government agencies and selling his office supplies to them. So I thought like that was a really smart move. Like everybody's thinking, like, yeah could I sell on another Amazon market like international? But you can already sell around your house and your city and your country.
Bradley Sutton:
Okay, another good one, another good one. Along the same lines. Just we're kind of like different I think about some of the guests I've had like Sean from Kreassive who is Korean and he lives in, but he lives in America. And then he, he knew that there was a lot of Korean people living in America expats or what have you. Or just a lot of people interested in Korean culture because they're, they're fanatical about Korean dramas and music like me. But there was a lot of search volume for a lot of Korean brands that just weren't available in the United States. So, so he was able to use some of his connections back home in Korea and import a lot of products. So there's another thing, like if you are living in another country, guys, that that's not your native country, and you know of some brands that have search volume or that, that people are interested in you, you might have a better position than a native of, of the country you're living in.
Bradley Sutton:
Like Sean could import Korean stuff better than I could. I don't have connections in Korean factories or, or the ability to negotiate with them in their language and things like that. So there's another way that thinking of international things that you can do any kind of can do that. You don't have to be native of a country to, to do that. Like if you have translators or something and then you see some strange keyword that has search volume in Amazon, and you find out that it's from a certain country and, and nobody has started importing it take advantage of that kind of things don't let the international thing stop you. Adriana, back to you. Who's your, who's the next one you wanna talk about?
Adriana:
Yeah, so actually I talked to two guests and this was, I know it's two separate episodes, but I think that topic was they were talking both about SEO and email marketing. So basically strategies that are not your typical optimizer, PPC or your Amazon ads because of course sellers, we are always, you know working on our campaigns and investing a lot of PPC but Jordi Ordoñez is from episode six. Iván Enríquez from episode 27. They were both talking about SEO and email marketing. And as a seller, we hear a lot about Amazon, PPC, and paid advertising inside of Amazon, and we know there's of course SEO and email marketing, but sometimes we don't even know how useful in that is, how helpful focusing on those strategies can be, right?
Adriana:
They, both of them, they're from Spain and they sell most of their products in Spain as well, or in actually in all of Europe or most countries in Europe. And they were, Jordi was just saying, he was like we have, I mean, Google, how come we don't, don't pay enough attention to SEO inside of Google, right? He's like, of course if everyone's if your competition is focusing on display ads inside of Amazon and all of that, which of course is important, but you, many people, I mean, we all go to Google to search information about products or ask questions, right? Even on YouTube too. So he was sharing with us some strategies to basically get on the first page of, of Google, right? And Iván Enríquez, he was telling us a little bit more about email marketing, and I was like, yeah, of course.
Adriana:
like, I've heard about email marketing and I know it's there, but how effective is it? He's like, well, do you check your email every day and more than once a day? And I'm like, yeah, I check it all the time. Like, it's the first app, well, after Seller Central, right? But it's the first, the other app, that I check in the morning, right? While I'm having breakfast, right? He's like, yeah, I mean, even if you perhaps don't check all of the emails in your inbox, you are seeing this brand, you see this, the name of this brand every single day, right? When you're subscribed to a newsletter or whatever another brand you're subscribed to, right? And he's like, that makes you basically be top of mind for your customer.
Adriana:
Maybe he's not, you know interested in, in buying your product today maybe, or this month, but maybe in January your product comes in handing for him or her, right? So I was like, okay, yeah, maybe. And I started digging, studying more about the topic. And it's pretty, pretty interesting, especially because it's such a low-cost strategy. You can just work with providers such as MailChimp. There's another one called ConVerTic, which is a little bit more expensive, but it's nothing compared to whatever we paid on ads, right? On paid advertising, p c. So I'm like, okay, that's interesting. He's like, yeah you don't have to email people every day. You can just work on two emails per week and you can reach a ton of people, thousands of people, right?
Adriana:
And he's like, and it's not expensive. And they, and they keep remembering or having your, your brand top of mind. So I thought that was a very interesting, I actually started emailing my customers via, I use ConVerTicbecause I do have a large email list and I'm getting good up rates, and it's very interesting. I'm planning for the next time that I launch a product to email them and share with them a coupon in there to help me actually for the launch part of this new product.
Bradley Sutton:
I think I, I understand the power of this even with low conversion rate, it's very cheap, but how do you even get we all know that Amazon doesn't give us necessarily email addresses of our customers? So how are you building that list? Or are you buying this list?
Adriana:
No, I would never buy email list. And actually Iván, he mentioned, he mentions that in, in the episode. He's like, yeah, never do that because it's against the rules. And also the up rates and all that, it's just like very the result from that is just like, it's not, not good at all. So the way that I gather emails because I think gathering emails from your customers is just very, very important. So the way I do that is I have an insert inside of my packages, and I basically tell them a few instructions on how to use the product. Maybe I'll use a little warrant guarantee in there. I do make sure that I'm very careful with that, and I'm not trying to to get people to visit a different landing page or whatever the case, right? Like, I'm not trying to get them off Amazon, because that's against the rules. I'm just trying to get their email basically to get the warranty or, or whatever the case is.
Bradley Sutton:
Okay. Cool. All right. Back to you, Marcus. How many more do you have for us, Marcus?
Marcus:
I've got two more.
Bradley Sutton:
Let's go to number four.
Marcus:
Yeah, number four is René, he was in Podcast 42, and that was like, so awesome, like how many different approaches people find to sell on Amazon because he said he has a pretty cool product. It imagines you want to give someone a voucher, but it shouldn't be too obvious. So he has a box for vouchers that it's, imagine you have a Rubik's cube and you have to solve it. You have to solve the puzzle, and then you can open the box and it's something like this for vouchers, and it makes it difficult to get to the voucher, and you have to play with it around it's quite a cool product. And he d it he doesn't buy it anywhere. He's printing the product with his 3D printer. And that's where he started.
Marcus:
He was into 3D printing, and he thought, what can I do with it? Just it should be more than a hobby. And then he came with a product and he thought, okay, maybe I can sell it on Amazon. And was really cute. Cool. And he's got five printers and they are running 24/7 in his home producing his products in different colors, in different sizes. And he told me that's a hobby for a lot of people, and they are all well connected in forums discussing techniques and solving issues. And I think that's a great opportunity for Amazon sellers. Like if you have a product idea, you can find it anywhere. Like go to a Facebook group try to connect to those people and ask, Hey, can you build me like 10 units? Or you want to develop a prototype and you don't wanna ship it to China. And back again and discuss it, like find someone near you who's into 3D printing and get your product prototype done, and then you can send it to agent to find a manufacturer who can do it in big numbers. So there was a quite an amazing story from him.
Bradley Sutton:
Interesting. So like five 3D printers going 24/7, like his own manufacturing plant there. That's interesting. It'd be interesting to like, kind of like see the ROI on that to see like how, how expensive those are, and then, and then how fast it takes to, to get your money back. But that's definitely a way to kind of like hurry up and, and with, with the supply chain process while your competitors are, are having to ship things back and forth and take months to produce and worry about import taxes and getting stuck, you here you are just printing away, and you can also keep lower inventory numbers on hand and just, just supply to Amazon, especially now or in QQ4, at least in the United States they put inventory restrictions again on a lot of people. Do they do that in Europe? Do you hear of any Yes, buddy or yourself? Where were they have, like, is it like size restrictions? Like, hey, this sized tier, you can only send this much? Is that what was happening over there to Marcus?
Marcus:
Yeah. That's the same for different size tiers. You have
Bradley Sutton:
Different, okay. Wow. I didn't realize that Amazon, Germany, and other places had. How about you, Adriana? Did that affect you and your accounts were you fine with inventory and then all of a sudden you're Amazon put a restriction and you couldn't send any more in for a while?
Adriana:
Yes, yes. It's funny because the next guest I'm going to talk about is someone that actually he's very good at basically managing his logistics and his production and manufacturing. He also does a little bit of manufacturing here in Mexico. This wasn't planned. I didn't know Marcus was going to talk about someone that, that was doing that, but he's doing something very similar. Actually, this is from episode 50, and his name is Alfonso. He's from Mexico, so he started selling not too long ago. I think it's was during the pandemic, so maybe like two years ago. And yeah, he, he heard about the opportunity and he was like, yeah, I remember he says that he actually, he got locked in my room.
Adriana:
And he was like, he told his wife like, you know what, I'm gonna study this, this thing for for a month and, and, and let's see. Right. And so he launched a few products. So the way he manages he's, or can actually make his margins be, be healthier is ba basically trying to get parts of the products from China basically from his former supplier in China, and then a manufacturer or put all of the elements together here in Mexico, and then he ships it because he sells on Amazon us. And so interesting because he's like that way I can as Marcus said, right I can come up with a product within like a week or two weeks maybe, and then just send it over to Amazon US and test it out.
Adriana:
I'll, maybe I'll send 20 units and of course, the cost of that is not too much. And of course, he lives in the north part of Mexico, so it can get to Texas whatever he ships to the US, it can get there in like two hours or three hour stops, right? He's like, so that's a really good way to test product ideas and see if people are even interested in that. Right? And so he keeps his margins pretty healthy, I would say, because he manages to innovate his products because he doesn't have to buy the finished product from China and, and then ship it over to the US. He's like, I can get it here. And then of course we're gonna really nice packaging and of course increase the price if I work on a really nice packaging, et cetera.
Adriana:
So he manages that. So basically before, instead of buying the product in China and just sending it over to the US, he gets it here first. He works on it and, and just adds a little bit more of design and just packaging and all that. And he gets it into the US in like three weeks. And he's like, if it doesn't work, it's fine. like, maybe I just, I just created 20 units on that and it's fine, and I'll, I'll just work on the next product. So I thought that was a very, very interesting thing that he has going that many o other sellers don't. Right. So that's an advantage over there.
Bradley Sutton:
Okay. Interesting. Now just real quick, I'm gonna put you on the spot here. You've been selling on Amazon for a while. You live in Mexico. I would assume though, I think I've talked to you about this before, but almost all your products are made in China. Is that correct? So why have you just personally not manufactured in Mexico? you, you would have the advantage over me, for example, who doesn't live in Mexico. Is it because there's only like maybe certain products that are better to do in Mexico and others, it's still better to do in China, even for a Mexican person like yourself?
Adriana:
I feel like at least my excuse has always been that I just don't, perhaps I don't have the team that would help me perhaps manage our warehouse here in Mexico, and then someone that will help me people that are working at the Warehouse, right? But now that I talk to Alfonso, I'm like, maybe I can partner up with him. And he's like, yeah, maybe maybe I can make, make this cost or what, just like Jeff Bezos does, right? He's famous for that, like turning a cost factor into like a new business, right? He's like, yeah, maybe we should partner up, and maybe I should take on other clients and make this warehouse not only, you know manufacture my, my products, but I can work with other sellers to do that. And I'm like, yeah. like, so maybe I'll look into it. I'm tempted to do that.
Bradley Sutton:
Interesting. Interesting. All right. Marcus, for your last guest of the day.
Marcus:
My last guest was a recent episode number 49. Rolf was his name. And he is a patent lawyer and he told me about design patents and the advantages for Amazon sellers. Cause like, I mean, everybody knows patents and like, you have to make a really important invention to file a patent, like the swimming car that's also flying or something. But like we, Amazon sellers, like all the time we develop like small things. We make small things better. And design patent is a smaller brother of the patent. And like Bradley, you developed your coffin shelf. You did a lot of research, you looked it with Cerebro, what are people searching what's important for your customers? Maybe even like reviews, like good and bad reviews of other sellers. And then you came up with your product, you knew what it should look like.
Marcus:
And like a lot of Amazon sellers, they're afraid like, could my manufacturer sell my idea himself on Amazon or could he sell it to other sellers? And you don't want that. And with a design patent, you can protect your design so that nobody else is allowed to sell it. And Amazon will react like immediately if you show proof you've got the design patent, they will spend every other seller and the design patent for Germany is only $60 to file. That's like really inexpensive. And it's quite inexpensive like everywhere else. So that's a really interesting way, if you have a real passion product that you put a lot of time into and you can have like really great protection for that.
Bradley Sutton:
Okay. Interesting. Interesting. Adriana, who's the last guest you wanna talk about?
Adriana:
Yeah, so I want to talk about Mir and her partner Anna. They were in episodes 45 and 49 respectively. So I had them separate in separate episodes. And they were telling me about Walmart.
Bradley Sutton:
You've been cheating. You've had five episodes to talk about, but you've given like 11 guests, I think. Cuz you keep trying to do two for the price of one. That's fine.
Adriana:
I mean, they have great stories and I mean, if they're talking about the same topic, then maybe I can fit them in. Right. I'm just giving you a hard time. That's right. And they're partners and both of them sell in on walmart.com. And it's mind-blowing to me why other people are not doing this. Like other sellers, especially sellers that have experience selling on Amazon, right? Because I mean, it's so much easier. Of course, it's a different platform, but it's like if you already know how to sell on Amazon, how come you're not already putting that skillset to work basically to sell on Walmart now? Like yeah, I mean, that's interesting.
Adriana:
They're like, yeah, I mean, the costs are just like so, so different. p c here in Walmart, it's basically you almost don't have to worry about p c here on Walmart, the way you launch products. It's easier to get to page one. People already trust the ba the brand. I mean, Walmart has been in the US for I don't know how many years, right? So people already trust the brand. Walmart, they are great when it comes to doing fulfillment. Every few weeks, they come up with new ways to improve their platform and their fulfillment and all that. They're very good to sellers. They were selling support at Walmart. Seller support is, is great. And they're like, it's mind-blowing. Like of course, perhaps people are not selling the same amount of units on walmart.com, that they are on Amazon, right?
Adriana:
But it's like, so who cares, right? If we launch enough Skus on Walmart it's just like easier, less stressful, and it's there and people are not paying attention to that there's less competition if you're good at selling on basically online, right? About listing creation keyword ranking and that type of thing. all the strategies that we already are implementing on Amazon, they're like, I don't, I don't get it why more people are not on Walmart? And they're like, I mean, we're happy about that, right? Because we're the leaders in our niches. But so they're doing great on Walmart.com and they're just like super excited about this new opportunity. They're like, come on. Like even we were just talking about this even at the N F L games, right? They're doing a ton of advertising. So it's like people, I mean, they, people trust the brand already, right? And, and they're just, they just keep on growing, right? They just keep getting more market share basically from online shopping.
Bradley Sutton:
Okay. All right. Good. Now back to Marcus. Now you've already given five, right?
Marcus:
Right.
Bradley Sutton:
Yes. All right, so now it's time here. Here's something you guys might not have known unless you listen to the latest episode. As you guys know, cuz you've both been on the show. I used to have the TST 30-second tip, but so many guests like abuse that time limit. So I change it to SST 60-second tip. So, Marcus, this could be about something from your guests. It could be about something from your own Amazon business. It could be something about running a successful YouTube channel. It could be about photography, what you're a professional about. But what is a 30-60 second tip that you can close out this episode with from you?
Marcus:
That would be, for example, like just asking questions. Like just try to connect to people. I'm getting questions on Instagram like yesterday, and I replied to that guy and he replied with, oh, I actually didn't expect that you would write back. And it's the same like the guest I talked about, like who's going to schools, government agencies, and shops. Like, he's just asking and now he's selling through them. So like I guess a lot of people are afraid to ask, but yeah, you can't fail big. Yeah, maybe you can't you won't get an answer back, but if you do, you just profit. So yeah, just ask questions.
Bradley Sutton:
Yeah, that's good. You're not gonna build your network by not talking to people. you're not going to be able to close that amazing potential crazy deal that somebody you thought you never would if you don't try and reach out. So that's a good tip. sometimes we're a little bit timid like myself, like, I might not like to reach out or might be awkward, but you might be holding yourself back from opportunity that way. Thank you for that. All right. Adriana, your turn.
Adriana:
I would say to basically to every Spanish speaker I would say to do basically some research about the big opportunity that Spanish speakers we have selling online in general. I mean, we have of course Spain, we have Mexico, we have Colombia and Chile tho those marketplaces opening up soon. And of course, there's a ton of people that speak Spanish in the US and even in Canada too. So sometimes we feel like, okay, no, you know what? I need to be very good in speaking English if I want to sell an Amazon, and I don't know if I want to launch in Amazon us, right? Because I don't know if my English is at that level, but it's like, it's, it's crazy how much, how much opportunity there is outside the US too.
Adriana:
Perhaps we can start selling on these smaller markets such as Amazon Mexico, Amazon Spain is bigger than Amazon Mexico, of course, but it's like we can, I mean, it's there and there are so many marketplaces that we can work in as being Spanish speakers that perhaps we don't even know about. I mean, Amazon Chile opening up soon. Amazon Colombia op opening up soon. I mean, it's crazy. The opportunity is there. And maybe English speakers that don't speak Spanish, might not want to enter these marketplaces, right? So it is there for the taking for us.
Bradley Sutton:
Awesome. Awesome. All right. Real quick we talked about these two podcasts, but I'm wearing the AM/PM podcast shirt. So a couple of good episodes, if you guys haven't been listening to that it's, it's hosted by Kevin King couple of the most popular episodes recently, episode 318 with Josh guys and episode 306, actually with Matt was another great episode. So don't forget the ampm podcast. Guys, Kevin's been doing some really amazing things with record downloads almost every month now as mentioned, guys, if you speak German, definitely check out Serious Sellers Podcast auf Deutsch, whatever you're listening to on this it'll be available there. And if you speak Spanish make sure to subscribe to Serious Sellers Podcast en Espanol. And don't forget, guys, too a week after their podcast comes out, like, especially on the bigger, better launch episodes that Marcus and Adriana do, they have a graphical one, but subscribe to their YouTube channel that is for the podcast. And, and that's same thing, Serious Sellers Podcast en Espanol, Serious Sellers Podcast auf Deutsch by Helium 10. You can find both of those on YouTube and have a visual aid on those bigger, better launch episodes. But then Marcus, like outside of the podcast, how can people find you on YouTube?
Marcus:
It's Amazon FBA by Marcus. If you type it, you will find me.
Bradley Sutton:
Excellent. And Adriana, you have a new-ish channel on YouTube. How can they find you on there?
Adriana:
Yes, it's Amazon FBA con Adriana Rangel.
Bradley Sutton:
Awesome, awesome. Alright, guys. Wait, wait a minute. Isn't that? Did you copy, Marcus with your YouTube Channel?
Adriana:
You know what, Marcus has been such, he taught me. Yeah, of course. He has been such a huge mentor for me. He's like, no, this is the way you have to work your SEO into your YouTube title and all that. He has taught me a lot about titles, and thumbnails. I would say 90% of what I know.
Bradley Sutton:
It took me a second there to think about it.
Adriana:
90% of what I know comes from what I learned from Marcus because there you go. He's been doing this forever.
Bradley Sutton:
Yeah. And guess what? If you didn't ask him, you wouldn't have got all these insights. Just like you said.
Adriana:
I wouldn't have launched my YouTube channel if it weren't for Marcus.
Bradley Sutton:
Love it. All right guys, well, thank you so much. Congratulations and really great job on bringing the podcast. I think last month we had record numbers for both Spanish and German podcasts. So thank you so much for growing that. And let's see what 2023 has for both of your podcasts. And let's, let's learn some new stuff from all of your new guests you're gonna have.
---
Enjoy this episode? Be sure to check out our previous episodes for even more content to propel you to Amazon FBA Seller success! And don't forget to "Like" our Facebook page and subscribe to the podcast on iTunes, Spotify, or wherever you listen to our podcast.
Get snippets from all episodes by following us on Instagram at @SeriousSellersPodcast
Want to absolutely start crushing it on Amazon? Here are few carefully curated resources to get you started:
Everything for your business on Amazon.
Find out more about our products by signing up or speaking with one of our
Customer Success representatives today. With us in your corner, you can enjoy
more sales and increased engagement from your Amazon business.
Chat with a Support Specialist