#75 – So findest du Hersteller für Deine Amazon Produkte aus Europa
Wenn du einen Hersteller für dein Amazon Produkt suchst, möchtest du vielleicht kürzeste Lieferwege und dadurch weniger Kapitalbindung. Daher ist es sehr interessant, sein Produkt aus Deutschland, dem europäischen Ausland und der Türkei zu beschaffen. Sebastian erzählt uns welche Länder für welche Produkte besonders stark sind, wie er dort Lieferantensuche betreibt und wie man dann richtig verhandelt. Die Agentur findest du unter https://www.zignify.net, Sebastian auf https://www.linkedin.com/in/sebastianherz/ und das ScaleForEtail Event auf https://eventbrite.com/e/609467582947/?discount=Zignify20
Originally published on: May 16, 2023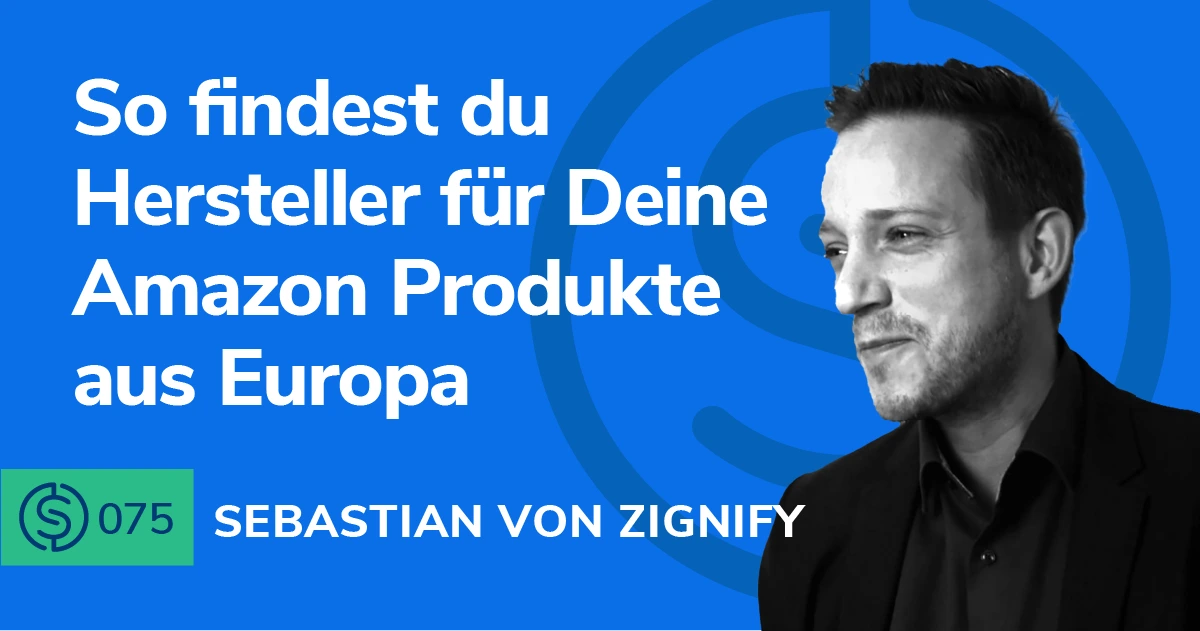 In dieser Episode unterhalte ich mich mit Sebastian Herz von der Beschaffungsagentur Zignify über Lieferanten suche in Europa. Wenn du einen Hersteller für dein Amazon Produkt suchst, möchtest du vielleicht kürzeste Lieferwege und dadurch weniger Kapitalbindung. Daher ist es sehr interessant, sein Produkt aus Deutschland, dem europäischen Ausland und der Türkei zu beschaffen. Sebastian erzählt uns welche Länder für welche Produkte besonders stark sind, wie er dort Lieferantensuche betreibt und wie man dann richtig verhandelt. Die Agentur findest du unter https://www.zignify.net, Sebastian auf https://www.linkedin.com/in/sebastianherz/ und das ScaleForEtail Event auf https://eventbrite.com/e/609467582947/?discount=Zignify20
In Folge 75 des Serious Sellers Podcast auf Deutsch, Marcus und Sebastian diskutieren:
06:12 – Unterschiede in der Beschaffung bei Europa und China
11:23 – Diese Länder in Europa produzieren Ware für Amazon Händler
17:00 – So funktioniert die Lieferantensuche online in Europa
20:23 – So findest du Lieferanten in Europa über LinkedIn
24:14 – Welche Messen in Deutschland sind wichtig für Amazon Händler?
27:50 – Der Vorteil von Produktrecherche auf Messen
32:15 – In welchen Nischen kann auch mit wenig Kapital in Europa produziert werden?
36:34 – Die besten Strategien mit teuren Formen und Werkzeugen
45:15 – Insider Strategien für Amazon Händler auf dem ScaleforEtail Event
---
Willst du unbedingt damit beginnen, es auf Amazon zu vernichten? Hier sind einige sorgfältig zusammengestellte Ressourcen, die Ihnen den Einstieg erleichtern:
Accelerate Efficiency with Insights Dashboard
The all-in-one customizable dashboard for sellers and brands, designed to accelerate decision making through the centralization of data, insights, and action. A bird's-eye view of your business with personalized suggestions to unlock growth.
Learn More about Insights Dashboard