#34 – Brandneu Helium 10 Funktionen im Juli – Bigger Better Launch auf Deutsch
Bigger Better Launch auf Deutsch informiert dich über die neuesten Funktionen in den Helium 10 tools für Amazon Händler. Erfahre wie du die Software zum Verkaufen auf Amazon noch effektiver nutzen kannst.
Originally published on: July 31, 2022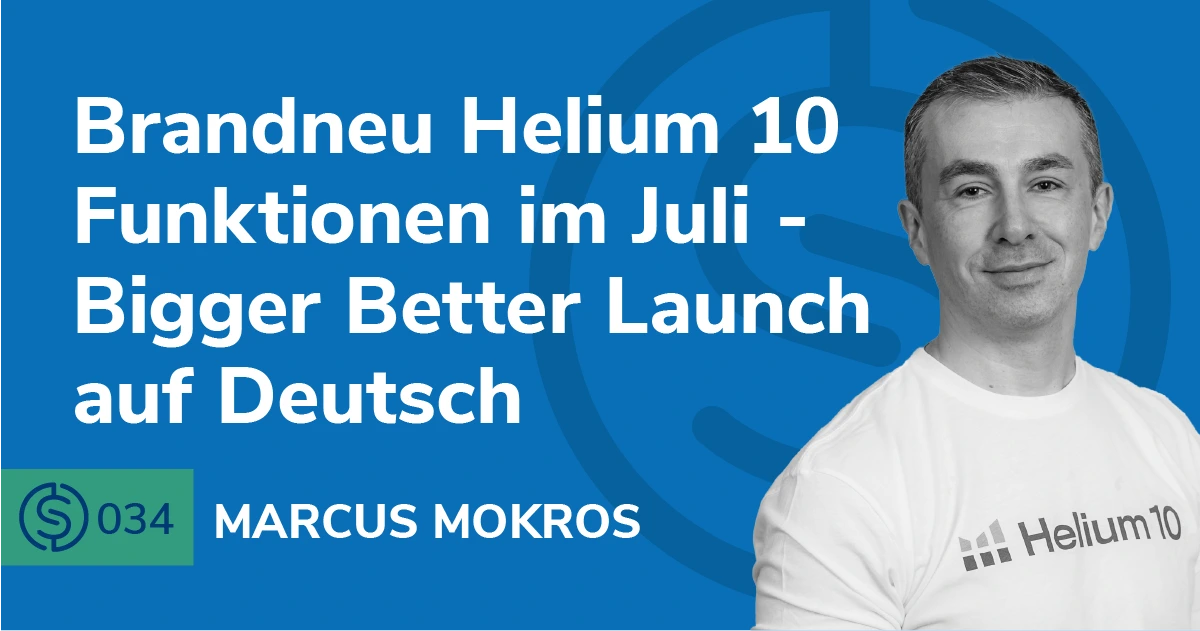 Bigger Better Launch auf Deutsch ist die Serie in der ich dich informierte welche neusten Funktionen und Tools ab jetzt in der Helium 10 Suite enthalten sind. Mach dich bereit auf neue Möglichkeiten mit der du dein Amazon Geschäft noch effektiver betreiben kannst.
In Folge 34 des Serious Sellers Podcast auf Deutsch, Marcus diskutieren:
00:56 – Die Neuen Funktionen und Helium 10 Tools im Juni
02:25 – Market Tracker 360 gibt überblick über Marktanteil und Konkurrenz
04:40 – Empfehlungs-Tool in deinem Helium 10 Mitgliederbereich
05:40 – Listing Analyser Button direkt in Xray
09:12 – Listing Analyser starten direkt aus Cerebro
10:12 – Schnelle Keyword Recherche mit Xray Keywords
12:39 – Update im Amazon PPC Tool Adtomic: Gebotsvorschläge einstellen
14:40 – Anpassung beim Einstellen von PPC Kampagnen
18:37 – Mit Widgets deine Amazon Geschäftsberichte individualisieren
21:30 – Wie du selber neue Helium 10 Funktionen und Tools vorschlagen kannst
---
Willst du unbedingt damit beginnen, es auf Amazon zu vernichten? Hier sind einige sorgfältig zusammengestellte Ressourcen, die Ihnen den Einstieg erleichtern:
Accelerate Efficiency with Insights Dashboard
The all-in-one customizable dashboard for sellers and brands, designed to accelerate decision making through the centralization of data, insights, and action. A bird's-eye view of your business with personalized suggestions to unlock growth.
Learn More about Insights Dashboard