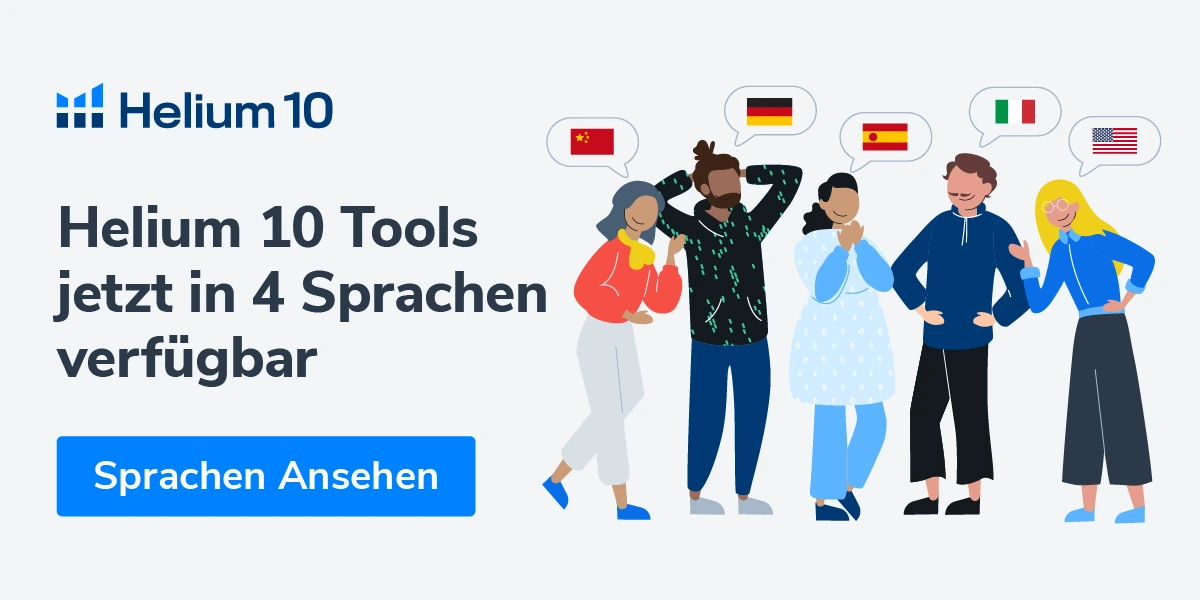 Helium 10 Tools sind in mehr Sprachen als je zuvor verfügbar!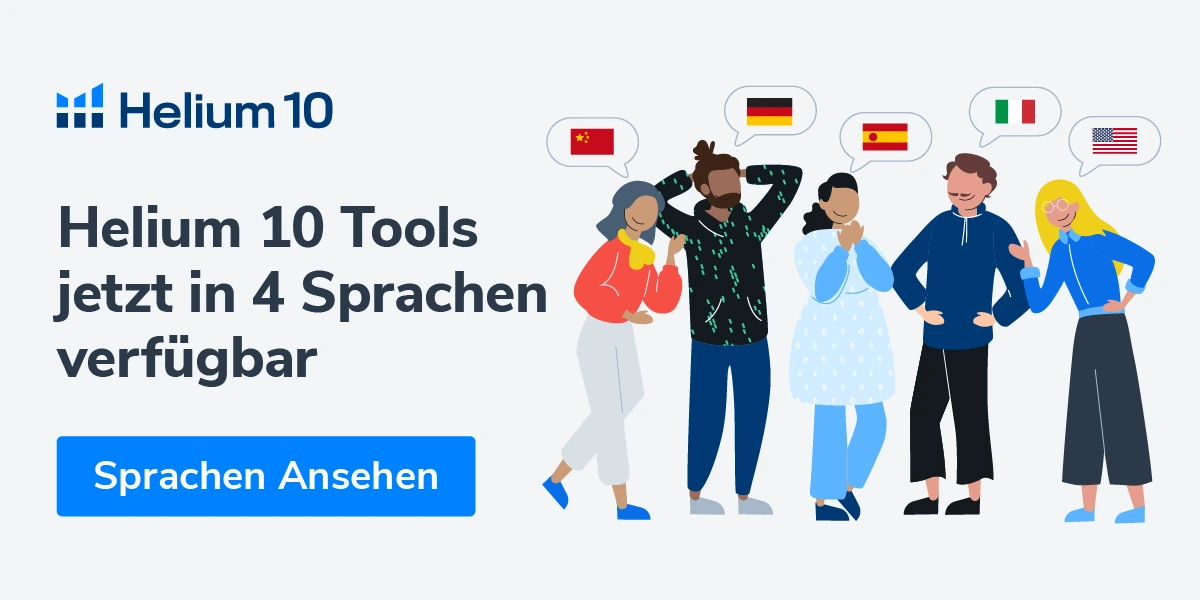 Das Geschäft ist eine universell gesprochene Sprache, heute mehr denn je im E-Commerce. Sollten daher die Amazon-Verkäufer-Tools nicht genauso mehrsprachig sein wie die Verkäufer, denen sie helfen?
Verkäufer aus Lateinamerika, Spanien, Mitteleuropa und China … ihr habt Glück!
Bisher war die Helium 10 Chrome Extension unser einziges Tool, das in mehreren Sprachen funktioniert. Wir sind stolz darauf, ankündigen zu können, dass 12 neue Helium 10-Tools in vereinfachtem Chinesisch, Deutsch, Spanisch und Italienisch verfügbar sein werden!
Die folgenden Tools werden übersetzt, damit es für Verkäufer/innen aus der ganzen Welt einfacher denn je wird, Helium 10 zu nutzen:
Cerebro
Black Box
Magnet
Listing Builder
Keyword Tracker
Profits
Follow-up
Frankenstein
Index Checker
My List-Products
My List-Keywords
Listing Analyzer
Logge dich ein und aktualisiere deine Einstellungen!
Mit Amazon-Marktplätzen in 20 verschiedenen Ländern und über 200 Millionen bezahlten Amazon Prime-Mitgliedern weltweit gibt es heute mehr denn je eine große Vielfalt an Amazon-Verkäufern. Und wir könnten nicht glücklicher sein, diese Vielfalt in den Helium 10 Tools widerzuspiegeln, die du kennst und liebst.
JETZT sprechen wir deine Sprache!
Helium 10 ist stolz darauf, die einzige große All-in-One-Software für Amazon- und Walmart-Verkäufer mit lokalisierten Tools zu sein, die die gängigsten Sprachen des E-Commerce unterstützen.
Wir sind ständig auf der Suche nach neuen Wegen, um unsere Verkäufertools zu verbessern, und einer der wichtigsten Wege, dies zu erreichen, ist die Verbesserung der Barrierefreiheit. Mehr Vielfalt in der Helium 10-Verkäuferfamilie bedeutet ein paar Dinge.
Die Helium 10-Tools sind für nicht englischsprachige Verkäufer/innen einfacher denn je zu bedienen, was aufregende neue Möglichkeiten für aufstrebende internationale Unternehmer/innen schafft.
Die Tür ist jetzt offen für weitere internationale Helium 10-Erweiterungen und Unterstützung. Dein Land könnte das nächste sein!
Erfahre mehr über die internationale Expansion von Helium 10 (und erhalte einen Sonderrabatt für den Platin-Plan!)
Wie du auf deine lokalisierten Tools zugreifst
Klicke in deinem Helium 10 Dashboard auf "Einstellungen", das sich unter dem Helium 10 Dropdown-Logo oben rechts auf deinem Bildschirm befindet.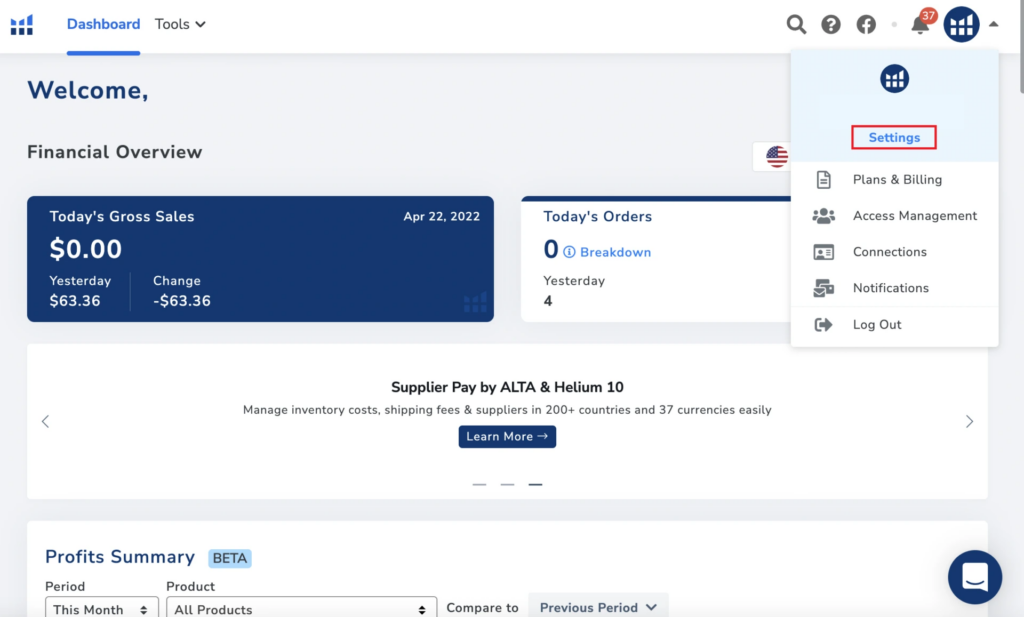 Klicke dann auf das Dropdown-Menü "Sprache", das sich oben rechts auf der Einstellungsseite befindet.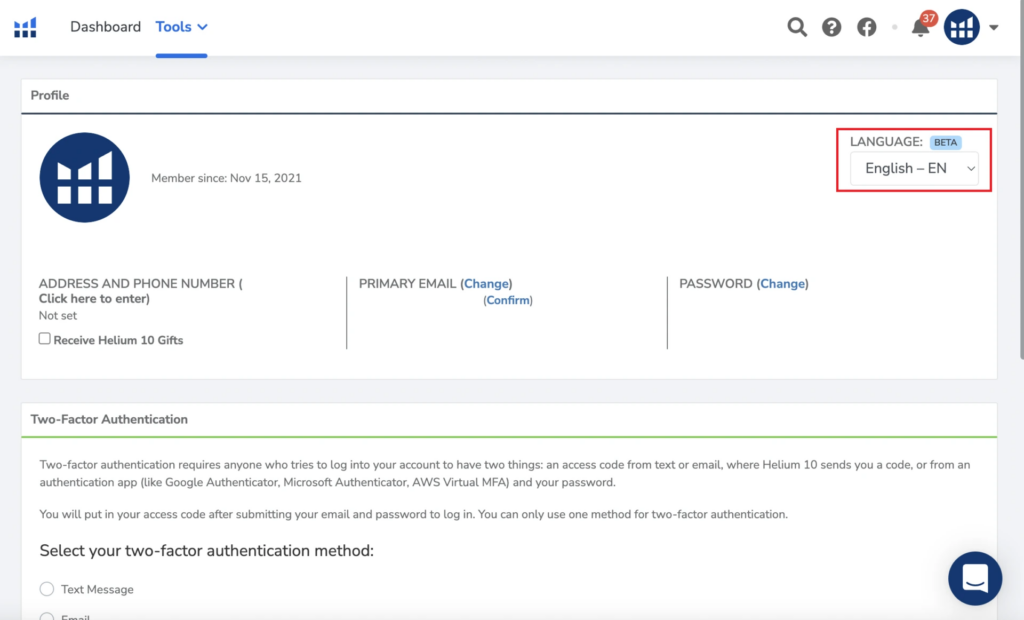 Wähle deine Sprache aus dem Dropdown-Menü…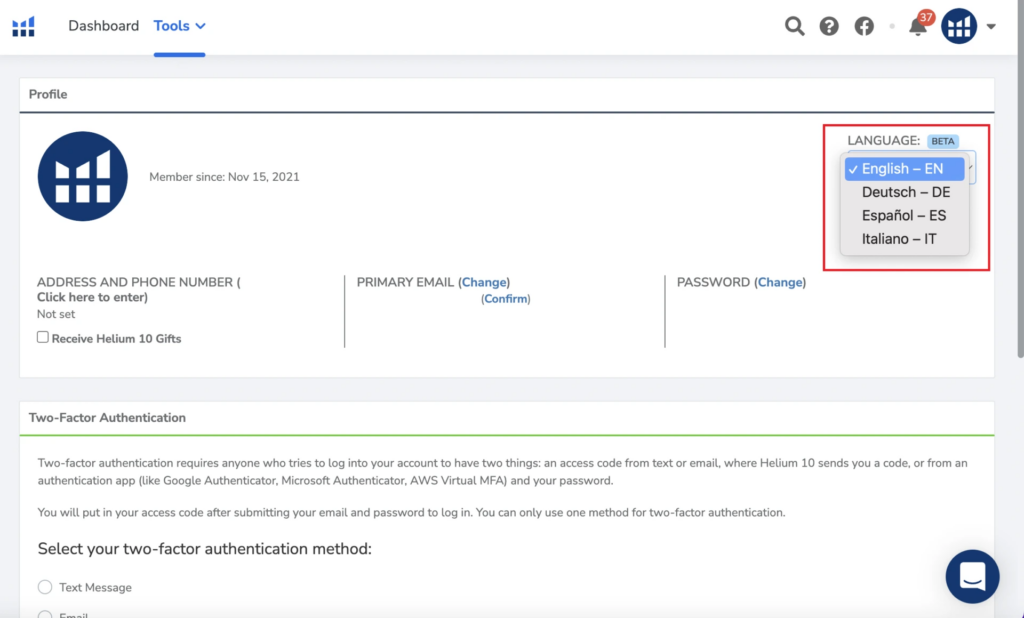 Genieße die Helium 10 Tools in deiner Muttersprache!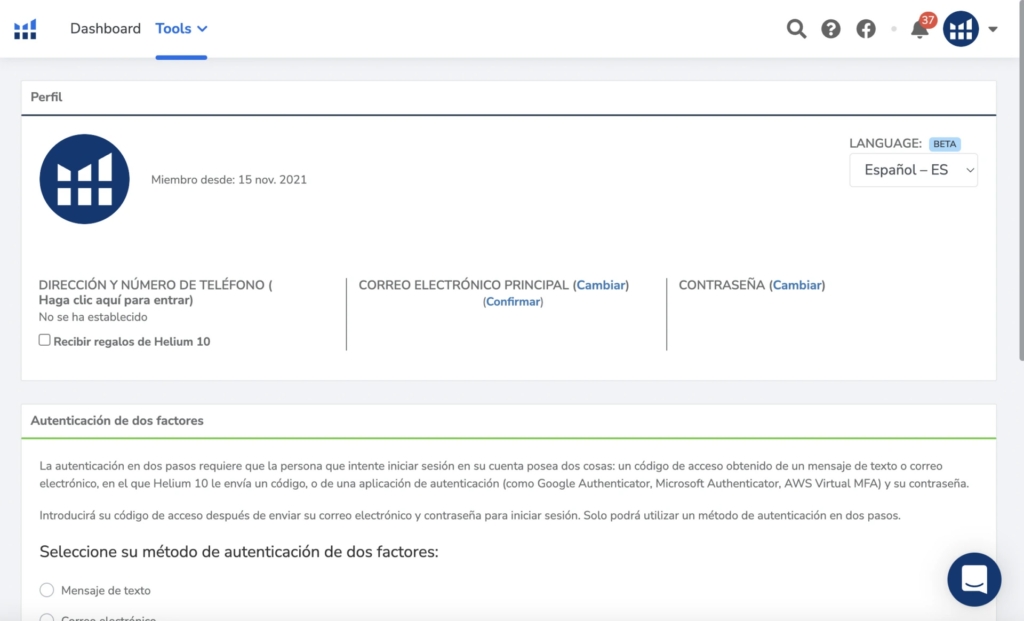 Wir verkaufen besser, gemeinsam
Helium 10 verfügt bereits über Kernfunktionen, die derzeit in 13 verschiedenen Amazon-Märkten auf der ganzen Welt verfügbar sind. Mit diesen sieben Tools, die nativ in Spanisch, Deutsch, Italienisch und vereinfachtem Chinesisch funktionieren, machen wir einen großen Schritt, um Verkäufern jeglicher Herkunft zu helfen, ihr Geschäft voll auszuschöpfen.
Achieve More Results in Less Time
Accelerate the Growth of Your Business, Brand or Agency
Maximize your results and drive success faster with Helium 10's full suite of Amazon and Walmart solutions.