Making The Most Of Your Listing Content On The Walmart Marketplace
Learn how to start selling your products on Walmart's online platform and optimize your listing for success!
Updated on: August 26, 2022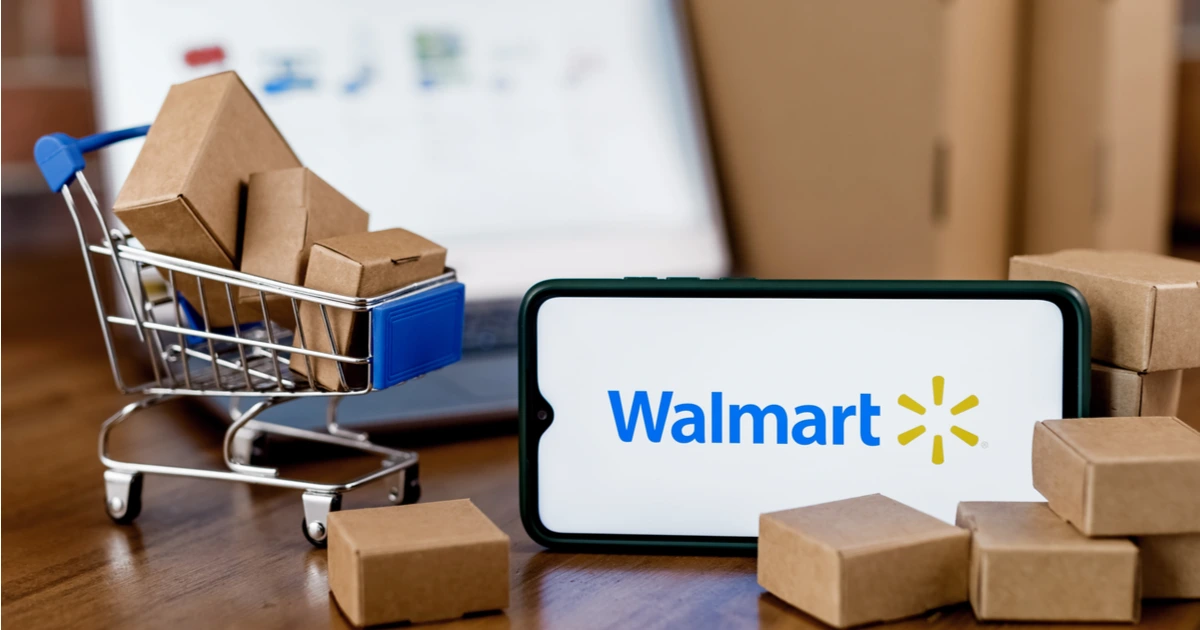 Are you looking to start selling your products on Walmart's online platform and want to know how to optimize your listing for success?
Let's take a look at how to create the best content for your products on the Walmart Marketplace. Optimizing your listing is easy on Walmart compared to many other large e-commerce platforms. You can sell your product without following stringent guidelines to the letter. However, ignoring the guidelines will put you lower down on the search results and affect your listing score.
Getting Started – Research
The first thing to do when creating new content for any platform is a little research. Here are a few details to keep an eye on as you explore.
Common search terms to help with keywords
How the buyer experience affects marketing
Competitors with similar listings
Images that grab your attention in a good way
With Walmart, this can all be achieved by searching for similar products on their online selling platform. While typing your product into the search box, you will see smart "search complete" terms that you can use as keywords in your listing if relevant to your product. So for instance, if I was selling a pillowcase I would type that into the search box and the following suggestions would pop up.
When you have the search results in front of you, there are a few details to take note of like popular search terms in the boxes that are in between the search box and the results. Write down the ones that seem relevant to your product or even click on a term to see more.

Time to consider the buyer experience! You will notice details like shipping shown on the products. If shoppers need an item fast, they can choose a product based on how fast delivery is. Some of the products have tags like "clearance" or "reduced price" to help buyers make an informed decision when browsing products. You can actually add badges to your listing, so make sure to use any that fit.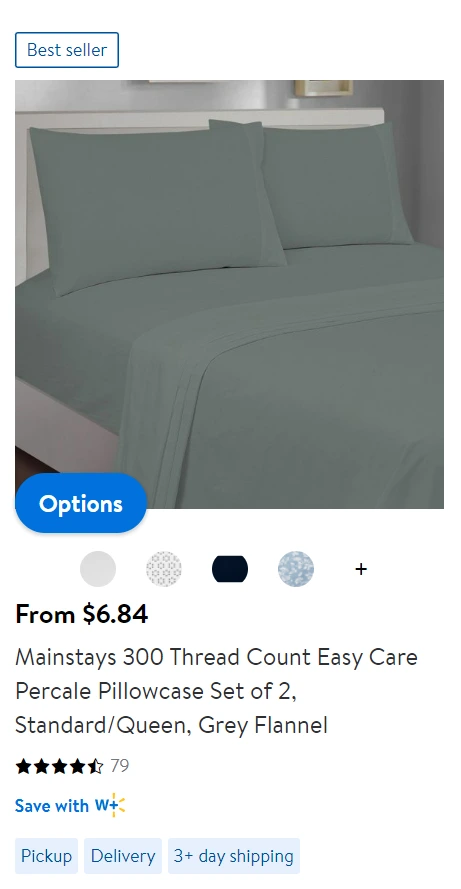 As you look further, you will see some products have a "Save with W+" on them. Walmart Plus is a membership-only option that offers benefits like free shipping and special prices on Walmart gas stations. You can think of W+ like Amazon Prime. One other thing to consider when setting up your listing is the "Add" button that lets shoppers add the item to their cart instantly from the search results page.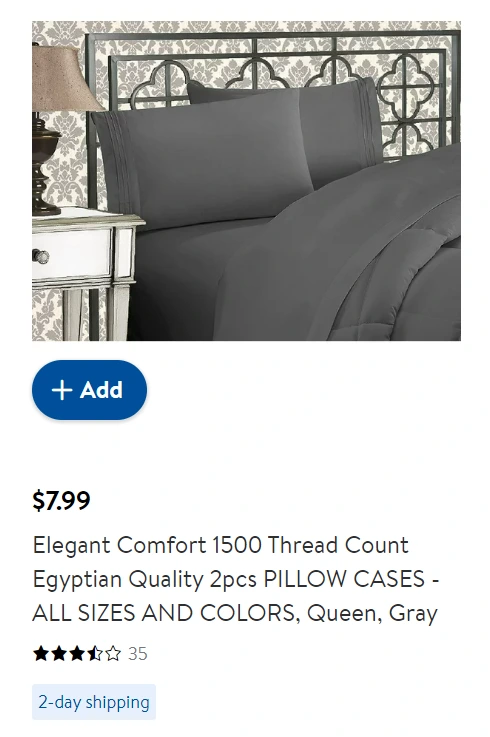 This button only shows up on single listings and does not work on variations. So, depending on the product, it might be better to split variations into more than one listing. Apparel works differently with variations, so if you are selling a t-shirt in multiple colors, there are other ways of appealing to shoppers than with the "Add" button.
Now check out the competition and see what their content looks like. Is there anything you like about their listing or that stands out compared to the others? Good images are even more important on Walmart than on most platforms because the descriptions and key features are located below images of competitor products. So, make sure that you utilize infographics and highlight the main selling points in the images so that you win the conversion.
Best Practices for Images on Walmart Marketplace
From your research phase, you will have seen a lot of good to subpar images in a range of different styles. With such a variety of main images, no doubt you're wondering what photo will show your product in the best light. Well, Walmart does have some guidelines to help you with images, even if they don't enforce their image rules as strictly as Amazon and other platforms. We want to make sure you're set up for success so you can sit back and not have to worry about infractions due to image guidelines.
All the rules and guidelines for uploading product photos can be found on Walmart Seller Help under Image Guides, so feel free to check out all the information on image guidelines there. Before we dive in completely, there are two different sets of rules for images – general guidelines and apparel-specific guidelines. We will start with going over general image requirements and then briefly mention some of the differences in apparel photos.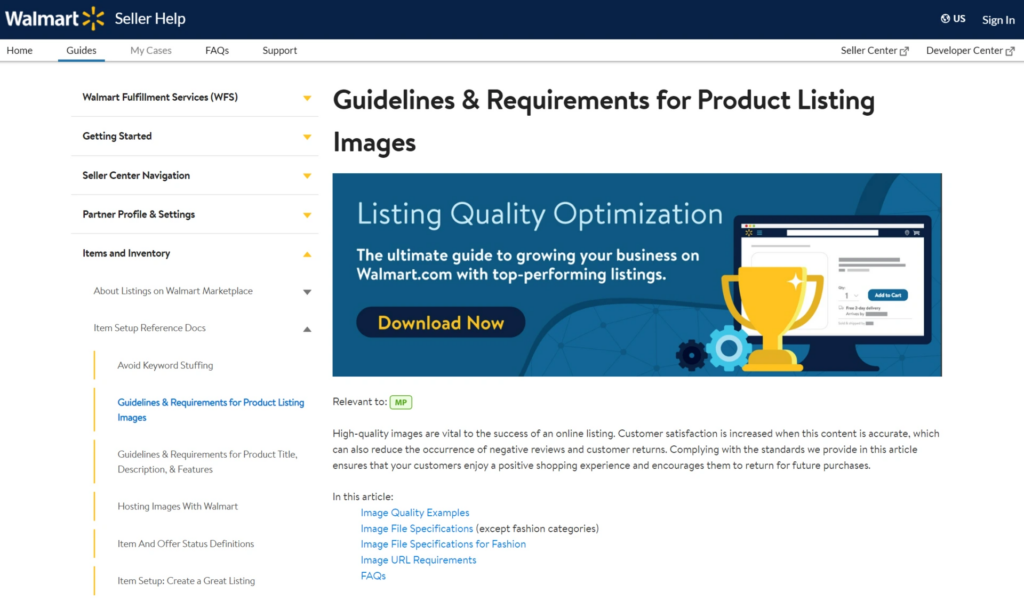 General Image Requirements
Compatible File Formats are JPEG, JPG, PNG, and BMG.
Color Format (RGB) and File Size (no more than 5MB)
Use a Seamless White Background with 2000 x 2000 image size or higher for Zoom.
Walmart says that they cannot load images with accessories that are not included in the package. However, in the case of styled images or lifestyle images (not usually main listing product images), this can usually be interpreted loosely when doing a photo with your product "in action".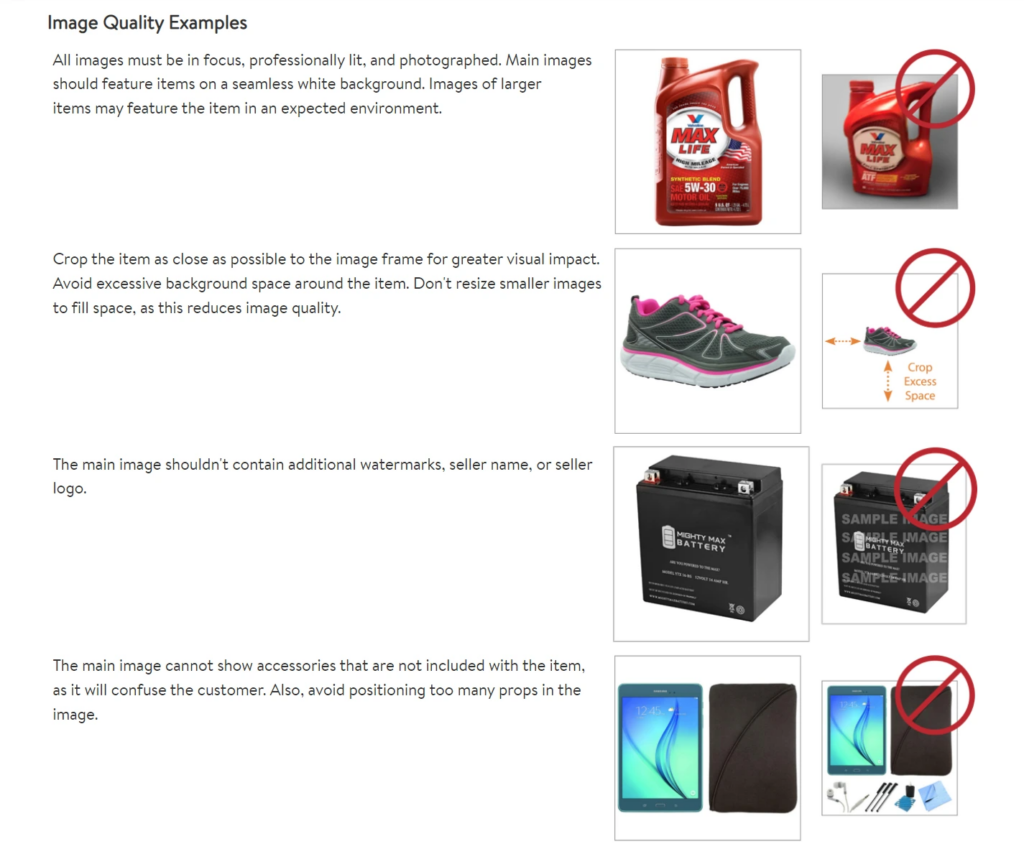 Images for Fashion Categories
Most of the requirements are the same as for general images. The two main differences are larger format photos and color/pattern variations.
The recommended pixel dimensions are 2200px x 2200px.
Instead of the listing variations being spelled out in words like "pink" or "gray", you can upload swatch photos (50px x 50px) that show your shopper the other color variations.
Other Tips for Images
We recommend looking at image URLs and photo hosting sites to make the process easier when uploading your images to your listing. Scene 7 is the image hosting platform that works best with Walmart Marketplace. For those sellers who are also on Amazon, Walmart does allow you to use Amazon Image Hosting through the AWS platform.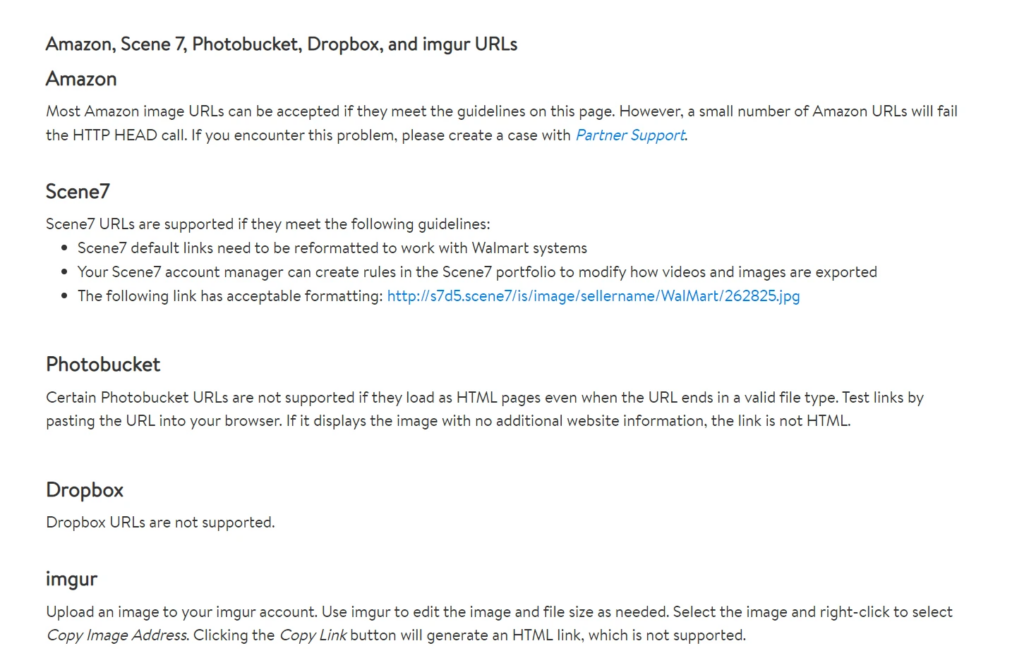 Use plenty of infographics and lifestyle images after your main product picture. Infographics are rarely used on Walmart and will make your listing stand out from the rest. If you want to learn more about what makes an infographic great, check out some of my other blog posts on getting the most out of Amazon images. The details can be translated into creating infographics for Walmart.
Writing Your Listing Content
There are 3 main things to focus on and keep in mind as you are writing your listing content for Walmart.
Title
Key Features/Bullet Points
Product Description
Walmart is much simpler compared to other platforms. Keep your language clear and conversational as you write.
When Writing Your Title:
Keep to the character limit (50 to 75)
Avoid Keyword Stuffing – you lose clarity and gain very little
Place Brand Name in Title
Have a basic size (small, etc. Doesn't have to be exact measurements to the inch.)
Place Relevant keywords in specific rather than general terms (ex. Use "spatula" instead of "kitchen utensils")
Add color if people often search for a specific-colored item
Do not use special characters or marketing phrases such as "best-selling"
Key Features of Bullet Points:
80 characters minimum, short and to the point
No keyword stuffing
Should be short highlights that explain the main features and/or selling points of your product
When we talk about character limits, you may see competitor listings that do not follow the guidelines. Walmart will not take down your product listing for going over the limit, but they will drop your listing score. For those who sell on Amazon, the best thing to do when creating your Walmart listing starts from scratch with titles and bullet points. Product descriptions might work on both platforms if simple and clear. Do not copy and paste your bullet points and title from Amazon.
Final Thoughts and Notes
Some benefits for new sellers on Walmart are that 3rd party sellers are often on equal footing as big brands. The marketing is simple and uncomplicated compared to other selling platforms, and writing a good, optimized listing can land you on the first page in some non-competitive categories.
Walmart's new and improved online marketplace is an exciting opportunity for sellers. Hopefully, you now have plenty of ideas for your Walmart product listing.
Frequently Asked Questions
Everything for your business on Amazon.
Find out more about our products by signing up or speaking with one of our
Customer Success representatives today. With us in your corner, you can enjoy
more sales and increased engagement from your Amazon business.
Chat with a Support Specialist