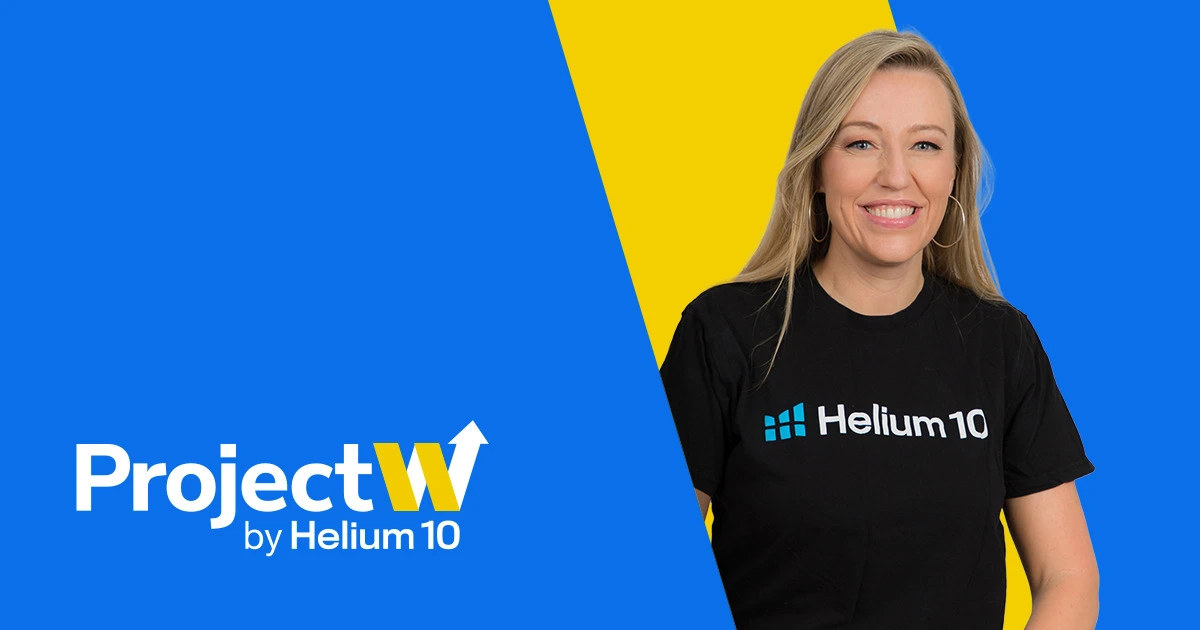 Project W – The Official Walmart Selling AMA
12 episodes later and here we are! From getting approved in the Walmart application process to creating your product listing to dominating the rankings. This is was a first-of-its-kind walkthrough for Amazon sellers to see what it takes to expand into the Walmart marketplace!
In our recent, live AMA session, Carrie and Tim fielded your questions to provide further clarity and some friendly troubleshooting advice on everything Walmart.
Here are the highlights.
---
Topic – Walmart vs. Amazon
What Is The Difference Between Selling On Walmart vs. Amazon?
First, traffic.
Walmart has less traffic, although they're swiftly catching up.
The way sellers go about optimizing their product listings is also different. Where Amazon focuses more on detailed, long-tail keywords, Walmart places a higher priority on general, umbrella keywords. Lastly, there is far less competition on Walmart, which, you guessed it… means more opportunity!
I just launched my brand this year and was going to focus on Amazon first. Walmart now seems like the path of least resistance. Would I be better off focusing my efforts there?
While we can't say for certain that one selling platform will be better for any new brand over the other, we can say that currently, Walmart has a very attractive competition-to-traffic ratio. Simply put, on Walmart, there are far fewer competing sellers and still loads of shopper traffic.
Walmart has about 65% of the traffic that Amazon has, but has substantially fewer sellers. A smaller pond may allow for a bigger splash for some sellers. However, Amazon may still be the way for many sellers – it all depends on your product and the current state of your business.
Does being familiar with the Amazon interface make it easier to sell on Walmart?
Any experience with e-commerce, period, will make it easier to sell on Walmart. It's like driving a car. Each one is a little different but for the most part, if you have the basics, you can jump into any car and drive.
What was the biggest takeaway of selling on Walmart vs. Selling on Amazon?
It's not copy and paste! Once we dug into Walmart guidelines, how to optimize listings, and what is valuable to Walmart shoppers… we were surprised. Many Amazon sellers were simply copying and pasting their knowledge straight to Walmart. Yes, e-commerce is e-commerce, but that doesn't mean you don't have to tweak your strategy to fit the market!
The Walmart selling platform looks quite a bit different than Amazon. Any tips on getting used to the new format?
Practice, practice, practice. There will also be some in-depth walkthroughs available through Freedom Ticket. Keep checking back!
---
Topic – Starting Out On Walmart
Is Walmart a good place for brand new sellers?
Currently, you must be an established seller somewhere else in order to be considered for Walmart selling.
How long does the process take to get started selling on Walmart?
Factor in roughly two weeks to one month for the full application process. If you have troubleshooting issues it may take longer. After you're approved, you can write your listing and get your business up and running as fast as you want to!
If your existing products already have logistics in place, you'll be up and running in no time.
Is a website off-Amazon necessary for Walmart approval?
While applying to sell on Walmart, having the URL for your "website" linking back to your Amazon storefront will most likely not be a problem. However, if your Amazon fulfillment is FBA-only, that may cause an issue. Walmart will not allow dropshipping from Amazon. You should have other means of fulfillment lined up.
What is the Best Way to Start Selling on Walmart?
This goes for ANY new market. First, make sure the marketplace is appropriate for you and your business. Then, make sure you have the right product. Don't go through all the training and complex setups if you haven't validated that you are selling something with demand.
Remember, we are selling keywords, not products.
Use tools like Helium 10 to find out which keywords are in demand and analyze how much competition there is… THEN focus on training.
I sent my first WFS shipment to the California fulfillment center with no issues. Now they want me to send inventory to Georgia. Is there a way to have them change this to California?
Yes. Call WFS and put in a request to have this changed. Sometimes mistakes happen and WFS is typically very good about working with sellers to make changes.
When launching a product on Walmart with 0 reviews, what is the best strategy for Walmart PPC?
Walmart has fewer restrictions than Amazon for getting reviews in its current state. Import reviews that you already have on other marketplaces. For example, Walmart has a syndication program that allows sellers to import their existing reviews from Shopify. You cannot do this from Amazon.
PPC is very inexpensive right now on Walmart. However, it is very easy to rank organically on Walmart. You may not even need an aggressive PPC campaign! Consider putting that budget into Google ads instead. Walmart's PPC is relatively intuitive and simple. Don't overthink things at this stage – you may already be organically ranking where you want to be without PPC!
Don't forget to utilize Helium 10's Keyword Tracker to monitor your rank.
---
Topic – Selling On Walmart: Logistics
How do you find products to sell on walmart?
Like any other marketplace – find the demand. How do you do that? Keywords! At the end of the day, Walmart is a search engine like Amazon, Pinterest, or Google.
Remember, high demand and low competition create selling opportunities.
Can I sell on Walmart as an International seller?
Yes, but it requires a few more hurdles. You must have an established business already in the US (including a physical address) and you must be paying taxes in the US (including W-9 forms). As time goes on Walmart will most likely make things easier for international sellers.
If you're selling a bundle of products on Amazon that do not have UPCs, how do you do that on Walmart?
On Walmart, you need a UPC. You can get a UPC from GS1. Put a UPC on the external packaging – then bundle the product. When shipping into WFS, they will give you the ability to print UPC codes.
Would you consider setting up a separate UPC for Walmart than Amazon so you don't get hurt by automatic price parity suppression?
Keep things simple. Don't try to beat the system. Keep your prices the same from Amazon to Walmart. The only reason Amazon will suppress you is if they see you are selling your same product elsewhere at a cheaper price.
The best way to avoid suppression is to simply not give Amazon a reason to suppress you!
How do you sync Shopify reviews with Walmart?
Use Walmart's syndication system. It's not a third-party tool. We will be covering this in more detail soon in Freedom Ticket.
Does Walmart accept brand names in your listing/keywords? For example, selling a phone case and using the phrase "iPhone accessories."
You are not going to be able to rank for someone else's brand. You can use it in your description but not as a ranking device. You may describe it as a case that fits an iPhone but we do not advise purposefully attempting to rank in other parts of your listing for an existing brand's name.
---
Lastly… (the question on everyone's mind!)
Why should I watch Project W?
If you are ready to expand sales and move from one market to another, Project W is exactly what you've been looking for. Discovering low-hanging fruit and easy wins are often the most efficient ways to succeed. We've served them up for you on a silver platter!
We are taking the products you learned about from Project X and applying the same methodology to Project W on the Walmart.com marketplace. This hasn't been done before! We're addressing all the basics, and walking you through every step of the way.
And we're doing it the right way. This isn't cut and paste from Amazon. We want you to understand the nuances of expanding into this growing market.
Sign up for Helium 10 here: https://h10.me/signup
Sign up for Freedom Ticket here: https://h10.me/ft
Full AMA here: https://www.youtube.com/watch?v=RJzCVe4UfJg
Achieve More Results in Less Time
Accelerate the Growth of Your Business, Brand or Agency
Maximize your results and drive success faster with Helium 10's full suite of Amazon and Walmart solutions.