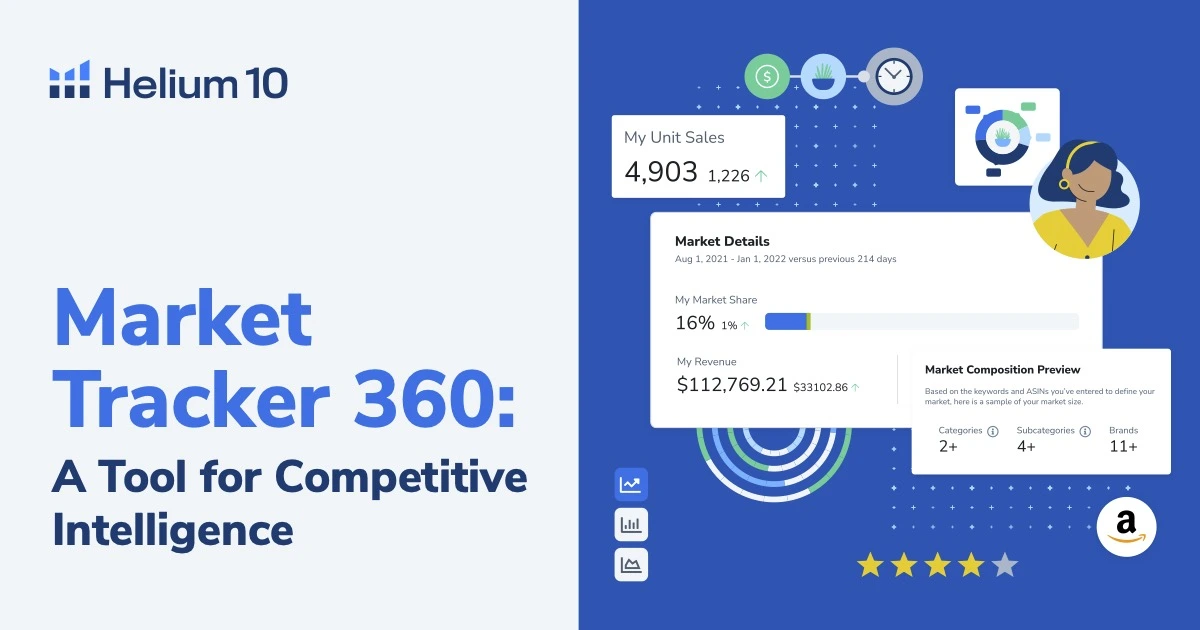 How Market Tracker 360 Helps Sellers Scale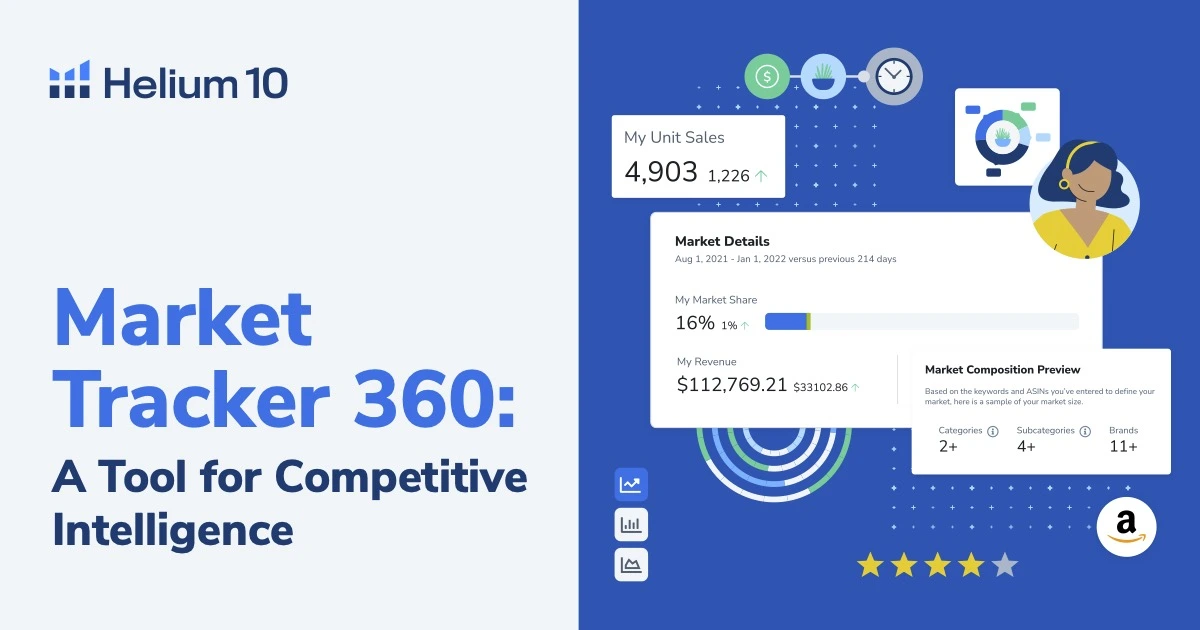 When Amazon launched its third-party marketplace in 2000, the way brands and retailers market and sell their products changed forever. According to Statista, e-commerce is projected to account for nearly a quarter of the total retail sales worldwide by 2025 making it more important now than ever before for sellers to make their products and brands stand out at different stages of the e-commerce customer journey.
As of 2021, Amazon is home to approximately 6.3 million sellers worldwide, with roughly 3,700 new sellers joining each day. In order to keep up with the latest market trends, sellers need e-commerce analytics solutions like Market Tracker 360 to scale their businesses effectively.
How Market Tracker 360 Helps Sellers Scale
In partnership with scaling and enterprise sellers, Helium 10 has developed Market Tracker 360, a digital shelf analytics solution that empowers sellers worldwide to make smarter business decisions through competitive insights.
But what is a digital shelf? And what sorts of insights can brands and retailers gain from such a platform?
Today many consumers look to online retail sites like Amazon and Walmart for their purchases. Maybe it is a new parent looking for must-have baby products or a working professional scouring the internet for a new standing desk, consumers now have the ability to compare products in the comfort of their homes. By entering a few keywords or looking through different categories or subcategories, consumers are browsing and shopping online. Many product options are available for buyers, so the demand for insights into consumer behavior, the market and individual market share has seen a significant growth over the last two decades.
Expanding Business with Market Research
Market Tracker 360 provides brands and retailers looking to enter new markets the insights they need and makes research faster. Topped with unparalleled data accuracy, Market Tracker 360 spans 11 marketplaces on Amazon along with their categories and subcategories to give sellers a complete view into new potential opportunities. Learning about how many products or brands already exist in a market can help sellers decide on which direction to take their business in order to maximize profits and minimize risks.
"Market Tracker 360 has helped me do research. Before, it would have taken me a couple of days to do. Now in a few hours, I can look at it and say, 'Here's a good item. Here's a good item.'"
-Carmon Grissom, IT Director at Confast & MT360 Beta User
Understanding the Competitive Landscape
Oftentimes the same product can appear in more than one category or subcategory on Amazon, which can make research time consuming and difficult. For example, a coffin shelf item might appear under the Home Decor subcategory of the Home & Kitchen category, and also under Cosmetics. With Market Tracker 360 sellers have the option of entering keywords, ASINs, or both to create their markets, and they can then zoom in on relevant competitors with advanced filters like categories and subcategories, average unit sales, fulfillment types, rating scores, and more.
Using Market Tracker 360 you can see dynamic charts with comprehensive visual comparisons of products owned by competitor brands and retailers to see how you stack up against the competition in the marketplace. Additionally, Market Tracker 360 has access to historical data spanning back two years. This revenue and unit sales information is an added bonus that provides sellers with a way to forecast and create meaningful, data-driven strategies.
Winning in the Dynamic Markets
Dynamic charts are important, but how does this help the scaling seller?
It's no secret that markets are fluid, and Market Tracker 360 provides sellers with the necessary tools to navigate and stay ahead of the competition in an ever-changing market. While some products are seasonal, others may be trending because a social media influencer promoted them last week. It's easy to lose track of new products entering the market, and that's where Market Tracker 360 can help.
Brands and retailers looking to maintain and capture more market share need to have a pulse on their markets at all times. Market Tracker 360 automatically adds new, relevant products to curated markets based on existing keyword data and ASINs, so our users are the first to know about trending products.
Yes, that's right, with Market Tracker 360 you no longer need to manually maintain the market you are looking at.
Why Choose Helium 10's Market Tracker 360
Brands and retailers need to understand their competitive performance and keep up with key market dynamics. Helium 10's Market Tracker 360 empowers sellers with a platform to quickly understand marketing share, gather insights, and improve product performance in one comprehensive place.
Designed to be accessible, Market Tracker 360 is integrated with Helium 10's best-in-class search capabilities to enable the optimization of product listings and advertising to drive more sales.
Are you a seller who wants to scale? Then this is a tool you should consider looking into. Scaling businesses faster becomes possible with Market Tracker 360.
Achieve More Results in Less Time
Accelerate the Growth of Your Business, Brand or Agency
Maximize your results and drive success faster with Helium 10's full suite of Amazon and Walmart solutions.