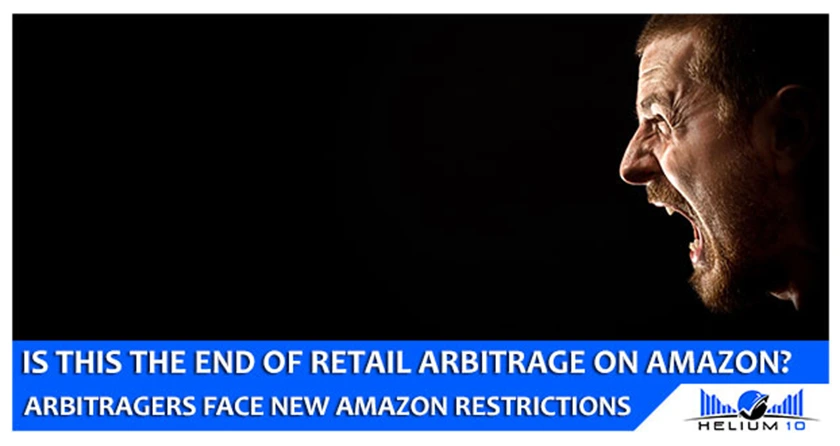 Is Retail Arbitrage Coming to an End?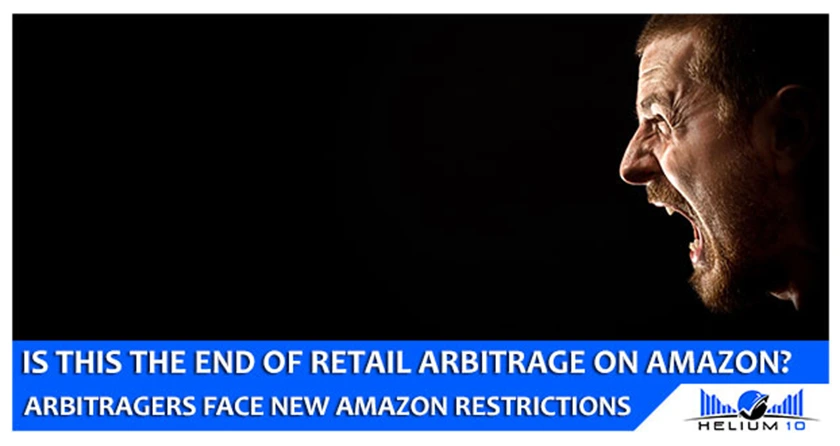 New Amazon Restrictions Threaten to End Retail Arbitrage In Effort to Protect Consumers
In a new effort to protect consumers and the integrity of their marketplace, Amazon has begun to require sellers to prove they are authorized to sell specific brands. This new 'brand gating' process is Amazon's response to the increase of counterfeiters flooding the Amazon marketplace. With Q4 2016 around the corner, Amazon wants to be sure consumers, who have recently started taking notice of the counterfeit problem, are confident with their purchasing decisions.
AMAZON LOCKS UP BRAND REGISTERED PRODUCTS
Amazon hasn't released a list of 'gated' brands, although its clear they're starting out with brands that are well established, and more prone to being counterfeited, such as Nike, Adidas, Lego, Pokémon, etc.
In order to sell in these brands, sellers must present invoices from the manufacturer or authorized distributors. In many cases, sellers are reporting Amazon is now requiring a fee to be paid in order to sell these gated brands; the fees are reportedly around the $1,000 to $5,000 range, and will likely go to support efforts of policing and verifying the information in the applications.
For example, below the buy box is a button a seller can click to see this product: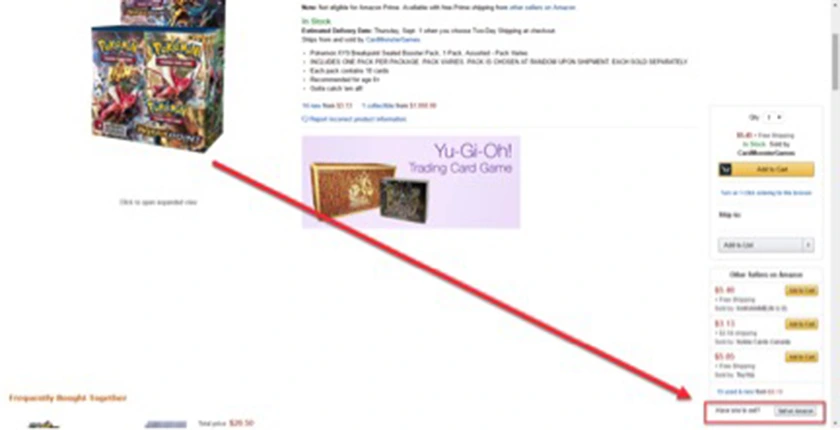 But as you can see, this product tells you the product is gated and requires approval: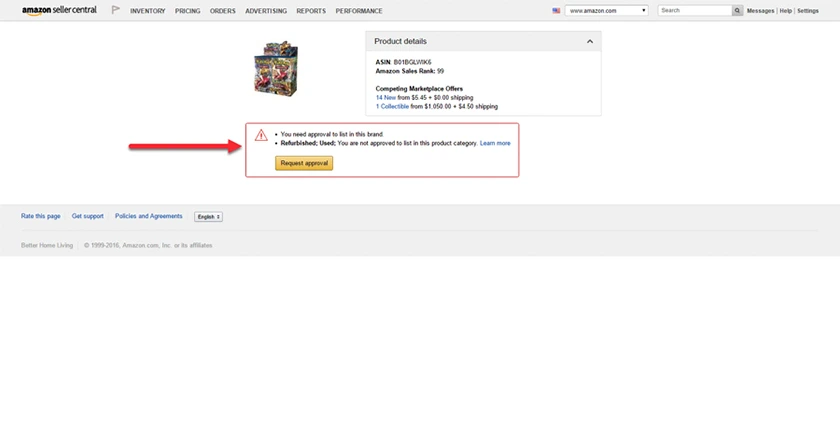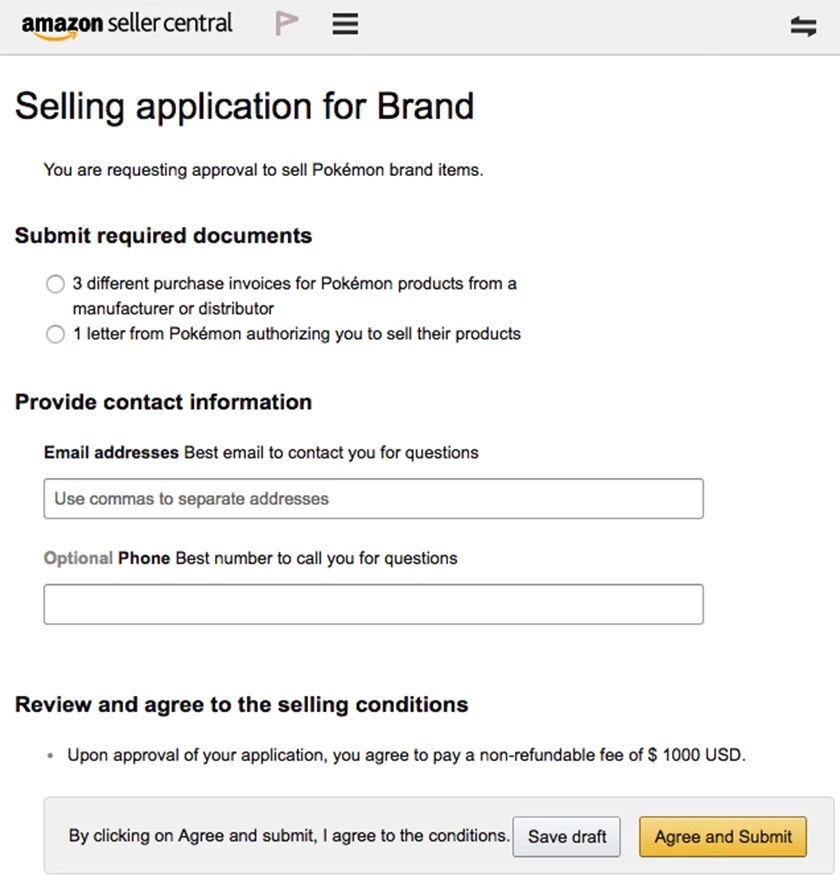 HOW DOES THIS AFFECT HONEST SELLERS?
Although this recent change in policy was designed to stamp out, or at least limit, counterfeiting on brands that have brand-registry, a large group of honest sellers is being affected. Sellers doing arbitrage, that is buying goods retail and flipping them for a higher price on Amazon, are seeing some of their best-selling products are now gated. The gating process appears to be in a slow rollout process, and it doesn't yet affect all sellers or even all items from gated brands.
Amazon seems to be looking, at least in part, to seller's metrics and history within the Marketplace. The exact metrics or historical attributes they look at are unclear, as many well-established sellers have seen notices stating the products they intended to sell are now gated.
WHY DO MOST RETAIL ARBITRAGE SELLERS HATE IT?
The retail arbitrage community is buzzing about these changes; these sellers are understandably concerned because these changes could dramatically impact their bottom line in a negative way. There are three main reasons for this:
1) The seller may not get approval, and this might mean losing out on selling the hottest, highest-margin products.
2) A seller may already have inventory that has now been gated, and they have been given very little time to liquidate their current inventory on Amazon. This is forcing a lot of sellers to move their inventory to other platforms like eBay where the profit margins and sales volume is impacted.
3) The seller may be able to get approval, but cannot come up with the non-refundable fees required for approval to sell some of these brands. With fees ranging from $1000 to $5000 per brand, this move may wipe out a seller's ability to sell top brands.
WHY DO SOME RETAIL ARBITRAGE SELLERS LOVE IT?
Some retail arbitrage sellers love it because they feel it's a way to eradicate the low level and part-time sellers, as well as those counterfeiting. This will mean less competition as there are fewer sellers on a particular brand. The 'race to the bottom' when it comes to pricing may be helped with this move.
WHAT DO PRIVATE LABEL SELLERS THINK?
The private label seller community, on the other hand, is watching carefully as to how things progress, as this could be a great way to keep hijackers and counterfeiters off of their listings. Hijackers have become the bane of the private label industry, siphoning away sales, but worse yet, often times sending counterfeit products to the unsuspecting customer, which often times results in negative reviews, and damaging the brand. Amazon has taken notice and is taking action.
We've touched on the issues around hijackers, and how to protect your listings on the AM/PM Podcast, but it's great to see Amazon taking steps to correct a problem that, many honest sellers agree, has gotten out of hand.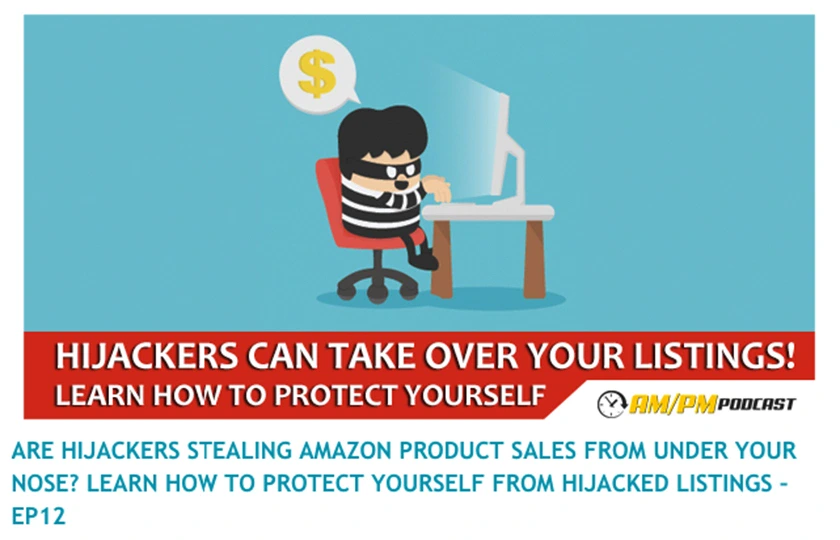 ARE ALL ASINS UNDER A BRAND RESTRICTED?
Not all ASIN's under a specific brand that has been gated are blocked from selling. Lego, for example, seems to have products that are restricted and unrestricted. It is speculated that the reason for this is that certain ASIN's are at higher risk of counterfeit than others. Those with the largest counterfeiting problem get the gated treatment. This may change in the future as they develop this further.
CAN PRIVATE LABEL SELLERS RESTRICT THEIR OWN BRANDS?
We are looking into this further, but it appears that some sellers have either managed to restrict their own brand or it happened automatically. Based on the ASIN's we control that have brand registry, we see nothing that restricts or gates our brands. We have reached out to Amazon to see if we can get more information on how to restrict our own private label brands.
IS THIS THE END OF RETAIL ARBITRAGE AS WE KNOW IT?
Retail Arbitrage is forever being changed. History is in the making, and 'easy pickings' when it comes to flipping popular brands, may be coming to an end on Amazon. However, the gating has so far been limited to a small number of brands, at least relative to the thousands of brands that are sold on Amazon. Sellers whose business is retail arbitrage still have the ability to sell in any of the ungated categories. That does bring up one potential issue though – if a mass number of R/A sellers suddenly cannot sell the big brands, does this mean there will be a lot more competition moving into the non-gated brands? It will be interesting to see how this plays out.
WHICH BRANDS HAVE BEEN RESTRICTED OR HAVE FEES?
In order to help sellers in the retail arbitrage community, we have compiled a list of the brands that currently required approval before selling. This is NOT an official link, but rather a compilation of the brands we've been able to find from non-official sources. Check the list out by clicking the image below.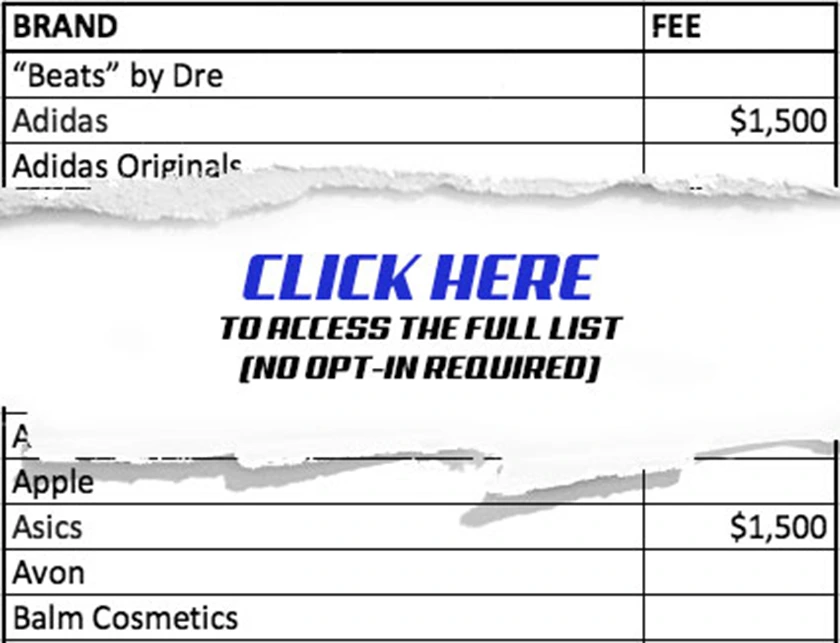 WILL YOU HELP US UPDATE THIS BRANDS LIST?
If you've encountered any gated brands, fees, or other information that would add to this discussion, we invite you to post your comments below. We'll update the list as we can.
One thing is for certain though; policies change all the time and so do business models. It's unlikely this will be the end of either retail arbitrage for Amazon or hijackers and counterfeiters. It's just another rule in the cat and mouse game. We'll see how things develop.
Achieve More Results in Less Time
Accelerate the Growth of Your Business, Brand or Agency
Maximize your results and drive success faster with Helium 10's full suite of Amazon and Walmart solutions.