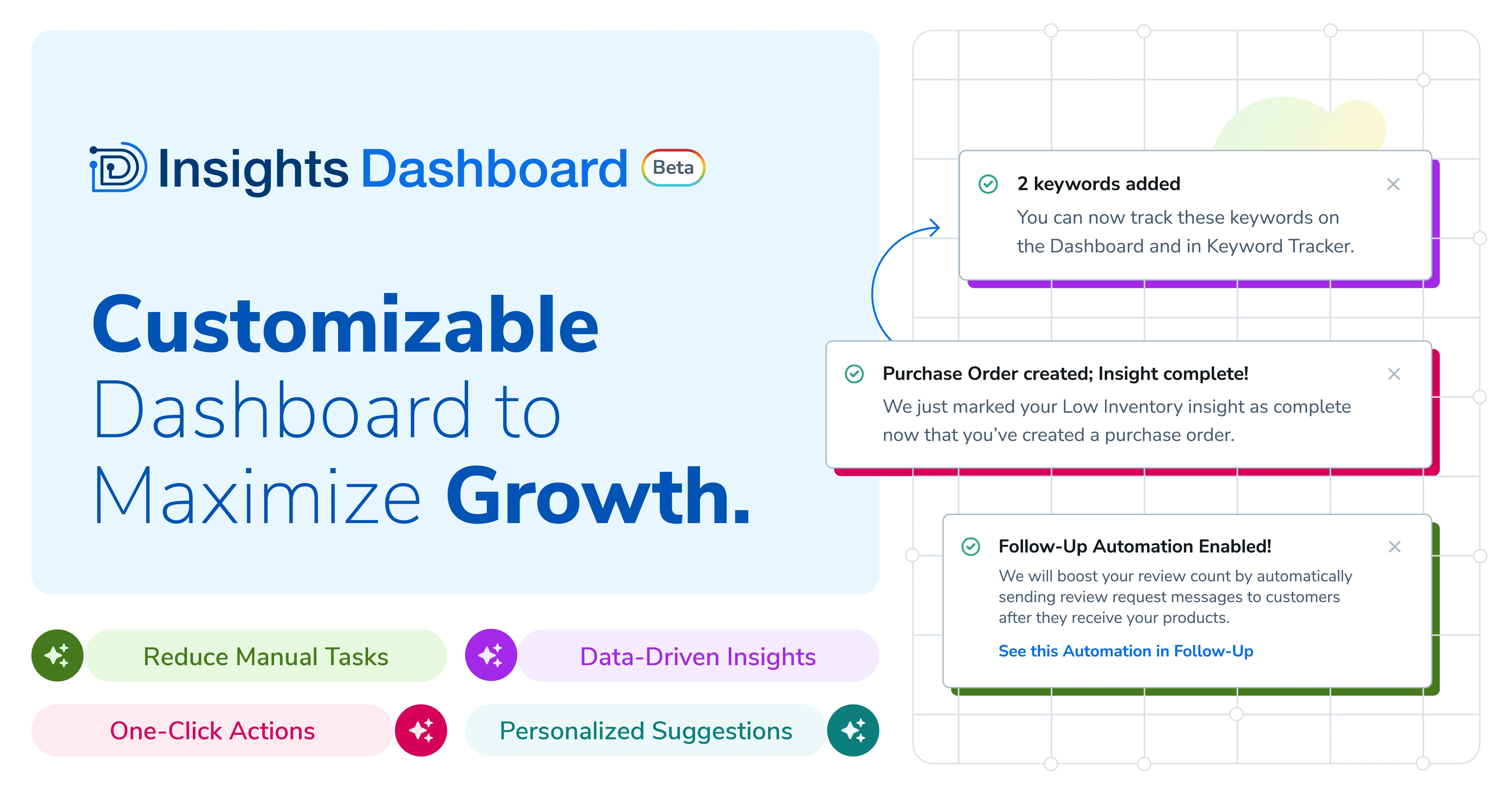 Introducing Insights Dashboard for Amazon Sellers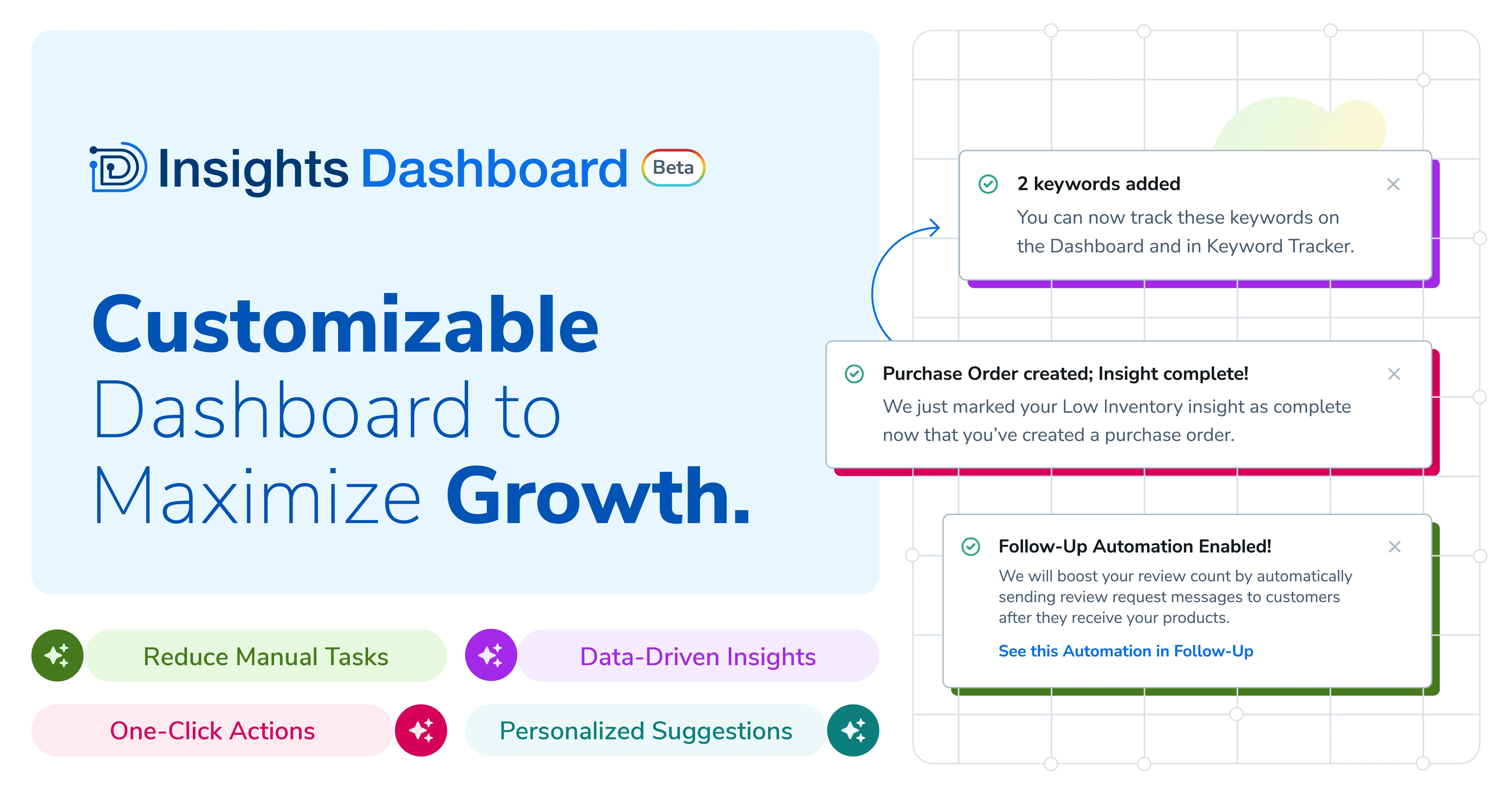 Overview
Get ready to take your e-commerce business to the next level with the launch of Helium 10's new Insights Dashboard! Say goodbye to scattered data and hello to an all-in-one dashboard designed to accelerate decision-making and increase efficiency by delivering actionable insights, personalized recommendations, and the full power of Helium 10's tool suite in one centralized view.
This isn't just another e-commerce tool – it's a customizable business hub that acts as your trusted co-pilot, helping you take your business operations and sales to uncharted heights.
With Insights Dashboard, you can automate critical processes, stay on top of market developments, and drive tangible business results faster than ever before. If you are an Amazon seller or e-commerce brand, it's time to revolutionize the way you manage and scale your business with Insights Dashboard!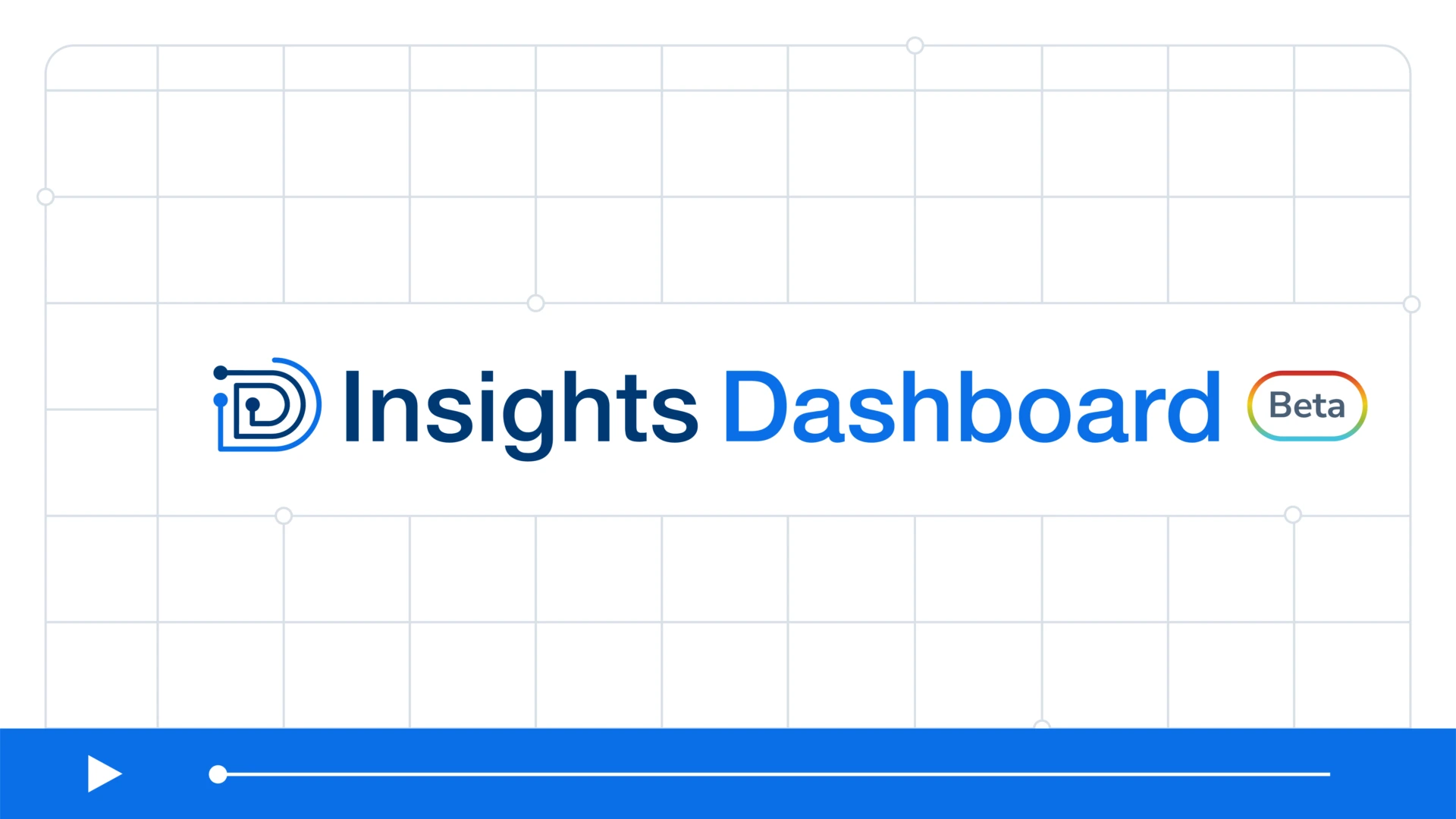 Watch Bradley walk through our new Insights Dashboard in this quick 2-minute video!
What Is Insights Dashboard?
Helium 10's latest innovation, Insights Dashboard, is an all-in-one dashboard for sellers and brands that accelerates decision-making through the centralization of data, insights, and action. The dashboard helps sellers save time running their business by presenting a centralized view of all the important data points and metrics needed to drive key decisions. By reducing the amount of manual analysis necessary, sellers can easily increase business operation efficiency and therefore maximize growth.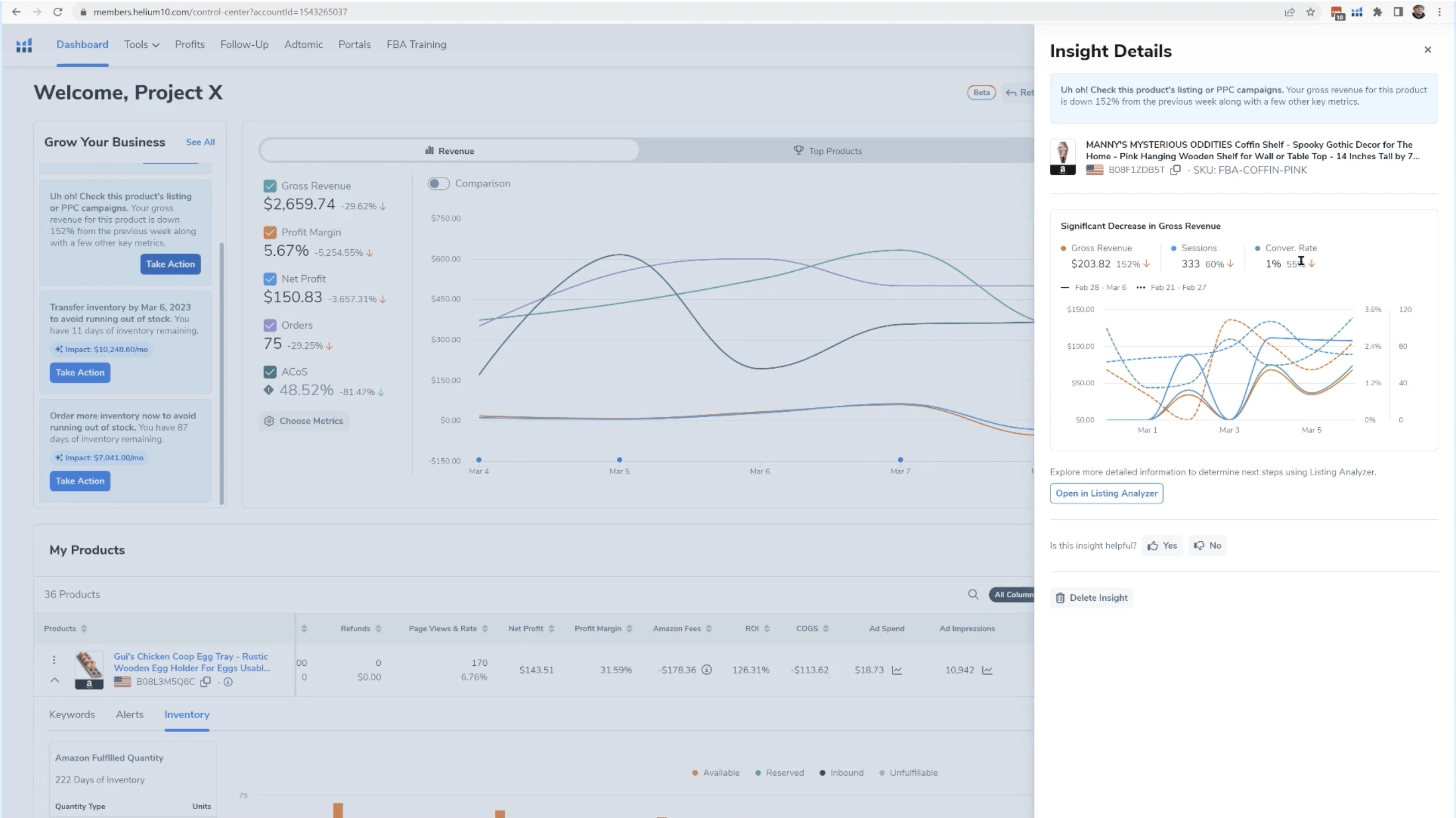 The dashboard also provides comprehensive personalized insights to improve business performance, uncover hidden trends, and help make meaningful business decisions as easy as possible. Some examples of insights that the dashboard can provide to help guide your business strategy include the following:
New Keyword Suggestion: Receive new keyword suggestions to optimize PPC campaigns
Revenue Down: Get real-time notifications for products actively trending downward in gross revenue
Order Inventory: Get alerted when it's time to order more inventory (based on custom limits)
Request Refund for Lost/Damaged Inventory: Get notified of refund opportunities for lost or damaged products
How Does Insights Dashboard Work?
Insights Dashboard works by synthesizing and presenting sellers with a wide variety of critical business data, ultimately allowing sellers to make data-driven decisions that improve their performance on Amazon and beyond. By gaining a stronger understanding of customer behavior, market trends, and sales patterns, sellers can optimize their pricing strategy, identify best-selling products to pursue and utilize advertising effectively, resulting in increased sales and profit.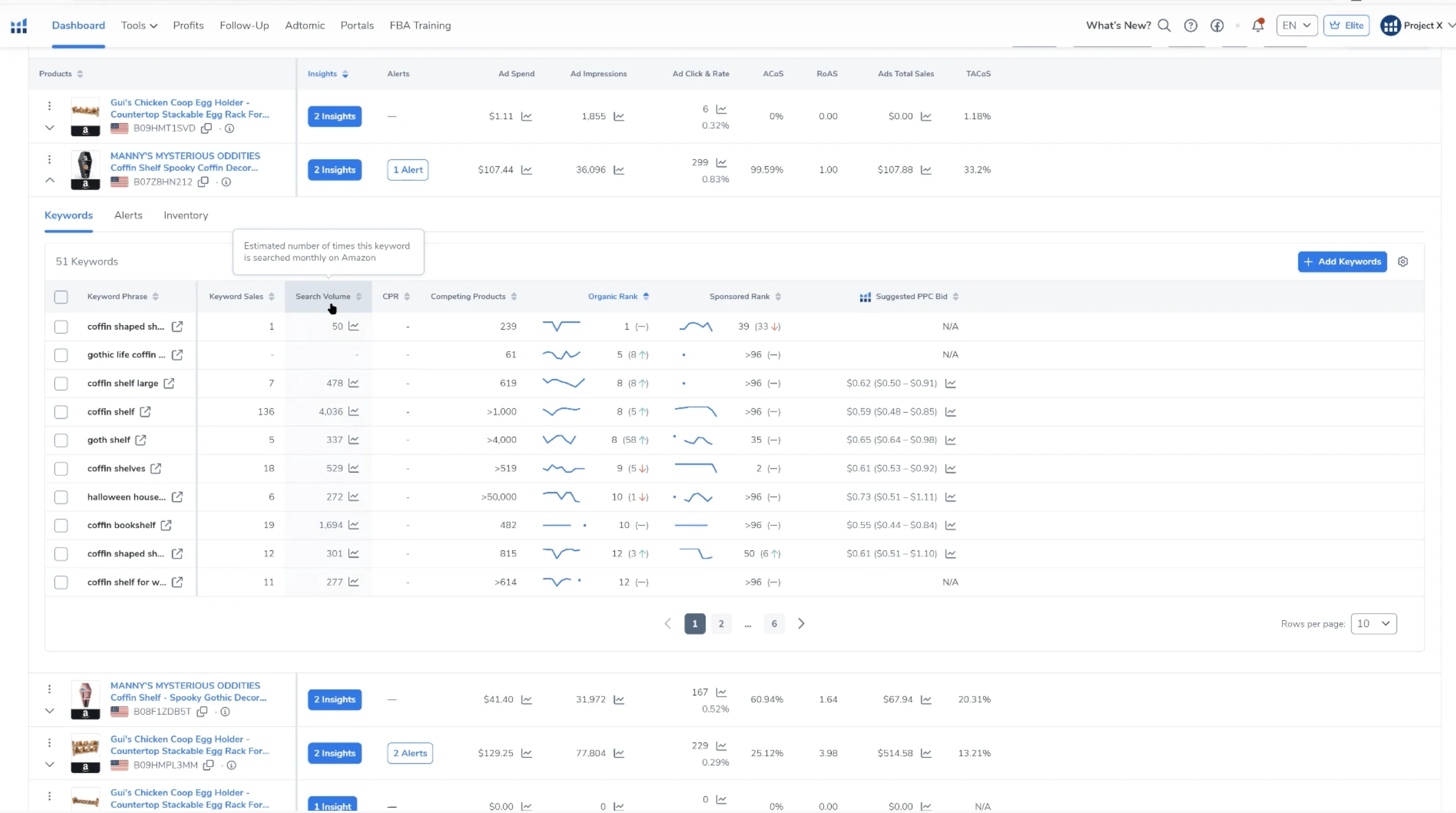 The dashboard also allows sellers to quickly and easily evaluate new competitive products, shifts in consumer demand, and other market trends. Through monitoring and analyzing this data, sellers can stay ahead of the competition, anticipate market changes, and adjust their strategy as needed.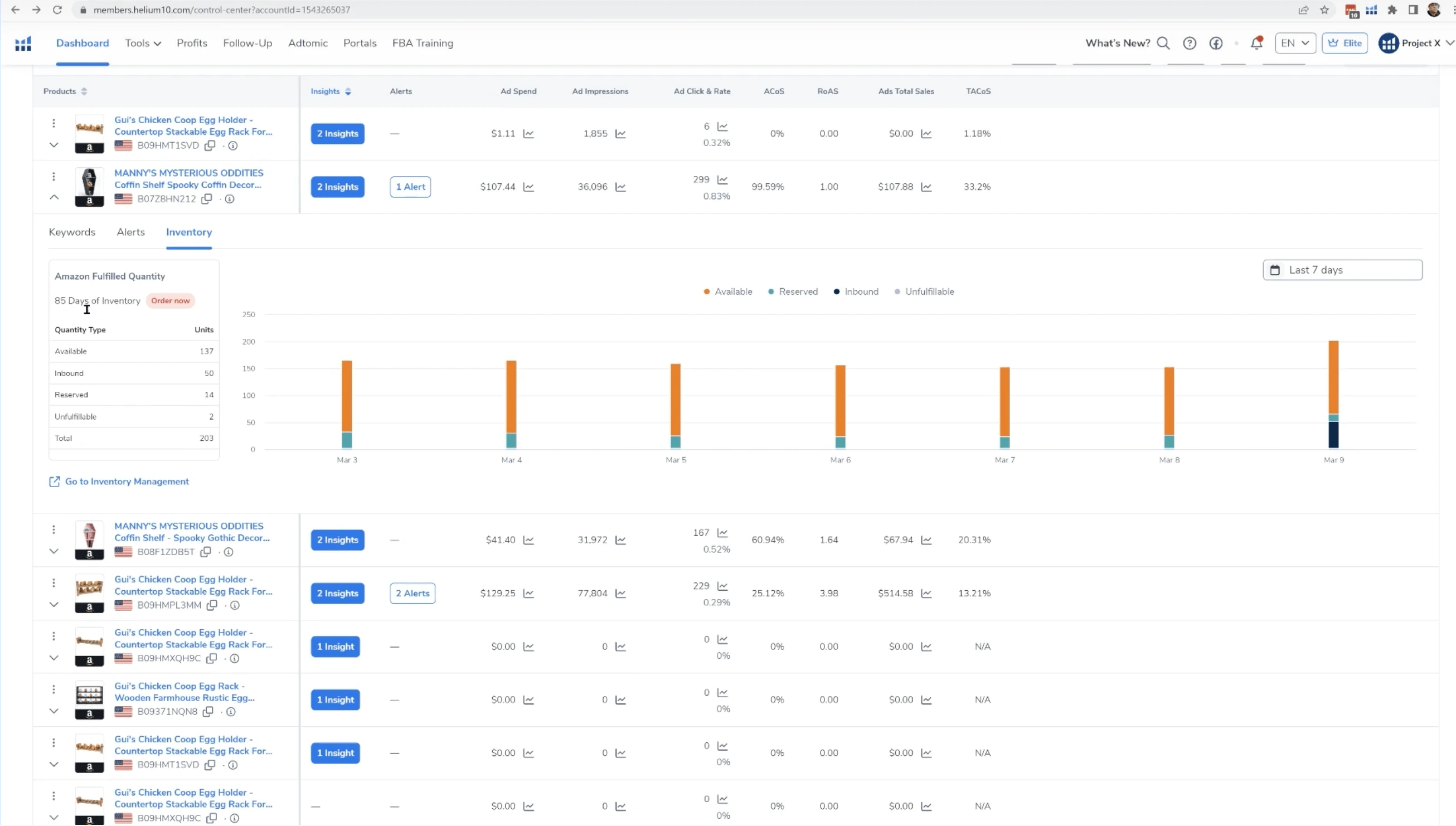 Plus, by integrating seamlessly with Helium 10's full software suite, sellers can benefit directly from the synergy of all their favorite tools without having to bounce around to a dozen different pages or tabs. Instead, they can explore their favorite summaries from Profits, insights from Listing Analyzer, or updates from Keyword Tracker all from within the dashboard itself, saving sellers massive amounts of time that can be better spent on other aspects of their business.  
What Are Some of the Key Features of Insights Dashboard?
The first section listed within Insights Dashboard is labeled "Grow Your Business." This section provides quick, actionable suggestions customized to your listings that are designed to help grow your business (hence the name). For each suggestion, you will see the potential impact level as well as the ability to "Take Action."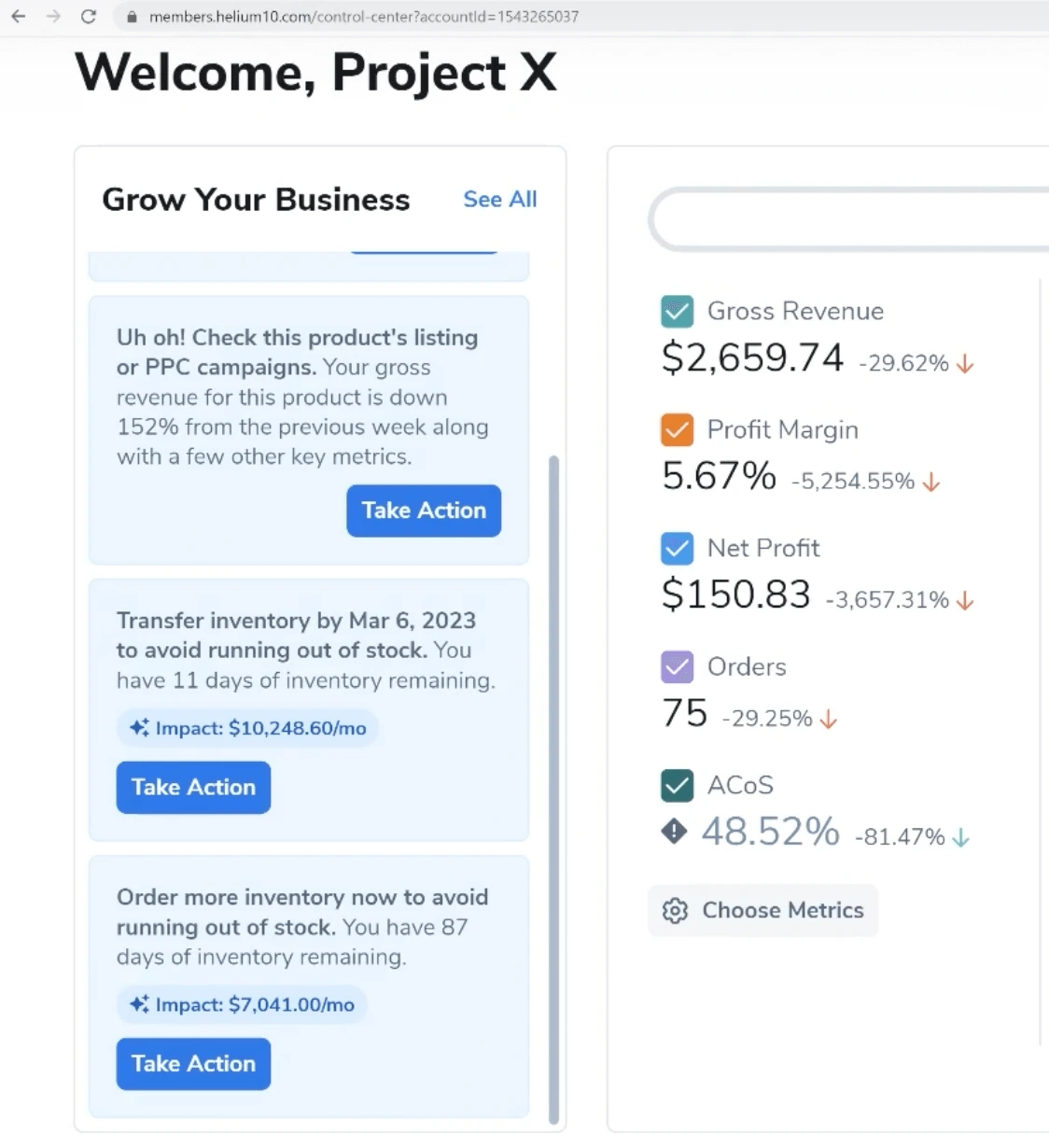 In the center of the dashboard, there is a graph section that provides visual displays of your Revenue, Top Products, and Advertising data at a single glance. The Top Products tab shows a graph of your top products' data for revenue, units sold, or refunds. And the Advertising tab shows your key advertising metrics, including Gross Revenue, PPC Spend, ACoS, and TACoS.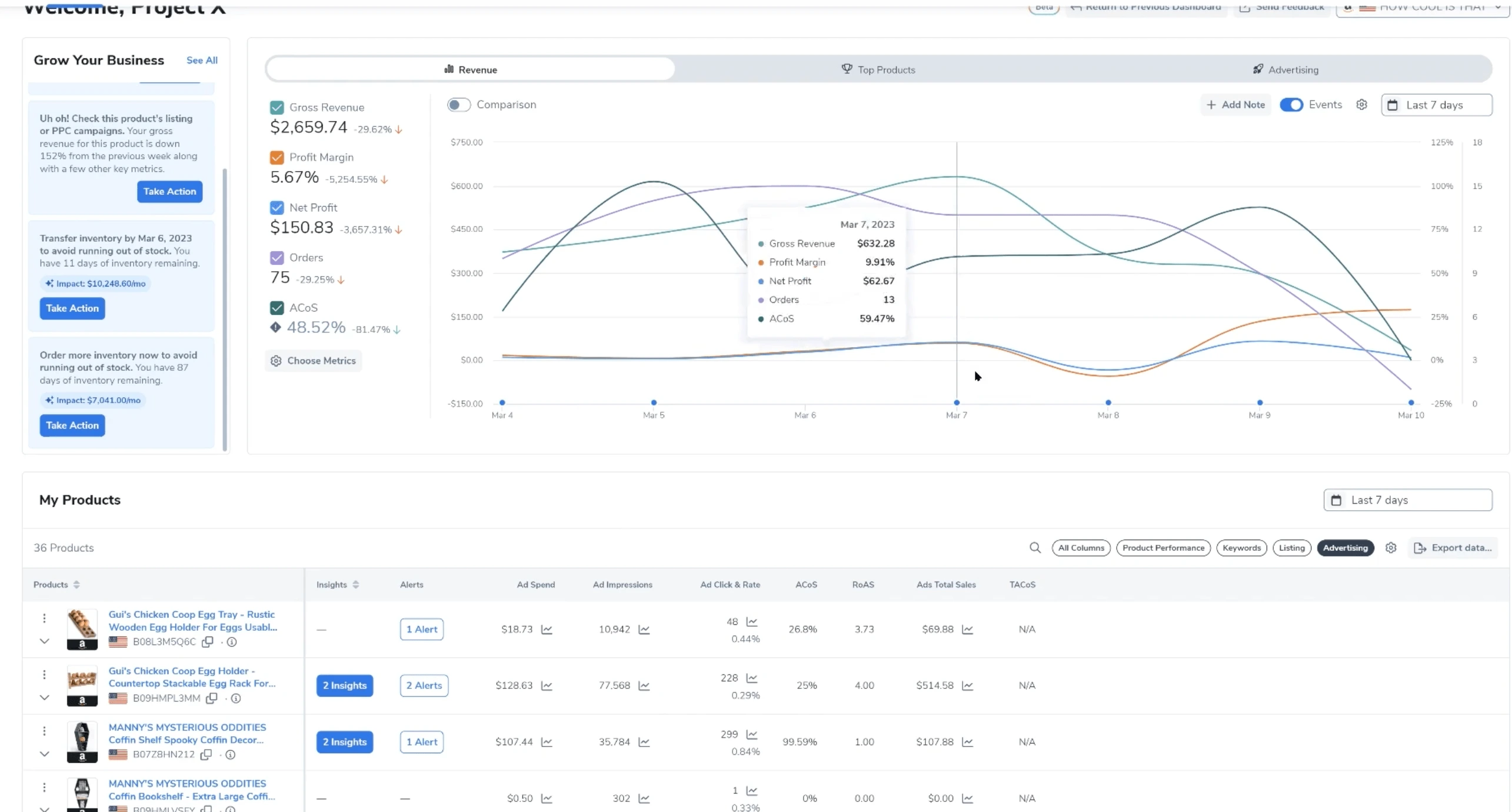 And toward the bottom half of your dashboard, there is a section called "My Products." This section brings in elements of multiple Helium 10 tools, including Adtomic, Chrome Extension, Alerts, Inventory Management, and several others. By bringing such a diverse array of features together into one section of the dashboard, you are able to laser focus on the performance indicators that matter most to improving the trajectory of your business. And with a customizable view, you can filter your products list however you see fit.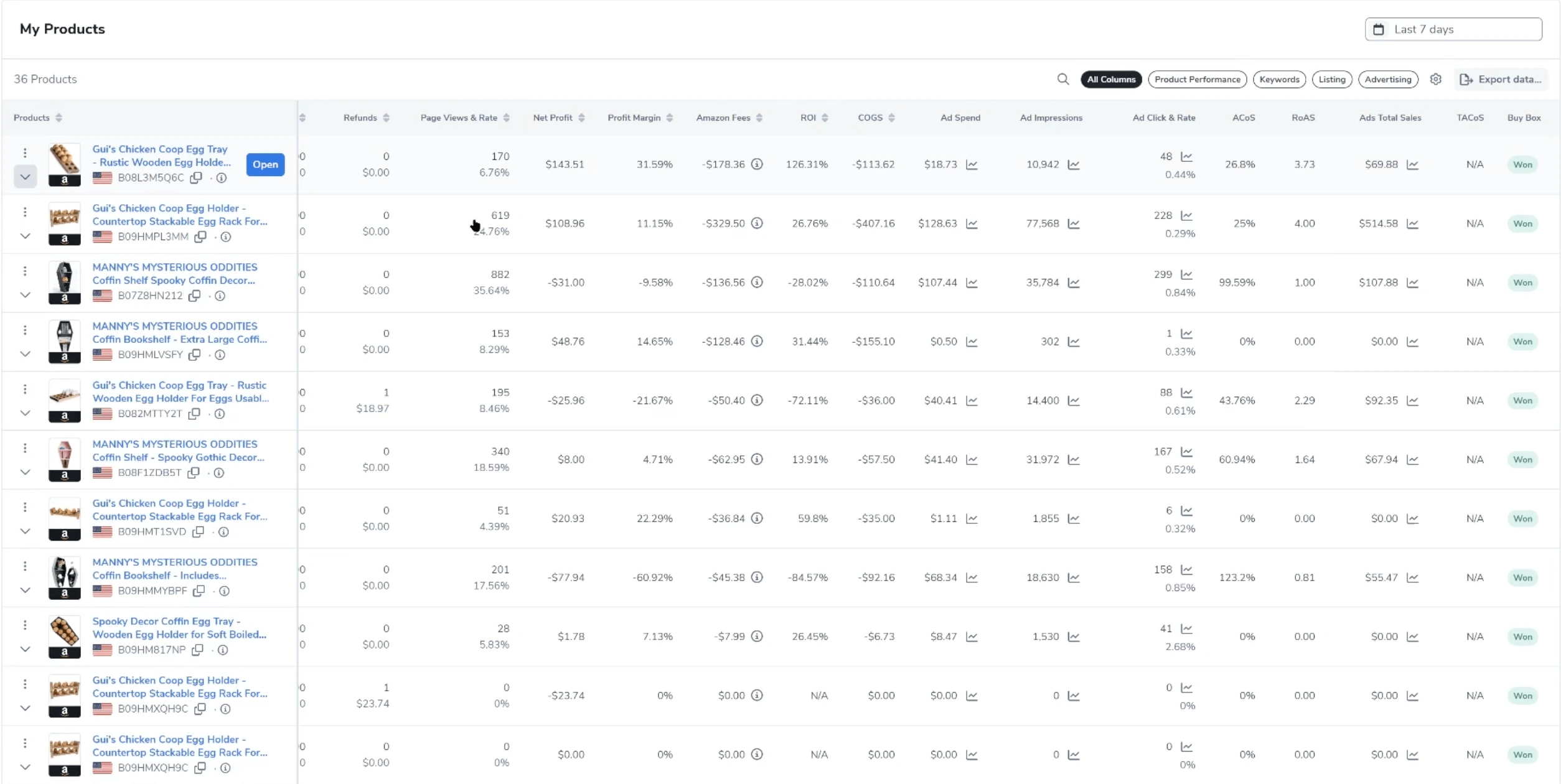 What Are the Benefits of Insights Dashboard?
With Insights Dashboard, e-commerce sellers and brands are able to: 
✔️ Accelerate decision-making & drive results with a centralized view of key data 
A customizable bird's-eye-view of your business means you have the critical info you need whenever you need it  
✔️ Maximize growth with data-driven insights and take action
Leverage artificial intelligence to gain a strategic advantage over your competitors and launch directly into action from within the dash 
✔️ Skyrocket efficiency & reduce manual tasks with personalized suggestions  
Utilize the dashboard's customized recommendations to automate critical processes and optimize your operations 
✔️ Conquer the competition with timely recommendations  
Track market developments and receive actionable-recommendations to level up your listings, keywords, and sales 
✔️ Experience the full power of Helium 10's suite of tools seamlessly integrated into one centralized dashboard 
How Do I Sign Up for Insights Dashboard?
To sign up for Helium 10's new Amazon seller dashboard, please visit the pricing page and select the plan that best suits your goals. Access to the Insights Dashboard is included in varying degrees with all Helium 10 paid plans. But to take full advantage of the dashboard's ability to optimize your operations with personalized recommendations and actionable insights, the higher-tiered options will be your best bet.  
Conclusion
The introduction of Helium 10's Insights Dashboard is a major breakthrough for Amazon sellers and e-commerce brands. This all-in-one dashboard provides a centralized view of all your key metrics, plus personalized recommendations, actionable insights, and more to help you accelerate your decision-making, reduce manual tasks, and scale your business faster than ever. Whether you are a one-person operation looking to elevate your game or a larger brand hoping to stay ahead of your competition, Insights Dashboard is a must-have. To get started, explore our pricing page and sign up for the Helium 10 plan that's right for you today!  
Achieve More Results in Less Time
Accelerate the Growth of Your Business, Brand or Agency
Maximize your results and drive success faster with Helium 10's full suite of Amazon and Walmart solutions.