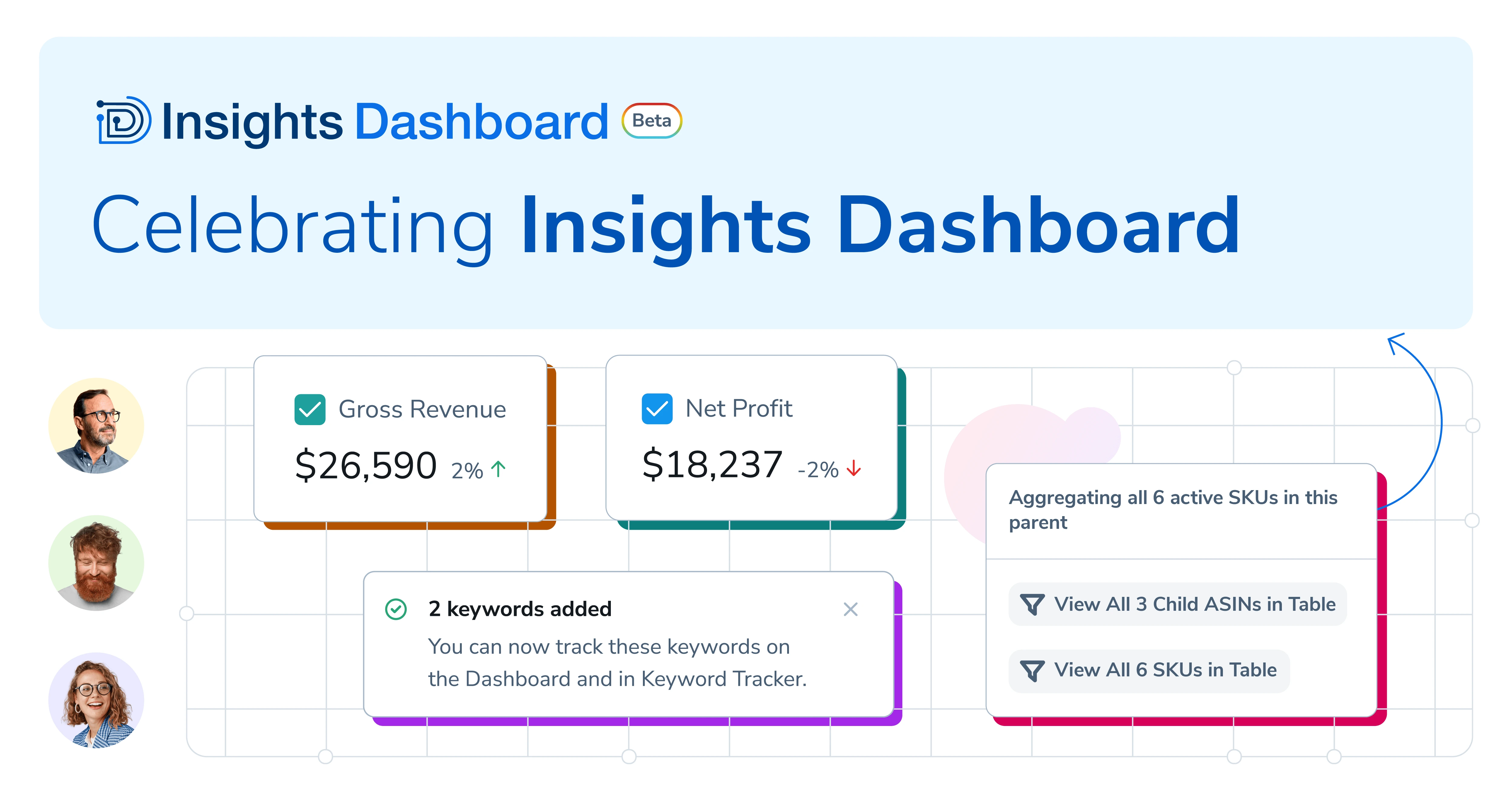 Insights Dashboard Celebration Month Recap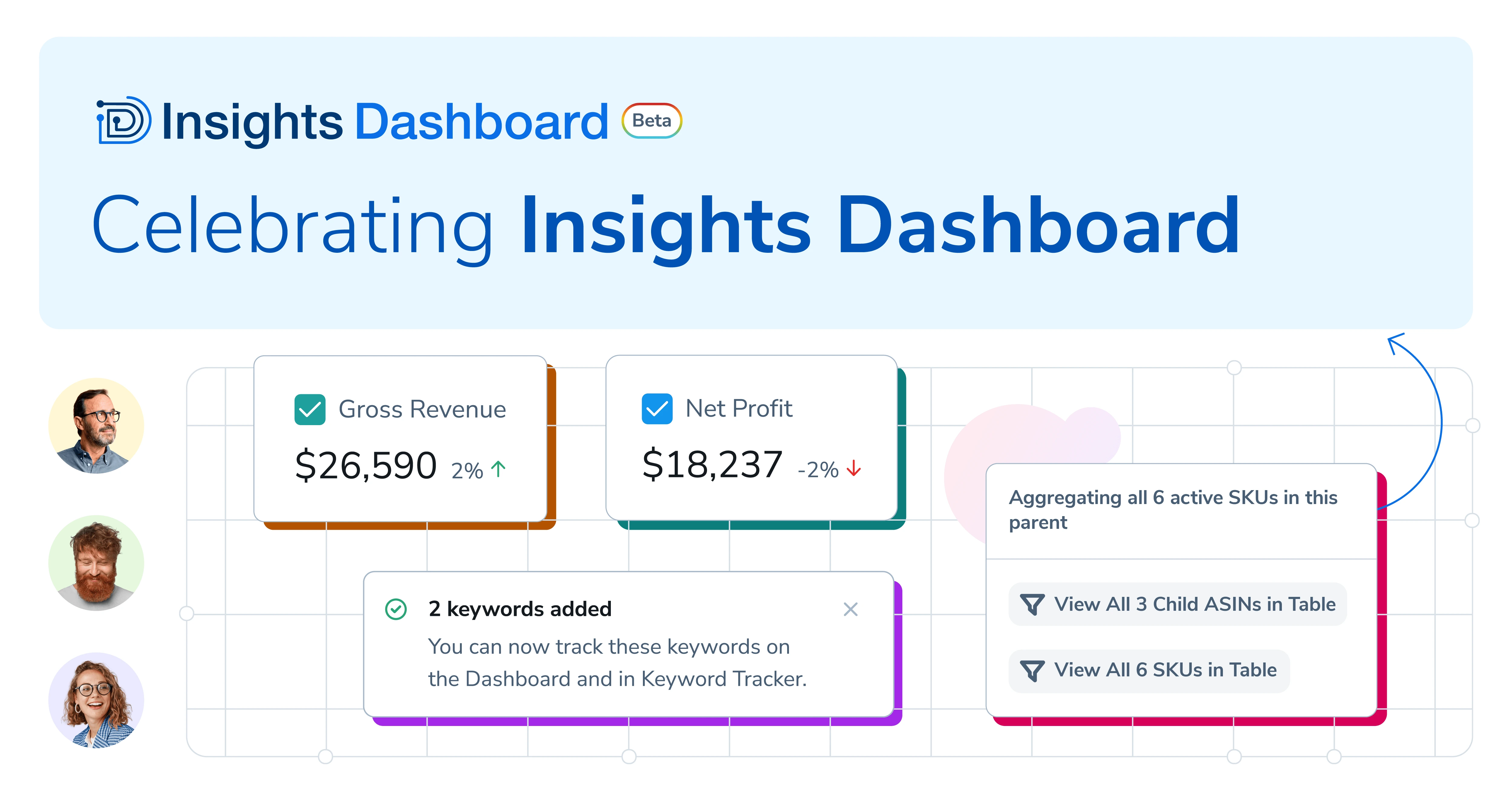 May was Insights Dashboard Celebration Month here at Helium 10! In honor of Insights Dashboard, we are thrilled to highlight the remarkable ways in which this innovative tool can empower sellers, accelerate growth, and maximize profits. Designed to streamline your business management flows, Insights Dashboard serves as a central hub for key metrics, Helium 10 tools, and actionable insights.
Unlock the Power of Insights Dashboard:
Insights Dashboard offers a plethora of features and functionalities that can help you achieve greater results in less time. Here's a look at some of the key customization upgrades and feature updates we've added to Insights Dashboard over the past month:
Parent/Child ASIN
With Insights Dashboard's new feature of organizing your "My Products" table by Parent-Child ASIN, you can now streamline your data analysis and decision-making process. By having a holistic view of your eCommerce business, you can quickly gauge the overall success of your product families, identify trends, and prioritize your efforts accordingly.
Parent-Level Data Advantages
Save time: No more clicking through your SKUs one by one or sifting through multiple alerts for different child ASINs in the case of listing modifications or a Buy Box loss. With our Parent level data, you can easily view the aggregated performance of all variations under one Parent ASIN, making it perfect for high SKU counts.
Centralized insight/alerts: Get all Child ASIN alert notifications in one place, reducing the need to click through multiple alerts for different Child ASINs in case of listing modifications or Buy Box loss.
Comprehensive data: Access a wealth of information at the Parent level, including ads, page views, keywords, alerts, sales, refunds, inventory, profit, Amazon fees, and more.
Child-Level Data Advantages
Fulfillment method overview: Quickly view both your FBA and FBM SKU sales at-a-glance by accessing the Child ASIN level data. This feature provides a comprehensive overview of your sales and ad performance for different fulfillment methods.
Different product conditions: Easily analyze data for various product conditions, such as used, refurbished, and good, all in one place.
Detailed data: Gain insights into your Child ASIN level data, including ads, page views, keywords, alerts, sales, refunds, inventory, profit, Amazon fees, and more.
Custom Alerts & Notes
Insights Dashboard goes beyond providing data by allowing users to add alerts and notes directly to all custom charts and graphs. This feature enables sellers to log actions and business decisions, providing historical context for changes in metrics over time. By tracking changes, monitoring the effects of decisions, and optimizing strategies based on data-driven insights, sellers can enhance their overall business performance.
Key features:
Versatile Notes Management: Initiate, edit, or remove notes within each graph.
Customizable Alerts Display: Configure which events, alerts, or notes you want to display within each graph according to your preferences.
Detailed Business Analysis: Track changes, monitor the effects of your decisions, and optimize your business strategies based on data-driven insights.
Comprehensive Performance Overview: Gain a broader view of your business performance by logging actions and decisions on a wide range of widgets, graphs, and data points.
Campaign-Specific Alerts with Adtomic
To help you stay on top of your PPC campaigns, Insights Dashboard introduces Campaign Optimization with Adtomic Integration. This feature notifies you of campaigns that have maxed out over the last three days, enabling you to take immediate action by increasing your budget.
Seamlessly integrated with Adtomic, this tool ensures you can address any campaign issues swiftly and effectively.
ASIN Stars & Favorites
Enhanced filtering through vast amounts of data can be overwhelming. With the ability to 'star' and 'favorite' ASINs, you can effortlessly prioritize your main product table to display only your preferred ASINs. This feature allows you to focus on key products, streamlining your decision-making process and saving time.
Track Keywords directly in your Insights Dashboard
You can now track keywords for all products and view data from all your favorite Helium 10 Tools in one centralized place with Insights Dashboard.
Add Profits Charts to Insights Dashboard
Insights Dashboard now offers customizable Profits data visualization options so you always have your critical business information at your fingertips.
Insight Settings
Customization Upgrade! You can now Toggle specific insights ON/OFF to exclusively get insights that are relevant to your business.
Listing Builder AI
Our new AI-enhanced Listing Builder tool is designed to simplify this task by automating the process for you. By utilizing relevant keywords and product characteristics, Listing Builder automatically generates your title, bullet points, and product description. Listing Builder enhanced by AI allows sellers to:
Create Professional and Engaging Content
Easily add your brand name in the title and create content that is brand-centric, professional, and engaging. Boost your brand visibility and recognition and build trust with potential customers.
Tailor Content for Your Target Audience
Choose the tone of your listing according to the product category and target audience. Connect better with your customers by using a tone that resonates with them.
Streamline the Copywriting Process
Automate critical processes and optimize your operations with customized recommendations from the tool. Guesswork and generic copy are out. Streamlining your content creation process with the efficiency of ChatGPT is in!
Conclusion
May's Insights Dashboard Celebration Month showcases the immense value it brings to sellers. By leveraging this powerful tool, sellers can accelerate their growth, maximize profits, and streamline their business management flows. With features like Parent/Child ASIN data, notes and alerts, and customizable insights, Helium 10 remains committed to empowering sellers and driving their success in the competitive marketplace. Explore the Insights Dashboard today and unlock a world of possibilities for your business.
Achieve More Results in Less Time
Accelerate the Growth of Your Business, Brand or Agency
Maximize your results and drive success faster with Helium 10's full suite of Amazon and Walmart solutions.