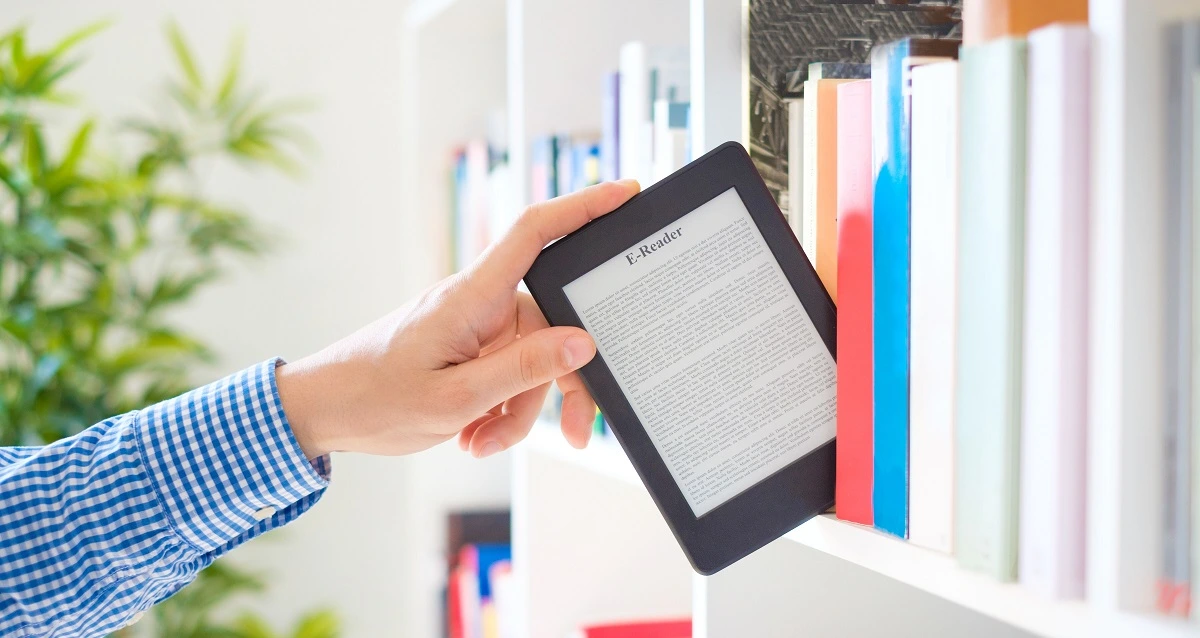 Four Tools That Could Double Your Kindle Publishing Business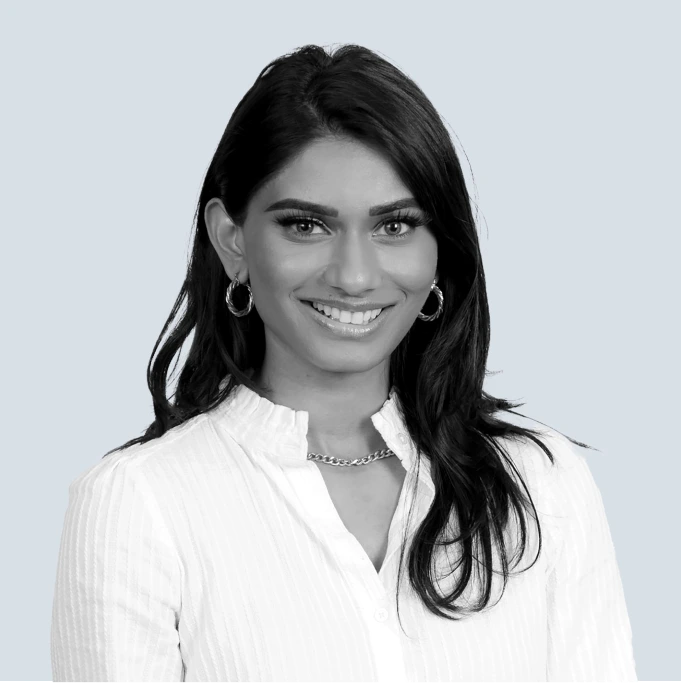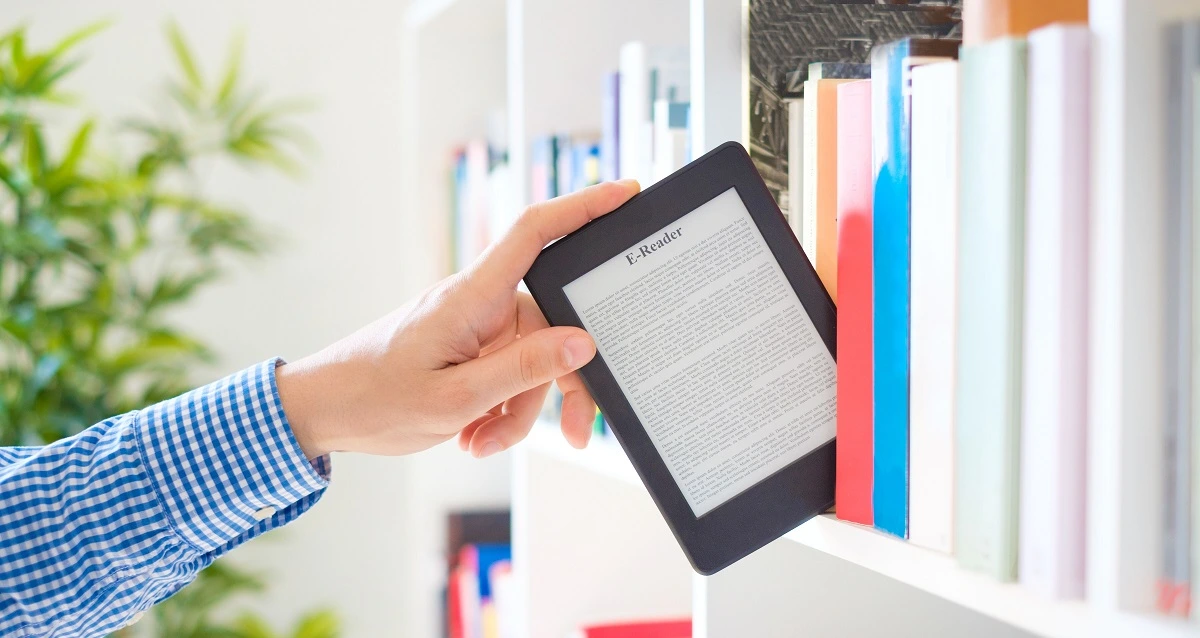 The definition of success is usually relative.
Fortunately, success in the Kindle Direct Publishing space, in part, can be attributed to simply identifying demand and opportunity. With more than two million books on the interface, an intentionally constructed listing and diligent product research can be the difference that helps you advance ranks above your competition.
Yet pinpointing the market you can succeed in can be a serious challenge unless you have at least one of these two things:
A huge surplus of time to manually scout for a good niche
Dedicated software to help you index and show up, front and center of your consumers
While most of our Helium 10 tools were created for sellers with physical products in the Amazon FBA space, let's talk about four tools for self-publishers that you should be using for Kindle Direct Publishing.
Review Insights
First up, Review Insights. Review Insights is an Amazon review tool tucked away inside of our free Amazon Chrome Extension. It's designed to help you step inside your consumer's mind to identify which topics they are searching for, what they love, and what they're not so crazy about.  Review Insights can also be used to learn what customers love or hate about a particular book. This is a valuable and often unused resource to find aspects of existing eBooks you can possibly enhance and study to become a more consumer-friendly writer. 
Let's take a look at an example. If we were looking at an eBook listing with 54,000+ reviews, we could click the Helium 10 Chrome Extension in the top right-hand corner and click Review Insights to use the tool filtering existing reviews with specific parameters.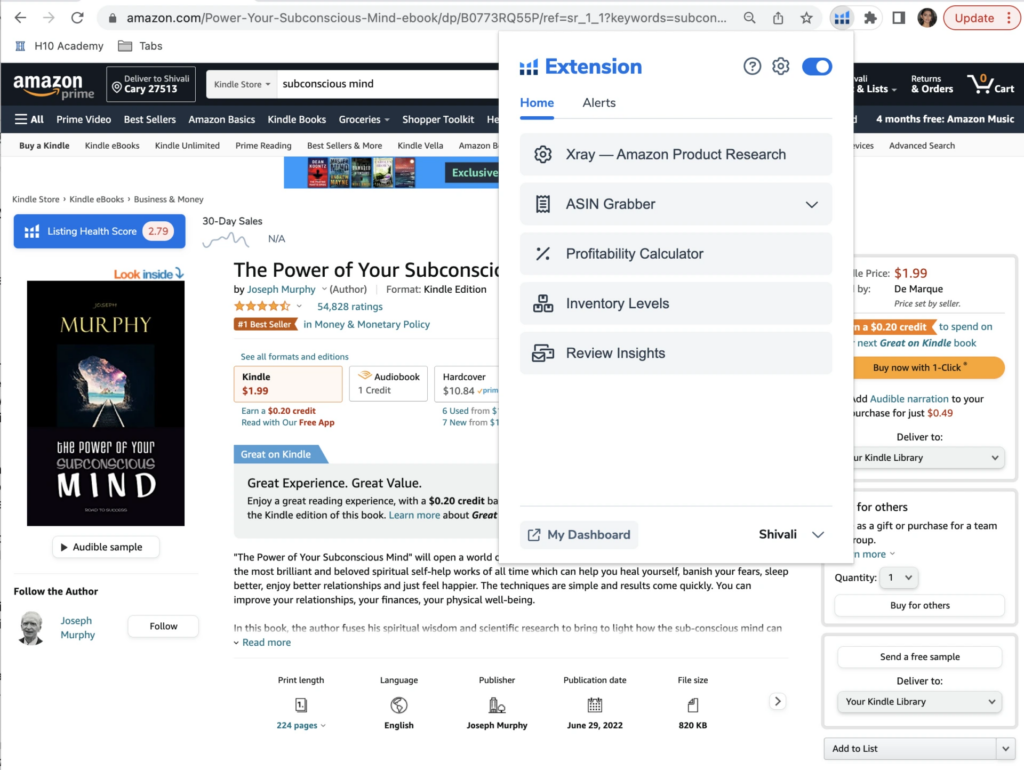 While the default page will show you something similar to what is pictured below, you can easily select what you would like to view in the right-hand section of the pop-up box by inputting a range of dates. You can also filter by verified or helpful reviews and reviews that may have attached images.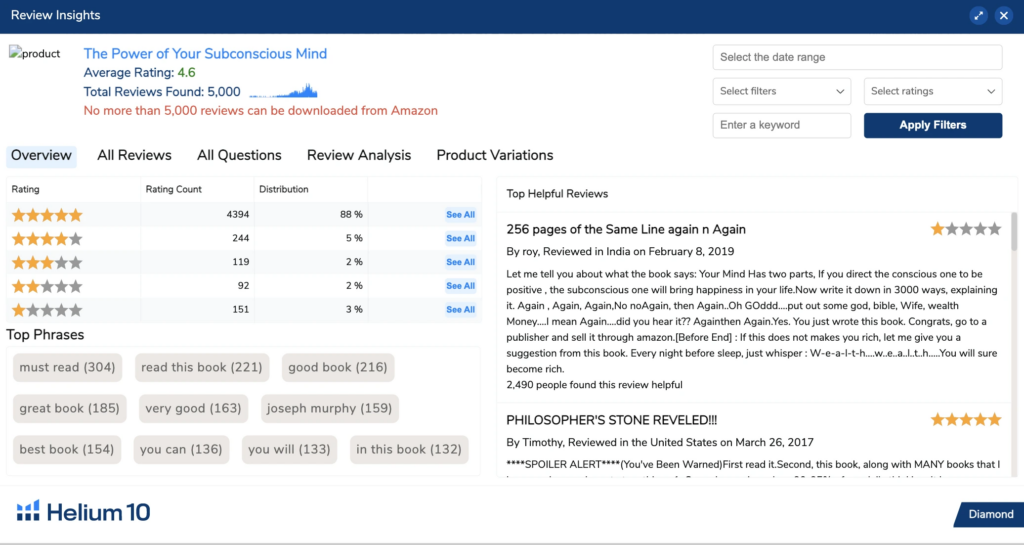 You also have a star drop-down menu where you have the ability to display reviews corresponding to only a certain star rating or to multi-select positive and/or critical reviews at a glance.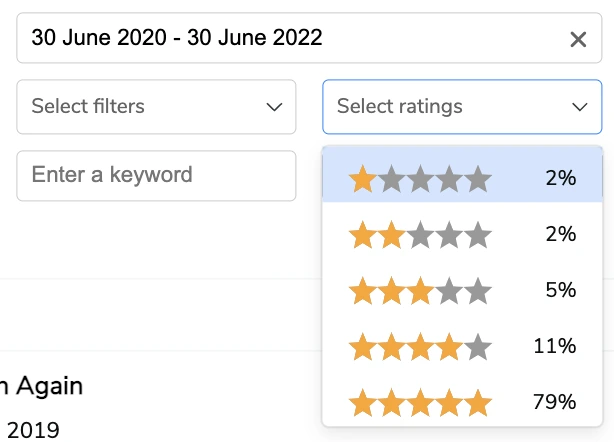 What is this useful for? Well, the benefit of this is seeing what people love or hate about a particular eBook. According to the results you find, you can either keep topics or sections of the book or remove them entirely.
Want to specify keywords? You also have that option. Perhaps you are searching for something specific such as chapter ideas or a more honed-in niche.
If I wanted to see if the subconscious mind is associated with the psychological power of money, I could type that in here to see if it appears in any of those 54,000+ reviews — something I wouldn't be able to do without the help of this tool.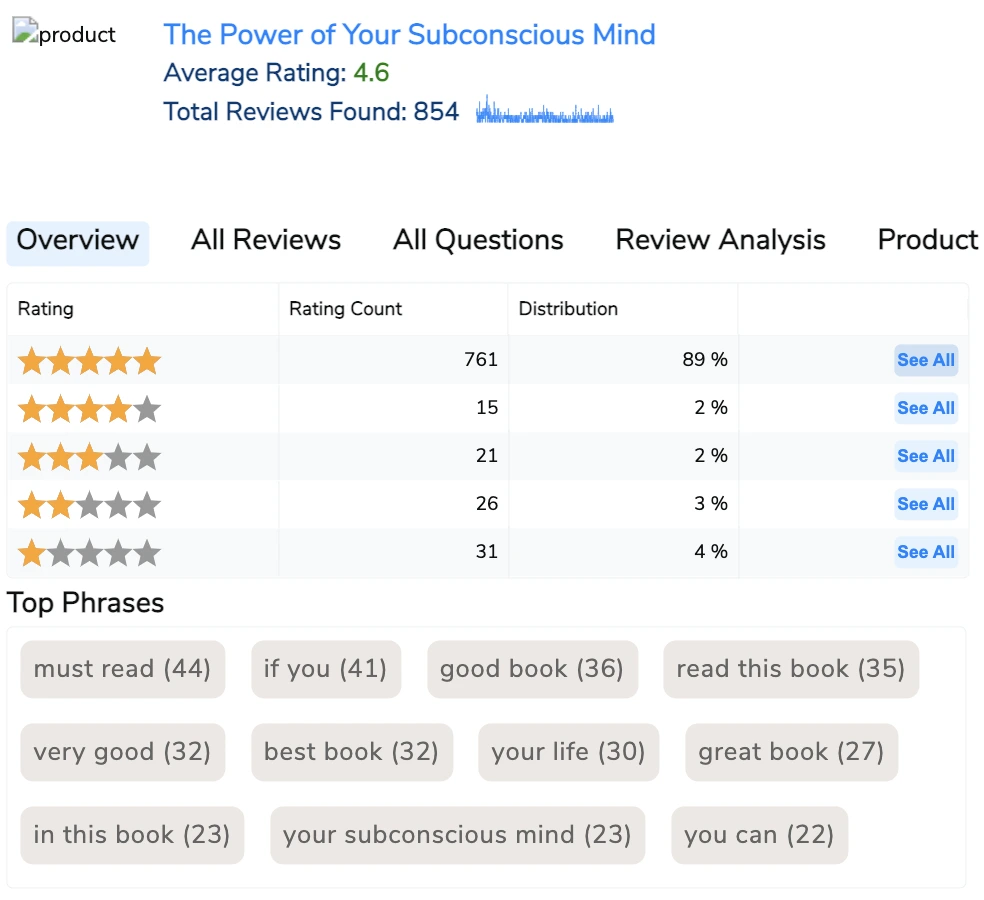 In this case, I selected a time period spanning June 30th, 2020 to June 30th, 2022. The left-hand panel of the popup tells me there were 854 reviews written in that range, a distribution of the stars selected, the top phrases that appear in the collected reviews, and how many times they appear.
On the right-hand side, you could read the information to get some ideas you can then use to either enhance your book before you even begin writing or outsource it to a third party to write. Consider making notes of the same information for later use when you are writing out your optimized bullet points and creating relevant imagery or A+ content.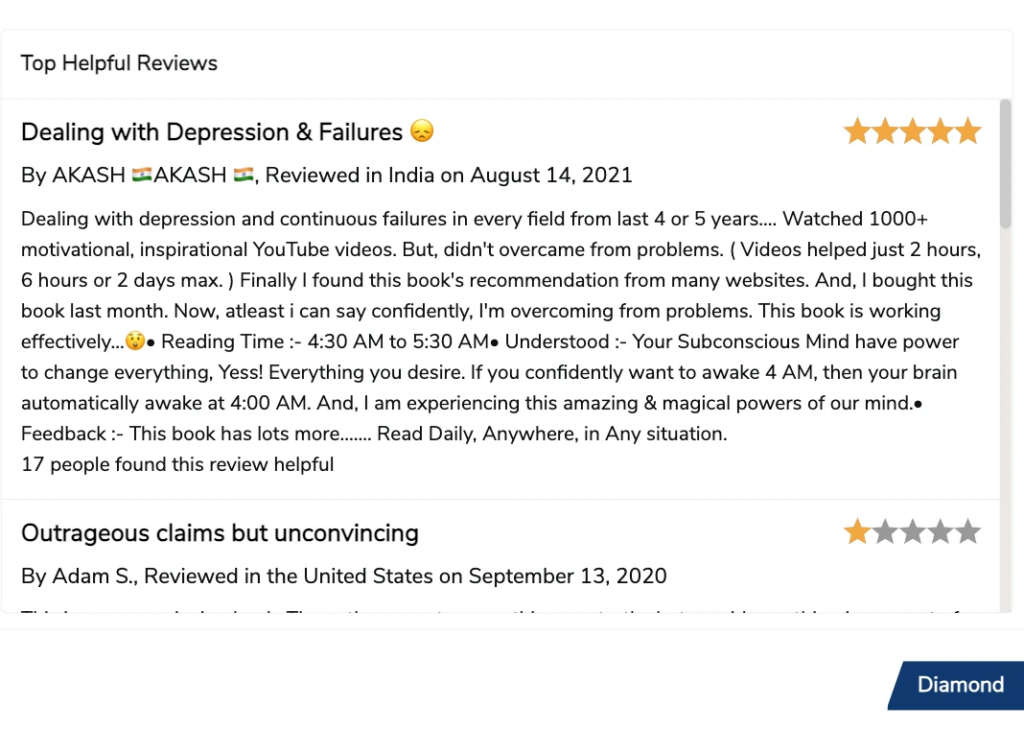 Read through some of the negative reviews to see what people are complaining about and make adjustments, so people don't complain about the same thing for your digital product.
If I select the All Reviews tab, I can also export the reviews and download all of them to an Excel file, so if Amazon takes away a review, then you will know exactly which one. You could then make a case and ask why a particular review was taken down. You can use this feature to keep a record of which review Amazon is removing if you are keeping a record.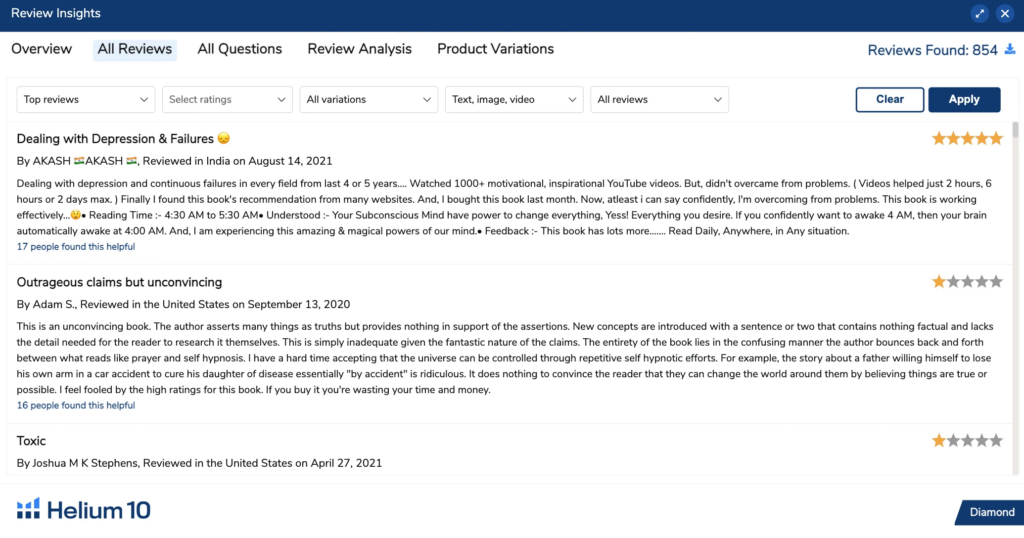 And as if that wasn't enough, the Review Analysis tab provides a neat way for you to get inside your prospective customer's head and make an emotional connection with your buyer. The tool distills all the reviews into bite-sized, digestible information allowing you to see the most commonly used phrases and where those phrases can be found.
For example, inside Joseph Murphy's The Power of the Subconscious Mind, someone finds his association with Christianity biased and one-sided. If you were to write a book that was based on his version as the primary, maybe that is something you would want to consider. You could either expand the idea so it appeals to more religions or exempt it completely.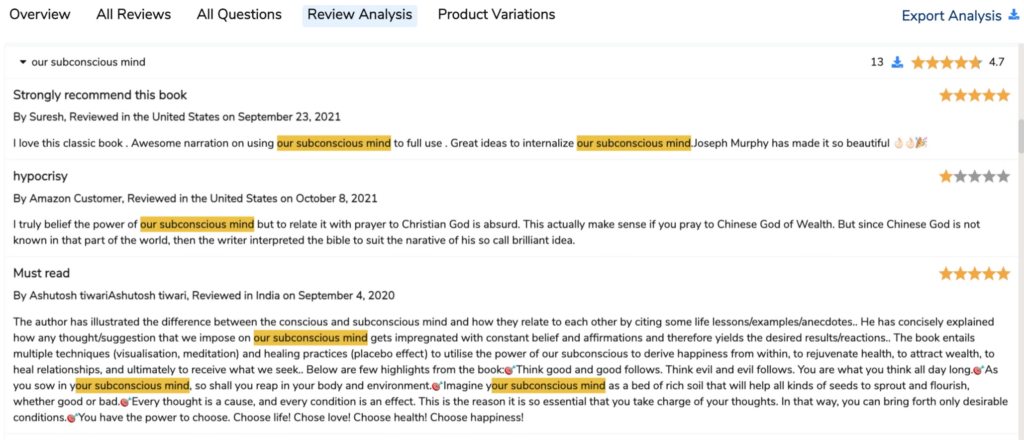 Cerebro
Keywords are a necessary component of any great listing, and naturally, Cerebro falls front and center. This tool utilizes existing data to not only walk in your prospective consumer's shoes but also to find which keywords to incorporate into the bullet points and description section of your listing.
With Cerebro, you can input a handful of product identifiers to receive a list of top-performing keywords. Get a better picture of your competitor's ranking strategy or advertising campaigns to see a direct correlation with how your eBook ranks once it is published.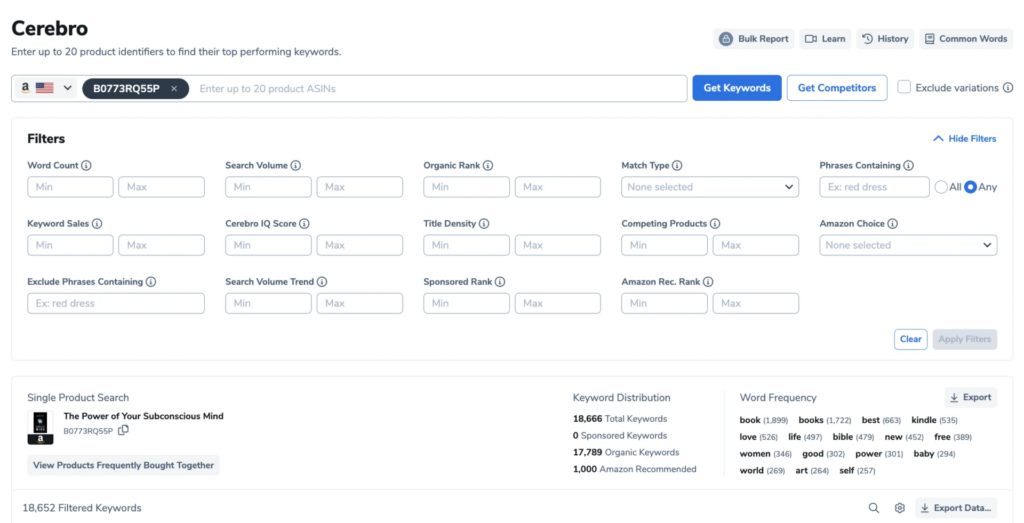 The top section provides you with the ability to choose filters to quickly narrow and navigate the thousands of queries that are likely to be returned to you. You can opt to sort however you would like.
Right above the keywords, you will find the number of keywords returned to you based on the search query.
Don't have time to search through all the filtered keywords? Filter down some more!
For example, I can input a desire to see an organic ranking of 1-10 and then sort it by search volume to see my filtered keywords go from 18,652 to 1,764.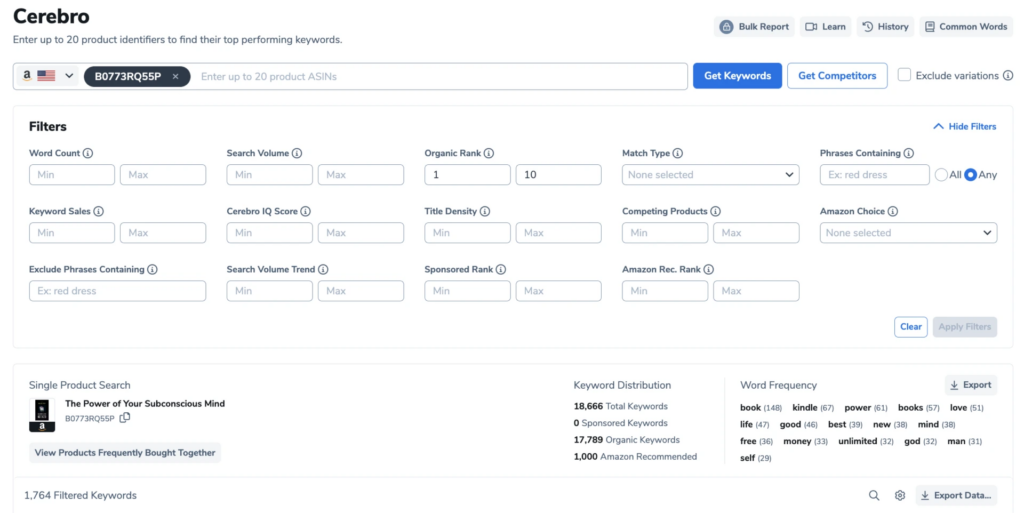 From there, eliminate based on relevancy and what you define as keyword opportunity.
Listings have limited space, and they are the foundational elements that can create conversions for you. Be sure to be selective with the keywords you select to decorate your digital store.
As you build your list, you can select the checkboxes on the left-hand side to add them to a keyword folder you can use later when building out your listing.
Building Out Your Listing
Listing Builder is our renovated version of Scribbles! It improves upon its predecessor by directly communicating with Seller Central and also providing a listing analysis score.
Although our interface does not sync with Kindle yet, it is still excellent for building a high-performing listing.
Once you select Add a Listing, you will need to click Get Started next to Create from Scratch and Start Building. The tool will then provide you with the capability to quickly build a keyword bank through (1) your keywords folder inside your Helium 10 account, (2) by inputting ASINs to see and pull from your competitor's keywords, and (3) manually add them. The purpose of having three varied methods to input keywords is so you can have a very wide set of established data to reference inside the tool as you write out your listing.
As you add to the bank, the keywords will populate on the right-hand panel.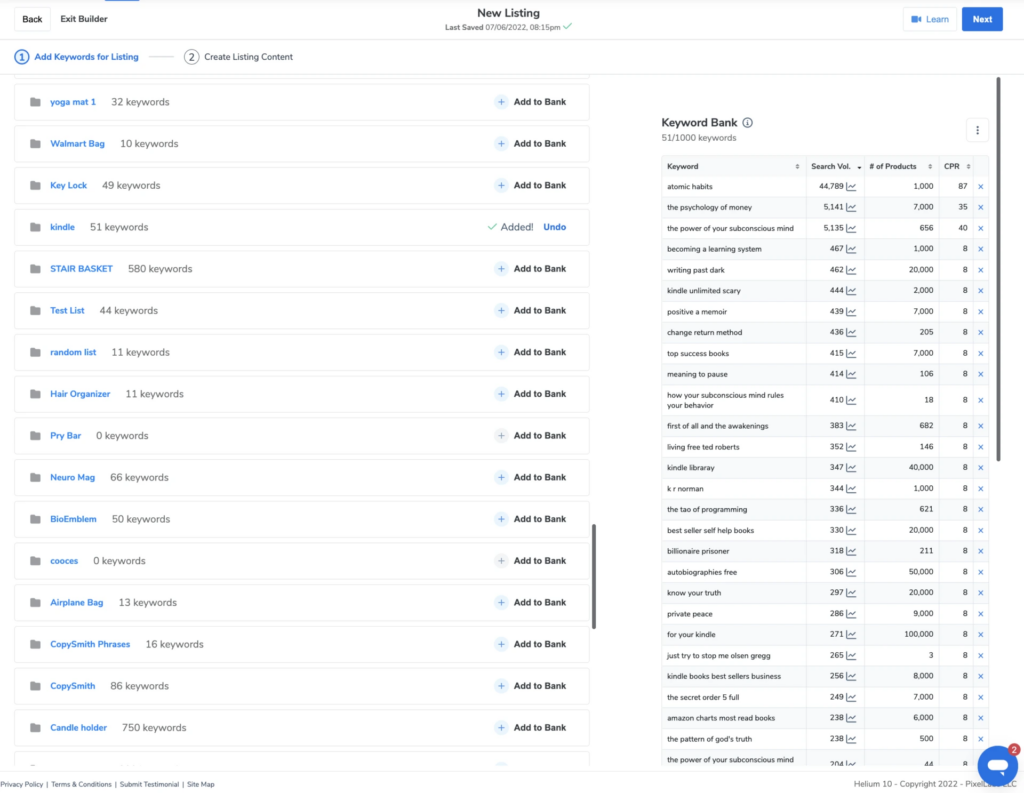 Click Next for the keywords to automatically be color-coded and sorted based on frequency. The key phrases will be sorted by search volume, with warm tones being more popular, descending into cooler tones.
Now, these keywords are not super relevant as they have not been thoroughly sorted or filtered for relevancy. They are so you can visualize and get familiar with what you will see when you open Listing Builder. However, as you type out your listing information on the right-hand paneling, note you will get keyword and phrase suggestions as well as be able to see keywords get crossed off, the frequency of times they have been used, as well as the generated search volume.


To change the character limits, all you have to do is click the "Pen" icon next to bytes and adjust. Kindle asks for seven keywords in the backend of a listing plus a 4000-character description.

Working on your listing inside of a tool like this can help you quickly identify your keyword impact without overstuffing your description with bullet points for the same degree.
Keyword Tracker
But what about after I've made my listing?
Now, comes tracking. That is where Keyword Tracker comes in. You can use Keyword Tracker to input keywords and phrases you want to monitor rank for. You can import those keywords from your list once again or manually input them.
Once the data loads, you can see keyword sales, search volume, CPR (how many eBooks you would have to giveaway to rank on the first half of page one for that keywords), number of competing products, organic rank, and sponsored rank. As you can see from the screenshot below, this book isn't doing well in organic or sponsored ranks, but then again – we haven't quite taken the time to find keywords we would WANT to rank for as this is not our book.

Again, when it comes to your own book, be sure you're choosing keywords that are highly searched for, low in competition, and relevant to what you have written about!
All This To Say…
If you build it, they won't come.
This phrase is wildly popular in entrepreneurship to suggest marketing is an essential component of selling and scaling any product or service.
But know that conversion is just as important as traffic and GOOD..truly good product research and care in development can help you take care of that.
The great thing about Kindle is not all Kindle books need to begin with a passion or a preconceived organization of chapters in mind. If you are someone who finds a niche that showcases the demand and opportunity to generate revenue, you always have the option to outsource writing a book to someone.
Just be sure to use existing reviews, keyword data, a Listing Builder, and Keyword Tracker to pave your success.
What are you waiting for? Publish your first or next book using Helium 10.
Achieve More Results in Less Time
Accelerate the Growth of Your Business, Brand or Agency
Maximize your results and drive success faster with Helium 10's full suite of Amazon and Walmart solutions.