How to Win on Walmart: 5 Tips for Success in 2022
You've reached that pivotal time in business when you know expanding your digital footprint is the key to transformational growth. This guide is a powerful resource to help you grow your brand on Walmart.com and become a leader in e-commerce.
Updated on: April 1, 2022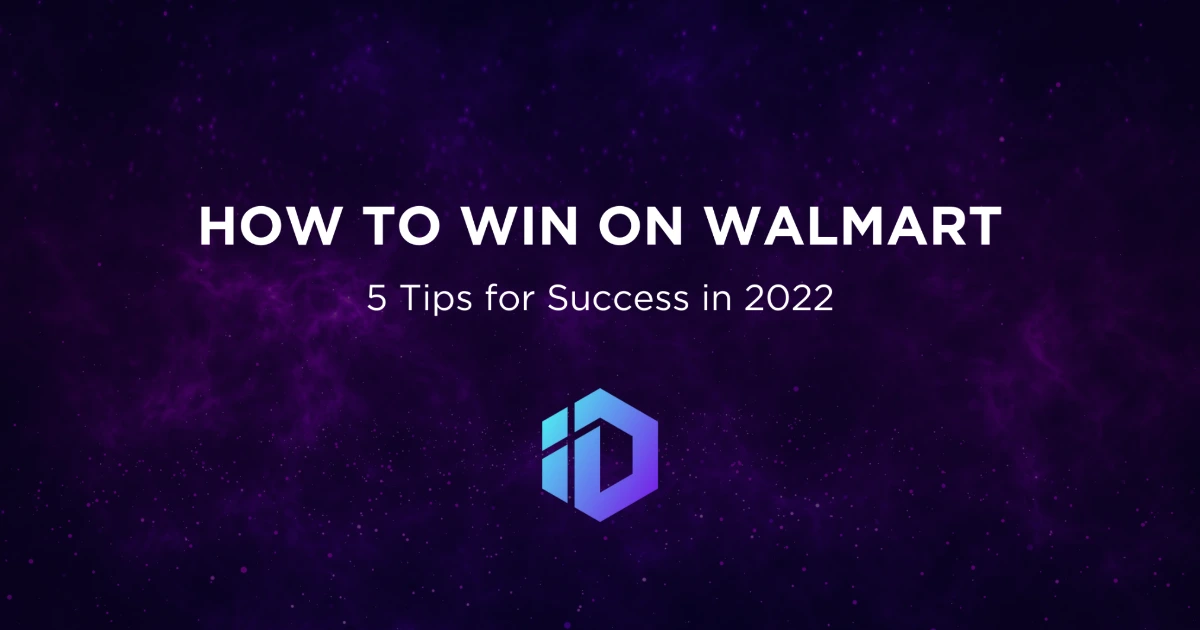 Selling on Walmart.com is not a new concept– the platform opened opportunities to third-party sellers in recent years to expand their online presence.
As the Walmart marketplace amplifies, so does its ability to compete with the current third-party heavyweight, Amazon. Now is as good a time as ever to join the race to sell on this booming platform.
What are the valuable tips and insights other agencies aren't telling you about selling on Walmart? How do you create a distinct offer, a stunning Walmart listing, and what can you do on Walmart.com to convert browsers to buyers?
Let's dive in.
Here are our top 5 tips for success on Walmart:
1. Expect the Unexpected and Be Prepared to Play the Long Game
Think back to when you first began selling on Amazon, or even still, think about your recent selling experience on Amazon– it's not always so cut and dry.
With the influx of algorithm updates, new features, and platform capabilities often come rapid or sudden changes to terms of services and operational requirements that no seller can forecast.
While preparedness is everything, being agile and able to play the "long-game" as the platform ebbs and flows will prove massively beneficial, as everyone, including your brand, learns the ups and downs of selling on Walmart.com.
2. Take the Trial and Trial Approach
The trial and trial approach requires focused efforts and is not to be confused with throwing your hands in the air and saying, "It's good enough."
It's never really good enough; opportunities to learn more and elevate the customer and product experience always exist.
With that in mind, let's examine how the trial and trial approach can help you succeed in selling on Walmart.com.
According to our expert Walmart team, your product listing on Walmart.com is still your most valuable digital asset. But what worked on Amazon may or may not work on Walmart.
You'll want to keep your Amazon wealth of knowledge handy and try familiar tools like Helium 10 and Pikfu to glean keywords and audience insights into your listings and keywords.
The ultimate goal is to find the best results specific to your demographics, trial different strategies on Walmart.com, keep track of your findings, and research the latest news and trends.
Finally, work with an Amazon agency that knows more about what to expect in new algorithms and can handle the trial and trial approach at a much larger scale.
3. Relevancy is Your BFF
One aspect of selling on Walmart.com we haven't yet discussed is relevancy.
Walmart puts an extreme focus on relevancy requirements throughout product listings and advertising.
From an agency perspective, relevancy requirements on Walmart.com trump relevancy requirements we've seen to date on Amazon– but of course, this can change over time.
4. Making the Top 128th Ad Placements Are Crucial
Walmart.com uses a pay-per-click advertising method similar to Amazon– called Sponsored Products.
To use Walmart Sponsored Products, you must be a Walmart marketplace seller or supplier. Each advertising option requires an application process which further highlights the strict bar to entry selling and advertising on Walmart maintains.
Sponsored product ads allow you to decide how much you want to bid on a product or keyword. Users are only charged when a shopper clicks on the ad– similar to PPC on Amazon.com. Your ads appear in organic search results, product detail pages, and category pages.
Wayne Farquharson, Incrementum Digital's lead Walmart expert, explains that hitting one of the top 128th placements in Walmart ads is crucial to your success.
"If you don't make those vital 128th placements, you have virtually no chance for product visibility – which means an almost non-existent opportunity for conversion."
So, how do you gain the best placements on Walmart.com?
Walmart offers users two different campaign types:
Automatic campaigns – Walmart decides when to show the ad based on automatic relevancy. Bids are set at the item level, while placements can occur in the Search In Grid, Carousel, Stock Up, Home Page, and Buy Box placements.
Manual campaigns – Similar to Amazon advertising, Keywords in manual campaigns are matched to search queries from shoppers on the Walmart marketplace. Bids are also set at the keyword level, while placements are included in the Search In-grid and Carousel placements.
You'll want to leverage both campaign types to gain the best placements, insights, and outcomes for each campaign option.
5. Walmart Support May Be a Work in Progress
Do you want to good news first, or the bad news?
We'll go with the good, good news. 😉
As Walmart expands, its support framework will develop over time. Be patient and leverage all available tools to ensure you get the best assistance possible.
Persistence pays!
Listing Optimization is the Foundation to Your Walmart.com Success
It's important to understand that not only is Walmart prioritizing relevancy throughout its customer experience, but it's also opting for a unique and different experience from Amazon platform-wide.
What does this mean?
Contrary to popular belief, Walmart does not want sellers to copy and paste Amazon-specific content and publish it on Walmart. You'll do more harm than good.
Summary
With anything new in business and especially e-commerce having a solid plan of action is the best first step in creating long-term success.
As the Walmart.com platform continues to evolve, you can stay ahead of your competition by doubling down on trending features, BETA trials, and new and exciting tools that can help you leverage your success before competition hits.
Learn how to sell on Walmart with Helium 10 and diversify your online presence on this fast-growing dynamic platform.
Let us know in the comments if you're going to give Walmart.com a try in 2022 and what your best tips are to leverage long-term success!
Are you interested in learning more about how to win on Walmart? We Have Exclusive Tools for Walmart Sellers + Project W, A New Content Series to Help You Crush It on Walmart.Com. For more info, visit this link to learn about our offering.
Incrementum Digital
Incrementum Digital is a Trusted Brand Partner of Helium 10. As a Growth Engine for eCommerce Brands, they offer clients Full-Service Brand Management, Advertising Management, and Full-Suite Creative Services. Partnering with Incrementum Digital is like growing an entire eCommerce team overnight. Their values, much like Helium 10's, are transparency, communication, and results above all else.