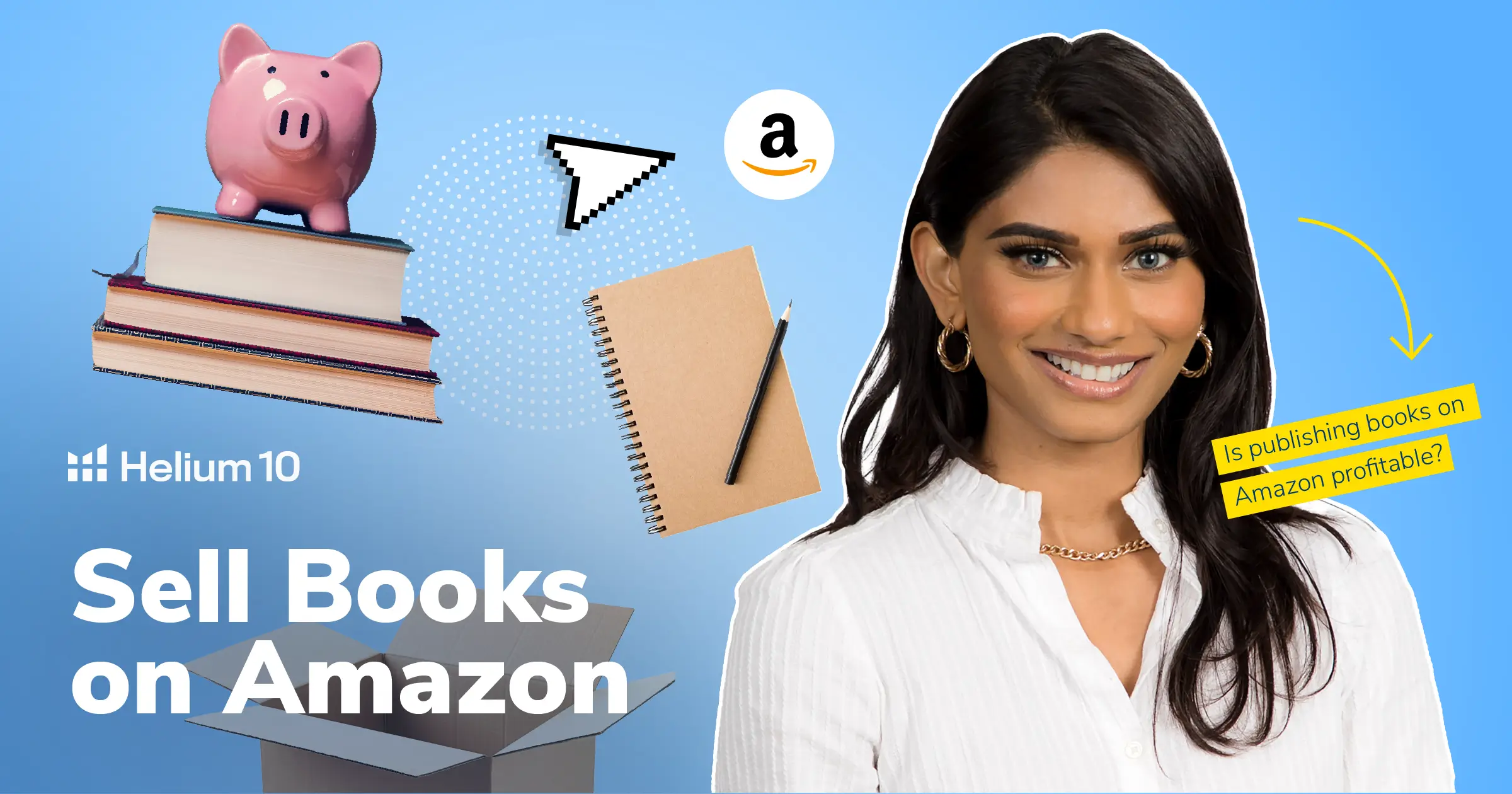 How to Sell Books (Used & New) on Amazon: Pro Tips for 2023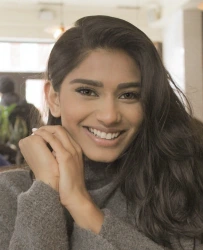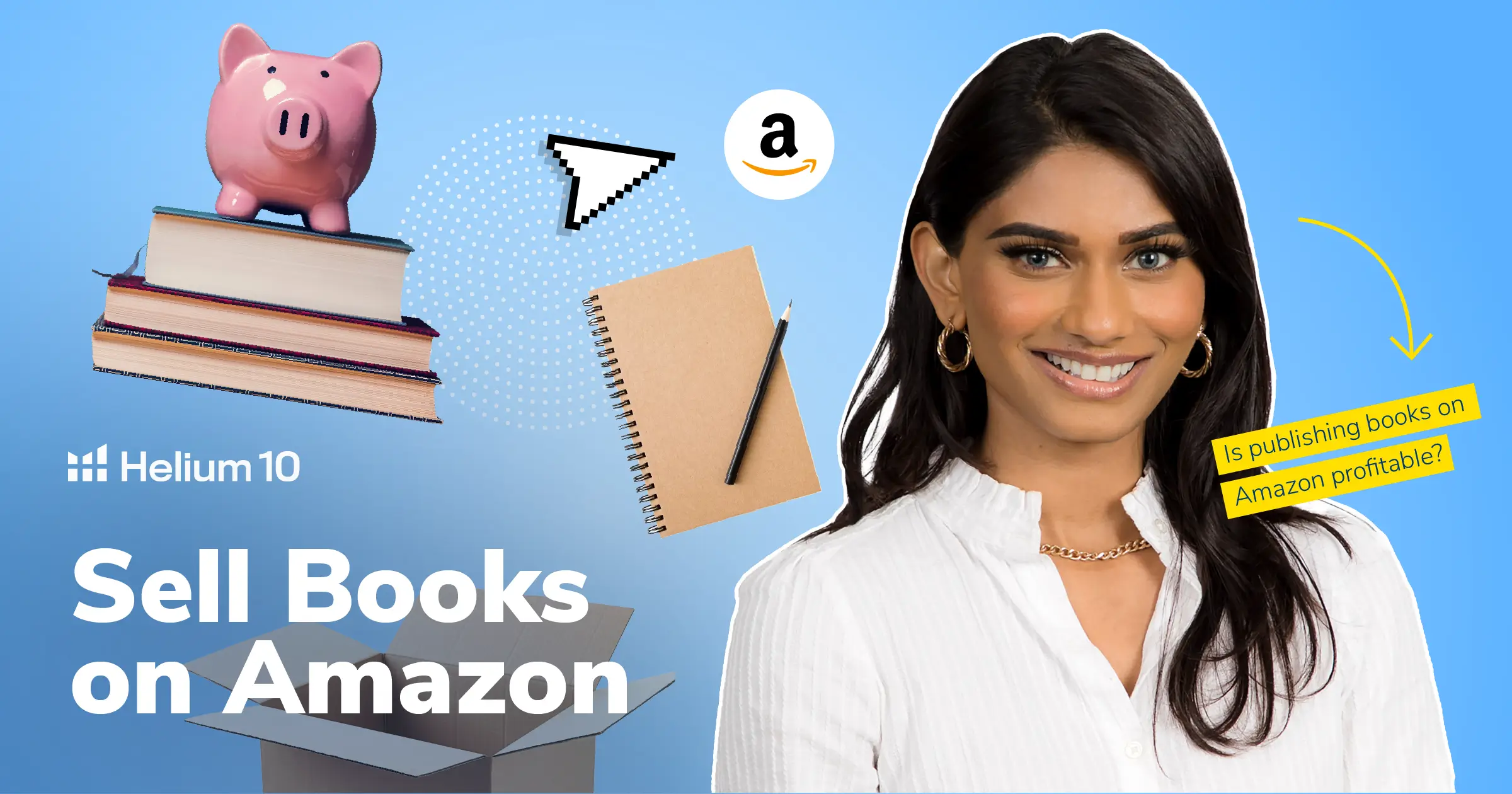 Introduction
Becoming proficient in the art of selling books on Amazon is now a highly valued skill set for both experienced entrepreneurs and those looking to explore the world of e-commerce. Whether you aim to declutter your shelves, transform your love for literature into a side business, or embark on a professional selling journey, comprehending the nuances of selling new and used books on Amazon in 2023 is an additional doorway to accessing a global audience, potentially amplifying lead generation, and paving the way towards profitability. By following our comprehensive guide, tailored specifically for this year, learn the expert tips and strategies to effectively navigate Amazon's constantly evolving marketplace and enhance your success as a bookseller, amidst stiff competition from other sellers on Amazon's platform.
Outclass Your Competitors
Achieve More Results in Less Time
Maximize your results and drive success faster with Helium 10's full suite of Amazon and Walmart solutions.
Sign Up for Free
Publishing New Books on Amazon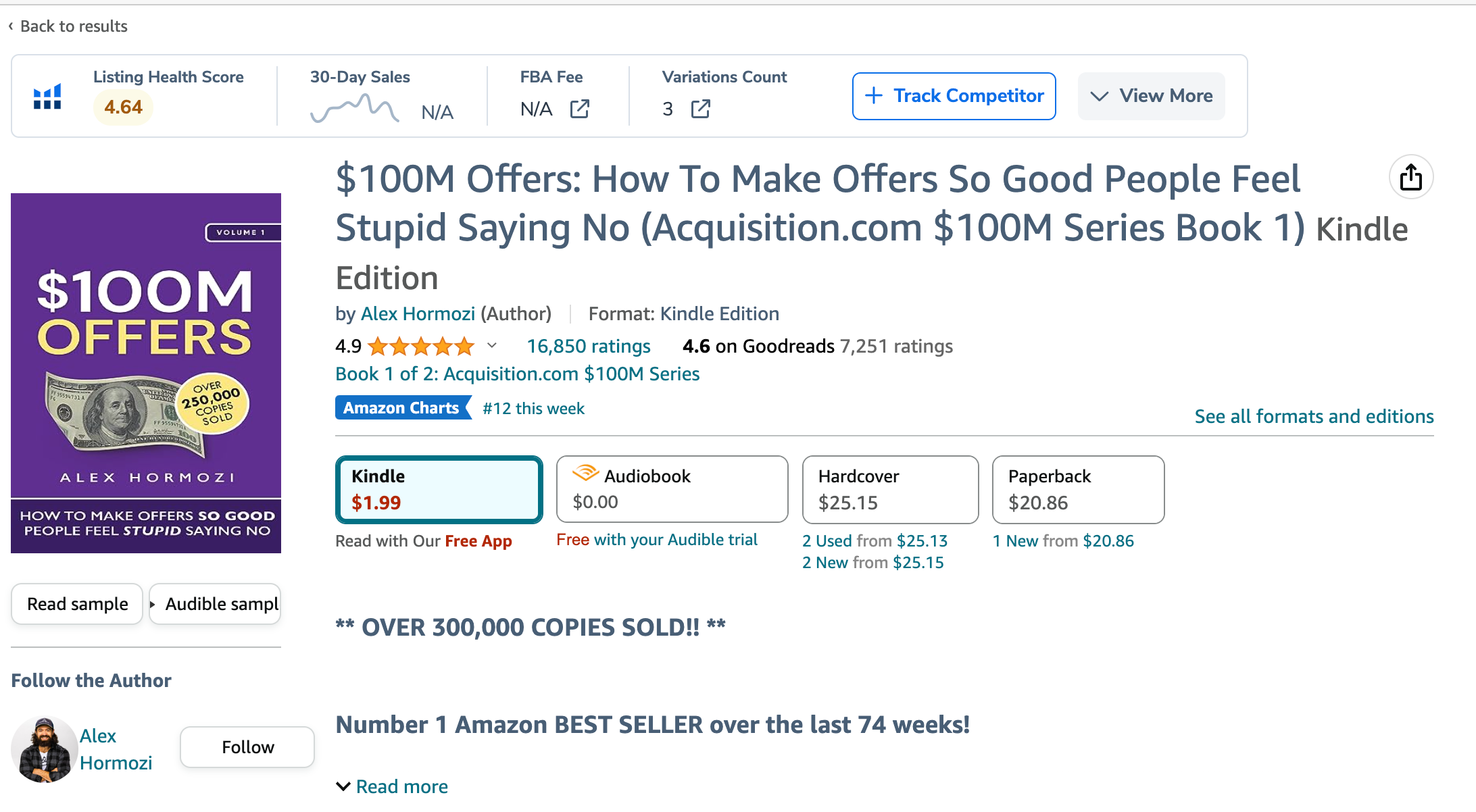 First, How Much Does It Cost to Publish a Book on Amazon?
Perhaps you've been wondering "What fees are associated with selling books on Amazon?" Well, the cost to publish books on Amazon can vary depending on the choices you make, and trust me, there are quite a few avenues you can explore.
For those of you looking to self-publish your own books, Kindle Direct Publishing (KDP) offers an easy, straightforward way. Through KDP, authors can create a Kindle eBook or print-on-demand version, reaching readers globally. A Kindle eBook is the concept that a digital version of the book exists while print-on-demand simply means your manuscript is printed to sell only once you sell books (someone purchases from you).
There is no upfront cost to publish either on Amazon through KDP. It's a self-publishing platform, and you can list your manuscript for free almost instantaneously. You can then choose to enroll your ebook in Kindle Select, which gives Amazon exclusive distribution rights for a 90-day period. In return, you might be eligible for promotional opportunities and Kindle Unlimited and Kindle Owners' Lending Library royalties. However, this is optional and depends on your marketing strategy and depending on the price you set, KDP takes fees accordingly upon sale. For print books created through KDP, the cost primarily involves the production of the paperback itself. With Amazon KDP Print's print-on-demand service, the cost is based on factors like the book's trim size, page count, and type of paper used. There are no upfront costs for setting up your print book on Amazon KDP. When a customer orders a copy of your book, it's printed and shipped to them, and you receive royalties from the sale. While there are no direct fees to publish through Amazon's KDP services, authors often invest in professional services like editing, cover design, and formatting to ensure a high-quality book. These costs can vary widely based on the service providers you choose.
For those who prefer to sell physical copies, Fulfillment by Merchant (FBM) allows sellers to list and manage their products directly (meaning if you want to sell books from your garage, you absolutely can – making this method far more suitable for individuals with just a few books to offer). You will be responsible for storage, packaging, and shipping and as a result, the costs involved here include shipping fees determined by the weight and dimensions of your book, and storage fees if you opt to store your inventory in Amazon's fulfillment centers.
In this case, you choose to fully turn to Fulfillment by Amazon (FBA) which perhaps many of you reading this may already be familiar with. FBA helps streamline your process; as a seller, you can ship inventory to Amazon fulfillment centers and they will handle storage, shipping, and customer service for you, even granting eligibility for Prime benefits. There are two types of seller accounts: the professional seller account and the individual seller account. The professional seller account attracts a monthly subscription fee of $39.99, while the individual seller account has no subscription fee, but beyond that, the costs associated include storage fees based on the volume of your inventory, fulfillment fees for each order, and additional fees for optional services like removals or labeling.
And lastly, we have Vendor Central. If you are a manufacturer or distributor, Vendor Central presents an invitation-only platform to sell books directly to Amazon. Negotiating terms and shipping to Amazon's centers, they manage listings, orders, and fulfillment, allowing you to tap into Amazon's expansive customer base. Costs are not one bill fits all. They fluctuate as they are typically negotiated on an individual basis with Amazon.
Keep in mind that each method comes with distinct considerations and benefits, whether you are self-publishing something like comic books, aiming to sell a few copies, or collaborating with Amazon as a vendor. Ultimately, the path you choose can influence the reach, convenience, and potential profits of selling books on Amazon. Before deciding which avenue to pursue, I encourage you to evaluate your specific goals, needs, budget, and selling volume. Assessing the advantages and costs associated with each option will help you determine the most suitable route for your book-selling venture on Amazon. By understanding the intricacies of each avenue and the corresponding costs, you can effectively manage your expenses while maximizing your profits as an Amazon seller.
I also recommend visiting the official Kindle Direct Publishing website for the most up-to-date information on costs and services related to publishing your book on Amazon as this information is updated every now and then.
Is Publishing Books on Amazon Profitable?
Publishing books on Amazon can be profitable, but success is not guaranteed and is reliant on factors like the book's quality, genre, marketing efforts, pricing, series potential, and effective use of Amazon's algorithms. It's crucial to invest in good writing, target active genres, market well, optimize your book listing, and consider series or backlist books. While some authors find significant success, the market can remain competitive reinforcing the need to research, strategize, and seek advice from experienced authors before publishing on Amazon like you would for any other business opportunity.
Can You Sell Books on Amazon Without a Seller Account?
Yes, you can sell books on Amazon without a traditional Amazon Seller Account if you're specifically looking to publish and sell books as an author. In our section above, I talked about the various ways in which you can sell books on the platform. Though the method of KDP requires a selling account, it's not the traditional individual seller account or professional seller account you imagine it to be. KDP is a separate entity from Seller Central.
With KDP, you can sell books in digital and/or paperback formats without the need for a traditional seller account having to verify your information with a utility bill, a passport or ID, a bank statement, and the old good nonsense that makes you worry you won't be verified in time before your inventory arrives.
So, if you want to sell books on Amazon, you can use Amazon's Kindle Direct Publishing platform to publish and distribute your books digitally and in print without the need for a seller account and for a whole lot cheaper.
Is It a Good Idea to Sell Your Book on Amazon?
Selling books on Amazon definitely has advantages, such as quickly accessing a massive audience, easy lead generation for your other businesses, leveraged impact potential, and so much more.
Additionally, tapping into Amazon's print-on-demand services and royalties provides diversification opportunities for income. But now the competition is fierce, requiring robust marketing efforts, and the platform's algorithms and policies can impact your book's success.
While Amazon offers convenience and exposure, authors should use resources like Helium 10's Magnet and Cerebro to discover keyword opportunities that will help them rank to generate sales alongside being mindful of things like royalty rates and the need for marketing to stand out amidst the plethora of books already present on the site.
If you find you have the bandwidth to sell books on Amazon, sit down and determine your goal first.
Do you want to just share your story be it through fiction books or nonfiction?
Do you want to increase leads for your businesses?
Do you want to create an entire bookselling business?
Do you want to generate a few dollars or replace your income to become a full-time Amazon seller?
Ask yourself how much money are you willing to invest upfront into this process as all of these things are things you should consider as you strategize your publishing strategy.
Since each selling method has a different set of pros and cons and its own limitations, thoughtful planning is the key to maximizing the benefits of selling your book on Amazon.
Manage Everything With Next-Level Software
Sign up now to access powerful, easy-to-use tools to help with every part of selling on Amazon and Walmart.
Selling Used Books on Amazon
Are You Allowed to Sell Used Books on Amazon?
Yes, you are allowed to sell used books on Amazon, but this will likely have to be through a standard Amazon seller account. If you have physical copies of books that you no longer need or want to sell, you can create listings for them on Amazon's marketplace and either fulfill them yourself or via the Amazon fulfillment center.
Is Selling Used Books on Amazon a Good Side Hustle?
Selling used books on Amazon can certainly serve as a lucrative side hustle. If you're looking to boost your bank account by tapping into the market of pre-owned literature, mass-market paperbacks, and graphic novels are popular choices, though virtually any genre is a viable option inside Amazon's massive book store.
The allure of making money selling used books lies in the platform's immense customer base and the convenience it offers to buyers seeking both common and rare titles. Like in private labels with Seller Central, Amazon streamlines the process, enabling you to list your used books, set competitive prices, and handle orders with ease. The beauty of this side hustle is its flexibility – you can start with just a few books and gradually expand your offerings as you gain experience and insight into what sells best. Success like with anything on Amazon depends on factors like the competitive market, Amazon's fees, and the time investment required. However, it is still a great way to generate some capital if you make calculated choices and focus on getting acquainted with the platform before diving fully into private labels.
Selling used books on Amazon provides not only a financial boost but also the satisfaction of connecting readers with the books they're seeking. So, whether you're a book enthusiast, a casual seller, or someone eager to supplement your income, this side hustle offers a rewarding path to make your books sell and potentially grow your bank account along the way.
What Fees Are Associated With Selling Used Books?
When selling used books specifically on Amazon, there are several fees you need to consider. These fees can impact your profitability and should be factored into your pricing strategy. Keep in mind that fees can vary based on factors such as the selling plan you choose, fulfillment method, and item category. Here are some of the main fees associated with selling used books on Amazon:
Referral Fee: This is a percentage of the item's sale price (including shipping) that Amazon charges as a fee for using their platform. Referral fees for books typically range from around 8% to 15% of the item's sale price.
Closing Fee: For media categories, including books, Amazon charges a flat fee per item called a closing fee. This fee helps cover the cost of media handling and shipping. As of my last update, the closing fee for individual books was typically $1.35 for standard-size items.
Fulfillment Fees (If Using FBA): If you choose to use Amazon's Fulfillment by Amazon (FBA) service to store, pack, and ship your used books, you'll also incur fulfillment fees. These fees vary based on the size and weight of the item and whether it's a standard or oversized item.
Subscription Fees (If Using Professional Seller Plan): If you choose the Professional Seller Plan, which is designed for higher-volume sellers, you'll pay a monthly subscription fee (around $39.99 per month as of my last update). This plan provides additional benefits like access to more advanced tools and reports.
Storage Fees (If Using FBA): If you're using FBA, there are storage fees for keeping your items in Amazon's fulfillment centers for an extended period. These fees depend on the amount of storage space your inventory occupies.
Optional Services: Amazon offers optional services like advertising, which can have associated costs. Advertising can help increase the visibility of your used books in search results.
Variable Closing Fee (Media Categories): In addition to the standard closing fee, certain categories of media, including books, may have a variable closing fee based on the item's sale price.
How Do I Identify Profitable Used Books to Sell?
You can use Helium 10's Blackbox.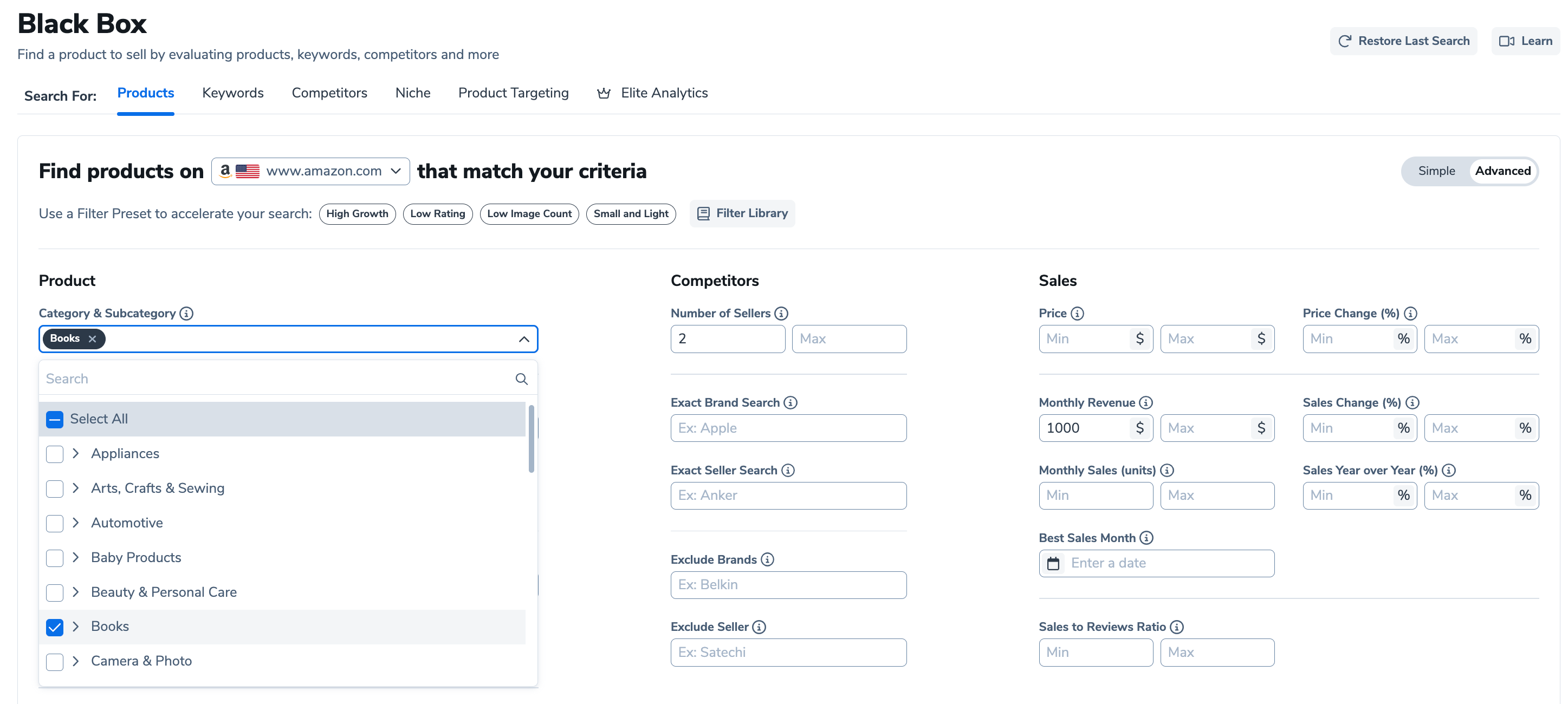 Using the Products tab, the Books category, and a conjunction of the filters available like a minimum number of sellers to showcase it's a book in circulation and a minimum for monthly revenue shown in the screenshot above, you can start finding books that are selling that you can locate and sell as well.

Alternatively, if you have textbooks on hand, you can also do an Amazon search for the book and use the Chrome Extension to see backend data of how much volume the book might be doing.
Manage Everything With Next-Level Software
Sign up now to access powerful, easy-to-use tools to help with every part of selling on Amazon and Walmart.
What Are the Best Places to Buy Used Books to Sell on Amazon?
Finding used books to sell on Amazon involves searching for sources where you can acquire books at a reasonable cost, allowing you to resell them at a profit. Here are some of the best places to buy used books for resale:
Thrift Stores: Thrift stores are popular sources for finding affordable used books. Look for local thrift stores, Goodwill, Salvation Army, and other secondhand shops in your area.
Library Sales: Many libraries hold book sales to clear out excess inventory. These sales often offer books at discounted prices, making them great opportunities for sourcing.
Garage Sales and Estate Sales: Local garage sales and estate sales can be treasure troves for finding books at low prices. Estate sales, in particular, can sometimes yield entire collections of books.
Flea Markets: Flea markets and swap meets can provide opportunities to buy books from various vendors at competitive prices.
Online Marketplaces: Look for used books on online platforms like eBay, Craigslist, Facebook Marketplace, and OfferUp. You can often negotiate prices or find bulk deals.
Book Fairs: Attend book fairs and book expos, where you might find sellers offering discounts on bulk purchases of books.
Used Bookstores: Some used bookstores offer discounted prices for bulk purchases. Establish a relationship with local used bookstores to inquire about deals.
Auction Houses: Some auction houses hold book auctions where you can bid on lots of books. Research and attend these auctions to find potential resale opportunities.
Charity Shops: Similar to thrift stores, charity shops run by nonprofit organizations can have a range of used books available for purchase.
School and College Campuses: Visit school and college campuses during move-out periods when students might be looking to sell books, even their textbooks.
Online Bulk Suppliers: Some websites specialize in selling books in bulk at discounted rates. Research and compare prices to ensure profitability.
Book Scouting Apps: There are apps designed for book scouting, which help you scan ISBNs and quickly assess potential resale value based on Amazon's pricing data.
Should I Sell Collectibles or Rare Books on Amazon?
Sure, you can but all the same principles will apply. Market research will be necessary and just because you create a listing does not necessarily mean it will sell. Doing proper research beforehand on market trends will help give you the best chance of success in making money selling books. If you're interested in listing your rare and collectible editions on Amazon's online book store, here are some reasons you should sell books online:
Selling books online means granting you extensive reach. Through Amazon, you can access book enthusiasts and collectors you wouldn't otherwise have access to if not for an online bookstore setting. Your offerings can reach readers from around the world, increasing the likelihood of finding the right buyer for your unique books.
You can also utilize the Amazon Seller App to efficiently manage your inventory and see to it personally that your books sell and respond to customer inquiries on the go. This app simplifies the selling process even if you are reselling books or selling in large quantities, and enables you to stay engaged with your business no matter where you are.
Not to mention, as an Amazon seller, you can utilize unique identifiers like ISBNs, ASINs, or UPCs to accurately list and categorize their books. This ensures that your products are discoverable within the right categories and helps potential buyers find them easily. As for categories, Amazon offers a wide range of categories for book listings, allowing you to select the most relevant category for your collectible and rare editions. This makes it simpler for interested buyers to locate your books within their preferred genres.
Want to start selling?
Sound appealing? To start selling on Amazon, determine your goal. If you will be selling original works, KDP might be the best option for you. However, if you're opting to sell used, collectible, and rare books, create a professional seller account and provide the necessary information. Once you're set up, begin listing your books by entering their details, condition, and any special features that make them valuable. Ensure you have a launch and marketing plan in place to help you rank and actually convert your click-share to sales.
As the digital marketplace continues to shape the way we buy and sell, Amazon remains a pivotal platform for book enthusiasts, collectors, and aspiring entrepreneurs alike. With the insights shared in this guide, hopefully, you're a little more knowledgeable and ready to embark on your journey of selling books on Amazon with confidence. There is no better way to learn than to directly get your feet wet. So go ahead…from sourcing to listing, pricing to marketing, and beyond – embrace these lessons and implement them. You're more than poised to share your love for books and carve your own path towards success selling books on Amazon.
FAQs
Frequently Asked Questions
The short answer is yes. You can buy books on Amazon and resell them for profit, a practice known as book arbitrage. This involves sourcing books at lower prices from various places and listing them on Amazon at higher prices. Like every business, perform intentional research, craft keyword-specific listings and have a strategized marketing plan in place to determine each individual book's resale potential and market demand.
Amazon used to offer a Textbook Buyback Program that allowed you to sell your used textbooks back to them for a gift card credit, but this program is no longer available.

The textbook buyback program was used to provide an option for students and other individuals to recoup some of the costs of their textbooks after they were no longer needed. By visiting the Amazon Textbook Buyback page, and entering the ISBNs (International Standard Book Numbers) of the textbooks you wanted to sell, Amazon would review and let you know if they were interested in purchasing those specific books typically accepting any textbooks that were in good condition. The books could have only minimal highlighting, notes, or other markings, and the covers and pages had to be intact. An offer price based on current demand and inventory needs would be provided which you could then accept or decline. If you accept the offer, Amazon will provide you with a prepaid shipping label to securely send your textbooks to Amazon. You would receive the gift card credit for the agreed-upon amount as payment once Amazon receives the textbook and agrees the textbook matches the condition you described. The gift card credit balance was allowed to be used for purchases on Amazon, including textbooks, other books, electronics, and more.

Instead, you can check to see if you can sell used textbooks by going to the Amazon Trade-In Program, entering the textbook's ISBN, and seeing if you can get approval to sell in the Textbook Rentals category.
Selling second-hand books on Amazon can be worth it for those who are willing to invest time and effort into research, accurate listings, and quality customer service. Amazon offers a large customer base and a trusted platform which results in fierce competition, and fees can impact profitability. Success relies on accurately describing book conditions, determining your pricing carefully, and adapting to market trends. However, managing inventory, providing good customer service, and staying informed about the changing dynamics of the used book market is essential for a positive experience. While it can be a rewarding endeavor, potential sellers should approach it with realistic expectations and a commitment to learning the nuances of the market.
Yes, you can sell your college textbooks on Amazon. Amazon provides a platform called the Amazon Textbook Buyback program, which allows you to sell your used college textbooks back to them in exchange for an Amazon gift card.
Achieve More Results in Less Time
Accelerate the Growth of Your Business, Brand or Agency
Maximize your results and drive success faster with Helium 10's full suite of Amazon and Walmart solutions.