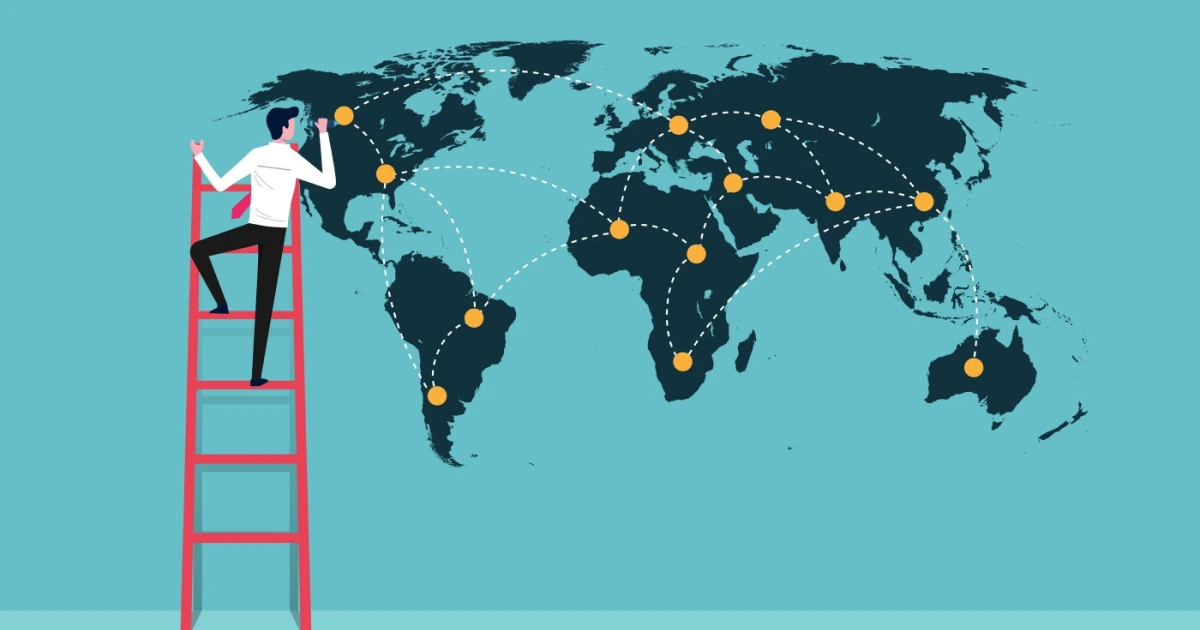 Expanding Your Amazon Brand Internationally: A Step by Step Checklist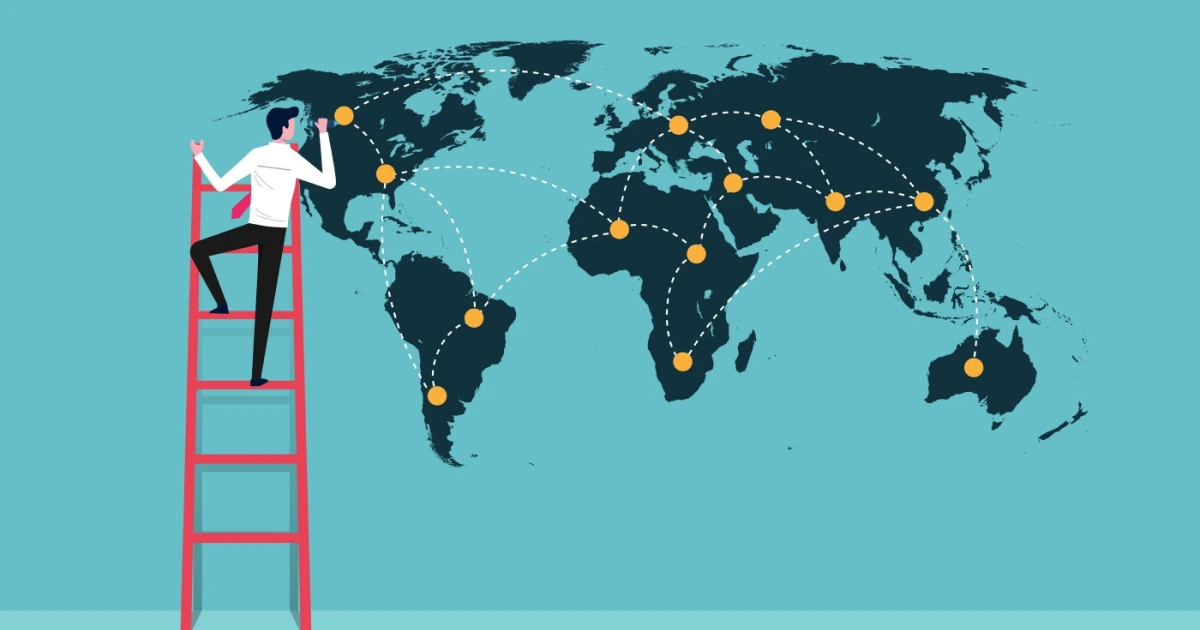 Your Amazon business has grown by leaps and bounds, and you're seeing healthy sales and profits – so what's next? Perhaps you've started wondering whether you could take things international and make the jump from being a successful local business to becoming a king-sized Amazon global brand? 
With the help of Amazon Global and FBA, Amazon has made great strides in helping marketplace sellers to make that move from local to international, but many sellers still believe that selling products globally presents too much of a challenge – 80% of Amazon US sellers have less than 10% of international sales due to language barriers and compliance constraints. 
What if we told you that, by following the right steps, global expansion can be easier to achieve than you thought…? It's true! BRANDED has compiled this essential 5-step checklist for taking over the world (well, through your e-commerce store at least…)
Step 1: Research is Key – Numbers & Trends
Wait – before you go any further, it's essential that you do proper research and find out the size of the market for your product in other countries.
Sizing The Market
For example, if you're a beauty & personal care business and you're looking to expand your market abroad – perhaps to sell your brand's Vitamin C Serum internationally – it's absolutely worth starting by checking how big the Vitamin C Serum market is in other countries on Amazon. It might sound like a simple step – but it's a major one that a lot of sellers miss.
Helium 10 is an incredibly useful tool for this analysis, allowing you to search by product in specific marketplaces (Helium 10 works across the 13 Amazon geographies). You will be able to see essential data on revenues, ratings, and reviews, as well as other valuable metrics to help you inform your strategy. Once you've got this data on all the key products and markets you're interested in expanding into, you'll have the tools and insights to inform your next move.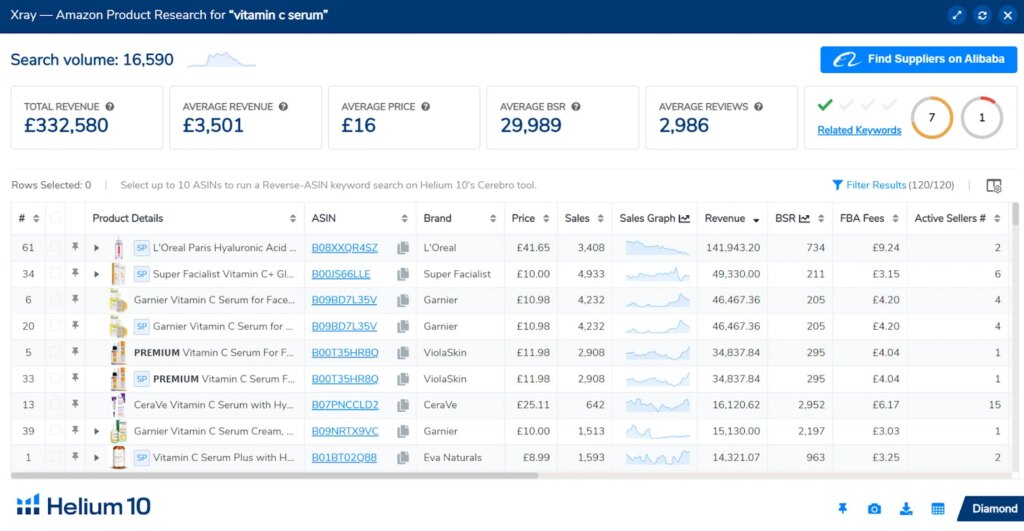 Check Out Your Competition
Next, you should try to understand what sort of competition your products will be facing in your new markets and what sort of realistic revenue you can expect to see. 
Compare your ratings and reviews with your competitors to get an indication of what market share you could hope for. This will also give you an idea of where your price level sits compared with those in your target markets. Make sure you analyze each market separately though, as different areas will have different competitive dynamics. 
The recent change by Amazon from prioritizing written reviews to also include star ratings as part of the rankings algorithm works in your favor here. It means your reviews and ratings can make the leap from country to country and retain their impact and meaning for your listings, despite language barriers.
Be Wary of Market Trends
Before embarking on your journey into international markets, it's a smart idea to ask yourself, 'does it make sense to expand into this territory?' Even if the numbers add up and the market size is encouraging – there are other important factors to consider when thinking about whether you'll see a return on your investment, such as the trends in the market that you're trying to expand into.
Ask yourself: are you on-trend? Think about whether your product is on-trend in these locations – is there a demand for it? Your US bestseller might not work in another market. On the other hand, you might find that a lackluster product in the US could fill and dominate a local niche! Do your homework and analyze the regional market, and understand who you'll be competing against.
Step 2: Are You Compliant?
Compliance can seem daunting, but if you do your research early on, you can spare yourself a lot of work & stress later on. You'll have to check what are the local regulatory requirements for setting up your business and make sure that your products check all of the compliance & regulatory boxes.
Compliance Check?
Next, make sure you are actually allowed to sell your product! It's vital that you know your products are compliant with local regulations – it's not as easy as just sticking an international shipping label on your US products. This is especially crucial if you're launching cosmetic products or consumables. You will need to create market-specific packaging with compliant information and possibly even a whole new formula to meet local regulations. Read more about the importance of staying compliant with Amazon's requirements in our in-depth blog post.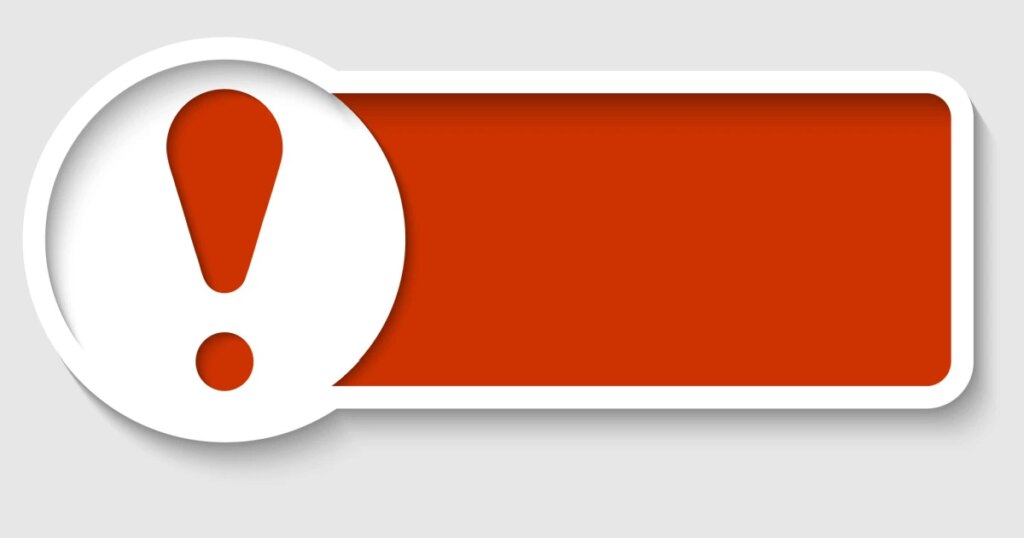 Sellers are completely responsible for complying with all local laws and regulations, and there are some fundamental things to take into account:
Packaging: Almost every market has its own legal requirements when it comes to product details, logos, certificates etc. For example, the claims you can include on a product in the US may not be compliant in countries in the EU, and so would need rephrasing or even removing altogether.
Product Ingredients/Contents: This one is especially important for cosmetics sellers, as certain ingredients carry either partial or full limitations in specific regions; while in others, they are fully allowed. It's worth doing your research to find out if your products are viable where you want to sell. 
Legal: It's important to have local legal representation in Europe, but especially so if you are selling products that fall into specific categories like cosmetics, electricals, or consumables, which are required to have local representation to address consumer issues or requests from authorities. 
Also, check whether you'll need a local business entity. Some markets need you to have a local legal presence before you're allowed to sell, which can take a bit of time and know-how to set up.
Business Insurance: Although this is not mandatory in many areas, the marketplace in the US requires sellers to carry business insurance.
Step 3: Set up Your International Account
Setting up an international Amazon account is actually surprisingly straightforward. Before you begin, get all your documents in order and make sure you are already compliant with any territory-specific additional requirements and regulations.
To create an Amazon seller account for the relevant country or region, you will need:
A valid credit card
Phone number
EU VAT number, if applicable
Bank Account (valid in a country and currency in line with Amazon's policies)
Your EIN number (for US sellers)
With a North American Unified Account or European Unified Account, you'll be able to manage the Europe and North American regions all from one account – for example, if you've set up a seller account in the UK, you'll also get access to the amazon.de, amazon.fr, amazon.sp and amazon.it marketplaces. You will have complete control over where you sell and what you sell.
Depending on the area you're expanding into, there are various tax authorities to register with:
For Europe: VAT Number
For the US: W-8- BEN (Certificate of Foreign Status of Beneficial Owner for U.S. Tax Withholding)
For Canada: GST/HST Registration Number
Make sure to check the specifics in other countries!
Step 4: Plan Your Logistics
In your grand expansion plans, don't forget to include provisions for some form of a storage facility. Even if you decide for your international Amazon business to be FBA-based, you still need to figure out how the product gets to Amazon before your orders are fulfilled.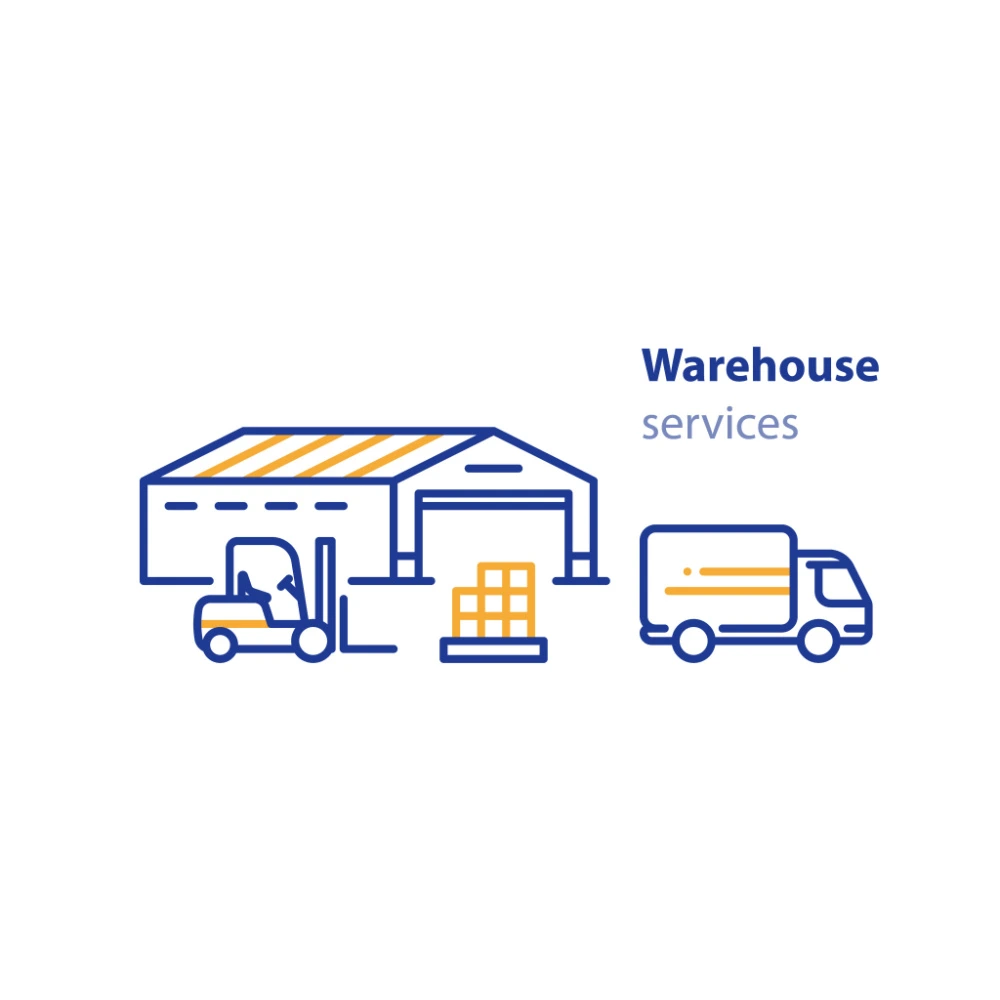 There are a few options worth exploring:
Shipping Direct to Amazon: Shipping straight from your manufacturer directly to Amazon is a great cost-saving exercise but runs the risk of eliminating your own quality control. The risk of getting poor quality products and only finding out about it with customer complaints is high. 
Warehousing: This is a flexible but expensive option – but one worth exploring if you are a larger business operation.
Third-Party Logistics: One of the most popular options for multi-market Amazon sellers – it offers both flexibility and cost savings (as long as you find the right shipping partner).
Step 5: Check if your Product Listing is Right for Your New Market
To be successful in an international market, you will need to make sure your product and listings are right for each territory. Amazon marketplace requires you to make sure that all your content is in the local language of each individual marketplace you're selling in.
Some sellers use popular translation tools, but in our opinion, it's not the best idea. These tools are rarely infallible, and bad quality translations will only make your listing less attractive. It's worth considering investing in an agency to translate your whole listing; from the title to the description and even down to the text in your images and packaging. 
A seller in the US will use very different terminology for items compared to a listing in the UK, even though they're both English-speaking territories. For example, American consumers might search for 'dish-soap', while UK shoppers will search for 'washing-up liquid.' Similarly, a 'kitchen torch' in the US (for making creme brulees and the like), becomes a 'butane torch' in Canada. 
Step 6: Support your Sales with PPC & External Ad Spend
So you've done all the important preparation, met regulations and compliance checks, and you've launched in your new international territory – now it's time to boost your sales. 
Engage Local Communities through Social Media
Consider tapping into local social media influencers and communities to engage with your brand and cement brand recognition in your new territories. Your new customer base is more likely to buy from your brand if they feel they can trust your company and products. 
Social media is a key tool to drive external traffic to your pages. Think about how you can leverage different platforms like Facebook, Instagram, and TikTok to your advantage with your new market in mind. Get in touch with local influencers and work out collaboration deals to get your products promoted and talked about by them. Reviews or social media could boost traffic to your new listings and increase your rankings.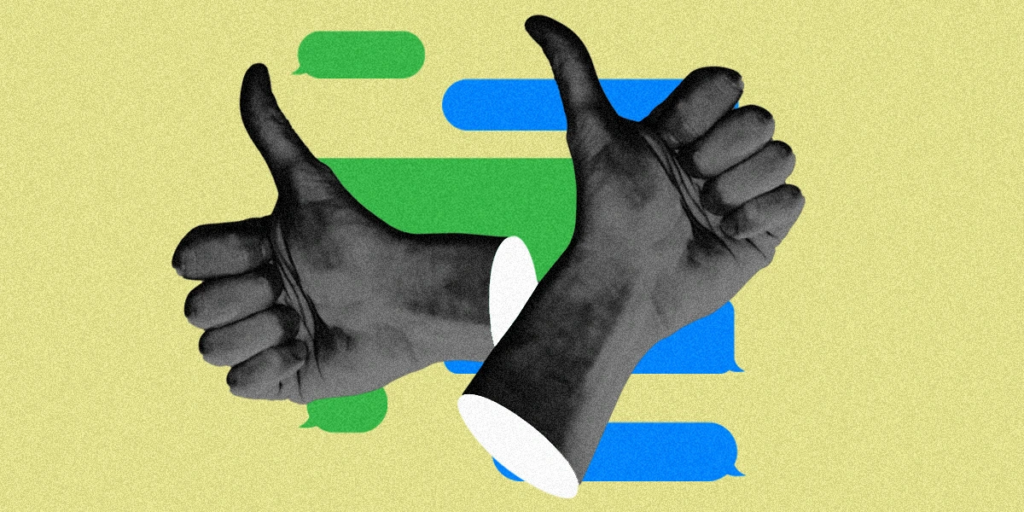 Moreover, interact with local pages and consider connecting with customers who may leave you positive reviews and recommend your products to their community. Editorial pieces for magazines or relevant sites help position your brand favorably and can give potential customers valuable insight into your brand as well as marketing your products. 
Use All Your Proven Optimization Tactics
Apart from engaging local communities via social media, you can also support your listings by doing all of the things you do for your brand in your home region – drive external traffic through paid ad tactics, optimize Amazon Ad campaigns, continuously optimize your keywords, and more. In short, everything you do in your home country you can do in the new market!
If you want to read more tips on how to successfully drive external traffic to your pages, check out our article here. 
International growth is a recipe for success. To truly crack the international market, it's vitally important to do proper research and work out your expansion strategy from launch to sustained sales. 
Achieve More Results in Less Time
Accelerate the Growth of Your Business, Brand or Agency
Maximize your results and drive success faster with Helium 10's full suite of Amazon and Walmart solutions.