How to Become a Walmart Seller: Walmart Seller Guide
If you're wondering how to become a seller on Walmart, check out our guide that breaks it down for you!
Updated on: February 23, 2023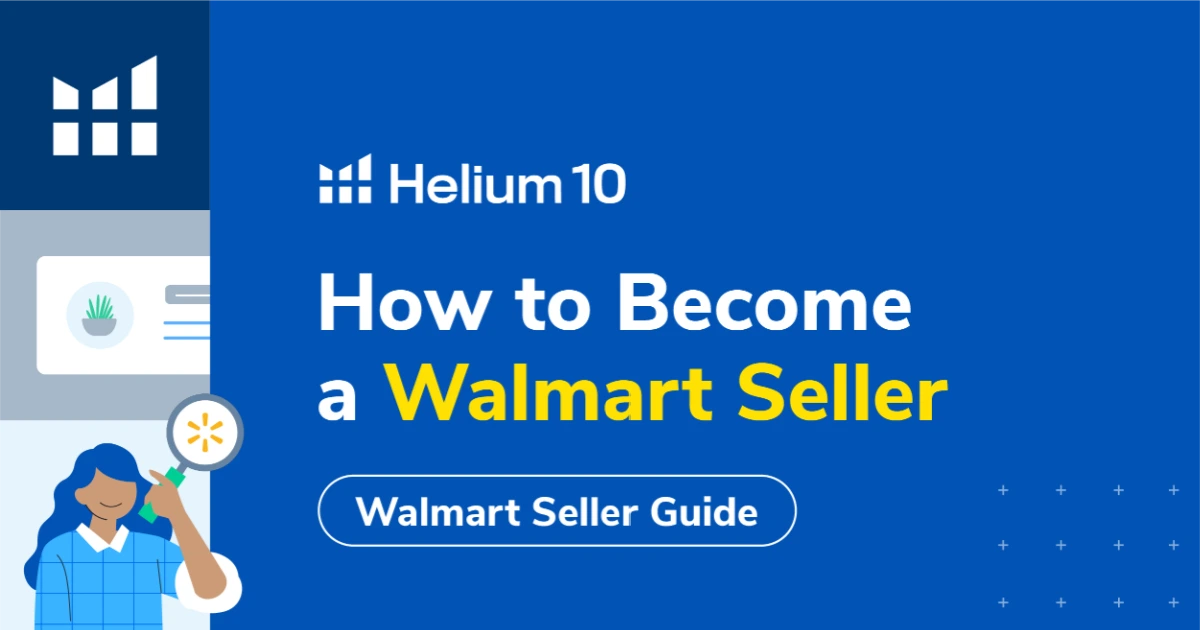 Is It Worth It to Sell on Walmart Marketplace?
A common question e-commerce sellers ask is whether or not it is worth it to become a seller on Walmart Marketplace. Although there may be some initial time and resources that are needed to get started on the Walmart Marketplace, ultimately, it is a good opportunity to bring in more sales revenue for your business. The e-commerce landscape of Amazon and other platforms has become increasingly difficult with a much higher level of competition than there was a few years ago. However, expanding to Walmart now where there is a lot less competition could not only bring in some short-term revenue, but it also has the potential for explosive growth over the next few years.
Here is a list of the potential benefits of becoming a Walmart Seller:
Increase Your Monthly Sales: The potential to add extra sales revenue every month is a huge incentive to get your listings up on Walmart Marketplace. Just putting extra effort into your product listing and additional PPC (Pay Per Click) could result in immediate monthly sales as well as potential long-term explosive growth. If you could add an extra 10% or more in sales to your business every month, would that be worth it?
Position Yourself for Long Term Success: Getting in early to the Walmart Marketplace can position your products in good ranking for long-term success. Currently, there is an opportunity, even in the most competitive categories, to get your products ranked at the top of the search bar with a much lower initial investment than other competing platforms. If you want to sell on Walmart Marketplace, the time to get your products listed is now. Don't wait for your competition to beat you to this amazing opportunity.
Expanding Customer Reach: Although there is customer overlap on Amazon Prime and Walmart Marketplace, a large majority of Walmart customers will be loyal Walmart sellers. This gives a Walmart seller the opportunity to reach an entirely new group of customers who would not see their brand and products otherwise.
Increasing Brand Presence: Selling products on Walmart US allows your brand more credibility and will also increase your overall presence in the e-commerce space.
Potential to Expand to Retail: Walmart is now using its online marketplace to scout for new products for its retail stores. Once sellers prove that their products will sell well on Walmart.com, they may be given the option to sell their products in Walmart Marketplace retail stores nationwide. This could be a HUGE opportunity for sellers to grow their products and brand!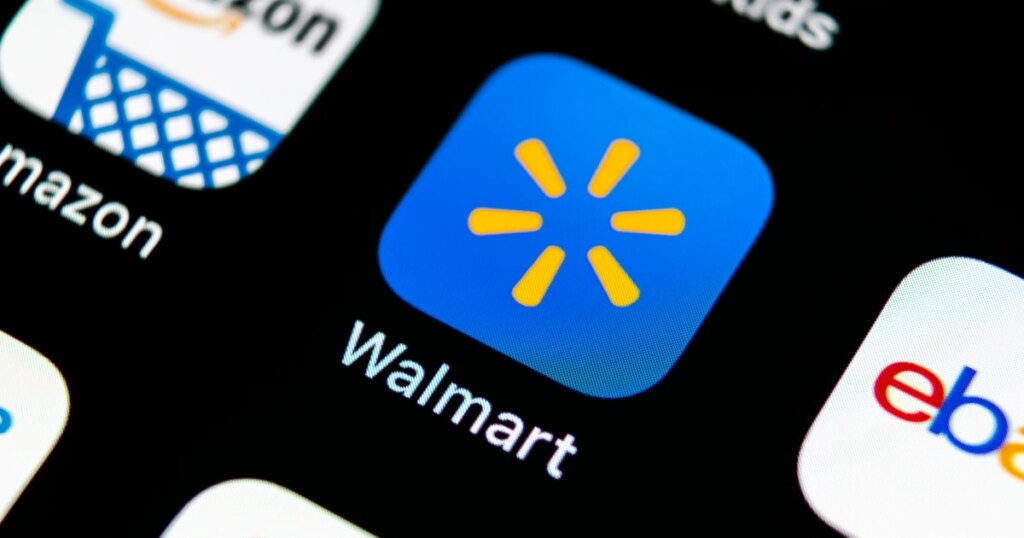 How Do I Get Approved to Sell On Walmart?
The application process to sell on Walmart Marketplace is a little more difficult than applying to sell on Amazon or other marketplaces. The reason for this is that Walmart is looking for established e-commerce sellers with a reputation for providing excellent products, customer service, and fulfillment so you want to make sure that your brand is ready to apply to sell on Walmart.
Here are some quick tips to prepare your business before you apply to sell on Walmart Marketplace:
Seller Performance Feedback Reviews: Walmart is looking for brands with a history of excellent customer service. Often they will look at performance feedback at the company level on Amazon and other platforms. If your company ratings and reviews are lower than a 4.0 then it would be wise not to apply to Walmart until you can get your seller feedback rating higher. We would recommend trying to get this number as high as possible like focusing on your listing quality or customer service strategies before applying to Walmart.
Product Reviews: Walmart also considers the quality of the products you are selling as a part of the application process. If your products have ratings of lower than 4.0 overall, it's important to work on getting those reviews higher before applying to sell on Walmart's online marketplace.
Fulfillment: Efficient and reliable shipping goes hand in hand with excellent customer service, which is why this is an important part of the application process for Walmart. If you don't have fast and reliable shipping options, we recommend looking into Deliverr or other 3P solutions to get your products set up with fast and reliable shipping before you apply to sell on Walmart. Once accepted, you can take advantage of Walmart fulfillment options.
Catalog: Walmart is looking for unique products at competitive prices. Walmart isn't interested in selling 100 of the same garlic press. They are looking for a variety of different types of products at a good price point.
Avoid Common Application Mistakes: Some common mistakes that domestic and foreign sellers are making are not providing an address that matches tax information and other documents that are uploaded during the application process. It is also important to make sure that the business name matches your uploaded documents and your email address is connected to your brand (NOT a free domain such as Gmail). Make sure that all information provided is consistent and matches. This will help to prevent possible rejection from Walmart US.
Once you have decided that your brand is ready to apply to sell on Walmart Marketplace, the next step is the actual application process. The application itself is located at helium10.com/apply-walmart.
What Are The Requirements to Become a Walmart Seller?
US Business Tax ID (SSN not accepted)
W9 or W8 and EIN Verification Letter from the Department of Treasury that verifies your US business address or place of physical operations. (You will need to attach this as a PDF.)
United States business address or place of physical operations
List of primary product categories, product id, catalog size, and related information (e.g. total number of SKUs that you will be selling on Walmart.com, monthly revenue, used vs. refurbished, etc.)
A list of marketplaces where you currently sell (Amazon Prime, eBay, Shopify, etc.) along with direct links to those products and stores.
A short written explanation of why you are a good fit for the Walmart.com Marketplace.
If you would like more information or a walk-through of how to apply to sell on Walmart, check out Episode 2 of Project W called How to Get Approved to Sell on Walmart Marketplace here.
How Long Does It Take To Be Approved to Sell On Walmart?
Typically, it takes about 2 to 4 weeks to hear back from Walmart Marketplace in regards to your approval and account creation. If you would like to check the status of your application after you have applied you can check it here.
If you do not hear back from Walmart in one month, it would be a good idea to submit a ticket via email to request information in regards to the status of your application. Once you are in the seller support hub, click "password or other access issue" and then click on "other access issue," to submit your ticket. Make sure to provide as much information about your business and application as possible so that the seller support agent can best assist you.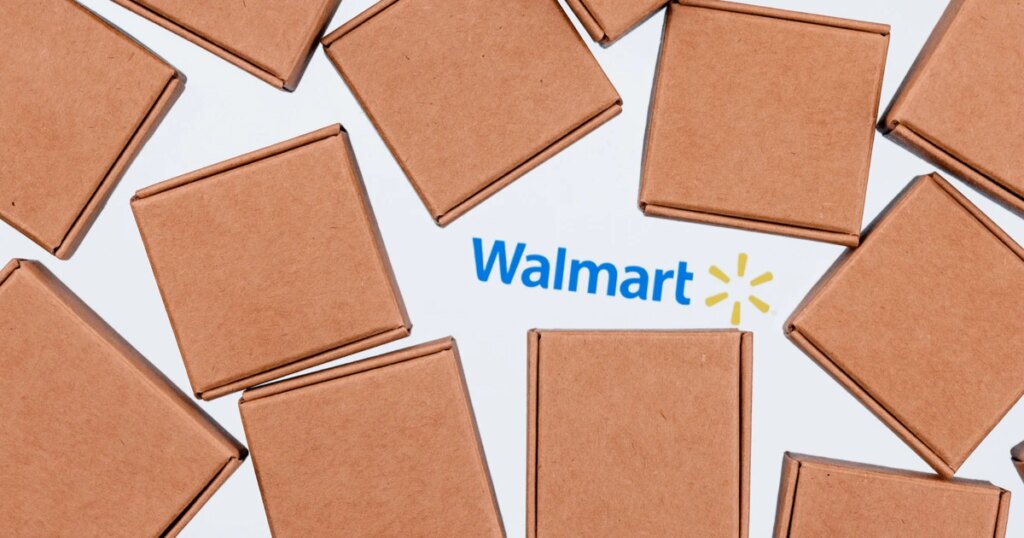 How Long Does It Take To Go Live on Walmart?
Once you have been accepted to sell on the Walmart Marketplace, you can potentially be up and running within 48 hours. You will initially need to sign a seller contract and set up your entire seller account with contact information, shipping information, and more. Once you have your account set up, you can list your first product and list it as seller fulfilled until you are able to get your products into Walmart Fulfillment Services.
Here are some items that are not automatically available to you when you finish setting up your account:
Walmart Fulfillment Services: Once you have your first listing up and running, you will be able to apply to utilize Walmart Fulfillment Services. It is easy to apply. All you need to do is click on the truck icon on the top bar of your seller center login page to go to the application. Once you are accepted and have your products in WFS warehouses, you will get access to the two-day shipping tag which can help improve your rank once your products are in the program. So, we recommend that you apply for WFS as soon as possible. This doesn't mean that you absolutely have to use WFS but it will make you eligible to get your products into Walmart Warehouses for Fulfillment.
Walmart PPC: Unlike Amazon where you can have immediate access to PPC advertising, you will need to apply to Walmart Connect. Simply go to www.walmartconnect.com to apply to their advertising console. Someone usually reaches out to you via email either accepting you or requesting more information. In some cases, you might go through an interview in order to get accepted. This process can take a few weeks so we recommend starting it as early as possible. However, if you want to go a faster route, you can also go through a solution like Pacvue (www.pacvue.com) and you can get access to ads within a week through their API access.
Brand Portal Registration: If you are a trademarked brand or have a patent, you will want to register in the Brand Portal. Registering in the brand portal can help protect your brand against infringements by third parties. The brand portal takes a few weeks to hear a response of whether or not you are accepted so we recommend applying for this as soon as you can as well.
How Much Does It Cost to Sell on Walmart Marketplace?
In regards to upfront costs to sell on Walmart, there are not any seller fees required to have a Walmart Seller Center account. Once you make your first sale, there are referral fees and also Walmart Fulfillment services fees if you are utilizing that service. If you decide to do pay-per-click advertising you will also need to pay for that service as well. In general, the CPC (Cost Per Click) on average is lower than Amazon.
Listed below are the referral fees that you can expect listed by category: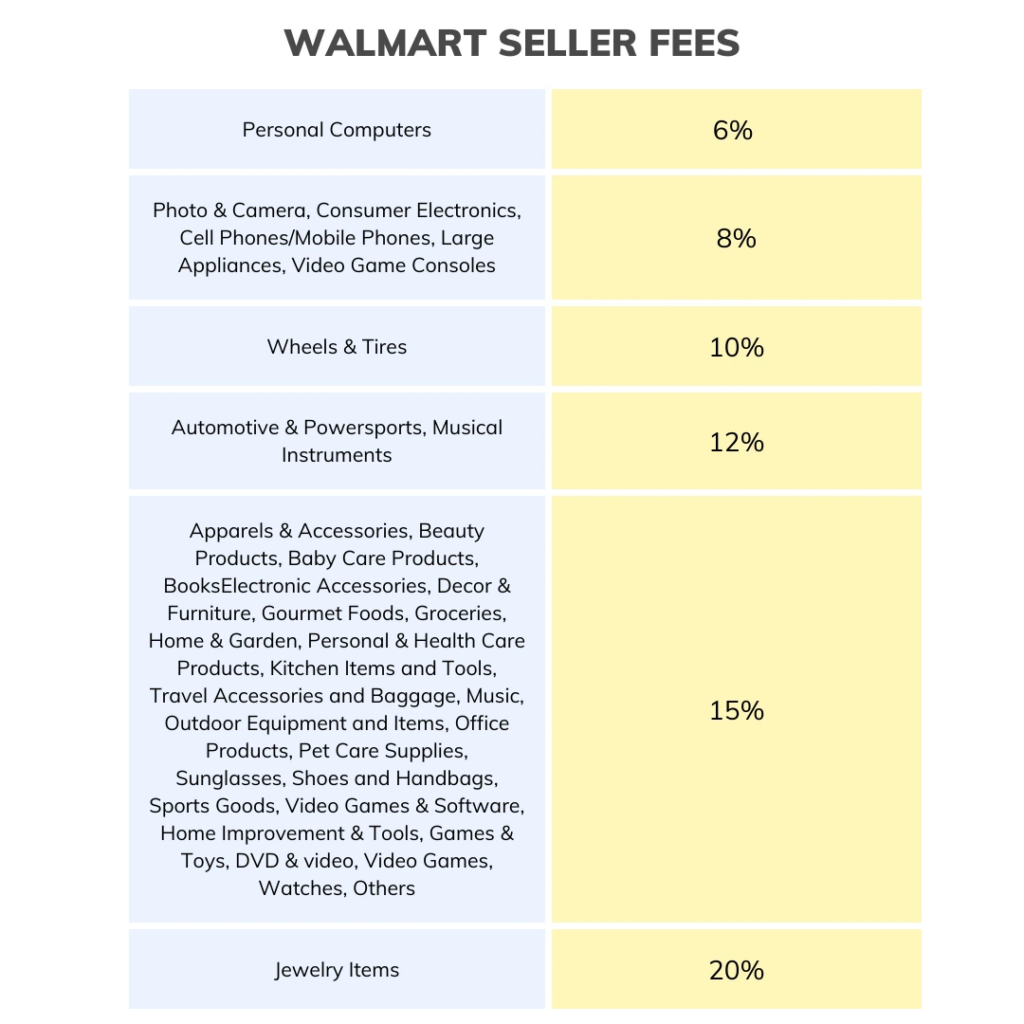 If you want to calculate your potential Walmart Fulfillment fees, there is an easy-to-use calculator that will help you to quickly and easily estimate your WFS fees.
How Do I Publish My Walmart Listing?
After you are accepted to sell on Walmart, sign the seller agreement, and completely fill out your account information, you will be ready to upload your first listing.
There are two ways to publish your listing. The first way is through the User Interface with a very manual and direct upload one listing at a time. The second option is to do a bulk file upload where you can set up variations and upload more than one listing at a time. Both methods work, but we have found that updates happen much faster when you use the bulk file upload.
If you need help with writing your first Walmart listing, check out this video from Project W that shows you how to create your first product listing.
How Do I Become a Successful Walmart Seller?
In order to become a successful seller, you must put in the time and effort to learn how to sell on Walmart, implement what you learn, and then manage your account daily. Many sellers will say that they listed their products and haven't had any success, but whenever we ask them about PPC or any marketing strategies they are utilizing they usually have not implemented anything. If you want to be successful on Walmart, you can't just list a product and hope for the best.
Here is your product listing checklist to make secure your best chance to succeed on Walmart:
Create excellent images that include clear images of the product itself, infographics, and lifestyle images.
Write your listing with important keywords and follow Walmart's guidelines for listing formatting.
Utilize PPC advertising through Walmart Connect or an API like Pacvue
Try sending outside traffic to your Walmart listing through Google or Facebook ads or influencers.
Make sure that your products are competitively priced compared to products of similar quality and function on Walmart Marketplace.
Syndicate your reviews from your website. Walmart allows you to upload reviews from your website so take advantage of this amazing opportunity while your can. Apply to syndicate your reviews here: Walmart Review Syndication Application.
Manage your account daily to answer customer questions and concerns to maintain your account health.
What Are You Waiting For?
Now is the time to sell on Walmart!
If you want to be successful selling on Walmart US, you have to put in the effort to make your listings stand out from the competition and you need to market them to your target audience.
Selling on Walmart is an excellent opportunity that will cost very little to get started. It's time to strike while the iron is hot and get yourself positioned on the Walmart Marketplace for success.
Frequently Asked Questions
Everything for your business on Amazon.
Find out more about our products by signing up or speaking with one of our
Customer Success representatives today. With us in your corner, you can enjoy
more sales and increased engagement from your Amazon business.
Chat with a Support Specialist