How A 50+ Member Amazon Agency Team Has Been Using Helium 10 To Deliver 8000+ Product Listings Over 4 Years (Learn Their Day-to-Day Process)
Originally published on: August 28, 2022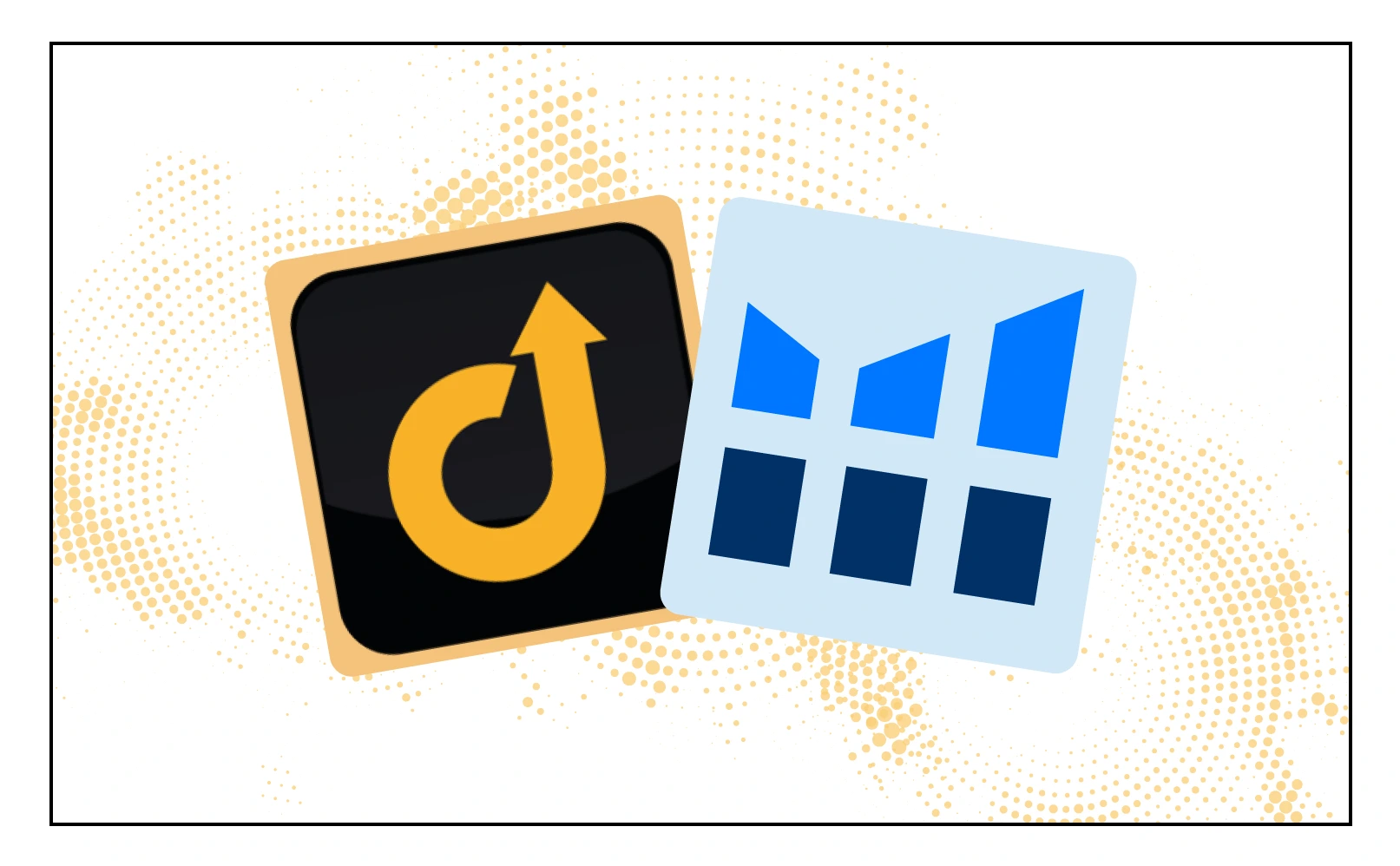 You've probably read numerous articles and case studies showing how Helium 10 is truly a valuable tool for Amazon sellers.
From product research to listing optimization and inventory management, it offers a comprehensive suite of tools that can help push any Amazon listing to the top.
In this article, however, we talk about how Helium 10 is used to streamline the operations of an agency, more specifically, an agency that creates and optimizes listings for Amazon sellers.
Helium 10 and OJ Digital Solutions – 4 years and beyond!
OJ Digital Solutions is a niche Amazon agency founded by Omar Deryan that specializes in Amazon listing optimization in different languages, including English, Spanish, German, French, Italian, Dutch, Swedish, and Polish.
We work with beginner sellers as well as with established brands that have large catalogs of products.
Our executive team is made up of mainly writers, translators, and SEO-trained editors.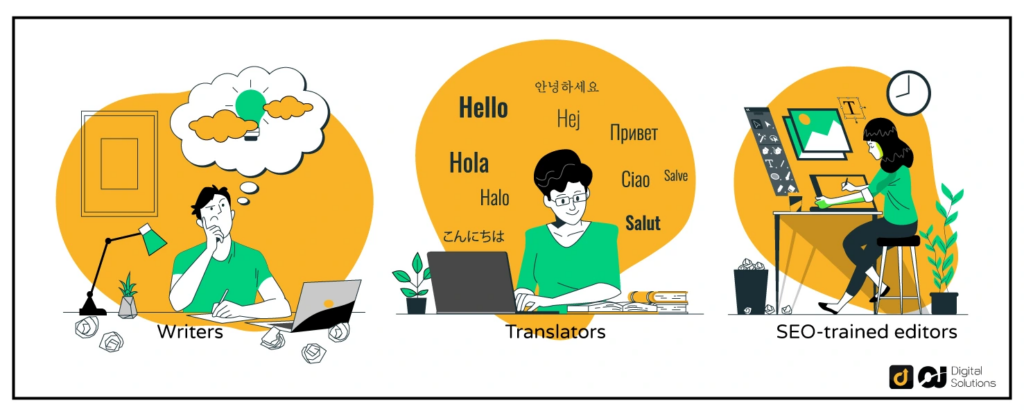 As you can imagine, our service is quite complex because we have to optimize listings in multiple markets and languages.
Since we are an agency, our delivery relies on people. The more we grow, the more we need people to deliver.
A solid operation process is necessary to grow responsibly without messing up the quality of our work.
I must say that Helium 10 has made our daily operations completely frictionless.
Without it, we couldn't have scaled our operations from 2 members to 50 members today.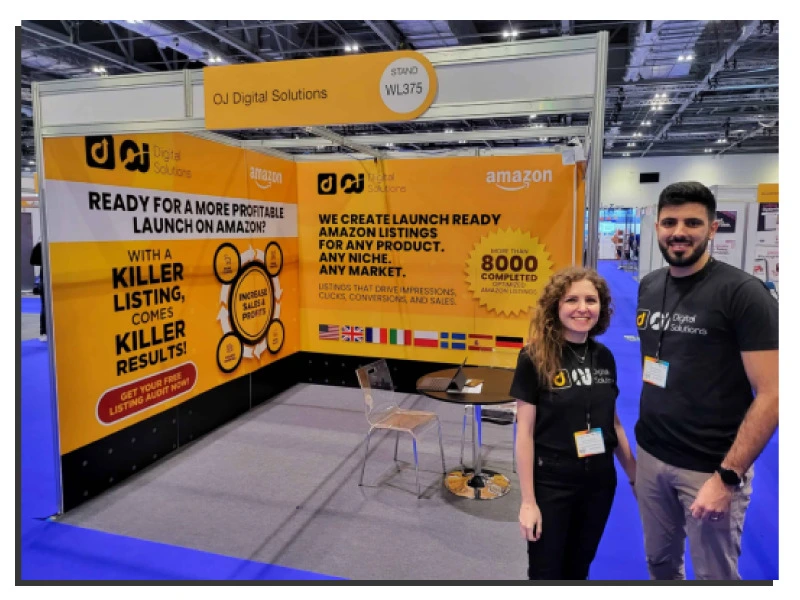 We have been using Helium 10 since 2018, so 4 years already! And we have never looked back since.
What Helium 10 Tools Do We Mainly Use At The Agency?
Helium 10 offers more than 25 Amazon seller tools.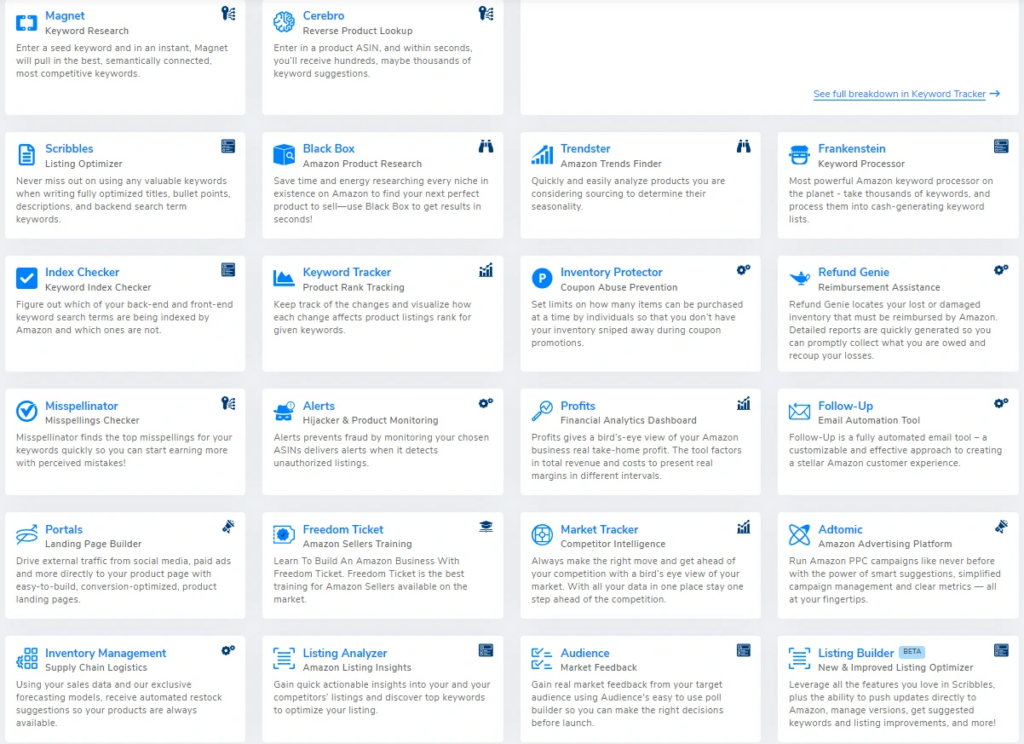 But since our agency is geared towards creating and optimizing product listings, we only use a handful of these tools to help boost our work efficiency.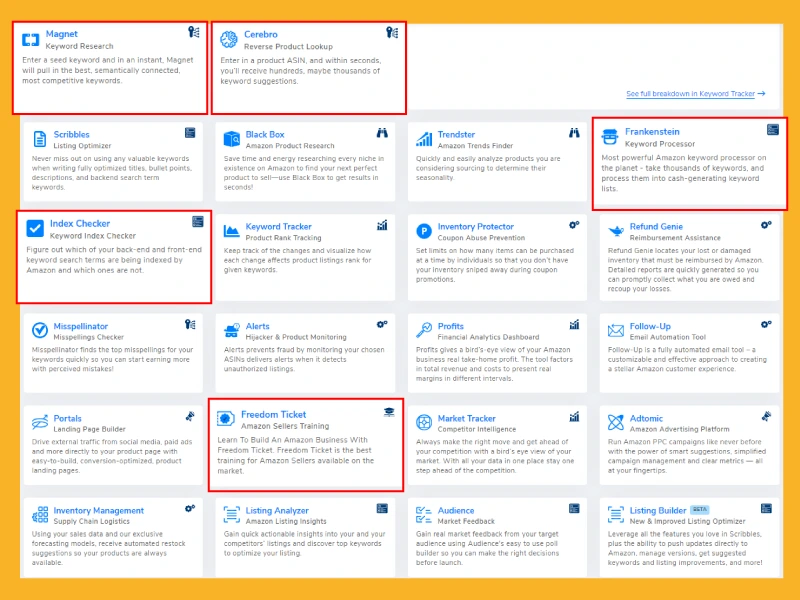 Here is the process at a glance: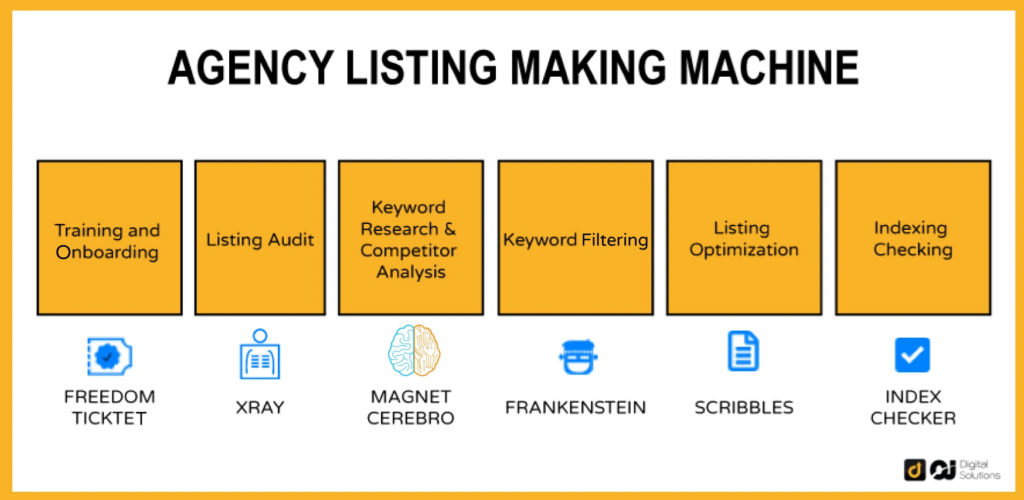 Magnet2
Finding the right keywords and inserting them in the right places is crucial for making a page rank high on Amazon searches.
Our editors use Magnet to pick the hottest relevant keywords to include in our client's listing.
In this example, we will get a list of Amazon keywords that are related to "sandwich maker".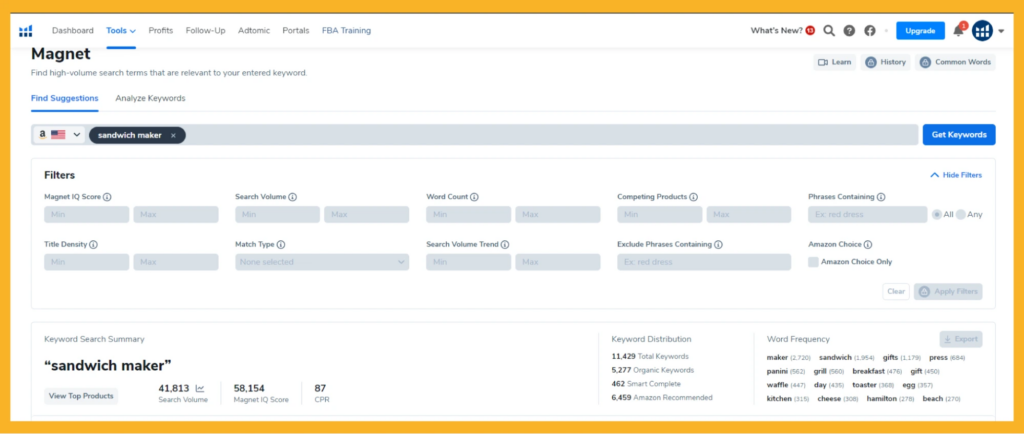 With just a click of a button, we can pinpoint high-ranking keywords that are searched most by Amazon users.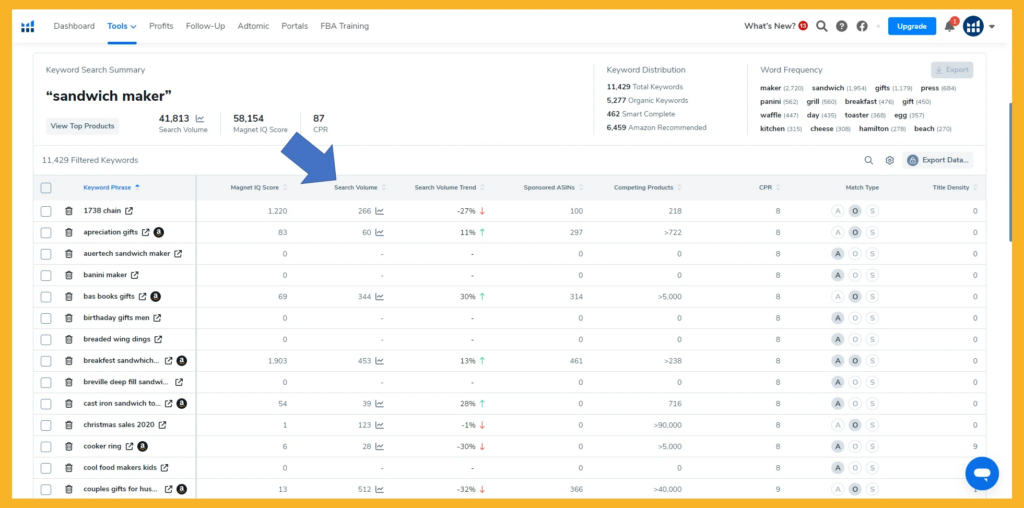 Cerebro
It's always a smart move to know about your competitor's selling strategy.
Editors use Cerebro to extract even more relevant keywords used by top-performing competitor listings. This way, we can also integrate them into our client's pages.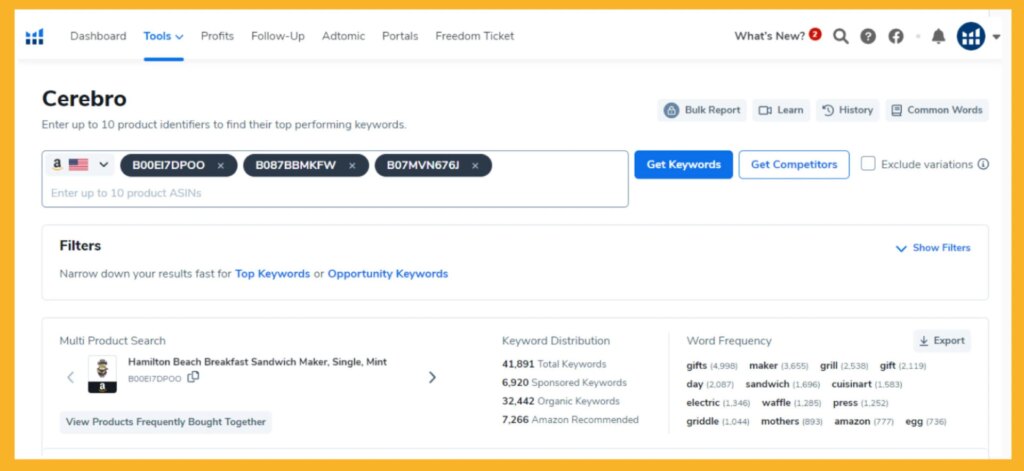 Through Cerebro, we can also easily identify the client's top competitors.
This lets us check out their reviews, find out what their product's strengths and weaknesses are, and use that information to fine-tune the positioning of our client's listing.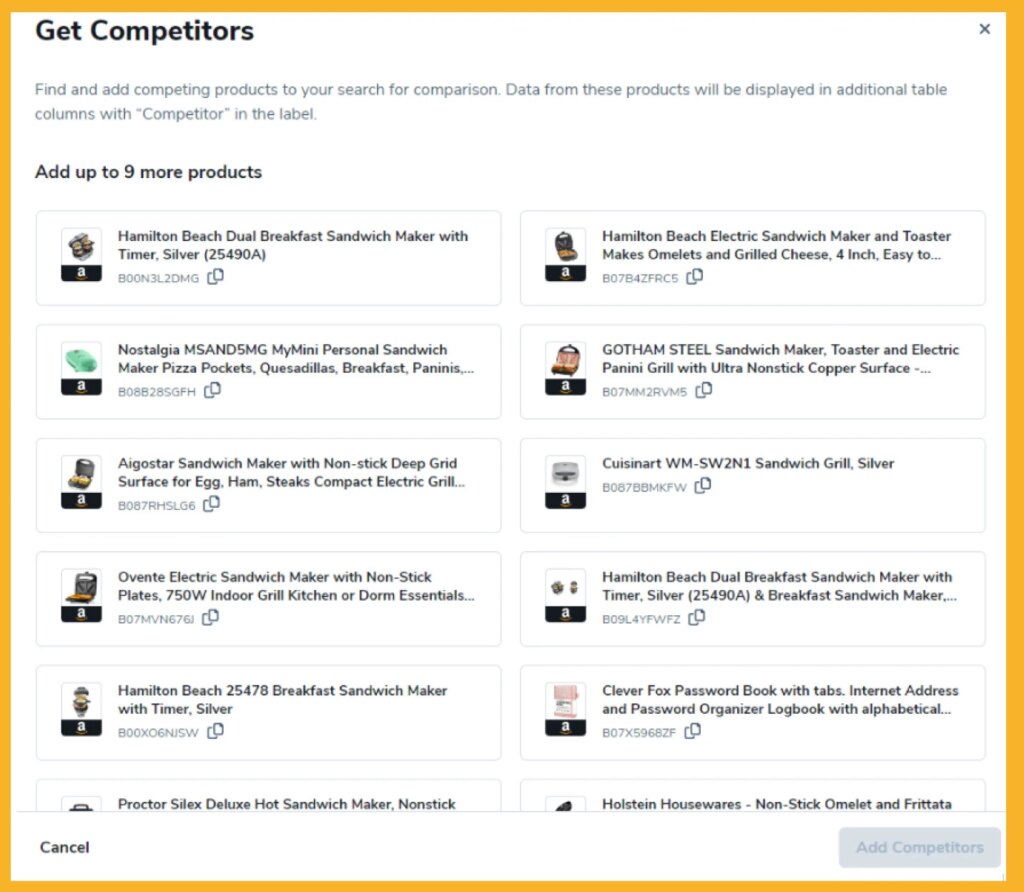 Frankenstein
After using Magnet and Cerebro, our editors feed all the gathered keywords into Frankenstein.
This tool tosses out duplicate words and useless modifiers.
Frankenstein then produces a whole new list of relevant keywords and sensible phrases, strung together from unrelated words and terms from the initial keyword list.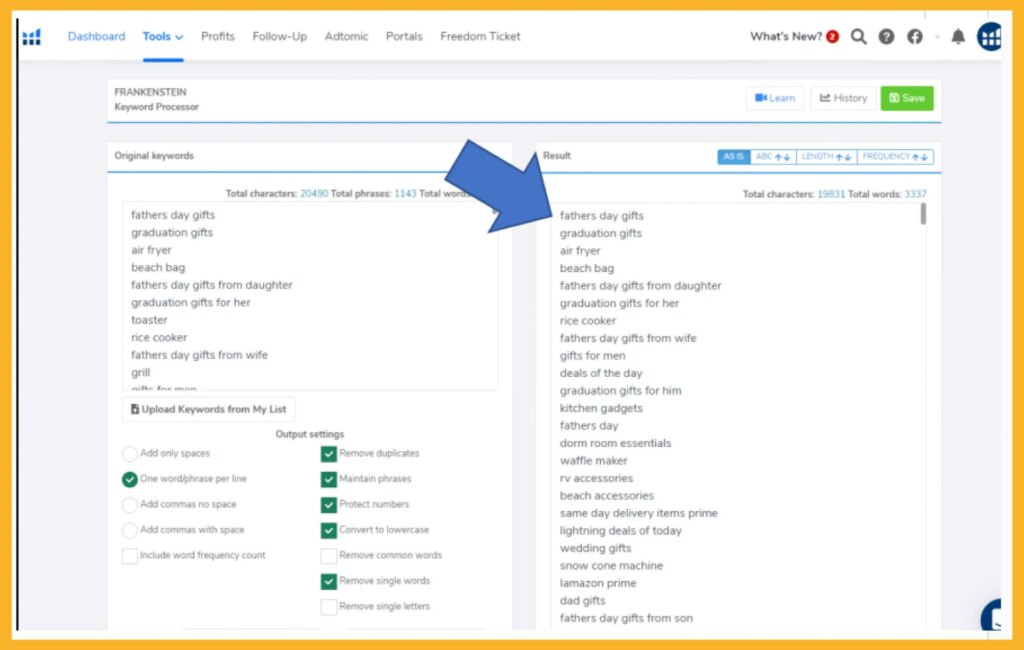 Adding these new phrases to the listing makes sure that the client's page also appears on less competitive keyword searches.
Scribbles
Scribbles is where the listing begins to take shape.
Our writers use Scribbles for constructing the listing's title, bullet points, product description, and back-end keywords from scratch.
Once the listing has been written, editors take over and feed their keyword list to Scribbles to begin the optimization process.
Scribbles also helps us respect Amazon character limits for every part of the listing.
We don't have to manually copy and paste the text into a separate character counter just to check if we are within the limits or not.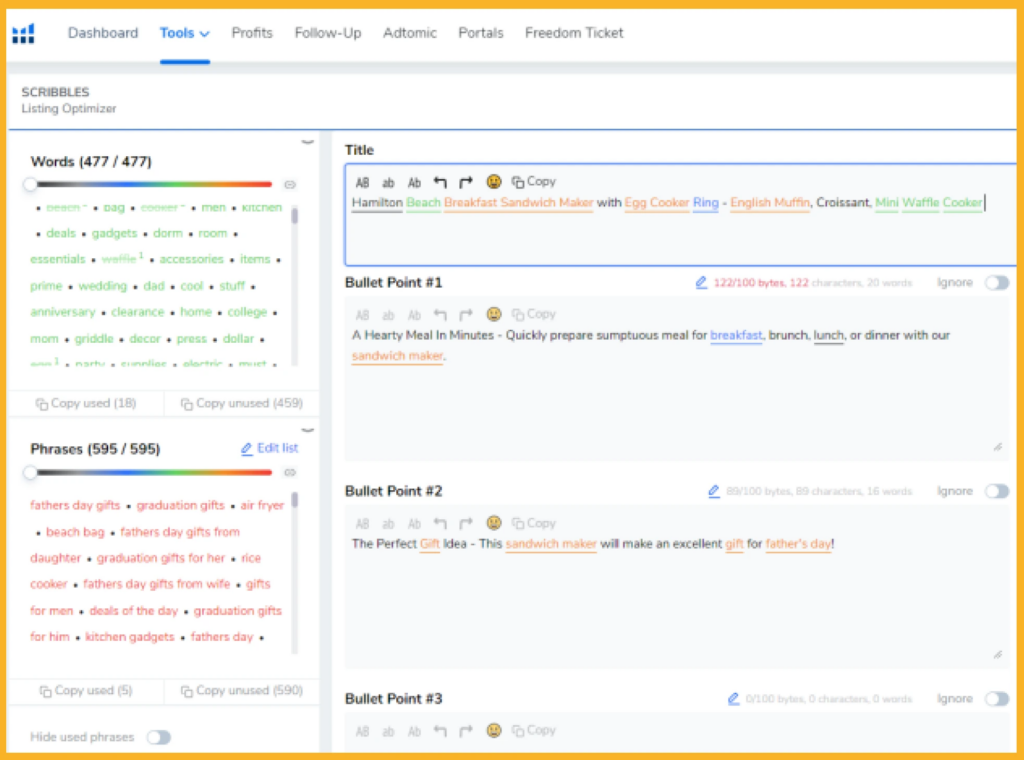 Xray
We use Xray in auditing product listings.
This tool helps us know more about a product's review ratings, sales trends, and revenue estimates – basically how well it is currently performing in the marketplace.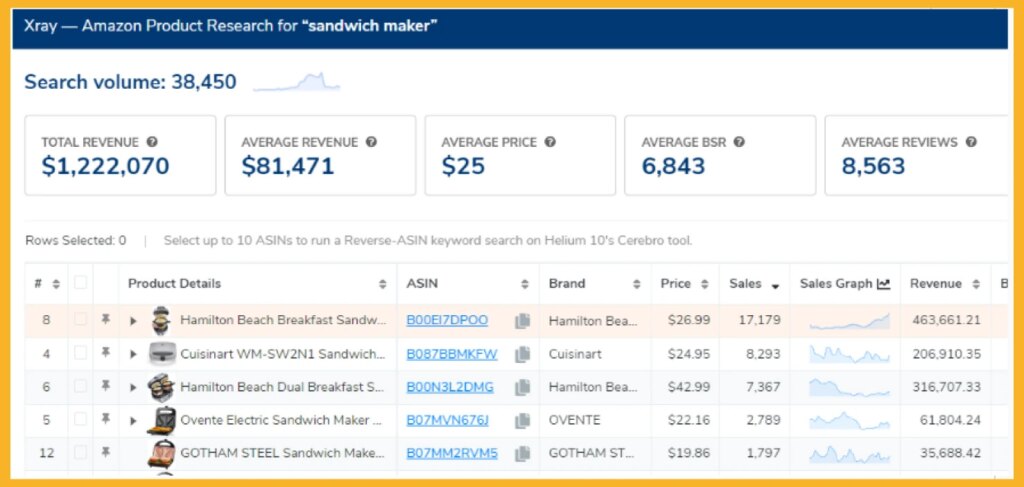 Index Checker
Another tool we use for auditing listings is the Index Checker.
We use the Index Checker after delivering a listing to our client.
Once the seller updates the listing on Amazon, we use this tool to make sure that the new listing has been indexed by Amazon.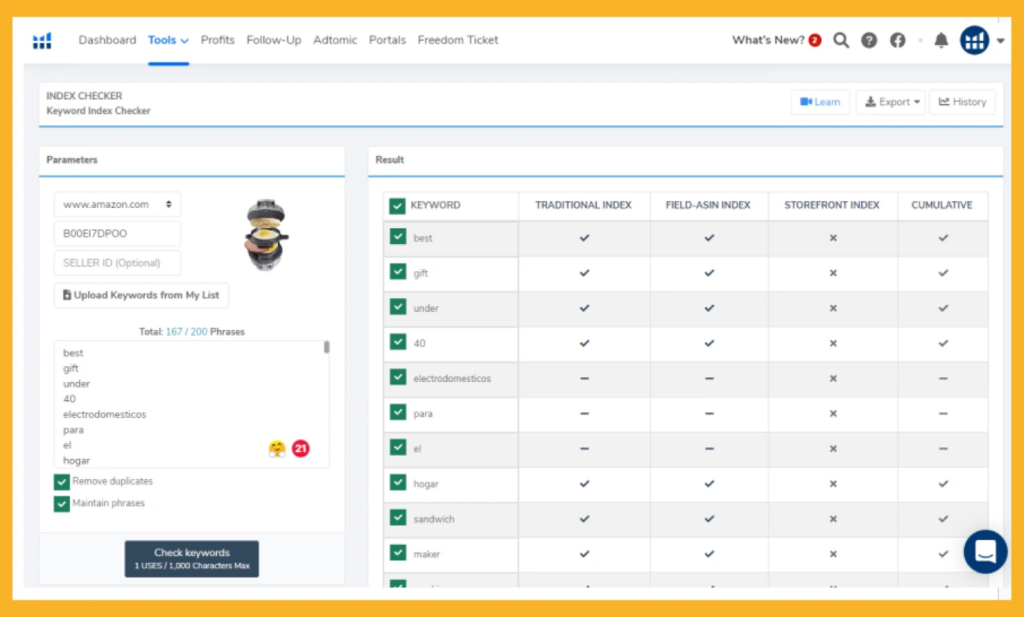 We also use this tool with sellers who already have an existing listing published on Amazon.
Index Checker tells us if the keywords used in their listing are indexed or not.
Freedom Ticket
Every team member has to be on the same page for our business to thrive.
To ensure they hit the ground running, every new hire needs to watch Helium 10's Freedom Ticket Training videos before joining the agency.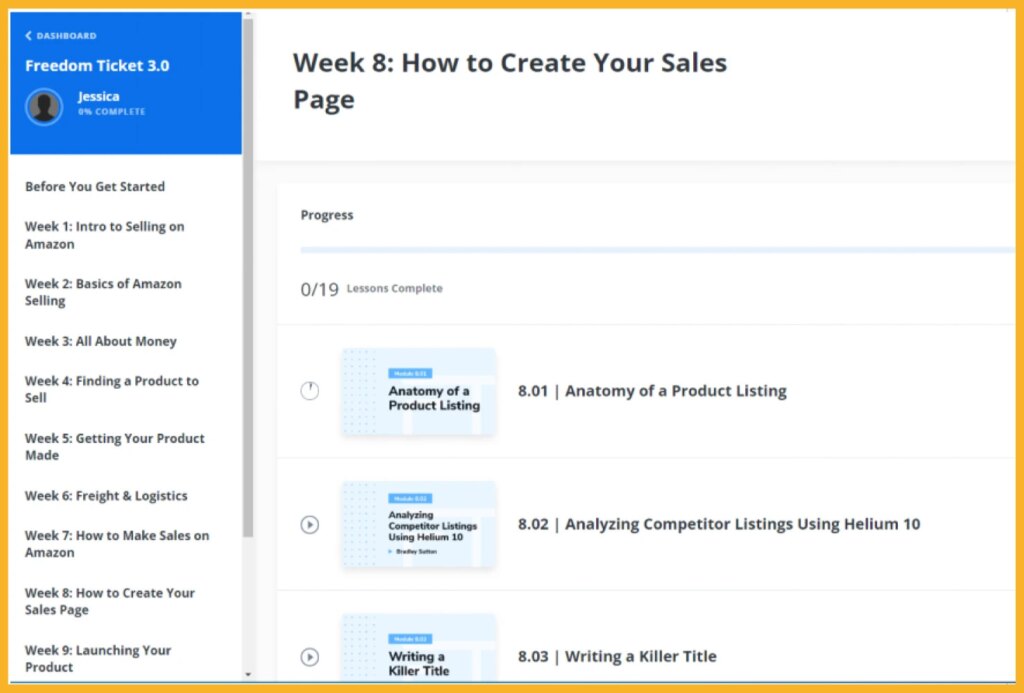 What We Love About Helium 10
Delivering listings on time is something we prioritize every day.
As an agency that eats listings for breakfast, we owe it to Helium 10 for helping us save precious time, money, and energy on a daily basis.
Helium 10 streamlines our Amazon listing optimization work and operations, allowing us to get more things done in much less time.
In fact, with Helium 10 in our arsenal, we can dish out a fully optimized, edited, and well-written listing in as little as 3 hours, maybe even less!
How Helium 10 Makes Work Easy For Our Team
For editors, most of their keyword research processes are done through Magnet, Cerebro, and Frankenstein.
Through these tools, they can quickly locate keywords that are most searched for by shoppers in different Amazon markets.
In just a few seconds, editors can find out which products rank high in a specific category, what keywords the competitors use in their listings, and how well those keywords perform in searches.
Through Magnet and Cerebro, we can also instantly generate Keyword Research spreadsheets, which we submit to our clients for their reference.
With Scribbles, writers can instantly check the listing's character limits and word count – there's no need to use a separate character counter tool.
Our translators also have an easier time doing their job since they can conduct keyword research in their native language and optimize the listing simultaneously on just one page.
Just by clicking a button, editors also get quick access to listings done by writers on the History page.
Scribbles also automatically tracks all the keywords used in the listing and how often they have been used.
From time to time, we conduct listing audits to determine how it is performing in the market.
Sometimes we also need to evaluate a listing's quality and see where it needs the most work.
For these tasks, Xray is our go-to tool to help us do the job faster and more efficiently.
What made us love Helium 10 more is how simple their interface works. With its intuitive dashboard, even our non-tech savvy members have no trouble navigating through the pages!
Bottom Line
Time lost is money lost.
That's why as an Amazon listing provider, delivering to clients in a timely manner is extremely important to us.
Thanks to Helium 10's keyword optimization tools, our small team has grown larger and in a responsible manner.
By using the tools mentioned above, we are able to function just like a well-oiled machine that churns out fully optimized listings round the clock.
Everything for your business on Amazon.
Find out more about our products by signing up or speaking with one of our
Customer Success representatives today. With us in your corner, you can enjoy
more sales and increased engagement from your Amazon business.
Chat with a Support Specialist