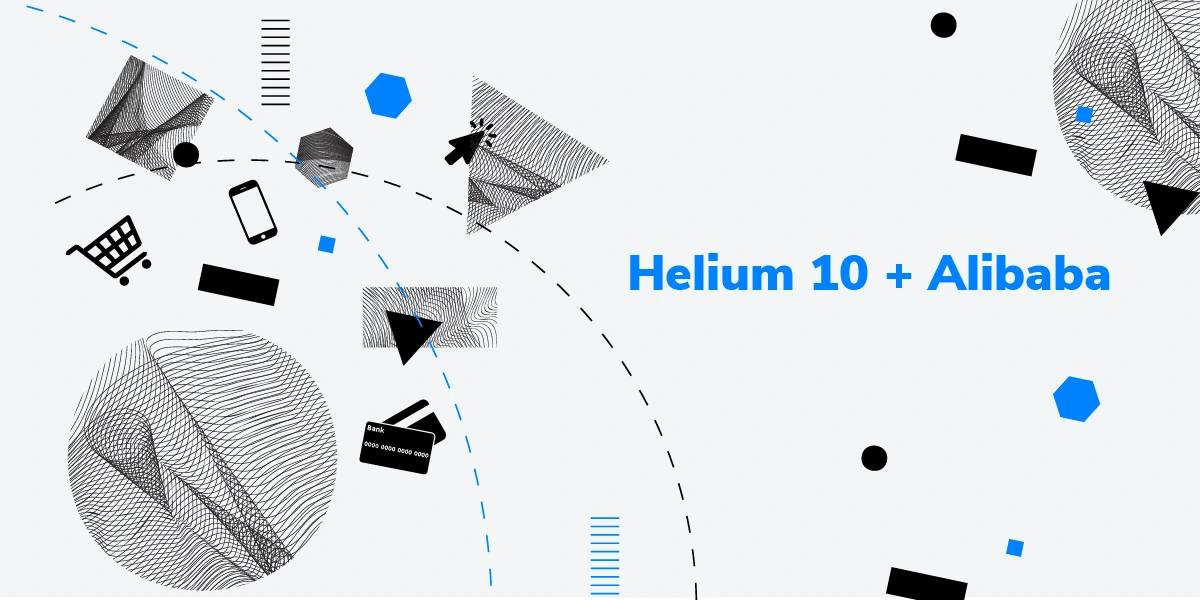 Helium 10 Partners with Alibaba to Bring Sellers and Suppliers One Giant Step Closer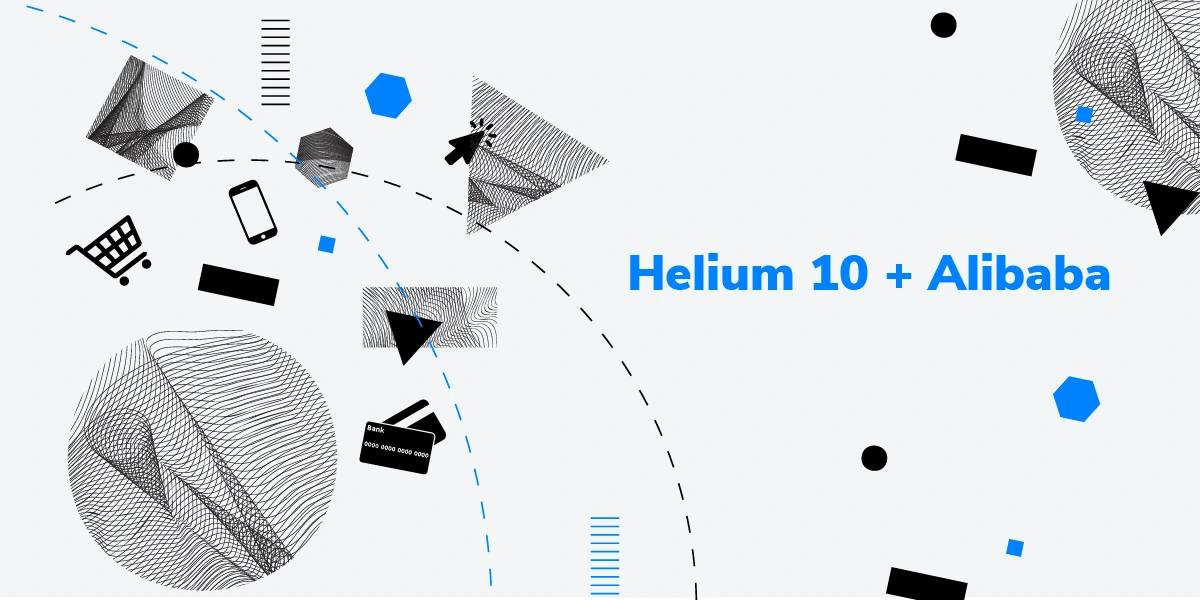 There are over 500,000 active users of the Helium 10 Google Chrome extension who use this groundbreaking tool to assist their Amazon product research. The majority of these current and future Amazon Sellers are looking for their first, or next, private label opportunity for their business.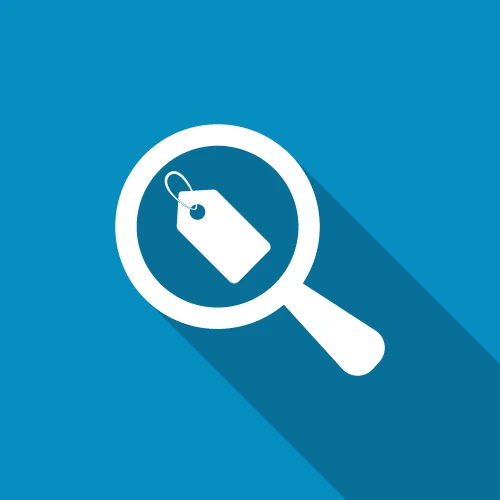 There are many different ways to first identify potential opportunities. Our recent product research webinar showed more than 10 of these ways. However, no matter how you find the opportunity, you need to eventually find your way onto Amazon to validate that opportunity.
But the journey does not end there. Once you want to move forward with this potential opportunity, you have to find somewhere to source your product from. After interviewing many of our users about their personal process, we found an opportunity to help streamline the method.
Many of you out there were doing the same thing that I do after finding and validating a product opportunity. We all visit Alibaba.com to find factories that can produce the product, then get an estimated production cost on it.
This involves opening up other browser windows or tabs, going back and forth between Amazon and Alibaba.com, and generally a lot more headaches. We found that some of the newer users didn't even get this far as they were not aware of how to search on Alibaba.com.
It was a no-brainer for us… we had to make this process better, so we reached out to Alibaba.com to see if they would like to work with us to help our mutual customers find and source products easier. Not only were they excited to help out, but from this partnership, we were able to create another way of finding product opportunity entirely that I will talk about later in this blog!
How Does it Work?
Let's say that you found a product opportunity that you wanted to pursue further… a coffin shelf. After searching for "coffin shelf" on Amazon, and running Xray, you will see a new button that pops up at the top right prompting you to "Source on Alibaba.com."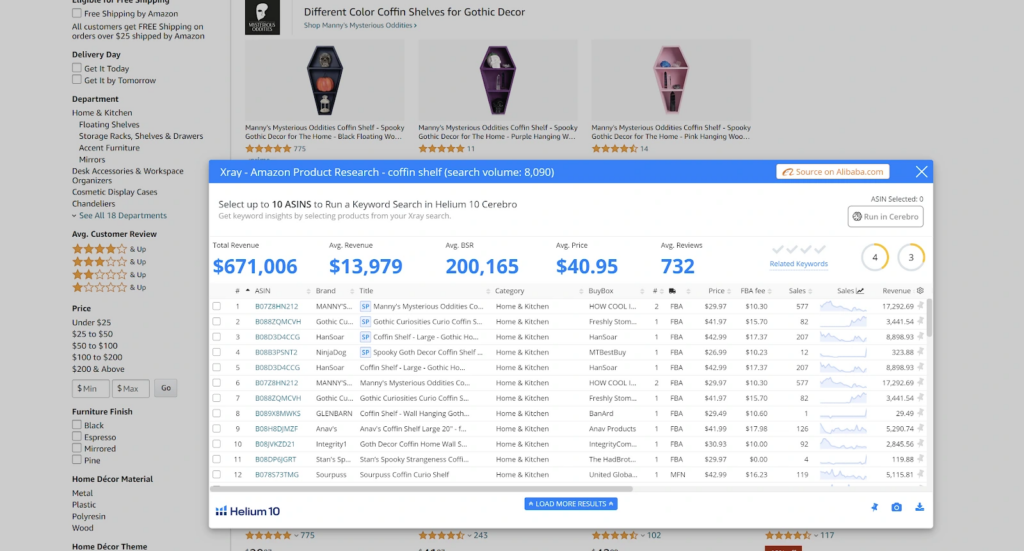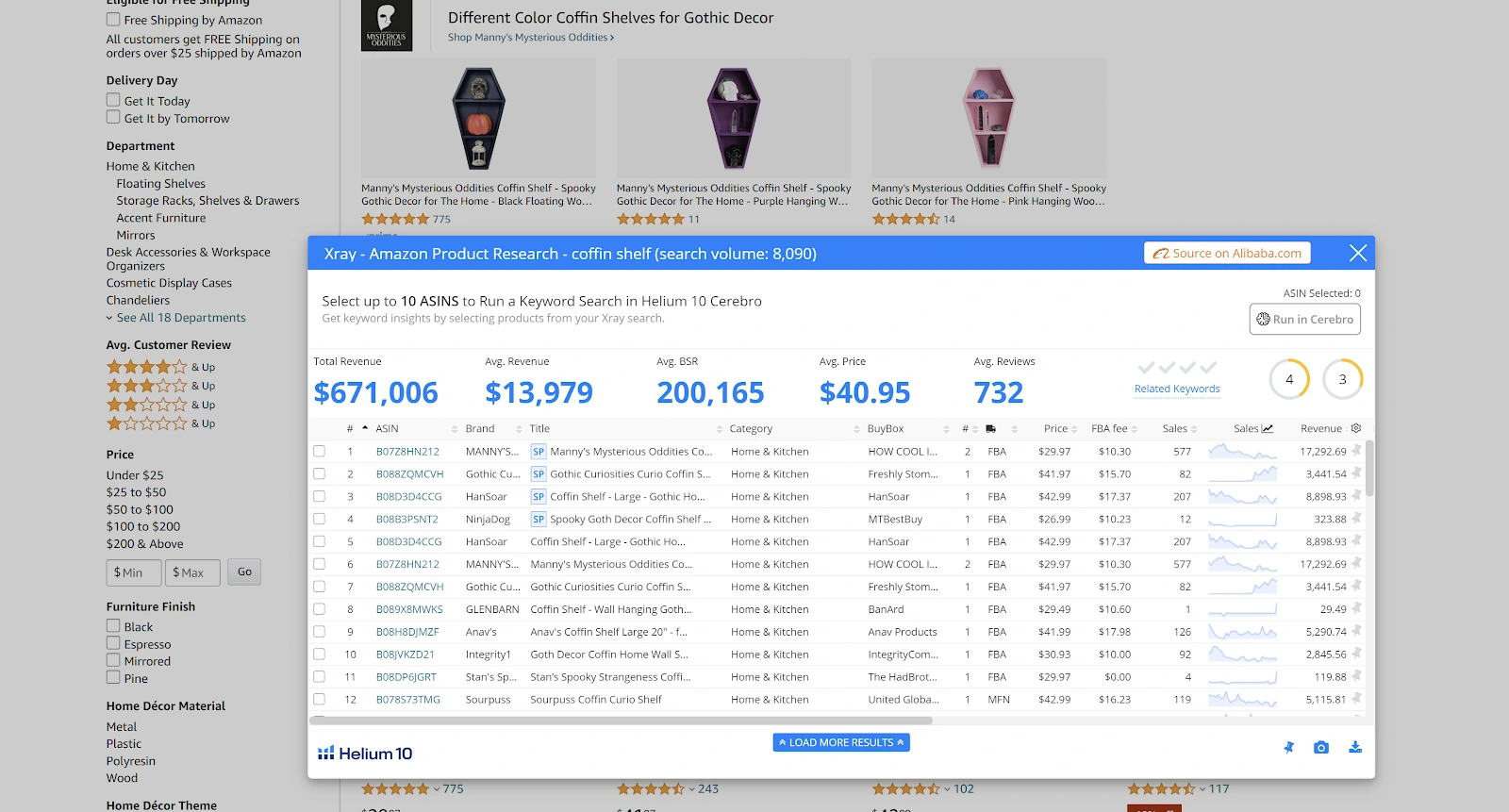 This is where things get fun. Once you hit that button, you will be taken to the Alibaba.com results for that same keyword! No need to leave your browser tab.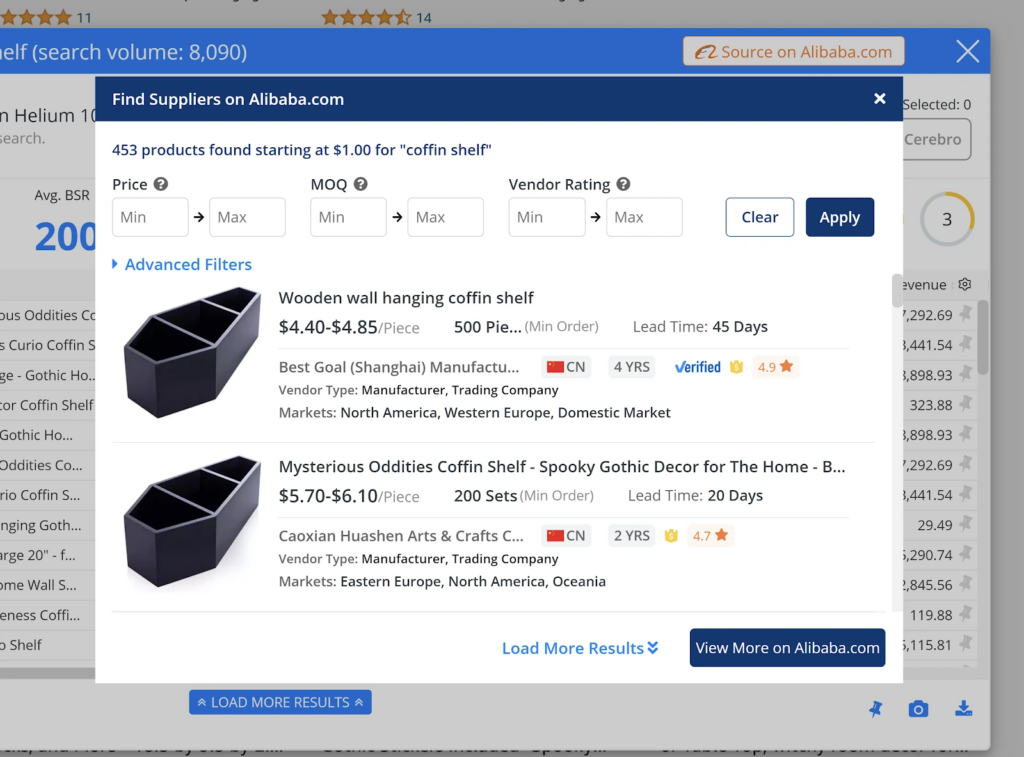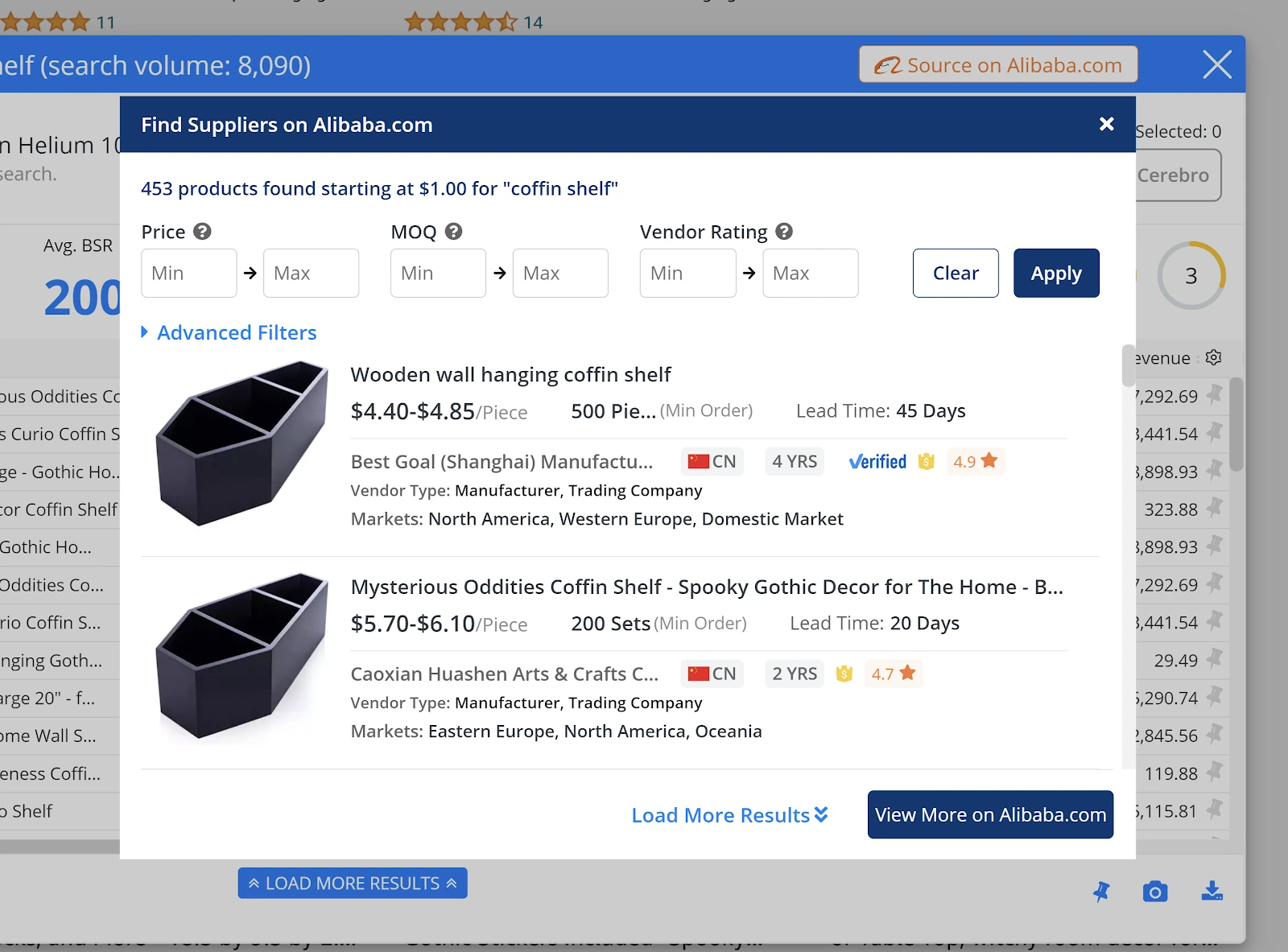 We also asked our users what some of their strategies were for finding a factory to get a quote from. Many of you explained how you would use the existing Alibaba.com filters for things like Price, MOQ, Vendor Rating, Supplier Type, Country, Age of the Account, Verified supplier, and more.
We made sure to incorporate all of these filters!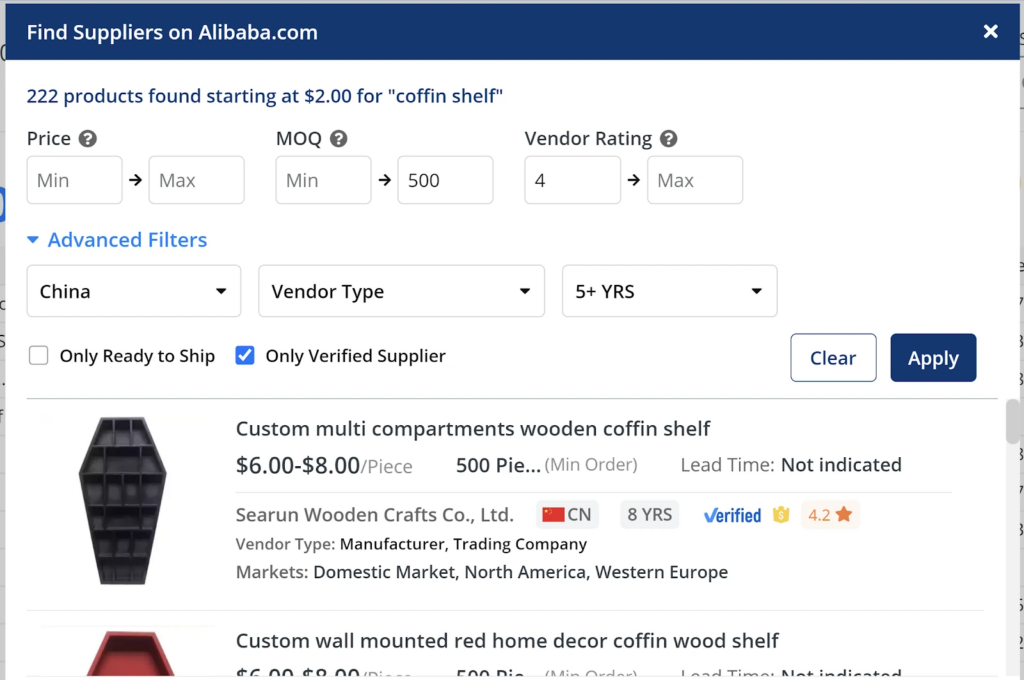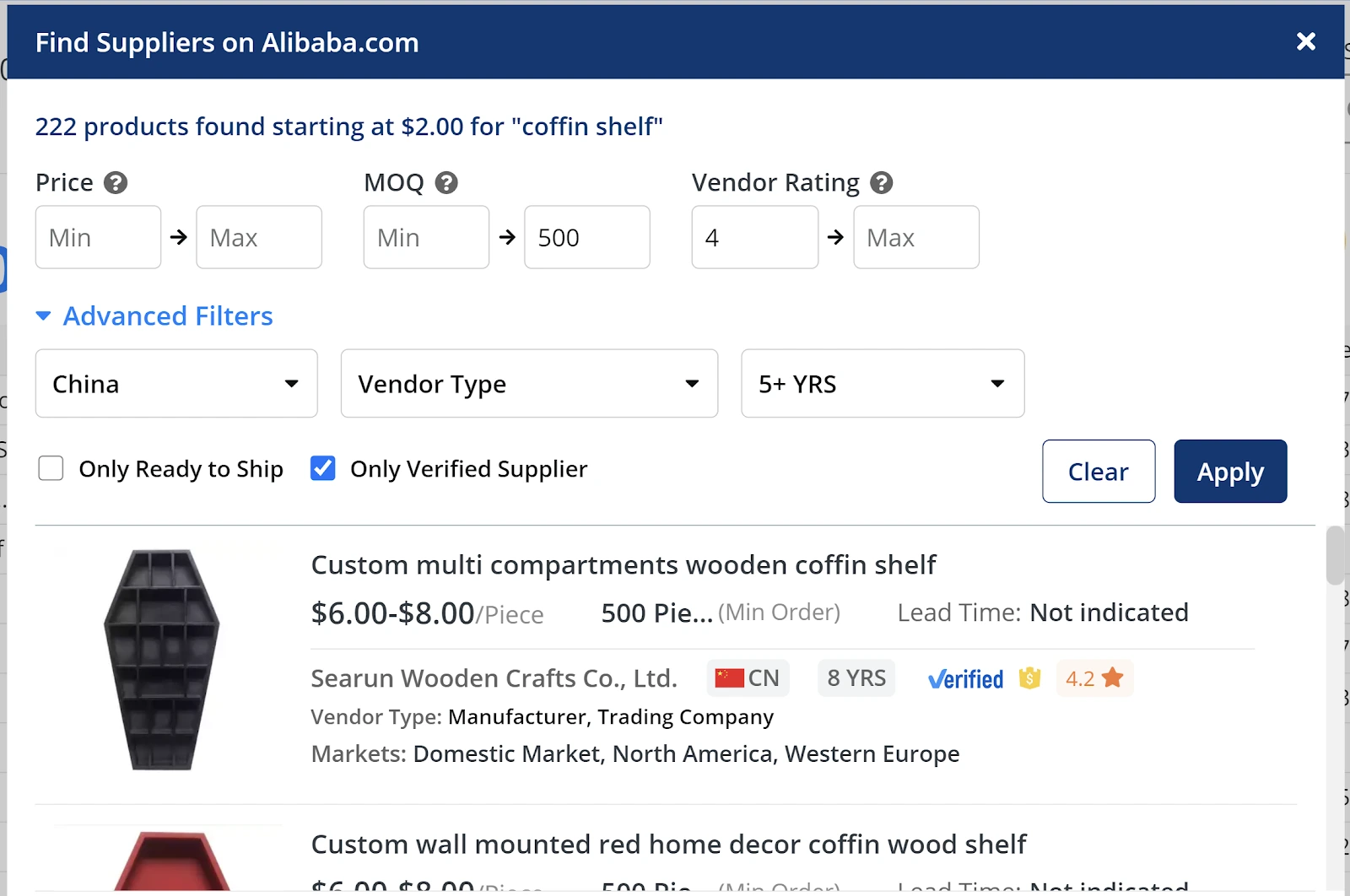 Using some of these filters helped narrow my search down to 222 products. If I was looking to price out something right off the bat, I could take this price here and plug it into the Profitability Calculator (within the Helium 10 Chrome Extension). Now I have a clear estimate of whether this product is going to hit my profit goals.
For example, let's say I was interested in that first one that came up (in the image above). I can maybe estimate that the cost would be $7.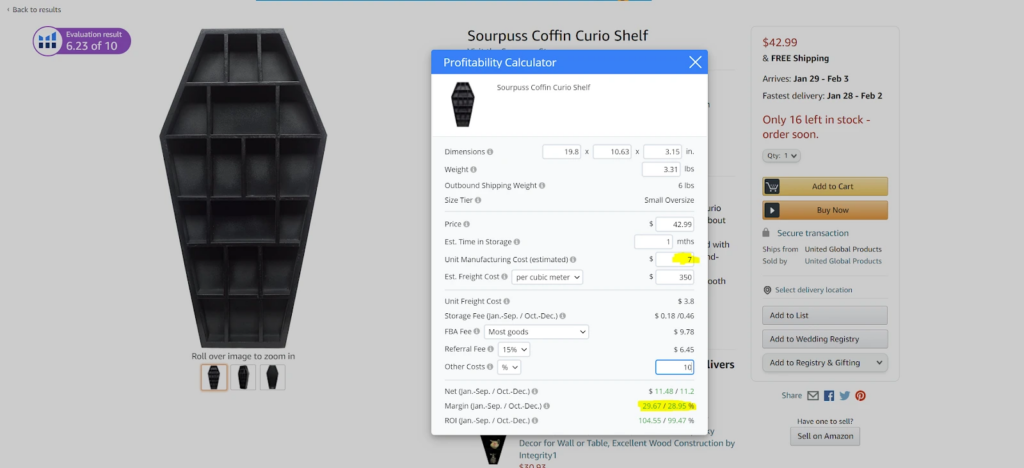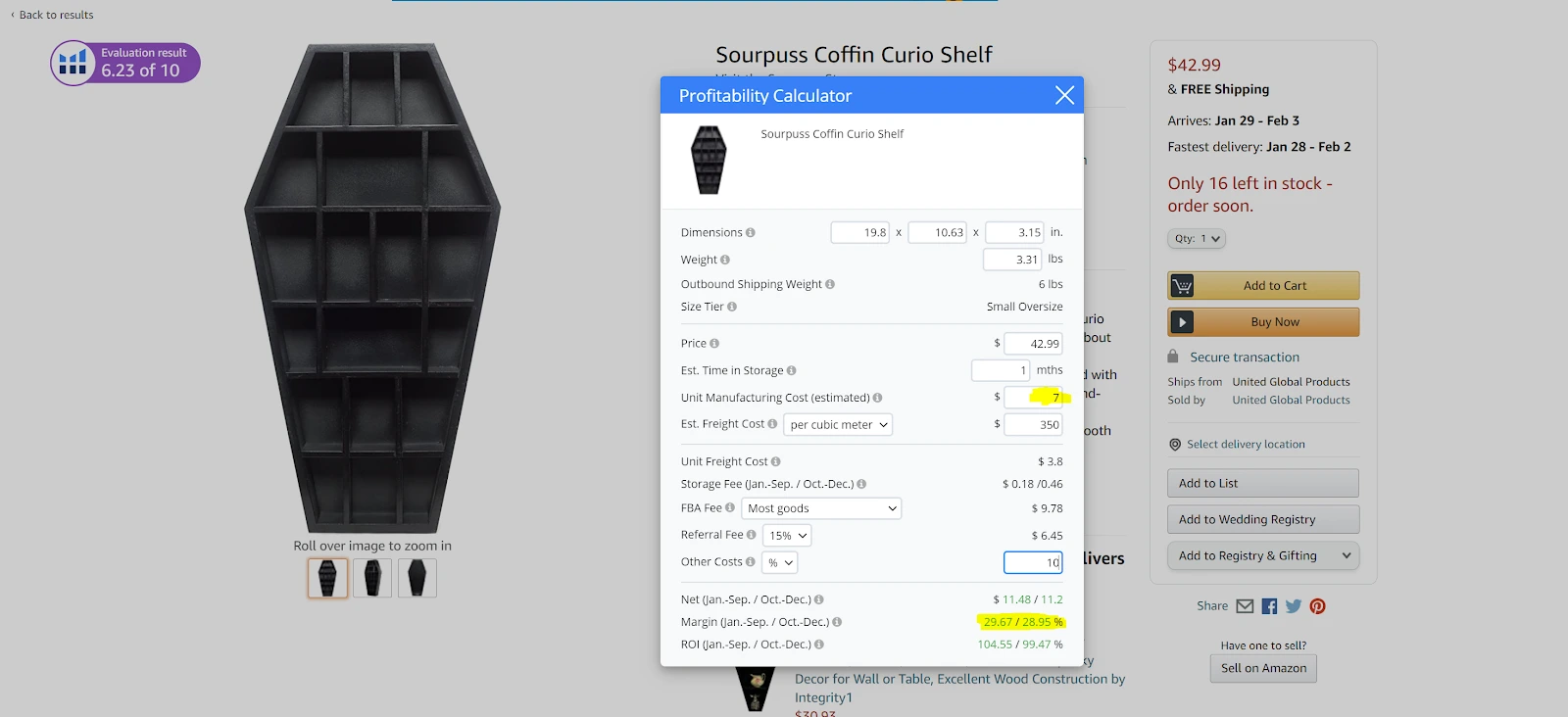 After plugging this information into the Profitability Calculator, I find that my potential profit looks promising. So what would the next step be? I may want to reach out to that factory we found with the Alibaba Supplier Finder. One click from the X-Ray chrome extension takes me directly to the product page and I can contact the supplier straight away!
Start simplifying and streamlining your product research and sourcing with the Supplier Finder today!
But Wait… We're Not Finished Yet
While hundreds of thousands of Amazon Sellers may use a similar method for finding a supplier, this next strategy is used by only a small percentage.
How many of you look for potential products to sell on Amazon, starting on Alibaba.com? Say what?
Here's a scenario. In the above example, let's say that you went ahead and clicked on that product to get a quote from the supplier. If you then clicked into their supplier store on Alibaba.com, many of these factories have hundreds of other interesting and unique products.
I clicked on the supplier from above, and came across a section of their store that had something I hadn't seen before… seems to be a unique style of essential oils organizers.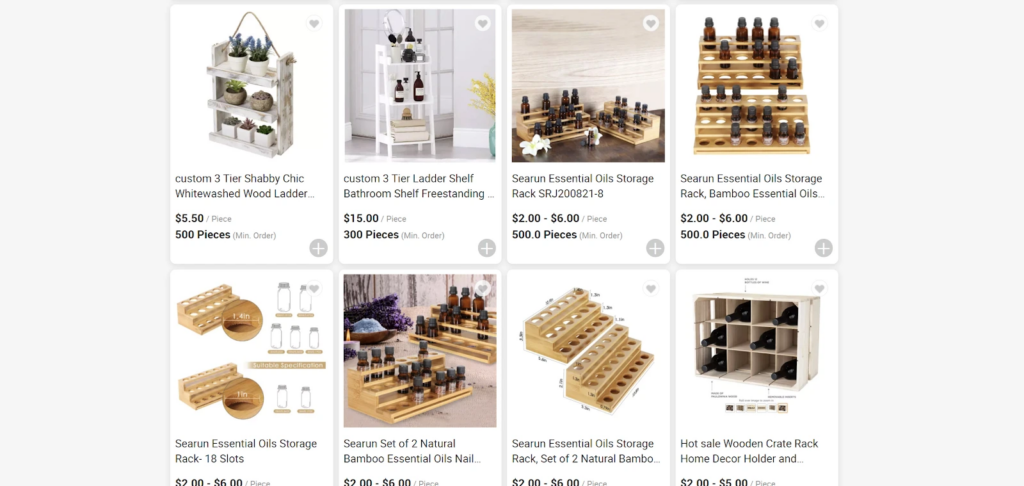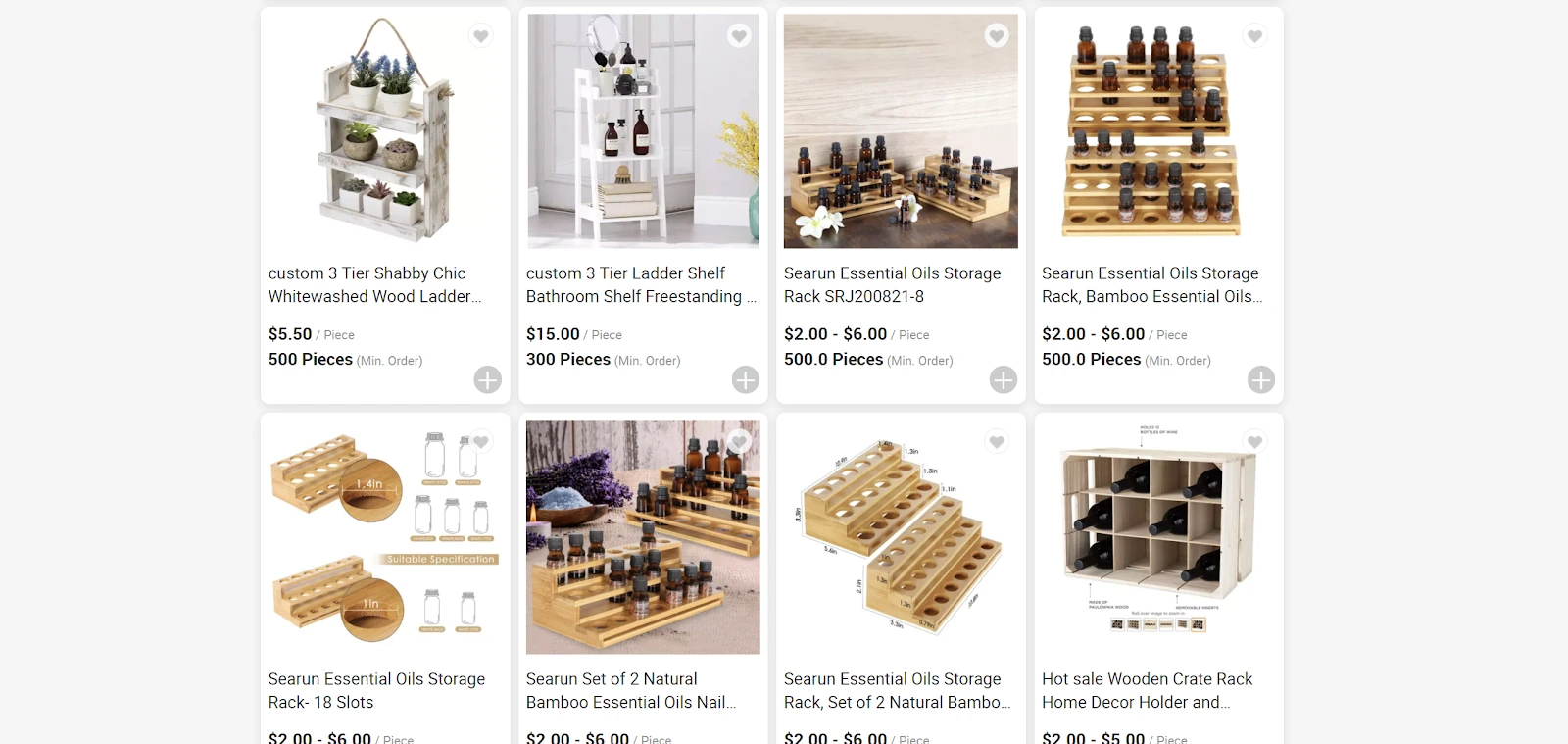 Curious, I decided to see what other suppliers had to offer on this so I searched for "essential oils organizer" on Alibaba.com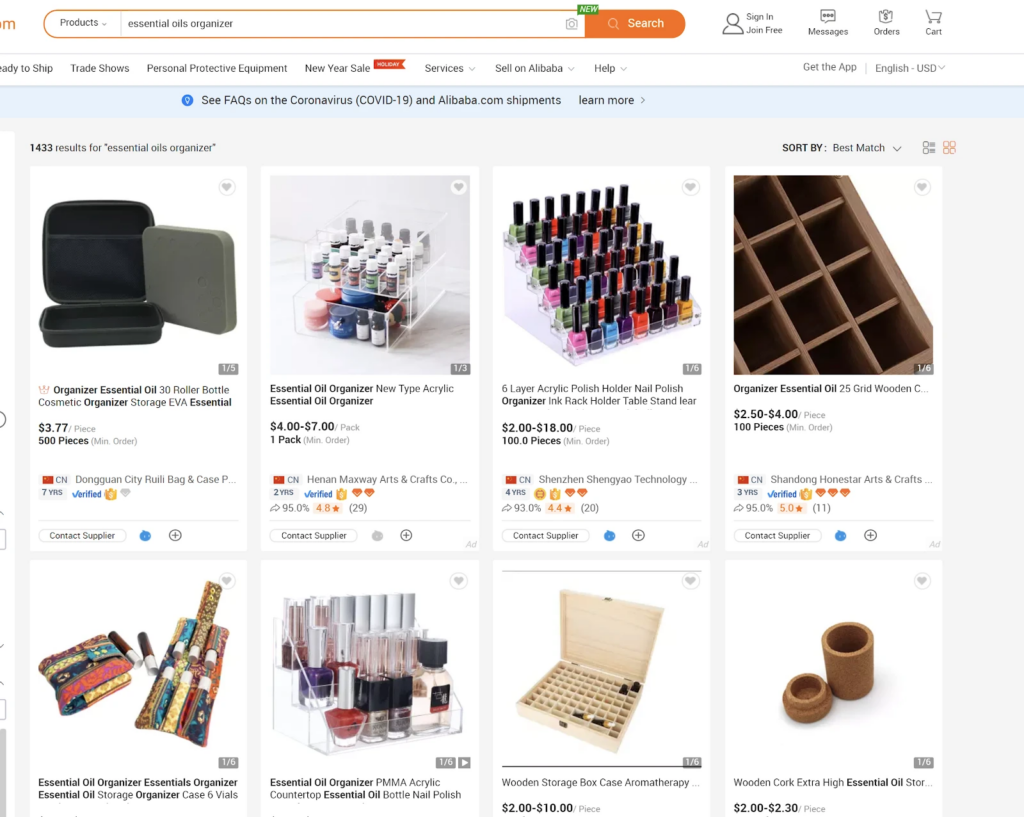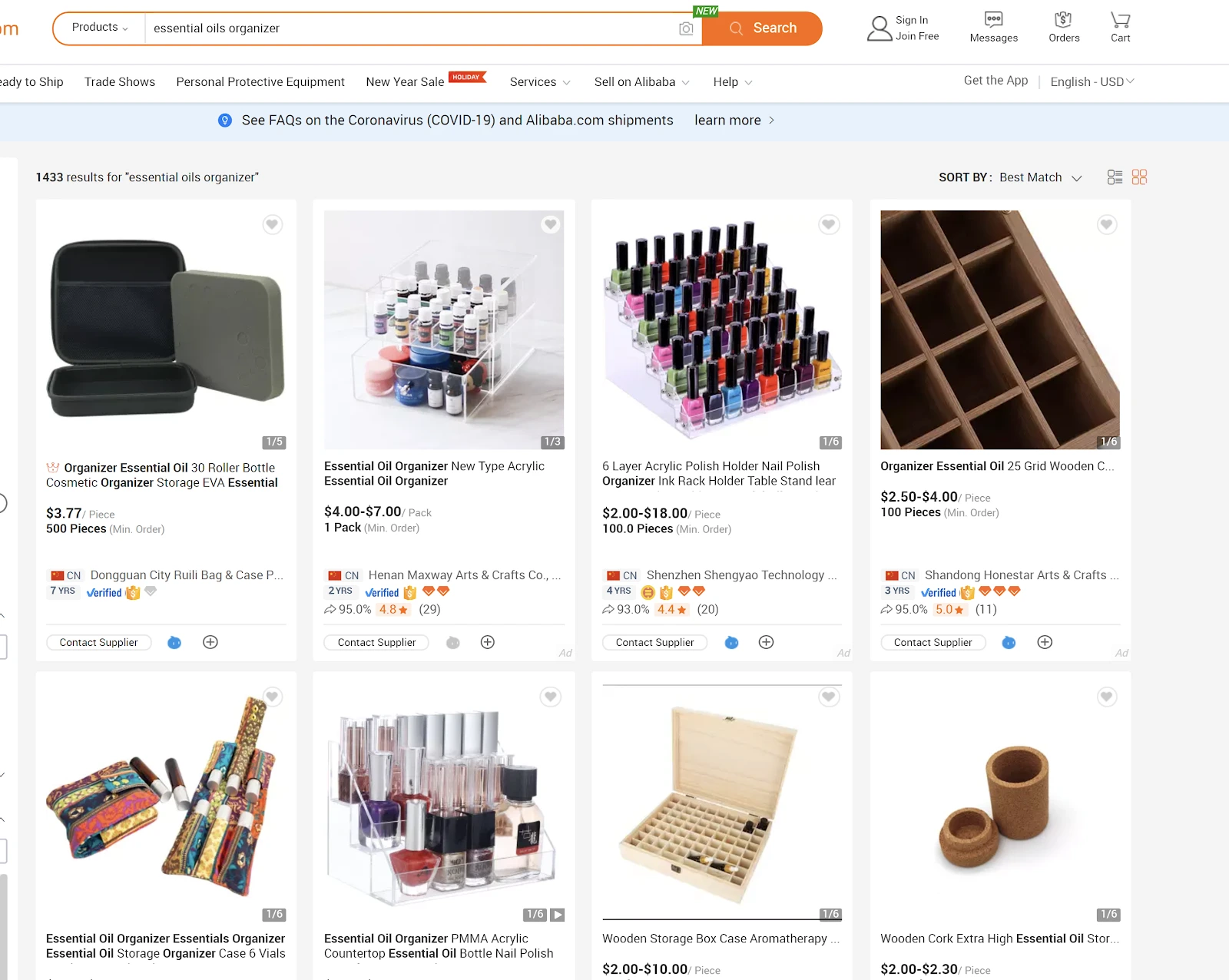 My interest was piqued when I saw that other suppliers, at least on the top of the page, were not offering the same kind of rack that the coffin shelf factory had. This is always something I like to see when searching on Alibaba.com… keywords that have all kinds of different results as opposed to the same product over and over again.
Keep in mind, at this point, I still don't have any solid information. As I mentioned, I had never seen this kind of essential oil organizer before nor knew anything about that niche. I have no idea if this is even in demand on Amazon, or how many competitors there are, how many sales products like this get, or any of that information.
In the past, my next step would be to open up a Magnet keyword search to get the search volume, and perhaps also see some related keywords. I'd also dive into the search volume history to see the seasonality of the demand. I then might search in Black Box Niche or on Amazon itself to see what kind of results there are for "essential oils organizer."
Don't get me wrong… that might sound like a lot of steps, but almost all of those things were not available for someone doing product research 4+ years ago, before those tools existed.
But, again, we knew there had to be a way to streamline that process.
We partnered with Alibaba.com, this time to add functionality of Helium 10 while still on Alibaba.com! Once again, they loved the idea and I am happy to introduce to you the Demand Analyzer for Alibaba.com!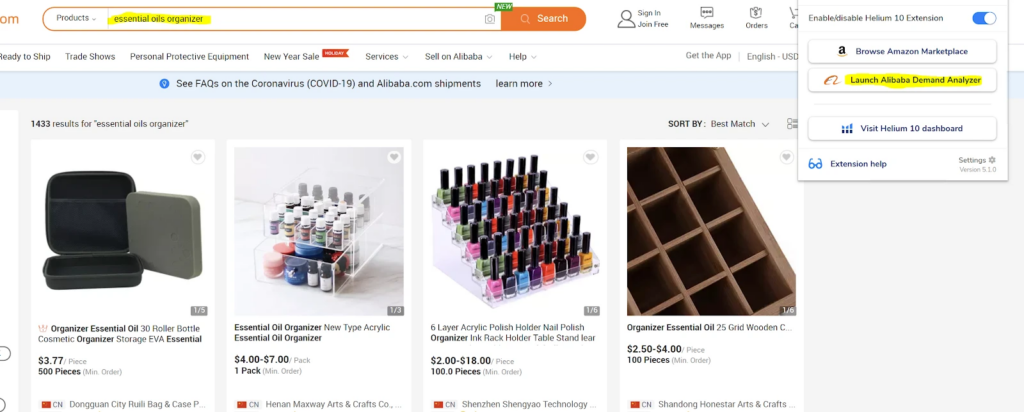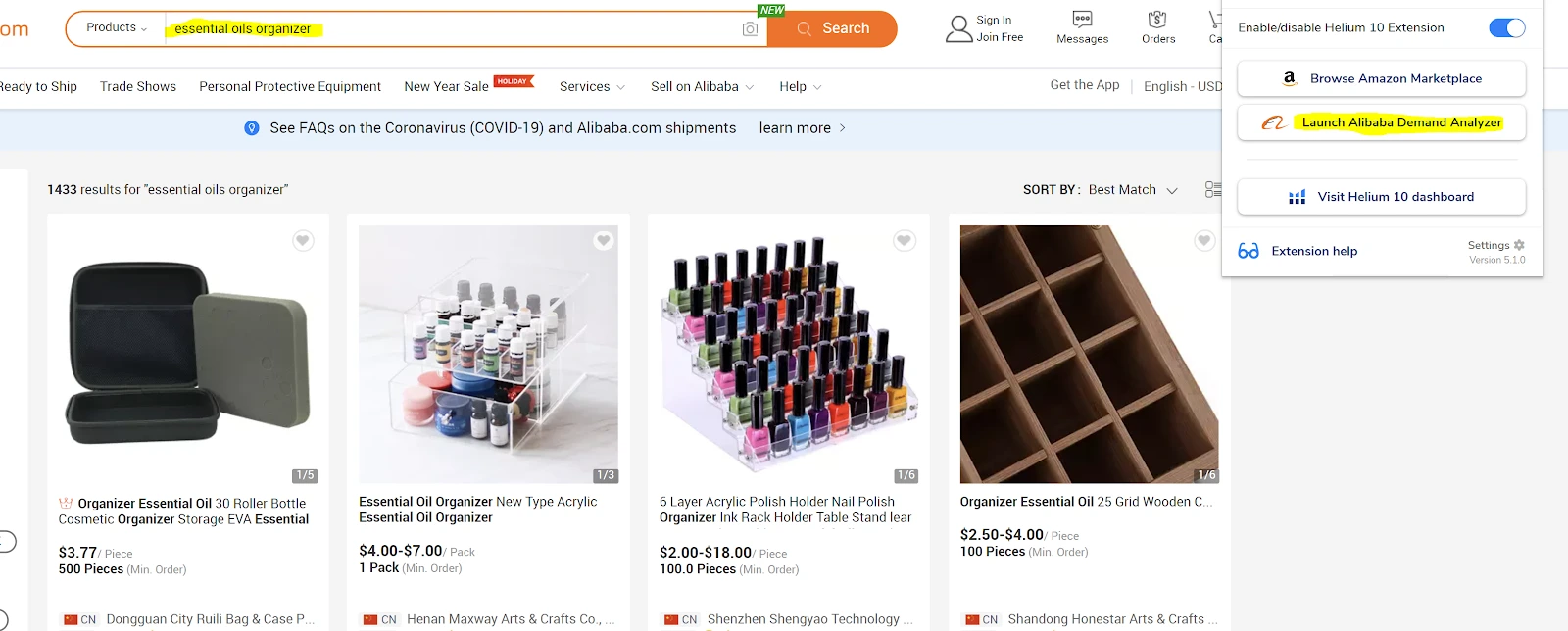 Clicking on the Helium 10 chrome extension while searching on Alibaba.com, you will now get the option to open this tool which gives you all of your favorite Helium 10 insights without leaving Alibaba.com! Helium 10 is the only Amazon seller service that offers this functionality on Alibaba's website.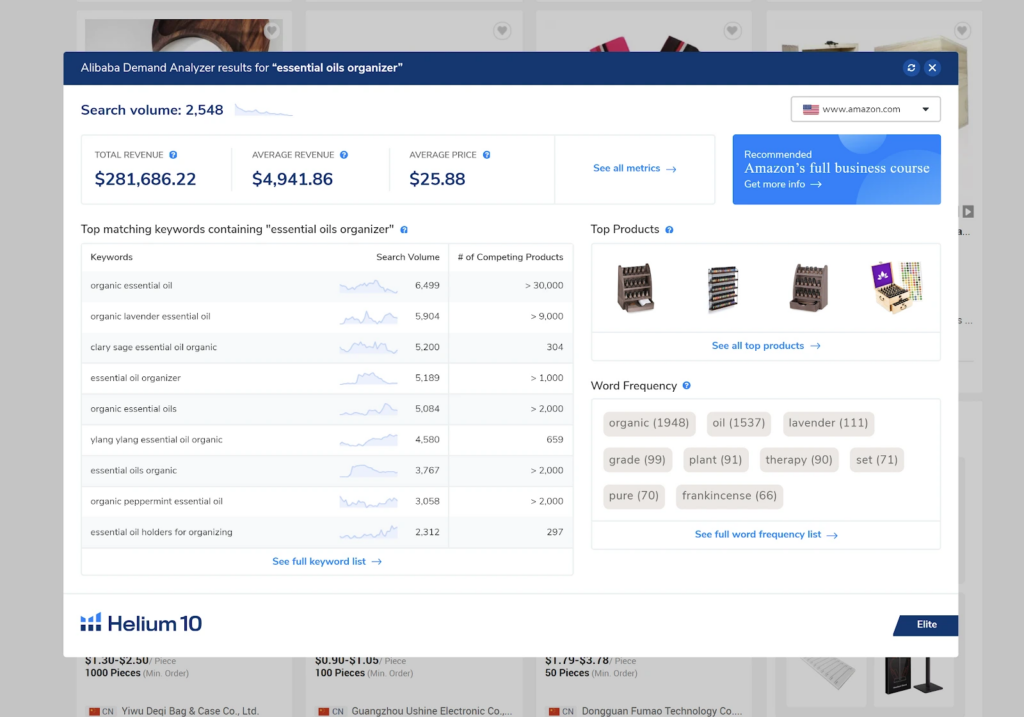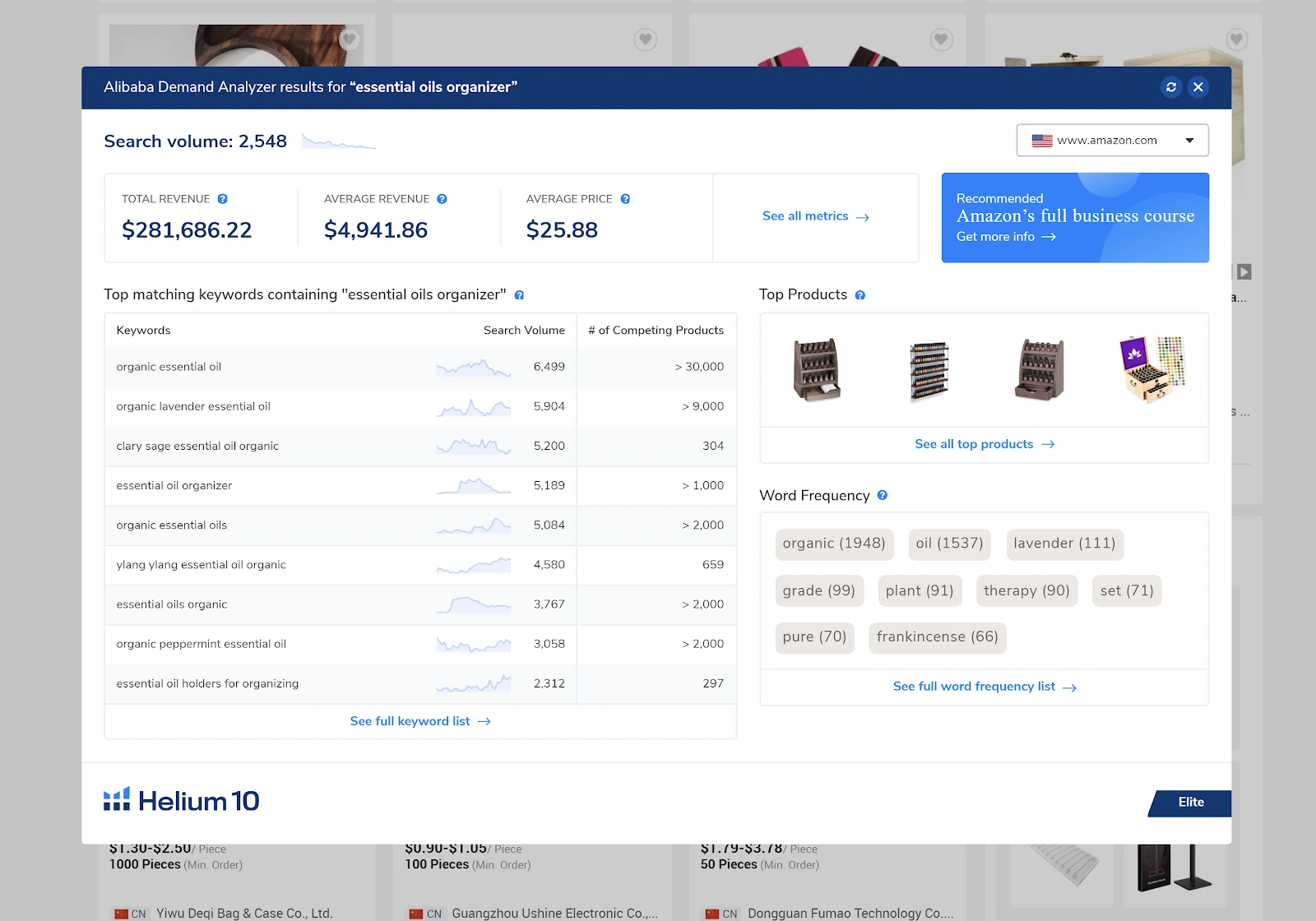 Instantly, I have the following information in front of me:
The last 30 days of estimated search volume on Amazon for this keyword.
The history of search volume over the last year (click on the graph).
Access to the estimated revenue and average price generated by top products in this niche.
Insight into a list of related keywords for my searched keyword (as well as their search volumes).
The top products that show up on Amazon for this niche, and also common words that come in the related keywords.
If I wanted to dive deeper into any of these metrics, I could follow the links to go to Magnet or Black Box so I can investigate further.
Bringing Sellers and Sources Closer Together
We are so happy to be able to bring these tools to Amazon sellers worldwide, and even Alibaba.com users who may have not realized they could do Amazon research while on Alibaba.com. We are honored that Alibaba.com was willing to work with us and help bring this functionality to our mutual communities!
If you would like to get started today using this tool, download the free chrome extension at helium10.com/extension! Make sure to let [email protected] know about what you think of this new addition and submit suggestions for future expansions to the functionality!
We are confident that this new streamlined way to find products, suppliers, and demand on both Amazon and Alibaba.com will help the Amazon selling community to level up in 2021!
Achieve More Results in Less Time
Accelerate the Growth of Your Business, Brand or Agency
Maximize your results and drive success faster with Helium 10's full suite of Amazon and Walmart solutions.