GS1 Barcodes, Brand Error Code 5665, PPC Test Listings, SFB Launch, and More!
Bradley is back with more Amazon experiments and troubleshooting. Today, we're talking about Amazon error message 5665, barcodes, and test listings.
Updated on: June 14, 2022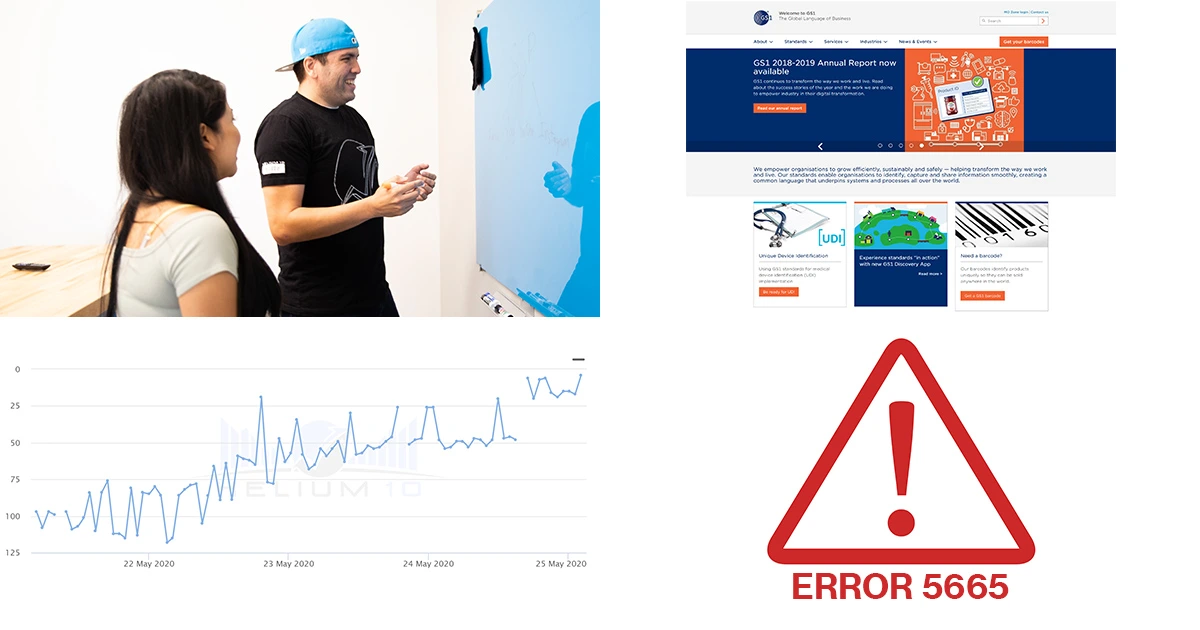 Anyone who has sold long enough on Amazon knows that the only consistent thing on the platform is change. As you guys know, not one of the over 400 products I launched when I was a consultant was for me. They were for companies and clients that I worked for. So it's not like I have this massive 8-9 figure account that I am managing with hundreds of these products.
In my position, it would be impossible to be able to accurately disseminate information to all of you if my last Amazon experience was those products I launched over 2 years ago.
I will never be "one of those guys" who gives everyone information based on what worked in 2015. Thankfully, I have people in my network who trust me enough to give me full sub account access to their accounts, and let me fully manage some of their products.
Some even let me do full blown experiments with products on their account. I've also got access to an old account I used for wholesale before, that I have since turned over to my family to run. And of course, don't forget about the Project X account that I fully maintain.
All in all, I spend about 10 hours a week in these accounts, and of the products I fully manage, they gross a total of about $1,000,000 annually. No, I do not get money for running Project X, nor get salary or ownership, etc. from these other accounts I maintain on Amazon, but what I DO get is much more valuable to me: knowledge and insight into what is and isn't working on Amazon.
Let's get into 5 things I have learned lately.
1. PPC Test listings can still save you from surprises
In Project X Episode 4, Tim introduced the idea of making PPC test listings to many who hadn't used the strategy. Before going all in on a product, you could put up a test listing that has sample units so that you could help validate demand, check competitiveness of keywords, see what kind of CPC you might get on a launch, and more.
Lately, I have been doing all new Pro Training Videos for the tools, like our Amazon FBA PPC tool. I do these live, without prep when I record. For one of the Black Box videos I was making, I had to stop recording because I found a keyword in there that I thought was super crazy. I decided to re-record the video with a different keyword, since I wanted to use that keyword as a test.
It was for some special kind of magnets. Surprisingly, the prices in China were very high for the product, but I found a supplier in the USA for it, so ordered some samples and threw up a test listing so I could do some PPC. Notice how Amazon said my bid should be 66 cents.
I put a bid of $5 to make sure I got a premium position and to see if the competition had a high bid. I was getting some validation of the demand because there were a lot of impressions, however take a look at what the CPC was for that keyword: A WHOPPING $4.49!
Imagine if I had used that as an actual full case study product, and budgeted out a dollar or so for my CPC, going off of what Amazon suggested. I would have been in for a rude awakening during my launch since there seems to be competitors bidding high. If I had a fully optimized listing that has been around for months, would my cost still be over $4? Probably not. But probably closer to 4, than 66 cents like Amazon suggested.
2. Quick Comparison of GS1 Barcodes
I see a lot of questions about GS1 barcodes and how expensive they are, how they work, etc. I launched another new case study project last week, and thought it would be a great opportunity to compare prices and go through the process.
Here are the annual fees from GS1 Canada: (https://gs1ca.org/our-solutions/subscribe-to-gs1-canada/)
Here are the annual fees from GS1 USA:
https://www.gs1us.org/upcs-barcodes-prefixes/get-started-guide/get-your-upc-barcodes-from-gs1-us
Here are the annual fees from GS1 UK:
https://www.gs1uk.org/get-a-barcode/for-selling-on-amazon
Needless to say, I went with GS1 UK, since I get 1,000 numbers for only about $140-$150 a year. It was fairly simple to sign up with GS1 UK. I just entered some basic company information. It did not matter that I did not have a UK bank account or VAT, etc. The entire process took me maybe 15 minutes or less, then BOOM, I had 1,000 barcodes.
UK uses what's called "GTIN-13 Numbers." More on that later. But basically I have this numberbank, and when I need a new UPC, I generate it. It gives me spaces to put all of the information I want tied in the system to this UPC number.
I'm no expert on this, but I would assume this information will allow some entities to verify if the UPC is valid for a certain product or not, should they choose to investigate.
Now, this is what had me confused at first. Since I have never used a UPC from the UK before, I didn't know much about it. So I just tried to copy my freshly generated UPC into the listing I was going to create, but I kept getting this message:
I did some googling, and found out that what I had was NOT a UPC/GTIN (even though it says "GTIN" in the UK site), but rather an EAN. So when I changed the drop down menu in Amazon to EAN, it worked fine.
3. The Dreaded 5665 Brand Error Message
For months, Amazon has been limiting creation of new Brands you do not have brand registry for. For a different new case study, I did not have brand registry for it, so I tried to put the brand name I wanted, and I got this message that most everyone has seen lately:
Dang you Error 5665! Somehow reminds me of order 66 from Star Wars! In this case, the clone troopers are this Amazon bot, and the Jedi are new listings from new brands. If you did not understand that reference at all, well congrats, you are not as nerdy as I am.
In some categories, people have put variations of "Not Applicable" in the brand just to get it approved. Some say that NA works. For others, its N.A. Others, N.A. For me, the one that worked for me was N/A.
However, I made sure to put the brand that I wanted to use as the "Manufacturer." The listing was finished after I transferred all of my copy from Helium 10 Scribbles. 
Now, first of all, SOMETHING NEW. Despite me having to put N/A as the brand, Amazon still PUT THE BRAND NAME in the brand spot on the final listing under the title! My title was there, and right under, it said "By: Coolest Brand Ever." Well it doesn't say that, but I can't give out this brand since it's on someone's private account.
Anyway, I assume that since I put the brand name in the Manufacturer field, Amazon is now looking there, since I had N/A listed under "brand." Just to make sure that N/A was still there, I checked the listing back end, and sure enough it still said N/A for "brand." A few weeks ago, if you put N/A for "brand," it would say that on the public listing as well.
As you see from the error message above, and as I tested months ago, what I needed to do to be able to update the brand is to take pictures of the packaging that shows the UPC and branding. I didn't have that and didn't want to use a photoshopped version, so I decided to experiment.
I went to godaddy.com and paid a few bucks for a domain of that brand name. I then used one of their premade templates to make a homepage for that brand. I uploaded the pictures from Amazon there, and named the product, and then just typed in the EAN GS1 number that I entered for the listing, next to my title. The whole thing took me maybe 10 minutes.
Then, I opened up a case with Amazon. Here's a copy of what I said (notice my politeness. I always try to be as polite as possible from the get go to put them in a good mood.):
24 hours later, I got this message:
BOOM goes the dynamite! Sure enough, I went into the listing, and it allowed me to change the brand name from N/A to the correct brand. I checked if I could create a new listing with that same brand, and yup, I absolutely can. How cool is THAT? Pretty cool I think.
4. Search Find Buy still a beast during honeymoon
For this mini case study, I launched a product launched on a Thursday. From day one, I did SFB, only 8 units over 3 days. By the end of day 3, the product was page 1, position 3 for that keyword which has about 4,000 monthly searches. (I used azrank.com to save time)
On another keyword, I did just one unit SFB. This keyword has estimated only 400 searches. But again, I did ONLY ONE unit SFB. Now it's page one position four.
5. Back End Keywords Still Strong
I've talked about how over a year ago one of my friends reached out to Amazon and asked why they were not showing up in the top 7 pages for a keyword that was important to their listing, and was even in the title. They asked him if the keyword phrase was also in the back end search terms.
When he said no, they told him to put it in there, and soon thereafter he started showing on page 6. I was curious as to if there still is any noticeable effect of this. I figured a product in the honeymoon period would be the best litmus test for this.
Now, at first I just tried it on one keyword that the product was ranking organically for around back and forth between 180-250. I added the keyword that has about 450 monthly searches to the search terms and the subject matter on the night of the 24th. Look at this jump just a couple hours later! Keep in mind there are no purchases happening on this test listing.
That got me excited. So the next night, on the 25th, at 3AM, I decided to do some more testing. This time for a keyword that had a search volume of about 4000, I again added it to search terms and subject matter. However, this time there is barely a blip of an effect. Was that first one a fluke, or does search volume have something to do with it?
By the way, you will notice some gaps in these charts on the afternoon of the 26th. Well, there's one of the side effects of a PPC test listing… I priced this product ridiculously high… around $79, thinking no one would buy it. Sure enough this morning, I was bought out of them, and so it was out of stock for a couple of hours!

Here is another keyword I added to search terms and subject matter. Only 400 monthly searches, and from when this product launched, it was never ranking in the top 7 pages organically. However, FIFTY EIGHT minutes after I edited the listing, at 3:58AM, it started showing up on page 4 to 5!
This is by no means enough data to generate conclusions, but you better believe I want to test this more. I'm especially intrigued with ranking fluctuations and what causes them BEFORE there are any sales on the product such as in this case.
Anyway, I hope you found something interesting here that you can use in your own business, or perhaps I've inspired you to do your own tests into some of these things. Remember, what worked even 12 months ago for you, is not guaranteed to work today. Make sure to keep up with all the changes on Amazon so that you can adapt to them.
As always, please use the buttons below to share this article on Facebook, LinkedIn, or other places!
Everything for your business on Amazon.
Find out more about our products by signing up or speaking with one of our
Customer Success representatives today. With us in your corner, you can enjoy
more sales and increased engagement from your Amazon business.
Chat with a Support Specialist