Final Countdown to Sell + Scale Summit
Sell + Scale Summit is right around the corner! It's not too late to grab your ticket to Vegas and join the networking event of the year.
Originally published on: September 9, 2022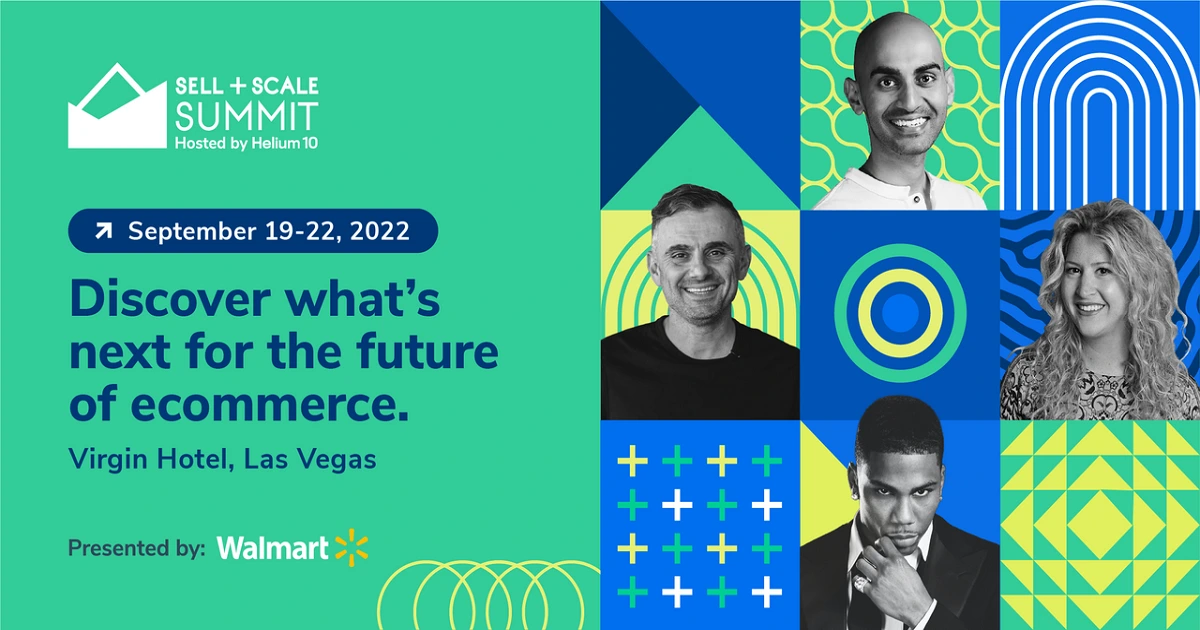 We are just a few days away from Sell + Scale Summit, taking place Sept. 19-22, 2022, at the Virgin Hotel Las Vegas, and tickets are selling fast! You still have time to book your ticket to the e-commerce event of the year, sponsored by Walmart. Join top experts in the e-commerce industry and receive gems you wouldn't get anywhere else!
This conference is a must-attend event for every e-commerce seller in the industry, with exclusive experiences curated for sellers at every level you don't want to miss out on.
Why Should You Book Your Ticket to Sell + Scale?
Time is ticking, and there are many reasons why you should book your ticket to Sell + Scale. If you want to scale your business, meet top e-commerce professionals in the industry, learn about the future of e-commerce, and connect directly with Amazon and Walmart representatives about your business, this is the conference for you.
50 Exclusive Events!
Sell + Scale will include a variety of experiences during the 3-day conference with over 50 agenda events, including unique networking experiences, breakout sessions, interactive workshops, exercise classes, expert Q&A, and more! There is something for every seller at every stage of their journey.
Here are just a few of the talks you have to look forward to once you get your tickets to attend…
Begin With the End in Mind: A Proven Strategy for Exiting at the Highest $$$
Raise Your Shield: Tactics for Protecting Your Amazon Brand from Fraudsters
Strategies You Don't Know Yet to Grow Your Amazon Business with Kevin King
A Million Ways to Win: Using Short-Form Content to Reach Millions of Customers
5 Keynote Speakers!
Sell + Scale will consist of the top e-commerce gurus and talent that will leave you feeling inspired and ready to take your business to the next level. The conference will include 5 keynote speakers, 1 musical guest, and more! Check out some of our keynote speakers below:
Keynote Speakers:
Gary Vaynerchuk – Serial entrepreneur and serves as the Chairman of VaynerX, the CEO of VaynerMedia, and the Creator & CEO of VeeFriends.
Rich Lehrfeld – Senior Vice President and General Manager of Walmart Connect and named interim Chief Marketing Officer for Walmart U.S.
Jeff Cohen – Tech Evangelist at Amazon Ads and travels the world sharing insights on Amazon Ads technology and best practices.
Amy Jo Martin – New York Times Best-Selling Author, named the third most powerful woman on Twitter by Forbes and host of the top-ranked Why Not Now? Podcast.
Neil Patel – New York Times Best-Selling Author, recognized as a top 100 entrepreneur under the age of 30 by President Obama and named top 10 marketers by Forbes.
1 Epic Beach Party!
Not only will you have the opportunity to learn, but what is a conference without a welcome party?! You will also have the opportunity to join Diamond Selling, Multi-Platinum artist Nelly at the Sell + Scale Summit Welcome Party, which will include a live performance, food, drinks, and more! Safe to say this is a party you don't want to miss!
Time Is Running Out… Now Is the Time to Get Your Ticket!
With only 10 days left, you still have time to get your ticket! September 19th will be here before you know it! Don't miss this exclusive and exciting chance to grow your business to new heights and have compelling conversations with some of the best e-commerce sellers in the world.
Everything for your business on Amazon.
Find out more about our products by signing up or speaking with one of our
Customer Success representatives today. With us in your corner, you can enjoy
more sales and increased engagement from your Amazon business.
Chat with a Support Specialist