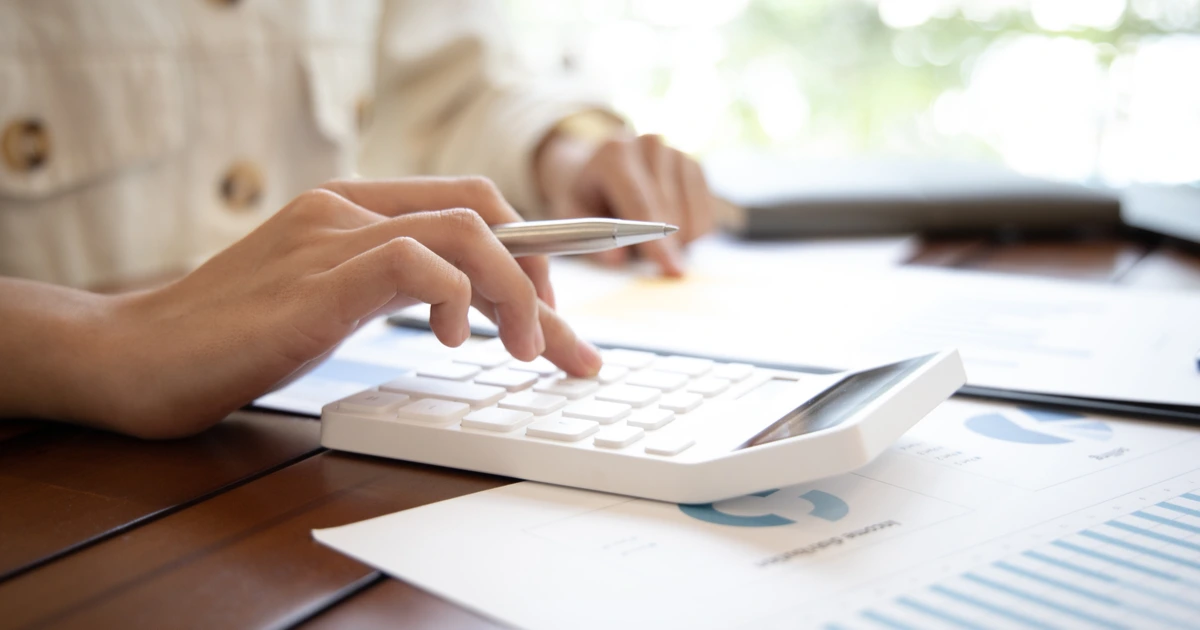 How to Use the Amazon FBA Calculator (And a Much Better Alternative)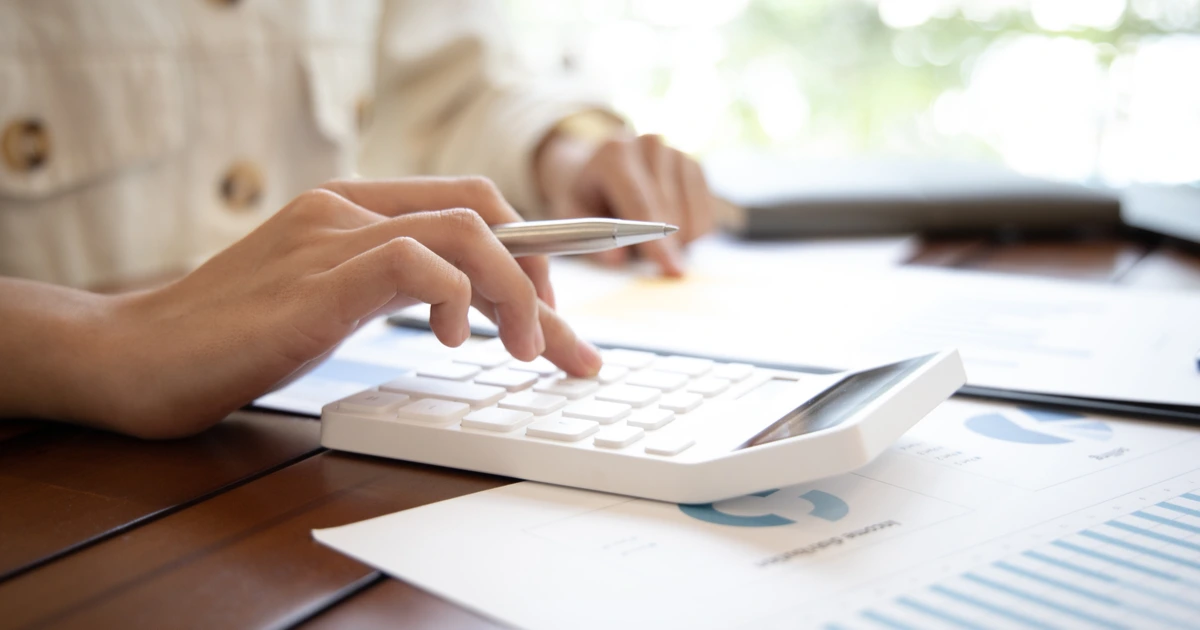 FBM or FBA, that is the question. …but maybe not even the one you should be asking.
First, let's recap the main differences between FBM and FBA.
FBM – "Fulfilled by Merchant." The Amazon selling model where sellers find their own independent inventory management services, off-Amazon. This means you are responsible for finding a logistics company to handle warehousing, shipping, returns, inventory management, and more. Many 3PL (third party logistics) companies are experts in their space and more than qualified to handle these legs of your supply chain. Hiring a 3PL warehouse is often great for more experienced sellers who want a finer degree of control over their supply chain and inventory.
However, FBM and FBA are Not Mutually Exclusive
Many Amazon sellers (the clever ones!) use a combination of 3PL warehouses and FBA to create a more reliable inventory pipeline. There are several benefits of utilizing 3PL and FBA. A major one is for setting your "inventory safety net." Should you encounter FBA shipping delays or flash inventory limitations, you could stage a large amount of inventory at a third-party warehouse and feed to Amazon fulfillment centers as they allow you. That way, you aren't taken off guard when the unforeseen inevitably comes knocking!
FBA – "Fulfilled by Amazon." This is the selling model widely adopted by most sellers on Amazon, especially those just starting out. As the name suggests, the Amazon fulfilment service takes advantage of Amazon's already-massive warehouse infrastructure to handle storage, packing, and shipping on your behalf. There are FBA fees involved for this service, but the tradeoff is hard to deny: second to none convenience and automatic qualification for Amazon Prime shipping (a major factor for many purchase decisions on Amazon).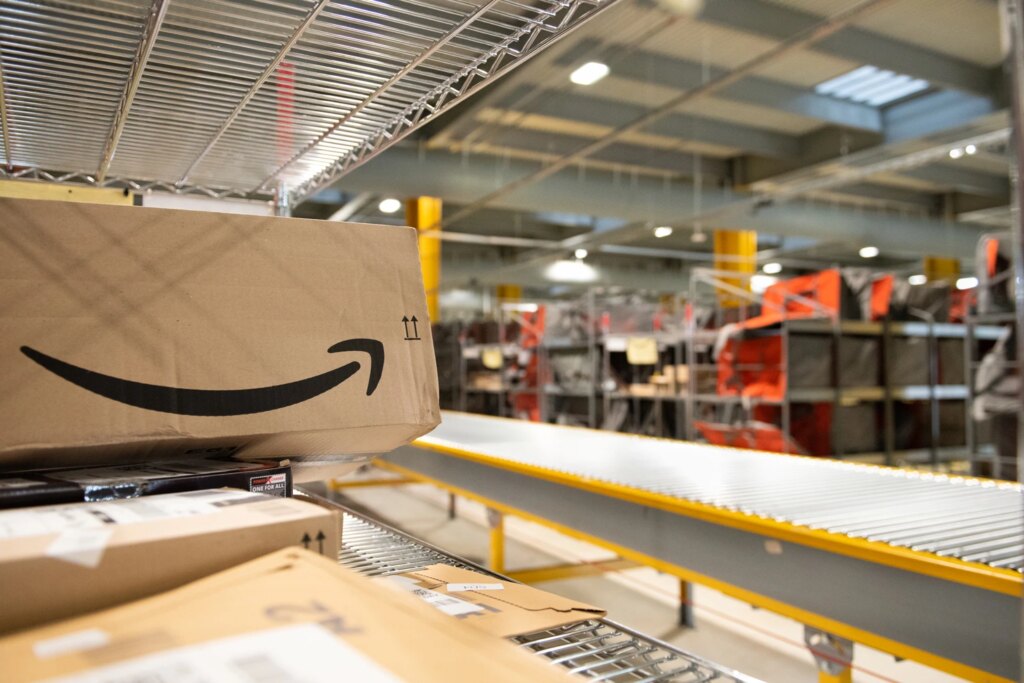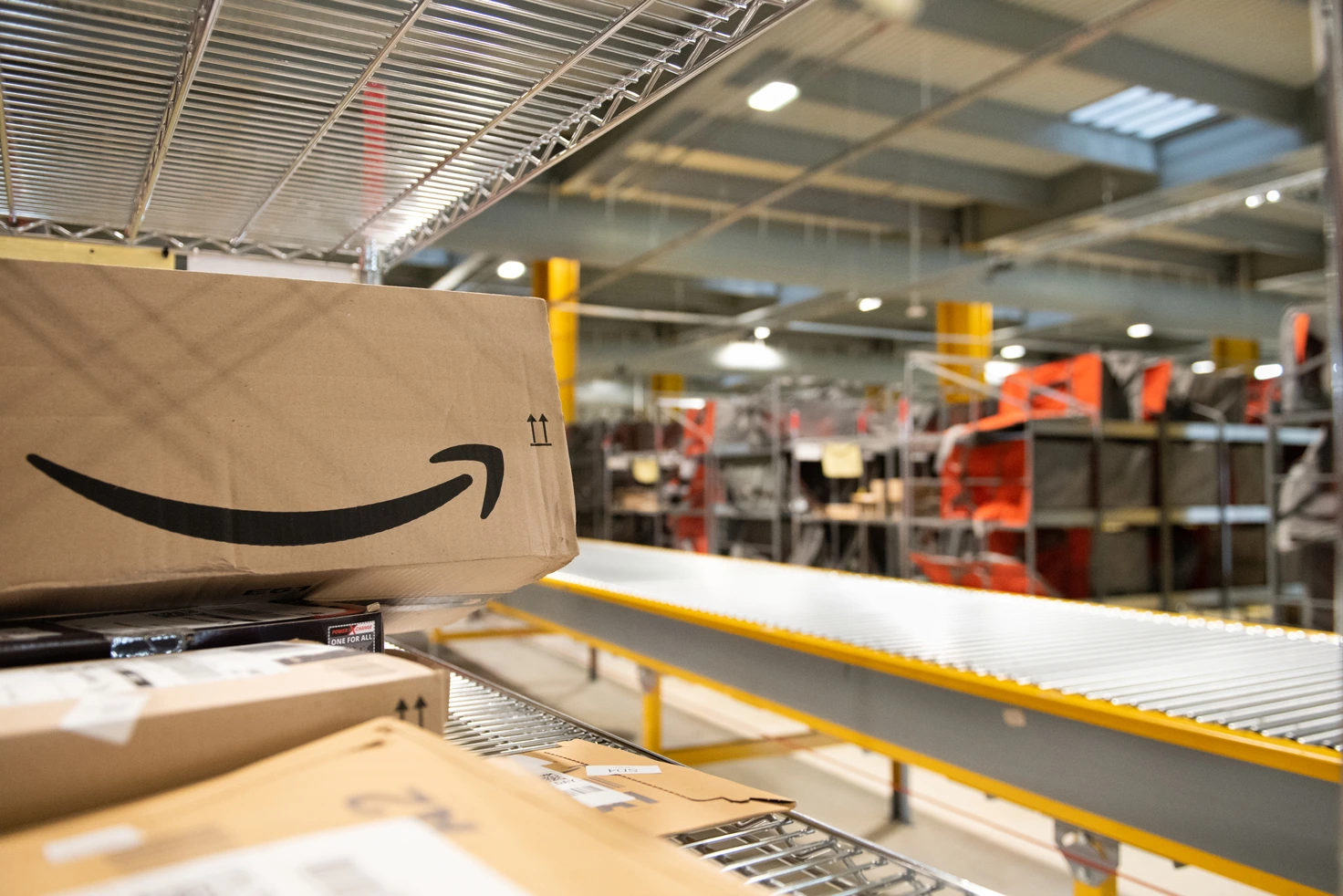 So FBM or FBA, which is better?
Short answer: Both are ideal, but if you had to choose one exclusively, FBA is the place to be. And definitely the place to start for new sellers.
Learn more about Amazon fulfilment and each Amazon FBA fee here.
Just How Viable is Amazon FBA?
While the answer to this e-commerce conundrum mostly depends on what kind of product (and business model) you are managing, there are some factors that will help you decide if this selling model will bring you profit or bring you pounding headaches.
These factors include:
The sale price of your product
The size of your product
Packing materials
Storage cost per unit
Average amount of inventory stored at a given time
The cost of production for your product
Instead of leaving things to you and your pad of paper, Amazon has a tool to help you out.
The Amazon FBA Calculator.
Using the Amazon FBA Calculator
Let's use a sample product, as if we were considering selling it with Amazon FBA.
You can find the calculator here.
First, find your product on Amazon using your product name, ASIN, UPC, EAN, or ISBN.

Input your product variables into the FBA calculator. This includes price, shipping costs, average inventory, and cost of product. You may also add variables like a packing fee or return service fee.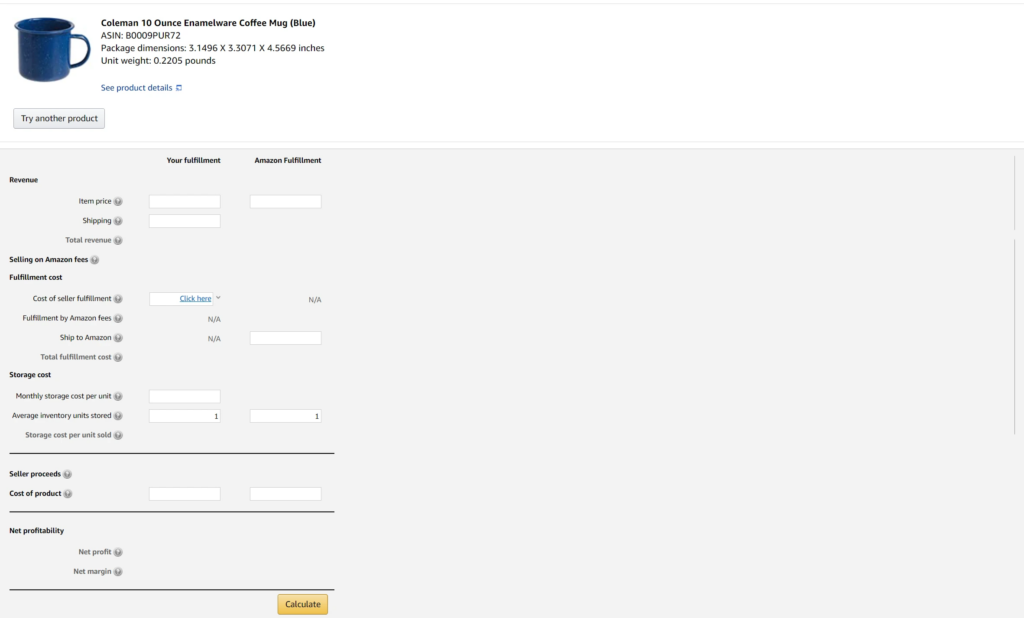 With one click, you get a quick view of profit and margin between an independant fulfilment method vs. Amazon FBA.


It is worth noting, you shouldn't take the numbers from the Amazon FBA Calculator as gospel. Things are changing all the time, and fulfilment costs vary. There's a chance that by the time you are ready to pull the trigger on your supply chain decision, an Amazon fee could've changed. This calculator is only meant to give you a big picture "net profit diagnosis."
If you are looking for an Amazon fee calculator, the FBA calculator is better than nothing… but far from the best.
If you are in your early stages of Amazon product research or just shopping around for an alternative fulfilment method, you'll want more than just a barebones FBA calculator tool.
Using the Profitability Calculator from Helium 10, we can get instant access to the same information… plus quite a bit more.
More on that in a bit.
But before we are to get an accurate estimation of our profits, we're going to need a quote from a supplier to help estimate manufacturing costs. Sound scary? Fear not, the Alibaba Supply Finder is here to help.
Shopping for Suppliers Made Easy
It's time to find a supplier who will make your product at a reasonable cost. There's one place Amazon sellers go more than anywhere else to find a supplier: Alibaba.com.
If you've been browsing Amazon, using the Profitability Calculator or Xray (both part of the Helium 10 free Amazon chrome extension), then we have an easy way to get you there.
First, while on any Amazon product page, pull up Xray.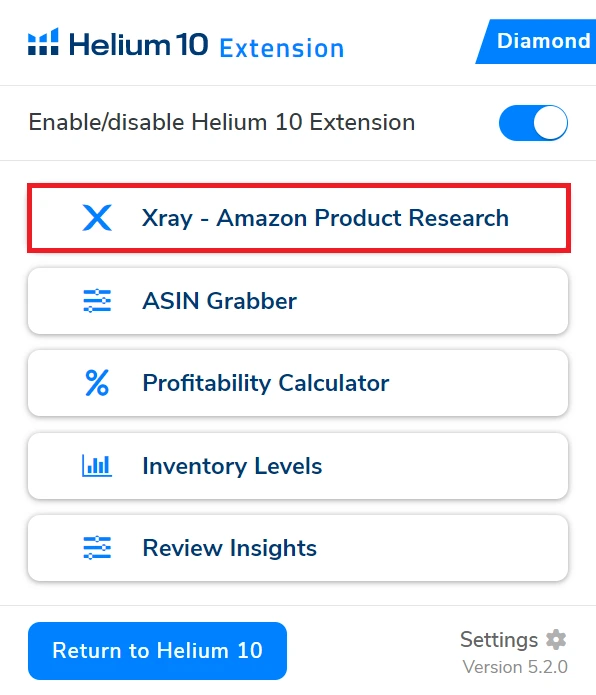 Then navigate to the upper righthand corner where you see "Source on Alibaba.com."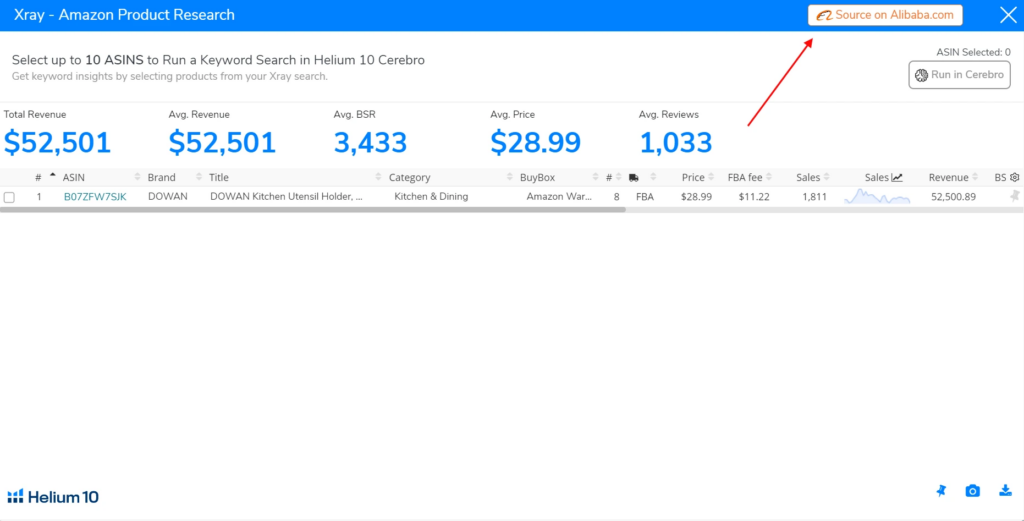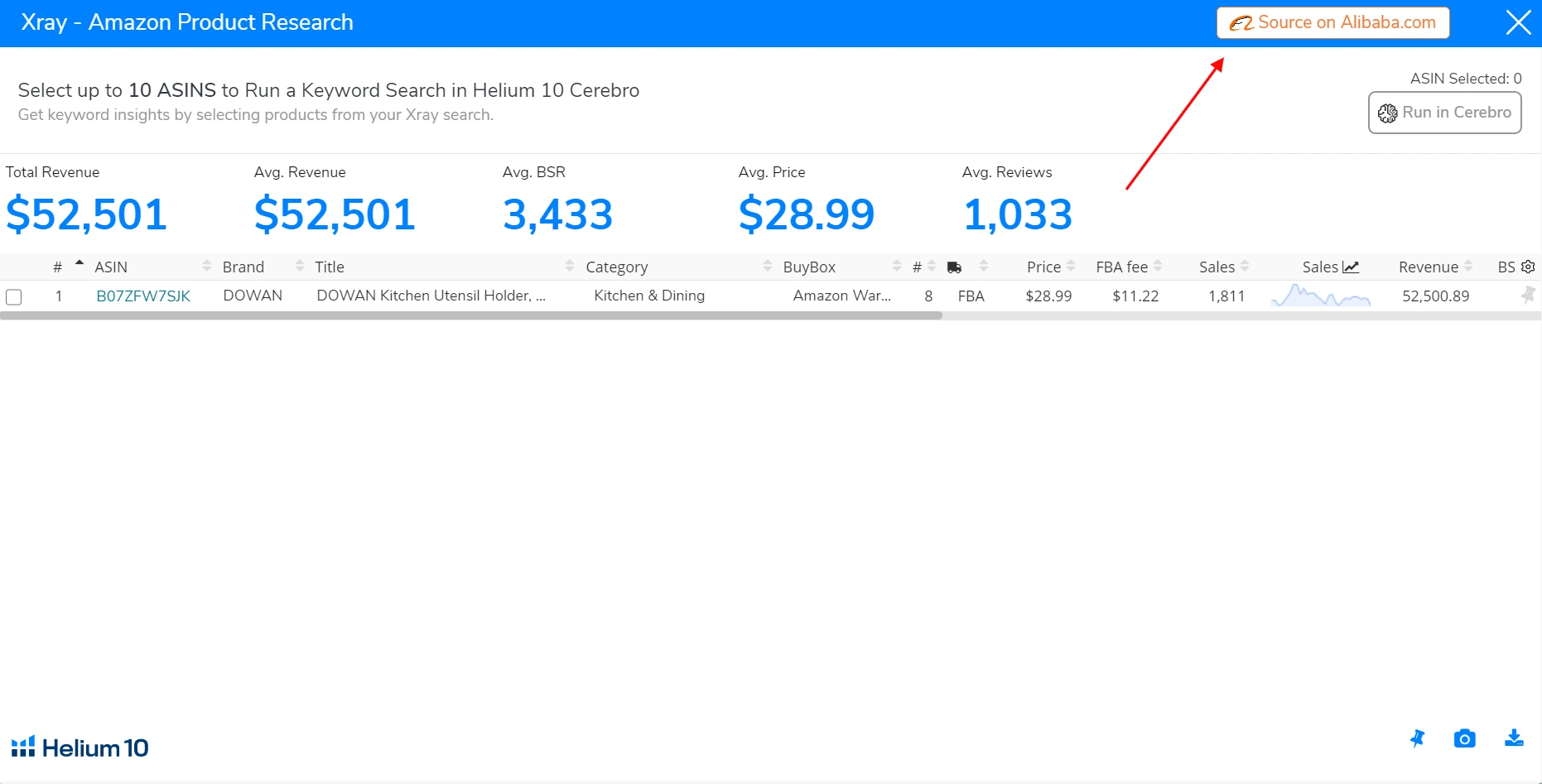 This will open up an integrated Alibaba.com results page for similar products (without leaving Amazon). From here you can filter by price, minimum order quantity, and vendor rating (just as you would be able to on alibaba.com).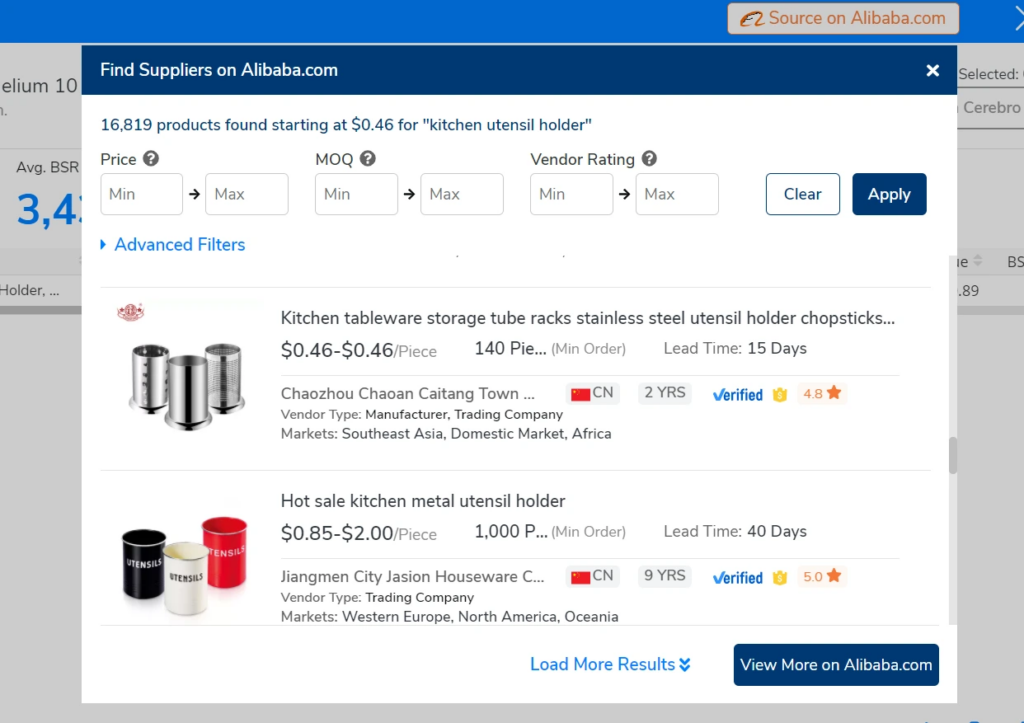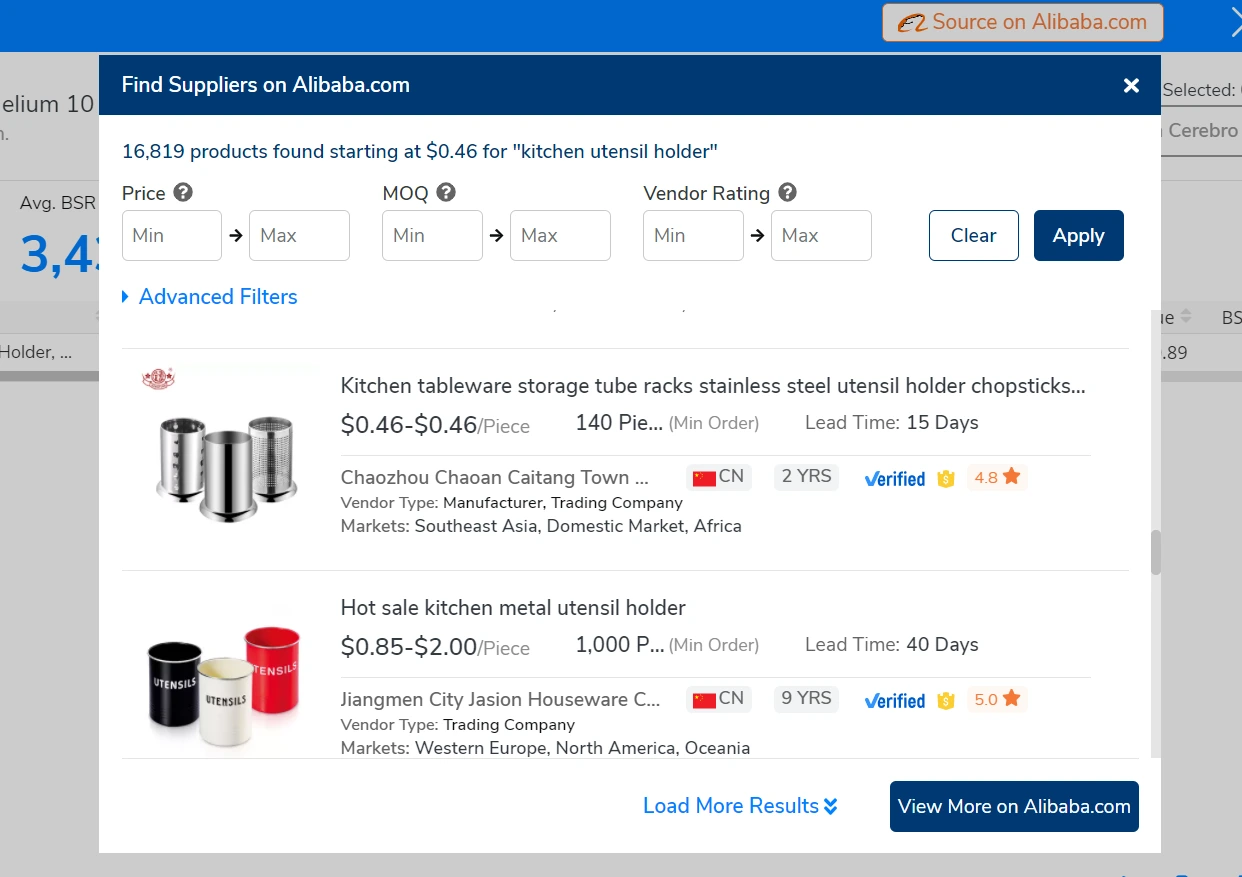 Not only does this save you from having half a dozen tabs open on your laptop at a given moment, but Alibaba.com can also be used for a little more than checking supplier availability.
Did You Know You Can Use Alibaba.com to "Litmus Test" Product Popularity?
Alibaba.com is the premier supplier finder for most online sellers. That means there's a pretty good chance if a product is flooding the Alibaba marketplace, it's flooding the Amazon marketplace as well.
That also means if there are only a few results for a product on Alibaba.com, the product may not be a success on Amazon… yet.
Keep checking back on that product on Alibaba.com over the next few weeks (preferably, months). You don't need to do any time-consuming research, just make it a part of your daily routine – give it a 60-second check.
Alibaba is known for being a bit ahead of the curve when it comes to product opportunity. If you see more and more Alibaba listings for similar products in that family, it may be a good indicator of a trend. And you can bet a trend on Alibaba will soon be a trend on Amazon. Having a "look around the corner" like this before Amazon (and most Amazon sellers) is a huge advantage if you're interested in leading the charge on a new product.
Being among the first to market on an upwards trending product is essentially like finding a lotto ticket on the street with 9 out of the 10 winning numbers already filled in.
The Amazon FBA Calculator… Expanded
As we mentioned before, there is an alternative to the Amazon FBA Calculator – one that offers more data and is much more interactive.
Using the Profitability Calculator by Helium 10, we instantly get access to three very important things:
Automatically populated product data for all relevant FBA logistics, including item dimensions, monthly storage fee, referral fee, estimated freight cost, and more.
Estimated net revenue, profit margin, and return on investment. Having this information at your fingertips is huge when you're in the product research stage.

You also have the ability to to add "other costs." Here you can add things like PPC or outside advertising costs, to help get a more holistic picture of your profits.

The ability to change most of these fields on the fly, to find out what your net revenue, profit margin, and ROI may look like under different circumstances.

But you don't have to limit this Amazon profit calculator to the costs that you know, you can use it as a hypothetical Amazon FBA predictor as well. For example, take a look at this product.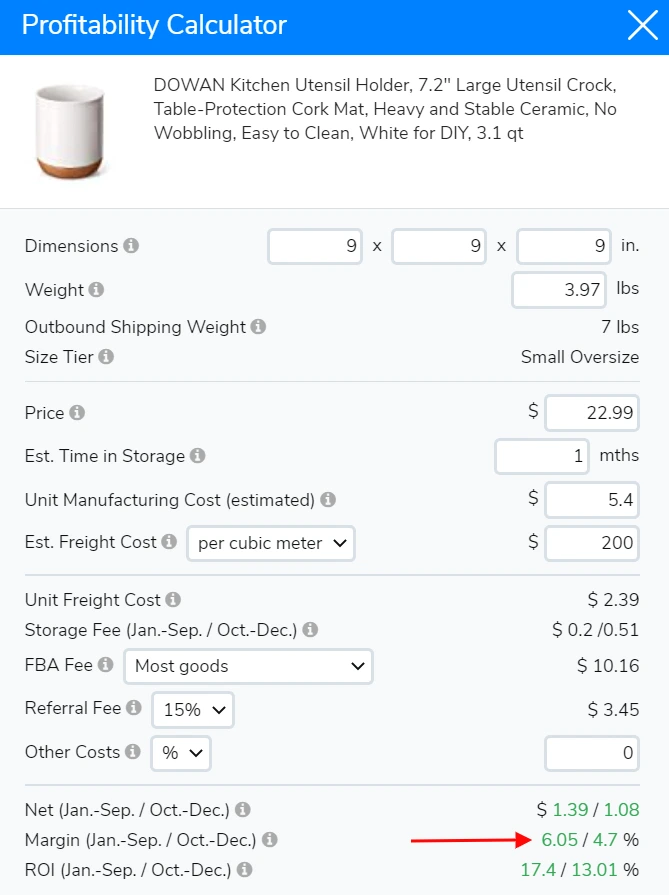 The product, as it stands now may look like a solid decision on the surface, take a look at the profit margin… not great.
Now, look what happens when we take one inch off the shipping dimensions. How much of a difference could one inch make, right?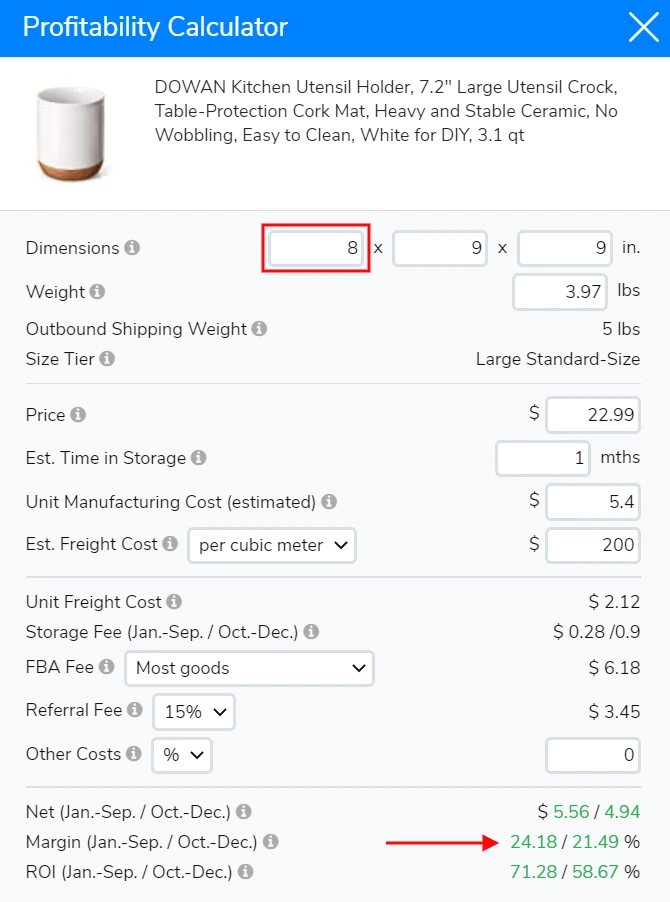 We just jumped from a profit margin of $6 to $24! All of the sudden, that product looks a lot like a winner. By just slightly altering your product packaging, you can drastically improve your ROI.
It goes to show, sometimes the most profitable products on Amazon really do come down to inches.
The ability to tinker with virtually any Amazon product's back-end costs allows you to add some important profit forecasting in your product research that most other Amazon sellers won't have access to.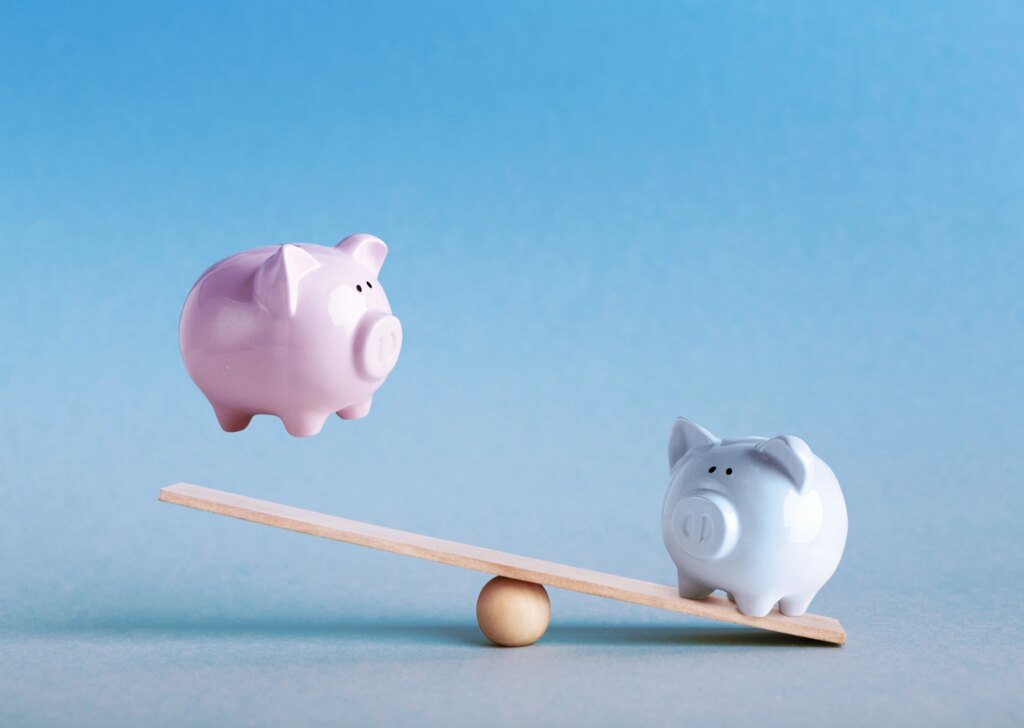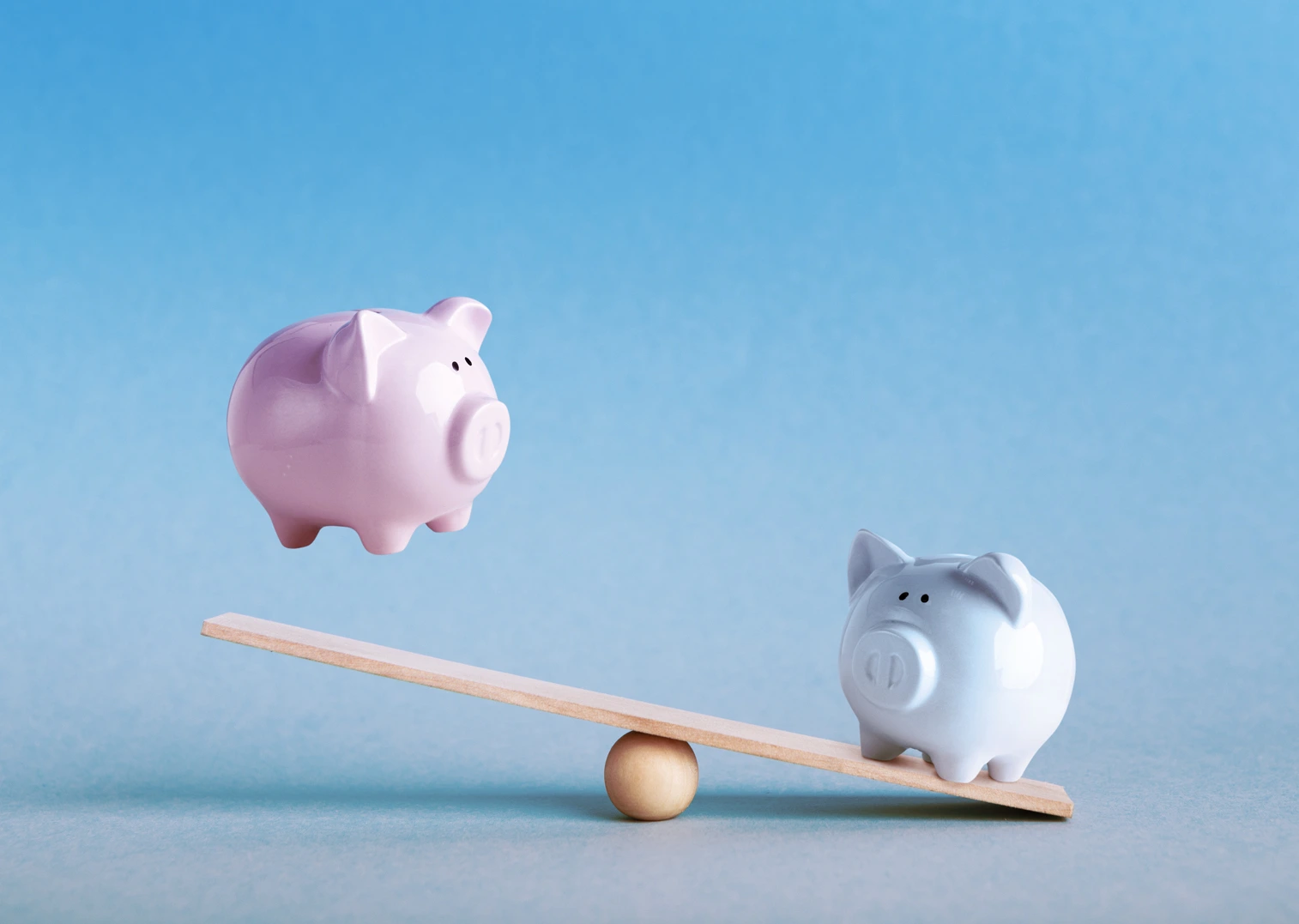 The Profitability Calculator pulls data from Helium 10's database containing hundreds of millions products. Again, these numbers are meant to give you an idea of future costs, they shouldn't be taken as guarantees.
This calculator is part of the Helium 10 free Amazon chrome extension, meaning you can pull this tool up for any Amazon listing you find (where data is available to pull from).
---
We're not trying to reinvent the wheel of e-commerce here. Alibaba.com is already the best place to find product manufacturers and Helium 10 is already the best place for data-based Amazon FBA seller tools. Our hope is to create a better bridge between the two to not only make your lives easier but profitable products on Amazon that much easier to find.
Frequently Asked Questions
Achieve More Results in Less Time
Accelerate the Growth of Your Business, Brand or Agency
Maximize your results and drive success faster with Helium 10's full suite of Amazon and Walmart solutions.