Make Your External Traffic Count with Portals by Helium 10
Helium 10's Portals creates landing pages designed for Amazon sellers to drive external traffic from your customer funnel directly to your product page.
Updated on: August 9, 2022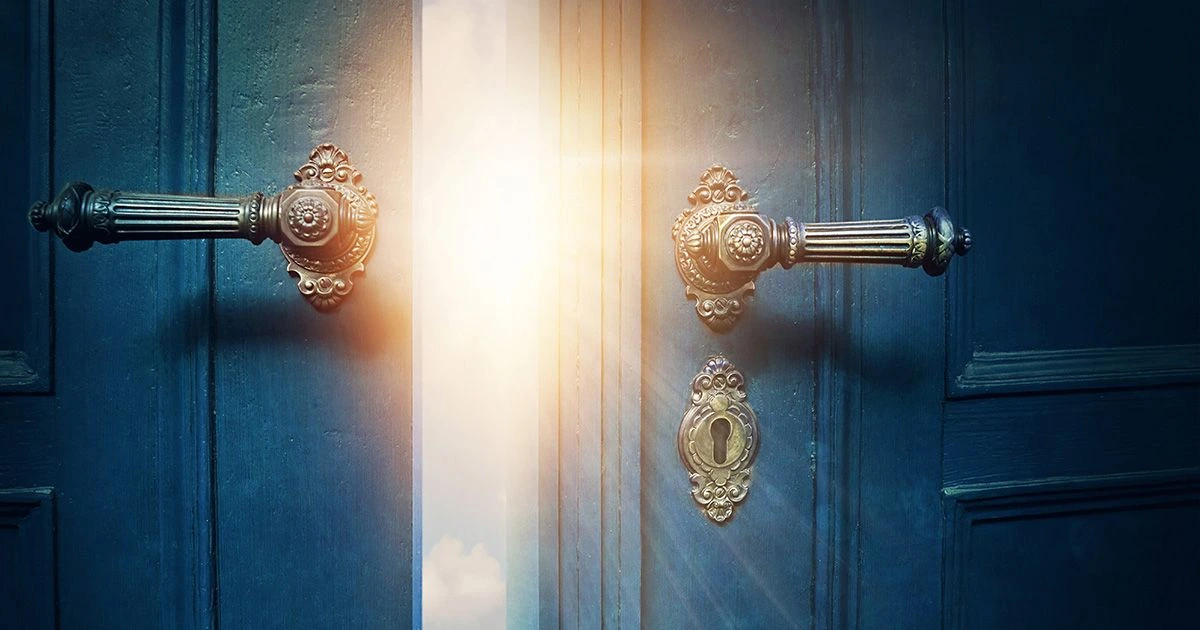 Every single day, the eCommerce ecosystem and Amazon in particular, are flooded with new sellers.

You can feel it.

Fortunately for you, the number of tools available to sellers has been increasing almost as rapidly.
One of the most effective tools is the landing page.
Landing pages are web pages, created specifically for a marketing or advertising campaign. It's where a visitor "lands" after they click on a link in a social media post, email, or ad campaign.
eCommerce sellers are constantly looking for the next great product, but you'll also need to identify your potential customers.

You don't want to wait for those customers to come to you. To be successful on Amazon, you're going to need to go out and find them yourself.
Now, Helium 10 has added something to their suite of software tools that's going to help you do exactly that.

Helium 10's Portals can help you to drive external traffic from virtually anywhere in your customer funnel directly to your product page with easy-to-build, conversion-optimized, product landing pages designed for Amazon sellers.
In this post, I'm going to tell you why Portals is the best new way to help drive outside traffic to any marketplace including Amazon, Walmart, Etsy, or even your own website.

Helium 10's Portals helps make sure that the time and energy that you're putting into your eCommerce business will pay off in the most significant way possible.
Your hard work will result in data and customers that belong to you!
First, I'll walk you through a brief overview of the Portals tool.
Then, I'll go over how you'll set up a Portal for yourself.
Last, I'll show you how to create smart Integrations that work hand in hand with Portals.
With Helium 10's Portals you can:

Customize Pages In One Click Quickly customize every page and instantly populate them with your product information directly from Amazon.
Open Doors to New Traffic Drive traffic from social media, paid ads, your email lists and more to an Amazon product page or any other marketplace. (Including your own website)
Design Pages for Your Entire Funnel Nurture your customers to make repeat purchases with ready-to-use sales, email opt-in, thank you pages and more.
Build Your Brand Create a living brand identity with your very own customized pages outside of Amazon. We do the hosting, so all you have to worry about is your customers.
Seamless Integrations Easily integrate with multiple apps and marketplaces including Zapier, Google Analytics, Facebook and more.
Let's take a look at the Portals tool on the Helium 10 dashboard.
When you click on the Portals tab at the top of the page, the dashboard view is the first thing that you'll see.
In this post, I'm going to use screenshots from this demonstration video. (Neither the ASINs nor the customer information are authentic)
In this first view, the Portals dashboard, on the top of the page you can see the metrics for Total Active Portals, Total Visits, Total Clicks and Emails Collected.
Below, you can see that you'll be able to compare multiple Portals by Visits, Clicks, CTR (Click Through Rate), and Email collection.
This is great if you're split testing listings or ad campaigns.
You can also change the date range and exact Amazon marketplace you are targeting.
Navigating down the vertical menu (on the left side of the screen, below the Helium 10 logo), you'll see the Portals page. This allows you to take a close look at the specific Portals that you have created.
You can view them by status (Either active or inactive), and by category. In this image you can see that the Portals categories are Product Landing Page, Email Opt-In, and Thank You Pages.
If you've established a number of Portals, this makes it simple to sort through to find the specific one that you're looking for.
In order to create a new Portal, either click the button in the top right of the screen, or you can access it from the vertical menu bar under the Helium 10 logo.
Navigating down the menu bar, we next come to the Templates tab.
The Templates will be constantly updated and optimized and new templates will be added over time.
There are four different versions of templates: Simple, Modern, Classic and Ocean allowing you to use your creativity to get your own brand's message across.
Continuing down the menu bar, we come to the Customer Information Tab. On this page, you'll be able to see all the customer information that you've received from your Portal.
You can select a specific campaign or Portal and then download it to a CSV file.
What's most important is that this is data that you've created before any of your customers decided to make their way to Amazon.
It's your data.
These are your customers.


In Settings, you can not only upload your company logo, but if you're managing multiple ad campaigns as a consultant or owner of several brands, you can add multiple logos.
This is also where you're going to add your vanity domains.
Portals also features integrations. Integrations allow you to sync your Portal with multiple apps and marketplaces.
Most importantly, Integrations gives you the ability to add automated sequences that will dramatically reduce the work involved in your campaigns and help eliminate missed opportunities for contact with your prospective customers.
And last but not least, you'll find a continuing series of informative "Learn" videos to the immediate right of Dashboard, Portals and Templates on the menu bar.
Now, I'm going to show you how to create your first Helium 10 Portal.
Setting Up a Portal
From the dashboard, you can either go to the vertical menu under the Helium 10 logo and choose Create New Portal or go to the Portals tab and at the top right click Create New Portal.

As soon as you do this, you'll see a screen that asks you to choose the Portal name as well as offering three different options for the type of Portal.
Building the Portal is simple.

Below the space for your Portal's name you'll see a horizontal step by step timeline of where you are in the process.
Beginning with Details, you'll move through Integrations, URLs, Publishing, Templates, Design.
We're going to move through the sequence now.

Details:
First, you'll be given three options for the type of Portal.

Product Landing Page
Email Opt-In Page
Thank You Page
We're going to choose the Product Landing Page.

The Product Landing Page is a sales page that you will drive traffic to from an email list, social media, or paid advertising in order to get people to convert and make a purchase.

At this point, you can either insert an Amazon ASIN or you can Create a Custom Product.

You might want to create a Custom Product for a few reasons.

If you were driving traffic to another marketplace (like Walmart)
When using your own website such as Shopify, Squarespace or WooCommerce
Or, to your Amazon.com listing if you haven't turned on product listing yet
Here, I'm going to copy the URL of an Amazon listing.

Once I've pasted the URL into the box and press the down arrow, it will look like this:

The listing is automatically populated with the title, ASIN, price, bullet points, marketplace and images.

You can always edit the above information as well as add photos or embed a video.

Finish this step by clicking the Save and Continue button.

Integrations:
We have added a few different ways that you can implement Integrations.

Our page tracking allows you to import your Facebook Pixels, Google Analytics tracking code or custom tracking codes.

Deep Linking directs visitors to your product on the Amazon app to create a more fluid and natural customer experience and ideally increase conversions.

This helps you show them your full page and gives them a much better overall experience.

Click Save and Continue.
URLs:
Here is where you will be able to create a wide variety of URLs to link back to your products. As you can see, we offer a range of 2 step URLs as well as Targeted ASINs, Add to Cart, Walmart 2 Step, and an option for Custom URLs.

If you create two (or more) different URLs, customers will be sent to them in a sequential round-robin order.
(It's probably a good idea to limit your URLs to a maximum of two or three until you start to drive a lot of traffic to them)
Click Save and Continue.
Publishing:
Here you'll be able to enable the scheduling and email collection and general use coupon settings. When you've done that, click Save and Continue.

Templates:
These pre-made templates are designed to quickly allow anyone to build a simple landing page. Once you've decided on a template, click Save and Continue.

Design:
In Design, you can change the text, font, the background color, and make changes to the bullet points and benefit statements.
It also allows you to completely remove the about section if you want a shorter, more concise look. Reviews (5 star only) are automatically pulled in and help add social proof.

Once you have the look you want, click Save and Continue.

Now, your recently created Portal will show up in the Portals window. (It may take 5- 10 minutes for the Portal to become active)

When you see the switch turn green indicating "Active," you're ready to go.

You can now use the Portal's URL in your paid advertising, social media or an email list.
By clicking the Actions tab and navigating to Preview, you can see what your customers will see.
How to Set Up a Zapier Integration
One of the greatest things about Helium 10's tools is how well they play with others.
Helium 10's Portals easily integrates with multiple apps and marketplaces including Zapier, Google Analytics, Facebook and more.
Establishing smart automatic sequences is an eCommerce game-changer.
Not only will it save you incredible amounts of time, but once set up, it will allow you to do the work of a small team of virtual assistants.
Now we'll set up a Zapier Integration.
Zapier allows you to set up a number of Integrations. Using zapier, we're going to build an email sequence with using Mailchimp.
The first thing you'll do is navigate to the Settings page on the vertical Menu Bar below the Helium 10 logo.

Here, you'll copy the Zapier API key. (Specific to Helium 10)
Once you've done that, go to zapier.com and you'll be able to create a free account.

Next, go to My Apps and start typing in Portals. (Portals will pop up in the bar)

Then, paste in the API key.

At this point we'll go to Zapier's menu and create an Integration or what Zapier refers to as a "Zap."

Select Portals.

Select Trigger Account. (New customer)

Select your Portal

Using Mailchimp as an example, select add/update subscriber.

At this point, you'll create a free Mailchimp account. Then select continue.

Next, you'll be able to create your own personal email sequence within Mailchimp itself.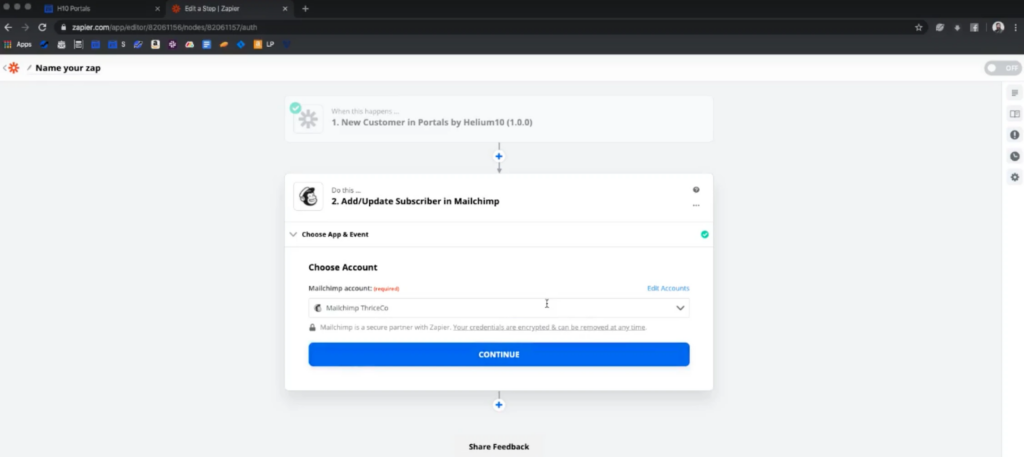 Once you've set up your automatic email sequence, every time that someone goes to one of your Portals and inputs an email address, it will update in Mailchimp.
Later, you can use Zapier to continue to build out your automations; for example, creating a custom Facebook audience.
It's up to you.
Implementing a landing page with Helium 10's Portals doesn't require that you be a technological wizard. You can do this today, yourself and start creating invaluable customer lists that will help you change the way you do business on Amazon.
And here's the best part, Portals is included free with your Helium 10 subscription. So, if you are already a part of the Helium 10 family, make sure to put Portals to work for you as soon as possible.
If not, with Portals, Helium 10 has given you one more reason to join the growing number of sellers that are using Helium 10 to crush it on Amazon.
Click here to try Helium 10 for free.