Bigger.Better.Launch! New Ways to Understand (And Outsell) The Competition
New Amazon seller tools, special networking events, expert selling strategies... Bigger.Better.Launch! is back with more updates!
Updated on: July 28, 2022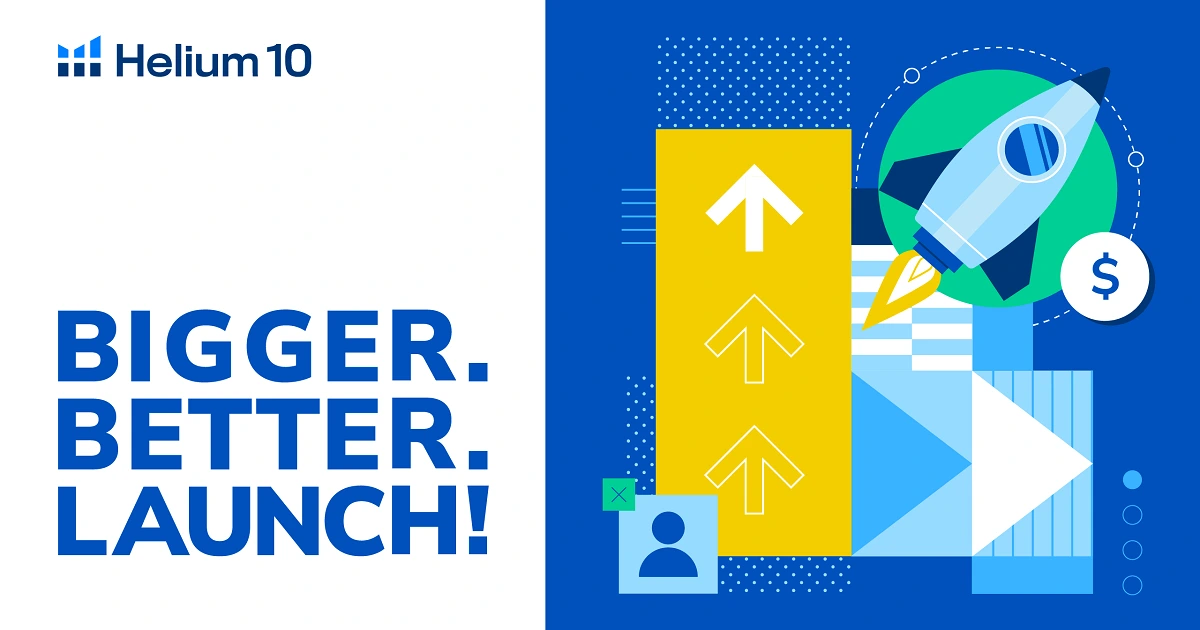 To celebrate summer, we thought we'd make a splash with some very special Helium 10 updates.
If you've never attended a Bigger.Better.Launch! webinar, expect a treat. This monthly series is your chance to be first in line for game-changing Helium 10 features and brand-new selling opportunities that your competitors don't know about.
Hint: Attendees of Bigger.Better.Launch! are likely to be the first to know of exclusive discounts – more on that below…
Bigger.Better.Launch! will highlight the cutting edge of Helium 10, including:
NEW Helium 10 tool rollouts you won't want to miss
Updated features based on YOUR feedback
Refreshed resource guides and discount opportunities
And So. Much. More.
This month, we're helping you take a close look at studying your competition, measuring your market share against your competition, and ultimately, defeating your competition!
Tool Announcement! Get The Lay Of The Land With Market Tracker 360
Why is Market Tracker 360 leading the charge for July's Bigger.Better.Launch? Well, simply put, it's a huge addition to the Helium 10 family. We've taken Helium 10's years of data refinement along with our renowned market analysis capabilities to create a single, easy-to-read market report for businesses that are focused on scaling.
Helium 10's new tool, Market Tracker 360 was built to track competitor performance at scale.
Sellers now have the ability to define their own market, accurately track their biggest competitors, and identify market trends… all of this seamlessly integrated into Helium 10.
Create Your "True" Market
It's seldom enough to use your broad "product market" as an effective benchmark for success. For example, a coffin shelf product might appear under the Home Decor subcategory of the Home & Kitchen category and also under Cosmetics. You need to get granular if you want a more accurate representation of your niche.
With Market Tracker 360, businesses can use a combination of keywords and ASINs to create tailored "niche markets" of only the most relevant competitors. From there, multiple advanced filters and historical revenue charts (dating back up to two years) expose new profit opportunities!
Precise Insights
Savvy businesses aren't built entirely on vague "guesstimating," and neither are Helium 10 tools. Market Tracker 360 leverages the world's largest external Amazon database to provide unparalleled depth and accuracy to scaling businesses.
Adapt & Outsell
Improving product performance often depends on how quickly you can pounce on market gaps or upcoming market patterns. Because Market Tracker 360 is built to track your market dynamically, you'll never get caught off guard by an unexpected trend or new, relevant product entering your competitive landscape.
Market Tracker 360 was built to help deliver actionable answers to these questions:
What is my current market share? Where and how can I grow it?
Which keywords are driving my specific product niche?
Where are my biggest competitors thriving and failing?
Are there any upcoming market trends that I can optimize my advertising strategy for ahead of time?

As we heard in the webinar, Helium 10 witnessed a real brand that made use of Market TRacker 360 to recognize trends within their competitors' sales that they were then able to capitalize on and recapture market share back from their competition!
Market Tracker 360 is available for all paid Helium 10 subscription plans.
Request a Demo of Market Tracker 360 here!
Value Announcement! An Unprecedented Headstart With Helium 10 Tools
The world economy is in a constant state of flux, and as a champion of independent businesses everywhere, Helium 10 prides itself on sticking with sellers for every peak and valley. For the remainder of July, we are giving away over $1 Million in subscription value to qualified sellers through our Business Assistance Fund Program.
New sellers, this one goes out to you!
Helium 10 helps new sellers stay competitive from the get-go by providing:
Full use of our 30+ Amazon tool software suite
​Complimentary access to our award-winning FBA course, Freedom Ticket ($997 value)
Exclusive invitations to join live webinars with our team of experts
Access The Business Assistance Fund Here
Special Event Announcement! Sell + Scale Summit
What happens in Vegas… is the biggest networking opportunity of a lifetime? This year, that's exactly what Helium 10 is bringing to the table.
The inaugural Sell + Scale Summit is taking over Las Vegas from September 19-22 to bring you new networking events, interactive workshops, and wisdom from some of the top minds in the industry.
This is an e-commerce event you don't want to miss… but not just because Helium 10 is hosting it.
Sell + Scale keynote speakers include Gary Vaynerchuk and Neil Patel, PLUS a special musical performance by the one and only Nelly!
Thousands of attendees, over 60 networking events, and more than 40 established exhibitors in the e-commerce space… what more could you ask for?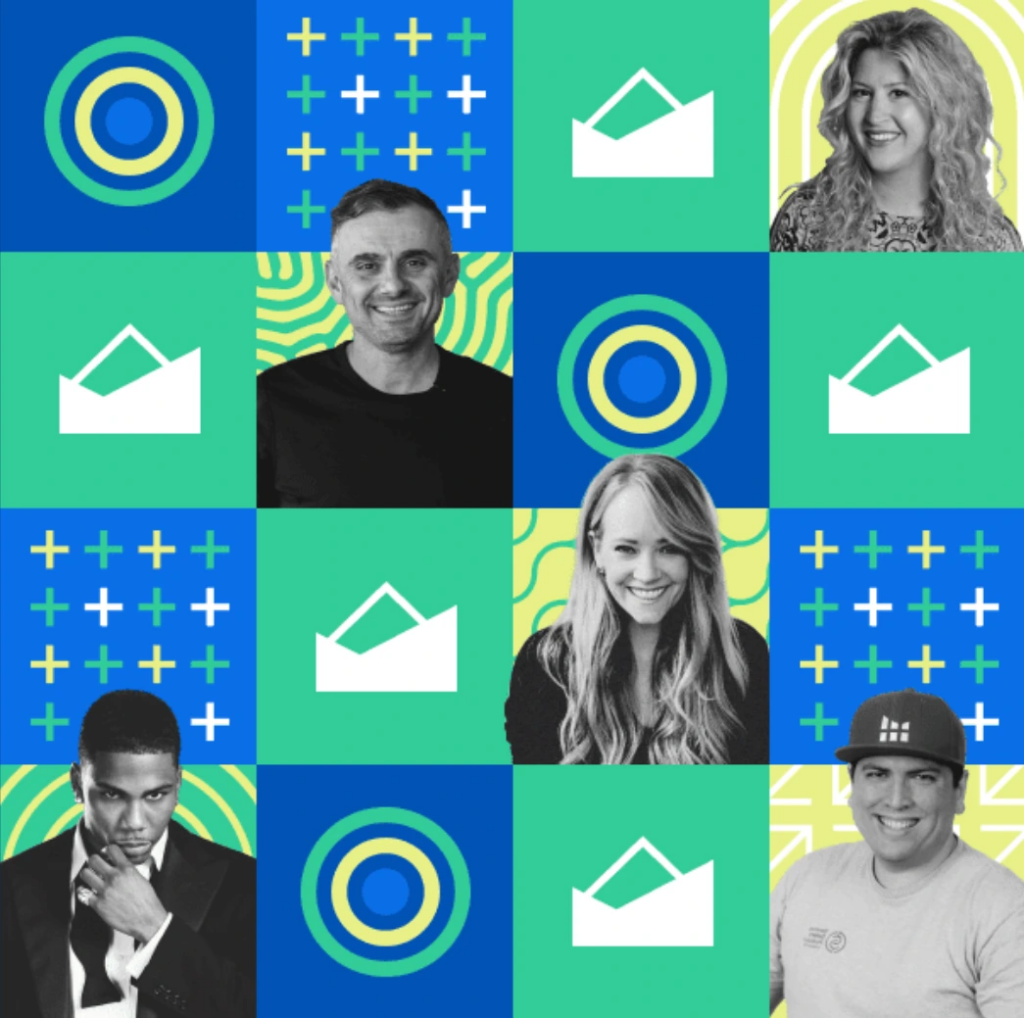 Bigger.Better.Launch! Tip: Those who attended this month's Bigger.Better.Launch! webinar had a chance to win a FREE Platinum Pass ticket to Sell + Scale (valued at $949) and a free ticket to the Denim & Diamonds party! Tune in to the next Bigger.Better.Launch! in August… you never know what we'll be giving away next month…
6 New Helium 10 Features To Bump Your Business Up A Notch
1. New Ways To Instantly Launch Listing Analyzer
Listing Analyzer is the definitive way to evaluate any product listing on Amazon (including your own.) Simply input an ASIN or URL and see how optimized any listing on Amazon is. Now, Listing Analyzer can be opened directly from Xray (within our free Amazon Chrome extension) or from within Cerebro, our Amazon keyword research tool.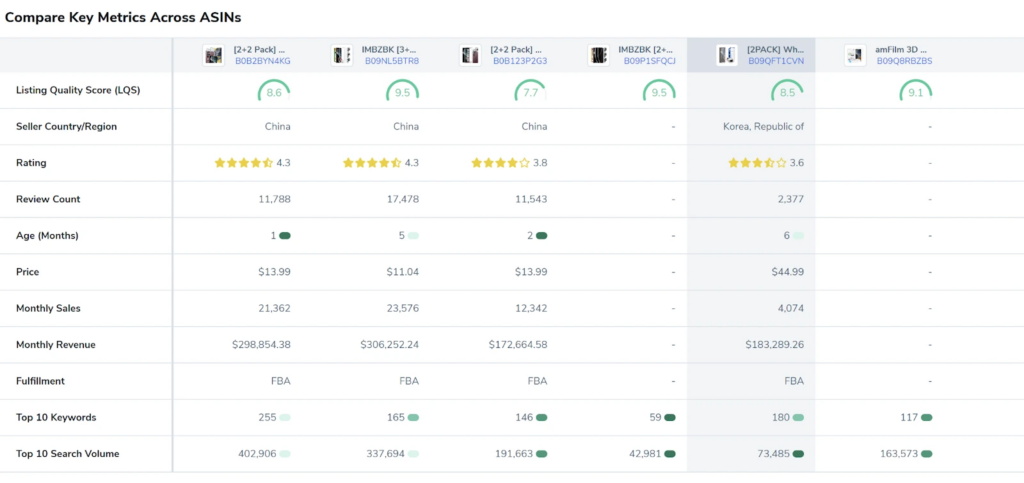 Compare key metrics across multiple ASINS, including:
Listing Quality Score
Listing age
Monthly revenue
Top keywords
Top 10 search volume
Image optimization
And more!
2. Introducing Xray Keywords
Amazon isn't getting any less competitive. That's why it's critical for sellers to constantly be on the cutting edge of keyword research. Sometimes being on the cutting edge also means knowing when you can cut some corners to stay ahead of the competition.
With the new Xray Keywords feature, sellers can now extract the sales-driving keywords that top-10 listings are ranking for instantaneously. This simple addition helps sellers get a clearer understanding of their competition and demand for a product niche.
Simply open up the Helium 10 Chrome Extension on Amazon and click Xray Keywords. The top-performing keywords for that niche are instantly returned in real-time!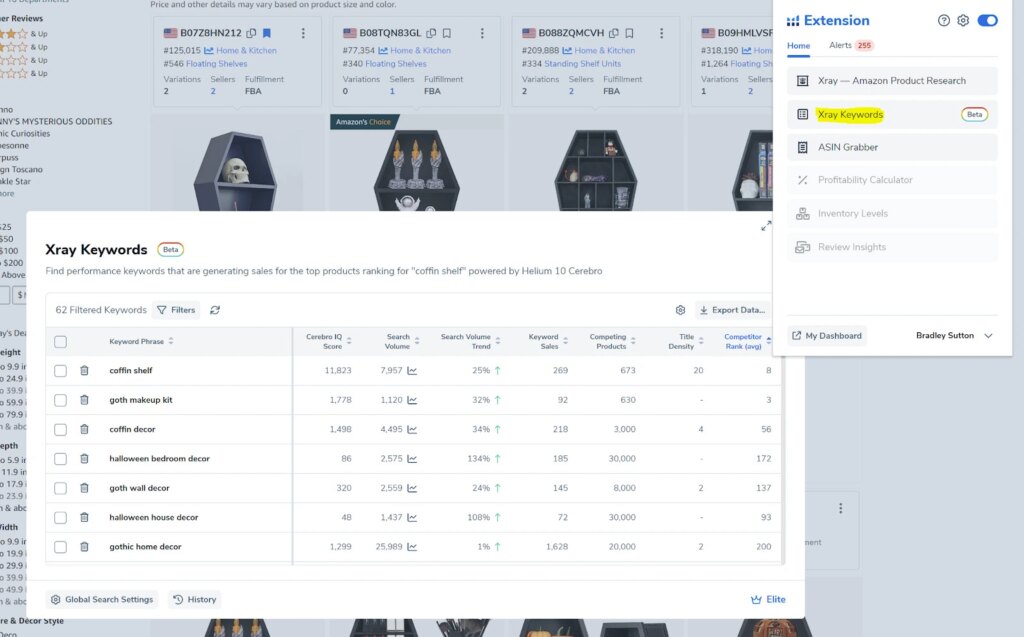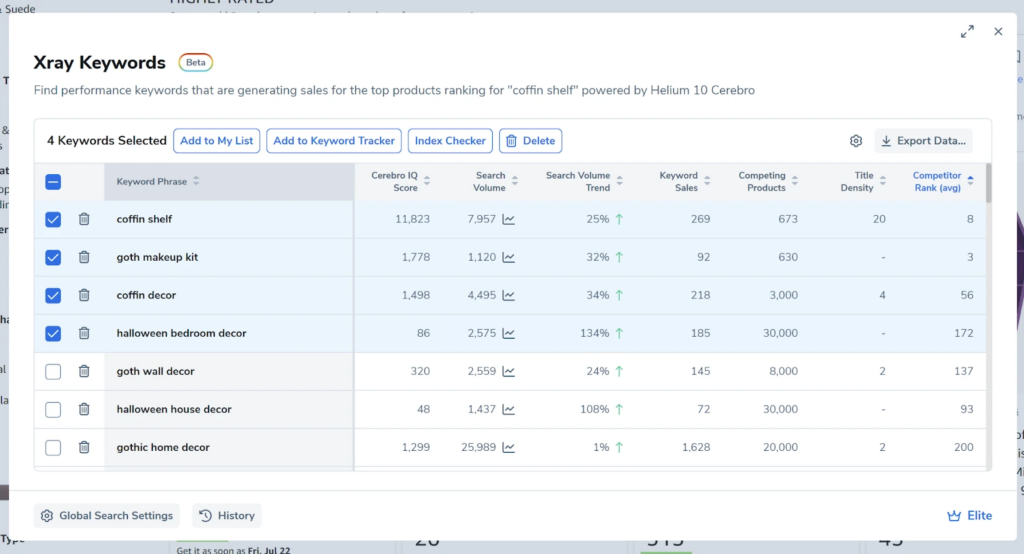 Not everyone has a dedicated SEO team or an agency on call to help make the right decisions. The new Top Keywords feature within Xray empowers sellers to make smarter decisions on the fly.
3. Adtomic Campaign Builder Goes Deeper
New updates have come to Helium 10's Amazon PPC management tool, Adtomic! There are now even more ways to tweak your keyword suggestion automation options. When creating your first advertising campaign, you can now activate (or deactivate) automation within Campaign Builder itself. All Campaign Builder updates are currently available only to Helium 10 Elite members, with all other plans gaining access next month. However, all Adtomic users will gain control of how aggressive to set their bid suggestions to give themselves more upfront campaign customization than ever before!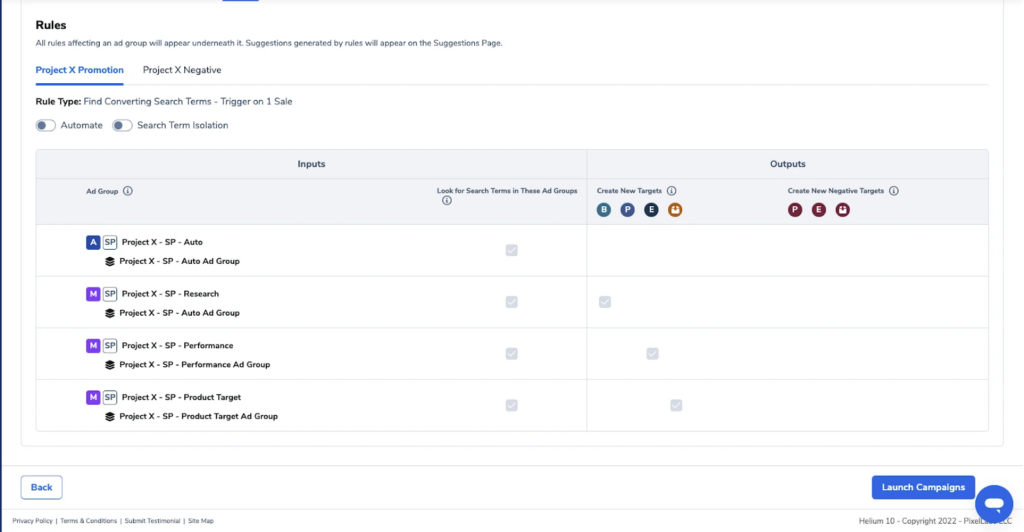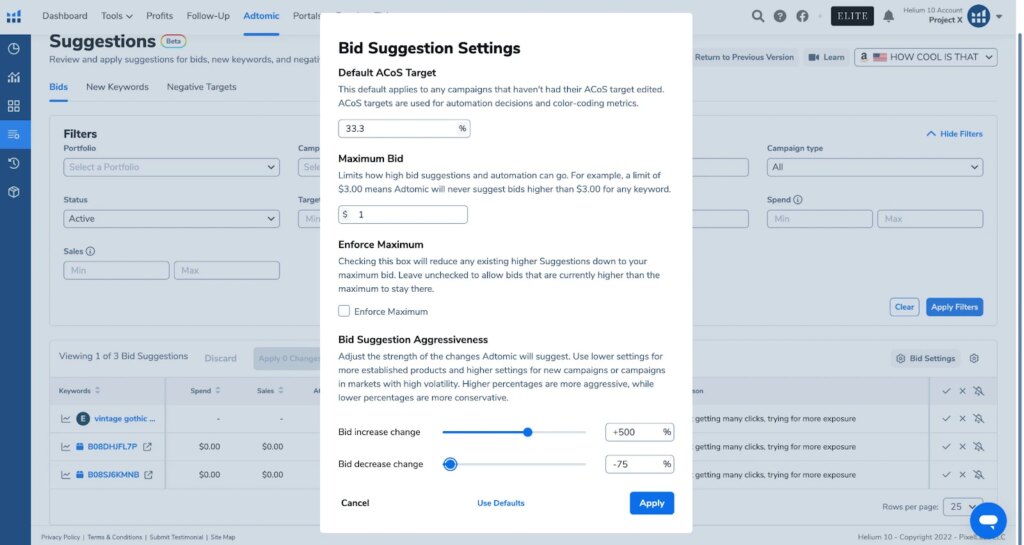 4. Business Report Widgets Now In Profits!
You've all been asking for this one – we are so excited to finally bring Business Report conversion data from Seller Central directly into your Helium 10 Profits dashboard! No more manually downloading data from Seller Central and getting lost in spreadsheets. Units sold, net profits, and organic conversions over time are now conveniently visualized in one place.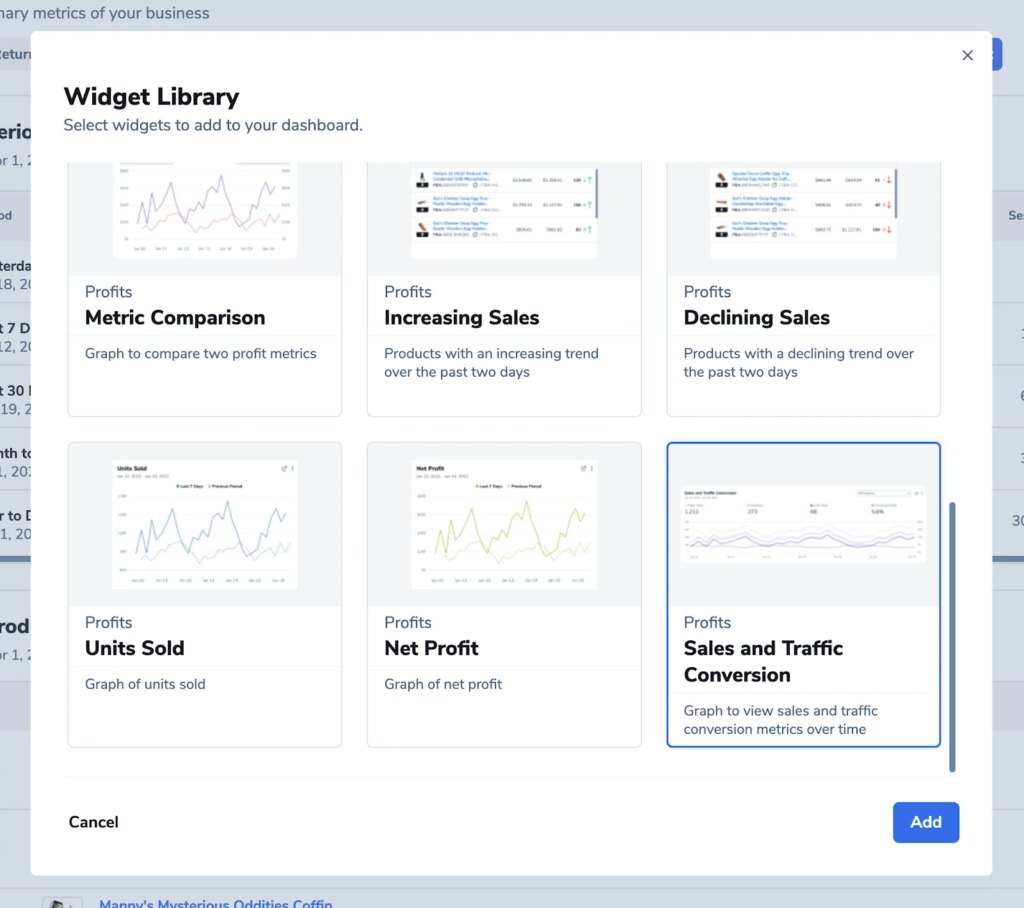 It's time to leave Excel behind – not just because it can be a massive pain in the neck but also because it's just a lot more fun to check the new Business Report Widget and monitor your conversions visually.

5. Enhancements to Amazon Attribution
Great news for sellers who thrive on organization and efficiency: Helium 10's Amazon Attribution is getting streamlined!
You now have the ability to:
See a clear indicator of how many links you have created out of your entitled amount (and how many links remain before a plan upgrade is required)
Archive attribution links that are no longer relevant (e.g., discontinued product)
Filter attribution metrics by date (zoom in on specific time periods to see how your links are performing!

This simple quality of life improvement means no more sudden upgrade prompts and no more irrelevant ASINs counting against your limit!
6. Want To Catch Up On The Last Bigger.Better.Launch! Webinar?
Find all webinar replays and blog recaps in one connected place. Think of it as the nerve center for all things NEW to Helium 10.
Check out the Bigger.Better.Launch! Hub Here!
Until Next Time!
Deep breath, we know that was a lot, but you made it! And hopefully, with some newfound wisdom to leave your competition in the dust.
Have a Helium 10 feature you'd like to request? Click the "?" in your Helium 10 dashboard and select "Share Your Ideas" from the dropdown menu. Bigger.Better.Launch! Is built on seller feedback, and we encourage you to share your insights so we can turn around and make the best possible selling tools for you!
Everything for your business on Amazon.
Find out more about our products by signing up or speaking with one of our
Customer Success representatives today. With us in your corner, you can enjoy
more sales and increased engagement from your Amazon business.
Chat with a Support Specialist