Bigger.Better.Launch! Brings you More Helium 10 Tool Updates
Helium 10 monthly new product webinar Bigger.Better.Launch! See what is happening in the game-changing e-commerce world this month.
Updated on: July 19, 2022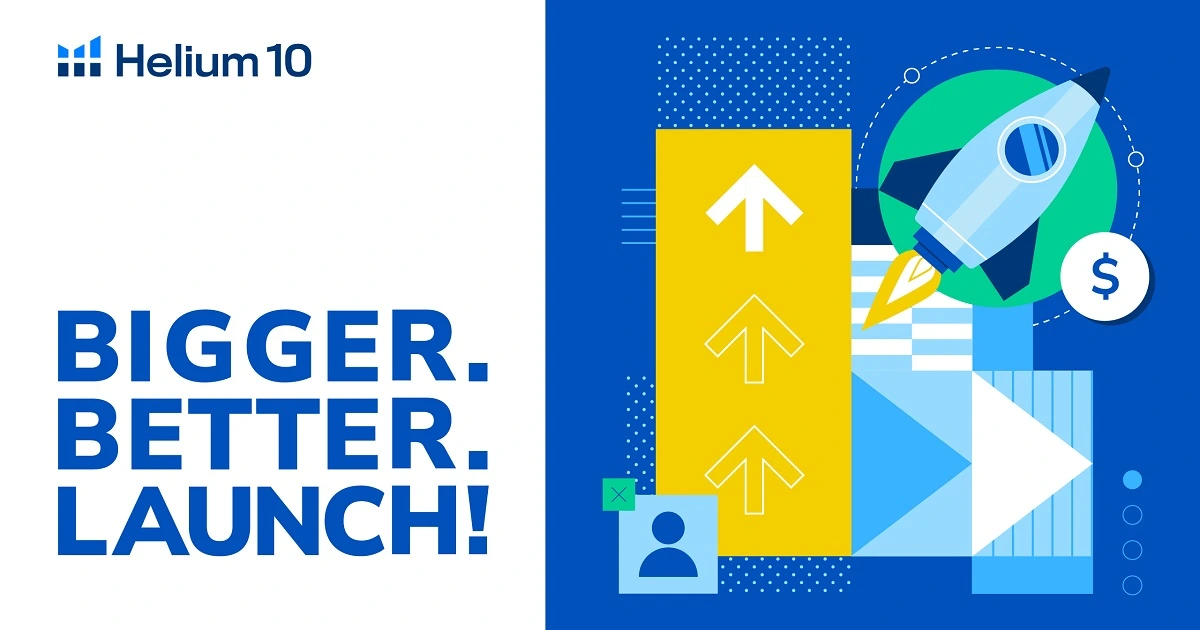 Can't stop, won't stop!
Helium 10 is back with more tool updates and new features that make e-commerce selling a breeze.
In case you missed May's Bigger.Better.Launch, we've compiled the latest Helium 10 updates, offers, and strategies in one convenient place.
The Bigger.Better.Launch! monthly webinar series is the only way to be the first to learn about the game-changing new features and products Helium 10 is launching.
Bigger.Better.Launch! will highlight the cutting edge of Helium 10 including:
NEW Helium 10 tool rollouts you won't want to miss
Updated features based on YOUR feedback
Refreshed resource guides and discount opportunities
So. Much. More.
Buckle up! Here is What's New This Month:
Below is a replay video of the entire announcement, but keep on reading for a summary of what you may have missed this month.
Attribution Tool Tracks URLs
Sellers can now measure how impactful their advertising efforts off-Amazon are with Helium 10's Attribution Tool in Portals. Easily create attribution URLs for advertising off-Amazon advertising without leaving your Helium 10 account!
Save time and generate more revenue with this new feature. This new Helium 10 Attribution Tool tracks URL clicks more accurately and faster than Amazon. Plus sellers can create custom URLs that are more aesthetically pleasing and help product rankings in search engines. All are housed in one single tool.
Helium 10 Tools Localization
Our tools are becoming more inclusive! Frankenstein, Index Checker, and Profits are now available in Chinese, Spanish, Italian, and German.
UAE Marketplace Expansion
Helium 10 has expanded the UAE marketplace to the following tools: Black Box, Cerebro, Magnet, and Keyword Tracker. Additional marketplaces mean more selling opportunities and the potential to increase revenue stream!
A Chrome extension and additional research tools are coming soon.
Next Level ASIN Insights Tracker
ASIN Insights Tracker adds a new layer of information to the Profits Summary Widget on the Member's Dashboard and the Product Performance Graphs within Profits. Users can now view the event history that was detected in Alerts in tandem with the financial KPIs of their products.
With this next level of information, users can make conclusions about the changes occurring to their products in relation to gross sales, units sold, orders, and more. This pertinent data allows you to understand your business' success with an explanation for any dips or rises they were not anticipating.
Easier Onboarding with Quick Tip
First-time Helium 10 users will now see a blue banner that provides a quick tip for the customer on the landing page of a tool. New users will have the option to "learn more" or dismiss the feature. The Quick Tip feature ensures new users a guaranteed understanding of the value of each tool and an effortless onboarding experience.
Know Your Estimated Brand Value
Helium 10 users now have visibility into their business worth. This new metric allows businesses to consider selling their business or further refine the value. Seeing the value of their business will drive satisfaction, and sellers will have the option to connect with sales to begin the arbitrage process.
Market Tracker 360
This tool allows scaling sellers to track competitor performance at scale to understand market share, gather their niche market insight, and improve their product performance.
Leveraging the world's largest Amazon database, Market Tracker 360 produces unparalleled accuracy, depth, and precision in understanding your products' performance. There is no more getting caught off guard by trendy new products. Dynamic market tracking automatically adds new and relevant products to your market. Users can customize their keywords, ASINs, categories, or all three to define their market.
Adtomic Email Notifications
Adtomic is an automation platform. New notifications such as "Suggestions" and "Automations" will help sellers understand their email performance. "Suggestions" will inform the user how many of each type of suggestion is pending approval, and offers them a CTA to visit that page in Adtomic. "Automations" notifications depict how many of each type of automation has been applied on their behalf during the time frame of the report.
In addition, users have the option to easily deactivate weekly and/or monthly sends for each profile as necessary.
More Accessible Black Box Products Tab
Black Box now has new ways sellers can research or find an area of opportunity. Users can use a particular tab to search within a specific set of filters to identify a product, keyword phrase, competitor, or niche to find opportunities in their selling journey.
Users now have a smoother onboarding experience and the tools require less study time. You can now view the "search for" tabs within Black Box and find value in using the simplified or advanced onboarding flow to find a product within the product tab.
New Search Volume Graphs
We updated the search volume graph to Cerebro, Magnet, and Keyword Tracker. Users can now check the search trends within a graph so they can expand to sell the product in different marketplaces/platforms, like Amazon, Shopify, Google, etc. Helium 10 users can triple confirm product trends based on the search volume in different marketplaces.
Top Product Performance
Helium 10 has introduced Product Performance KPI data into the H10 Mobile App so that users can now keep a pulse on their products' KPIs on the go. Users will be able to view their top 10 products (ranked by units sold) and be able to compare their performance (gross revenue, expenses, net profit, and units sold) with other time periods ranging from the day before all the way to the prior year.
Instead of visiting an email inbox or having to jump onto a desktop to view product performance, users can now stay up to date with their key products right at their fingertips. The product performance data will update as the user loads the app. Refreshing the app will refresh the performance data.
A Favoriting Feature ❤️
Customers can now "favorite" their partners to save them to their Helium 10 account. You can filter your "favorites" through categories, add notes about each partner, and even mass select partners in their 'favorites' to mass reach out to users.
Chrome Extension Alerts
Helium 10's Chrome Extension now sends automated alerts to keep users updated on product performance and set reminders.It's active on the browser as long as the user has an open session on the Chrome Browser.
Walmart Sponsors Sell + Scale
Sell + Scale Summit just got even bigger! Walmart will be the Title and Registration sponsor at Helium 10's Sell & Scale Summit. Sellers will have a one-of-a-kind opportunity to engage and receive in-person support from the Walmart Marketplace, Walmart Connect, and Walmart Fulfillment team!
Sell + Scale Summit brings e-commerce sellers everything they need to take their business to the next level, all under one roof at the Virgin Hotel in Las Vegas, Nevada.
The 3-day conference and welcome party includes over 50 agenda items with networking events, breakout sessions, interactive workshops, exercise classes, expert Q&A, and more! Plus a performance from Nelly and a keynote speech from Gary Vaynerchuk.
Register today and mark your calendar! The inaugural Sell + Scale Summit, themed 'Break Through: Create the E-Commerce Business of Your Dreams,' will be held from September 19 to 22, 2022.
Elite is Back Baby
Helium 10 Elite is reopening again. By joining Elite, users get access to a powerful network of industry experts, consultants, and other successful Amazon sellers, live workshops, and early access to most of our new features and tools.
Elite registration will only be open for a limited time, so don't miss this opportunity to join like-minded solopreneurs and business leaders ready to push, inspire and transform their businesses on Amazon.
Elite reopens June 16-30 at 11:59 pm PT
Enjoying The Biggest Helium 10 Updates All In One Place?
You're in luck – Bigger.Better.Launch! is not a one-time thing.
Next month's Bigger.Better.Launch! is scheduled for July 14th at 11 am PT.
Throw it on your calendar. Helium 10 is overflowing with new tools and opportunities for sellers every single month. We can't wait to share them with you!
Everything for your business on Amazon.
Find out more about our products by signing up or speaking with one of our
Customer Success representatives today. With us in your corner, you can enjoy
more sales and increased engagement from your Amazon business.
Chat with a Support Specialist