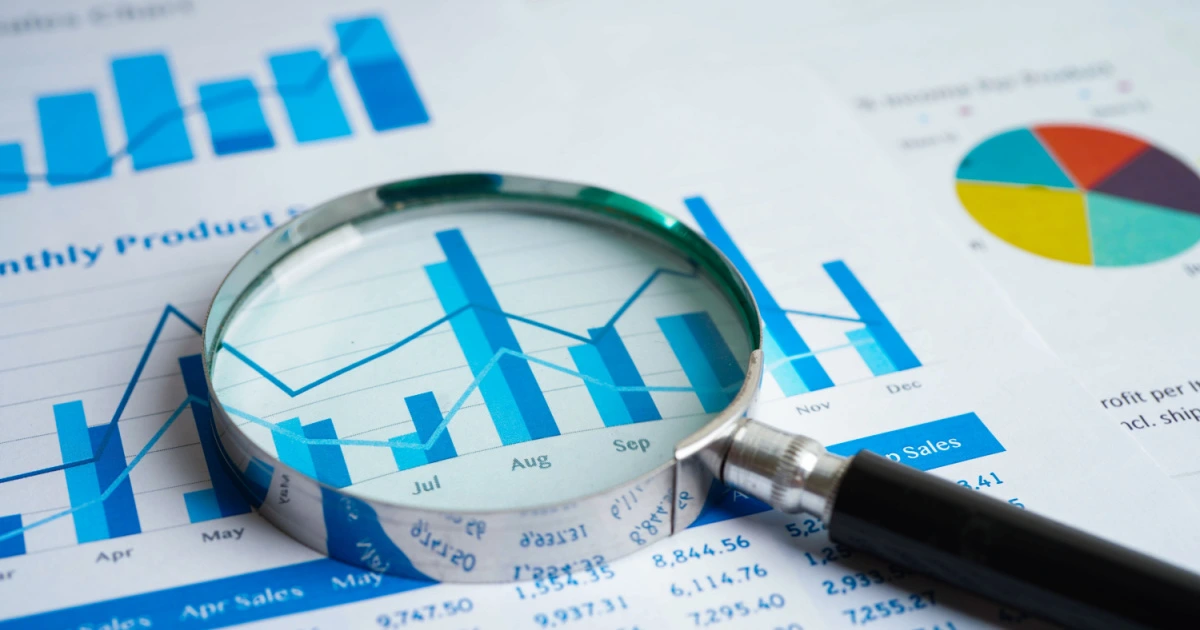 The Best Amazon Competitor Analysis Tools for Sellers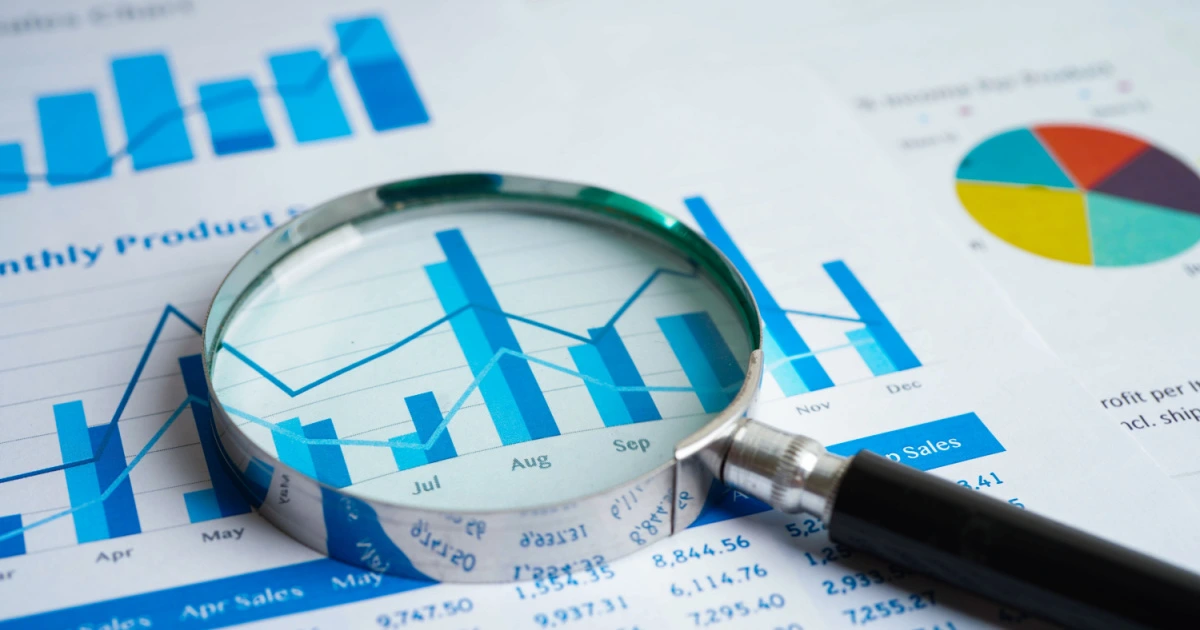 Conducting a thorough Amazon Competitor Analysis can be a challenging and time-consuming task, leaving many sellers feeling overwhelmed. With a vast amount of information available, it's often difficult to know where to start. However, when executed effectively, competitor analysis can have a transformative impact on your business. To address this need, Helium 10 has introduced Market Tracker 360, an advanced market intelligence and competitor research solution. This powerful tool complements Helium 10's existing suite of tools, providing Amazon sellers with a comprehensive solution to stay ahead in the competitive landscape.
The goal of performing an Amazon competitor analysis is to identify areas within your existing strategy where you can enhance and benefit your business. By monitoring your competitors' overall performance, such as pricing fluctuations and keywords, you can gain valuable insights to improve your own approach. Amazon competitor analysis involves studying specific brands on the platform that sell similar or related products to yours. This analysis encompasses various aspects, such as pricing, keyword strategy, product offerings, marketing tactics, sales history, and inventory management.
With Market Tracker 360, brands and retailers can gain a distinctive competitive advantage. This article will highlight the benefits and features of Market Tracker 360 and other research tools. Our customizable data empowers sellers at all stages to implement strategies that will propel your product positioning, ultimately driving your business to greater success.
Market Tracker 360
If you have an established brand with a defined product line and actively employ SEO or PPC strategies to target specific keywords, Market Tracker 360 takes the burden off your shoulders by dynamically monitoring your competitors' performance at scale.
To accomplish this, Market Tracker 360 offers the ability to generate a market analysis by utilizing ASINs, keywords, or category and subcategories. This comprehensive analysis allows you to assess the overall market share and determine your percentage of market ownership compared to your competitors.
Additionally, this tool provides brands with a holistic understanding of their specific product market, offering insights at both the macro and micro levels. Market Tracker 360 equips sellers with all the necessary components to conduct an in-depth and tailored Amazon competitor analysis instantly. With regular updates, you'll receive a snapshot of the market that is most relevant and beneficial to your business.
Designed for brands and agencies, this tool offers a consolidated and actionable view that provides the most holistic perspective on your brand's performance.
Get a Live Demo of Market Tracker 360
Xray
Helium 10 offers tools for various stages of your Amazon business. During the research phase, sellers can utilize the Xray tool, which provides a comprehensive analysis of revenue, sales trends, fees, active sellers, review count, and review velocity. This valuable information allows you to assess how your product compares to the competition within a specific product or niche.
Xray stands out as one of the most accurate Amazon product analysis tools in the market. In fact, Helium 10's estimates are typically within 22 units of the actual sales figure, providing you with highly reliable data to make informed decisions and strategies for your business.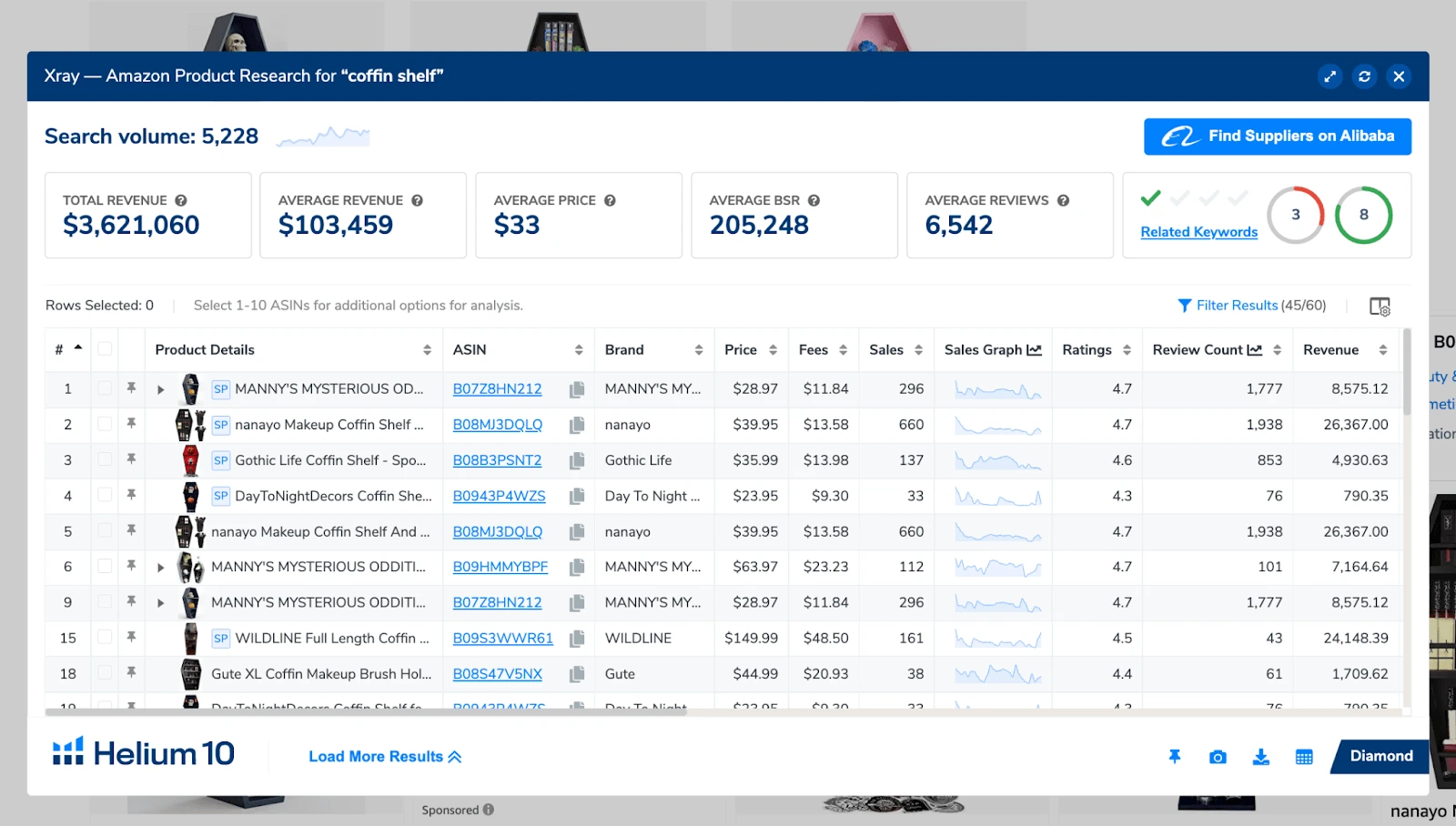 Xray search results expand into detailed product knowledge such as:
# – the number of the listing 
ASIN – the Amazon Standard Identification Number for each product 
Brand – the brand selling the product 
Title – the name of the product 
Category – what Amazon categorizes the product under 
Seller – the company selling the product 
Delivery – how the product is fulfilled 
Price – how much each unit costs 
FBA Fee – the fees for storing and fulfilling the product by Amazon 
Sales – how many sales the product made per month (including a sales graph, which updates daily) 
Revenue – the monthly revenue for the listing 
BSR – the numerical value of the product's Best Seller Rank 
BSR 30 – a graph reflecting the product's BSR fluctuations in the course of 30 days 
Rating – the Amazon rating for the product 
Reviews – the number of reviews on Amazon for the product 
Xray is part of the Helium 10 Chrome Extension, which you can find for free in the Chrome Web Store. Once installed and enabled, simply click on the blue Helium 10 icon at the top right of your Chrome window whenever you view a search results page or single product page on Amazon. Xray Amazon Product Research and Xray – Keywords are the first two options in the dropdown menu.
Cerebro
From there you can use Cerebro to identify which keywords their competitor ranks for. It's key to know what keywords your competitors are ranking for to know which keywords your customers are searching. Cerebro makes keyword research much easier with the option to compare competitor keywords to your own ASIN! With the Competing ASINs option in Cerebro, users can directly compare their keyword targeting efforts with their strongest competitor ASINs.
The benefit of using this new reverse ASIN strategy allows you to find trends among top keywords and your competitors, then use their strategies to your advantage. For example, if you notice that many of your top competitors are all ranking highly for a particular keyword and are all on page one, you may want to target said keyword yourself.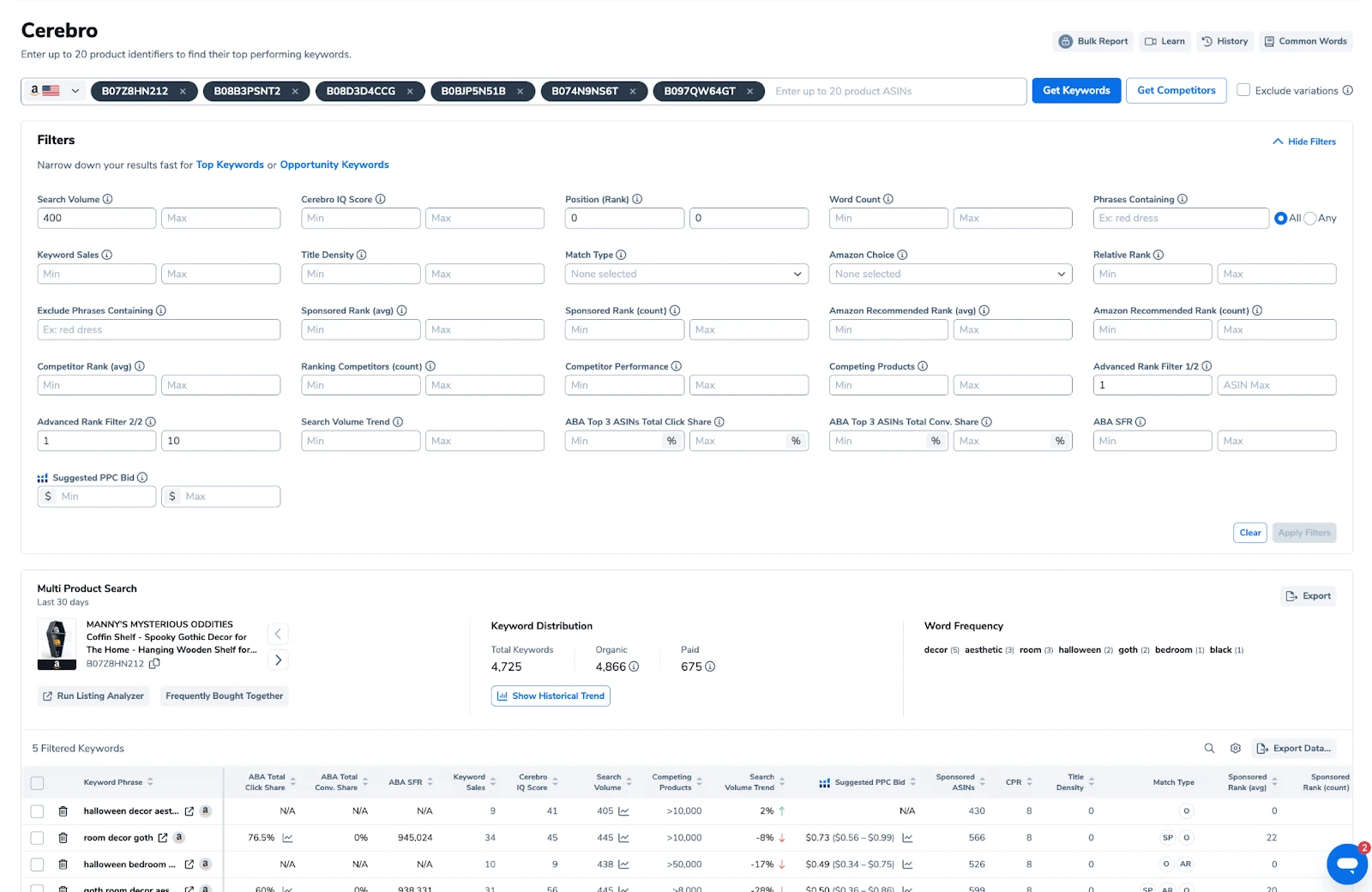 Cerebro has other helpful insights for comparing competitor keywords like:
Relative Rank – Where you rank among your selections
Competitor Rank Average – Where your selected competitors rank collectively
Ranking Competitors – Number of your selected competitors that are ranking in the range you have set in the filters
Competitor Performance Score – How well your competitors are doing overall for particular keywords
Listing Analyzer
Amazon Sellers can take advantage of Listing Analyzer to compare their product listing versus their competitors' product listing to see how they stack up against the competition. Good product listings are so important in the competitive landscape of Amazon that many of the Helium 10 tools have been created especially to organize and generate strong listings or to research the content needed to develop those listings.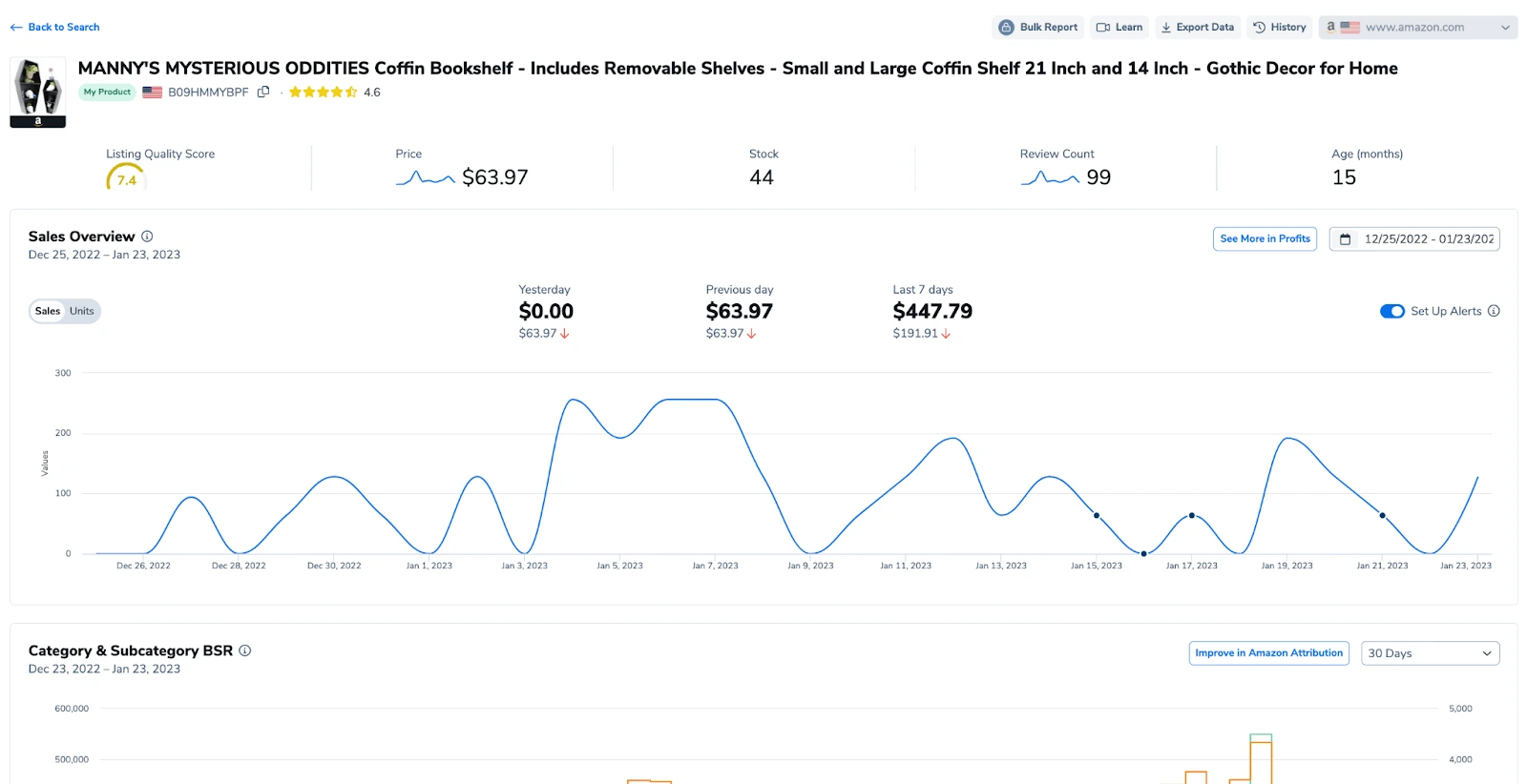 The Listing Analyzer tool helps users get a broad, top-level view of their current or potential competitors' listings simultaneously. You'll receive a Listing Quality Score which displays a score on a scale of 1 (lowest) to 10 (highest) based on the number of Amazon best practices that were followed. This score is broken down in detail in the Listing Quality Score (LQS) Analysis section.
Listing Builder
Sellers can also plug in their product listing versus their competitors' product listing into Listing Builder to see more granular data on how their listings stack up. After you have done your keyword research and identified your most important keywords to your niche, you can use Listing Builder to analyze your competitors' product listing for those same keywords. 
Are they using those same niche product keywords? Are they implementing those keywords into phrase form in their listing? These are analytics that Listing Builder helps sellers find out. All you need to do is import your competitor's ASINs to analyze their keyword strategies and adapt your own!
Trendster
It pays to pay attention! Using Helium 10's Trendster allows sellers to see how their competitors' pricing has changed over time and whether or not they need to adjust their own pricing to be more competitive.
Enter any product ASIN and receive visual results in seconds. Sellers can pull the trend data they need to determine what product is searched for the most every season. Clearly identify market trends and take advantage of them to increase sales.
Trendster helps sellers:
Determine product seasonality with historical data
Capitalize on Amazon product trends to take advantage of demand spikes
Efficiently study the correlation between price changes and sales rank over time
Review Insights 
Review Insights enables Amazon sellers to see if their listing is competitive in terms of review quantity and quality. With Review Insights, you can effortlessly sift through your competitors' reviews to identify issues with their products and competitors' products and see if they need to adjust on that end. This will also enable you to see if you need to invest more in your own review collection via Follow Up and whether you should run PPC campaigns for these products to build up more reviews to be more competitive.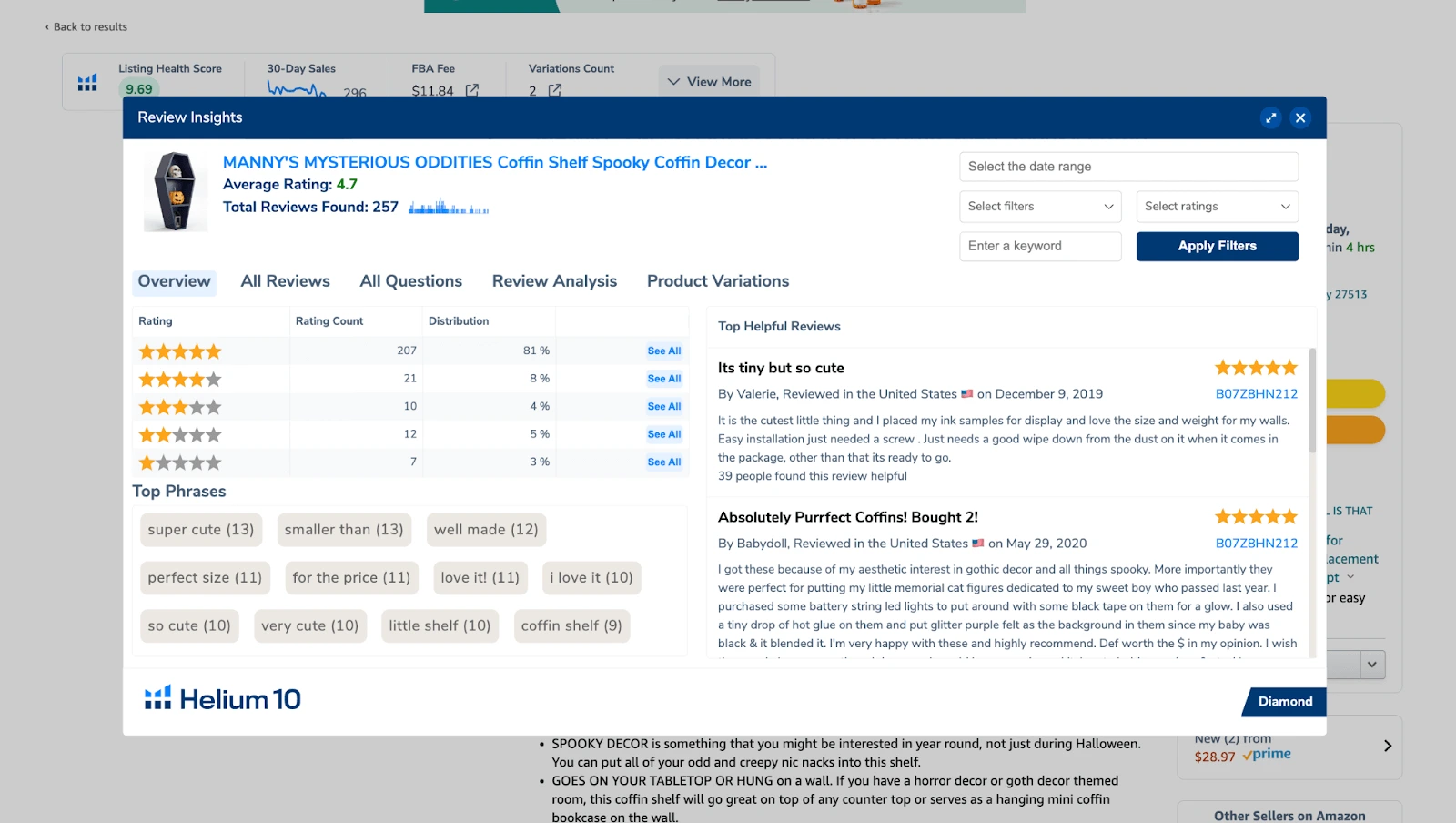 Conclusion
Amazon competitor analysis can feel like a tedious task, but with the right tools in your toolbox to streamline your data research, it's much more feasible to track your competitors and stay ahead of them. Helium 10's Amazon competitor analysis tools help sellers understand what is working and not working for the competition and identity areas to improve their own product listings. With Helium 10 as your partner, you can unlock the potential to thrive and succeed in the highly competitive landscape of Amazon.
FAQ
Achieve More Results in Less Time
Accelerate the Growth of Your Business, Brand or Agency
Maximize your results and drive success faster with Helium 10's full suite of Amazon and Walmart solutions.