Announcing Sell + Scale Summit Sponsor: Walmart!
Learn all about who is sponsoring Sell + Scale Summit. Register now!
Originally published on: June 22, 2022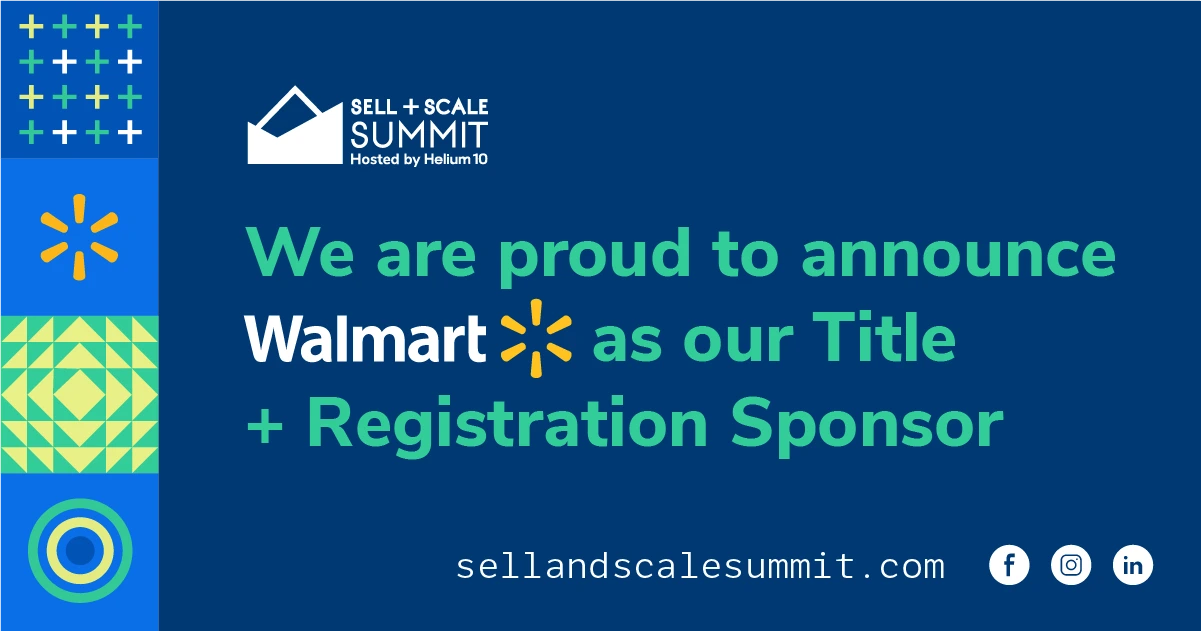 Sell + Scale Summit just got even bigger! Walmart is excited to announce they will be the Title and Registration sponsor at Helium 10's Sell & Scale Summit. Sellers will have a one-of-a-kind opportunity to engage and receive in-person support from the Walmart Marketplace, Walmart Connect, and Walmart Fulfillment team! 
Sell + Scale Summit brings e-commerce sellers everything they need to take their business to the next level, all under one roof at the Virgin Hotel in Las Vegas, Nevada. 
The 3-day conference and welcome party includes over 50 agenda items with networking events, breakout sessions, interactive workshops, exercise classes, expert Q&A, and more! Plus a performance from Nelly and a keynote speech from Gary Vaynerchuk. 
---
Learn more about Sell + Scale on the latest episode of Serious Seller's Podcast, Fireside Chat With Walmart HQ!
---
What Sellers Will Learn at Sell + Scale 
Beyond the unique opportunity to learn and ask questions directly from Walmart Marketplace, Walmart Connect, and Walmart Fulfillment team, there is something for every seller at every stage of their journey.
Here's a session snapshot:
Proven PPC Strategies To Increase Sales Breakout Session Regardless of your experience level every seller wants to maximize their advertising ROI. Learn how to save time and money with our PPC campaign playbook.
Unlocking New Opportunities in International Markets Marketing your products internationally opens doors to a massive amount of potential new customers. Get a deep-dive on how to sell globally.
Outside of the Box Strategies: Listing Optimization, SEO, and Organic Rank
If you want to stay competitive you have to adopt unique strategies. Learn the successful unconventional approaches that will take your listings to the next level and outsmart your competitors.
6-Figure Seller Networking Session
Attending Sell+Scale isn't just about world-class conference sessions, it's also an opportunity to meet, network, and have career-enhancing connections with other sellers.
Register today and mark your calendar! The inaugural Sell + Scale Summit, themed 'Break Through: Create the E-Commerce Business of Your Dreams,' will be held from September 19 to 22, 2022. 
Can't wait to see you there.
Everything for your business on Amazon.
Find out more about our products by signing up or speaking with one of our
Customer Success representatives today. With us in your corner, you can enjoy
more sales and increased engagement from your Amazon business.
Chat with a Support Specialist