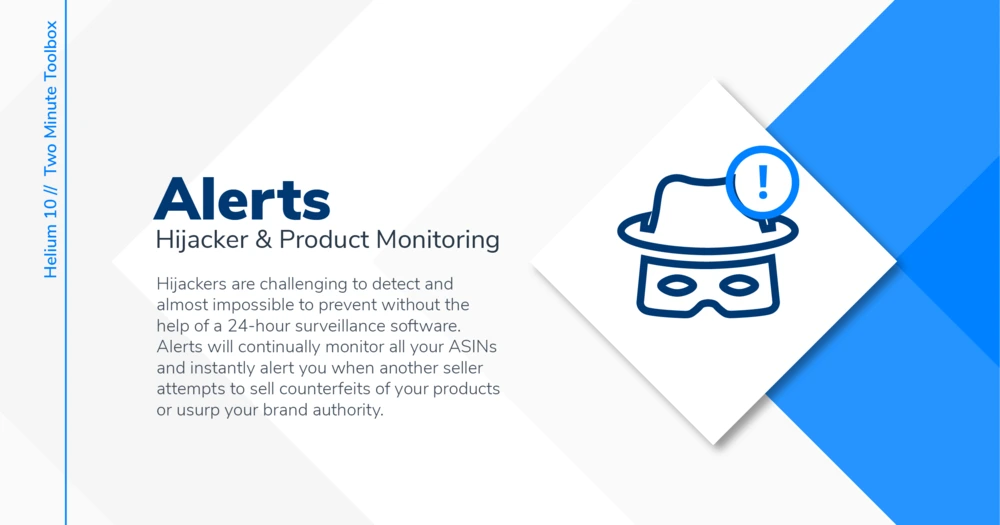 Two-Minute Toolbox: How to Set Notifications for Suspicious Activity on Your Amazon Seller Account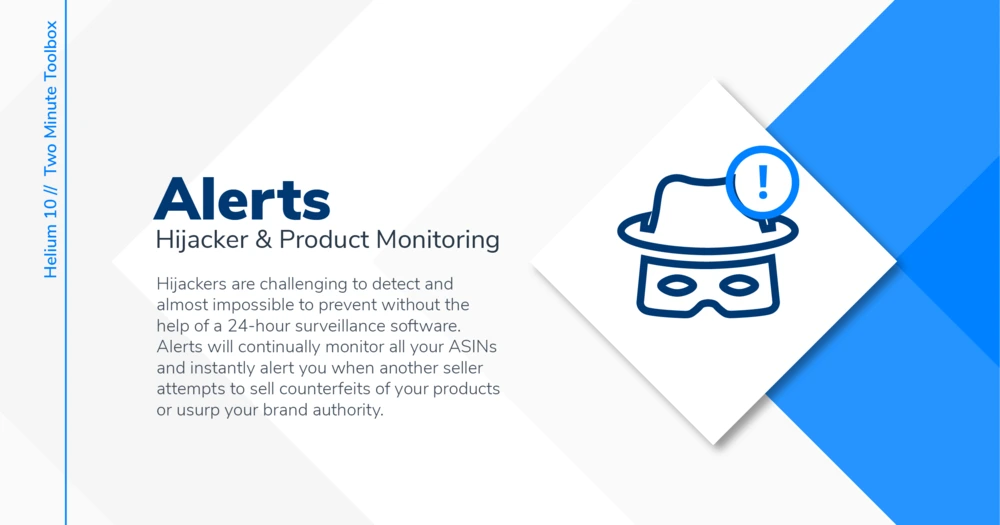 You need to be notified when changes happen on Amazon. Changes that directly affect your account or ASINs.
As an Amazon seller, you're responsible for a hundred things already. Seemingly minor changes might slip through the cracks, but these changes can affect your account in a number of ways – ways that can impact your revenue, sales ranking, and account standing.
The Helium 10 Amazon Alerts tool is specifically designed to keep you aware of changes and suspicious Amazon activity so that you can take action right away.
Why?
Because unauthorized changes or events like losing the Buy Box can cost you a lot of revenue if gone unnoticed – even just a few minutes can lose you money, but imagine never even noticing and having your product lose traffic for days or weeks!
What?
Be notified when changes that require actionable responses are made, such as losing the Buy Box, a hijacker changing your listing content, or Amazon recategorizing your products in the "Adult" product category (that's awkward)!

How?
Use the Alerts tool to set email and SMS/text message notifications.
Events that Alerts can monitor include:
Losing (or winning) the Buy Box
New sellers piggybacking on your listing
Unusual changes in product price, product dimensions, or listing content (title, bullet points, photos, etc.)
Changes in product or seller feedback ratings, whether positive, negative, or neutral
Assignment to "Adult" product category
"Amazon Warehouse Deal" winning the Buy Box
Let's get you set up!
1: Connect your Amazon MWS token
First things first: connect your Amazon MWS token to your Helium 10 account, if you haven't already. If you need help doing that: click here for the instructions.
2: Go to "Settings" in the Alerts tool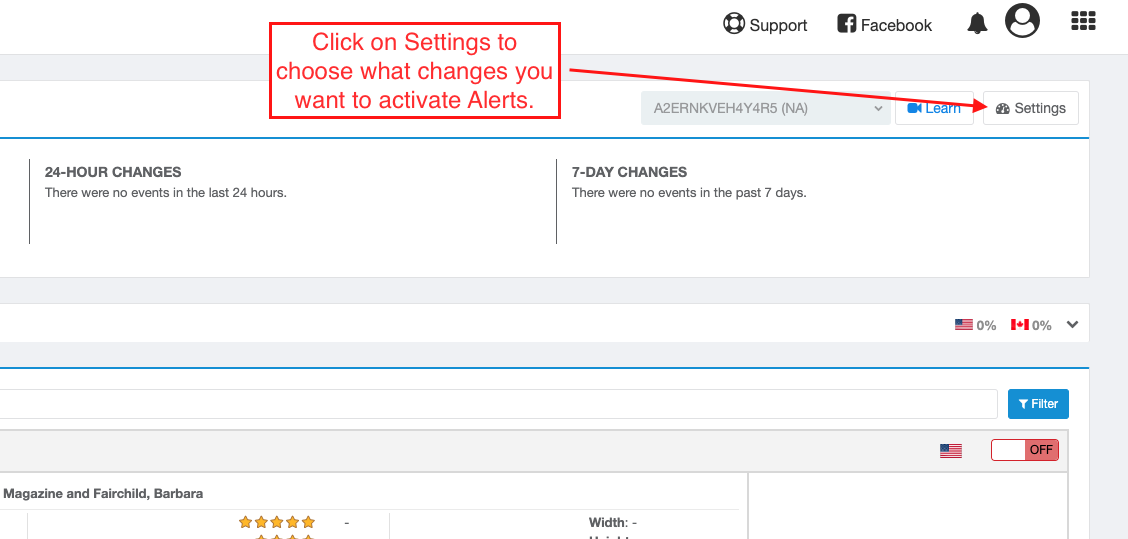 Navigate to your Alerts tool from your Helium 10 dashboard. Once there, click on "Settings" in the upper right corner. This brings you to your Profile page, where you can control where and when you receive notifications.
3: Link an email and a mobile phone number to ensure you receive notifications
What good are alerts if you don't receive them? The first thing you should do is enter the email and phone number you want to use to receive notifications.
The email is mandatory and will default to your Helium 10 account email address, but you can set a different one if you prefer. You can also add additional email addresses, which is useful for adding account managers and so on.
Entering a phone number is optional, but is the only way to receive SMS text notifications. In my opinion, it's best to have both text and email notifications enabled to make it twice as hard for you to miss critical changes in your Amazon account status, but it's entirely up to you how you manage this.
4: Choose which alerts you want to receive
You can set alerts for SMS text notifications and email notifications separately.
Text messages alerts include:
Buy Box lost
Listing suppressed
Since these are considered the most critical alerts for you to be aware of right away, these are currently the two options available via text message.
Losing the Buy Box to another seller means different things for different sellers: for arbitrage and wholesale sellers, this can just mean another authorized seller is beating you by some metric. For private label sellers, however, this could indicate hijackers or unauthorized resellers.
Having your listing suppressed can be the result of any number of things: copy or photos that Amazon believes don't follow standards, stock issues, violation of hazmat or miscategorization rules, etc. Whatever the case, when it happens, you'll want to know right away so you can fix it and get back up and running.
Email alerts include:
Buy Box lost
Buy Box won
Number of sellers changed
Price changed
Dimensions changed
Title changed
Category changed
New 5-star product review
New 4-star product review
New 1-3 star product review
Listing suppressed
ASIN marked as "Adult"
New negative seller feedback
New neutral seller feedback
New positive seller feedback
Receive alert if "Amazon" won the Buy Box
Receive alert if "Amazon Warehouse Deals" won the Buy Box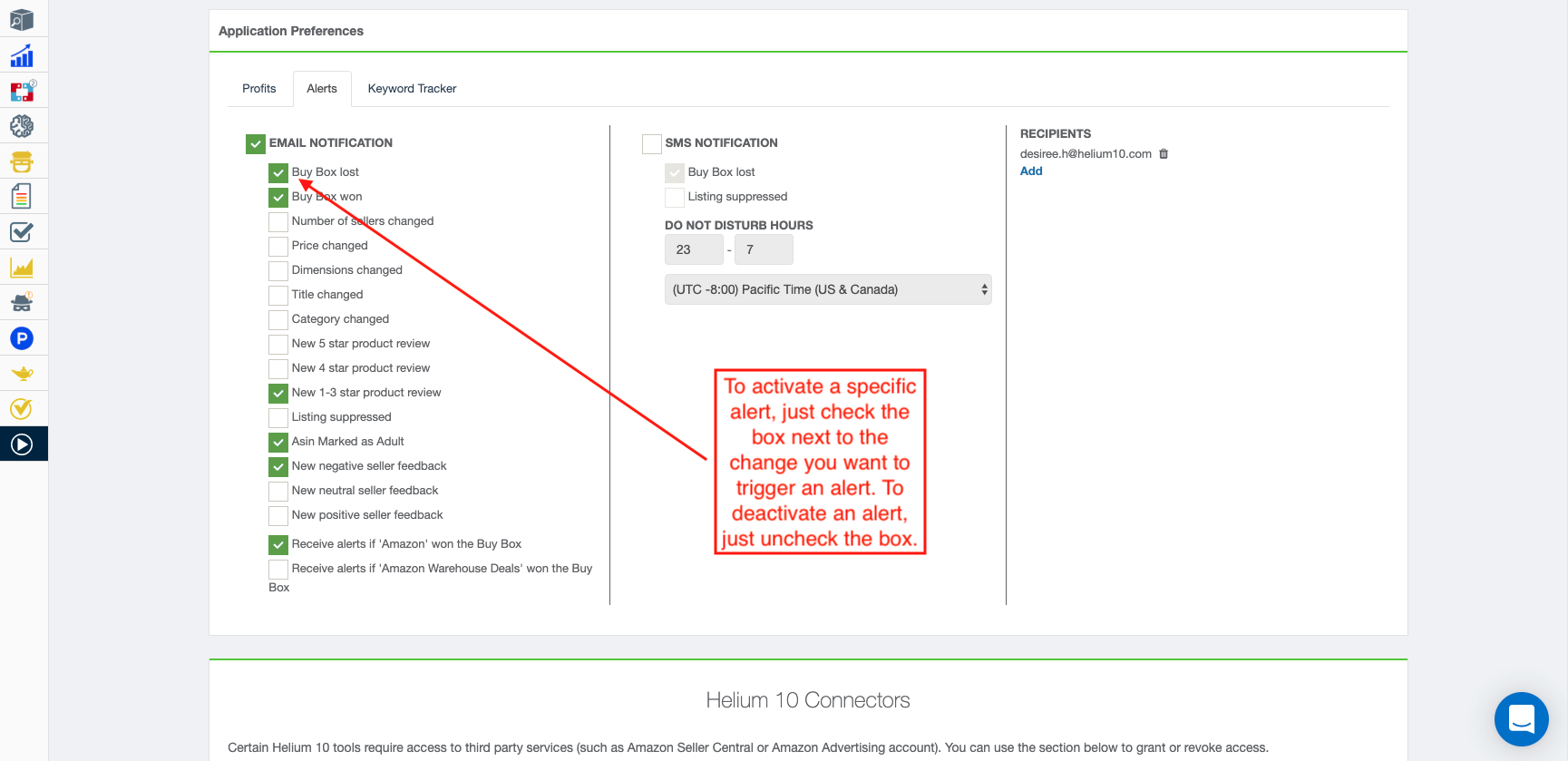 Most of these are self-explanatory, but here are a couple of things to keep in mind.
Number of sellers changed
This is important for all types of sellers. For arbitrage sellers and wholesalers, you'll want to keep track of how many competitors you have who are selling the same product.
For private label sellers, you'll want to know if anyone is hijacking your listing or reselling your products unauthorized!
Dimensions changed
Hijackers aside, sometimes Amazon rescans your product (called a cubit scan) and changes the dimensions based on what they find. Sometimes it's accurate, sometimes it isn't, so you'll want to know and double-check their findings against your measurements.
This is important because dimension changes can kick your product into another shipping tier, potentially meaning higher FBA fees.
This happened to me once. I was doing copywriting for an account with hundreds of SKUs. We were actually using Alerts at the time, but the "dimensions changed" email notification got lost in a sea of other notifications, and we didn't notice Amazon had erroneously changed the product dimensions to much larger than the product actually was.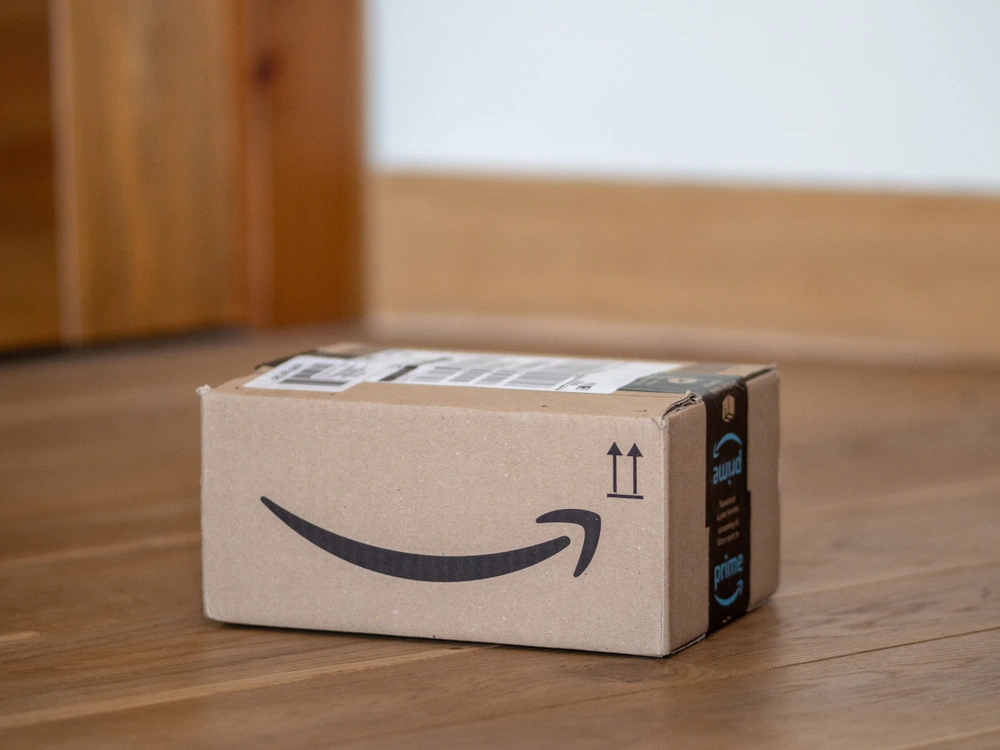 We didn't catch the change until about two months later, AND it was on one of our top 5 selling ASINs.
We were able to open a case and get refunded, but the difference in FBA fees after about two months was a four-digit figure. Had we not caught that, we would have continued to lose a lot of cash and been none the wiser!
New negative seller feedback
Negative seller feedback is supposed to be feedback based on your performance as a seller – and most buyers confuse that with product reviews. Often, you'll receive negative seller feedback that's supposed to be a negative product review – and if that's the case, you can usually have it removed, sometimes automatically.
Stay connected, stay informed
And that's the basics of setting up the Helium 10 Alerts tool! There's more to the tool, but this covers the heart and soul of what Alerts is supposed to do for you.
Have more questions about Alerts? Already using Alerts and want to share your favorite features? Feel free to comment and let us know how it's working for you!
Frequently Asked Questions
Achieve More Results in Less Time
Accelerate the Growth of Your Business, Brand or Agency
Maximize your results and drive success faster with Helium 10's full suite of Amazon and Walmart solutions.