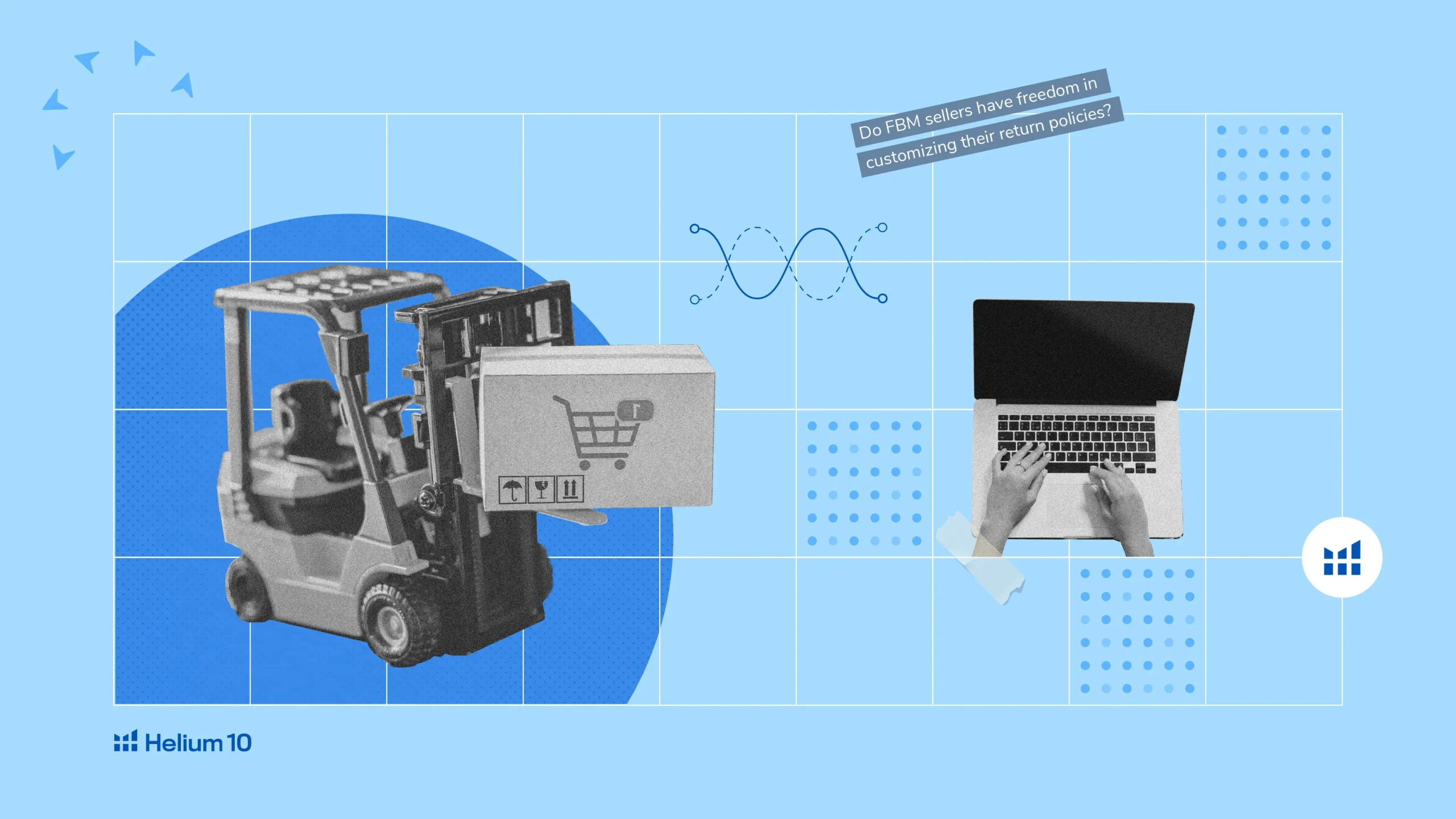 Amazon Return Policy for Sellers (FBA/FBM)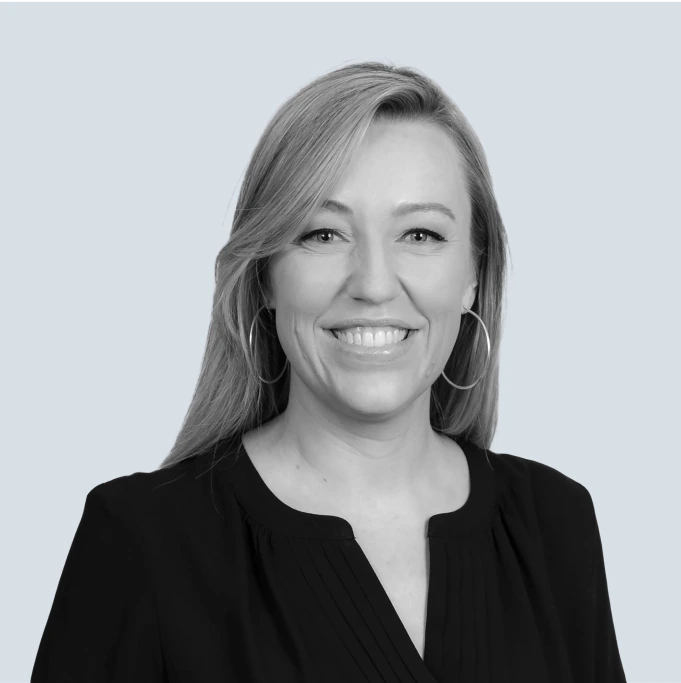 Introduction
Welcome to our guide on Amazon's FBA (Fulfillment by Amazon) and FBM (Fulfillment by Merchant) return policies. Returns are a fundamental aspect of e-commerce, and understanding how to navigate the Amazon return policy for sellers is crucial. In this guide, we'll delve into the complexities of Amazon's return policy for sellers, addressing common questions and providing valuable insights to help you effectively manage returns and optimize your seller experience. Whether you're a new or experienced seller, this guide is your resource for mastering Amazon's return policies. Let's dive in.
Outclass Your Competitors
Achieve More Results in Less Time
Maximize your results and drive success faster with Helium 10's full suite of Amazon and Walmart solutions.
Sign Up for Free
Is Amazon's Return Policy Different for FBA and FBM Sellers?
Amazon's return policy varies slightly for FBA (Fulfillment by Amazon) and FBM (Fulfillment by Merchant) sellers. While the overarching principles remain the same, the execution differs in some key aspects.
For FBA third-party sellers, Amazon takes on a more hands-on role in the returns process. When a customer initiates a return for an FBA-fulfilled product, Amazon handles the entire process, from providing the return label and receiving the return to inspecting and restocking the item. FBA sellers benefit from Amazon's robust return management infrastructure, which includes streamlined logistics and the option to have returned items resold as "Warehouse Deals."
On the other hand, FBM sellers are responsible for receiving and restocking returns, giving them more control over which product returns can be restocked and which returns need to be disposed of because they can no longer be sold as new. Usually, Amazon refunds buyers right away when a returned product is shipped back to the seller but sometimes, a seller will have the option to repay within a 2-day period after they receive the returned item. Another added benefit for FBM sellers is that they can charge restocking fees for products that are returned damaged.
Do FBM Sellers Have Total Freedom in Customizing Their Return Policies?
Fulfillment by Merchant (FBM) third-party sellers on Amazon, do not have total freedom in customizing their return policies. Amazon stipulates that FBM sellers are required to either match or surpass Amazon's standardized return policy, which necessitates accepting returns within 30 days of the item's receipt, irrespective of the reason behind the return.
Returned items are directed to the designated address specified by the FBM seller, and the seller is obligated to initiate customer refunds within 2 days of receiving the returned product. However, in the experience of most sellers, Amazon usually has already refunded the buyer before the seller has the opportunity to refund the buyer. The reason some items are refunded before the seller receives customer returns is because of Amazon's Refund at First Scan (RFS) policy which sometimes results in buyers getting a refund before the package is returned to the seller.
For a professional seller, enrollment in the Amazon Prepaid Returns Label program is automatic. Through this program, Amazon dispatches a prepaid return shipping label to buyers on the seller's behalf when a return request is initiated. This process, however, does not provide the third-party seller with an opportunity to engage with the customer or resolve the issue before the customer is automatically reimbursed. As for individual sellers, they do have the option to apply for enrollment in this program.
Can Customers Return an Item if They Opened It?
Yes, if a customer decides that they do not want a product, they can generally return an item on Amazon for a full refund even if they've opened it. Amazon's return policy allows customers to initiate buyer returns for most products within a specified return window, typically 30 days. Whether the item is opened or not, customers are entitled to return it if it doesn't meet their expectations or if there are issues with its quality or condition.
However, there are some exceptions. For example, certain products like perishable goods or personalized items may not be eligible for return if they have been opened or used, unless there is a defect. Additionally, some sellers may have their own return policies that differ from Amazon's standard policy, so it's essential for customers to review the seller's specific return terms when making a purchase.
Can Customers Return Used Items?
Yes, Amazon's return policy generally allows customers to return used items by simply submitting a return request. Amazon acknowledges that customers may need to open and try products to assess their quality and functionality. Therefore, if a customer is dissatisfied with a product they've used, they can typically initiate a return request within the specified return window, usually 30 days.
However, there are exceptions to this return policy. Some product categories, such as health and personal care items or intimate apparel, may have stricter return guidelines for hygiene reasons. In such cases, Amazon may accept a return request only if the product is unopened and in its original packaging.
It's important for sellers to be aware of these nuances and to communicate their specific return policies clearly to customers. Additionally, sellers can use Amazon's return settings to set conditions for accepting returns on used items, including restocking fees or limitations on returning used products in certain conditions.
Manage Everything With Next-Level Software
Sign up now to access powerful, easy-to-use tools to help with every part of selling on Amazon and Walmart.
What Are the Typical Reasons Customers Return Items on Amazon?
Customers return items on Amazon for a variety of reasons, reflecting the diverse expectations and experiences in online shopping. Some common reasons for returns include product quality concerns, such as defects, damages during shipping, or products not matching their descriptions. Apparel and footwear often see returns due to size discrepancies or items not fitting as expected. Sometimes, customers simply change their minds or no longer want the product, leading to return requests. Shipping errors can result in customers receiving items different from what they ordered, prompting returns. Electronics or appliances that don't meet performance expectations may be returned. Items that arrive later than the promised estimated delivery date can lead to dissatisfaction and return requests, potentially resulting in customer refunds. Furthermore, products related to personal care or health may be returned if they don't meet hygiene standards or if the customer experiences adverse reactions, which can lead to negative reviews. Ultimately, unmet expectations also play a crucial role; if the product received doesn't align with what customers expected based on reviews or product images, they might opt for a return, emphasizing the importance of great customer service in handling refund orders.
What Is the Average Rate of Return on Amazon?
The average rate of return on Amazon can vary significantly depending on several factors, including the product category, the quality of product listings, and the seller's customer service. However, it's generally estimated that the return rate for most products on Amazon falls within the range of 10% to 30%.
Specific categories like fashion and apparel, electronics, and health and personal care tend to have higher return rates due to factors like sizing issues, changing preferences, and product expectations. Conversely, products with lower return rates often include staples like groceries or well-defined items with fewer variables.
Sellers can proactively manage their return rates by providing detailed and accurate product descriptions, clear sizing information, and responsive customer support. By understanding and addressing the factors influencing returns within their specific niche, sellers can work towards optimizing their return rates and improving their overall business performance on Amazon.
Helium 10 has a tool that will help you see trends in reviews and customer questions. This information can help you optimize your photos and listing better so that customers have all the information needed to make an informed decision about your product.
The first thing you will need to do is make sure that you download the Helium 10 Chrome extension on the Chrome Webstore.
Once you have the Helium 10 Chrome extension downloaded, go to a product detail page on Amazon. In our example, we went to a coffin shelf listing clicked on the Chrome Extension, and then "review insights."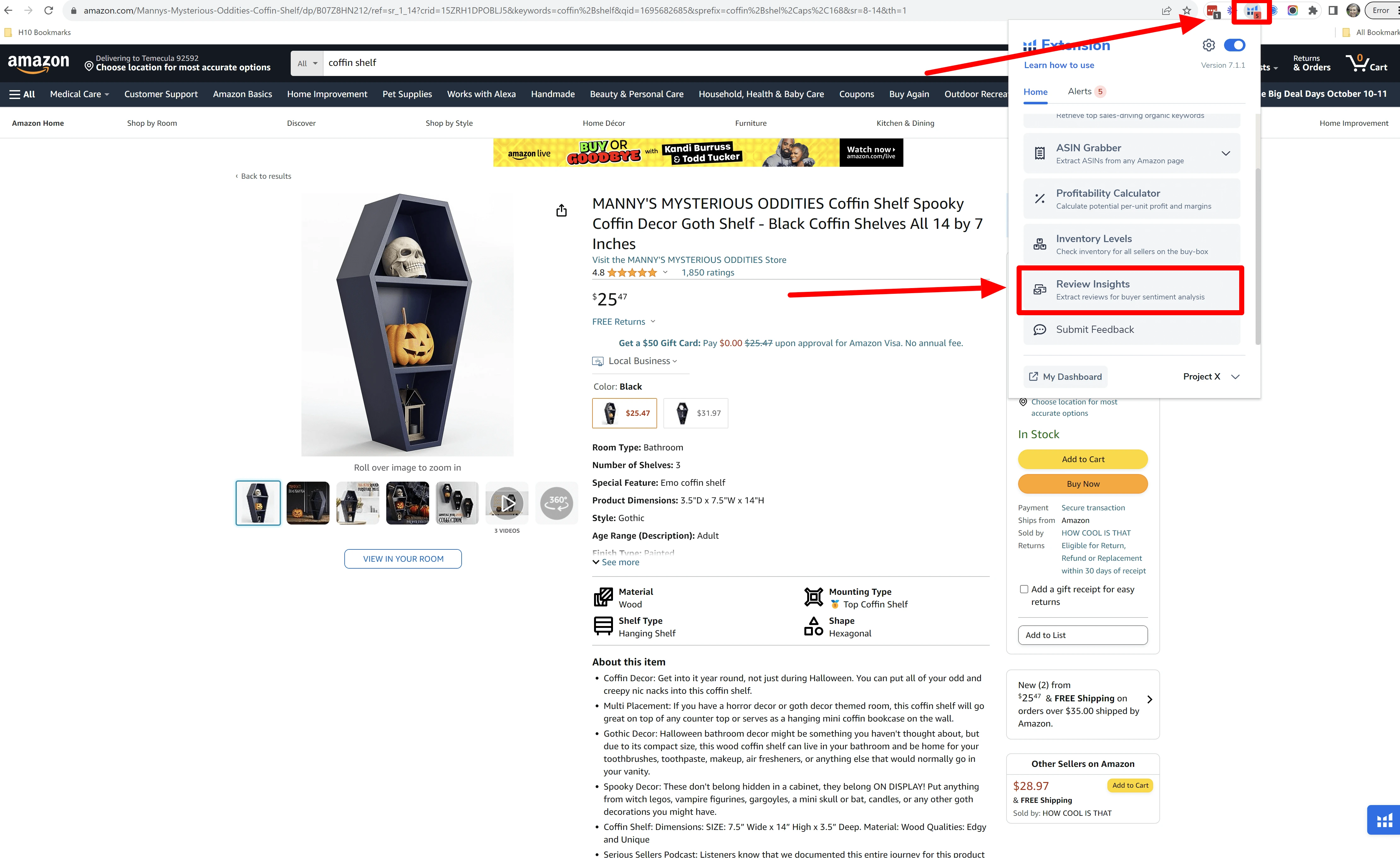 Once you click on "review insights," you will be able to see an overview of all reviews and questions asked by customers. It also will give you a list of the top phrases used by customers to help you get a quick picture of what is going right and what is going wrong with your listing/product. These insights will help you to spot trends in any problem areas. For example, if the sizing is not accurate, you can fix your product sizing and/or sizing charts to help minimize returns.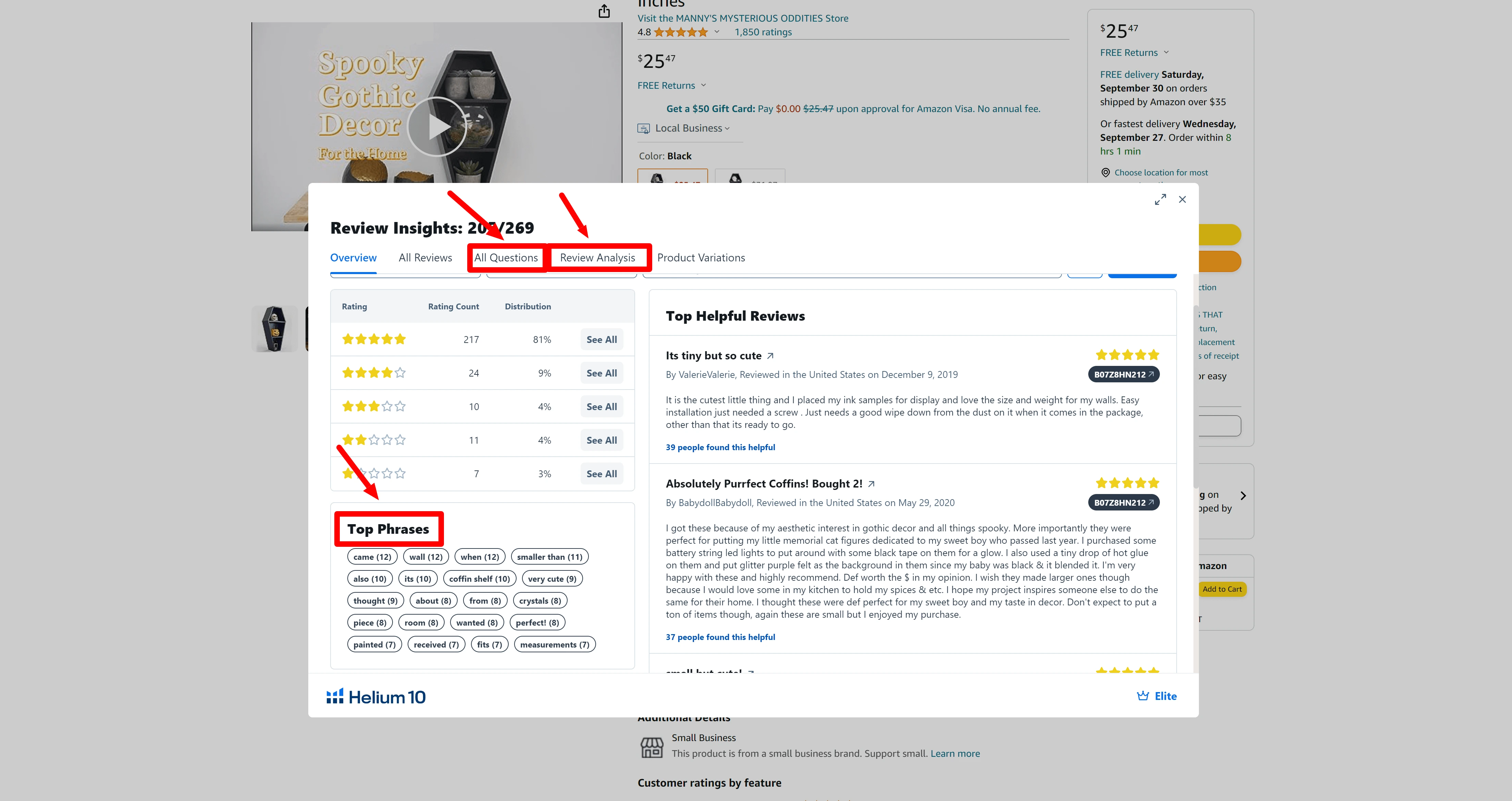 Do Amazon Sellers Have to Accept Returns?
Yes, Amazon third-party sellers are generally required to accept a return request as part of Amazon's customer-centric approach. Amazon's return policy prioritizes customer satisfaction, aiming to provide shoppers with confidence and convenience when making purchases. Consequently, sellers are expected to adhere to Amazon's return guidelines, which include accepting returns within the specified return window, typically around 30 days.
When Can Sellers Reject a Return?
Sellers on Amazon cannot reject a return request within the 30-day return window and must accept buyer returns as long as they follow Amazon's Return policy. If a customer submits a return request, sellers are required to accept returns.
How Long Do Sellers Have to Give Customers to Return Items?
Sellers on Amazon are typically required to provide customers with a return window of 30 days. This means customers have up to 30 days from the date of delivery to initiate a return for most products.
However, it's essential to be aware that this standard return window can vary for certain product categories. For example, items in the jewelry category may have a shorter return window, often around 7 days, due to their higher value and the need for more immediate inspections.
Are Sellers Responsible for Return Shipping?
Whether third-party sellers on Amazon are responsible for return shipping largely depends on the fulfillment method chosen for the product. When an item is fulfilled by Amazon (FBA), Amazon typically assumes the responsibility for return shipping fees and manages the return process. This is a benefit for sellers who use FBA, as it can attract buyers who appreciate the convenience of not having to cover return shipment costs. Additionally, for Amazon Prime customers, Amazon often covers return shipping costs, regardless of the reason for the return, which can vary depending on the product category and the specific terms of Amazon Prime, potentially affecting the decision of buyers to request returns. In contrast, for orders fulfilled by the seller (FBM), it's typically the seller's responsibility to accept returns and handle return shipping unless the return is due to a mistake or fault on the seller's part. In such instances, which may include sending the wrong item or a defective product, sellers are generally expected to provide prepaid return labels to customers, thus shouldering the return shipping fee. However, when returns are initiated for reasons beyond the seller's control, like a customer changing their mind or ordering the wrong size, the responsibility for return shipping usually falls on the buyer. It's worth noting that some sellers, as a goodwill gesture to enhance customer satisfaction, opt to offer return shipping labels even when the return is not their fault. Understanding these policies is crucial for third-party sellers on Amazon to navigate return requests effectively and provide a positive shopping experience for their customers.
How Are Taxes Handled on Amazon Returns?
When it comes to handling taxes on Amazon returns, the process is meticulously managed by the platform. Amazon takes on the responsibility to calculate, collect, remit, and refund supported sales and use tax and/or regulatory fees. In cases where a return request is initiated, and a refund is issued, Amazon ensures that the associated tax refund is accurately processed. For tax-exempt buyers, who have tax-exempt status, Amazon also manages this aspect, ensuring that the appropriate tax exemptions are applied to eligible transactions. Importantly, Amazon functions as the taxpayer and marketplace facilitator (MPF) in these scenarios, remitting any taxes collected directly to the relevant tax authority as dictated by applicable legislation. This means that sellers are not burdened with the intricacies of refund tax handling or the responsibility of managing tax refunds directly. The seamless management of taxes on Amazon returns underscores the platform's commitment to providing a hassle-free experience for both sellers and buyers, ensuring that tax refund procedures are efficiently and accurately executed in every refund order.
Does Amazon Refund FBA Fees on Returns?
When it comes to the question of whether Amazon refunds FBA fees on returns, the answer lies in the intricacies of their policy. When a customer initiates a return request through Seller Central, Amazon typically credits your seller's account balance for all or part of the Selling on Amazon referral fee and, where applicable, the variable closing fee for the returned item. However, it's important to note that Amazon does not reimburse you for other associated FBA fees, such as shipping costs. Additionally, in some cases, when a returned item has been opened or its condition doesn't meet Amazon's standards, a restocking fee may be charged to the customer upon their request, and this fee is automatically refunded to your account. In this situation, your account is credited in the amount of the restocking fee. It's worth mentioning that you won't receive a restocking fee credit if Amazon takes responsibility for the condition of the returned item and issues you a reimbursement. Understanding Amazon's policy on FBA fee refunds for returns is essential for sellers using the platform, as it directly impacts your seller's account balance and can play a significant role in managing your finances amidst return requests and customer refunds.
Do Amazon Sellers Have to Pay a Restocking Fee?
No, Amazon third-party sellers do not have to pay restocking fees for returned products that are put back into inventory.
How Long Do Sellers Have Until They Must Issue a Refund on a Return?
Amazon expects sellers to issue refunds promptly upon receiving a returned item. Sellers are encouraged to process refunds within two business days from the time the return is initiated. This swift resolution benefits both customers and sellers, contributing to a positive shopping experience and reducing potential disputes.
Amazon also provides tools and services to streamline the refund process, making it easier for sellers to manage returns efficiently. By adhering to these guidelines and promptly issuing refunds, sellers can maintain a strong reputation and build trust with customers on the platform.
Can You Sell Returned Items Multiple Times?
Yes, sellers on Amazon can often sell returned items multiple times, but there are important considerations to keep in mind. When a customer returns a product to Amazon, it undergoes inspection to determine its condition. If the item is still in sellable condition, Amazon may choose to return it to the seller's inventory, allowing the seller to list and sell it again as new.
It is important to note that with FBA returns, Amazon employees determine if the return product can be resold and sometimes they may restock a product that isn't in perfect new condition. FBM sellers have products shipped back to their warehouses, allowing them to decide on whether or not a product is in good enough condition to sell again as new.
Can Sellers Issue Partial Refunds?
Sellers are required to offer a full refund as there is no option for a partial refund in Seller Central but in Fulfillment by Merchant (FBM) refunds, third-party sellers are allowed to charge a restocking fee if the item is damaged or destroyed. The maximum restocking fee is 20% of the selling price.
To charge a restocking fee, go to "Orders" in your Seller Central Account and then select "Manage Returns."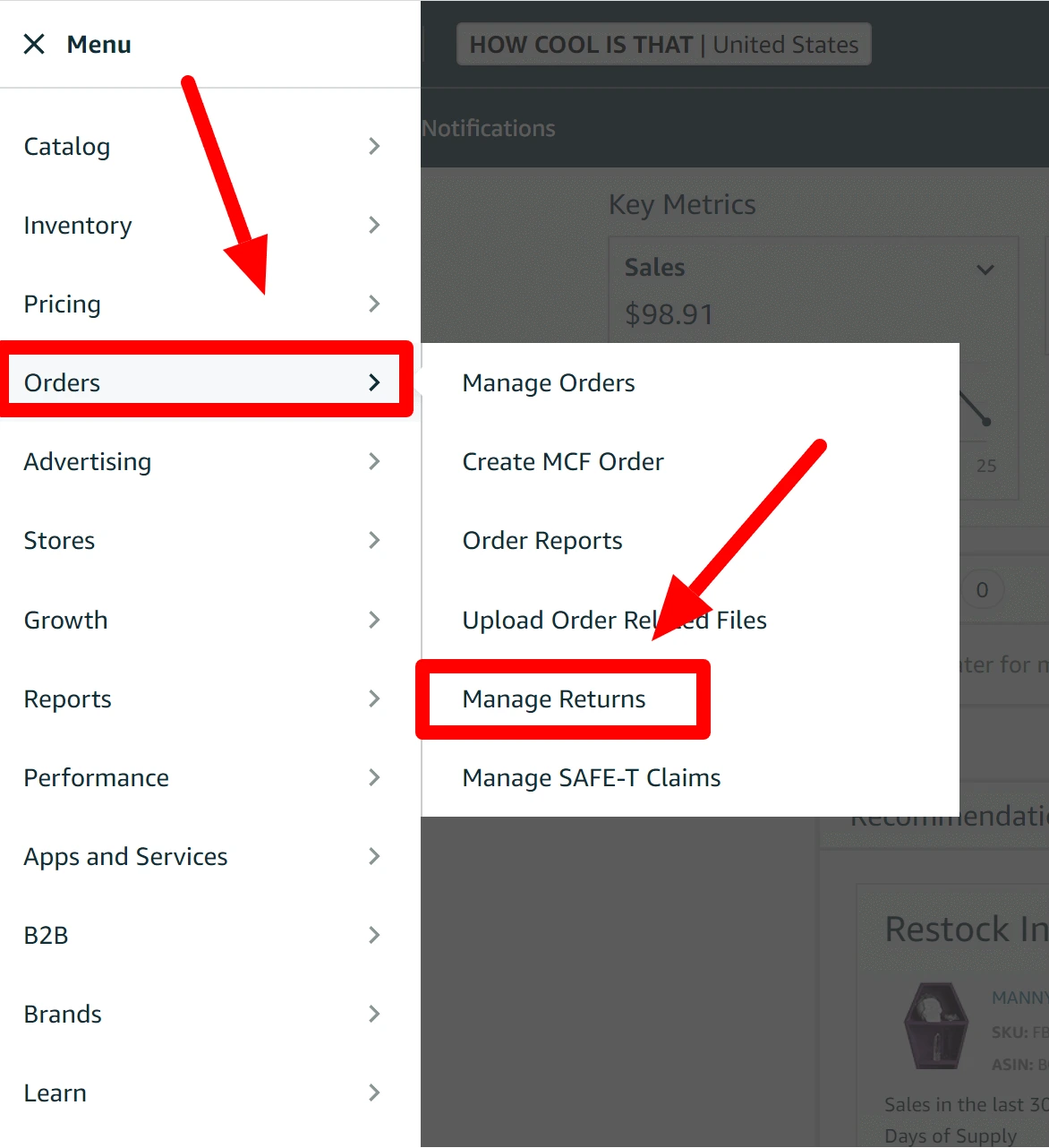 Next, click on, "Issue Refund" and you will be taken to the refunds page.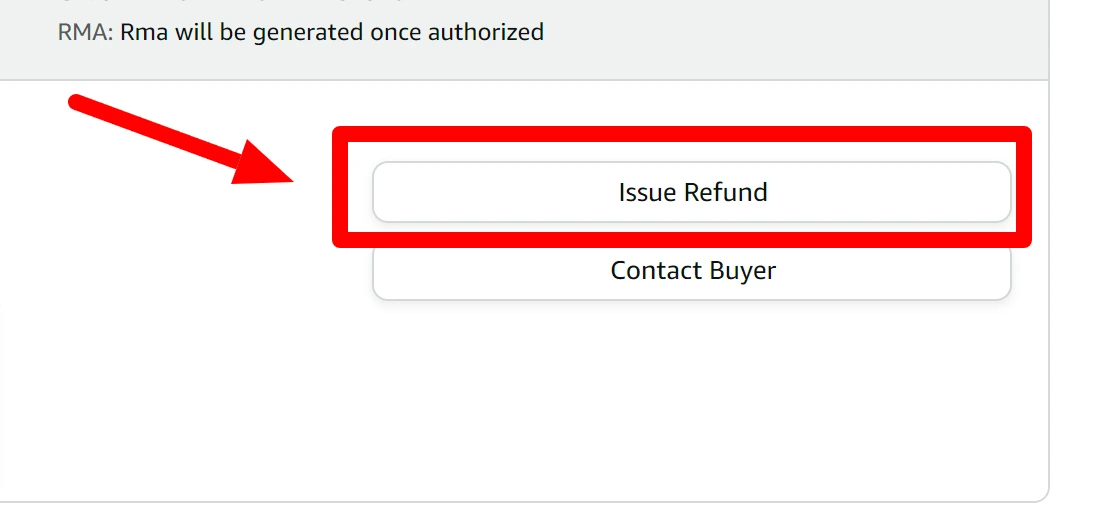 Once you are on the refunds page, you can click on "Charge Restocking fee" to charge a fee for damaged items.

Once you click on, "Charge restocking fee," a screen will pop up to ask for details about the product and the reason why the customer is being charged a restocking fee.
Click save, and that is how you issue a restocking fee.
Does Amazon Handle Returns for Sellers?
Yes, Amazon offers a service called "Fulfillment by Amazon" (FBA) in which Amazon handles returns for sellers. With FBA, sellers send their inventory to Amazon's fulfillment centers, and Amazon takes care of storage, packaging, shipping, and customer service, including handling returns.
When a customer initiates a return for an FBA-fulfilled item, Amazon manages the entire return process, from receiving the item to inspecting and restocking it. Amazon's robust infrastructure ensures efficient handling of returns, allowing sellers to focus on other aspects of their business.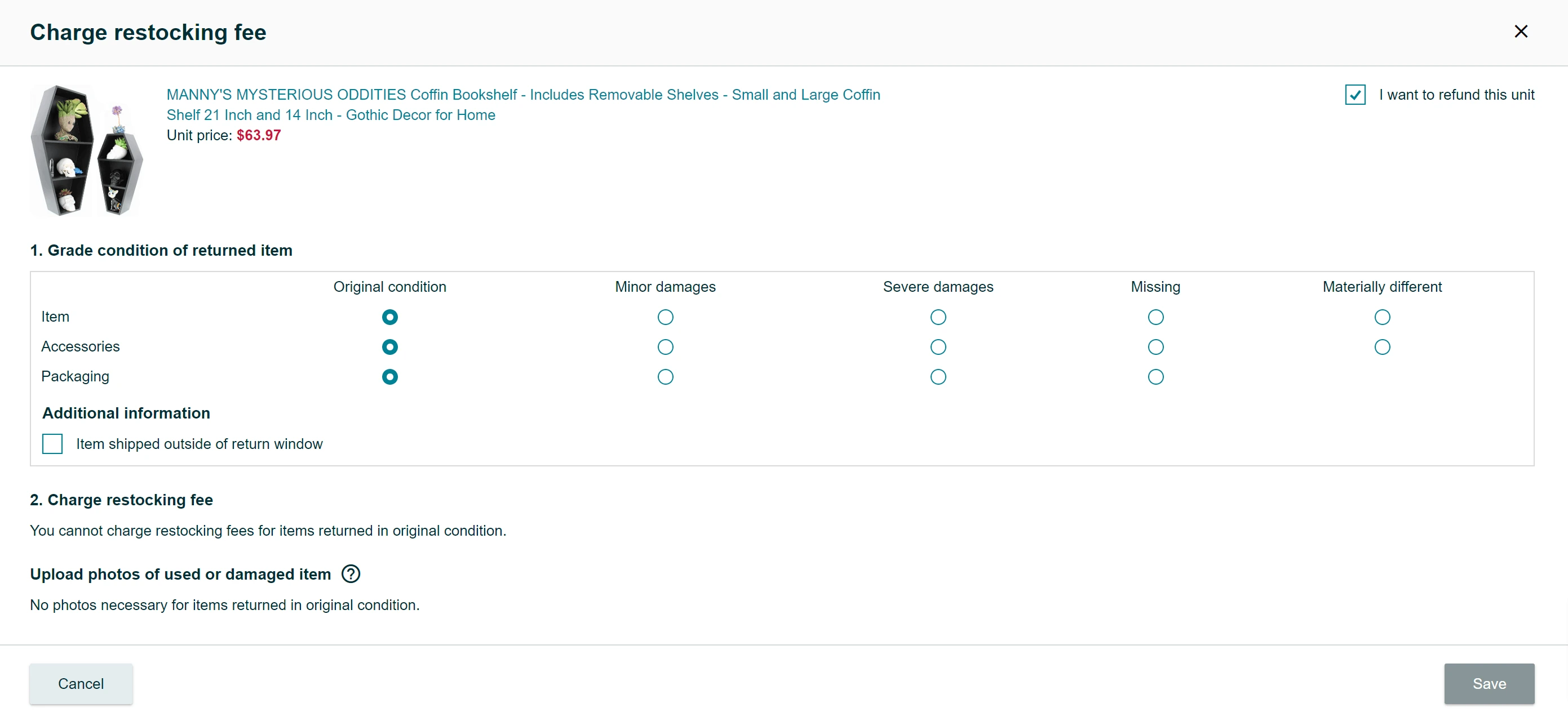 On the other hand, sellers using "Fulfillment by Merchant" (FBM) are responsible for managing certain aspects of the returns process such as receiving returned items and determining if they are in good enough condition to be put back into inventory. FBM gives sellers some control over the items returned but also requires more hands-on involvement.
Will Amazon Repackage Returns?
Amazon repackages product returns to an extent. If you ship your products in a plastic poly bag and your product is returned in its packaging but does not include the poly bag, Amazon will repackage the item with the poly bag. However, Amazon can not repackage with original packaging. Items that are not in original packaging and don't simply need just the poly bag will be shipped back to the seller or destroyed.
Manage Everything With Next-Level Software
Sign up now to access powerful, easy-to-use tools to help with every part of selling on Amazon and Walmart.
How Can Sellers Handle Customers Who Abuse Amazon's Return Policy?
Dealing with customers who abuse Amazon's return policy can be challenging, but there are steps sellers can take to address such situations effectively. One critical approach is to monitor return patterns within Seller Central regularly. By reviewing return requests and identifying customers who repeatedly return items for questionable reasons, sellers can spot potential abuse early on. Amazon's A-to-Z Guarantee, designed to protect customers, also provides sellers with a platform to address abuse. Sellers can utilize this tool to respond to customer complaints and collaborate toward a fair resolution. In cases where abuse is evident, sellers have the option to report the customer to Amazon's Seller Support team, backed by evidence such as photographs or communication records. Amazon takes abuse reports seriously and may take appropriate action to maintain the integrity of the return policy. Furthermore, implementing restocking fees in return policies for applicable items can serve as a deterrent against abusive behavior, as customers may think twice before initiating returns when faced with additional costs. Managing customer returns effectively and addressing policy abuse helps maintain a fair and balanced environment for both sellers and buyers on the Amazon platform, ensuring that the return policy serves its intended purpose while deterring potential misuse.
Should a Seller Reach Out to Customers Who Return Items?
When it comes to reaching out to customers who initiate return requests on Amazon, there are specific guidelines and limitations in place to ensure a smooth and compliant process. In general, sellers can contact buyers only to complete orders or to respond to customer service questions through Seller Central. You cannot contact buyers for marketing or promotional purposes (including via email, physical mail, telephone, or otherwise). When it comes to return-related messages, sellers are obligated to process refunds promptly for the order amount, automatically refunded, deducting any applicable charges. This can be done through the Manage Orders feature in Seller Central or via an Order Adjustment feed. You may communicate with the buyer about the return only when you need additional information to complete the return or if you are offering a partial refund as part of the customer refund process. Follow these directions and select "Follow-up on return request" to ensure compliance with Amazon's policies and maintain clear and compliant communication with buyers throughout the return process. Understanding and adhering to these guidelines ensures that sellers handle customer returns and Amazon refunds in a manner that is both efficient and compliant with Amazon's policies, fostering a positive and trustworthy seller-buyer relationship while avoiding any misuse of buyer requests for marketing purposes.
Conclusion
In conclusion, navigating Amazon's FBA/FBM return policy is a crucial aspect of being a successful seller on the platform. Returns are an inevitable part of e-commerce, and understanding the intricacies of Amazon's policies can make all the difference in managing your seller experience effectively. Whether you're utilizing Fulfillment by Amazon (FBA) or Fulfillment by Merchant (FBM), each has its own set of rules and benefits. FBA offers convenience and streamlines the return process, while FBM grants you more control over returns and the ability to charge restocking fees when applicable.
It's important to remember that Amazon's customer-centric approach places a high priority on satisfying buyers, so accepting returns is generally required for third-party sellers. Monitoring return patterns, addressing abuse, and utilizing tools like the A-to-Z guarantee can help you maintain a fair and balanced selling environment. Additionally, understanding when and how to communicate with buyers during the return process is crucial for compliance and maintaining a positive seller-buyer relationship.
As a seller, you have the opportunity to optimize your return rates and overall performance by providing detailed product information, clear return policies, and exceptional customer service. While returns may be an inevitable part of e-commerce, they can also present opportunities to enhance customer satisfaction and build trust in your brand. With the right knowledge and strategies, you can navigate Amazon's return policies with confidence and continue to thrive in the world of online selling.
Achieve More Results in Less Time
Accelerate the Growth of Your Business, Brand or Agency
Maximize your results and drive success faster with Helium 10's full suite of Amazon and Walmart solutions.