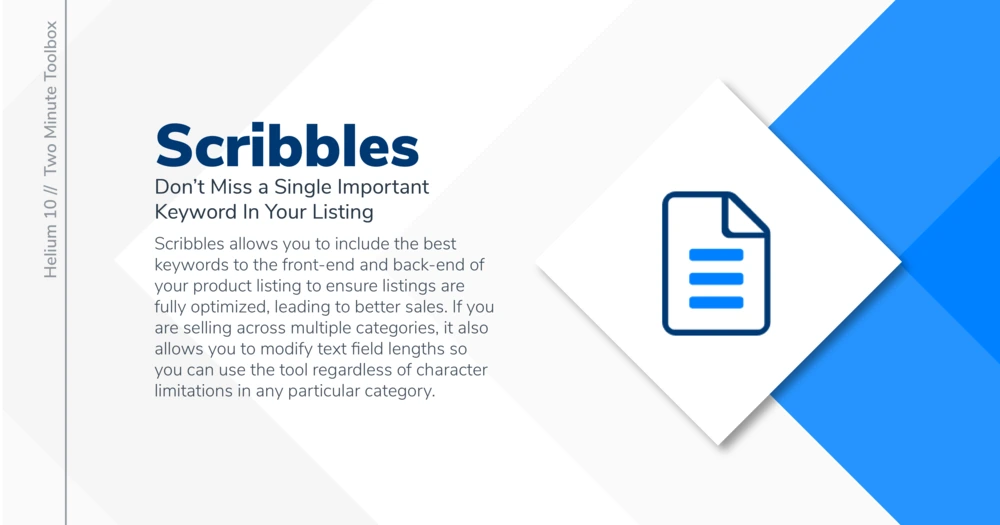 Two Minute Toolbox: Using Scribbles to Reverse Engineer ANY Listing on Amazon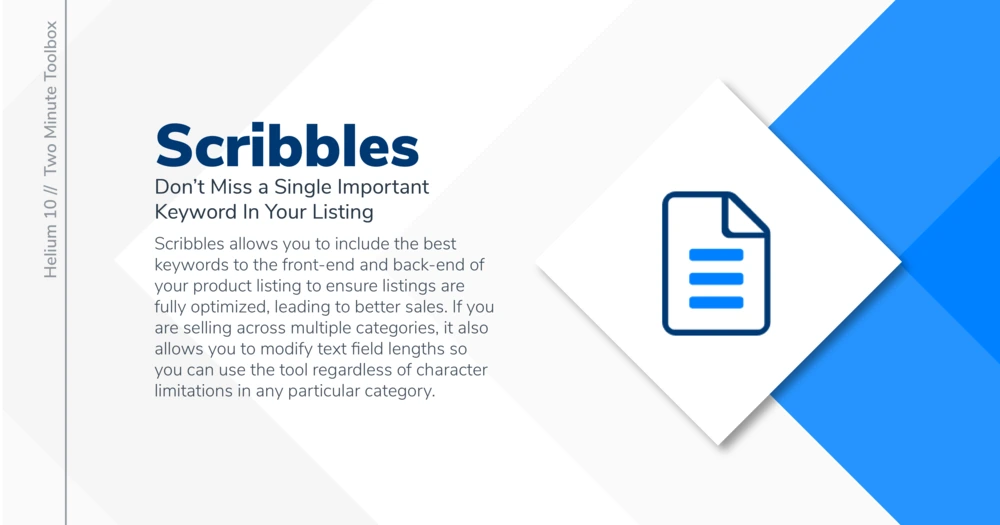 If we're talking about Amazon listing optimization, there is perhaps no better tool to visualize your keyword usage than Scribbles. As a staple (and fan-favorite) of the Helium 10 lineup, this listing optimization tool sorts, color codes, and counts your keyword frequency so you can see how effective your product listing is before you publish on Amazon.
Nine times out of ten we will tell you how great Scribbles is for creating new listings and leave it at that.
Not today.
It's time to explore the other side of this Amazon listing tool… specifically, how to import any existing Amazon listing into Scribbles to get a crystal clear picture of how many high-interest keywords your competition is currently using.
Get ready… it's time to change the way we look at competing listings…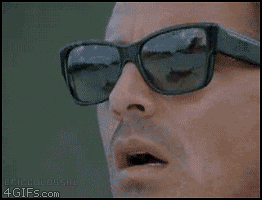 Importing an Amazon Listing
Let's say you find an Amazon listing within your niche and you want to see exactly how that listing is using the keywords you've collected for your listing.
All you will need from that listing is its ASIN. You can find a product ASIN either under the "product details" section of the listing or within the URL (look for a small string of numbers and all-caps letters).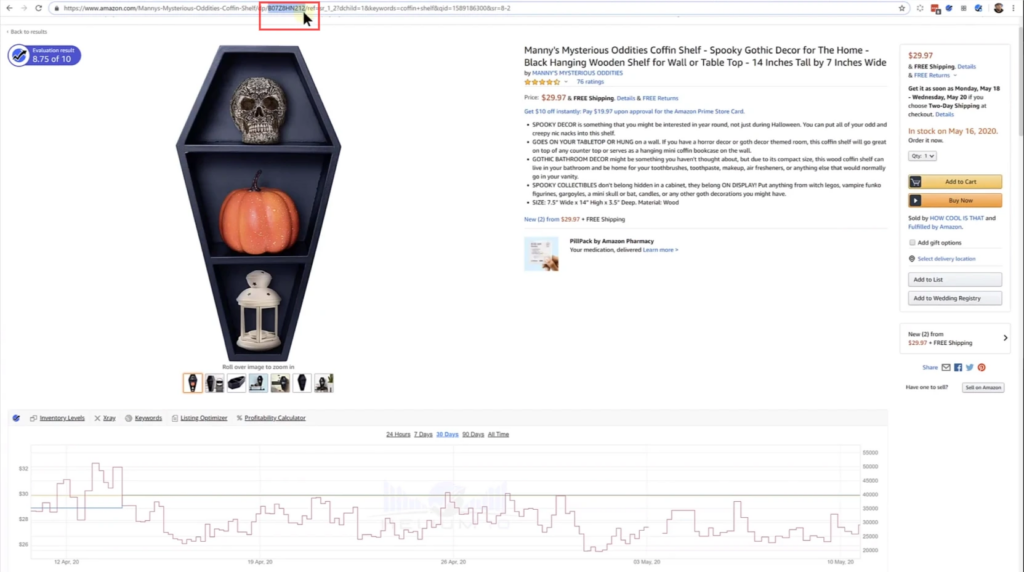 Within Scribbles, in the upper right corner, click on Import Listing.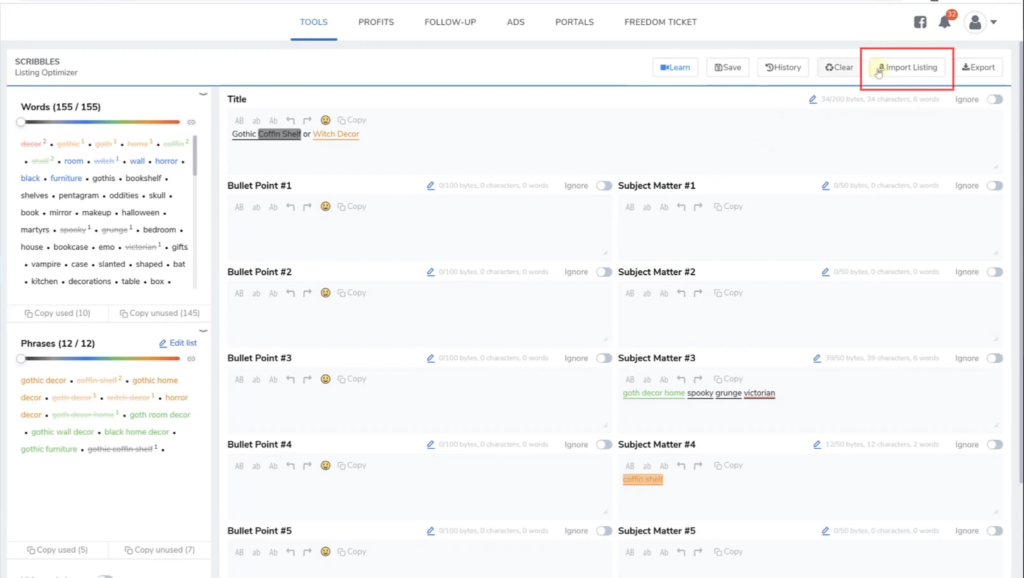 Keep in mind, this walkthrough is presupposing that you have already created or imported your target keyword list into Scribbles.
Not sure how to do that? We have a wonderful intro to using keywords with Scribbles here!
Now, simply paste the product ASIN into the search field and click Apply.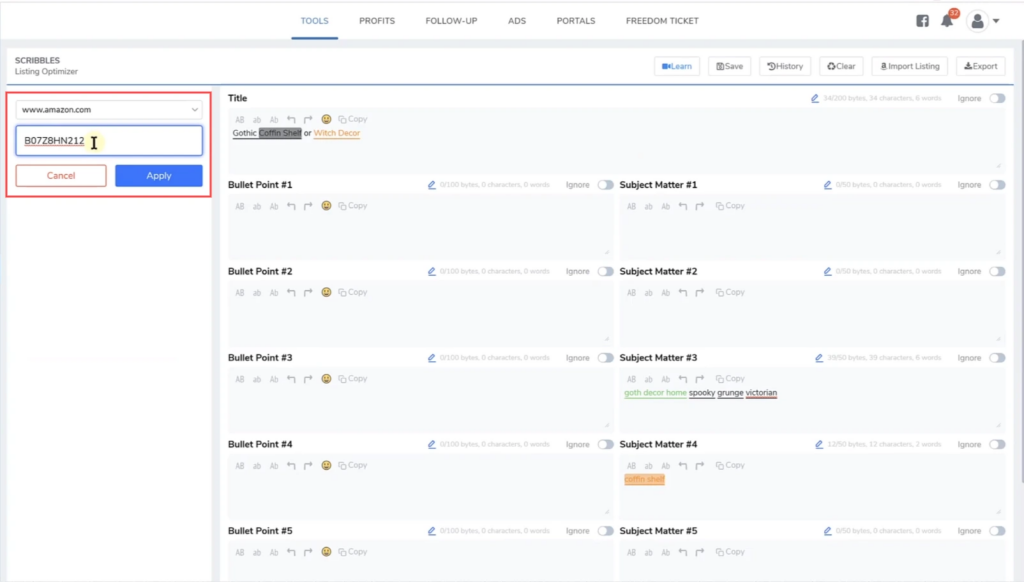 And the next step is… enjoy the results! (yes, that's really all you have to do)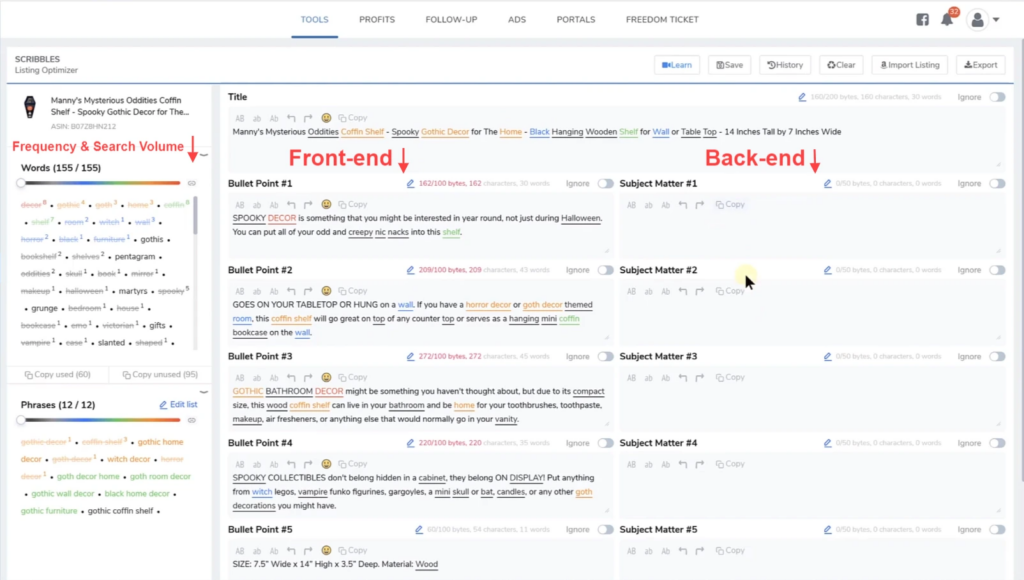 Scribbles only organizes data received from a given listing's front-end (ie. the information public on the listing). We are not sourcing any back-end subject matter or search terms, so you needn't worry about getting into hot water with the Amazon authorities.
Now, instead of manually comparing our long list of keywords against a competing listing, we have everything deconstructed in front of us within seconds.
This includes:
Title, description, and bullet point content
How frequently key phrases and specific keywords (from your list) are used in the listing
Live-tracking for all this information as you include or exclude new keywords
Click on any keyword or phrase from the boxes on the left to instantly highlight them within the listing.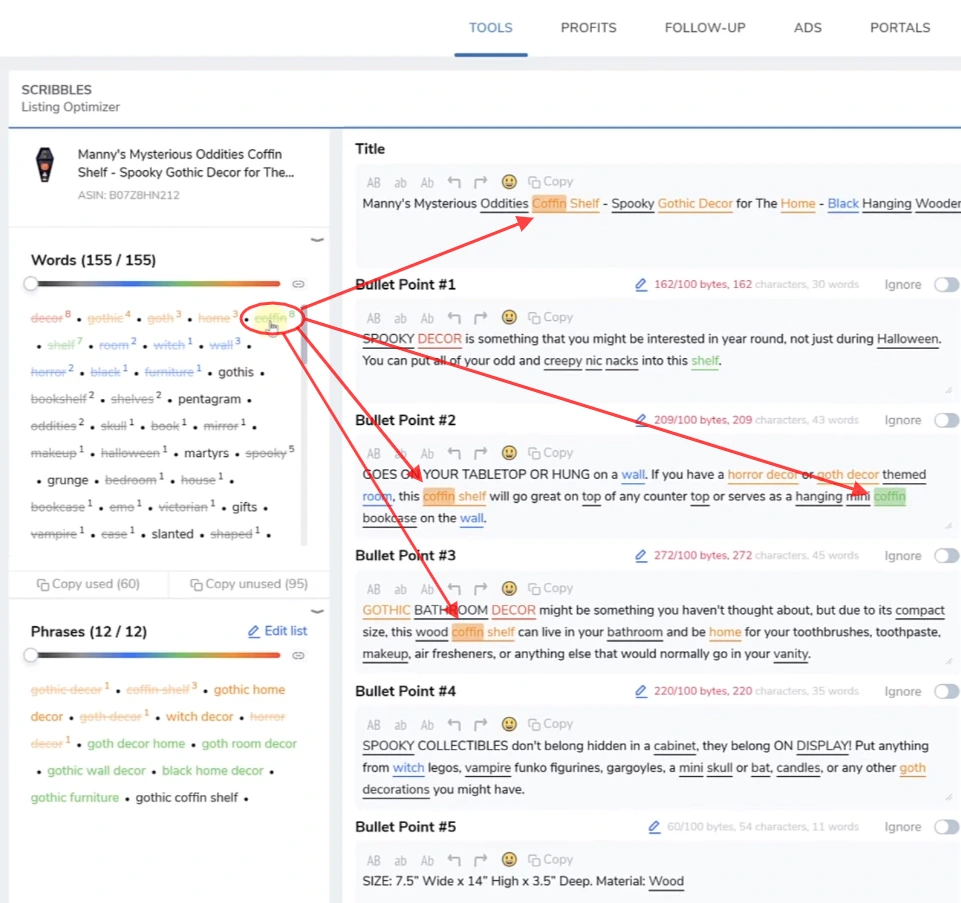 The Words box is sorted from most frequently used (red) to least frequently used (black).
The Keywords box is sorted by highest estimated search volume (red) to lowest estimated search volume (black).
Is There a Faster Way to do This?
Absolutely. Once you've gotten the hang of scribbling around in Scribbles, you'll be ready for the fast lane.
Here's how to do it.
1. On any Amazon listing (with the Helium 10 Chrome Extension installed), click on Listing Optimizer, right beneath the product photo.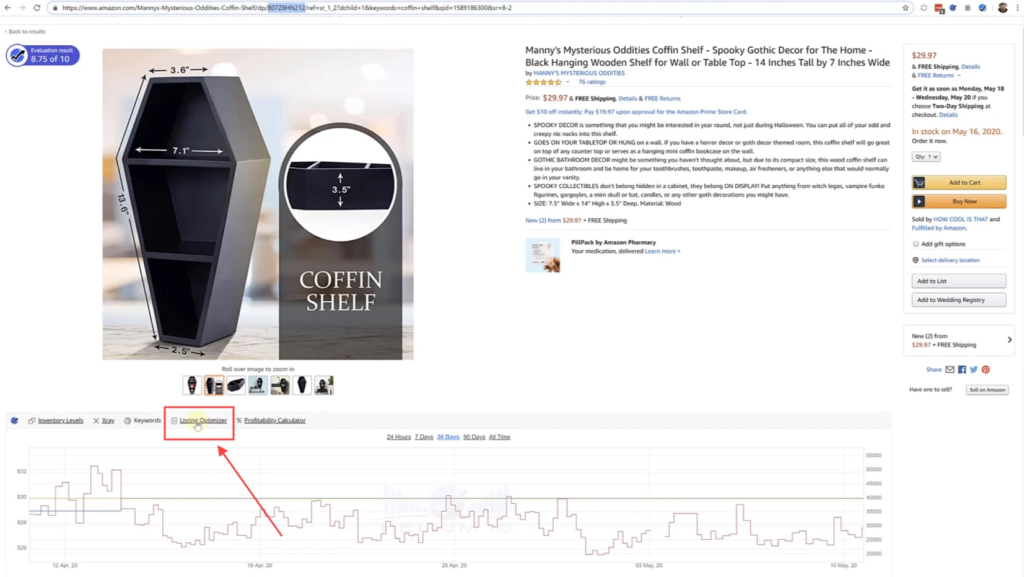 2. Instantly view the listing within a new Scribbles draft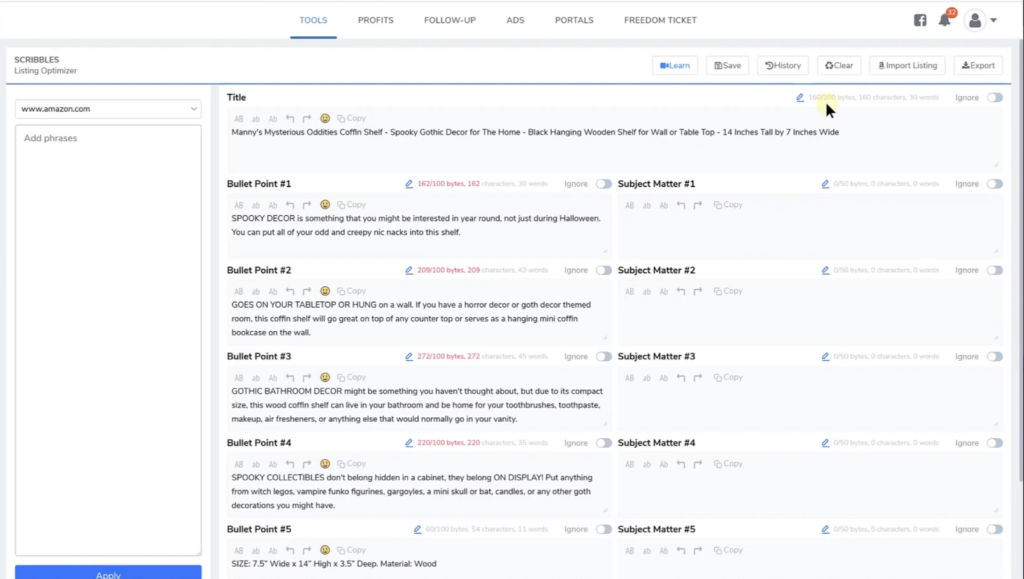 This is hands down the quickest way to see which keywords (and how many times) your competitors are using in their listings. Use this information to identify weak points & opportunities, improve your own listing, and send your product to the top of Amazon's search results.
To see Scribbles importing in action, check out the brief pro training video here!
Download our free Amazon Chrome Extension here!
Achieve More Results in Less Time
Accelerate the Growth of Your Business, Brand or Agency
Maximize your results and drive success faster with Helium 10's full suite of Amazon and Walmart solutions.