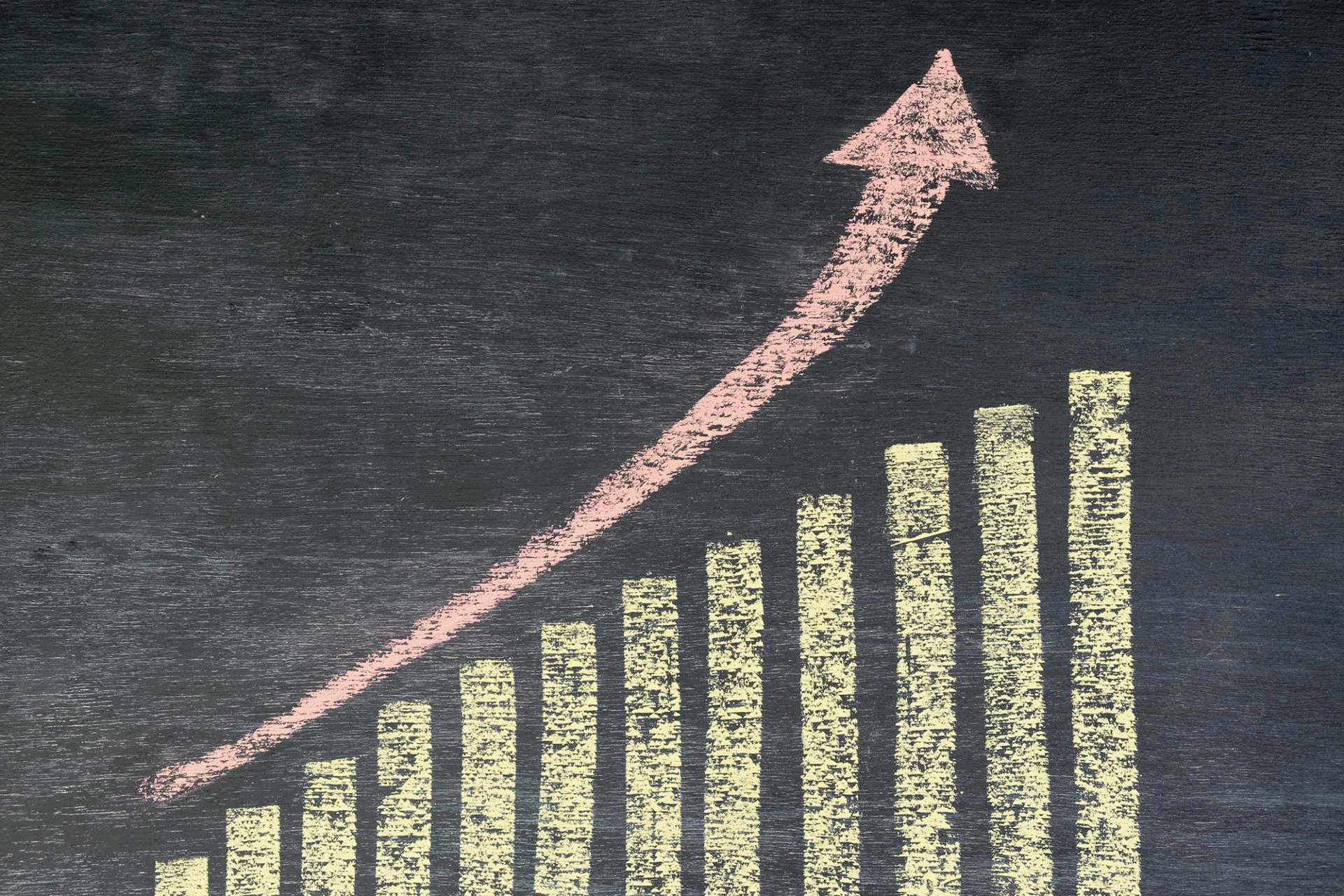 How to Get FREE Monthly Storage, Removals, and Return Processing With Amazon FBA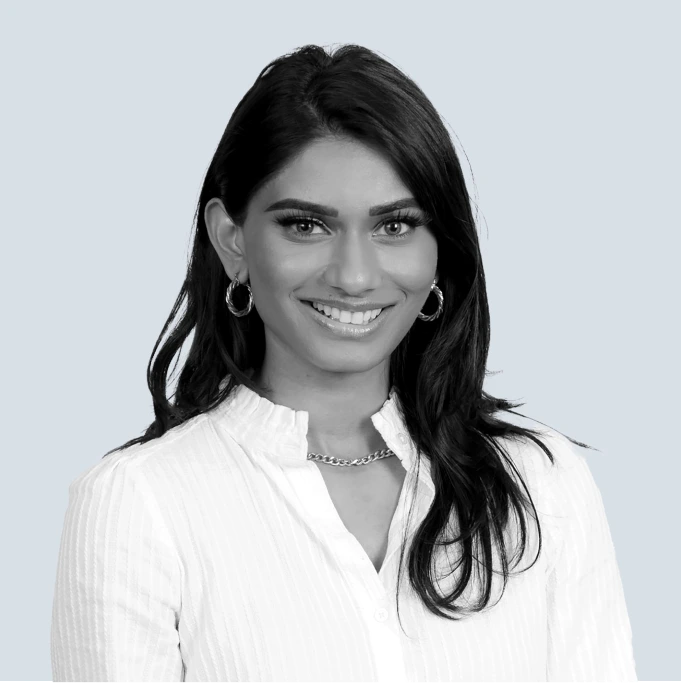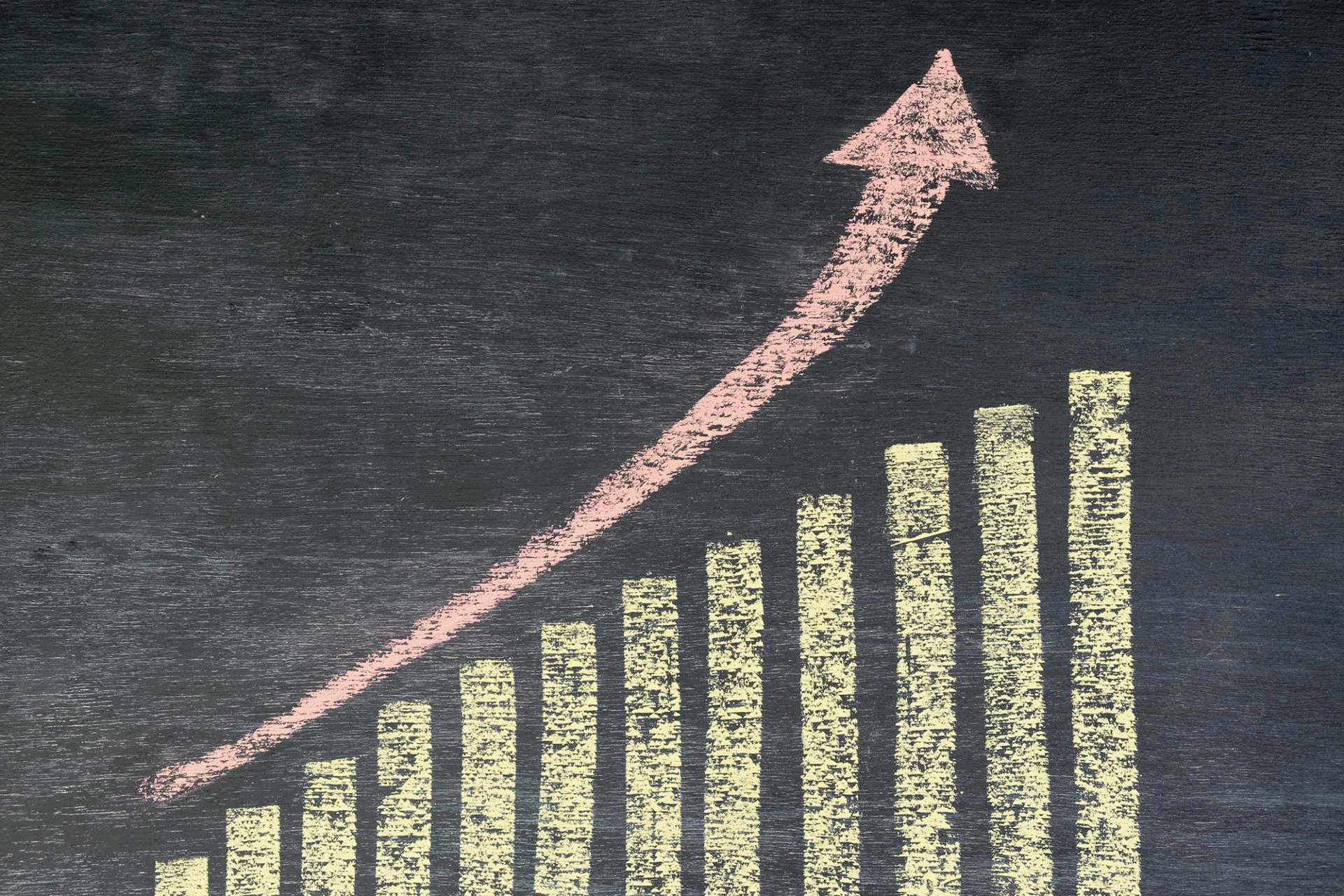 Amazon FBA Gets You Free Monthly Storage, Removals, and Return Processing
Imagine that your products offer Prime Shipping, have FREE monthly storage, removals, AND return processing.
It sounds too good to be true, doesn't it?
That's because to access these incredible benefits, there are a few parameters you have to meet to be eligible.
Keep reading to learn all you need to know about the FBA New Selection Program Amazon initially introduced in April of 2020.
By the end of the article, you will be able to discern if your seller account and your products are eligible, as well as understand any associated benefits and answers to commonly asked questions.
The FBA New Selection Program
Fulfillment by Amazon (FBA) is a service known to help Amazon sellers streamline their business processes. As a seller, if you are registered for FBA, Amazon holds your inventory in their warehouses, picks, packs, fulfills orders, handles returns, and even provides customer service.
This allows you to focus all your attention on the sales and marketing aspects of your business.
Of course, Amazon is great if you are a seller looking to maximize customer reach while making your products eligible for Prime Shipping. However, the FBA New Selection Program is intended to make offering new products through Fulfillment by Amazon (FBA) even easier.
The FBA New Selection program is ideal for new FBA sellers and existing sellers that have new inventory to add to the Prime catalog (we'll dive more into why in the Eligibility section below).
Program Terms: Are My Products and I Eligible?
Seller Eligibility:
According to Amazon, only Professional sellers are eligible.
If you have been assigned an IPI score (located on your Seller Central dashboard), you must have a score of 400 or higher to qualify. New Professional sellers or sellers that do not yet have an IPI score are also eligible.
Your eligibility status will update based on your IPI score daily once enrolled, meaning you must maintain your IPI score even upon enrollment. Enrolled sellers with an IPI score of below 400 as of their April 1st assessment will be removed from the program. If you have enrolled but are not eligible to receive program benefits because your IPI score is below 400, you will become eligible on the next daily assessment date once your IPI score hits 400 or higher.
You must be eligible for the program on the date your first new-to-FBA ASIN arrives at Amazon's fulfillment center in order for that ASIN to qualify for the New Selection Program's benefits.
Enrolling is not enough. Participation depends on Amazon's approval once you opt-in.
Product Eligibility:
Must be one of the first 500 ASINs you created after enrolling in the program
The product must fit Amazon's small standard and large standard-size measurements. Compare your product's size with Amazon's sizing chart here.
Parent ASINs must not have been enrolled previously in FBA within the past 180 days. This means any new child ASINs created under existing FBA parent ASINs are still excluded.
ASINs in Media categories and used items are not eligible.
ASINs eligible for free returns processing must be in the Apparel; Shoes, Handbags & Accessories; Jewelry; Luggage; or Watches category.
If you are still unsure and would like to check if your product qualifies as New-to-FBA, search your product identifier using ASIN, EAN, or UPC here.
I'm Eligible, What Are the Benefits?
As a Fulfillment by Amazon seller successfully enrolled with the program, you can qualify for free monthly storage, free removals, and free return processing for a limited time for eligible new-to-FBA ASINs.
In the case that you qualify for the New Selection Program, your first 50 units of each new-to-FBA ASIN sent to Amazon's fulfillment facilities are eligible for free monthly storage for 90 days after the first unit is received.
Any of the first 50 units can be removed for free within 180 days of receiving the first unit, and certain product categories also secure free return processing for up to 50 units of each ASIN. Sellers enrolled can use these benefits for up to 500 new ASINs per year, and the 500-ASIN limit resets every January 1st.
Additionally, if you are new to Fulfillment by Amazon and enroll in the FBA New Selection Program, Amazon will waive the first $100 of inbound transportation charges you are billed when shipping with their preferred rates through the Amazon Partnered Carrier program.
Amazon Partnered Carrier options are available to FBA Sellers for small parcel deliveries (SPDs) and less than a truckload/full truckload (LTL/FTL) shipments within 48 hours in the United States. SPDs encompass individual boxes labeled for delivery and are generally smaller shipments sent through UPS, whereas LTL/FTL shipments deliver combined individual boxes on pallets.
Both shipment styles offer discounted rates to ship inventory to Amazon warehouses, and the cost is billed as an "inbound transportation charge." Read our Ultimate Guide to FBA Shipping here.
Addressing Common Questions
Although the fee waivers only apply to the first 50 units of each eligible ASIN, the limit does not mean you are limited to sending 50 or fewer units to fulfillment centers at a time. You can be enrolled with the FBA New Selection Program and still send as many units as you like.
If you create more than 500 new-to-FBA parent ASINs, you cannot remove ASINs from the eligible list just to qualify the new ASINs you create for the fee waivers. All new ASINs after the first 500 automatically do not qualify, although the 500 limit does reset each January 1st.
Should your inbound transportation charges be less than $100, future shipping fees as long as they are within the Amazon partnered carrier program will be waived until you hit the $100 threshold.
So, How Do I Enroll?
If you are eligible and want to take advantage of the program's benefits, enrolling in the program is simple.
First, ensure you are new to selling on Amazon, are registered for FBA, and hold a professional Seller Central account by clicking Settings in the top right-hand corner of your Seller Central dashboard.
Verify eligibility under the Your Services section of the Seller Account Information page.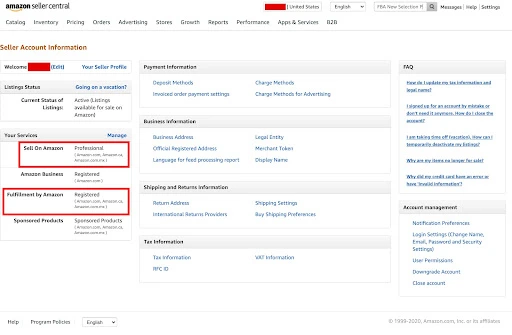 If the section indicates you do not have a 'Professional' account or are NOT registered for Fulfillment by Amazon, click Manage to upgrade your account.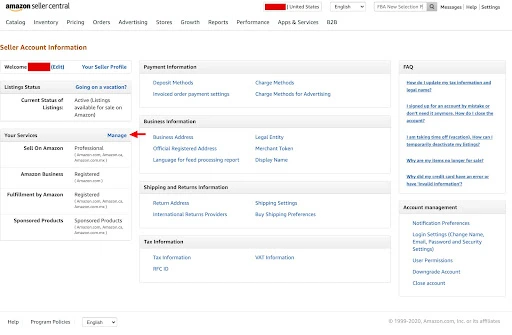 Once you have affirmed the information, new or existing FBA sellers can enroll into the FBA New Selection Program by clicking on the Search Bar in the top right corner and typing in "FBA New Selection Program."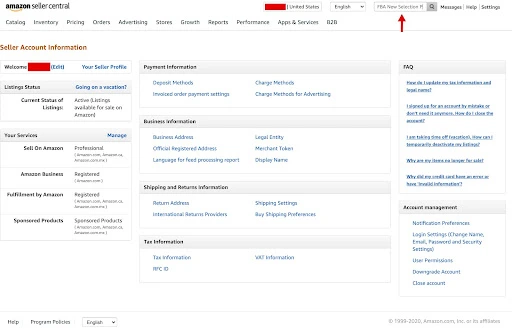 Select the relevant help page to access information about the program and click the Enroll Now button.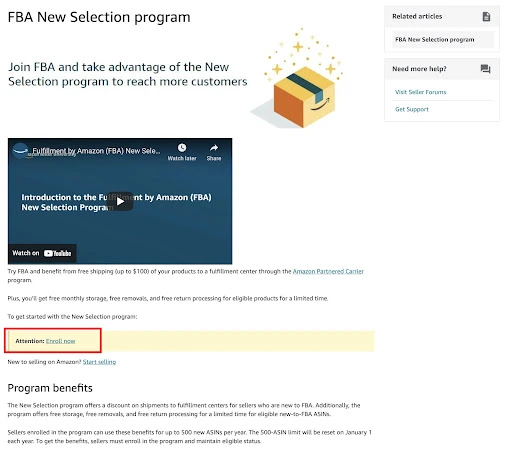 You will receive a message providing confirmation of the option and when your benefits should begin to accrue.

However, be mindful that enrollment status typically takes two days to appear, and completion of enrollment does not guarantee eligibility.
Learn more about the FBA New Selection Program here.
Achieve More Results in Less Time
Accelerate the Growth of Your Business, Brand or Agency
Maximize your results and drive success faster with Helium 10's full suite of Amazon and Walmart solutions.