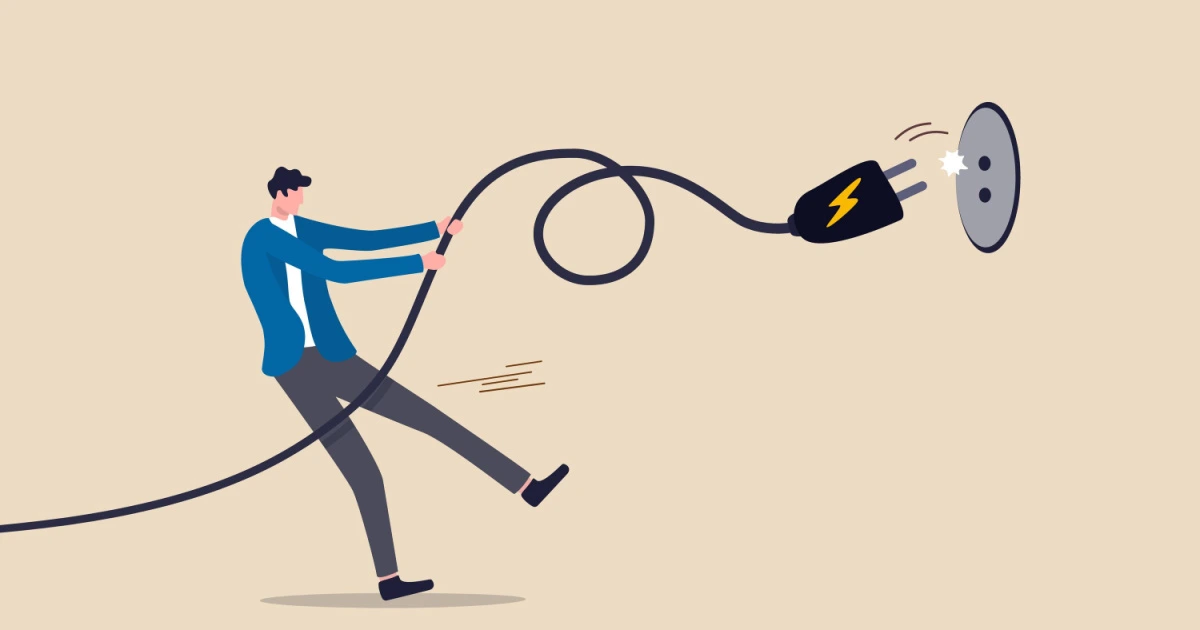 Your Amazon Account Might Get Suspended If You Don't Do This!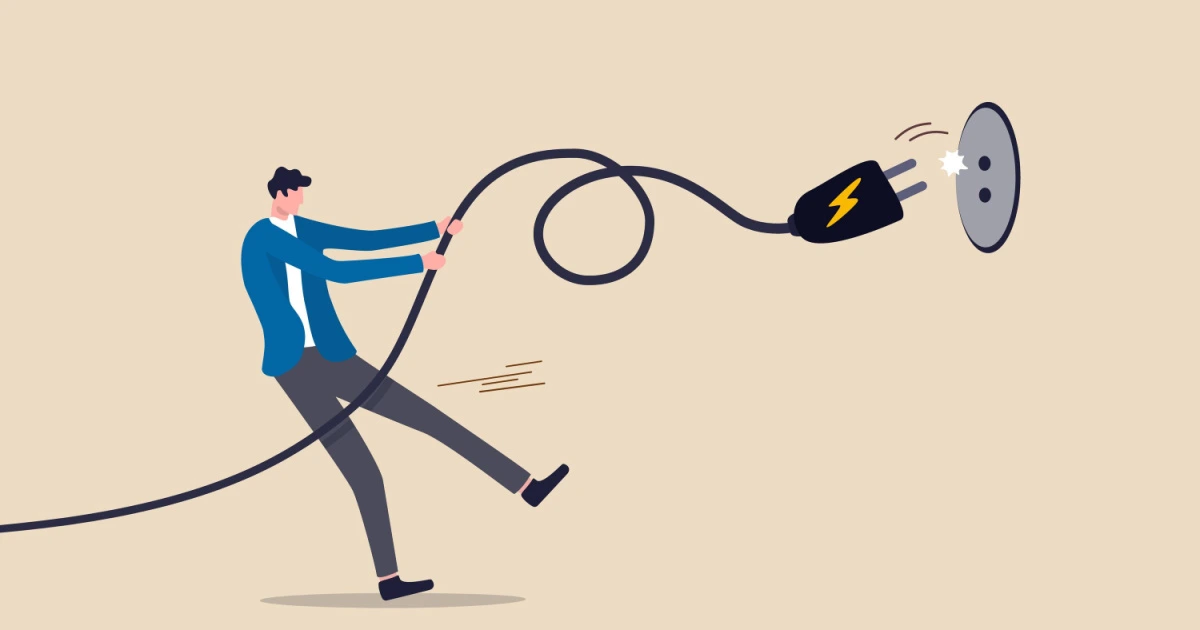 It's important to stay up to date with the latest regulations and requirements that may affect your e-commerce business. One such regulation is the INFORM Consumers Act, which aims to enhance transparency and consumer protection in online marketplaces. If you are an Amazon seller, you may have come across a notice on your dashboard warning you about the risk of account deactivation like the following screenshot: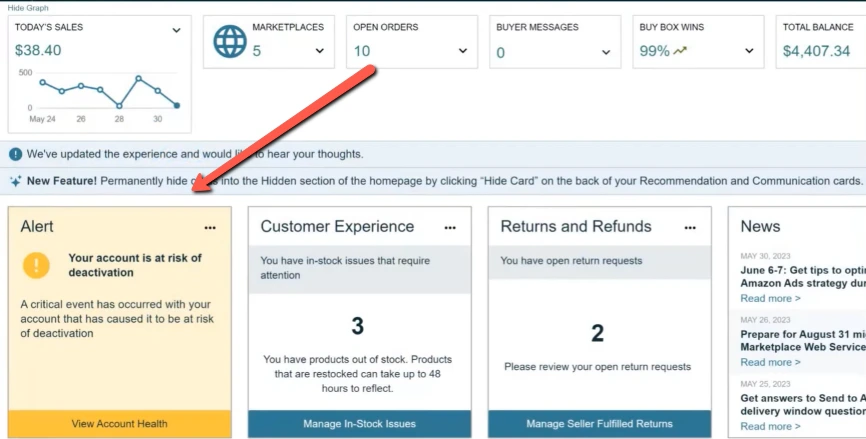 It is essential to pay attention to these notifications so that you can stay active on e-commerce platforms like Amazon. If you haven't taken action on this yet, you might have a message that looks like the image below on your account info page.

This is from an account that as of 6/11, they had not yet re-verified their information, and as you can see, their disbursements have been put on hold.
Let's explore the key aspects of the INFORM Consumers Act and how it impacts you as an Amazon Seller.
What is the Inform Act?
The Integrity, Notification, and Fairness in Online Retail Marketplaces for Consumers Act, also known as the INFORM Consumers Act, is a bill that introduces certain requirements for online marketplaces to enhance transparency and protect consumers.
Under this bill, online marketplaces like Amazon are mandated to collect, verify, and disclose specific information from high-volume, third-party sellers. These sellers are defined as participants on the platform who engage in 200 or more transactions, resulting in total revenues of $5,000 or more within a continuous 12-month period. The required information includes the sellers' bank account numbers, government-issued identification, tax identification numbers, and contact information. Online marketplaces must verify this information and provide annual updates if any changes occur.
Additionally, online marketplaces are obligated to make certain information, such as sellers' names and contact details, accessible to consumers through product listings. They must also establish mechanisms for consumers to report any suspicious activity on the platform, allowing for electronic and telephone reporting.
The Federal Trade Commission is granted the authority to enforce these requirements outlined in the bill, ensuring compliance among online marketplaces
Who does the INFORM Act apply to?
The INFORM Consumers Act applies to third-party sellers on online platforms, including Amazon.com. Specifically, it encompasses sellers who have sold 200 or more new or unused consumer products in any continuous 12-month period during the previous 24 months and have generated $5,000 or more in gross revenues.  
What information does Amazon need from 3rd Party Sellers?
Under the INFORM Consumers Act, Amazon is obligated to collect and verify specific information about your business. This includes:
1) Identity: For individual sellers, the name of the individual authorized to act on behalf of the seller. For business sellers, the business name and the name of a business point-of-contact.
2) Bank account information
3) A working business phone number
4) Business address
5) Tax identification number
6) A working email address
How to know if you need to submit information for verification
Amazon will notify you via email with specific instructions if there is any information you are required to provide for verification. You might also see a notification banner when you log in to your Seller Central Account that will say that your account is in danger of deactivation. You can also check your Account Health page, Account Information page, and Seller Central for updates. If Amazon has already completed verification for the required information and there have been no changes, you won't need to resubmit that information.
Here is an example of what it will look like when you go to your Account info page:

This is what it looks like when you click "address verification";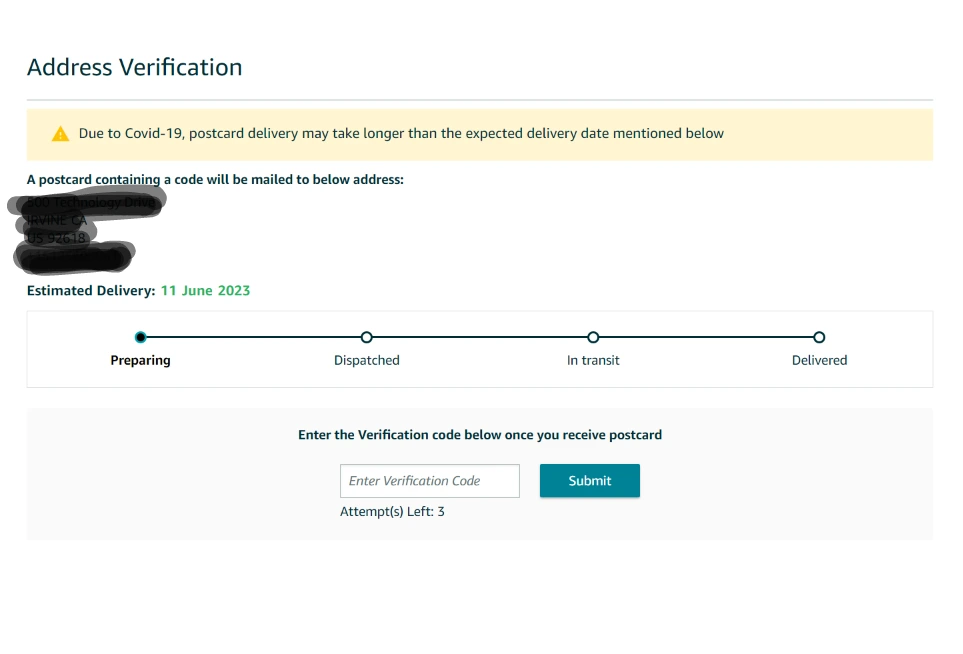 The following is a view of the account health page and what it will look like if you need to add information for verification: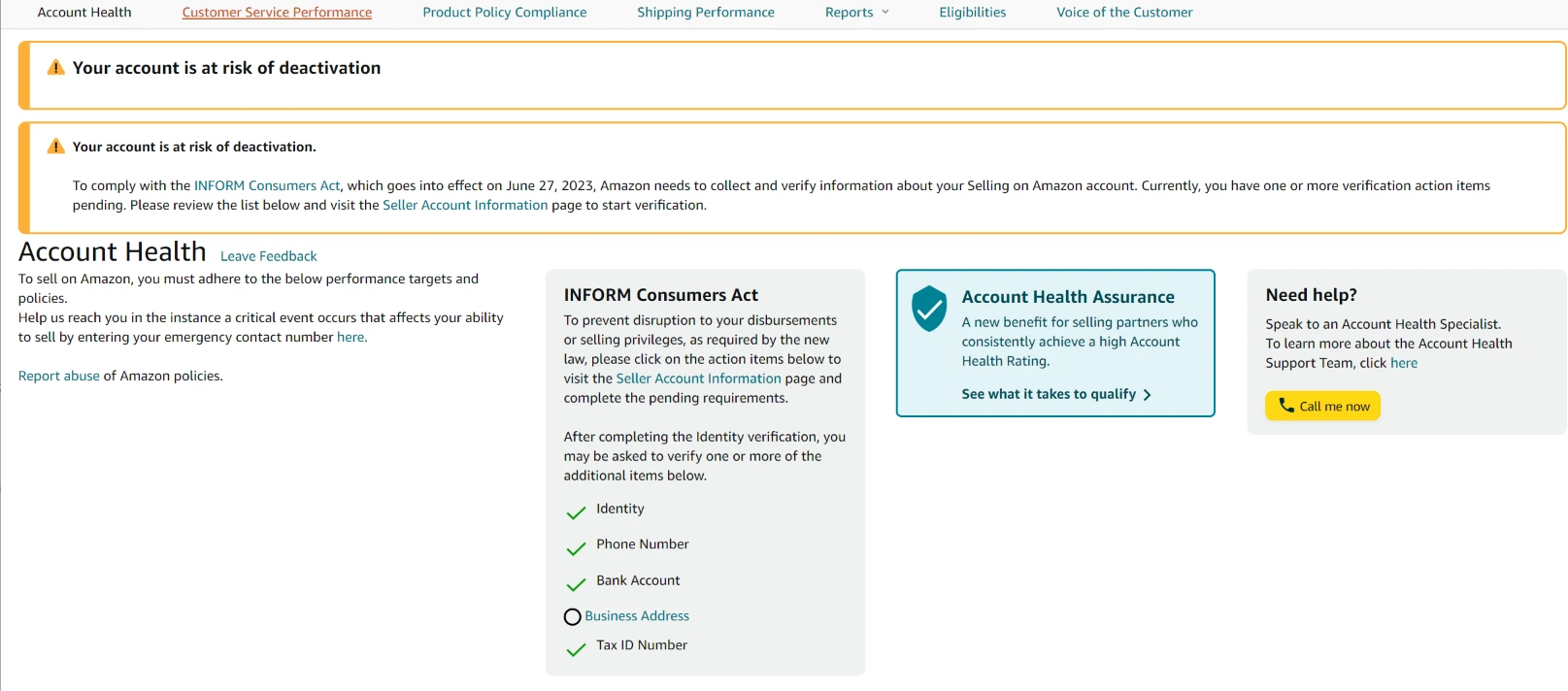 Consequences of not providing requested information within timelines
Failure to provide the requested information, documents, or certifications within the specified timelines may result in the temporary deactivation of your selling account as required by the new law. Additionally, Amazon may hold your disbursements as permitted by Section 3 of your Business Solutions Agreement. 
Changes to Amazon's verification processes
While Amazon already had robust processes in place to collect and verify sellers' business information, the INFORM Consumers Act necessitates additional steps for verifying information related to high-volume sellers. Amazon continues to enhance its verification processes to ensure a trusted environment for both customers and sellers.
Preparing for the INFORM Consumers Act
To prepare for the INFORM Consumers Act, it is advisable to visit your Account Information page or Account Health page in Seller Central. These pages will provide insights into which information Amazon has verified and which pieces of information still require verification. Ensure that your existing information in Seller Central is accurate.
Future expectations and ongoing verification 
Amazon is continuously improving its verification processes for all sellers to safeguard the integrity of its marketplace. Even if you are not currently covered by the INFORM Consumers Act, you may receive notifications to complete additional verification steps. Amazon may also contact you for verification when your information changes or annually to certify that your information is up to date.
Protection of your information
Amazon prioritizes data privacy and security. They implement strict security measures to safeguard confidential information and prevent unauthorized access. Personal information is handled in accordance with the Amazon.com Privacy Notice. 
Learn more about Amazon's seller verification processes
For more detailed information about Amazon's seller verification processes, you can refer to the Global Seller Identity Verification resource. Additionally, Amazon has updated the Amazon Services Business Solutions Agreement to align with the new law. To understand the changes in detail, visit the Changes to the Amazon Services Business Solutions page.
In the case of Project X, we needed to update our business address. In order to do this, Amazon mailed us a postcard with a code that we needed to fill in on Seller Center.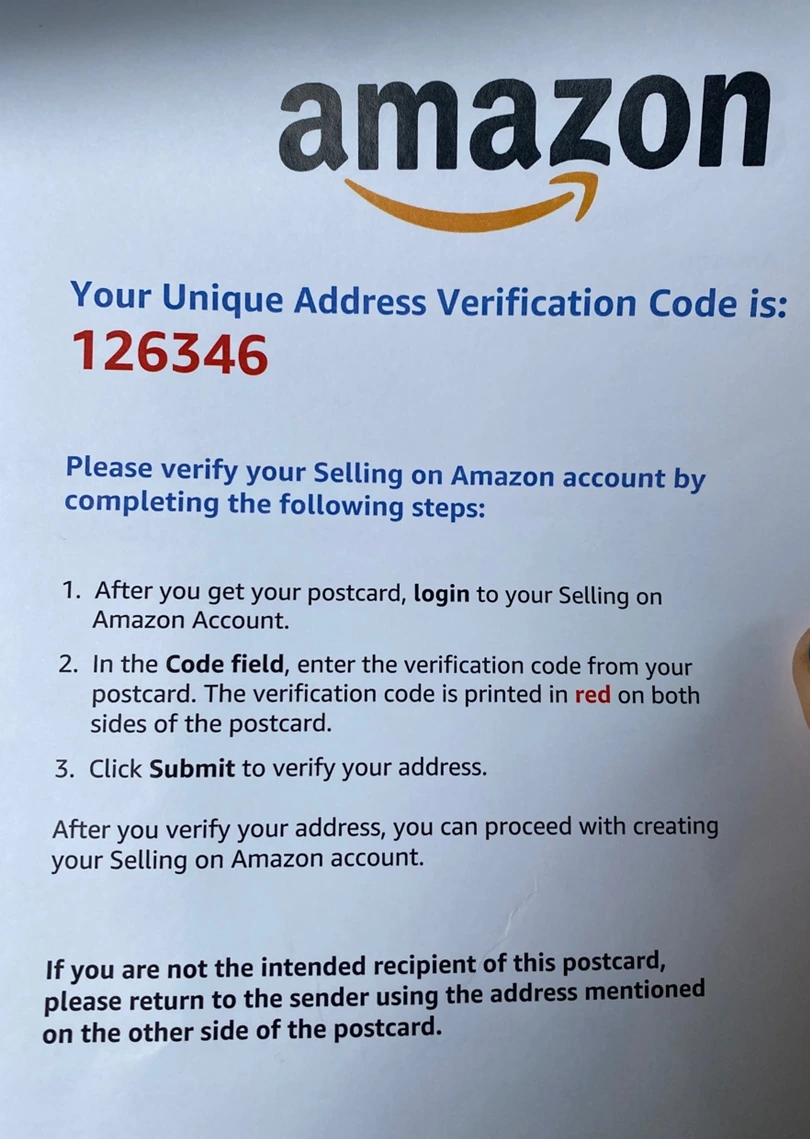 Once we entered the code, we received a verification that our address was successfully verified.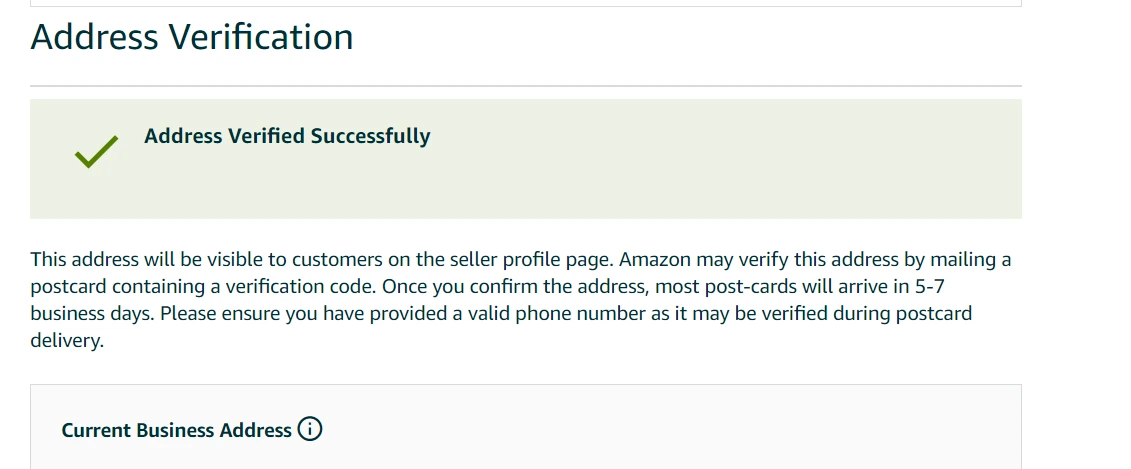 Account Health page vs. Separate notifications
In case you receive conflicting information on your Account Health page and through separate verification notifications, rely on the accuracy of the verification confirmation emails. Account Health updates may take up to 24 hours to reflect the latest status. If the update doesn't appear after 24 hours, it is recommended to reach out to Seller Support for Assistance.
If you didn't receive any email notifications
You might not see any notices in your inbox or on your Seller Central Dashboard, but that doesn't exactly mean that you're in the clear. We experienced this with our Project X Account. When we saw this was something we needed to take care of, we contacted Seller Support to inquire about what we needed to provide to be in compliance and they said we were all up to date. Then a few days later, we had an alert in our dashboard saying that we needed to verify some information. It is advised to keep checking your email and dashboard to make sure you are up to date with the qualifications even after contacting Seller Support. 
Does this also apply to Walmart?
The Inform Act applies to ALL e-commerce marketplaces including Walmart.
While most sellers are aware of the information verification process on Amazon, it's worth noting that Walmart sellers also need to comply with similar requirements. Walmart sends an email to sellers, which serves as a reminder to confirm their contact and related information annually. This email contains a button that allows you to confirm your information promptly. Here is an example of what this email might look like: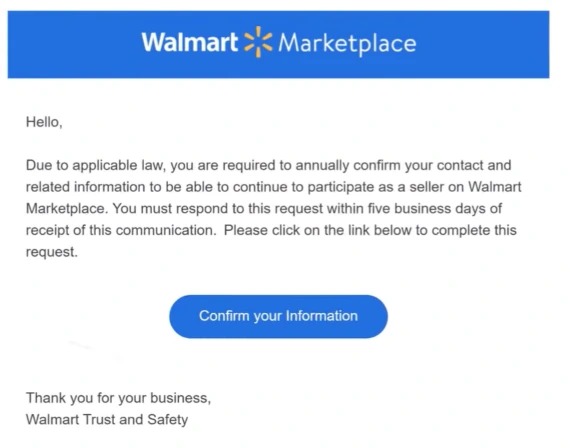 To verify your information, click on this button to confirm your information in Seller Center. By completing this verification process, you can ensure your continued presence on the Walmart Marketplace and avoid any potential cancellation.
Overall, the INFORM Consumers Act introduces additional requirements for high-volume sellers on platforms like Amazon.com and Walmart.com. By understanding the law's provisions and complying with the necessary verification processes, sellers can ensure their continued participation on e-commerce platforms. Amazon and Walmart are committed to improving and maintaining a secure and trustworthy marketplace for both sellers and consumers alike.
Achieve More Results in Less Time
Accelerate the Growth of Your Business, Brand or Agency
Maximize your results and drive success faster with Helium 10's full suite of Amazon and Walmart solutions.