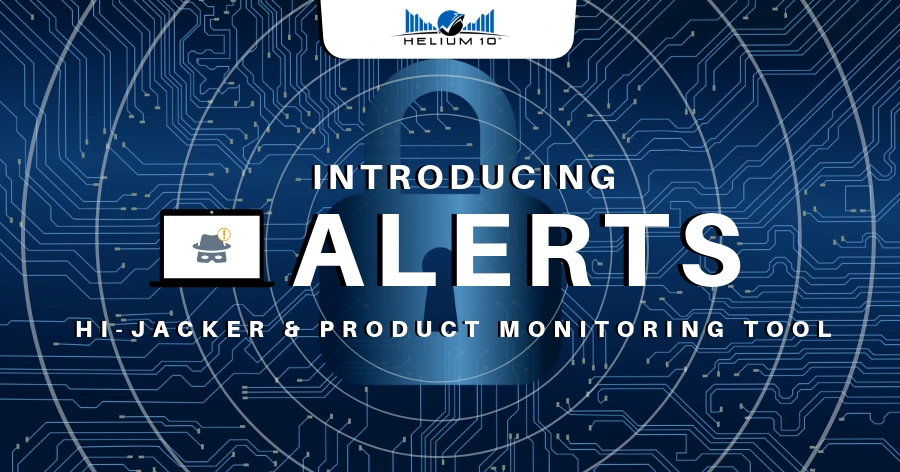 Alerts: 7 New Powerful Methods to Better Monitor Your Listing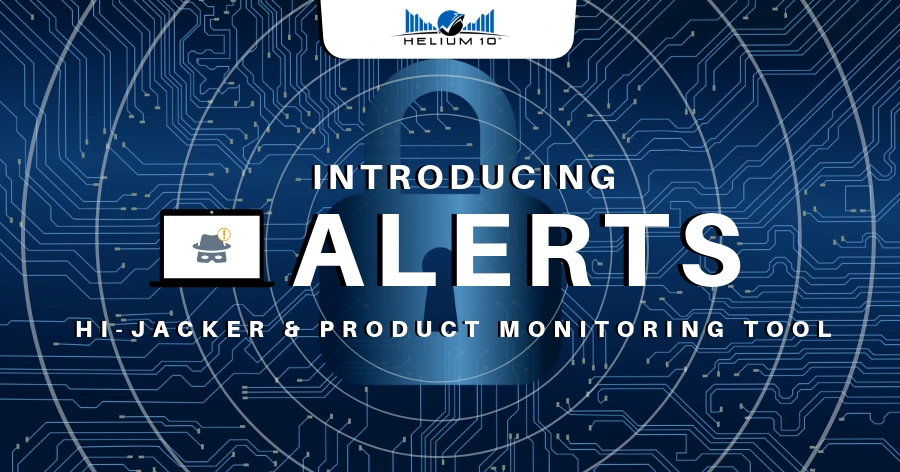 Introducing Helium 10's new Alerts tool – with all of Hijacker Alert's features included!
At the request of many of our customers, we have created Alerts, an all-in-one Amazon alerts tool which includes all the features of one of your long-time favorites: our Hijacker Alert tool. We have expanded the number of Amazon listing elements to include seven valuable tracking points that provide immediate updates on listing hijacking, title monitoring, product page monitoring, price changes, and more.
For an overview of Alert's new features, check out this tutorial video from Helium 10 Lead Trainer, Bradley Sutton:
Here is a look at the new Alerts tool interface: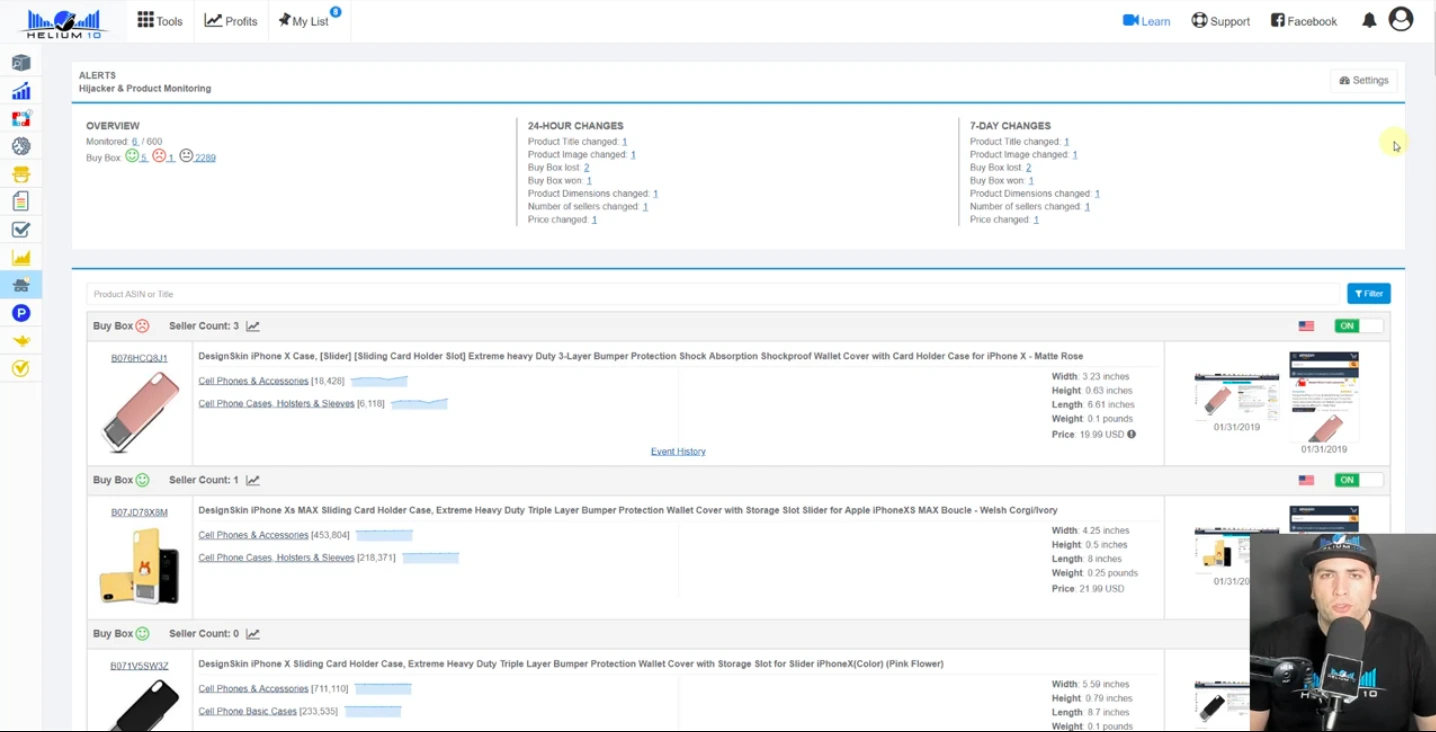 Overview
The Overview section gives you a quick glance at the positive, negative, and neutral changes that have occurred since you last checked the Amazon alerts tool. Alerts also shows which tracking points you are currently monitoring with subscript numbers; these numbers represent how many new changes were positive (green smiley face), negative (red sad face), and neutral (grey indifferent face) or no change at all.
Click on the icon numbers to see the details of each new change so you can take the appropriate action in response to the change.
24-Hour and 7-Day Changes
At a glance, these two sections show you how many changes occurred for each type of change you are currently monitoring in 24-hour or 7-day intervals, respectfully.
The tracking points within these Amazon alerts sections are the following:
Product Title Changed – Another seller or Amazon has changed the title of the product.
Product Image Changed – Another seller or Amazon has changed the main image of the product.
Buy Box Lost – Your product listing is no longer the primary Buy Box holder and has been claimed by another seller.
Buy Box Won – Your product listing is now the primary Buy Box holder and has been taken back from another seller.
Product Dimensions Changed – Amazon has altered your product dimensions to fit into another (often larger) container for shipping, which can have significant effects on your profit margins and costs per unit shipped.
Number of Sellers Changed – One or more other sellers are now offering your same product ASIN, or have stopped offering your same product ASIN.
Price Changed – One or more other sellers offering your same product ASIN have raised or lowered their listing price, which can have significant effects on your sales.
Additional Amazon Alerts Features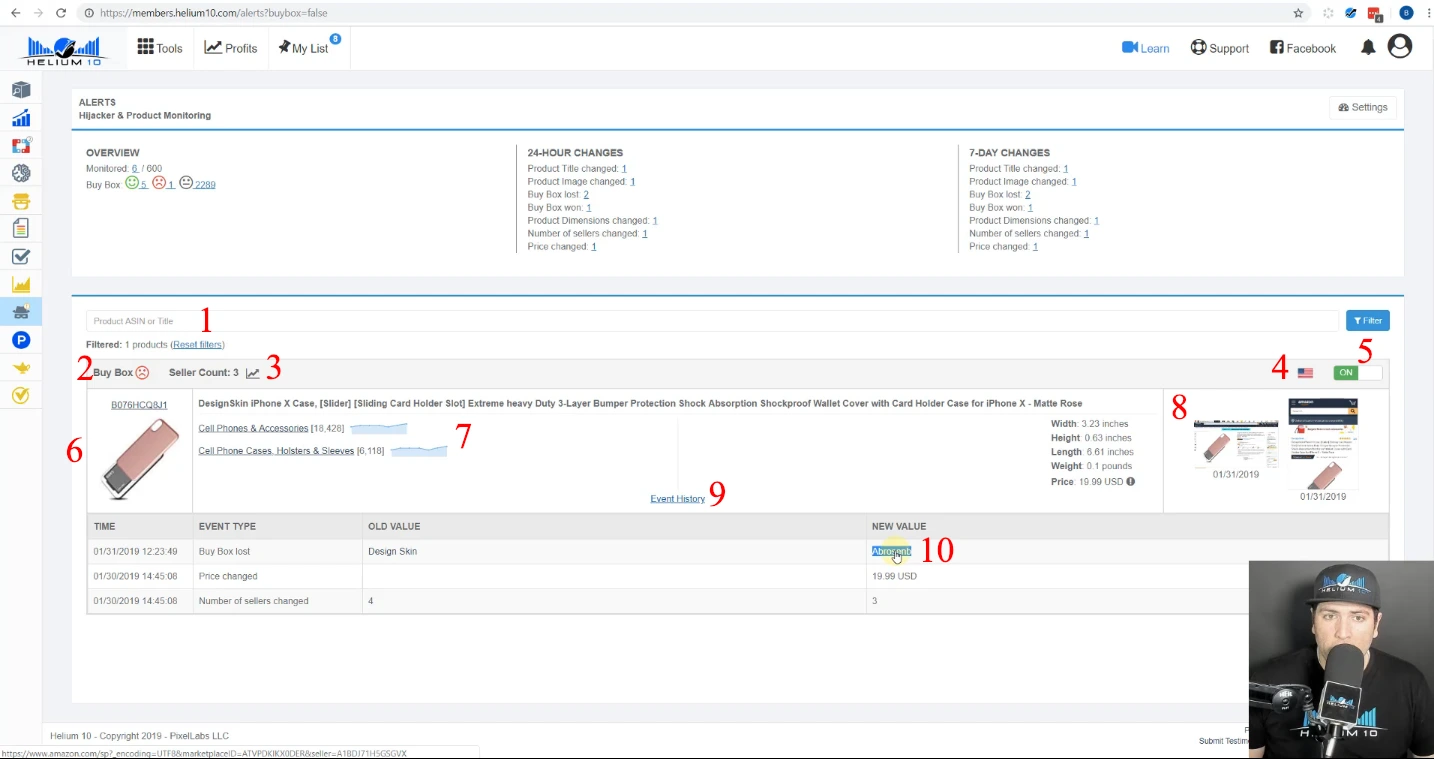 Filters – You can search for specific products by either searching by ASIN or clicking one of the quick links in the Overview section.
Buy Box – Indicates whether the ASIN currently holds the Buy Box.
Seller Count – Indicates the current number of sellers offering the ASIN.
Marketplace – Indicates which Amazon marketplace (by the country flag) is offering the ASIN to customers.
Tracking Switch – Toggle Alerts' ability to track the ASIN on or off at will.
Listing Overview – Shows the basic information about the ASIN including current title, image, ASIN link to the product listing, and product dimensions.
BSR Trends – The Best Seller Rank trends for the ASIN in all its indexed categories over time with clickable trend charts.
Before and After Screenshots – Shows you how the listing looked BEFORE the change, and how it looks now AFTER the change (in both desktop and mobile format) to give you a better sense of how your own listing and sales will be affected by the change whether it was negative or positive.
Event History – Displays the history of all changes made to the ASIN listing since you began tracking it.
New Value ASIN link – If something significant was changed, a link to the listing will appear for you to go directly and see the changes first hand.
Changing Your Amazon Alerts Settings
If you would like to activate or deactivate Amazon alerts in the Alerts tool, click the Settings button in the upper right corner:

You will then be transported to the Settings page where you can turn your product listing alerts on (or off) and customize the delivery method by which you receive these alerts (via email, text message, or both). Additionally, you can set a time frame during which you DO NOT wish to receive alerts, such as late at night while you are sleeping.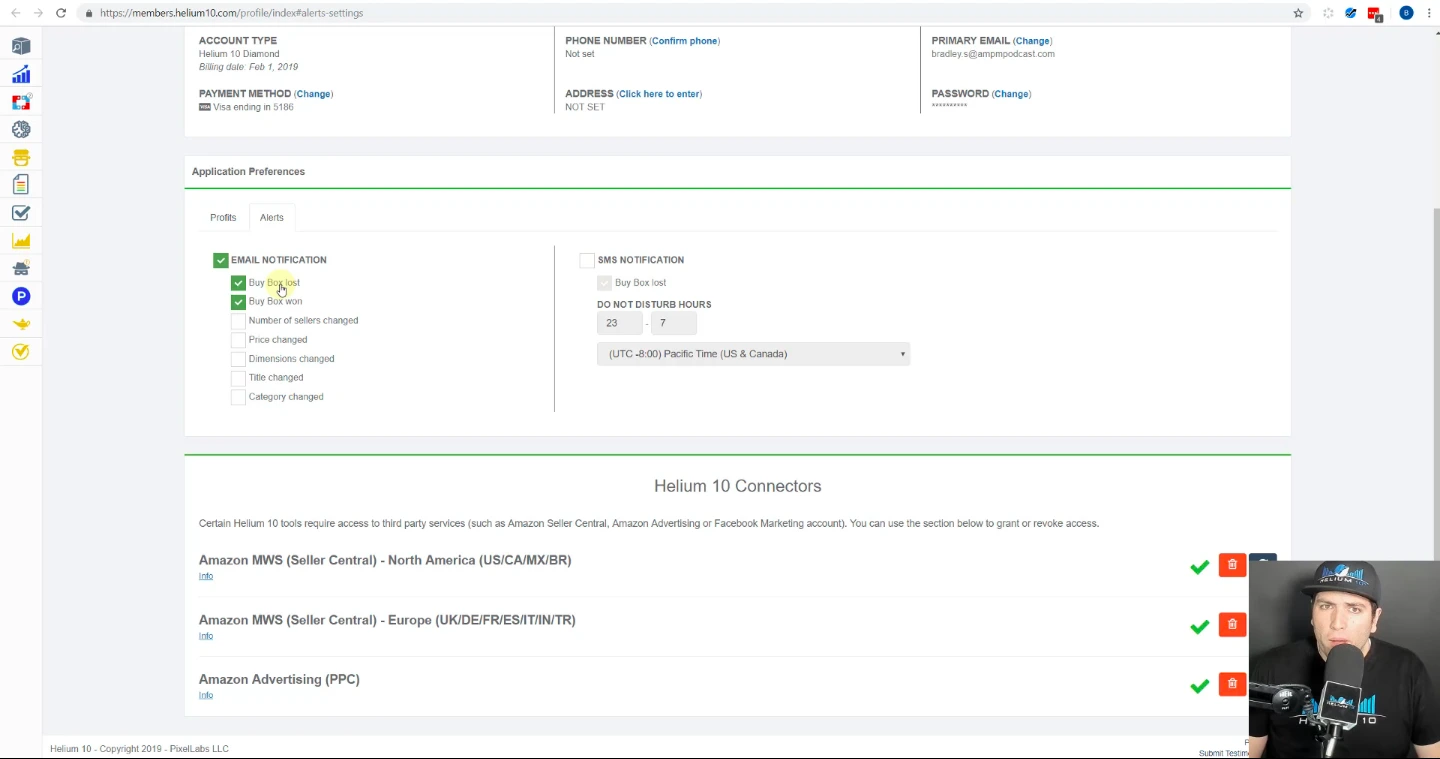 Also, you can change what important networks Helium 10 has access to in the Helium 10 Connections section towards the bottom. Some of Helium 10's tools draw data from other sources such as your Amazon Seller Central account, Facebook Marketing account, and others. Here you can choose to allow or deny access with a click.
Armed with these valuable Amazon alerts, you can better monitor any activity that may have a positive or negative effect on your sales for your ASINs, and take the appropriate action much sooner.
Have any questions regarding the new Amazon seller notifications you can get from the Alerts tool? Let us know your thoughts in the comments below!
If you haven't created your FREE Helium 10 account yet, click here and try out our tools today!
Achieve More Results in Less Time
Accelerate the Growth of Your Business, Brand or Agency
Maximize your results and drive success faster with Helium 10's full suite of Amazon and Walmart solutions.