5 Costly Amazon Shipping Mistakes to Avoid
Ready to ship your product to sell on Amazon? Here are 5 major Amazon shipping mistakes that can end up costing you much more than just money!
Updated on: November 20, 2019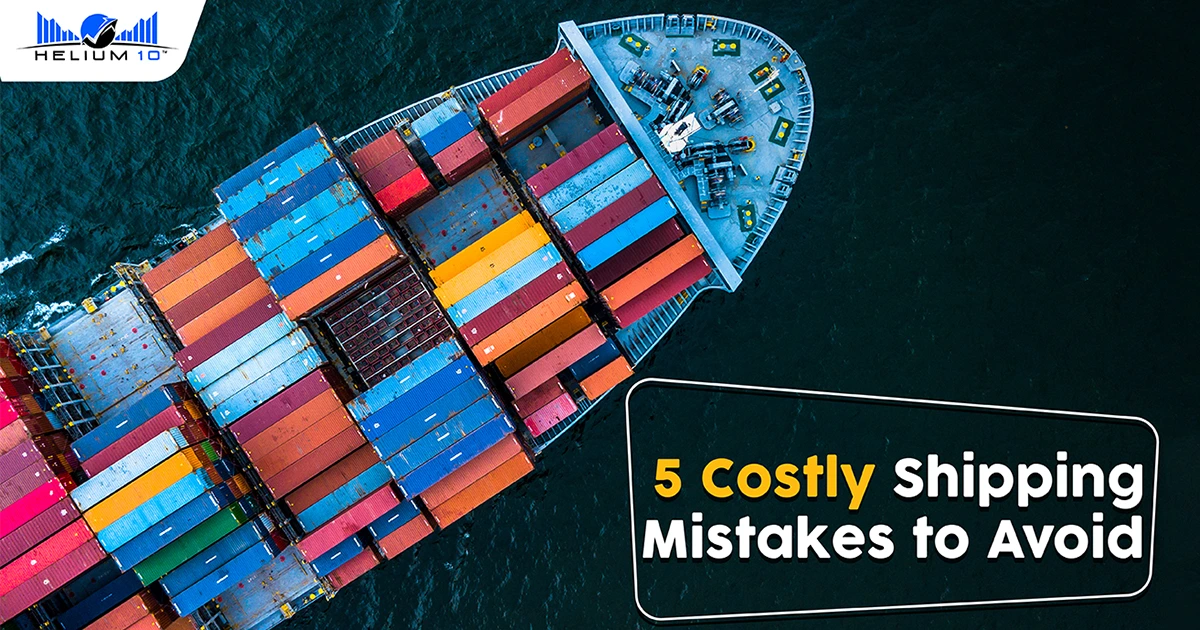 Are you are ready to ship your product to Amazon or another storage facility? If so, here are 5 major Amazon shipping mistakes that can end up costing you much more than just money.
Many Amazon FBA sellers are not sure what to do when it comes to shipping products from their suppliers into Amazon. To avoid confusion and headache, most sellers will often end up going with whatever their supplier suggests.
The problem with following this kind of advice for shipping can end up costing you time, money, and tons of stress in the long run. These mistakes may cost you so much that it becomes impossible to turn a profit, all because you overlooked the details.
Fortunately, there are better ways to ensure that you are doing the right things when it comes to Amazon shipping and logistics.

Before you ever let your products get loaded onto a ship, plane, train, or truck to leave the manufacturer, there are a few Amazon shipping mistakes to be aware of and avoid:
Mistake 1: Improper Packaging
Not only can using the wrong packaging for your product increase the chance of damage in transit, but it may also cost you to ship more per unit.
If your product is fragile or has small loose parts that come with it in its box, it must all be secured very well in the event the box is dropped, kicked, or crushed.
One of the leading causes for returns is broken or damaged goods, which is typically preventable with the right packaging for your product.
When choosing from Amazon's standard packaging box sizes, choose one that secures your product firmly without too much excess space (leaving room for impact prevention measures like bubble wrap, plastic wrap, etc.)
Additionally, sizing your product just right in the design stage can also save you money if you use a smaller box to ship it. For example, even one inch too much in certain places can make a significant difference in cost per unit.
Use Profitability Calculator in the Helium 10 Chrome Extension to quickly get your estimated shipping cost per unit based on container dimensions and weight. Ignoring this step can impact your profit margins by 10-30% or more.
Mistake 2: Inaccurate Carton Markings and Mislabeling
Ensure that the carton markings on your product and boxes are accurate to the contents within. Your supplier will usually add the proper markings for you, but they must be correct and comply with the laws of the country you will be shipping your product to.
If the description you submit does not match the goods inside, your shipment may get rejected by Amazon or worse, held up by customs, leading to additional fees and some major headaches.
The easiest way to ensure your markings are correct is to hire an inspection company to inspect your products, review carton markings, check packaging and breakability, and anything else you specify.
Mistake 3: Not Hiring an Inspection Company
An inspection is not only necessary for your products prior to shipping, but of the facility itself.
If you do not hire an inspection company to go over your shipment before it leaves the supplier, you are really rolling the dice, hoping that the supplier did not mess anything up.
Prior to even having your products manufactured, you should have the facility inspected and checked out by a third-party company, likely your inspection company. They will ensure that the supplier is compliant with all regulations and not housing anything that could potentially affect your products in a negative way. Consider your inspection company your "boots on the ground," your quality control division, and an extension of your company.
Mistake 4: Choosing the Wrong Shipping Method
While sending everything via air freight sounds like a good idea because of the speed at which you will have inventory available, it can become very expensive over time.
Concurrently, if you ship everything via sea freight, you may have to wait up to 30 days before your inventory arrives at the warehouse.
Choosing which method is best for you depends on many factors. Keep in mind, the factors that most affect your choice of shipping method are the product dimensions, it's weight (including packaging), and the lead times your business can sustain.
For example, if you are shipping a larger product that weighs more than 10 lbs., shipping by sea may be a better choice for you. Conversely, if your product is small and lightweight, it may be worth your while to send it via air freight (or at least a portion of it), depending on the number of products you are shipping at that time.
Mistake 5: Not Using a Freight Forwarder
Handling all the shipping details yourself can be a hassle and can often result in missing a crucial detail that ends up costing you more money. By outsourcing this responsibility, you'll avoid mistakes and gain much-needed peace of mind.
The bottom line: Freight forwarding companies can help you cut down on Amazon shipping mistakes dramatically. If you're on a budget, at the very least consult with Amazon FBA freight forwarders and get second and third opinions.
BONUS Mistake: Only Getting One Shipping Quote
There are many shipping companies out there, so just going with the first quote (or company) you come across may end up costing you more money than necessary.
Make sure to get multiple quotes from different companies, including EXW and FOB pricing from your own manufacturer.
For more information on Amazon shipping mistakes to avoid and how to best to go about shipping your products from the manufacturer to your warehouse, get the FREE Ultimate Guide to Amazon Shipping & Logistics!
Have you made any costly logistics or Amazon shipping mistakes?

Share your story in the comments below!