Data Meets Strategy: Freedom Ticket is Now Part of Helium 10
Struggling to learn how to sell on Amazon the RIGHT way? Cut through the noise and learn from the absolute best, now partnered with Helium 10.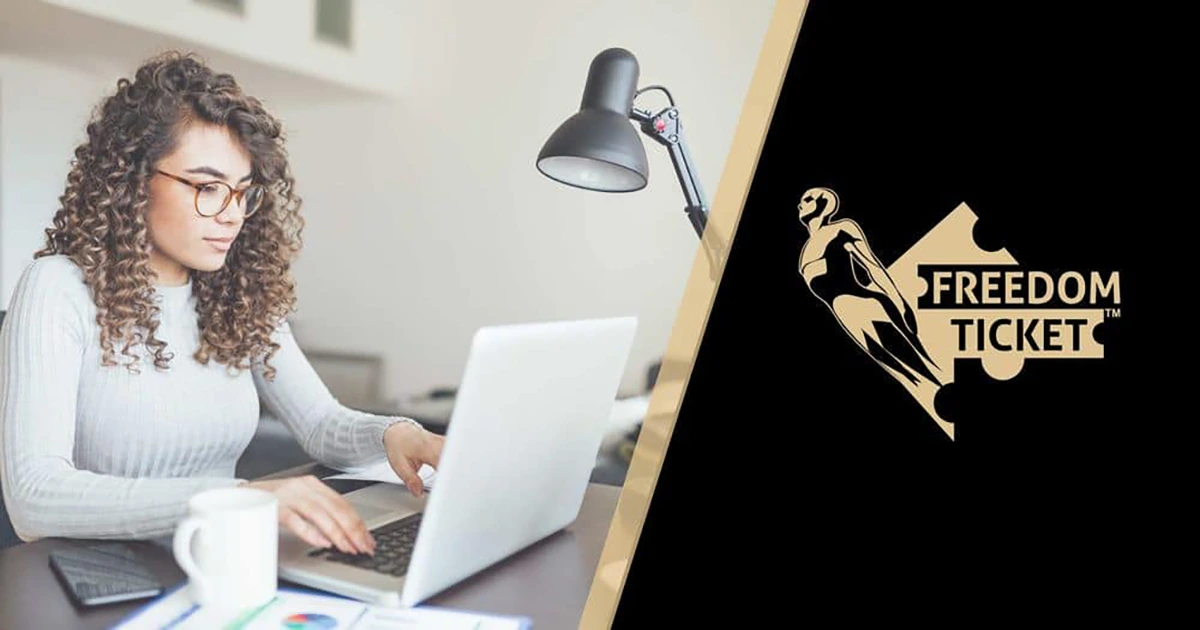 At Helium 10, we've built our brand around one main goal: helping Amazon sellers rise to the top.
To further that goal, we've joined forces with renowned Amazon and e-commerce entrepreneur Kevin King to announce a Helium 10 and Freedom Ticket partnership!
Watch this brief explanation of what's happening from our founder, Manny Coats.
To gain access to the most complete training on how to sell on Amazon, click the button below:
Freedom Ticket, known in the space as a comprehensive Amazon course for old and new sellers alike, is now an official part of the Helium 10 suite.
Why?
Because we recognize the priceless value of education. We want you, our Helium 10 users, to arm yourself with both time-tested strategies and new groundbreaking tips so you can scale your business in a way that works for you.
From the stay-at-home parent who wants to make supplemental income, to the ambitious entrepreneur dead set on building an 8-figure private label empire, Freedom Ticket's updated knowledge combined with Helium 10's all-in-one tool-suite is the ultimate powerhouse for Amazon success.
Are you ready to be serious about Amazon?
To gain access to the most complete training on how to sell on Amazon, get started here.
What is Freedom Ticket?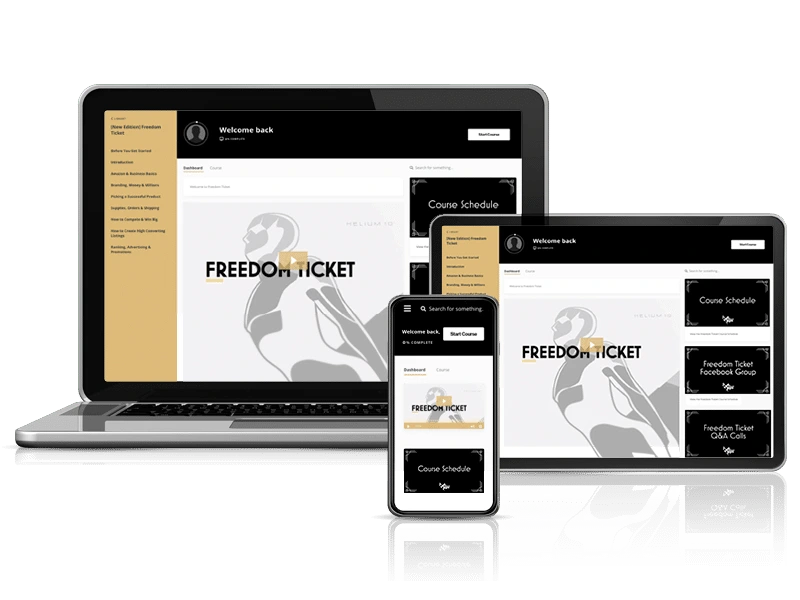 The renewed Freedom Ticket is an 8-week Amazon course designed to get you selling from scratch. With over 80 modules of video content, detailed notes and slides, and live Q&As with Kevin King himself, Freedom Ticket is a serious course for those who understand that there's no "get rich quick" option on Amazon.
The best part? Freedom Ticket is now INCLUDED with Helium 10 memberships: Platinum, Diamond, or Elite. That's a $1000 value!
Be ready to get your hands dirty with gritty data analysis and discussion. On top of comprehensive notes and slides of each module for you to study and review, Freedom Ticket also provides a wealth of downloadable informational handouts, as well as Excel sheets to help organize and manage all of your data from inventory and cash flow, to conversions and ad spend.
This updated version of the course includes all of the latest tried-and-true information relevant to selling on Amazon today. Amazon Marketplace is continuously evolving, and the only way to stay ahead of the curve is to be informed.
Learn how to set up (and run) a real business
Anyone can open a seller account on Amazon, but unfortunately, that's just the first step. If you want to move beyond arbitrage and develop a real private label business, you need to treat it like that: a real business.
Freedom Ticket will walk you through the (often intimidating) administrative steps needed to get your business up and running. We'll discuss the sordid details of bank accounts and business loans, government paperwork, tax filing, intellectual property, and more, all rife with personal recommendations from Kevin King and Helium 10.
Navigating the bureaucratic intricacies of business law can be a nightmare, but with Freedom Ticket, you'll spend less time on busywork and more time on your business.
Identify your product space
Know your product space like the back of your hand. Product research is infinitely more complex than running a couple of profit formulas and doing a few searches on the Amazon Marketplace.
In Freedom Ticket, we'll go through how to conduct thorough product research and target in-demand product niches, how to study your competition and learn from their strengths and shortcomings, and how to plan and develop unique products (known as product differentiation) that will stand out in the marketplace.
Kevin King will demonstrate how to use Helium 10 tools like Black Box and the Chrome extension's X-Ray to streamline days of product research into mere minutes or hours.
When data meets strategy, you can get a lot more done.
Manage your finances
Even the most business-savvy entrepreneur has to be on top of their finances, lest they risk unnecessary spending. Mistakes can cost you, but with Freedom Ticket's thorough breakdown of financial topics like inventory planning, cash flow, and expenses you may have overlooked like intellectual property protections and tax registration, you'll have control over your money.
Freedom Ticket doesn't just talk theory. Kevin King goes into detail comparing investment values, potential growth year over year, and how every number affects your bottom line, whether that's your supplier MOQ or a couple of dollars' difference in ad spend or unit sales price.
Gone are the days of throwing money and your initiatives in the hope they'll work. Put your money where it matters and watch your Amazon business thrive.
Advice from industry experts
Successful sellers don't exist in an Amazon echo chamber, and neither does Helium 10. Throughout the course, we draw on the advice of several guest speakers and industry experts with years of experience in their respective fields. From intellectual property lawyers, to logistics managers, to financial advisors and more, we leave no stone unturned.
Enjoy the firsthand advice of our guest speakers throughout Freedom Ticket as they enrich your knowledge and keep you informed about essential (and often-overlooked) details for successfully growing your business.
Ready to rise to the top?
We hope you're as excited as we are for our new Data Meets Strategy partnership. With Freedom Ticket to guide your strategy and the Helium 10 tool-suite for everything else, sellers new to the game can navigate the ins and outs of getting off the ground, while veteran sellers will discover tactics and suggestions to fine tune and scale their businesses.
Look, we've already done the legwork and brought the knowledge and tools to you. All YOU have to do is get out there and start #CrushingIt!
To gain access to the most complete training on how to sell on Amazon, click the button below: