Amazon Explore: A New Way to "Travel"
Amazon Explore brings a new way to see some of the most exotic places in the world LIVE from the comfort of your sofa. What's it all about?
Updated on: March 15, 2022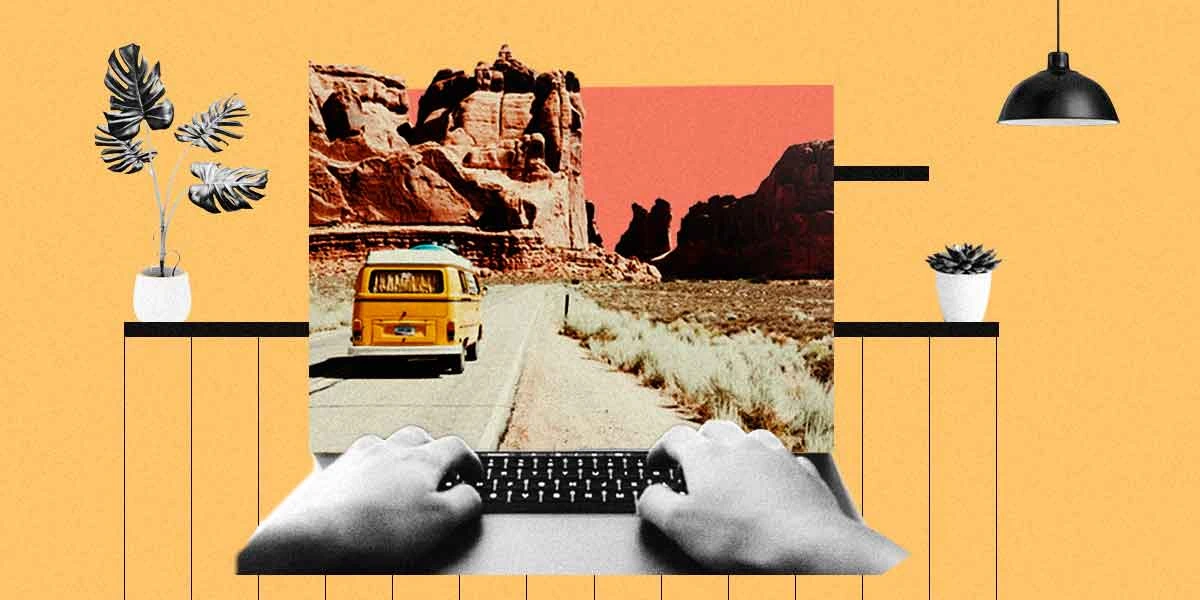 Amazon Explore: Experience a New Way to Travel
If I told you 15 years ago that it's possible to take a virtual trip to Peru from the same website you buy toilet paper from… would you believe me?
Think back to the last time you took a proper vacation. If you're like 83% of Adults in the US, it hasn't been since at least March of 2020.

Find more statistics at  Statista

Now, many would make the case (a strong one) that the travel industry and the way we experience new things at large was already undergoing a millennial metamorphosis. Even before the year of the quarantine. Between the rise of AirBnb and virtual community platforms like Twitch, the marriage of travel and live streaming was inevitable as it is intriguing. 
When I tell you Amazon is one of the first to make live virtual experiences widely accessible to the public and monetize them for e-commerce sellers, is it really a surprise? 
Introducing Amazon Explore – a new way to experience the world by finally using computer screens as they were intended… as windows.
What is Amazon Explore?
Imagine logging onto Amazon, clicking a button to sign up for a virtual tour of Italy, and in a matter of minutes experiencing the Rialto Bridge and canals of Venice… without ever leaving the comfort of your bathrobe at home.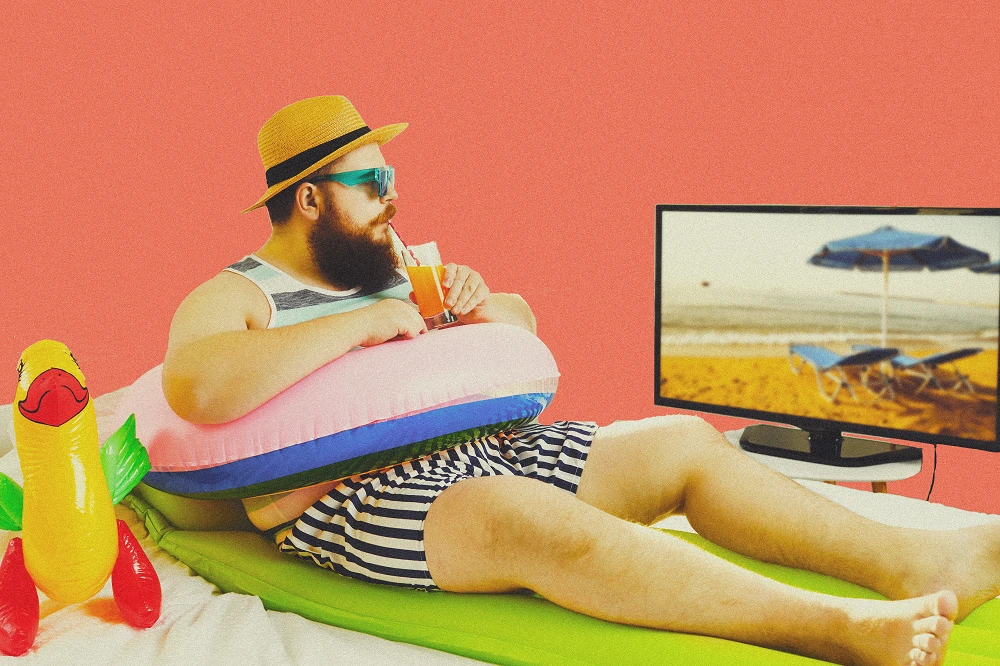 That's what's at the heart of Amazon Explore. Delivering authentic and interactive experiences via remote live streaming.
Feel like shopping in London's Soho district? 
Maybe you're hungry for the culinary history of Argentina (and want to learn how to make genuine empanadas).
Perhaps you just want a casual, up-close encounter with the wildlife of Costa Rica.
This is an Amazon-curated selection of virtual travel experiences around the world, made accessible to everyone with an internet connection and a credit card. Is it the same as experiencing these things first hand, in person? Of course not. But not everyone has the means to hop an international flight and take a week off work.
Amazon Explore offers guests a plethora of virtual experiences led by local experts across North America, Central America, South America, Europe, Australia, and Asia.
What is Offered Through Amazon Explore?
Though Amazon Explore is still in its early stages of development, there are plenty of bookings available right now. Activities you will traditionally find while browsing Amazon Explore include:
Cooking lessons
Personal shopping experiences
Guided tours of key cultural landmarks
Wildlife encounters
Local crafting lessons
Historical expeditions
Visits with rescue dogs
And more
PROMOTIONAL UPDATE 1: As of 4/27/21 Amazon Explore is offering Prime members their first virtual experience (up to $50) for free! Use the code: FREEFUN.
For more detailed information about Amazon Explore, check out the official FAQ page. Here you'll find info on system requirements, cancellations, technical issues, and what to expect during your experience.
Now that I've effectively stoked your wanderlust, let's take a look at the booking process. It's actually very straightforward…
How Does Amazon Explore Work?
When you visit the Amazon Explore page, you can browse bookings by price, new experiences, or by region.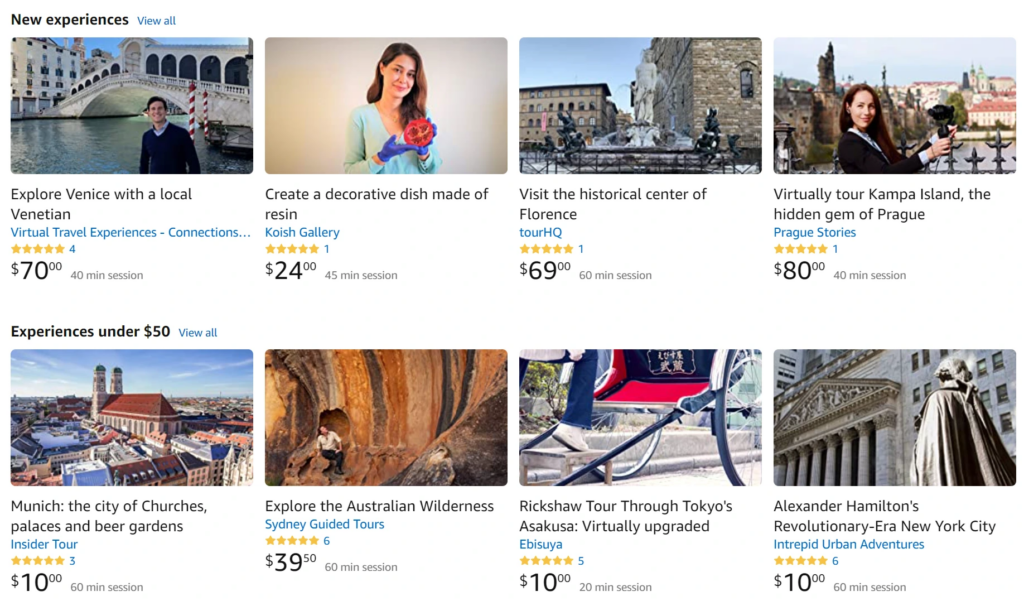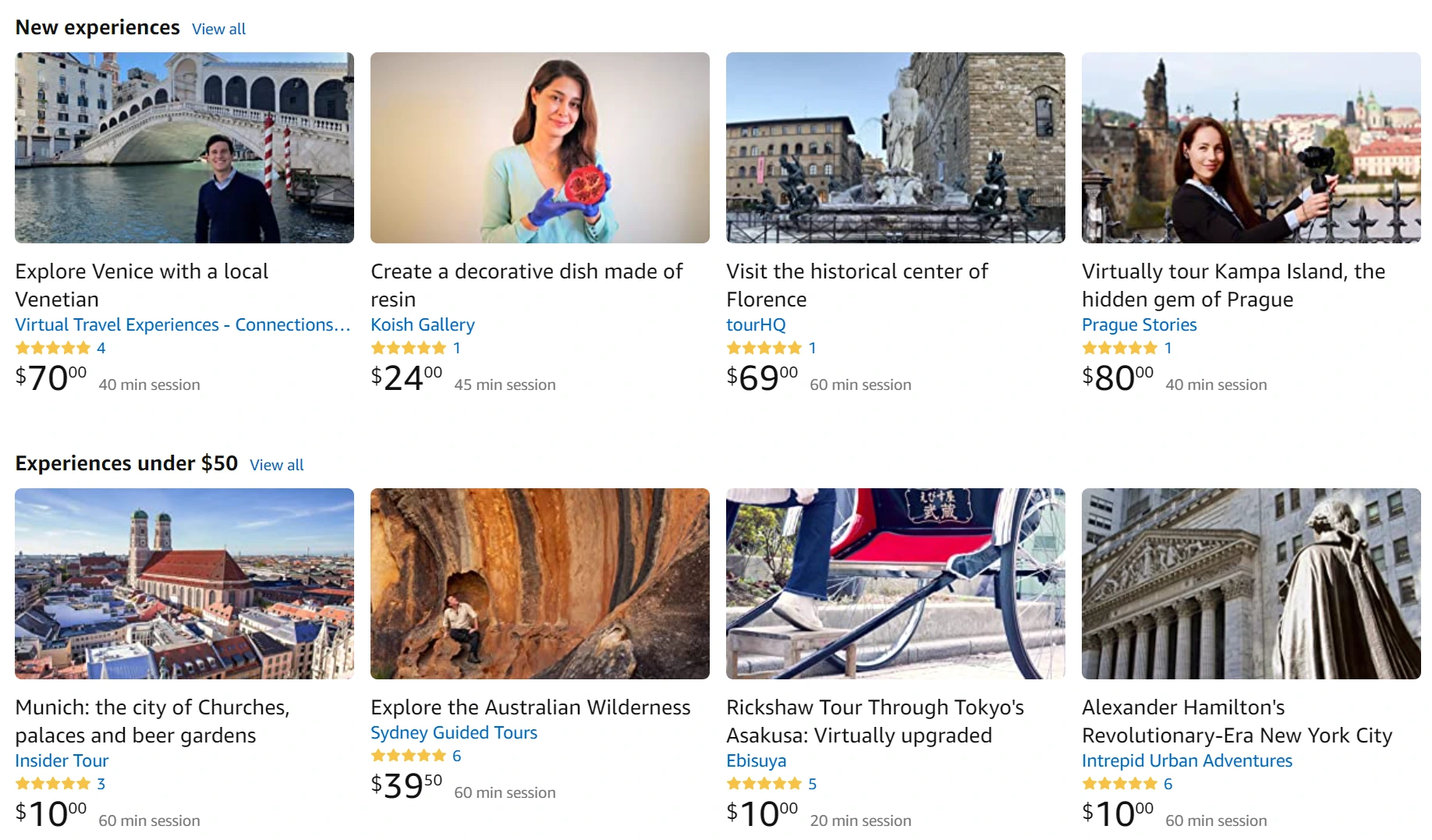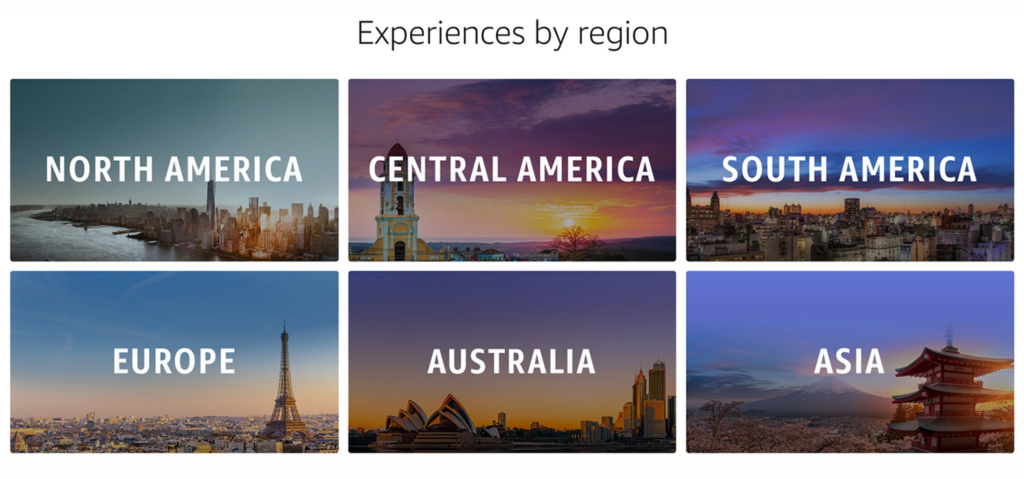 When you find something that piques your interest, click on the booking to see some valuable, expanded information.
This is where you can read up on what your tour will include, who your host is, and device specifications required for the best possible experience. Select bookings may even come with "experience kits" containing curated items that will enhance your tour or lesson.
Who are Amazon Explore Hosts?
Amazon Explore hosts are "tour guides, wellness coaches, artisans, chefs, stylists, or anyone with a skill or adventure to share." All hosts are English-speaking as well. While you shouldn't expect the next Anthony Bourdain, Amazon Explore seeks to give you hosts with relevant expertise and local insights about the destinations/culture you are interested in.
As with any online purchase, read your host's biography and customer reviews before booking your Amazon Explore experience.
And make sure to consult your map before you go!
If you like what you see, book your time slot and mark your calendar! You can find your booking time in the "Orders" section of your Amazon account, as if you purchased a product.
When your scheduled time rolls around, your host will live stream directly to you – one on one (or whoever else is sitting by your computer). However, this is not merely a passive viewing experience. If it was, you'd mine as well go watch a 4k video of Italy on YouTube right?
Amazon Explore allows for an interactive experience between host and guest. Ask your host questions, snap photos, talk to local artisans you may run into by chance, and shop online for souvenirs. It's all done live through your virtual adventure.
Items you purchase from your host are all handled securely through Amazon's payment system (everything is already tied to your Amazon account).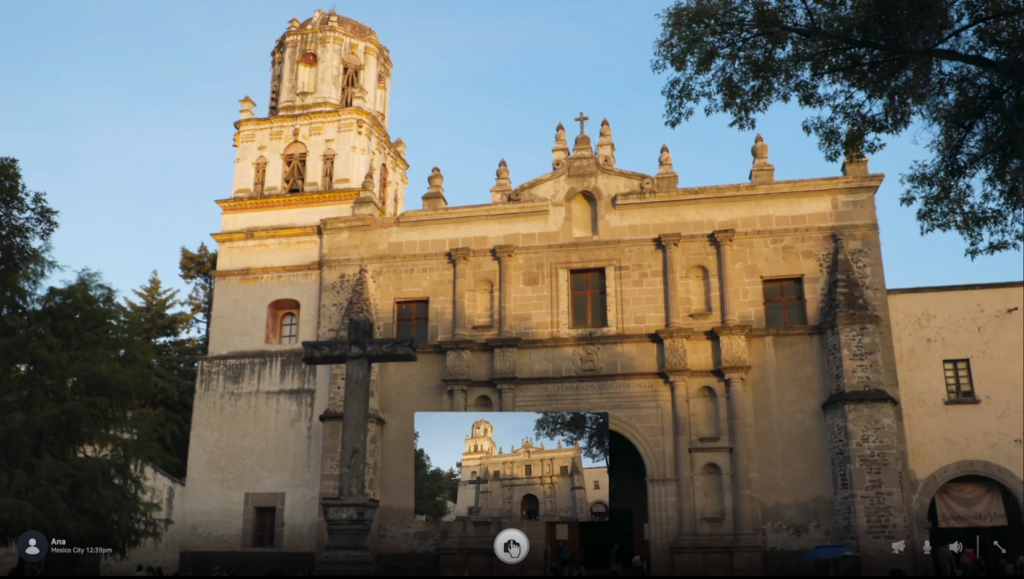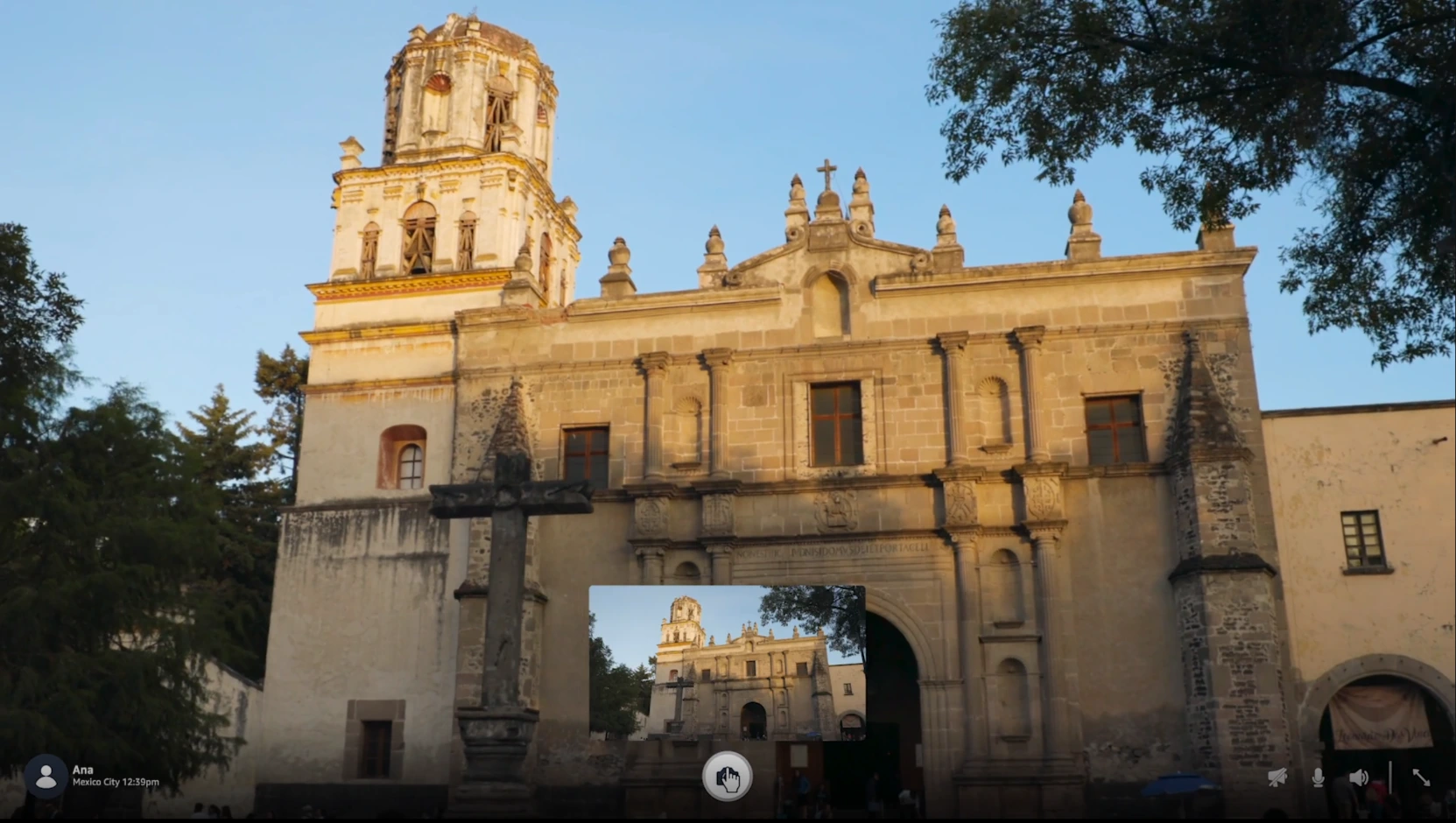 See something that catches your eye? Tell your host and point it out…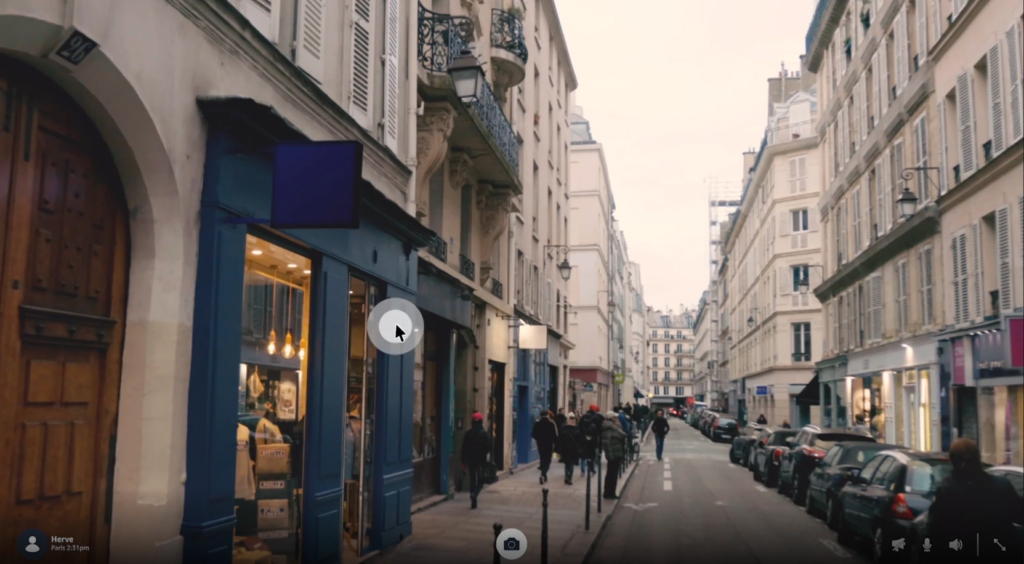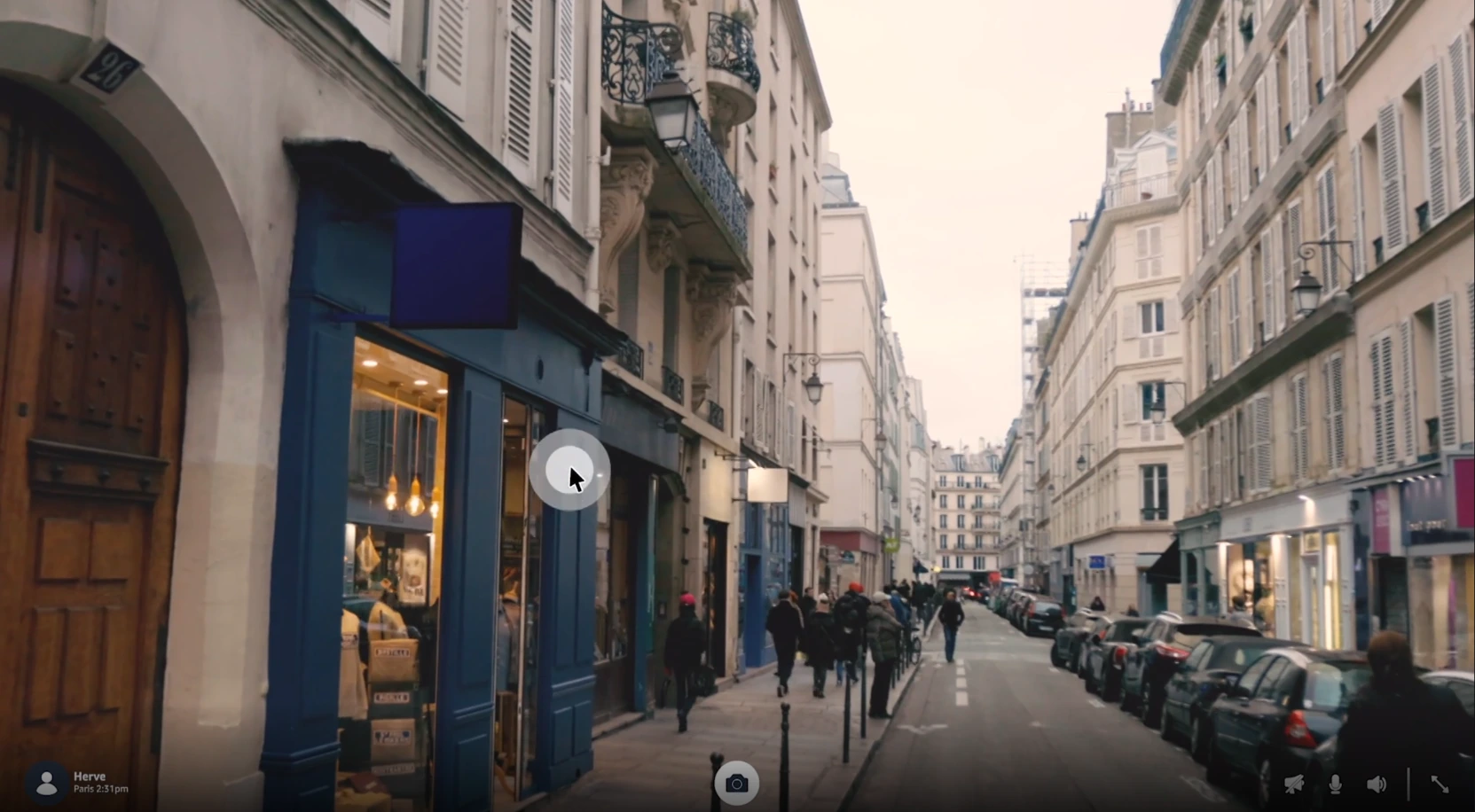 How often is it that you get a personal, one on one tour of somewhere halfway around the world with live access to a local expert who can answer your questions on the fly?
Tours are two-way audio, but one-way video – you can see your host, but not the other way around. You can enjoy the Australian Outback in your favorite PJs.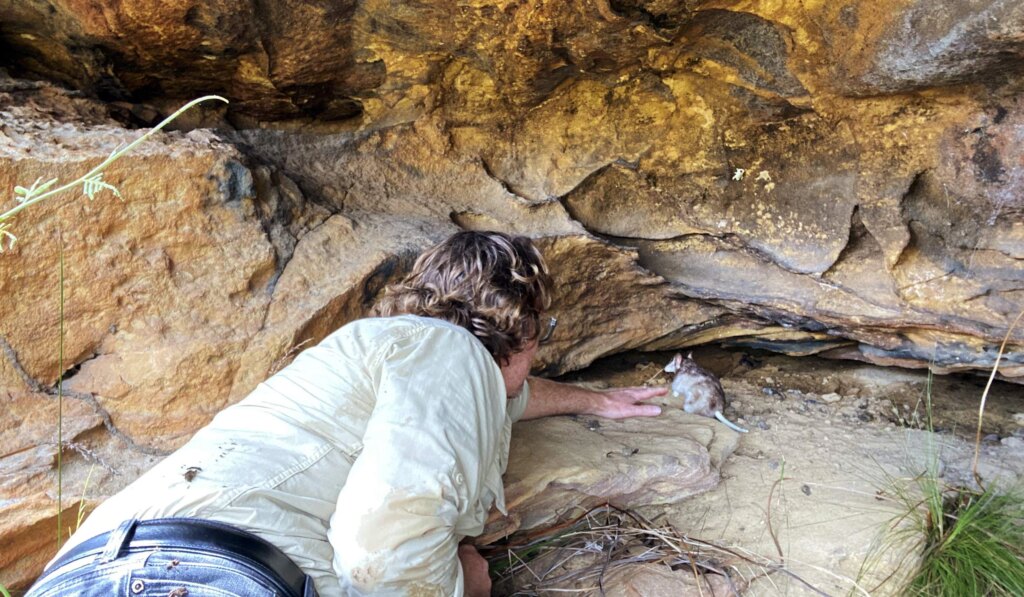 I'm an Amazon Seller. Can I Make Money as a Host?
Interested in hosting your own experiences? 
Good news, there's always the other side of the camera. 
If you're already selling on Amazon, you know the ecosystem and you know how Amazon customers shop. You may even already have your own base of Amazon customers that would gladly jump in line for a tour of your hometown (provided there is some interest or value you can bring to the table).
After filling out an application detailing what you will offer for your experience (and how much you will charge), grab your gear (smartphone & stabilizing stick) and start sharing.
You could give a virtual walking tour of Mexico City's urban art scene or host a personal shopping experience from Oslo, Norway. Your Amazon Explore experience is yours to make special.
You set the price, you make the hours, and you set the tone. 
It is worth noting, Amazon Explore hosts can (obviously) be from almost anywhere in the world, however you can only stream experiences (as a customer) from the United States, as of right now. Amazon Explore is still in beta, so keep an eye out for coming expansions.
Can I Sell Products Through Amazon Explore?
If you're an Amazon seller looking for newer, untapped methods of getting your product out there, you're in luck.
Not only is Amazon Explore a great way to share your culture and expertise, but it's perhaps the most creative way to boost your business's reach on Amazon. Most Amazon Explore participants book their virtual tours for the experience, but even in the physical world, every tour has a gift shop at the end!
Is your Explore guest interested in a product of yours used in your tour? Add your product information at the point of sale and Amazon will process the transaction.
Don't worry, this isn't a full-time gig that will eat up the time you've set aside for the rest of your online business. Amazon Explore allows sellers to easily schedule appointments with customers through a dedicated online portal. You retain full control over setting your availability!
Considering startup costs include a compatible gimbal, phone, and headphones (two of which most of you already own), Amazon Explore is a perfect way to promote your products in a way that provides value to customers, even if they don't end up purchasing. After all, they still bought your virtual tour.
For more information about how Amazon Explore works for your business, check out this video.
PROMOTIONAL UPDATE 2: Amazon is offering a free trial for existing sellers, and a promotional discount until July 1, 2021, to help reduce the cost of your phone and other gear. The offer is limited to one set of gear (gimbal, phone, and headphones) per seller account. Amazon reserves the right to modify or cancel the offer at any time.
If you're interested in this promotion, send an email to:

[email protected]
Over the last 20 years, we've witnessed e-commerce explode from "trendy business plan" to "new normal" for budding entrepreneurs, no place more so than Amazon. Universal accessibility and advances in technology have changed the way we do business. It's also changed who it is that gets to run the business. 
With Amazon Explore, we're seeing the first signs of a new e-commerce path – somewhere between Airbnb, traditional online shopping, and virtual reality.
A Few Examples of Real Experiences You Can Book Right Now…
Before we end things, I have to leave you with a tease. Some of these look genuinely fascinating (and adorable).
Wild animal encounters in Costa Rica (I dare you to look a baby sloth in the eyes and have a bad day)…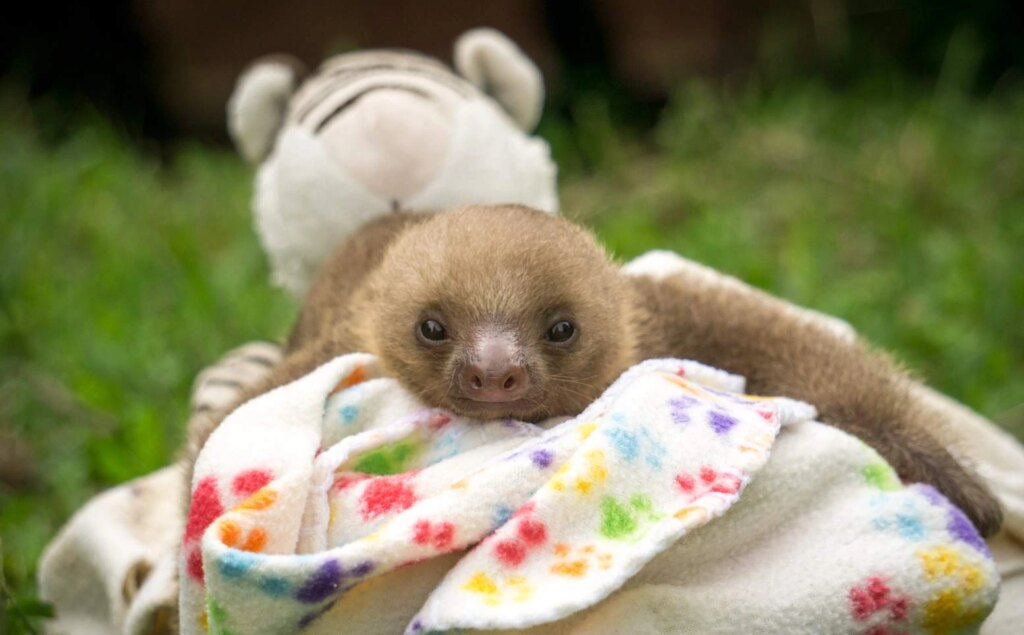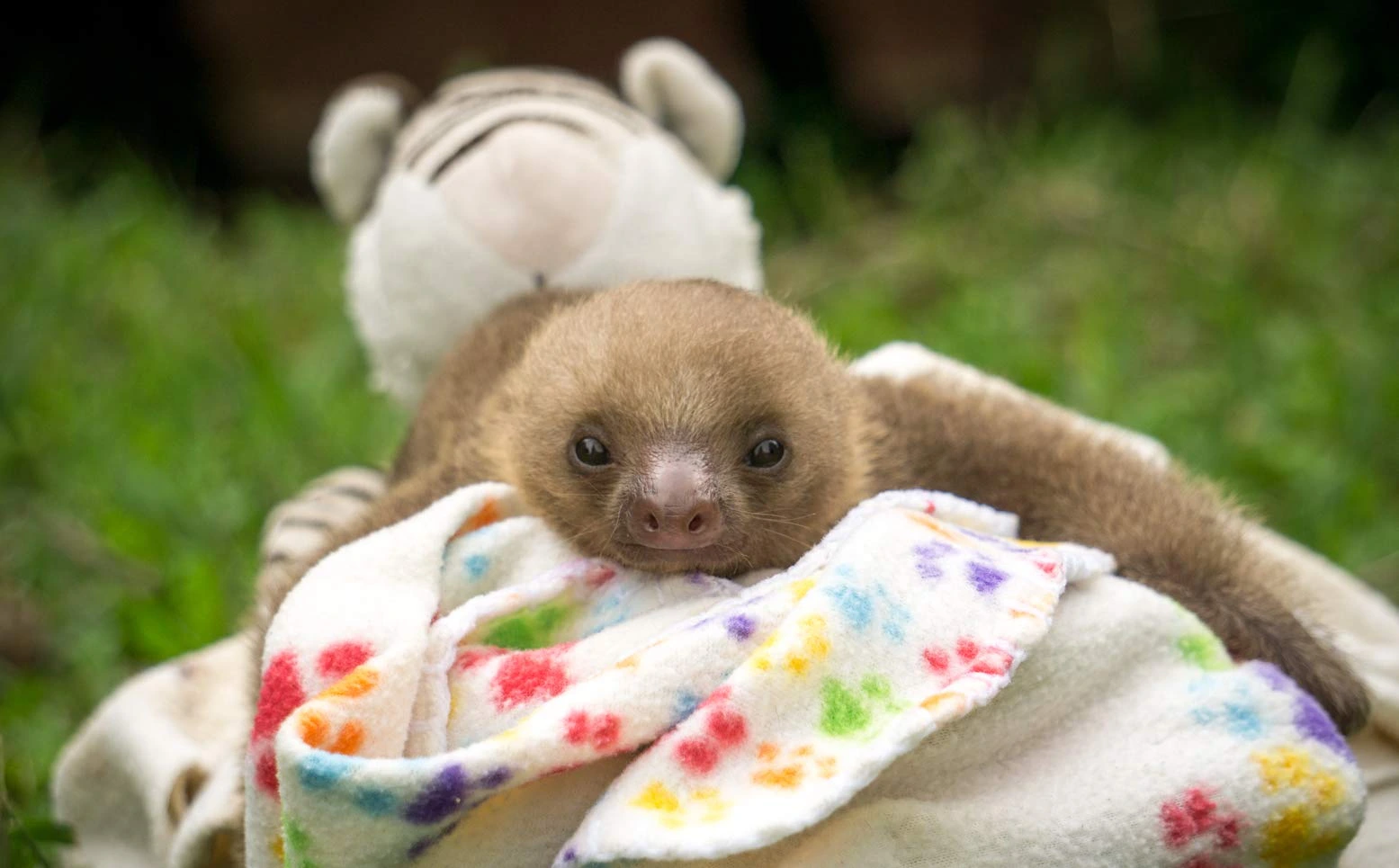 An eerie tour of Myths and Alchemy in haunted Prague…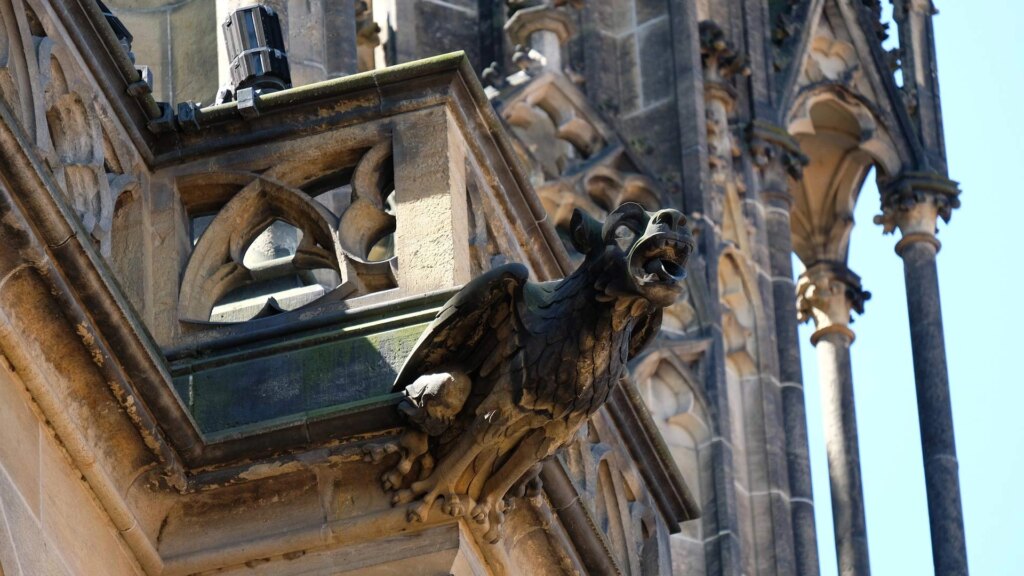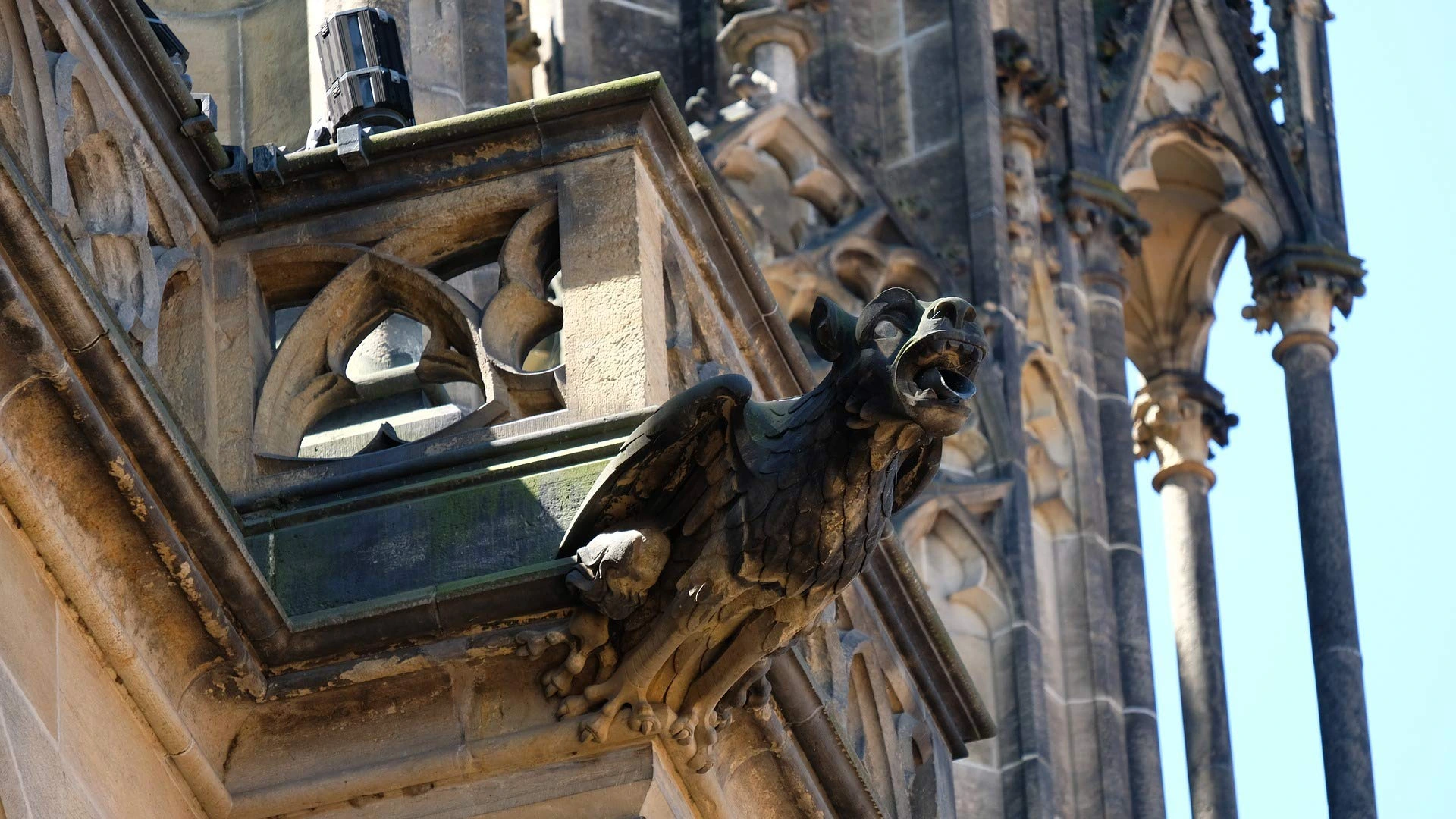 A live look at Zen Buddhism and meditation from a 700-year-old temple in Kyoto, Japan…
Personally, I live to travel. Seeing new places, new ways of life, and learning to be "comfortably uncomfortable" on the road is a way to not only inject some adventure into my life but also a way to become a bit more cultured in the process. There will never be a substitute for "doing it for real" (we'll just call it Travel Classic going forward), I get it. But, having an option to explore these places from a laptop is far better than not being able to explore them at all.
Let's face it, having an Amazon account is a lot easier than getting a passport.
There is something truly incredible about seamlessly being able to walk a mile in someone else's shoes, even on the other end of a webcam. At the end of the day, Amazon Explore is about connection. Even if it means using a wireless one to facilitate a personal one. And you know what? As far as the perils of 21st-century technology go, that's pretty darn good.