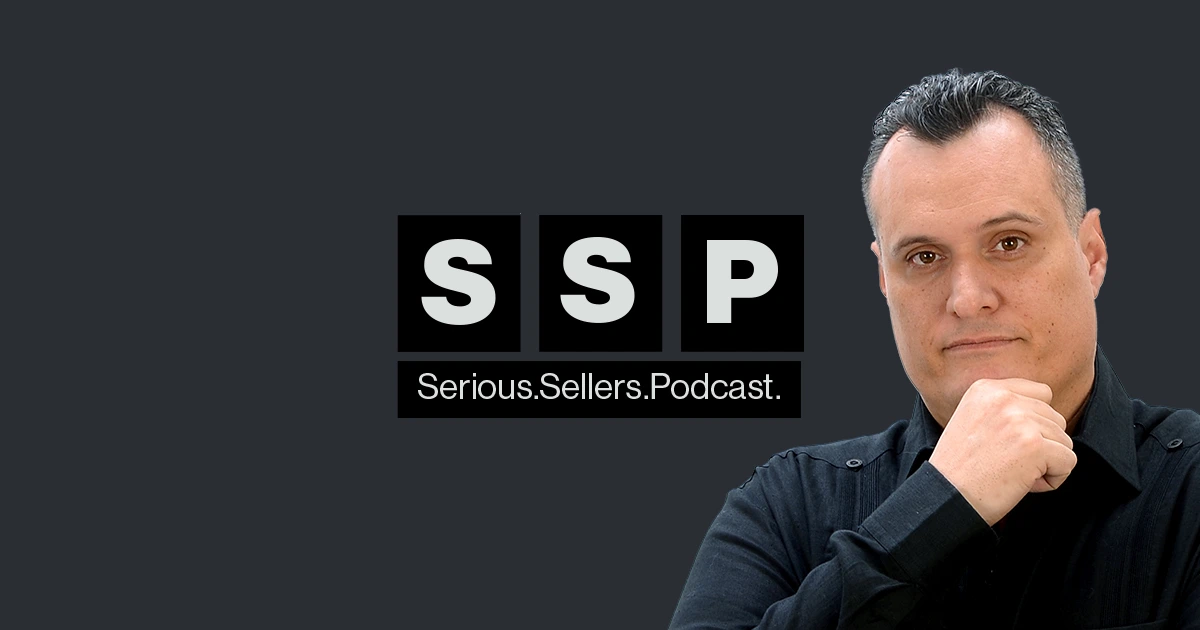 Posted on: November 3, 2020, By: Helium 10
#191 – Advice on How to Use Amazon Live by a 9 Figure Seller – Carlos Alvarez
This 9-figure seller grew his business last year by 60%. He's back with news about an Amazon seller cruise and a huge Amazon product promotion update.
Today on the Serious Sellers Podcast, Helium 10's Director of Training and Chief Brand Evangelist, Bradley Sutton welcomes back Carlos Alvarez. Last year Carlos was on this show to talk about how he got started on Amazon by selling insects. He had over 16 SKUs of critters and ended up selling the business for six figures. 
Carlos is one of our all-time favorite guests. He's a 9-figure, multi-channel seller and is here to talk about Amazon live video, how in the last year he was able to grow his business 60 percent, and the upcoming online Amazon seller cruise. He also discusses a new method for promoting your product on Amazon using video that he says is one of the biggest updates ever.
You don't want to miss out on these cutting-edge video strategies. As Carlos says in the podcast, "If you're not running video ads, you just don't like money."  
 In episode 191 of the Serious Sellers Podcast, Bradley and Carlos discuss:
03:05 – The Online Seller Cruise
04:55 – Will Open Bar Mean More Strategies?
06:45 – 60% Growth, Year Over Year on Amazon
10:00 – Amazon Live Video Offers an Amazing Opportunity   
11:05 – Amazon's Purchase of Twitch Created Possibilities
15:05 – The Two Most Important Aspects of Amazon Live Video 
20:05 – Ranking Using Live Video Alone 
20:55 – Adding Influencers to the Flow  
25:00 – Carlos – "If You're Not Running Video Ads, You Just Don't Like Money"  
27:30 – Doing One thing at a Time
30:30 – How to Pivot Towards an Off-Amazon Business
34:35 – Building the Hype for Brands  
38:40 – Being a Rockstar Follower 
40:30 – How to Contact Carlos   
Enjoy this episode? Be sure to check out our previous episodes for even more content to propel you to Amazon FBA Seller success! And don't forget to "Like" our Facebook page and subscribe to the podcast on iTunes, Google Play or wherever you listen to our podcast.
Want to absolutely start crushing it on Amazon? Here are few carefully curated resources to get you started:
Transcript
Bradley Sutton: We've got a nine figure seller back on the show who's going to talk about how he was able to grow his business this year, a cruise just for Amazon sellers and a new method of promoting your products on Amazon that he says is one of the biggest updates ever. How cool is that? Pretty cool, I think
Bradley Sutton: Hello everybody. And welcome to another episode of the Serious Sellers Podcast by Helium 10, I am your host Bradley Sutton, and this is the show that's a completely BS, free unscripted and unrehearsed organic conversation about serious strategies for serious sellers of any level in the e-commerce world. And with me today back is, some people ask me who's been your favorite guest in all the almost 200 episodes of Serious Sellers Podcast. And I say, you know, I love everybody, but if I have to pick one, I might have to pick Carlos Alvarez because his story is great. Guys, we're not going to completely go into it. Guys, go back to episode 66 of the Serious Sellers Podcast on whatever you're listening to right now, it'll knock your socks off. Find out how he went from selling bugs and having millions of crickets in his apartment and getting evicted to a hundred million dollar Amazon and e-commerce empire, I guess it was great, amazing story. Carlos, welcome back to the show.
Carlos Alvarez: What's up brother, two times on the show I've made it. I can officially retire. That's it. Bucket list checked.
Bradley Sutton: There we go. And this one is remote. The first one was the very first time I actually did it on location at your office, and now we're doing it remotely because pretty much everything these days in 2020s is remote it seems.
Carlos Alvarez: Two most intimidating podcasts I've ever been on. Well, first one I'd ever been a guest on was AM/PM with Manny Coats. And then that was just because I had never been a guest. And then with you, I mean, literally it was sun hasn't come up, I'm sitting here admiring from behind my computer, how you're just doing these intros and fascinated with podcasting and you're like, let's do it. Connect this. Let's go. And it was face like face to face. So it was super wild, man. You're amazing.
Bradley Sutton: The first time I ever did something like that, where it was in person. So thank you so much. I still get messages and emails from that podcast that people are inspired by you and that not just your story, but also you've got some great strategies, like people still a year, more than a year later, that was over well over a year ago, people are talking about your Yelp and Foursquare review kind of strategy. You got some great stuff, but before we get into this, like usually obviously this is not a pitch fest, like I don't pitch Helium 10 here nonstop, or we don't invite people on just to talk about their services or anything like that. But at the end I always give people a chance, Hey, you want to plug something? Or how can people get ahold of you? But I'm so excited about something you've got going on. We're actually going to do that at the beginning. So Carlos, talk to us about the online seller cruise, because I'm a speaker on that, and I have been wanting to do this for like two years. I'm finally completely locked in. Tell us about the online seller cruise.
Carlos Alvarez: Absolutely, man, I'm stoked that you're going to be speaking there too. And a lot of other people that are going on the cruise or like, so Bradley's going to be on there the whole time. I like to warn the speakers. If your presentation is really good, and this is something I really like about the event as a whole, that you go to a lot of events. And after you connect with a speaker, you like what they are saying, and you want to know more and you want to ask more questions at the end of the event, you may catch them at a happy hour mobbed by a bunch of people. But here talking about six or seven days on the same ship. So, unless Bradley is jumping over the side on the way to Jamaica, like they're on the ship with you the whole time they get to ask all their questions and they get to form an amazing friendship or relationship. You'll remember the person. And they'll remember you when you see them at future events. So, it's an annual event happens in January, meant to decompress after Q4. This year it's January 31st to February 6th, leaving out of Miami, Florida on the horizon. The event is in its sixth year, the first four years, it was founded and hosted by a good friend of mine. And I was going to get into the event space and we got together and talked and we worked something out. And now, I run online seller cruise, and we're in our second year of me running it. And I was lucky on the second year to get you as a speaker.
Bradley Sutton: I was privileged to be invited and I love cruises, first of all. And I was just thinking about it. I was like, there's going to be a lot of Amazon sellers like, last year how many people were on it?
Carlos Alvarez: Last year, I think we're at 65, 65 on the ship. This year, we're going to– this year, we'll be at about 150.
Bradley Sutton: Okay. Now here's the thing guys in regular conferences, like we've all been to conferences, I've seen Carlos at different conferences. We all know how tight-lipped Amazon sellers are, but somehow with open bar, I have a feeling that you might get a little bit more out of the Amazon. So you might be able to even out of me, I don't know, you might– some of the things that we might hold back and some of our secrets, we might be a little bit, we might have some more loose lips on a cruise where we can give you some more strategies. So, there's another reason to go to.
Carlos Alvarez: Yeah, it's amazing. It's 30 presentations, 12 workshops and unlimited drink passes. So like, yeah, there's going to be some sharing.
Bradley Sutton: Don't threaten me with a good time, but guys, onlinesellercruise.com. Sign up today. It's going to be great. I've done Caribbean before with my family and I've never done the Mexico one. So, it's going to be great to go to Mexico for one of the days there. So now let's just talk, let's go back to the Amazon world here. We were just talking right before we start, we press record here that your sales, you're already, throughout your whole many businesses over a hundred million in 2019, but this year you didn't take a step back. I mean, it's still early, Q4 the biggest one, we still got a couple months left, but what do you think you're going to be at this year?
Carlos Alvarez: God, I have chills. Just, I mean, I'm looking at the numbers, but 2018 was our first year cracking nine figures and then 2018 and 2019, we actually had our smallest amount of growth ever, which we still crack nine figures, but it was– we might have almost taken a loss, but we just pulled ahead. So slight growth. This year, though, I'd say more to do with just the explosion in e-commerce and perhaps not as much with anything major new that we've done. We're looking at 60% growth, which makes sense. Because we feel like we're seven months into Q4. It's insane. It's amazing. I don't want to act like I'm complaining at all, but it's brutal. It's exhausting. And I'm looking forward to the cruise to have a break at the end of this, but 60% growth on the Amazon and online business, obviously my brick and mortar businesses, which I talked about some of them in the last episode. Not all of them will survive this transition, but overall it's been a huge, huge, huge plus for the business.
Bradley Sutton: Okay. Now, now how many people are working for you? Obviously you're not just running everything by yourself. I mean, for a while now, I mean, long gone are the days where you just have the million crickets in your apartment, you're handling everything by yourself. You've got a full team, but what does that team consists of now? How many people?
Carlos Alvarez: I'm going to be off by a few numbers, just in case anyone on my team who's in the known who's listening to this, but we're about 81 domestic employees and 242 virtual assistants. And I have to say my thing that I am the most proud of out of all, this is we did not cut anybody's hours. We did not cut anybody's pay. We didn't let anyone go. We doubled down on– we found that to be the best thing to focus on through all this.
Bradley Sutton: That's great. I mean, and guys, guess what? There are tons of businesses out there where people, regardless of how good of a person they are, like Carlos is, they had no choice. They had to do it. But one of the benefits of being in the e-commerce space during a pandemic is that it's one of the few spaces that came to a screeching halt, like so many other businesses here in this country and around the world. Now you mentioned that a lot of that growth that you've been having is just because of the world we live in. People are now– more people are shopping online because they have no choice and things like that. But I know it was a little bit of a humbleness on your part, but I know some things are due to new strategies that you have implemented, or not necessarily that you came up with on your own, but maybe Amazon released something that didn't even exist last year that now you're taking advantage of that has helped you scale up as well. So, let's talk for a little bit about some of these things, either stuff that you're taking advantage of from Amazon, or just something that you discovered on your own that at least plays a small role in that 60% increase.
Carlos Alvarez: A hundred percent. Yeah. It seems like common sense. So, in the beginning of the pandemic, we realized that everyone realized, well, everyone is going to be at home and everyone is going to be online more than ever. And everyone saw zoom exploding. What is it like people have like zoom fatigue now, but we quickly decided, look, even our businesses were having an online presence in the sense of classes was not that big of a priority. We decided it now needed to be a priority yesterday. So, we doubled down on that. And then with Amazon, obviously all things Amazon, I love. So, with Amazon, they rolled out, which to me has been the single greatest tool for private label sellers to date by far. And that's Amazon live video. So we– some of our brands now are going live daily on Amazon live video.
Bradley Sutton: Let's talk about that Amazon life, because I don't want to skip over that because at first I was kind of like, not maybe paying too much attention and I still to date have never dabbled in it. But, you spoke at our elite, Helium 10 Elite workshop a couple months ago, and you inspired a few people to, to give it a try. And I don't know if you remember him, but one of our members, he's actually was just on the podcast or is just about to be on the podcast, Ankit. He tried Amazon live and he was telling me, I don't know if it was on prime day or something like that, but it was some crazy results. So, there are some people that maybe don't know what Amazon live is. So, if you could just take a couple minutes to talk about, first of all, what is Amazon live, who qualifies for it, and why you think that it's one of the biggest opportunities for private label sellers? Because I think 98% of our listeners, if not 99% have never heard of it or tried it.
Carlos Alvarez: Yeah. So, a little backstory on Amazon live, the infrastructure it's important to understand is Twitch. So, Amazon bought Twitch. Most people may know Twitch as a gaming platform. It's more than that, but yeah, it's mostly for gamers and you should treat Twitch with a warning. Because I get sucked in, I turned Twitch on to try to get some info. Next thing you know, three hours later, I'm call of duty doubt, right? Like watching some stuff, but Twitch is a massive live streaming platform. So Amazon, this is Amazon second attempt to get into live streaming. I believe the first one it's– I'm not going to get the name, but if anyone was to Google for Amazon's first attempt at live streaming and what it was is department heads in Amazon would go live and they would just talk about some of the featured products in the category. It was obviously horrible because they don't know, they don't connect with the products as a department head like you would as the brand owner. So that got scrapped. Now Amazon live video, which you could just, I think it's amazon.com/live, or you can see it from the amazon.com homepage. Live is one of the tabs. Amazon live video is pretty much a marriage between QVC and home shopping network, except every single person watching has a buy it now card loaded on. Nobody has to dial in. Nobody has to do anything like that. The other amazing thing about Amazon live video is this is different than let's say a podcast or a YouTube channel where it's like 80% value, 20% sneaking in your sale right. Here, people expect to be sold to. They didn't come here to hear about– they're not here for that. They could consume that value on YouTube and Facebook. They want to be sold to, sell to them. And that's a thing a lot of people getting a mistake on. They just get in there and offer value. And like I'm going to offer value in nine videos and on 10th one I'll sell. So they want, these people want to be sold to, and the people who can qualify for this is you're obviously a private label seller. You must have brand registry so that the two ways to access it is brand registry through the live creator app, or through the Amazon influencer program. I believe I'm about a week away through the Amazon influencer program and being able to access it that way. The main difference is if you're going in through your brand registry, you can only go live about your brand. So, you need a private label seller, you access through the live creator app. And when you go in through the live creator app, you literally– it's two clicks away. You say what you want to go live about. You can set up a test live, and I guess I'm going to start geeking out a little bit about these tactics now on how to use it. I don't know how deep you want to go on this, but once you've connected your live stream, which you can bring in other tools like VMix or OBS, you can see what it looks like before going live. You can connect other products from your catalog of that brand registry to the Amazon live video to appear as a gallery beneath your live video. And then you go live. Amazon will then put your live video in front of everybody who's interested. And they're like the best in the world at this. Everybody who's interested in that type of product or that they know is soon going to buy that type of product. They'll start sticking this live video in front of them, one of the other cool features. And this is the one that–
Bradley Sutton: I didn't even know this as an app. So, as you were talking, I just checked it out on my phone and yeah, sure enough, there's an app. So when you say app, are you just talking about there, or it's also like a desktop app that you could use as well?
Carlos Alvarez: No, you're going to go in through your phone. You're going to go in through the live creator on your phone, but then you can connect your phone as almost a device like on, I don't know how familiar you are with OBS or V-Mix. It's almost like a channel that you're connecting and now you're looking at it on your desktop, and now you can bring in lower thirds. I like to bring in things like countdown, timers, promo codes, all of that stuff. These are the, by far, most powerful thing, two most powerful things on Amazon live video. Let's do that because otherwise I could go on for hours about Amazon live video is one, there was a follow button in the Amazon live video, similar to if you're on YouTube and you want to say, subscribe to my channel, hit the notification bell. Here, you just have to let people know, follow me. And the follow button is on the top left of the person's screen when they're viewing it. When they follow you, what happens is, and you don't get a number like you don't know how many people are actually following you, but what you're going to start noticing when you go live in the future is Amazon sends a push notification when you schedule a live. And when you go live for all of your live videos in the future, for people that are following your channel. So with time, you build up this army of followers, and you notice that your live videos are getting a lot more traction earlier, the second most powerful thing, it's something that I'm calling a verbal search find buy. So we're I mean, I'm sure almost everybody here is familiar with search find by listening to this, but you're having somebody look for a product based on a search term. Search for the product, convert on the product, and then you're getting ranking juice for that search term. Well, here, if you were to add a product into your product gallery and they click on it, you're only going to get juice for the canonical URL, whereas here, what I'll do is I will not connect it to my gallery. And instead, like, say, you and I are like, I'm communicating with you via a video screen live, and I'm letting– I'll show an image of my product, and I'll bring it on the screen from V Mix, and I'll bring a countdown timer up in a promo code, and I'll let people know, Hey, you can get this product. You can search for it by searching for blank. And you'll find it between pages, blank and blank or whatever variation of search find buy you want to use. And now people will then search for it right then, because you've brought up the countdown timer as a sense of urgency.
Bradley Sutton: Yeah. So then you're not putting the buy box then on the– or you're not bringing in that feature where they just click it and buy it. You're having them search for it so that you can get that rank juice then.
Carlos Alvarez: Right. So if I'm trying to launch a product, or if I'm trying to really laser focus in on a product, I won't bring it up in the gallery.
Bradley Sutton: I love it. That is really smart. That's really cool. So, can you talk about either from you or one of your clients, just like, I mean, you don't have to give the product or anything, but just an example of like, Hey, on one day we went live for 30 minutes and we featured two products and we sold this many or because of the search verbal search find buy. We got to page one with, I mean, can you talk a little bit about a cool example to get people inspired?
Carlos Alvarez: Yeah. So, a few examples, and they're all through this vein. So, when I first started messing around with search find buy, I mean, with Amazon live video, what was happening is I wanted to use some other people's products. So I was like, look, I'm set up to go and do Amazon live video. I have a client, they have a product that they sourced and was kind of dead in the water when we met. And that was going to be the Guinea pig product. And it's like, let's see. This is the real test. The product was a bad product, you're hemorrhaging money on PPC for this product, and it's barely moving. What if let's see if we can get Amazon live video to not only resurrect this product, but to also make you need to spend less on your PPC to do so. So, what we did was we started going live three times a week. Well, total of six times, but three days during the week, in the morning, in the afternoon, or late afternoon, Monday, Wednesday, Friday. And we would, as far as being inspired as to the types of content that we could get ahold of, and do these live videos on, we would do something or answer the public. And we would just search for the search terms around that product. In this case, it was a yoga product. And what we found out was that we were able to get, we started pulling in about the first live videos. I was like eight to 12 sales per video that we weren't normally getting. So, that was an extra 16 to 24 sales per day each time we went live Monday, Wednesday, and Friday, we eventually added Tuesdays and Thursdays. And that amount per day did not go down. So, eventually we just started going live every day and we literally ranked the product back using nothing but Amazon live video.
Bradley Sutton: And you're not paying like extra percentages to Amazon or anything like that on sales that come from here?
Carlos Alvarez: Nothing. The Amazon live video is a hundred percent free. They have a paid version and I've messed with it, but it's, I don't see it to be anywhere better than the free version.
Bradley Sutton: For logging on to it. Can you use– a lot of people, maybe they have multiple accounts and they don't want to log in on the admin account in their same wi-fi or whatever the case may be. Can you log in as sub users for the Amazon live video app?
Carlos Alvarez: Yeah. As long as you have the permission to where you're able to go live on behalf of that brand. So, what I'm doing a lot now is influencers. So, I would reach out to influencers. And when you go live, your live video gets a URL, a shareable URL when you schedule it and when you go live. So I would share this URL out with the influencer so that they can in turn, share it out with their tribe. And what about 60% of their people usually have an Amazon account? So, there's no friction in signing up for Amazon or anything like that. They can immediately see your Amazon live video. And if you connected with the right influencer then, they're really into what you're talking about. So, it works and that worked fine, but that seems like the very traditional way to work with influencers. But then I realized, wait a minute, like, let's say that I wanted to– that there was like a Slushii. We both like Slushii, you introduced Slushii, the Slushii music to me. So, let's say Slushii, like Slushii backpack or whatever. And like, let's say that you know Slushii, and I'm somehow able to get in front of Slushii to sell this backpack. And instead of me giving a link and then slushii's people sends it out to their people. If I add Slushii or you to my brand registry, Slushii can go live on behalf in my Amazon live and does not need to be present where my phone is. So, one thing is if I send it out to an influencer and they send the link out, you're going to get X results. But if the influencer themselves says, they're about to go live, you're going to get 10x those results. And since most of these influencers, they want a pretty penny to be able to do something like that. And I'm turning it back on them and saying, look, none of your competitors are on Amazon live video. You don't even know what Amazon live video is. How about this? I'll give you, I'll show you how to use Amazon live video. I mean, think you want to be on Instagram, or you're hoping that what percentage of your followers are actual real people, or do you want to be on Amazon where everybody there has a card loaded and they can buy from you. And it just, it gets their attention. And they're like, yeah, show me how to use Amazon live video, show me how to get set up for this. And they wind up not charging me anything.
Bradley Sutton: This is something that I can see why you're so excited about it. And I definitely need to do a case study with Project X or something on this live thing, because that sounds exciting. And it's always great to get in like, kind of on the ground floor when things first start up, and not everybody's using it yet. So, it's definitely guys make sure to try and hop on this right away. Now, right before I had interrupted you earlier, when you start talking about something else you were about to switch to something else, I think it was like Amazon posts, you said has also helped you guys a little bit this year.
Carlos Alvarez: Yeah, the post program, but again, tying it into Amazon live videos, the post program had an update and it allowed you to get a URL to your feed. It gave you access to a feed of your posts. So, while you're going live on Amazon live video, you have a chat box right beside your live video. So, I'm sharing that URL feed into the chat to make people see more of my brand, because they're seeing what's going on with my live video, but I want them to see lifestyle images and all other cool stuff that I have posted kind of like on my– I'm treating Amazon post as almost a social media for Amazon. So, I'm getting them hooked up with that and I get amazing feedbacks in the chat with everybody that is interacting with the link.
Bradley Sutton: Excellent. Excellent. We're going to go off Amazon a little bit, but on Amazon, either strategies or features of Amazon that you feel has helped your 60% growth this year.
Carlos Alvarez: Yeah. I mean, I'd be remiss if I didn't mentioned video ads. video ads have just been absolutely amazing. We finally started turning DSP onto our actual products. So DSP ads, that's been fantastic. So, between DSP video ads, which is just video ads, if you're not running video ads, you just don't like money is what I pretty much feel right now, but video ads, DSP, Amazon live video and posts on Amazon that's been mother's milk for us. I mean, that's just that on Amazon that's been responsible for almost everything. I mean, there's been a lot of other challenges, like staying in stock, switching to a more merchant fulfilled position. Others, maybe there's a ton of other stuff that I'm sure attributed to the successes we've had this year, but as far as like special things that that's– those are the main ones.
Bradley Sutton: Cool. Now we might, if we have time, we might come back on Amazon things, but something different I wanted to do this time. I don't think we did the first time is talking about off Amazon because you are one of the perfect examples of– you've been building up your businesses on Amazon, but you didn't stop there. You leveraged it into brick and mortar. You have like a fleet of Amazon delivery vans. You got that business, you got a lot of number of businesses. Now, somebody might be listening and like, okay. Yeah, of course. If I get to the nine figure mark, I'll be able to have some flexibility to do stuff, but just, can you talk a little bit about different entry points as far as what you suggest people can do? Because obviously you didn't start off as a nine figure, eight figure even seven or even six figure, you started off small and you double down on different things, and then you took some things gradually off Amazon. So, can you talk about like, depending on somebody, if they're– maybe they are newer six-figure seller or they're a seven-figure seller, what are the things that you suggested, like, should they get into real estate right away, or should they be worrying about other e-commerce marketplaces or brick and mortar or what's the steps of how people can maybe follow in your footsteps, I guess you could say.
Carlos Alvarez: Sure. One thing I'd like to add, it seems like the bigger that gross number goes up, the less flexibility I feel that I have, but the– I feel like the way I did it, I have to say like some of the advice that I would give right now or the things I would share, I look back and I'm like, I wish I would have done it slightly different because what I did in the beginning was I pretty much did everything wrong. And I burned myself and then I learned from it and then I burned myself again. And then eventually I learned from it and I keep going. But my one thing that proved to be– let's say two things. One of them is one thing at a time, man. Just one thing at a time. Don't start Amazon and Walmart. And I loved the episode on New Egg, by the way. New egg, like don't do all that at once. Because it's not going to end well, don't get on Amazon, whether it's a private label, wholesale account, whatever, and decide you're going to just launch in the UK, Germany, France, Canada, Mexico, and the US, it's going to end bad. So, I would get one thing going, I'd process-ize it, I'd put the right people in place. And then I would continue branching out. So me being, I mean, we're in Malaysia now, we're in the UAE on Amazon. We're in all these different places, but we didn't start there. We started with just the US, so I would say it would be a good idea for everyone to kind of start in the country where they're at, especially if you're international, like if you're in UAE, too many guys in the UAE, they're thinking I need to start selling in the US. I'm like no sell into the UAE to go ahead and go ahead and maximize that, and then start thinking about the US but so one thing at a time, and the other thing is, think beyond Amazon, I didn't know 15 years ago that Amazon was going to be around and I'd be talking about these kinds of numbers or have a group and a podcast and all that stuff. I was like just taking it as it came, but I dealt with some account suspensions in the very beginning. And I went from these big numbers that I'm getting dispersed to no more money and nothing else is coming in for 90 days, maybe. So, that was a big eye-opener for me. And I started taking a percentage of my profits and putting them in off Amazon things. So for me, that was pet grooming stores, car washes, laundromats, it was off Amazon businesses. It was Walmart, it was eBay, it was all those other things. So, I think it's important to definitely diversify your businesses and you could start doing that from the beginning.
Bradley Sutton: Okay. That's good. I mean, I like that to try and don't try and do everything at once. Like how I'm going to do a multi-channel, launching the launch all on the same day on Walmart and Amazon, Canada, and USA and Europe and Japan, just try and focus, keep your focus. And then you'll be able to crush it a lot a lot more. As far as off Amazon goes, without the– if you're trying to get a brick and mortar franchise or buy a carwash, sometimes that, I don't know, it might cost, 30, 40, 50, a hundred thousand dollars. What's a stepping stone to that? Like before you have that kind of cash that you can just invest in a new venture. What's the bridge between buying a carwash or something and having the money enough to do that?
Carlos Alvarez: Good question. For me, what it was is I'm a big fan. I really believe in pivoting. So like say I knew that I wanted to start this. Like one of the times it was a brand of pet grooming stuff. And I love doing the opposite of what everybody else is doing. So I wanted to create a pet grooming store, use it for lead generation, leverage group on, build my list there, never had any issues with reviewers and all that stuff, and then leverage that on Amazon. So I knew I wanted to do that, but it took money. Now, I didn't begin doing private label on Amazon. I started with what they call arbitrage now. And then I did wholesale and wholesale is still about 15% of my business. So, when you want to get some extra like cashflow going on, that this kind of kills me too. I'm 85% private label. I love private label, but too many private labelers I see are– have this tunnel vision. They're trying to prove something like I'm doing private label. And the only thing I ever need to do is private label. I'm like, no, you're a brand owner, make money. You sell on Amazon, make money on Amazon. It's– a hundred dollars is not less if you get it from wholesale than it is on private label. So, something that really allowed me to fuel ad spending growth on Amazon is taking advantage of other things on Amazon, whether it's amazing passive income on Merch by Amazon, whether it's amazing passive income with Amazon self-publishing and also wholesale. I know what all the problems are that brands are having on Amazon. So for me, being able to reach out to a brand that I see is floundering on Amazon and say, look, I can help you with your images. You don't have to be a PPC genius. I'm going to help you with your images. I'm going to do all these different things for your brand on Amazon and just sell to me and let me get exclusivity, or just allow me to be one of your few sellers. That's solid money. I mean, that's easy money. You build that relationship once and it's rinse, wash and repeat. So, I would do that and then I would get that money and I'd fuel my ad spend. I'd use it to open other businesses. So, I treated it as a completely separate business. And if you're on Amazon and you're talking about private label, like why not stay on the platform and just take advantage of some of the other offerings that are there.
Bradley Sutton: Yeah. All right, that's good advice. Now, speaking of advice, we talk about the last episode, how you have one of the biggest Amazon meetups. And I know you went virtual over the last few months instead of– because we couldn't meet in person there in Florida, but you've had tons of guests, guest speakers on your virtual ones, guest speakers on your live meetups, on things like Tik Tok, or maybe some stuff that you haven't even tried yet. So, if you could just really quickly think about some of these guests you've had and what was like maybe one or two of the strategies that recently, you haven't even tried it yet, but you're like, it just knock you over like, Whoa, that's crazy. I'm definitely going to be trying that, like maybe give us a sneak peek at, and we can get a little head start take advantage of some of your– the information your guests have given you.
Carlos Alvarez: Yeah. 40 years of events, 16 events per month has been a lot of speakers, a lot of different events I would have to say, and this isn't the relevancy bias that makes me say this, but I'm going to have to say that the guest speaker that completely floored me on his approach towards e-commerce. And some of– there is a heavy focus off of Amazon, but that doesn't necessarily mean we're ignoring Amazon. I feel like the money's to be made, leveraging some things that other people are not off of Amazon for the benefit of Amazon sales. And that's going to be the most recent meetup we had, which was Saturday, Craig Mount. He has an amazing brand called Nerdy Nuts, and what he talked about– you have to look this up. It's flavored peanut butter. What he talked about is building the hype. He talked about a lot of things. I really think you should jump over and listen to this episode, but I think you should talk to him and you're going to want to have him on the show. I'm getting them on the wizards of Amazon podcasts, but one of the things he talked about building the hype and it's a thing that brands don't do a lot of times, Amazon sellers were just like, Oh no, we're on Amazon. We hit it with our sourcing and our images are good. So, only thing we need to think about now really is PPC. Not only is that extremely ineffective long-term in my humble opinion, is that extremely ineffective, boring as hell. It leaves you too vulnerable to your competitors attacking you. So, building the hype for your brand is amazing. It's something I've constantly strive to do in my brands, but this person is just taking it to another level. For example, nerdy nuts has nothing to do with– it's a peanut butter has nothing to do with pumpkins and, but it's Halloween. So, he wants to build the hype. So, they went and bought a 1200 pound pumpkin so that they could go on, cause they're going to launch a pumpkin spice peanut butter. So, like do this wild 1200 pound pumpkin carving hype off of Amazon to launch a product. Don't get so boxed into your launch has to consist of some rebates and Many chat. And like all this other stuff, like think bigger than and they do what– they do a lot of wild stuff like that. Constantly build hype for your products off of Amazon. Don't be one of these people that say social media doesn't work for my product. It works for Coca Cola. Planes fly. This person went out and got a mascot costume. Full blown, like professional mascot costume just for his social media stuff. That's how that stuff becomes memorable. He builds hype. So, yeah, just absolutely amazing. The brand Nerdy Nuts. And it was the last meetup we just had Saturday. Just, it reminded me, I had been letting my foot off the gas in that area of my businesses. And I plan on putting the pedal to the metal again.
Bradley Sutton: I like it. I like it. Yeah. We'll, I'll have to look into that and maybe bring him out here on the podcast. Now, switching gears real quick, the time was already flown by, we're almost out of time here, but we've talked about Amazon's strategies, we've talked about off Amazon strategies. What about just in general life hack, like give me a couple of your best life hacks or once you get to your level, how do you stay grounded or just, how do you, I mean, what are your best ways for entrepreneurs? Are you the kind who's reading a book every week or are you listening to a podcast every day or do you meditate? I mean like, how does Carlos get through a week? And because a lot of people need to understand that, it's not just about the tactical strategy of how you can do your advertising, or how you take advantage of Amazon live, but sometimes it's just the way you live has to has a big part of how successful you are or aren't.
Carlos Alvarez: Absolutely, I've mentioned it several times before, but I find masterminds to be important. First of all, I mean, yes, I meditate. Yes, I'm constantly learning new things. I've done the Tony Robbins, the humming, the singing, I did ice bath, I've done, I've done like all these things. And I love them. One thing that stuck with me through everything is a mastermind. And I don't mean a mastermind where we talk once a year. I always have at least two masterminds. And they're small. One mastermind is the– one mastermind that I think everyone should have if they want to be successful. And that's the mastermind at home, your significant other, that's your number one mastermind. The other thing is in my companies, I'm a leader. There's a lot of people that are responsible for who I'm responsible for that they get paid and they have a job and all that. So, keeping that in mind, I honestly believe that the best way to continue being a great leader and to be a great leader is to be a great follower. So, I constantly force myself into positions where I'm not the leader in something, and that I'm just going to be a rock star follower and helping somebody else achieve their goals. And the meetup allows me to do a lot of that.
Bradley Sutton: I like it. I like it. Let's go into your now, this could be a life hack. This could be an Amazon hack. This could be just a general e-commerce thing. And I say hack, but I don't mean hack. I mean, like just strategy, but we always have the part of the show that's the TST, or the TST, 30-second tip. So what is something actionable, unique that people who are listening right now could take advantage of that you can say in 30 seconds or less, and that will be very valuable for them to do.
Carlos Alvarez: Yeah. Something that'd be very valuable. I think for everybody is journaling. Business journaling. I personally use something called high performance planner. When I skip a day, because it happens, when you skip a day and you don't get to it, it's a major, major difference. I notice in my focus, my intentions and how I approach my day, my to-do lists my everything, if I don't journal specifically business journaling. So, the journal I use is high-performance planner by Brendon Burchard.
Bradley Sutton: Love it. All right. Now, Carlos, I'm sure as we can have five episodes with you and not even scratch the surface. So, people might want to reach out to you more. So, can you just let people know how to find you, either your services or your podcast, a meetup group, et cetera, et cetera, can you throw out some links here for everybody?
Carlos Alvarez: Yeah, definitely. The place that I'm at– the easiest spot to get ahold of me right now is our free Amazon seller group chat, which is on Telegram. You can find it at amazongroupchat.com, anywhere on social media @wizardsofAmazon. I'd say, if you are interested in any services that I have to offer, that'd be the first spot to go is just connect with me and message me and we'll take it from there. Also, if you're not into social media and you don't want to be part of the group chat, that's cool. You can just text me at (305) 902-1283.
Bradley Sutton: That's amazing you give that out. Thank you so much, Carlos, for coming on and we'll definitely love to see– maybe you grow another 50% next year in 2021, and I'll be seeing you and hopefully tons of our listeners on the online seller cruise guys, go sign up now, onlinesellercruise.com, meet Carlos in person, hang out with both of us and buy us a drink with a free coupon. There we go. And then we'll give you some more strategies.
Carlos Alvarez: Sounds good, man. Thank you so much for having me back.
Bradley Sutton: All right. See you guys later.

Latest posts by Helium 10
(see all)